It never fails that after all of the Christmas stuff has been stashed away and  almost every bit of the glitter that I can see has been vacuumed up, I struggle with putting my house back together.  The same decor that I may have loved before now looks boring and dated.  This year I was determined not to put everything back the same old way. I wanted to do something to freshen things up.
I don't have the $$$ to replace all of my furniture – nor do I want to – at least not all of it.   😀
One day I had a light bulb moment when it occurred to me that there was a way I could keep my existing furnishings, not repaint every room and still get a fresh look.  Sooo…I decided to try my hand at mixing my traditional/transitional furnishings with a few more modern accessories with maybe a vintage item or two thrown in for good measure.   Sound easy?  Well, it hasn't been.  It has been harder than I thought.
This is what my dining room looked like before Christmas.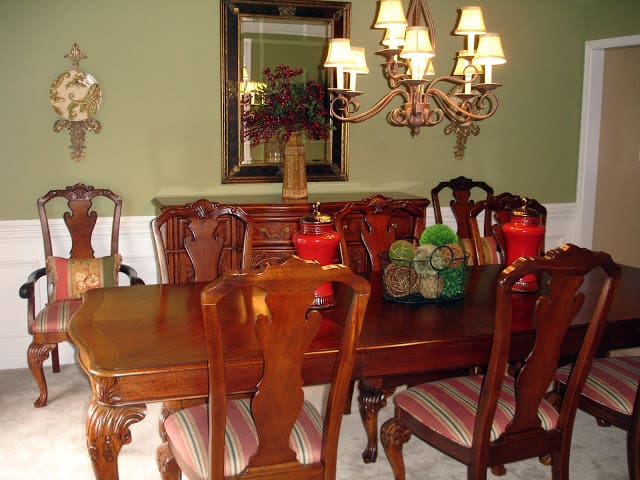 And this is what it looks like today.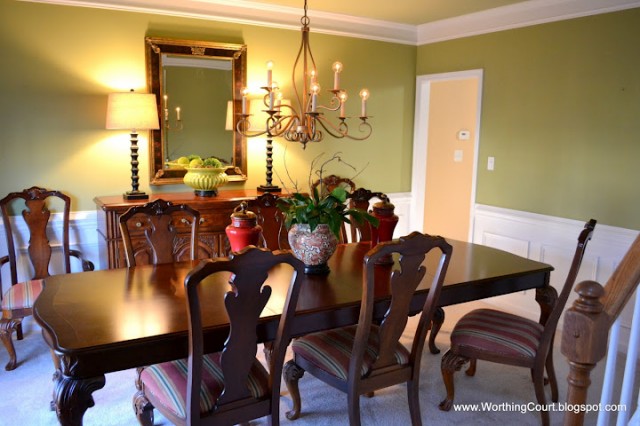 Funny, when I look at these pictures together, the room doesn't look that different.  You'll have to trust me when I say it definitely is!
I started off by updating the chandelier.  Here it is after Pookie took it down for me.  I was so over the brown.  I added the layer of dust for your viewing pleasure.  😉  Where oh where does all this dust come from?!?!?!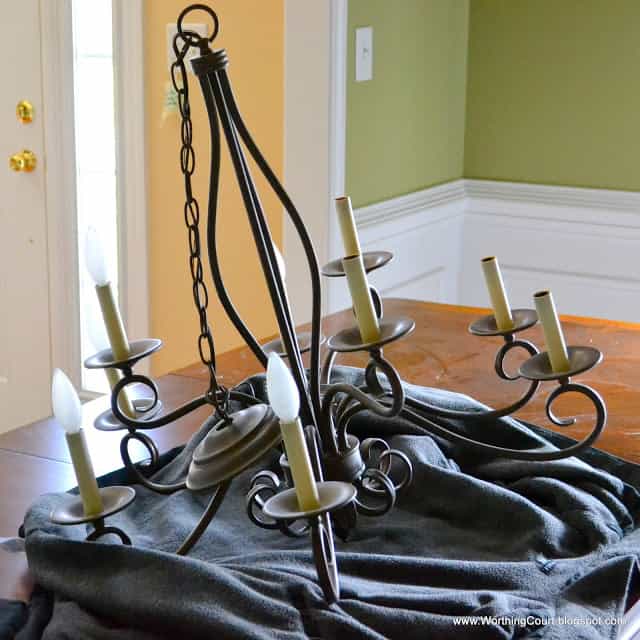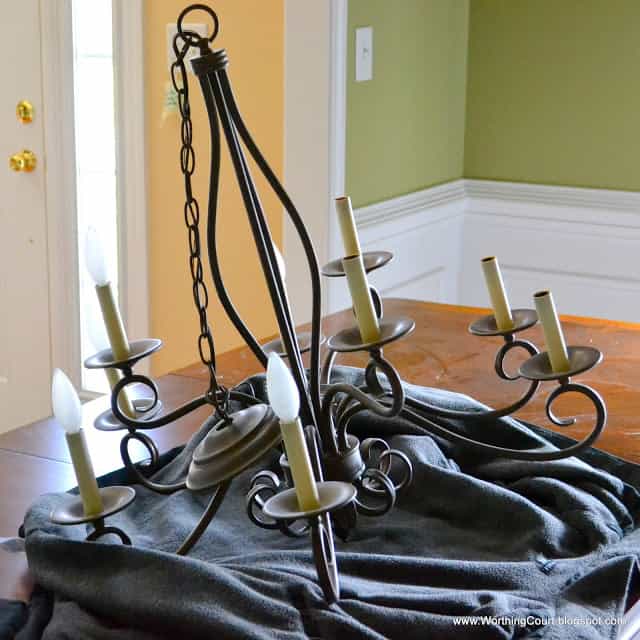 It took three different spray paints plus Rub n Buff before I was able to achieve the antique gold color that I was after.  The Krylon paint on the far left was a pretty color, but the gold was too soft – more of a champagne color.  The Ace Metallic was the perfect color, but for some reason it didn't react well with the  metal.  What finally gave me the color I was after is the Rust-oleum Metallic in Pure Gold with Rub n Buff in Antique Gold added all over as a final coat.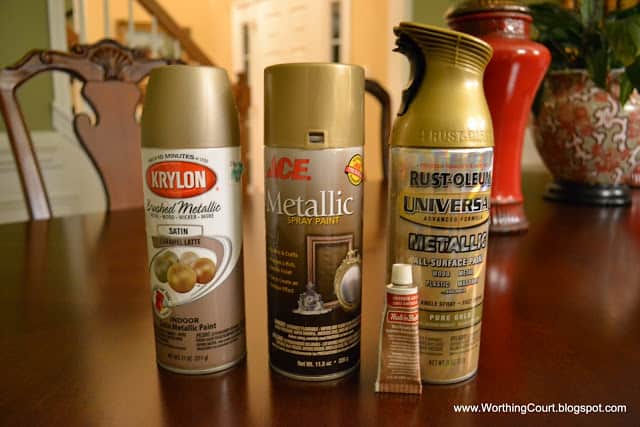 Here is what she looks like now.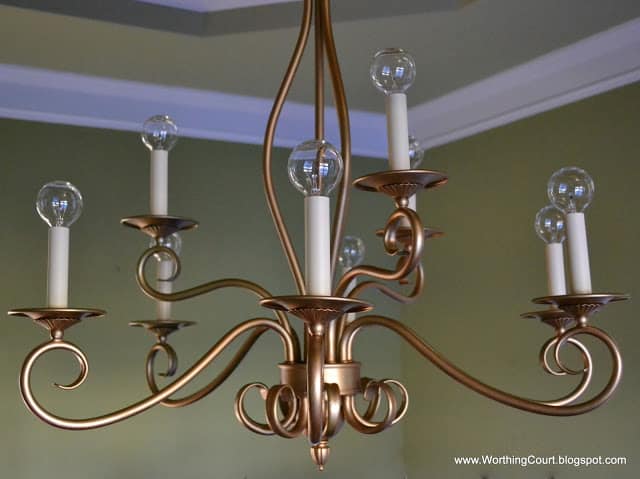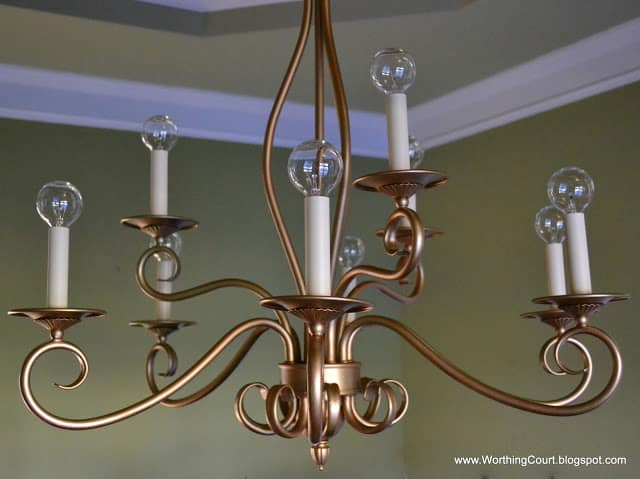 You can see that I removed the sage green chandelier shades and replaced the bulbs.  Pookie looked at me sideways over those bulbs.  I like that the bulbs kind of look like bubbles when they aren't turned on.
I paired some red urns that I already had with an antique cache pot.  The cache pot is a sentimental treasure that was in my mother's family.  I believe it belonged to my grandparents who lost most everything they owned in the Great Depression.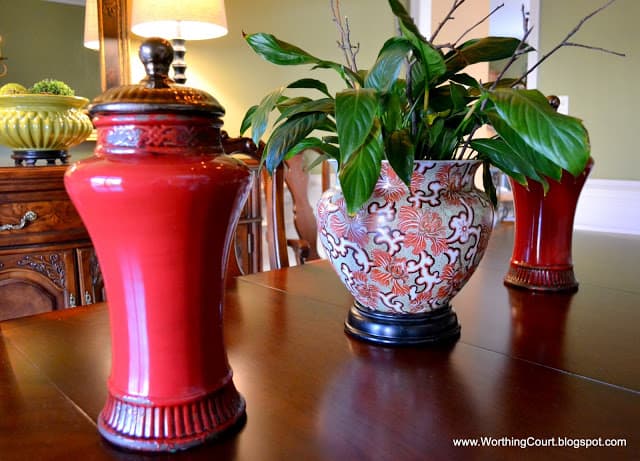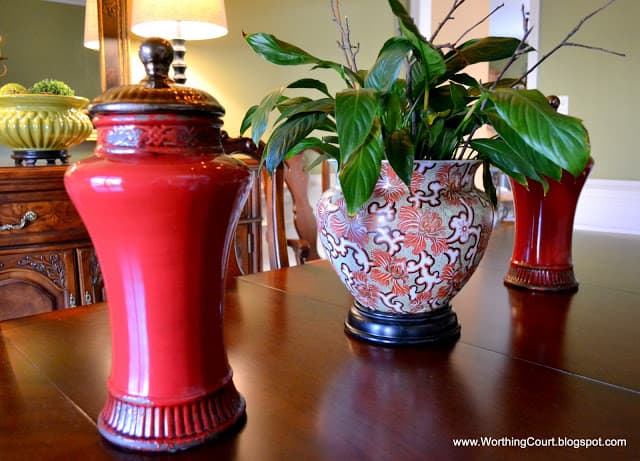 The colors are just right for this room – red with a soft green background and touches of gold.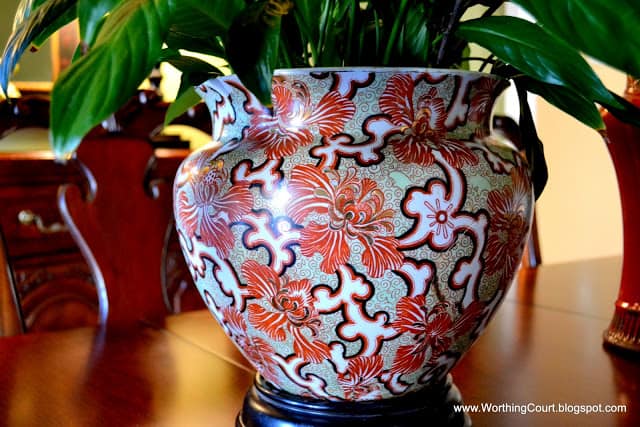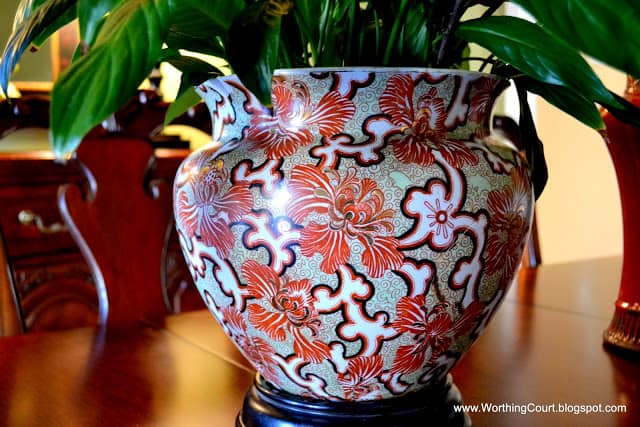 Looking at the room from this angle, you'll see that I removed the pendants with tassels from the drapery panels.  I think it helps to take some of the heaviness away.
BEFORE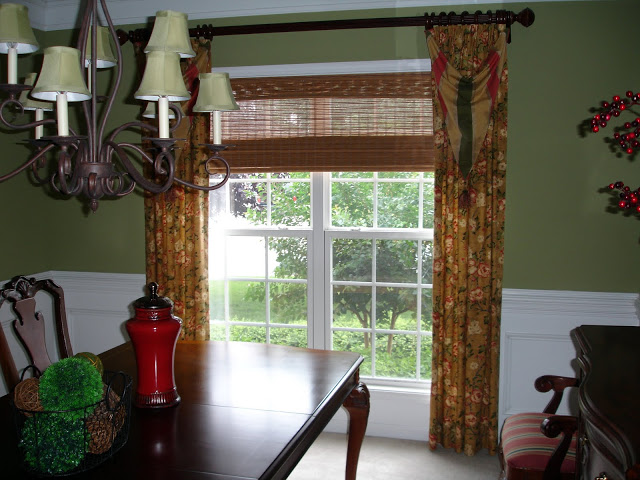 AFTER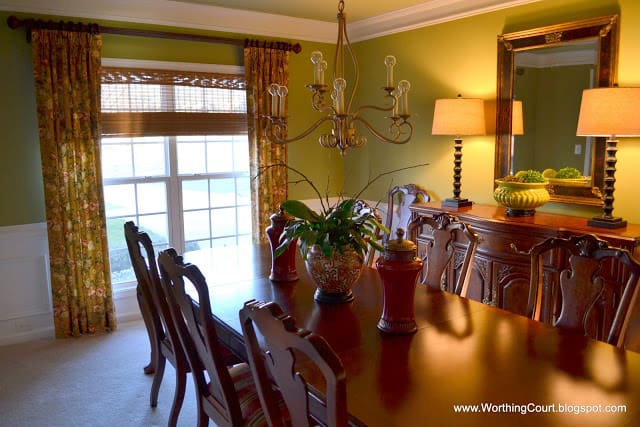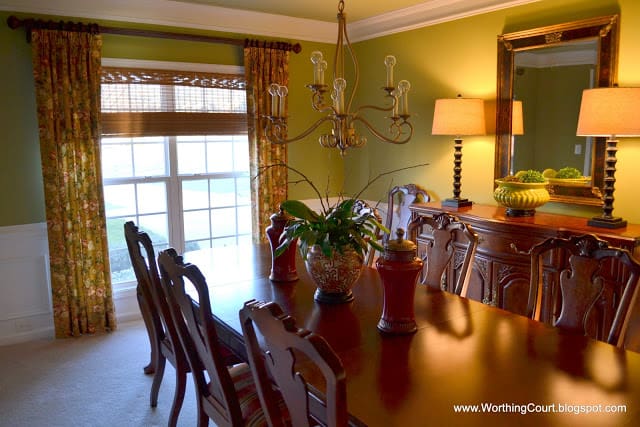 Over on the sideboard, I added a new bowl and two new lamps – all purchased at HomeGoods.  We won't talk about how many lamps I returned before I found these.  You can't see it in this pic, but the lamps have just a touch of gold around the edges of the fat parts of the base.  I removed the pillows from the chairs and also removed the plate racks that were hanging on the wall on either side of the mirror.
BEFORE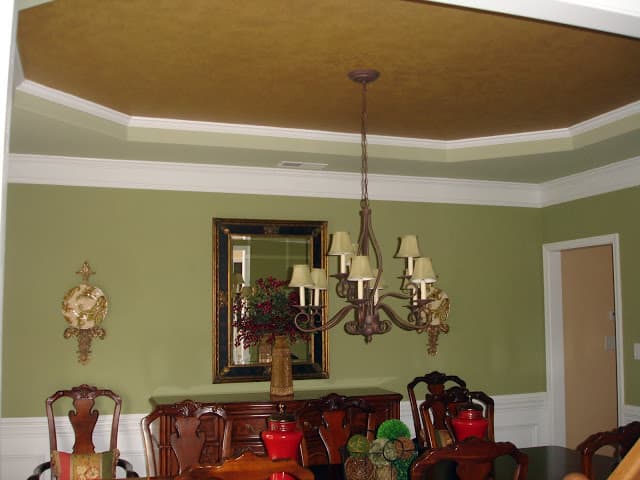 AFTER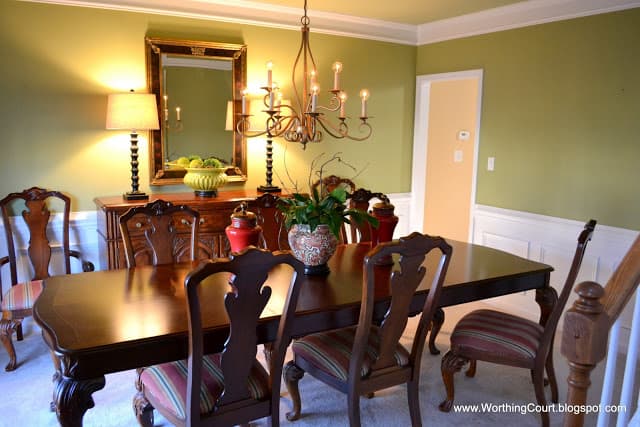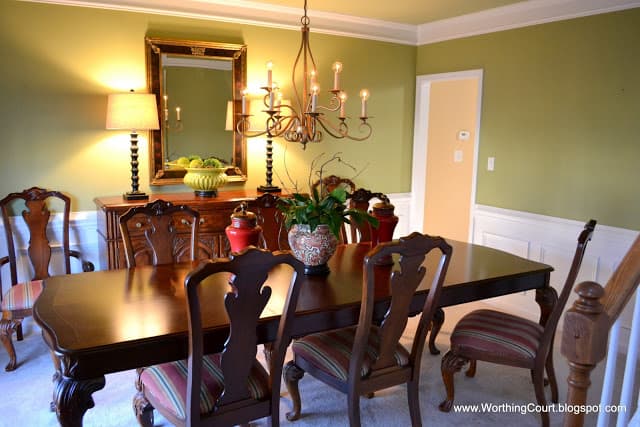 At the other end of the room, I removed the urn filled with faux greenery and the oil painting that my Auntie Syl painted.  Don't worry – the painting will be gifted to my daughter who treasures my aunt's paintings just as much as I do.
BEFORE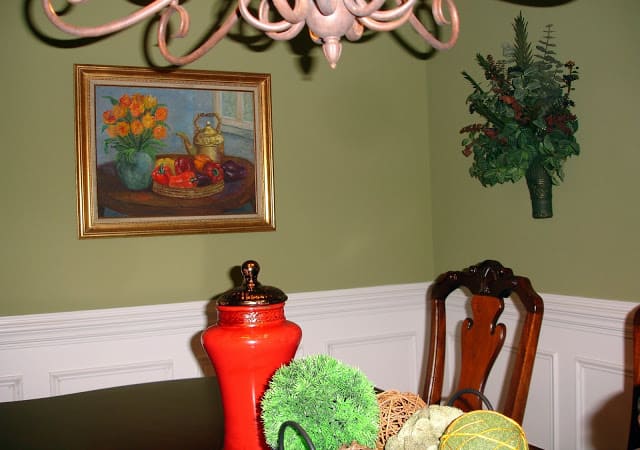 AFTER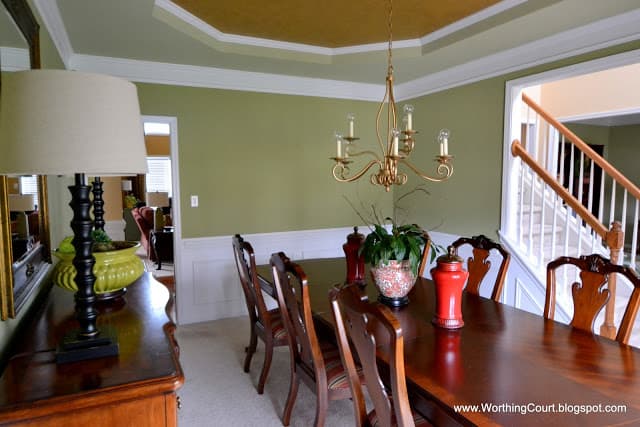 I'm planning to add some artwork to the wall beside the doorway going into the family room.  Probably a grouping of some sort, but I don't want it to be too predictable.  I'm f-o-r-c-i-n-g myself to be patient until the right thing comes along.
That pretty much sums up all of the changes that I've made so far.  So many of you are experts at mixing the old and the new.  What do you think?  Please be honest, but gentle (I have thin skin!).  Have I taken any mis-steps?  Should I change the fabric on the chairs to something more updated?  The chair fabric colors blend perfectly with the drapery fabric.  Should I replace the pillows that were in the two armchairs with ones made using a more updated fabric and no fringe or trim?