9 Wall Decor Ideas That You May Never Have Thought Of
Tired of trying to find wall decor ideas that strike your fancy and fit in with your style? Art doesn't have to be in a frame or on a canvas. Here are 9 unexpected wall decor ideas to fill up those blank empty spots in your home.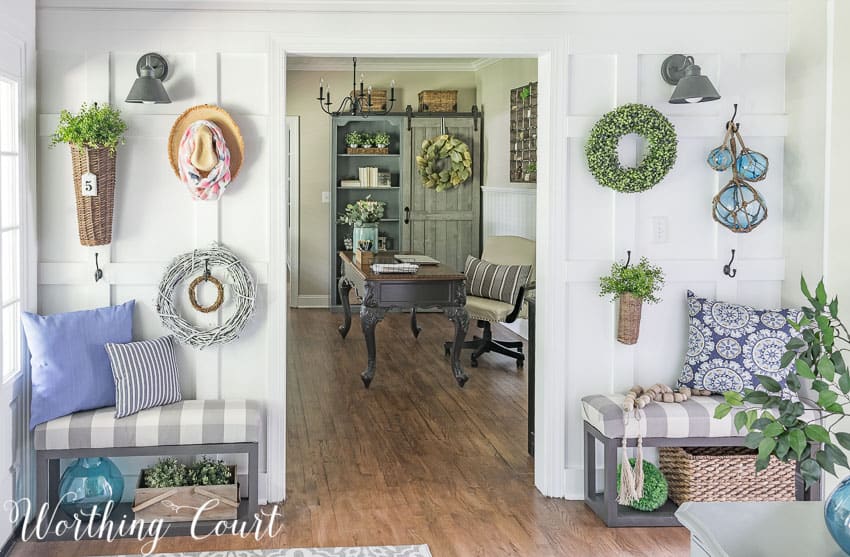 Pin
Do you find yourself doing this?  You need a piece of artwork, so you make the trek to your favorite store to hit the wall art section.  You find a couple of pieces that you like, head to check out and you're done.. The problem is that if that's all you're relying on to add interest, color and dimension to your home, you're going to run out of interesting art very quickly. No matter how much I like prints, paintings or photographs, I know that eventually I'll get bored with the same ole, same ole art selections at the store.
For that reason, I don't rely too much on your stereotypical wall art. I try mix canvas art or framed prints with other wall decor ideas. Mixing things up on your walls makes a much more interesting space, especially if it's something unexpected.  See if you could use any of these ideas around your own home.
BOARD AND BATTEN AS ART
If you've been following me for a while, you already know that  I'm quite enamored with board and batten. I've added it to the guest room, the hallway and the foyer as well as in the dining room at the beach condo. It's a super easy to do wall treatment and serves as a form of "art" all on its own.  Board and batten is especially good when you need to fill a large wall.
This wall in our foyer was a big blank space that I knew was going to need just the right artwork. Click HERE to see the before of the wall. Coordinating pictures above each bench would have been too predictable and matchy-matchy for me, so I decided to fill this wall with board and batten.
The addition of hooks to the boards not only gives me extra coat and purse storage during the holidays, but it also provides me with a great spot for seasonal decorations that serve as "art" too.  By the way, you can get the easy step-by-step tutorial for building the benches right HERE.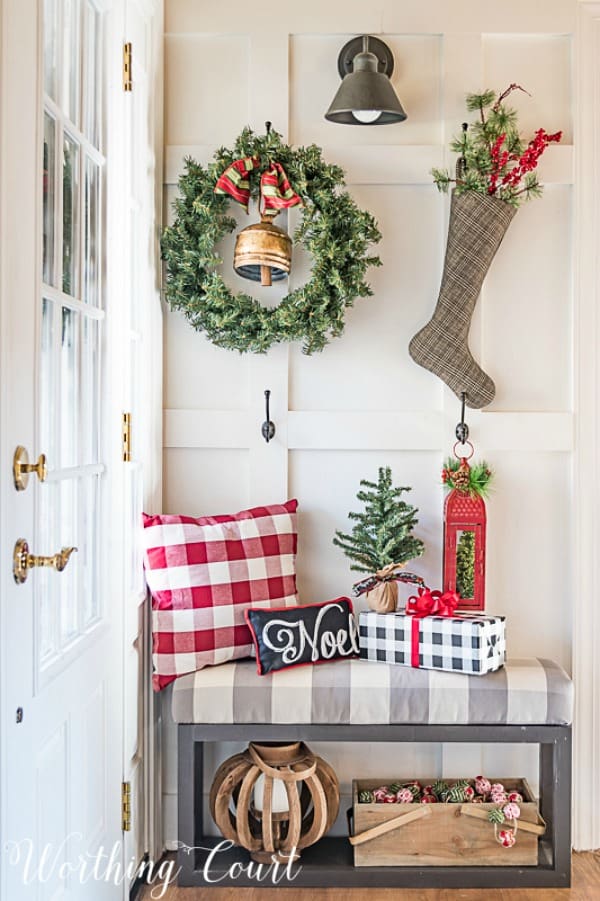 Pin
YOU EITHER LOVE FAUX ANIMAL HEADS OR YOU DON'T
I happen to love them and think they make a great piece of unusual kitchen wall decor.  From the moment my pig head made his debut, it divided folks. Most people loved him, but there were those who very strongly did not.  🙁  I've always loved him and had him proudly displayed above the shelves in our breakfast room for a long time.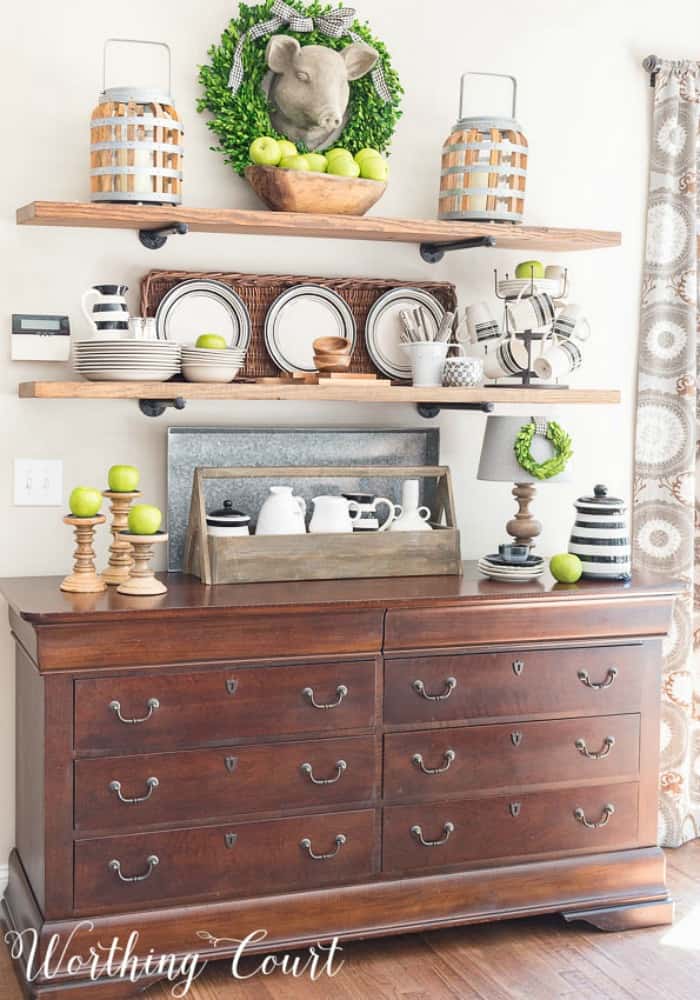 Pin
Whether it was the holidays or the dead of summer, I styled Mr. Wilbur, as I lovingly dubbed him, with a preserved boxwood wreath that I added ribbon to and tucked ornaments into at Christmas. then mixed up the shelf decor around him. He's retired for the moment, but I sure do miss him.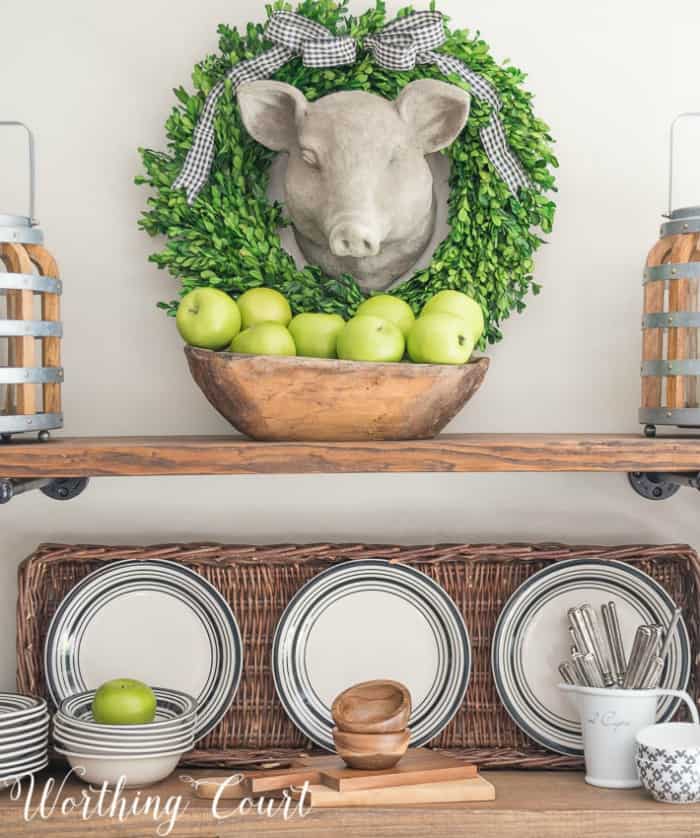 Pin
ARCHITECTURAL ELEMENTS
If you've watched Fixer Upper at all, you already know that architectural elements make great wall decor.  When I found these Gothic arches at a local shop, I instantly fell in love and knew they would look great layered on top of the board and batten wall that I added to our guest bedroom.
The finish on them adds a bit of a rustic element that helps to de-formalize the dressiness of the furniture in this room. Plus, they do a great job framing the bed and bringing this whole room together.  Adding a small faux greenery wreath to each one helps them to pop just a little bit more.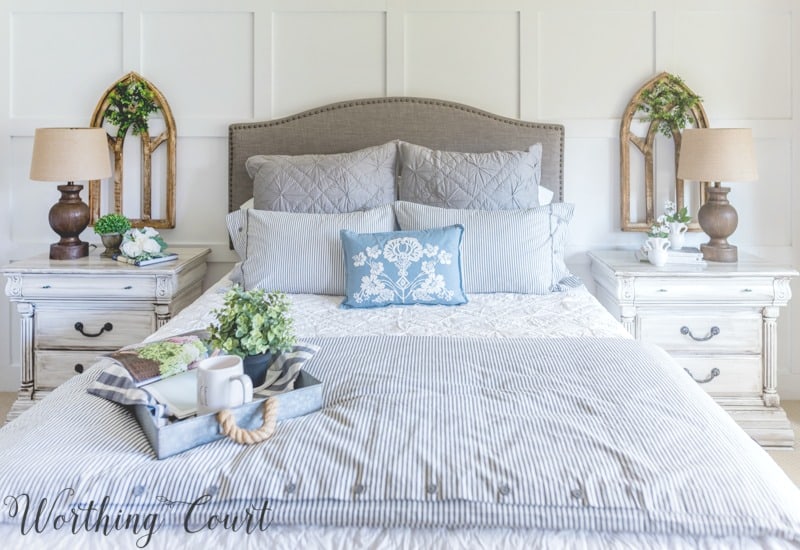 Pin
DIY GRAIN SACK BULLETIN BOARD
There's no rule that says wall decor can't be fun! I made this faux grain sack bulletin board by painting an unfinished empty frame and inserting a piece of foam insulation covered with a painted drop cloth.   Get the tutorial HERE.
I used it at our last house to hide the ugly exposed side of our refrigerator, but it found new life as diy artwork in our current house in the laundry room.  I crisscrossed twine across the frame and added some little mini clothespins as a nod to its location.  Now it makes a place to display cute cards and small pictures.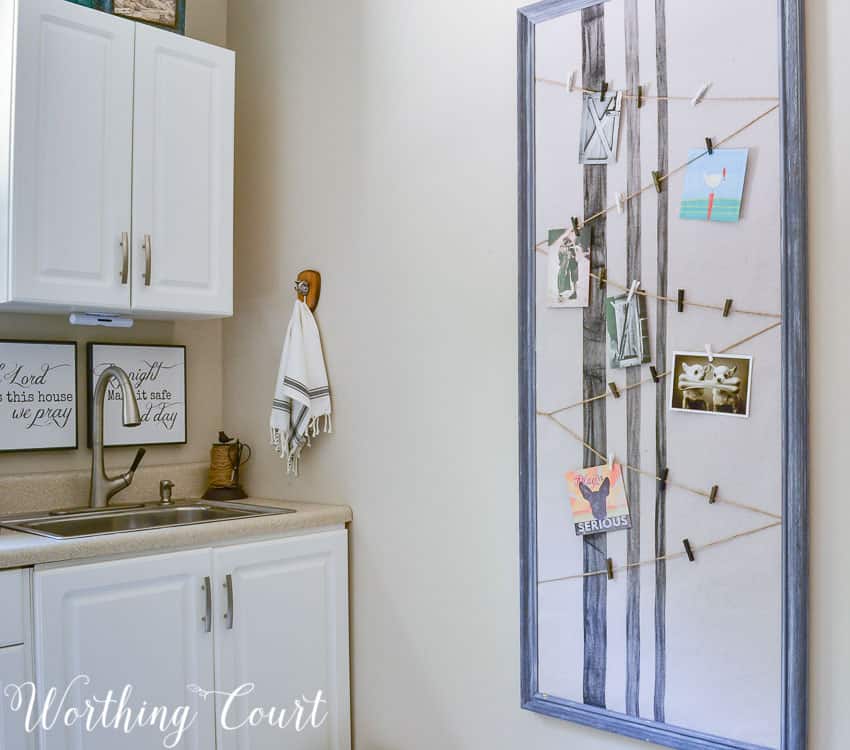 Pin
LARGE WALL ART DIY STYLE
The wall in our dining room that the sideboard sits on is a rather large wall.  I originally only had the sideboard against the wall with my vintage shelf above it, but it just wasn't enough.  There was too much empty space for my liking.  I knew that I wanted to flank the shelf with something on each side, but because of the size of the wall and the size of the furniture and shelf, it needed to be something substantial.
Thus was born my idea for these diy Fixer Upper style hanging lanterns.  They are soooo easy to make – you only need four things to make them and you can find the tutorial HERE.  I love the look and think that the hanging lanterns combined with the shelf and all of its decorations make for a great art display.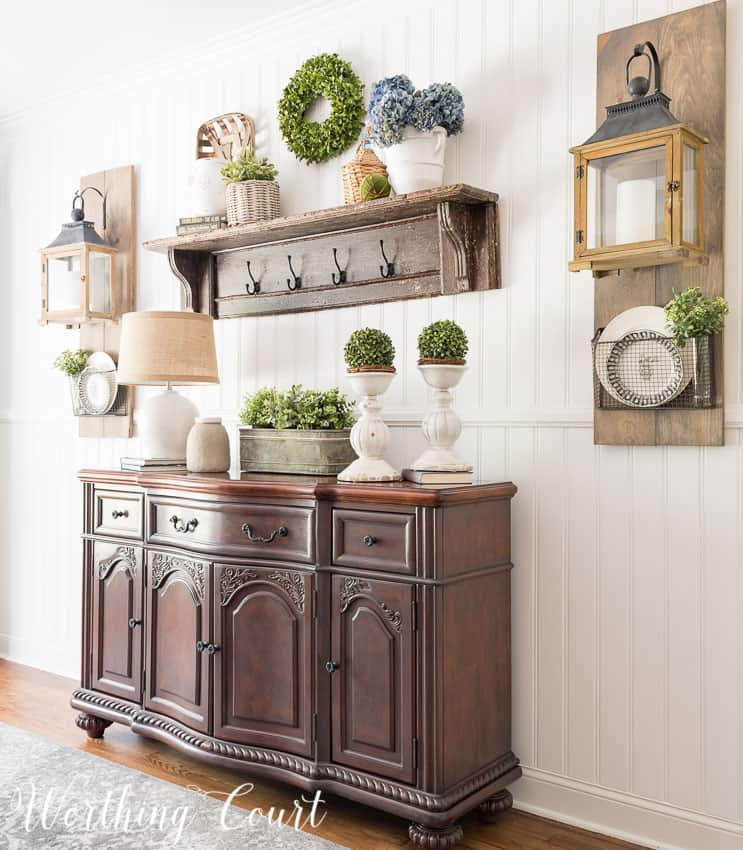 Pin
A LEANING BLANKET LADDER
This idea is definitely out of the box.  I know a blanket ladder isn't technically wall decor, but it does help fill up wall space and it adds interest and texture.
I simply switch out which blankets I display on it, depending upon the season.  Winter gets heavier, fuzzier blankets and summer gets lightweight cotton ones. The blanket ladder is another super simple diy of mine and cost less than $20 to make.  Get the tutorial HERE.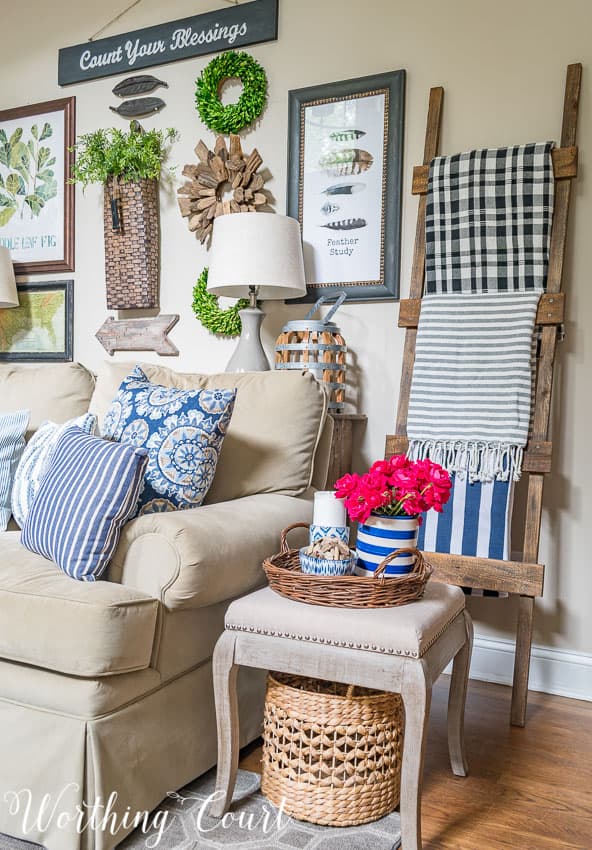 Pin
ADD SOMETHING UNEXPECTED TO A GALLERY WALL
Putting together the gallery wall in the stairway in my foyer was a real challenge for me.  I knew the layout that I wanted, but trying to come up with what to actually use within that layout took me a long time.
You've seen me use wreaths on my walls many times, but who would have thought about adding rustic spindles to a staircase gallery wall? It was a crazy notion that crossed my mind when I was putting it all together and amazingly enough, it works.
These spindles were very inexpensive from a vintage/repurposing type of store, but you could do the same thing with spindles from the big box home improvement store.  They're simply held in place with Command Velcro Strips.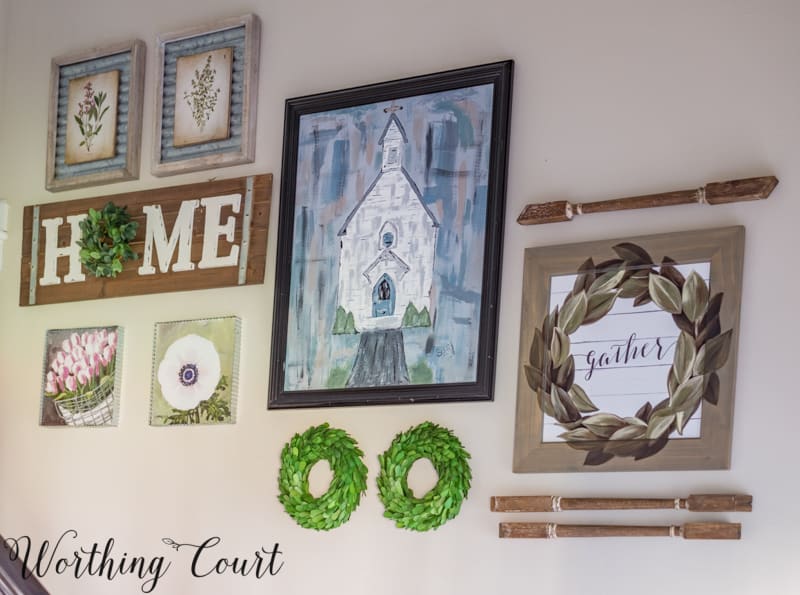 Pin
CUBBIES MAKE GREAT ART
The wall behind the desk in our office is another one that I really struggled with.  I considered some black and white photos of architecture from our town, but that didn't look right. Then I looked at some Civil War battlefield maps, but when I tried that it didn't look right either.
I was literally at a loss for what to do and then I unexpectedly stumbled across this large antique mail sorter when I visited a popup barn show. I love the patina so all I did was to give it a thorough cleaning and then filled some of the cubbies with small pieces out of my stash.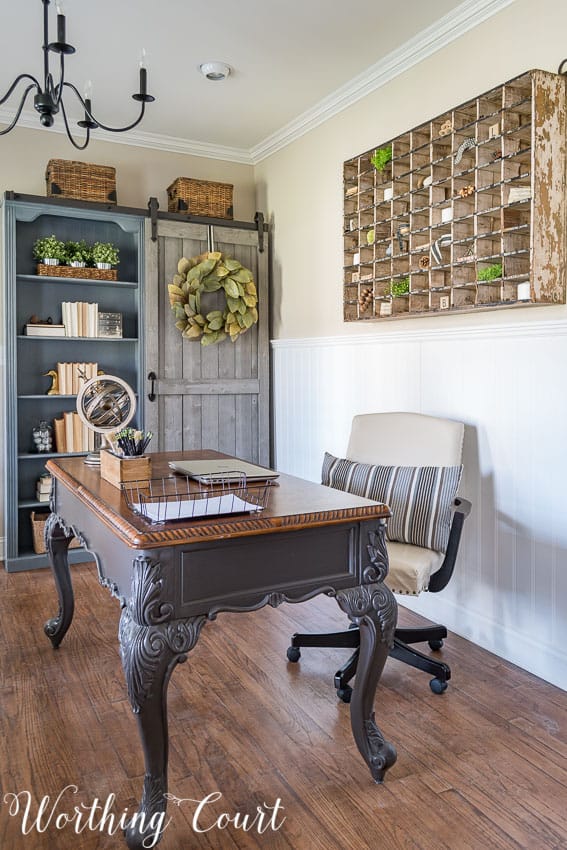 Pin
SHUTTERS FOR WALL DECOR
Another large wall in my dining room is the one opposite the wall holding the sideboard, vintage shelf and hanging lanterns (see a photo above).
I needed more than just a mirror above the chest to keep the room feeling balanced.  A pair of painted shutters with plates attached proved to be just the thing and added enough width to keep the wall from looking empty.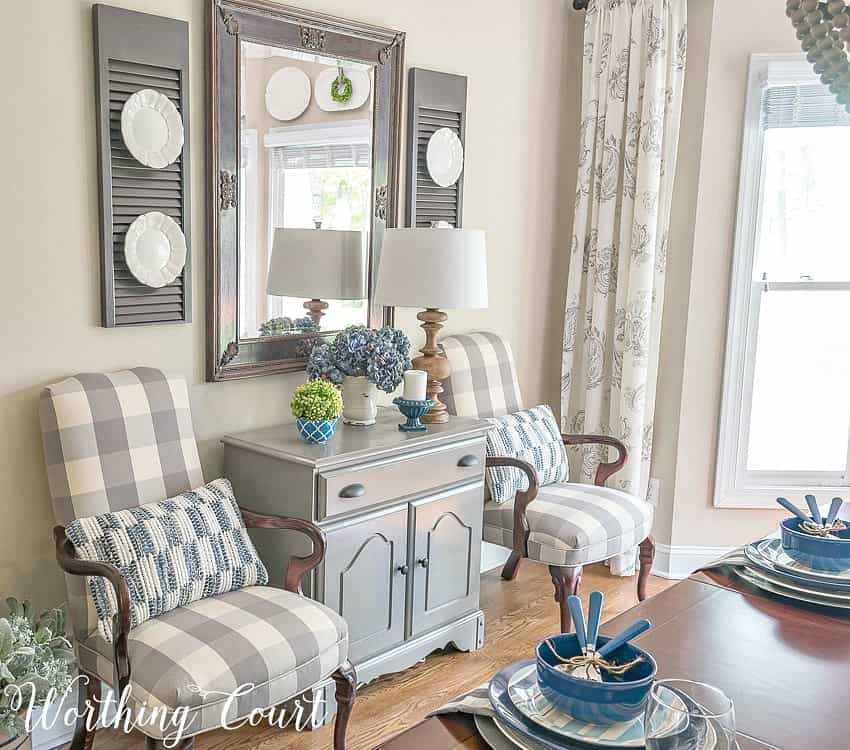 Pin
Needless to say, there are a lot of ways to mix up your wall decor and make your home interesting. Keep your home from being boring by stepping outside the norm of framed prints and canvases and consider something unique and unexpected!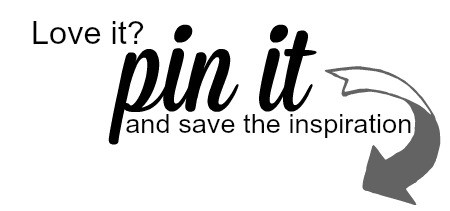 Pin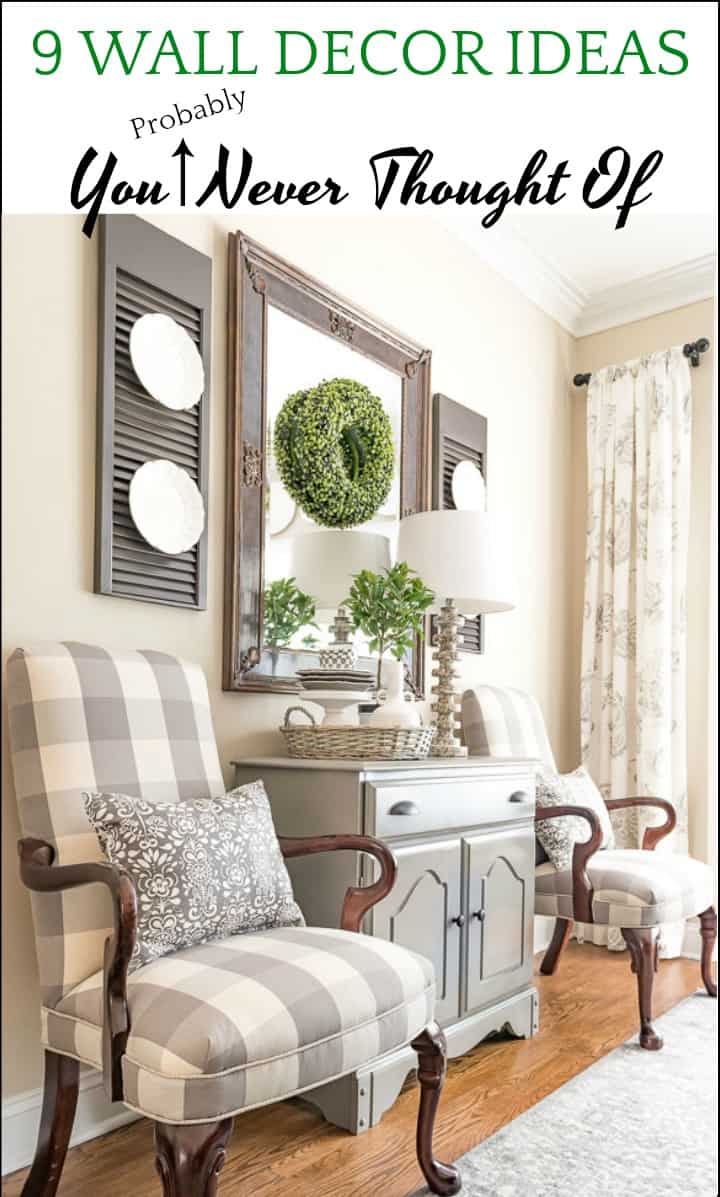 Pin