Print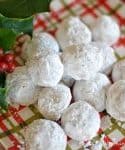 Meltaway Pecan Balls
A 5 ingredient cookie that is easy to make. Tasty and perfect for Christmas cookie exchanges.
Preheat oven to 325 degrees farenheit.

In a food processor with knife blade attached, pulse pecans with 1/4 cup confectioners' sugar until nuts are very finely ground. Add butter and vanilla, and process until smooth, occasionally stopping processor and scraping the side with a rubber spatula.

Add flour;process until evenly mixed and dough forms.

With floured hands, shape dough by rounded teaspoon full into small balls.

Place 1" apart on an ungreased cookie sheet.

Bake 16 - 18 minutes, or until bottoms are lightly browned and cookies are light golden.

Transfer cookies to wire rack. Cool for 3 minutes, then roll cookies in remaining confectioners' sugar and place back on wire rack to cool.

When cookies are completely cool, roll in sugar once again.

Repeat with remaining dough and sugar.
Completed cookies may be stored in a tightly covered container at room temperature for up to 2 weeks or in the freezer for up to 3 months. (If cookies are stored in the freezer, you may need to roll them in confectioners' sugar again before serving.)