Print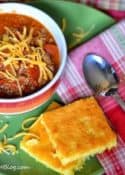 Thirty Minute Chili
A delicious, nutritious and hearty chili that is quick and easy to prepare.
Combine ground beef, onion and green pepper and cook over medium to medium-low heat until the beef is browned and the onion and green pepper are tender.

Drain the grease from the cooked beef mixture and return the mixture to the pot.

Stir in the entire contents of the dry chili seasoning mix.

Add the stewed tomatoes and pinto beans.

Stir together and heat thoroughly.

Enjoy!
This recipe will serve 2 -4.
I use one pot for cooking the meat and making the chili.
I recommend cutting the stewed tomatoes into smaller pieces prior to heating the chili.
Kidney beans can be substituted for pinto beans.
Raw onions, green onions, sour cream and grated cheese all make great toppings.