Print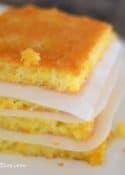 Sweet, Moist and Delicious Cornbread
A slightly sweet, moist and delicious cornbread recipe.
1 1/2

boxes of Jiffy Corn Muffin Mix

freeze the leftover 1/2 box for later use

3

eggs

1 14.75

oz

can creamed corn

1

tsp

salt

1/2

cup

canola or vegetable oil

1 8

oz

carton sour cream
Preheat oven to 350 degrees,

In a medium mixing bowl, slightly beat the 3 eggs.

Add the remaining ingredients and stir by hand until well blended. Do not use a mixer.

Lightly coat a baking sheet with 1" sides with nonstick spray.

Pour batter into the baking sheet and bake for approximately 40 minutes or until golden brown.

Allow to cool slightly before cutting into squares for serving.
The leftovers freeze well. Allow the cornbread to cool completely before placing the squares into a freezer bag.
When ready to reheat, remove the desired number of squares from the freezer bag and allow to thaw.
When thawed, wrap the squares in a slightly moistened paper towel and microwave until the desired level of warmness is reached. I recommend a setting of no higher than 70% power on your microwave.
Wrapping the cornbread squares in a moistened paper towel will prevent the cornbread from drying out and hardening when microwaving.