How I'm Adding Spring To My Home Right Now
There's no reason why you need to wait for the calendar to tell you that it's spring before you start decorating. Here are 6 easy ways that I'm adding spring to my home right now!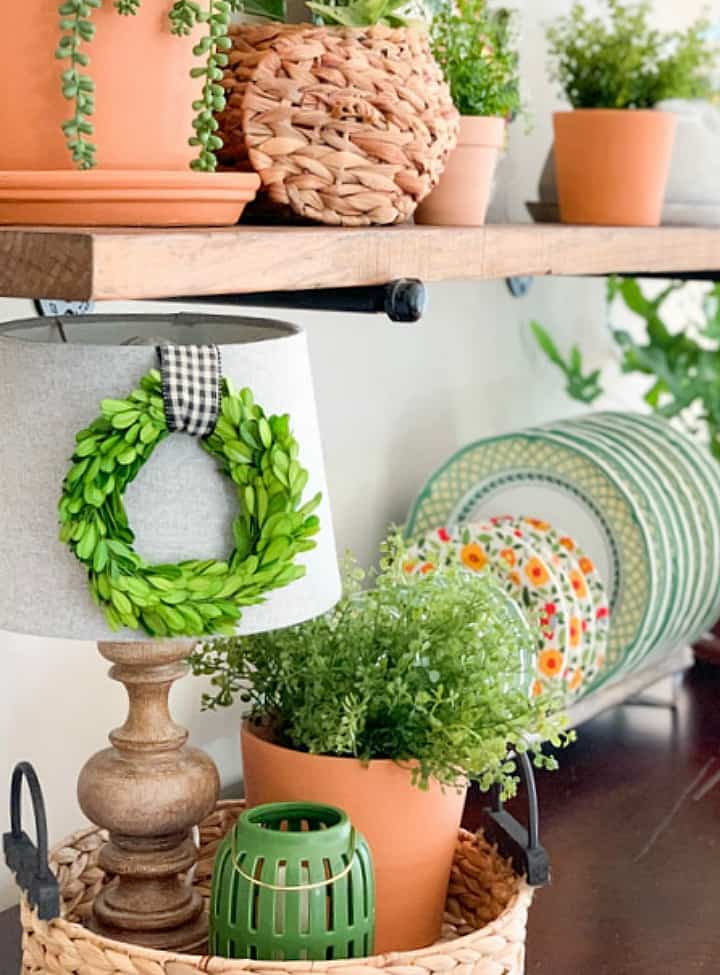 We usually start spotting robins, the first harbinger of spring, here at Worthing Court sometime in early February.  Those precious red breasted lovelies are always a welcome sight because it means that spring isn't far away!
In my book though, once March 1st arrives, it's officially spring and I'm not waiting for the calendar to tell me so – I'm adding spring to my home now!
Right around the middle of February, I started removing all of the winter decor from my home and began adding touches of spring. So, let's talk about getting a jump on bringing spring into your home!  I've got 6 easy ideas to share with you today.
FORCING BRANCHES
Forcing branches of early flowering and budding trees is one of the easiest and most budget friendly (aka free!) ways to organically add a touch of spring to your home.
If you have access to flowering trees to cut branches from, that's great!  Simply bring them indoors, place them in water (change it frequently!) in a sunny location and sit back and wait. Before you know it, you'll have a beautiful and free spring display!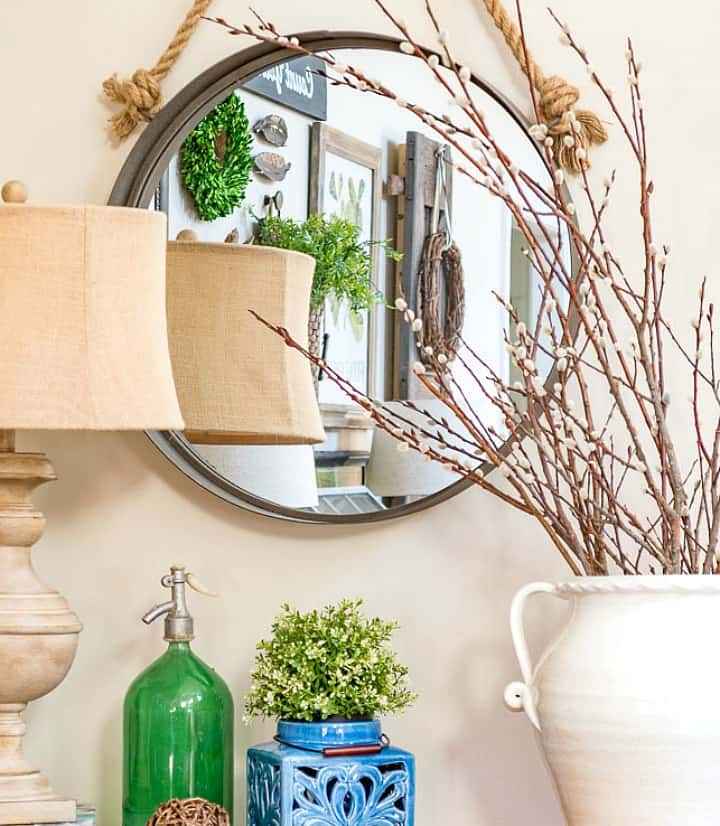 Don't fret if you don't have access to the real deal – faux branches are great too and have come a long way over the last few years.  The trick is to purchase the best ones your budget will allow for to get the most realistic looking blooms.  Some of my favorite branches to force indoors are:
forsythia
crab apple
lilac
Bradford pears
cherry
pussy willows
dogwood
witch hazel
wisteria
redbud
honeysuckle
tulip magnolia
dogwood
TERRA COTTA
Anytime that I see terra cotta, whether it's a plant container or something else made from terra cotta (or is the terra cotta color), I immediately think of the outdoors!
I think it's a natural association for us since we're so accustomed to seeing terra pots used for outdoor plants all our lives.  😀
When you're decorating for spring, it's all about celebrating the outdoors, so why not use some terra cotta in your home to bring the outdoors in?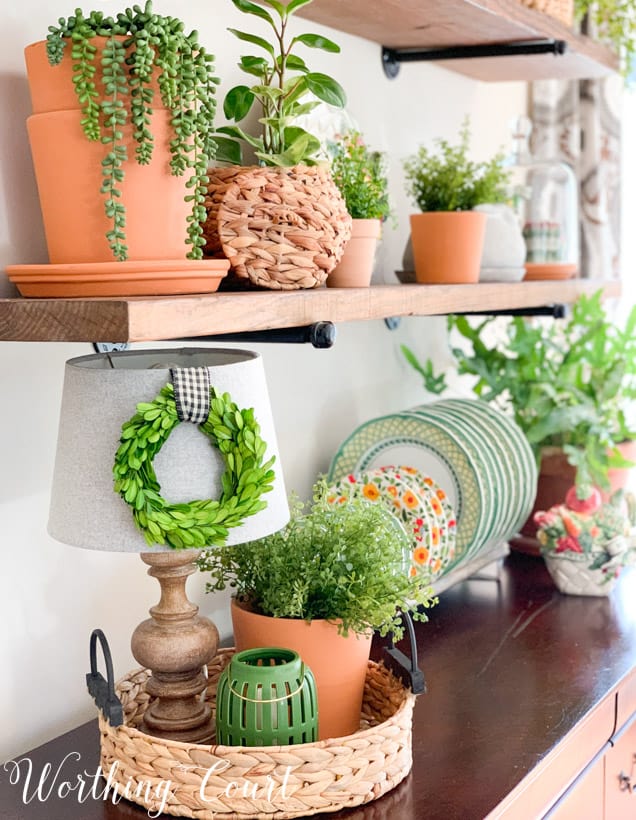 PILLOWS
Another of my favorite, super easy and inexpensive ways to add spring to your home is by changing out your pillow covers!
Of course, you can simply swap out entire pillows from season to season, but pillow covers are so affordable and take up much less storage room.
This year I added a collection of cheery blue and white pillow covers to my spring decor capsule. You can find these exact pillow covers (isn't that embroidered bird too cute?!?) and so much more in my Favorite Spring & Easter Decor Amazon Shop, which you can access by clicking HERE.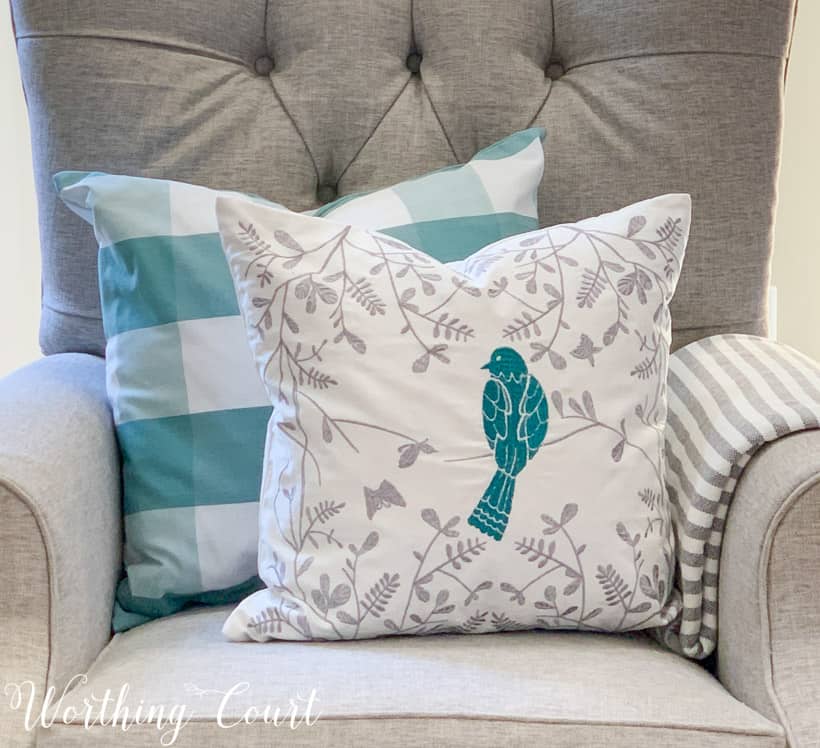 BIRD NESTS
Now here's one you may not think of.  I love to tuck in a bird nest here in there in vignettes.  Talk about something that says instant spring!
You can find them at craft/hobby stores or you can create your own by "molding" some Spanish moss or grapevine into a nest shape with your hands, like the one in the vignette below. Of course, if you also have a little bird to plop into the nest, that helps too!  😀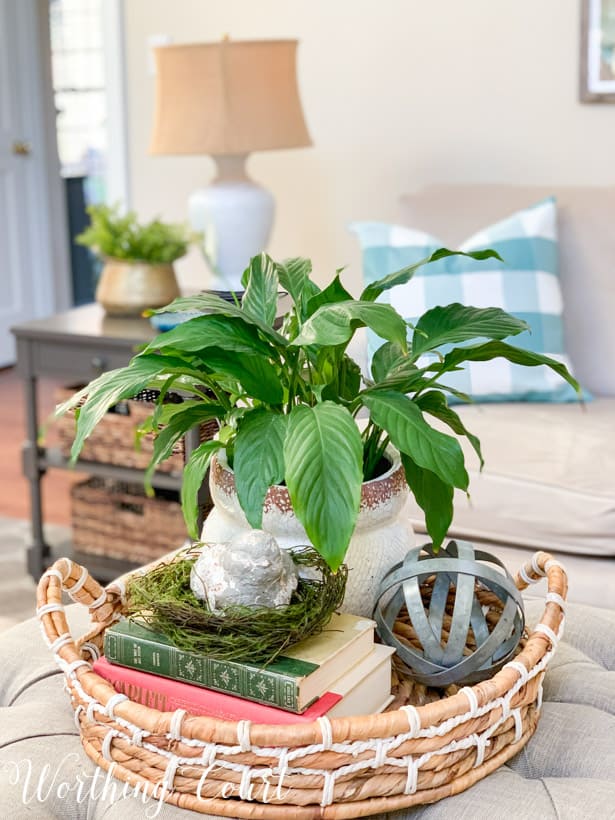 CENTERPIECES
Don't get all hung up on creating an elaborate centerpiece.  Simple is usually the best!
To create this centerpiece, I lined up three grocery store potted plants in a long tray. I placed a saucer under each plant, to protect the table from water, but I didn't even bother to remove the plastic wrapping from the pots that they came in.  Done in less than 5 minutes!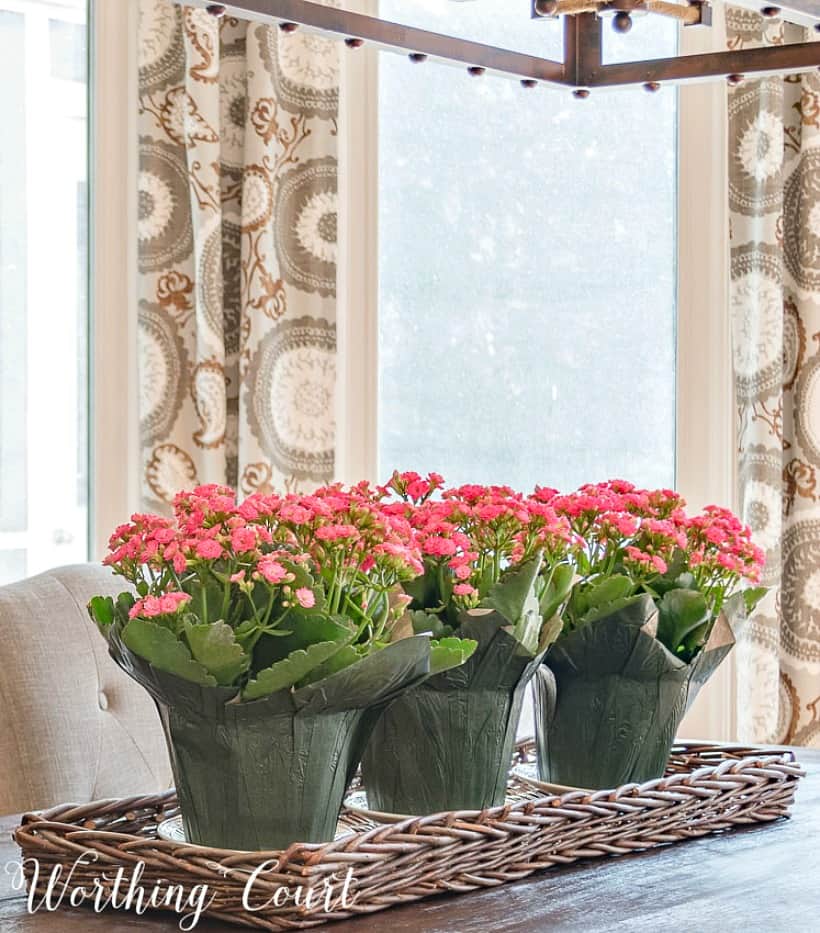 PRETTY DISHES
Now is the perfect time to bring out all those pretty and colorful dishes that have been hiding in your cabinet. And don't be afraid to mix those patterns!
You can stack them to your heart's content as part of a tablescape…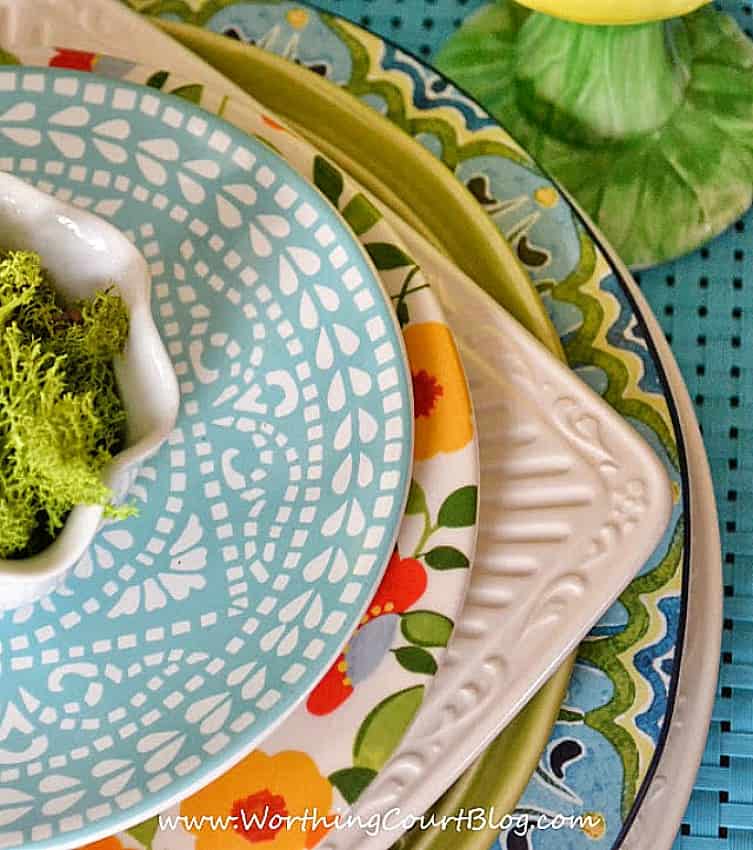 …or you can corral them together as part of a pretty spring centerpiece.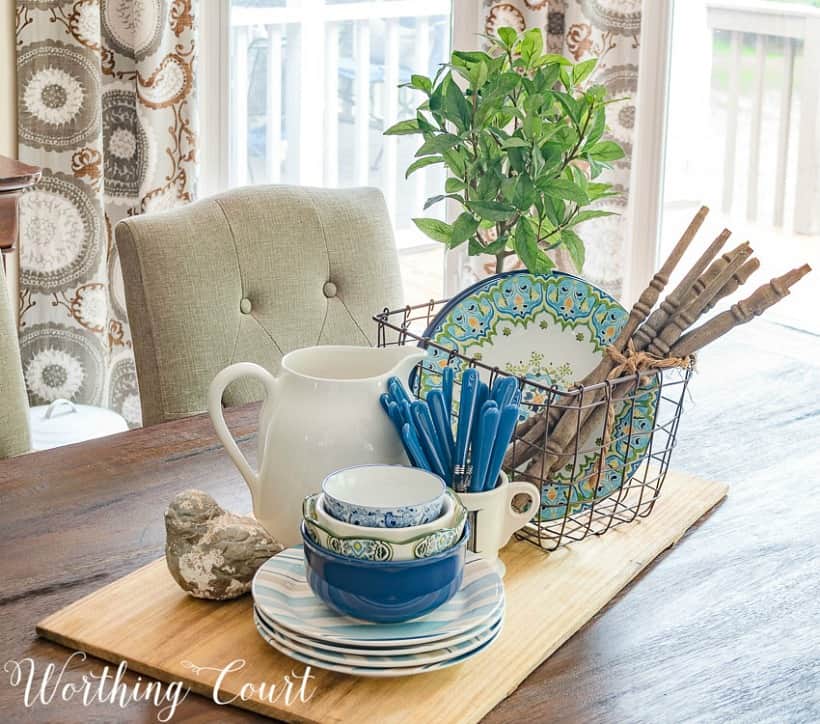 What are some of your favorite ways to decorate for spring?