The wall on the opposite side of my kitchen table, across from where the linen storage dresser resides, was screaming for something.
It took me a while to figure out what to put there until I remembered the black bench that resided in the foyer of my former home.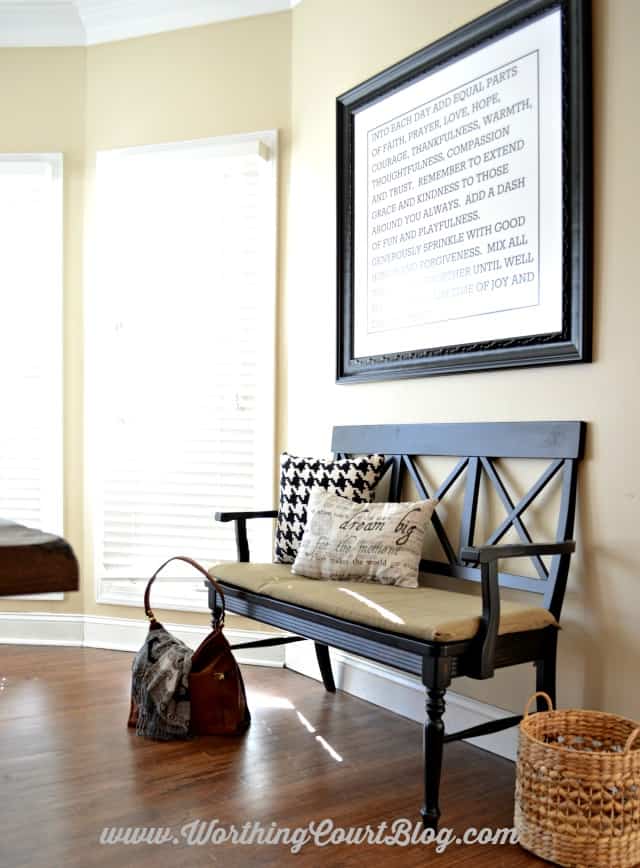 Before we go any farther, let me tell you that you'll have to ignore the unpainted woodwork and wall and lack of window treatments.  They are one of many projects around our new house that are yet to be completed.  If I waited until everything has been finished before I share anything with you, well, let's just say that you'd be waiting a looong time!
This little bench is a classic piece and will fit in with most any decor.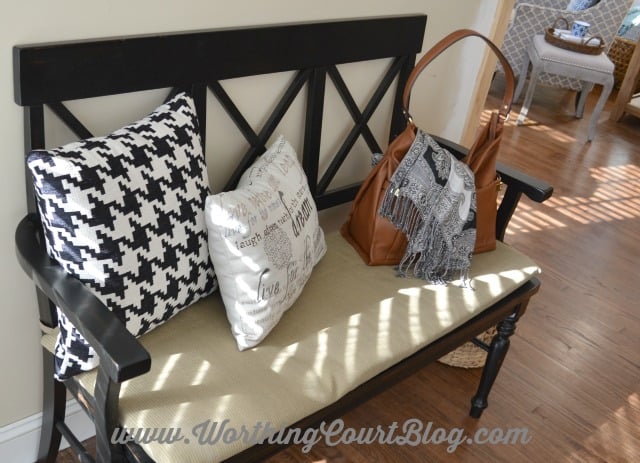 It's a great place to drop my pocketbook….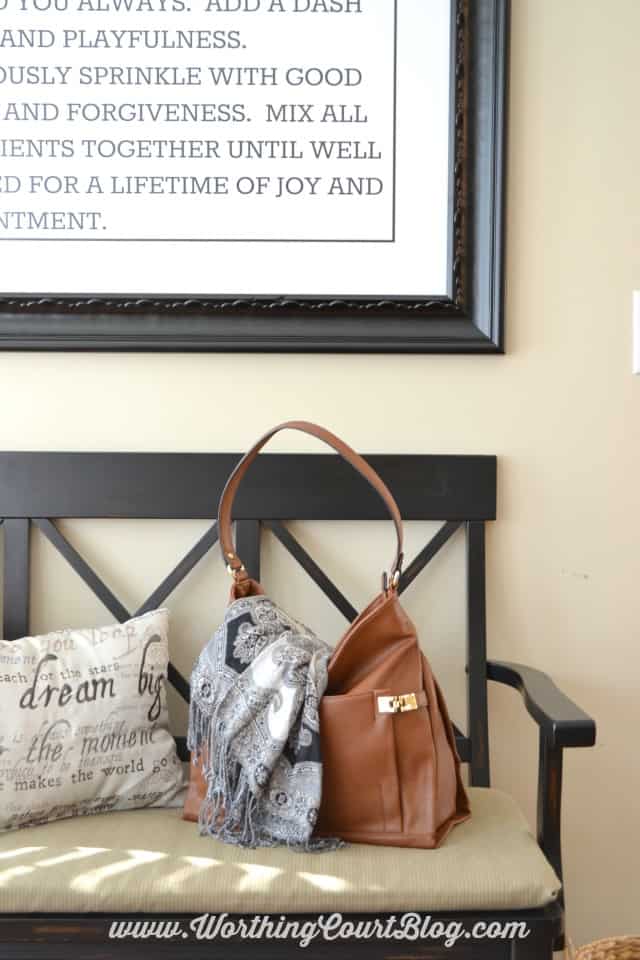 ….and is a great place to display some pretty pillows too.
In case you're wondering, the pillows came from a recent trip to Walmart and were very affordable.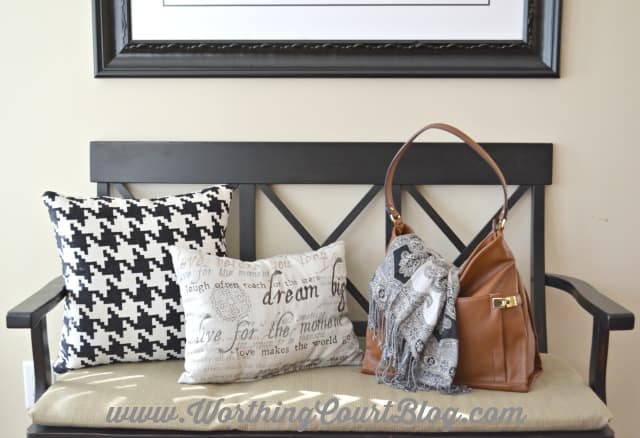 A printable, that I created, fills a large frame above the bench and is a good reminder for me every day.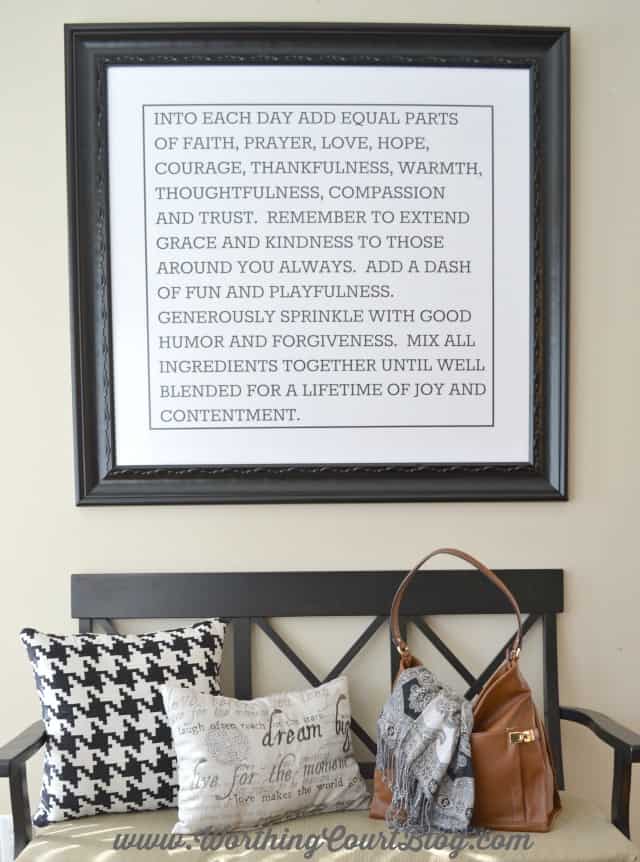 I removed the artwork from a frame that had been hanging on a wall in the office in our previous home and painted it black.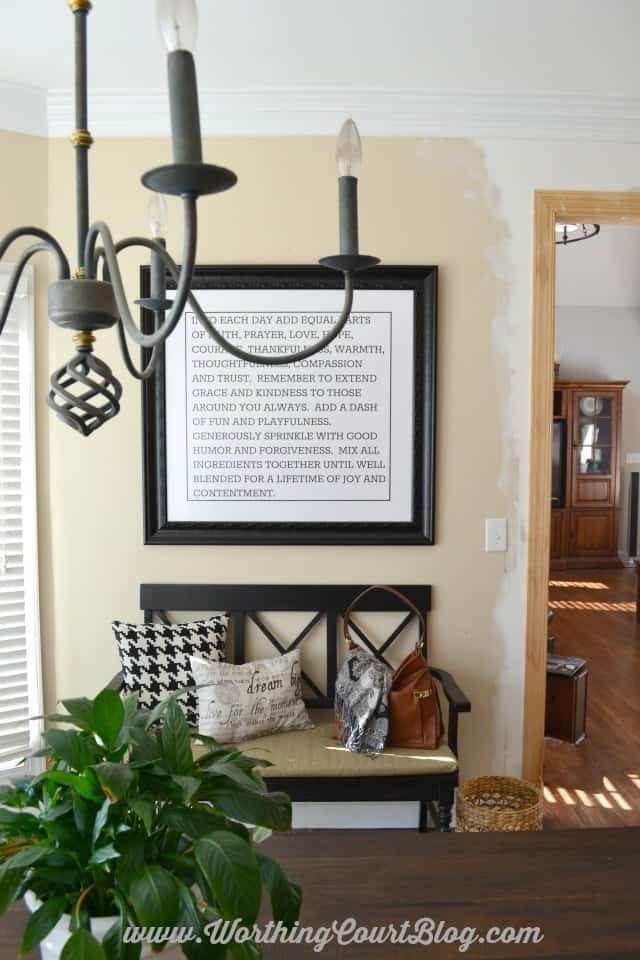 My plan was to use the same method that I used to repurpose an old piece of art and I was tickled to get it printed (on regular paper) at FedEx/Kinkos for only $3.11!
BUT, mounting such a large piece of paper didn't work well for me.  There were air bubbles and wrinkles all over the place that I couldn't prevent from happening or get rid of.
So back to FedEx I went where they printed it again and mounted it on foam board for me.  I had them laminate it with a matte finish to protect it.  Even though it was more expensive than my original $3.11, it was still much less expensive than purchasing a ready-made piece of this size.
My framed piece measures 33.75″ high x 36″ wide (including the white space around the outside), which may be larger than you need.  You can resize and print it yourself or download it to a thumb drive to take to an office supply store where they can print it most any size for you.  We tried numerous sizes and the font never became distorted.
Below are the links to download each size of the printable.  I keep them stored on Box.com, so you may have to signup for that site to get access to the printables.  Don't worry – it doesn't cost a thing to use Box.com!
Click HERE to download an approximately 9 x 11 version.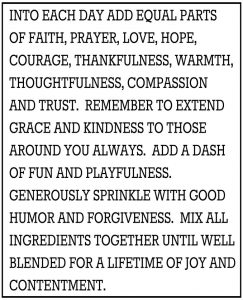 Click HERE to download the large 33.75 x 36 version.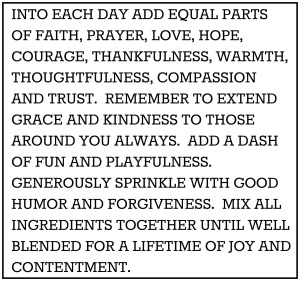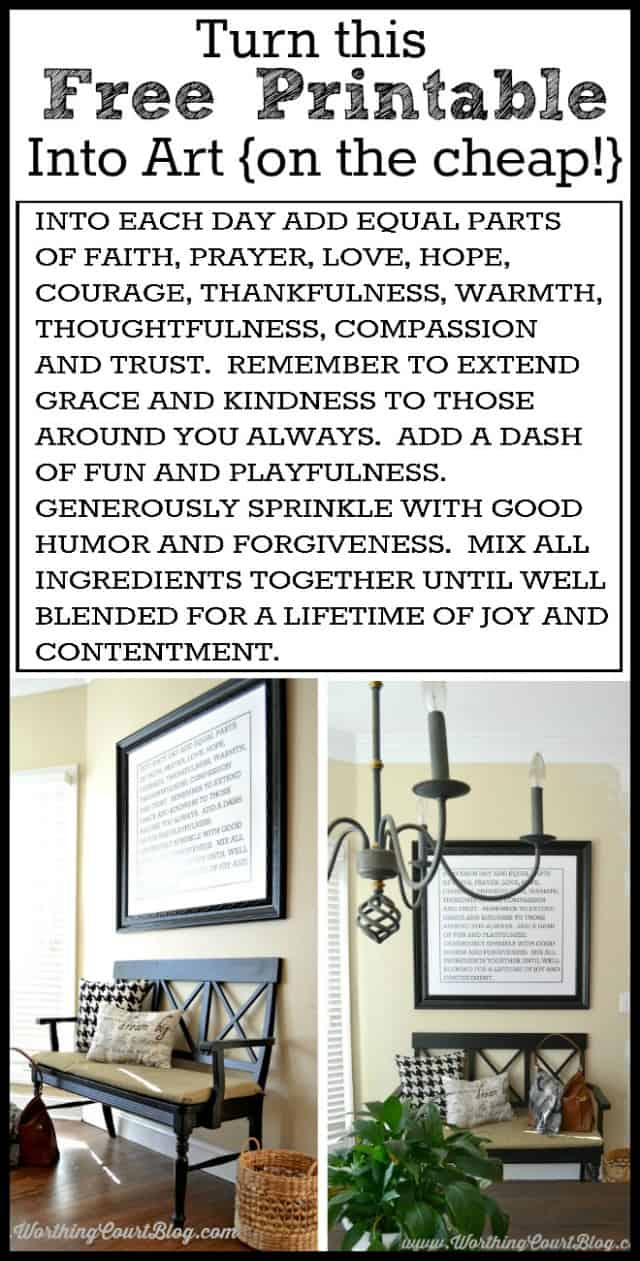 Click HERE to take a mini tour of our new house and to see more projects that we've completed.
Thank you for stopping by!