Seasonal Simplicity In My Christmas Breakfast Room
A festive Christmas breakfast room tour with simple and easy to copy holiday decorating ideas.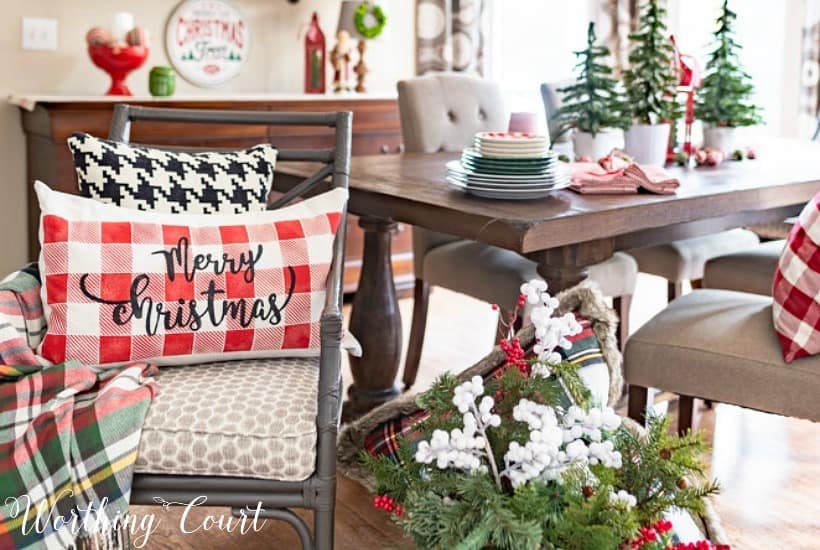 Pin
Today, I'm honored to be a part of the Merry & Bright Christmas tour along with several of my Instagram friends!  If you're coming over from Maui In My Heart, I'm so glad that you're here!  Debbie is new to blogging and she's kicked things off with some beautiful holiday decor!
Welcome to one of my favorite rooms in our house to decorate for Christmas – the breakfast room!  I've been decking the halls throughout Worthing Court, but this room is always one of the first places to receive the magic Christmas touch.  In reality, it isn't a separate room at all.  What I call the breakfast room is actually located at one end of our kitchen.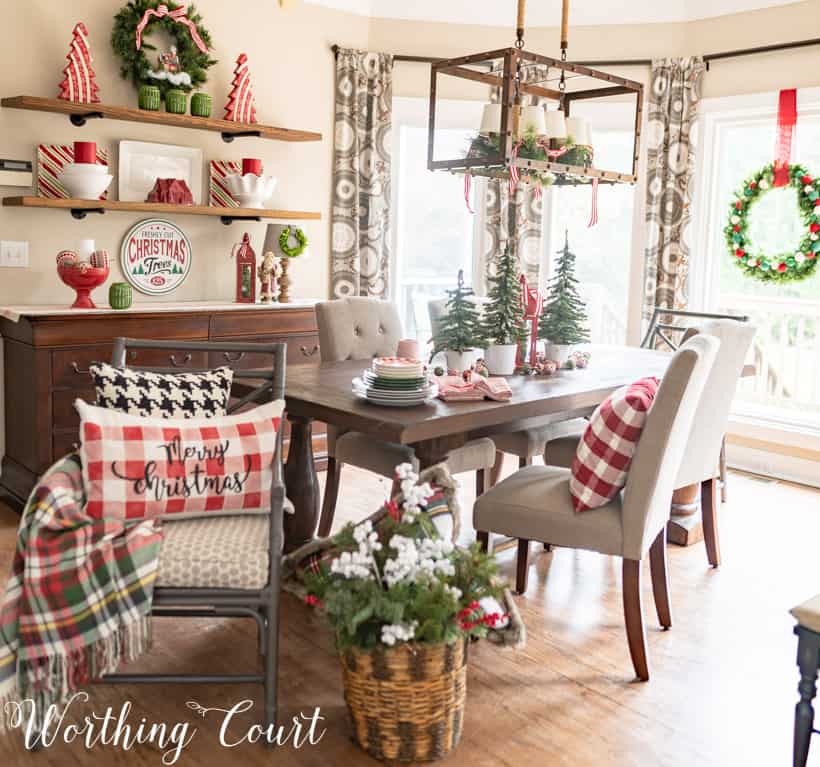 Pin
This year, I'm embracing the idea of simplicity and have tried to reuse as much of what I already own as I can. This is probably the most simple display that I've ever created for these open shelves, but I love it!  I think I'm tired of all the "stuff" and of dragging it all out and putting it all away again.  Know what I mean?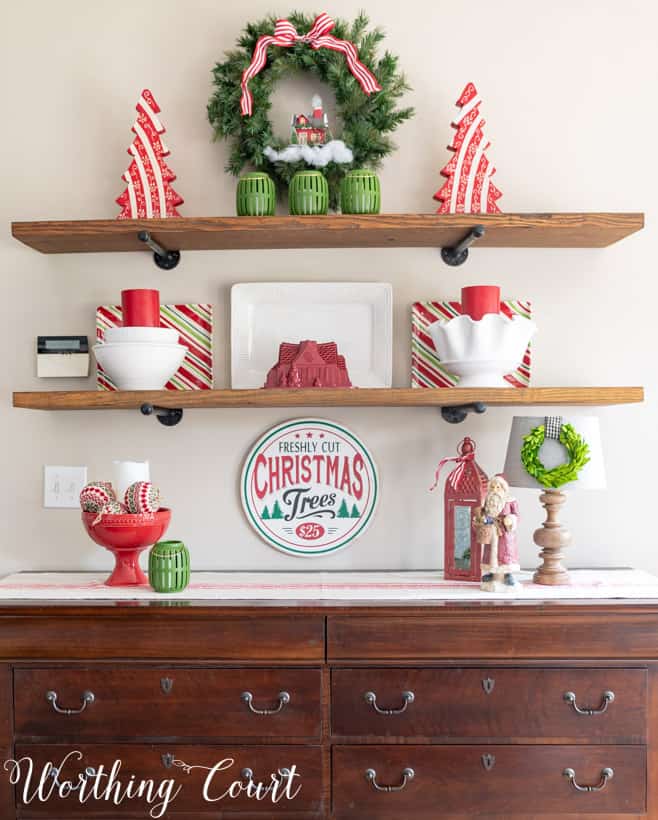 Pin
The little house sitting in the center of the wreath is actually a Christmas ornament.  To make it appear as if it's sitting in snow, I stuffed a little bit of batting into the branches of the wreath.  The wooden trees came from HomeGoods and the green mini lanterns came from Target's Dollar Spot.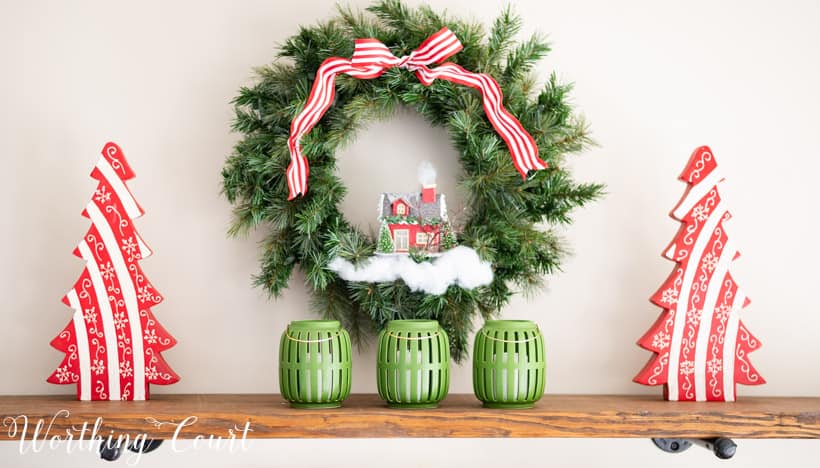 Pin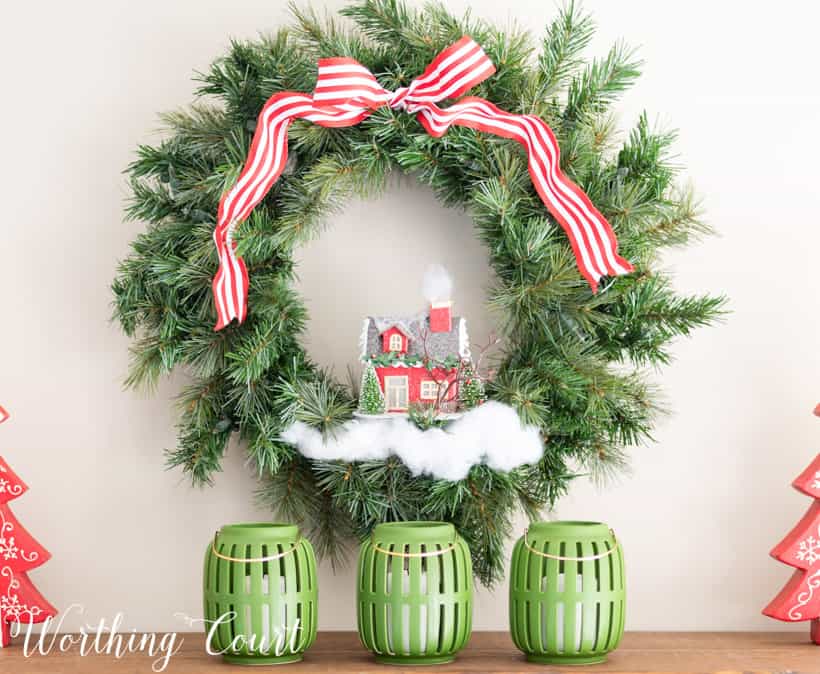 Pin
A frosted Santa combined with a red lantern and my lamp with the permanent mini boxwood wreath grace one side of the sideboard.  I always get asked how I attached this wreath to the lampshade – I simply wrapped ribbon around the wreath and hot-glued the ribbon right under the rim of the shade on the backside.  The lamp is from Target and I've had the Santa for years.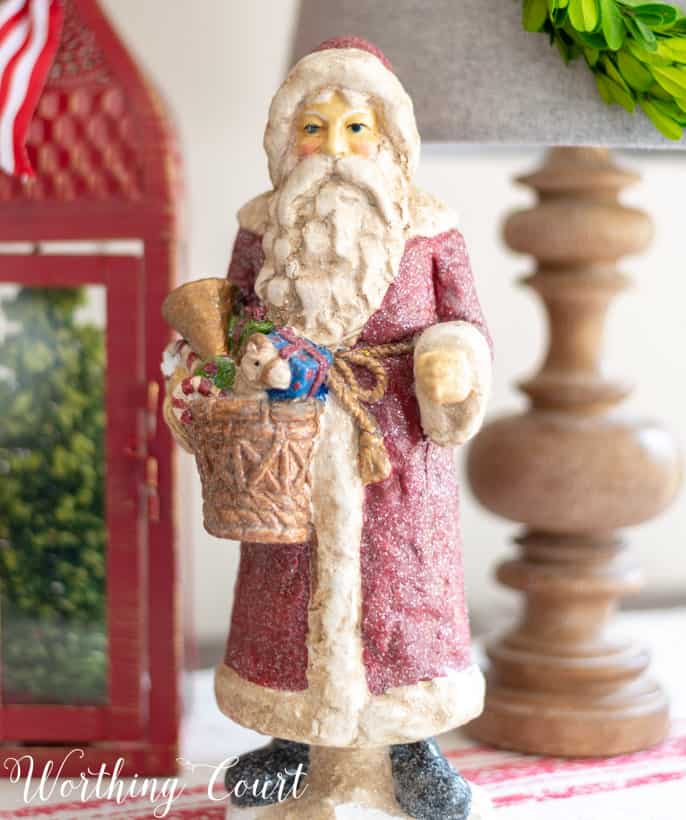 Pin
And a new red footed bowl filled with Nordic-look sweater Christmas ornaments and a mini lantern grace the other end.  Ornaments are from Kirkland's last year and the bowl is from HomeGoods this year.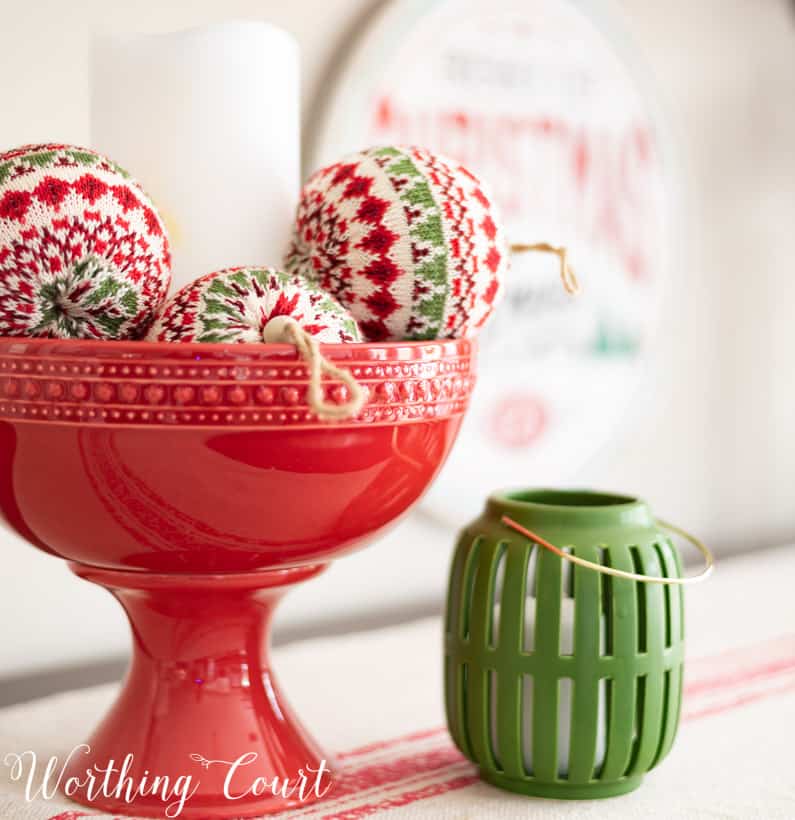 Pin
A red lantern filled with a bottle brush tree along with a simple grouping of mini trees makes up the centerpiece on my table.  To help tie it to the shelf decor, I added a garland that matches the Nordic-look sweater ornaments in the red footed bowl on the sideboard.  This arrangement goes together very quickly and would be so simple to copy!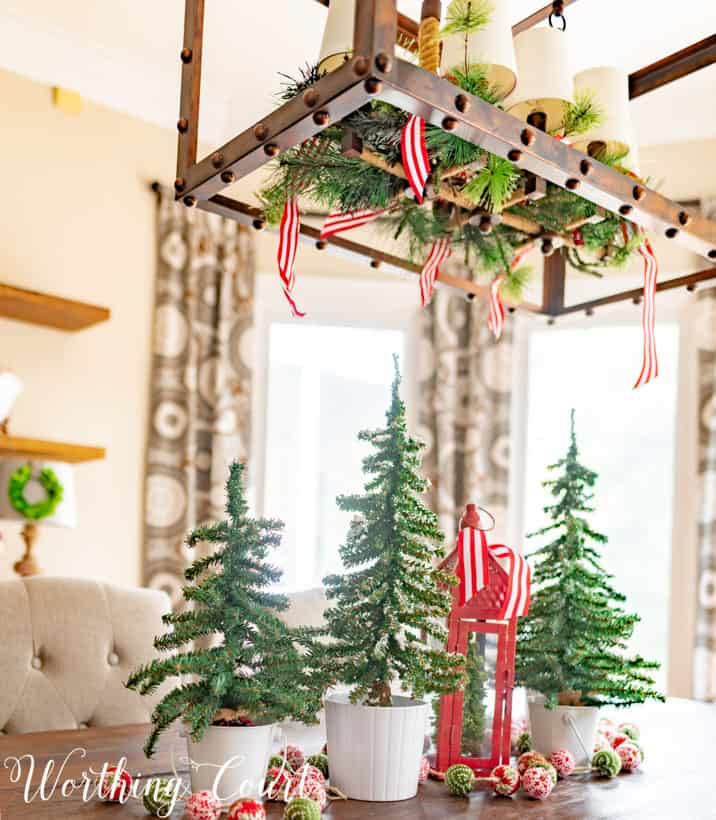 Pin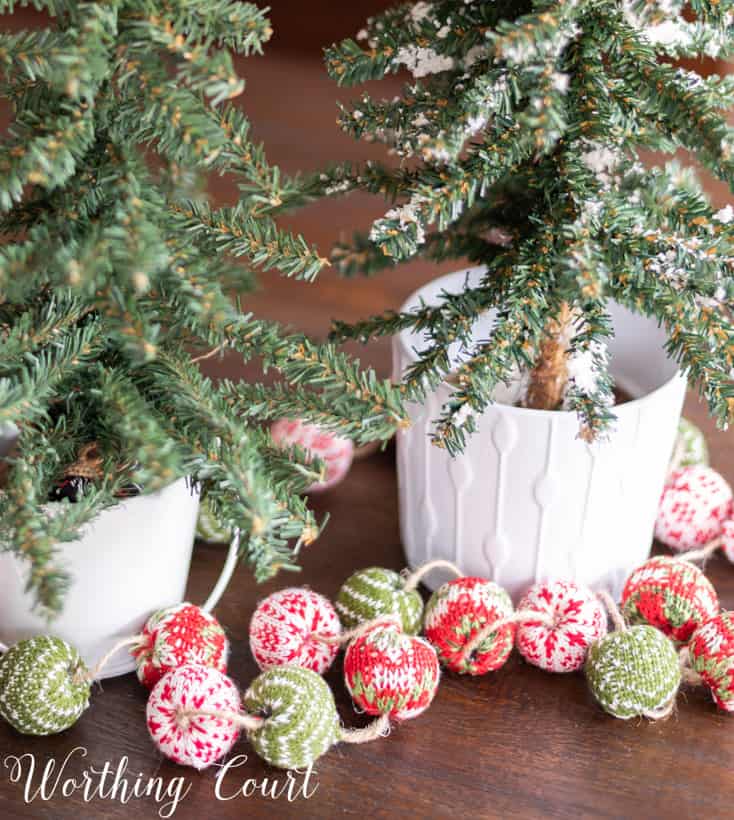 Pin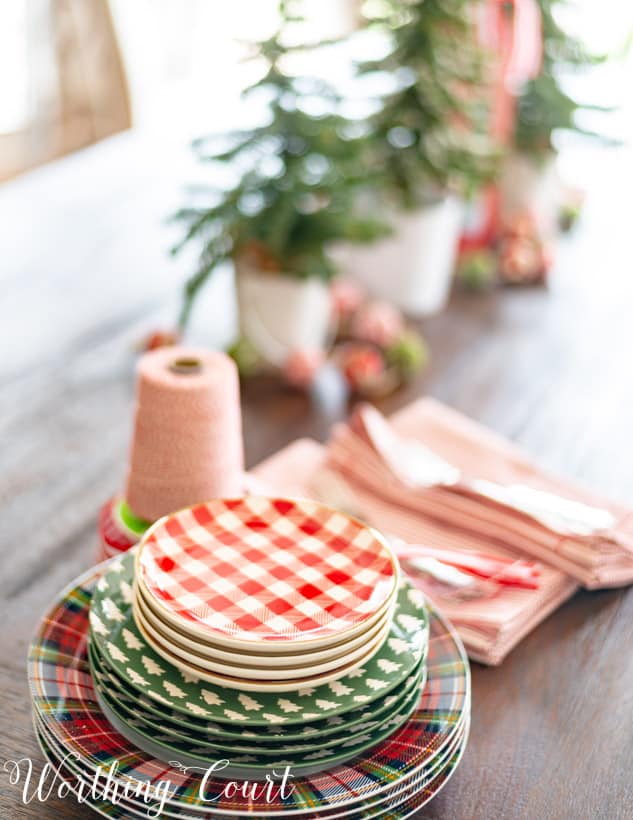 Pin
I have to point out the beautiful "Merry Christmas" pillow to you!  I'll actually use it on the bench on the other side of this room, but it's so beautiful and so well made, that it deserves to be featured!  It came from Jill at Sew A Fine Seam and is probably the most well made holiday pillow that I've ever owned.  Sew A Fine Seam, where you'll find lots of cute Christmas pillows, ornaments and stockings.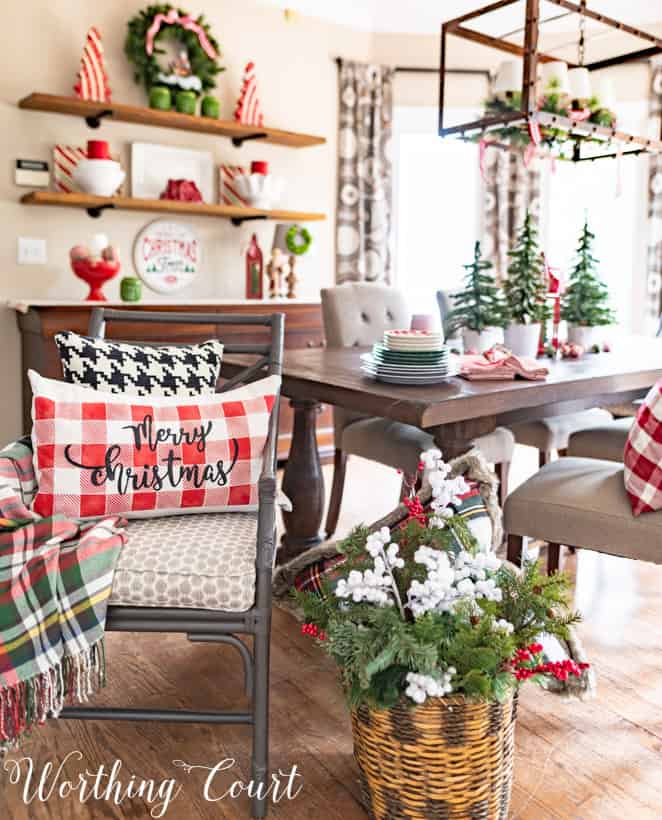 Pin
Thank you so much for stopping by today!  I'd love it if you would leave me a comment to let me know you were here.  And while you're at it, you may want to sign up for my newsletter so that you can receive a free copy of my e-book, "How To Decorate Your Home Like You Hired A Designer".  There's a place to sign up at the top of the page!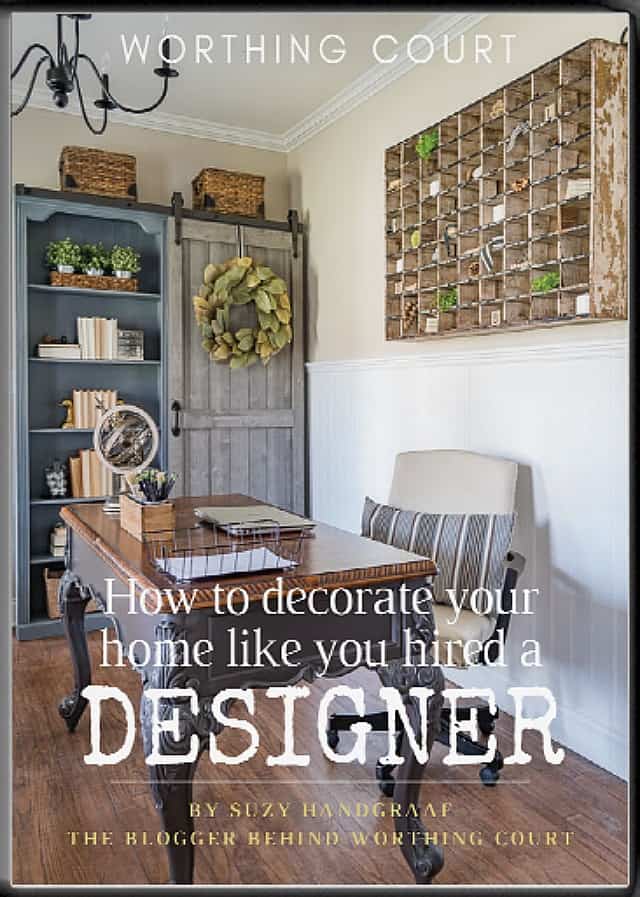 Pin
Next on the tour is Marci from Lemons To Lovelys.  I promise you'll be blown away by her style!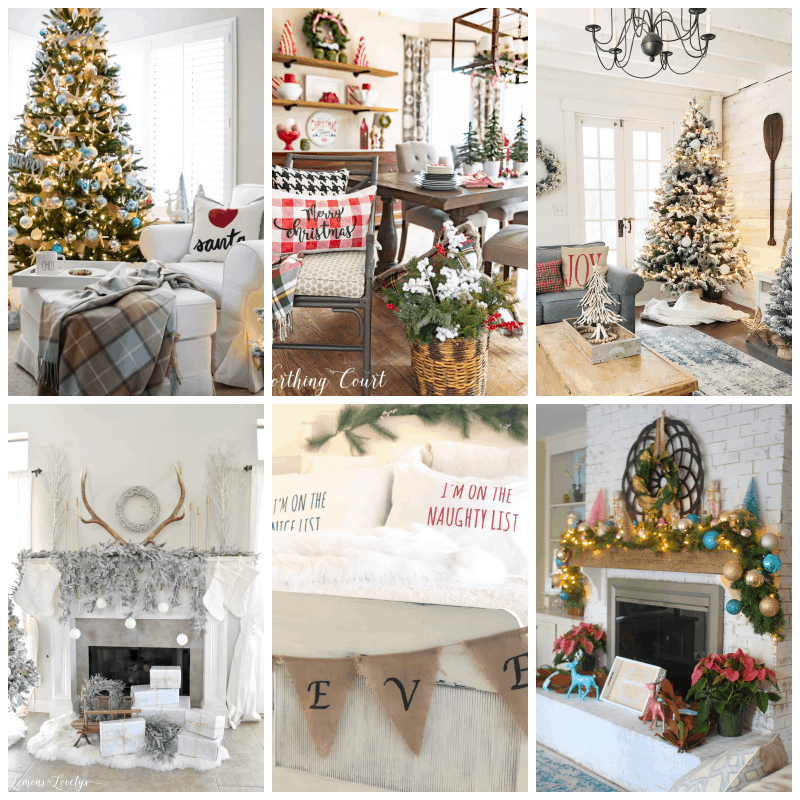 Pin