A Cozy Christmas Decorating Ideas Tour – Foyer And Family Room
A cozy Christmas decorating ideas tour of our foyer and family room with updated traditional holiday decor inspiration that you can implement in your own home.
If you think about it, the Christmas decorations that we add to our homes are really a series of moments. No matter your style or whether you are a minimalist, a maximalist or are somewhere in between, your home is filled with the moments that make up Christmas for you and your family.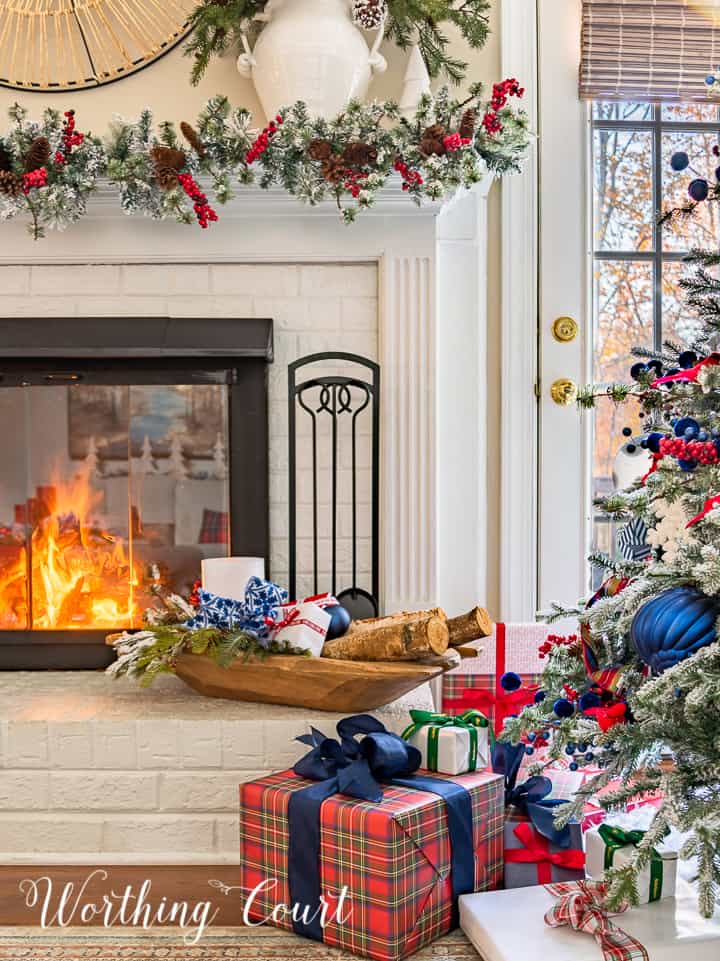 When taken as a whole, all those moments fill our rooms with personality and our overall decorating style and Christmas theme.
Today I'd like to invite you into Worthing Court to see how I've woven those special moments throughout my foyer and family room this year in what I'm calling a cozy cottage theme.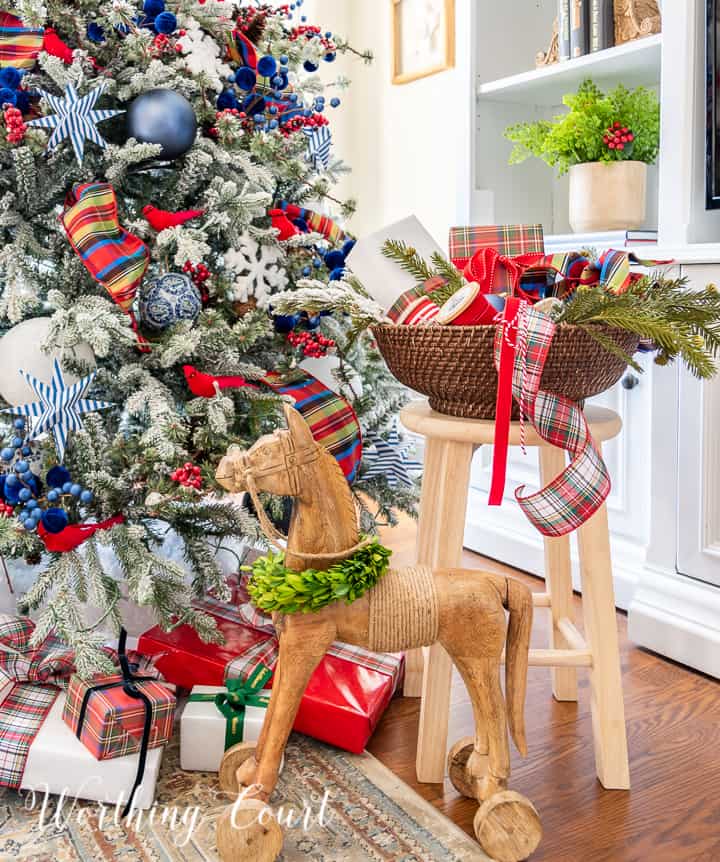 Before we get started, I'd like to welcome you to the 2021 Christmas Tour, hosted by Marty at A Stroll Thru Life. Marty has gathered a group of 35 bloggers who are all sharing Christmas inspiration from their homes this entire week!
If you're coming over from Whispering Pine Homestead, welcome to Worthing Court! Anita's home is filled with vintage charm. I'm sure you'll love visiting there as much as I do.
I've split the tour into two parts since I'd like to show you around several rooms of my house and I don't want this post to be too long.
Come on into the foyer, where I've done a couple of things differently this year, starting with the garland that I added to our staircase. This is a first for me, but it goes a long way toward adding to the cozy factor in this space.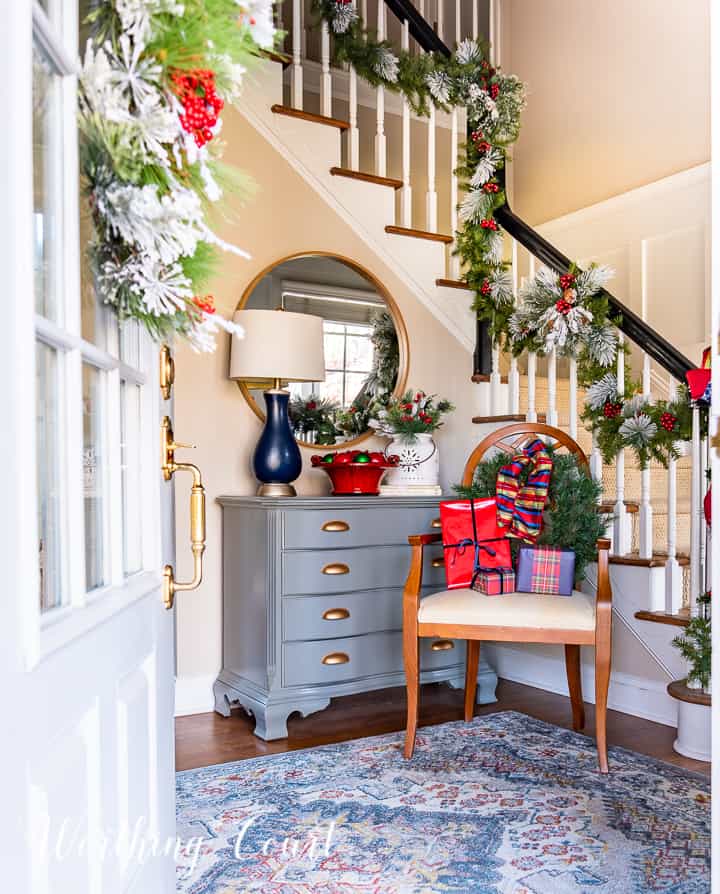 The base of the garland is a simple pre-lit evergreen one that I attached to the rail with black zip ties and then added flocked pine and red berry picks to.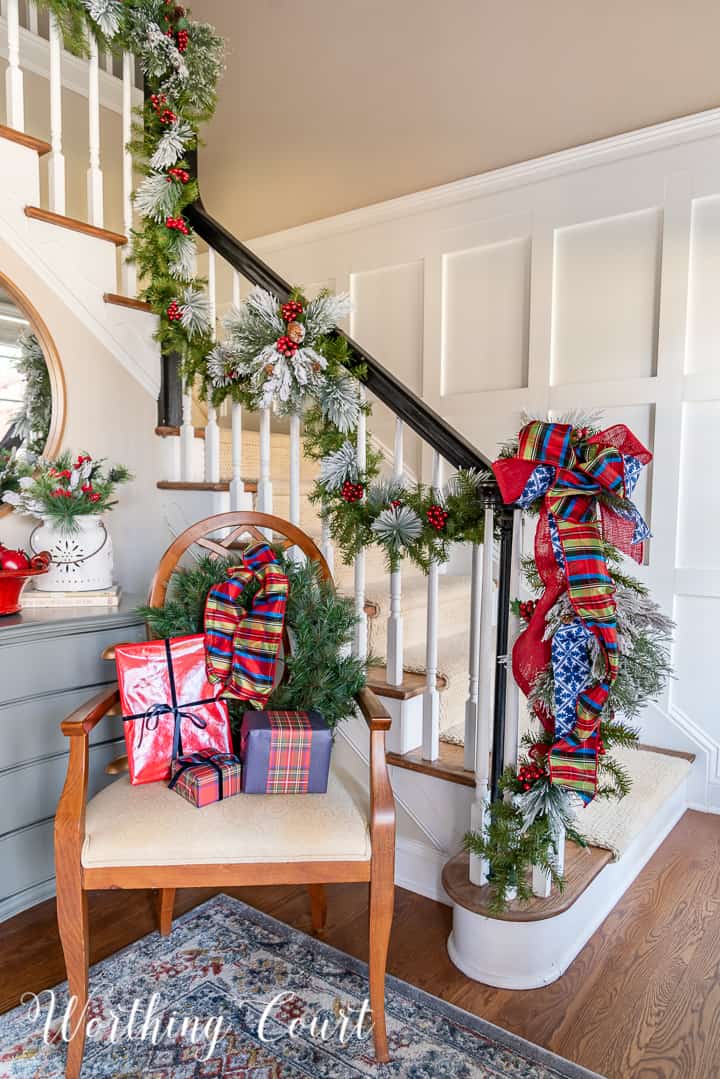 I decided to mix in blue with all of my red decor this year, and the beautiful blue, red and green striped silk ribbon is perfect for pulling all of the colors together.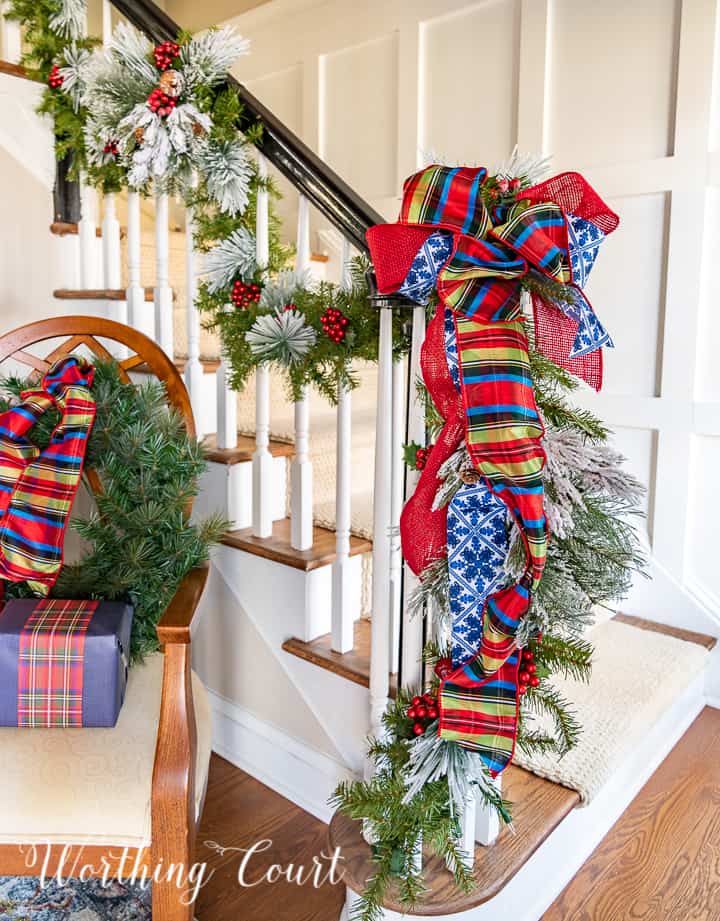 If you've been following me for a while, you may remember that I normally have two small benches on the wall on the opposite side of the foyer, that flank the opening into our office. I built them especially to fit this tight little spot. I decided to remove the benches for the Christmas season and replace them with something a little different.
On one side of the office opening, I added a coat rack filled with all sorts of Christmas'y goodies – my red coat, a tartan plaid scarf, a Merry Christmas sign, a wreath and a long basket filled with Christmas greenery and berries. A tall basket filled with more greenery and berries helps to fill the empty space.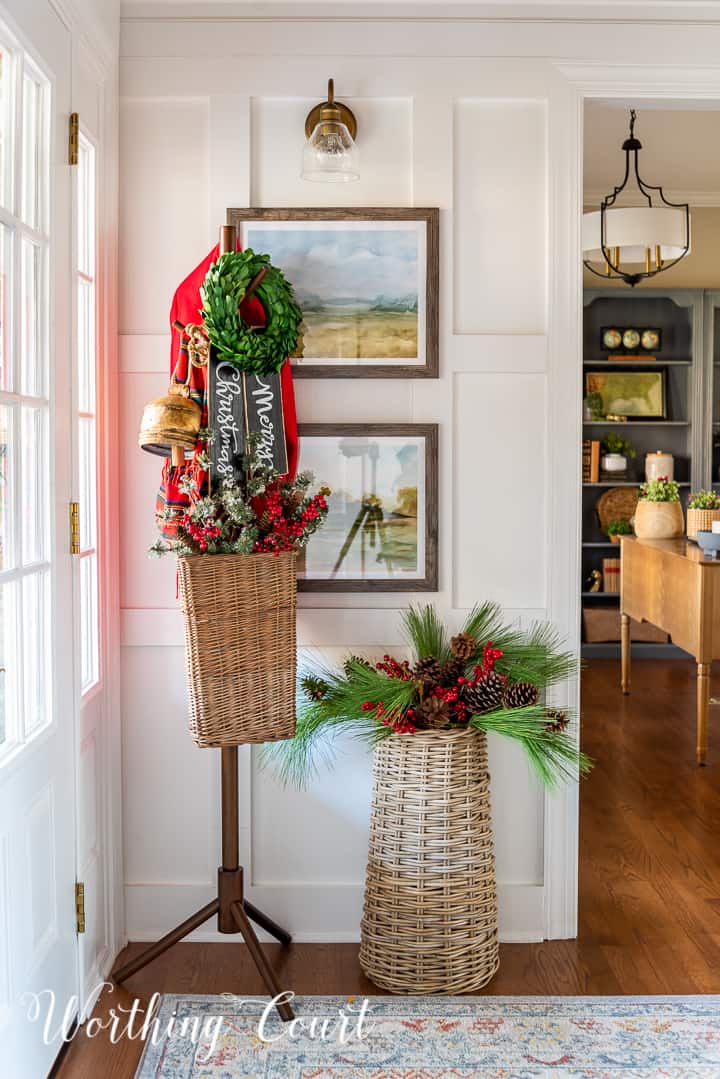 On the other side of the opening, I added a pretty, slim flocked tree that I decorated very simply only using blue and white origami stars, red cardinals and a few blue velvet picks in the topper.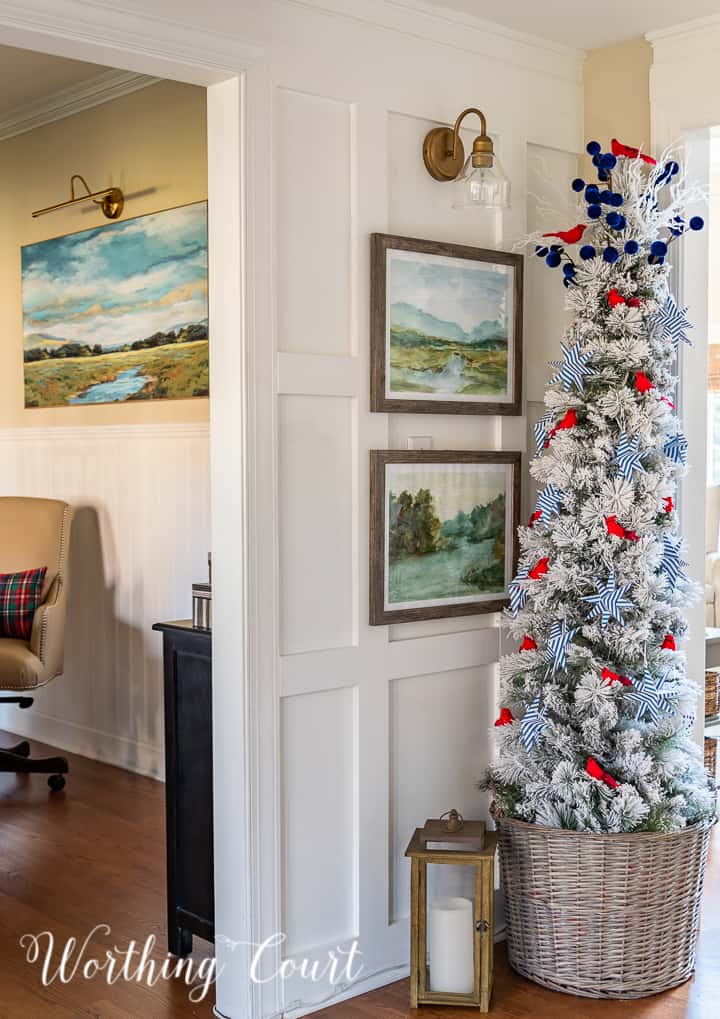 My whole idea for placing the tree in this spot, is to help carry your eye from the front door straight through to the family room and to help tie all of the colors together.
I removed the stand from the tree and placed it in a basket to take away the need for a tree skirt, which would have taken up too much floor space in the doorway. The tree is held upright by all of the beach towels that I stuffed down around it. Shhh – don't tell!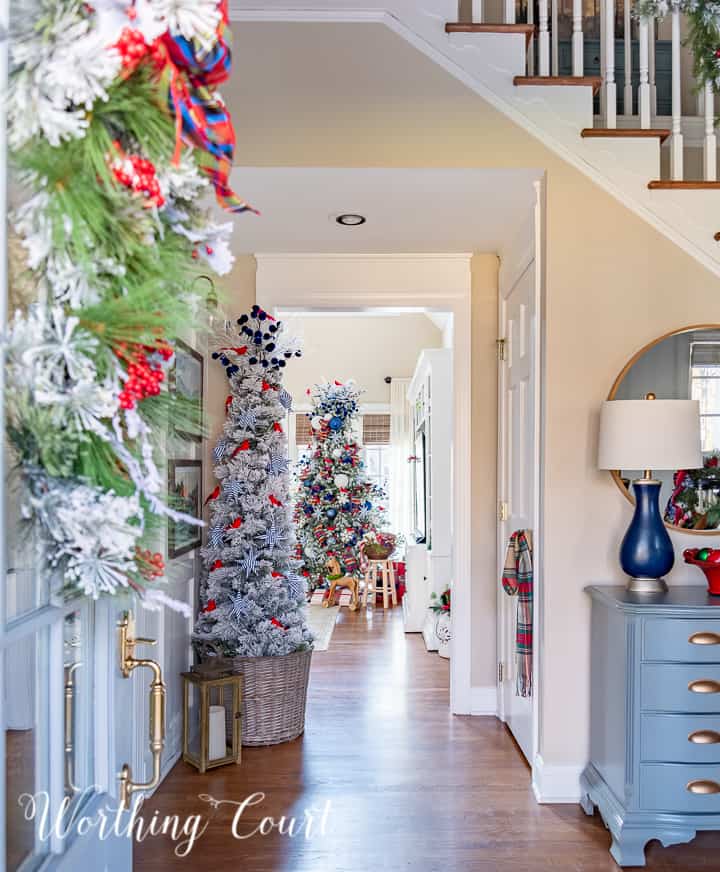 My husband thought I was wrong to place a tree in this corner, but I actually love how it draws you right into the family room.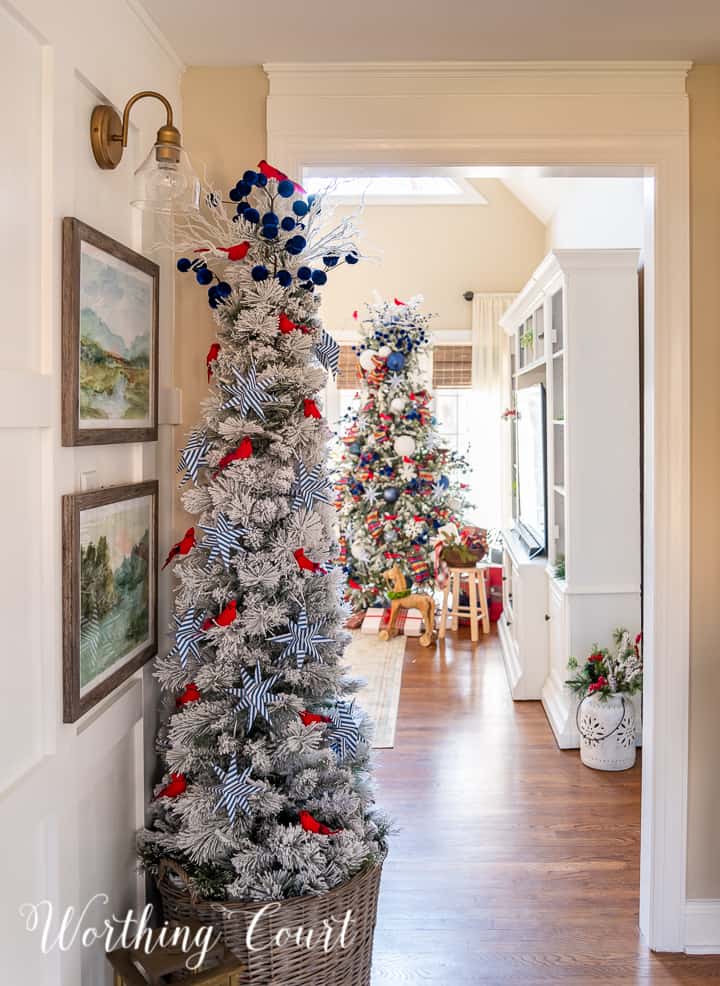 The tree in the family room is a continuation of the same color scheme that I used in the foyer – blue and white with pops of red.
My biggest worry with this color scheme was that my decor would look like it was meant for July 4th instead of Christmas, but I believe I was able to avoid that by keeping the red to a bit of a minimum.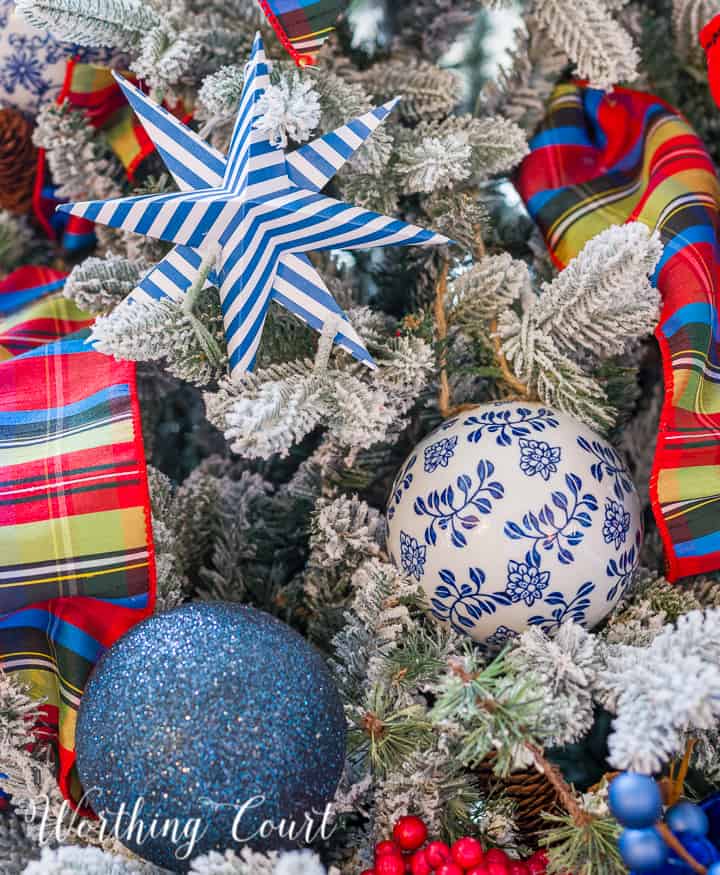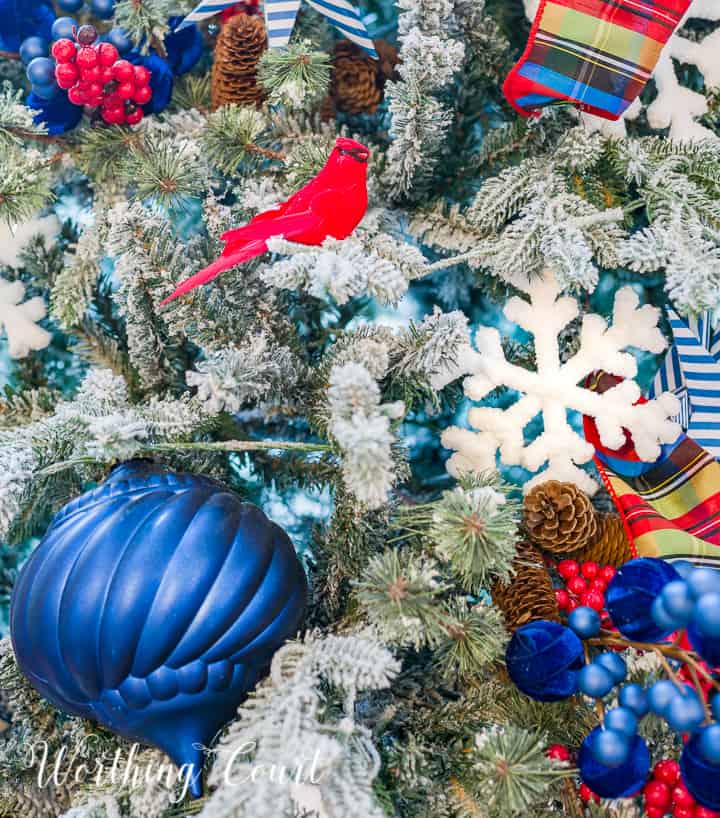 As you can see, the tree sits right beside the fireplace, so I feel like its decor needs to be tied directly to the tree.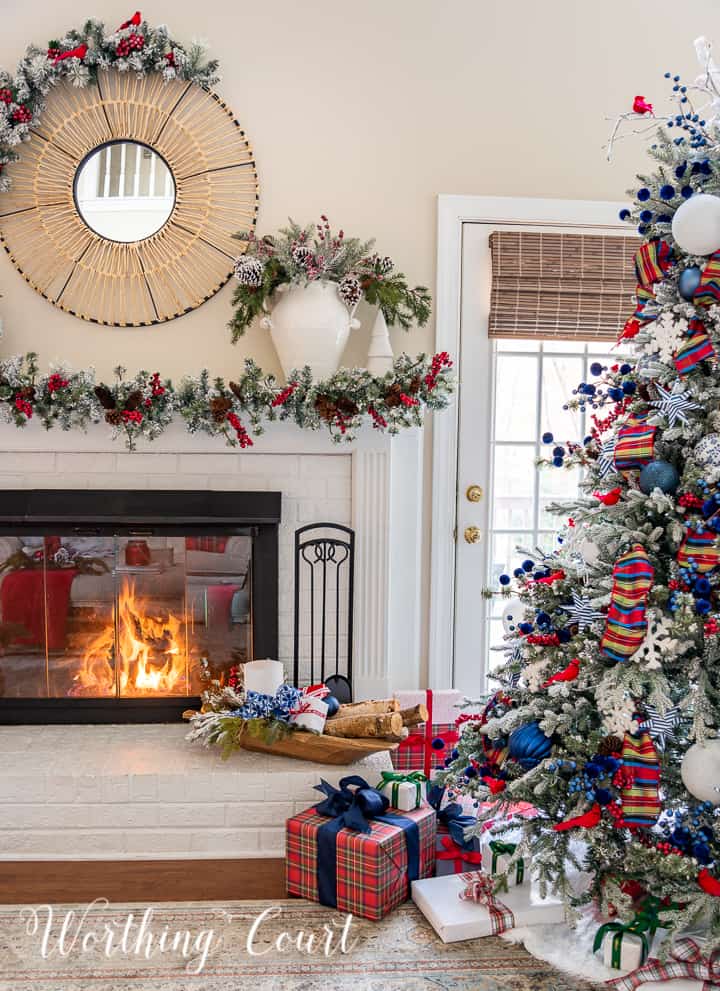 The same blue, red and green striped ribbon makes another appearance here, along with a ginormous red ornament and a fun pair of blue and white candlesticks to keep Santa company.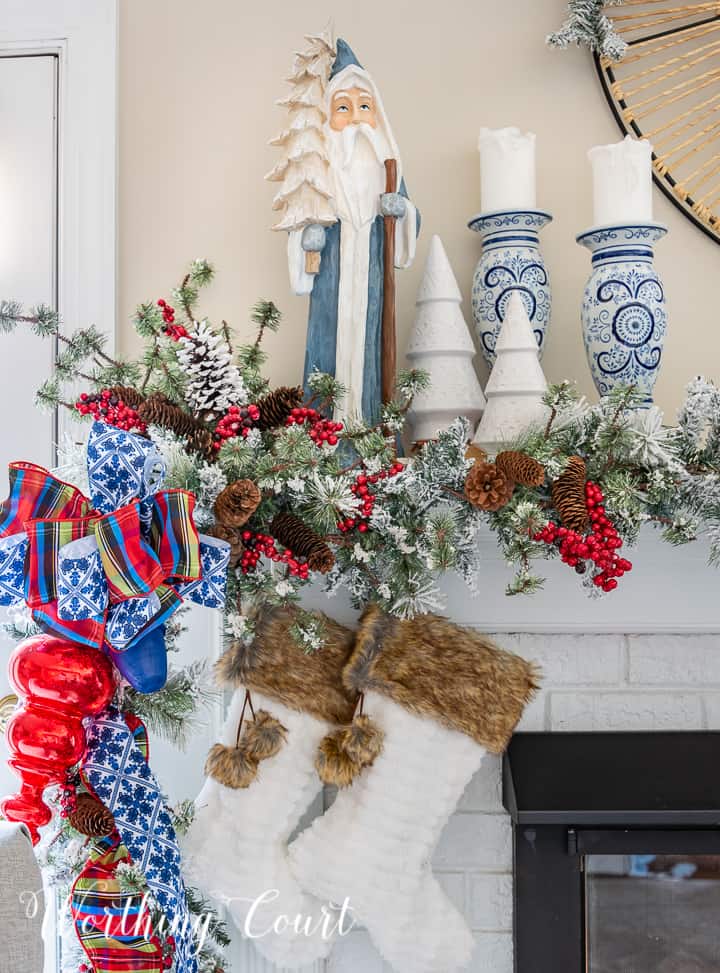 A favorite place for cuddling up with a good book on a chilly evening is in the recliner right here beside the fireplace. It's a cozy spot during the day too as the sun streams right through the French doors.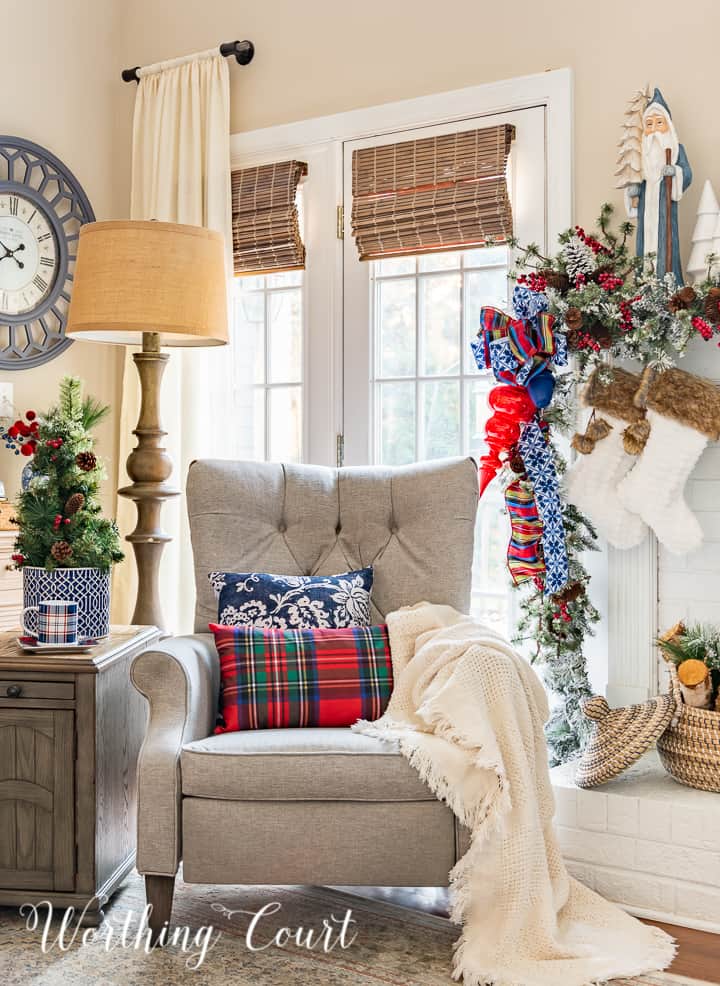 I almost always give the hubs dibs on the recliner though, because my favorite spot to sit is on the couch, which is located directly across from the fireplace.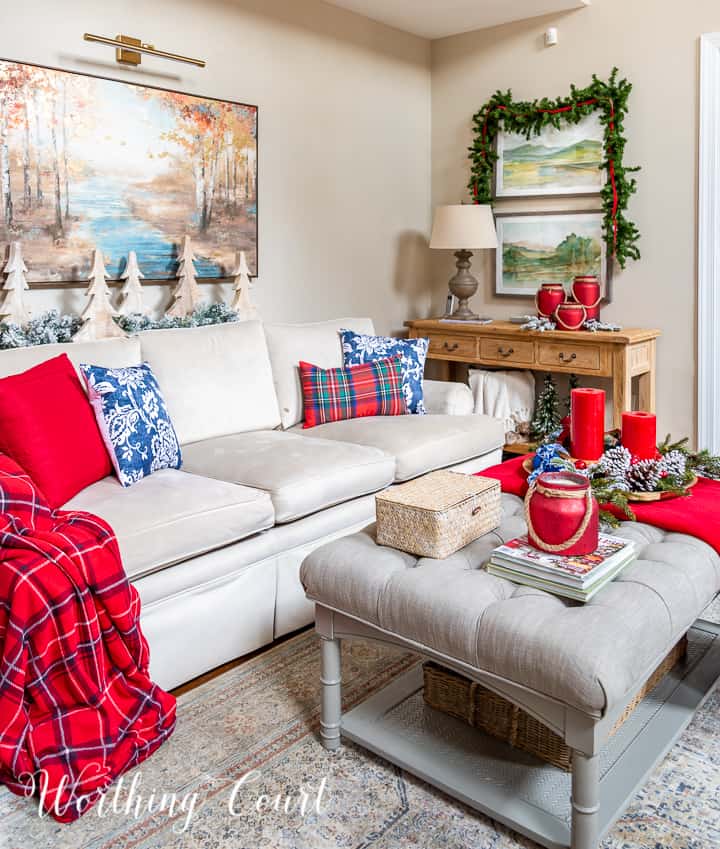 It's the best spot to view both the fireplace and the television and that's a win win for me on chilly winter nights!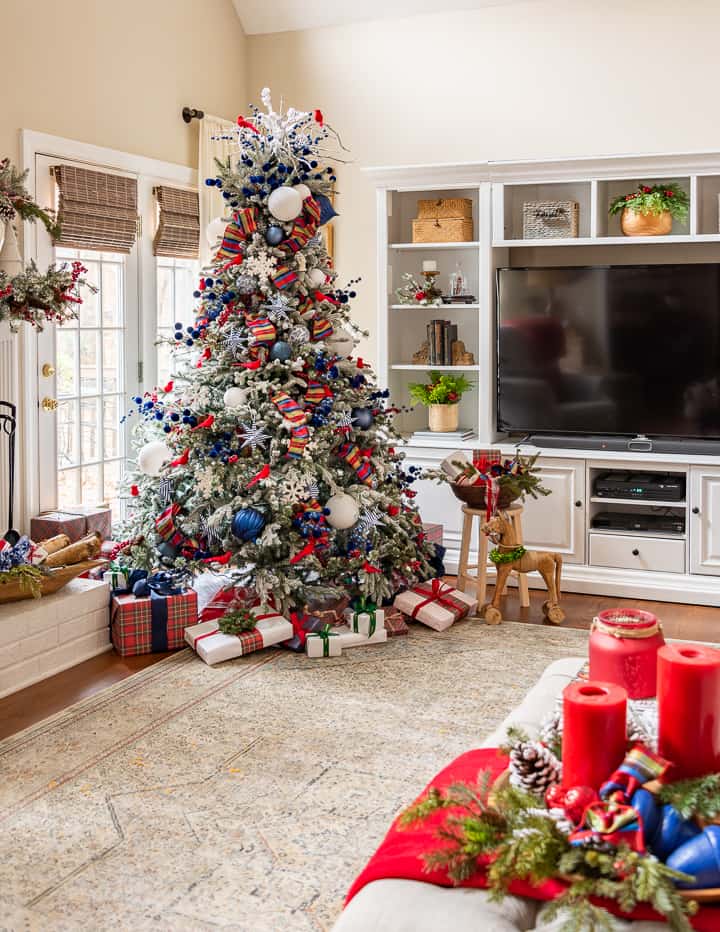 I hope you enjoyed this little tour of my cozy Christmas cottage foyer and family room!
Next up on the tour is Sarah from Grace In My Space. And then you'll want to be sure to visit all of the other homes on the tour. You're bound to come away with loads of Christmas ideas!
Monday Dec 6th
A Stroll Thru Life – Up To Date Interiors – Our Southern Home – Southern Hospitality
This Is Our Bliss – Southern State of Mind – This Is Our Bliss
Tuesday December 7th
Making it in the Mountains – Decor to Adore – Pink Peppermint Design – Thrifty And Chic
Cuckoo4Design – White Arrows Home – Hymns and Verses
Wednesday December 8th
StoneGable – Whispering Pines Homestead – Worthing Court – Grace In My Space
DIY Beautify – Remodelando la Casa – LeCultivateur
Thursday December 9th
Designing Vibes – The Stonybrook House – A Pretty Life – Calypso in the Country
Clean and Scentsible – 11 Magnolia Lane – Chalking Up Success
Friday December 10th
Fox Hollow Cottage – Follow The Yellow Brick Home – Casa Watkins Living – Quarters One