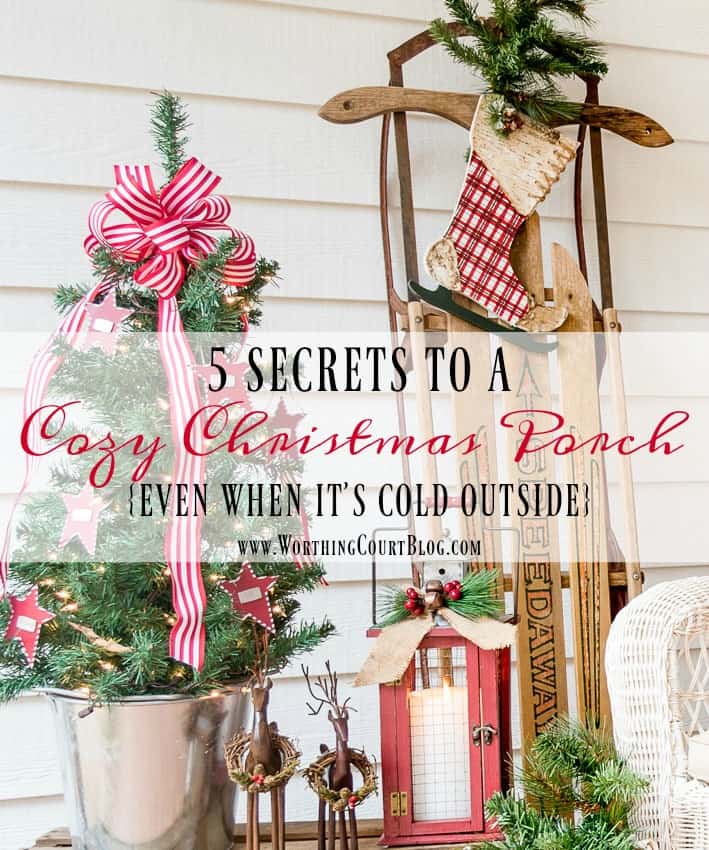 Hello, my friends! I'm honored to be among a group of some of your favorite bloggers joining together for the "Baby It's Cold Outside Christmas Outdoor Home Tour" hosted by Barb from The Everyday Home and Susie from The Chelsea Project! Be sure to scroll to the bottom of the post for a link to everyone's project!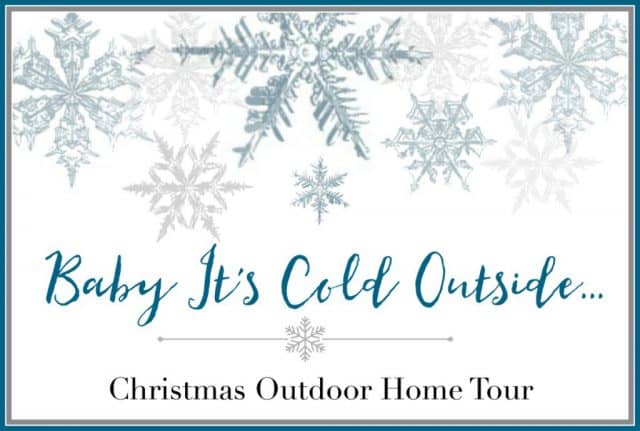 After an unseasonably warm fall, more Christmas-like temps have finally arrived here in central North Carolina! It's definitely chilly, but I don't want guests arriving at my home to have to wait until they come inside to be enveloped in warmth. I want to extend the promise of welcoming coziness as soon guests arrive on my front porch.
By the way, if you missed the tour of my Urban Farmhouse Christmas Front Porch, you can see it HERE.
My front porch is deep and wide, which is nice, but all that space is difficult to turn into a welcoming spot instead of just a place to put some chairs. So….I kept that idea, of creating an inviting, cozy porch, in the back of my mind the entire time that I was decorating for Christmas. Here are the five tricks that I used to create a cozy, welcoming front porch, even though it's cold outside!
ARRANGE FURNITURE IN COZY GROUPS
Since my porch is so wide, I created a conversation area on each side. The chairs are angled toward one another instead of facing straight out toward the yard. This gives the idea of being able to get close and carry on a conversation with someone.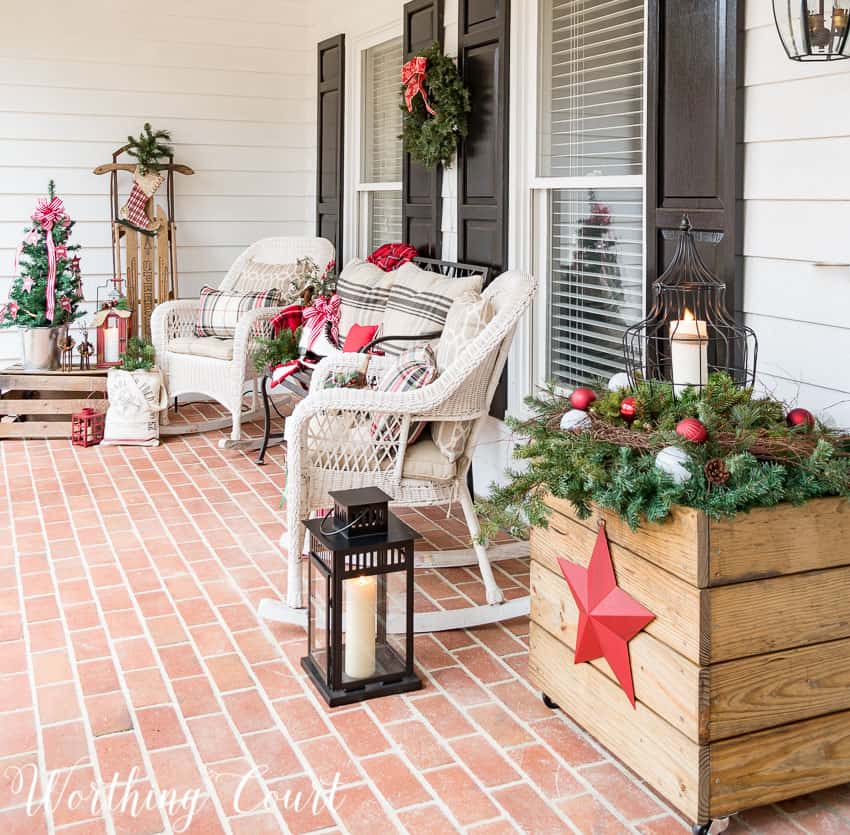 Pull small tables and accessories close to larger pieces of furniture. Instant cozy!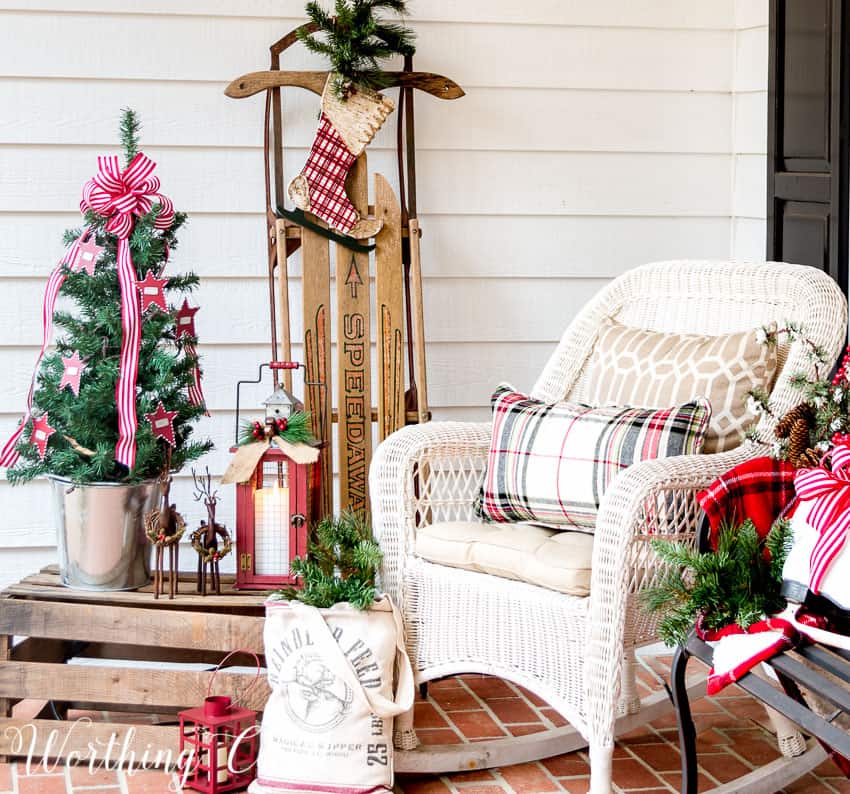 LAYER LOTS OF PATTERN, TEXTURE AND TEXTILES
I didn't just put pillows in the chairs and on the bench. I layered them. Pillows in front of pillows! Who wouldn't want to nestle down into a soft bed of pillows when it's chilly?!?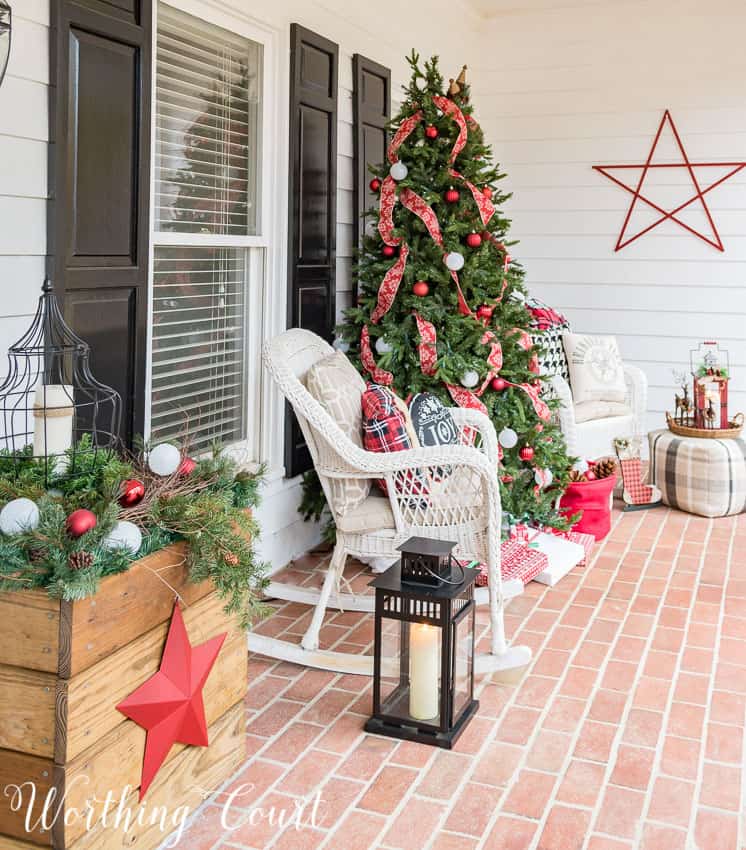 A poof, covered with nubby, patterned fabric and topped with a wicker tray is a good example of using textiles, pattern and texture together.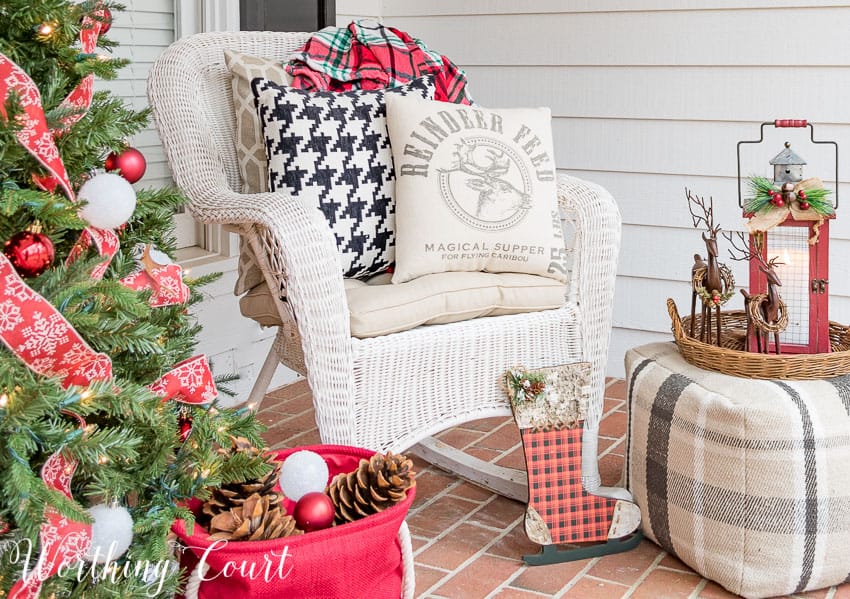 INCLUDE THROW BLANKETS
If you do happen to actually enjoy a cup of hot cocoa out on the porch, wouldn't it be nice to be able to snuggle up in a throw? Thick, sherpa lined ones are perfect for outdoor warmth and throwing them over the back of a seat makes them easy to grab.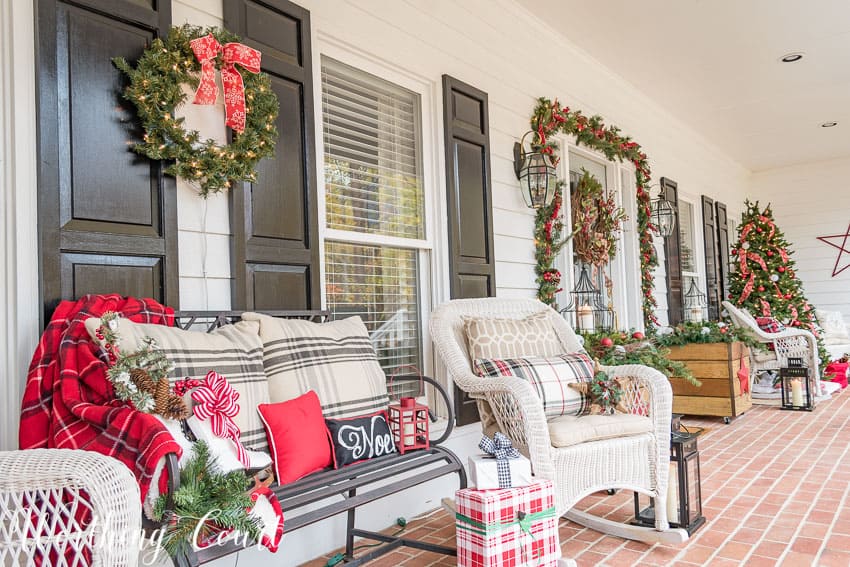 ADD CANDLELIGHT
Everyone knows about the wonderful ambiance of candlelight, so make sure to add a lantern or three and actually light those candles!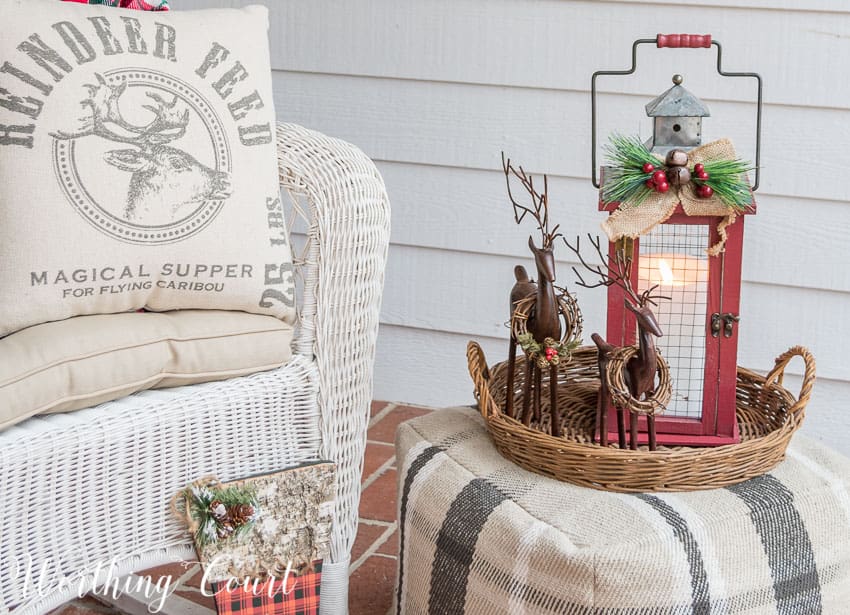 USE GREENERY – AND LOTS OF IT
Greenery, whether real or faux, helps to fill in all those empty, cold looking spaces.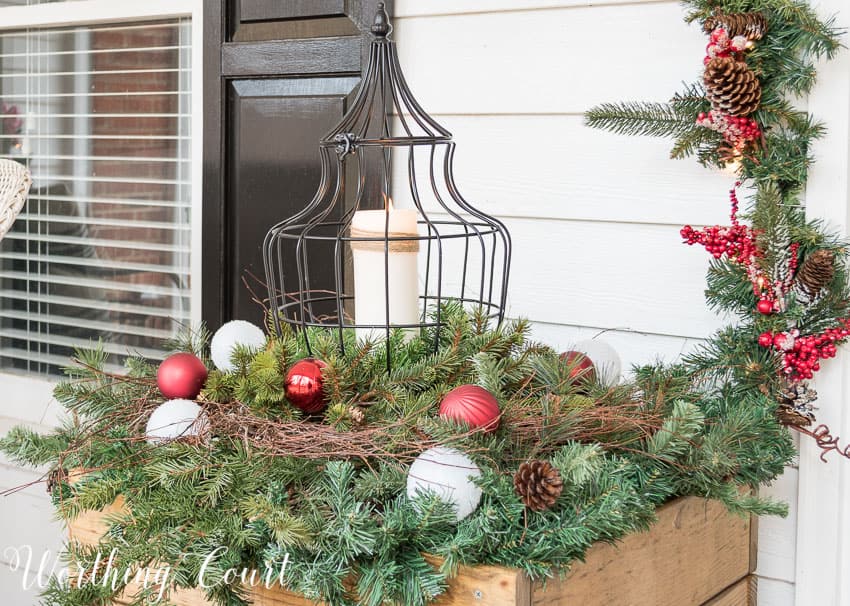 I even put my old Christmas tree out on the front porch to help fill up what would have been an empty, uninviting place.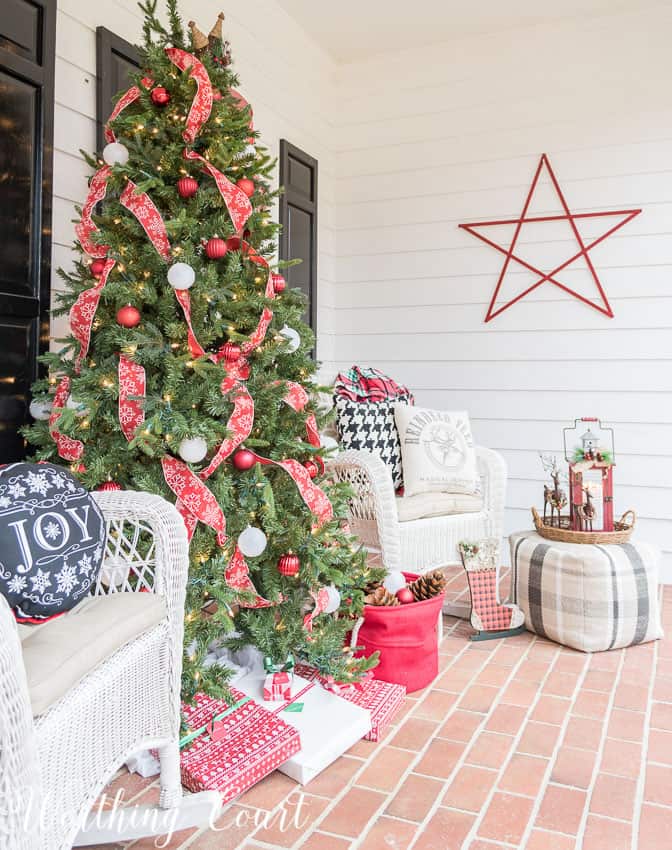 Lots of home tours are centered around the mantel, the dining room table or the family room.
We thought it would be fun to tour the areas outside of the home…porches and patios and beyond.
Please join us…but bundle up because "Baby It's Cold Outside!"
~Monday~
~Tuesday~
**(Tuesday posts go live at 6am EST)**
~Wednesday~
**(Wednesday posts go live at 6am EST)**
Sharing at THESE great parties.