An Easter Tablescape That Isn't So Over The Top
An organic and neutral Easter tablescape that has just the right amount of special touches for a memorable Easter holiday meal.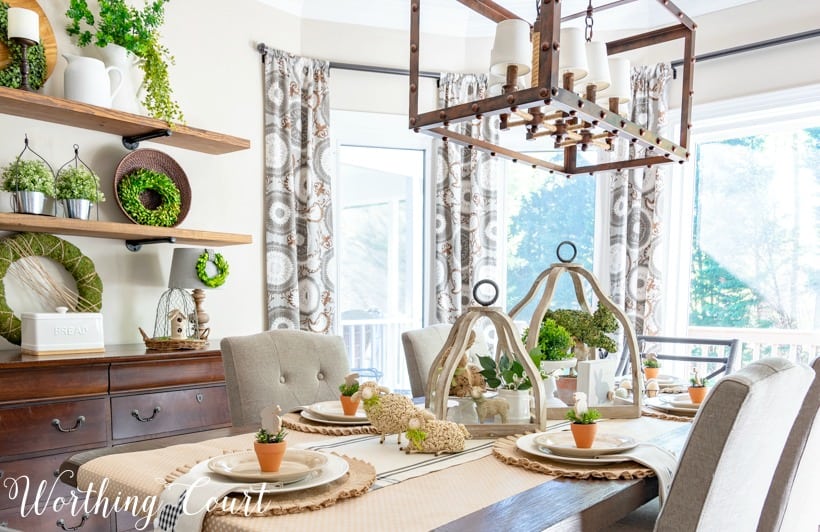 Pin
Today's question is, "Can I create a tablescape that isn't filled with pastels and bright colors that still says Easter"?  My answer?  Why, yes – yes, you absolutely can!
My days of using everything pastel or brightly colored when creating a special Easter tablescape have gone by the wayside.  Instead, I set a beautiful table using soft organic elements and neutral colors.  Even though there isn't a pastel in sight, the table still says "Easter" because of carefully curating what I added to the table.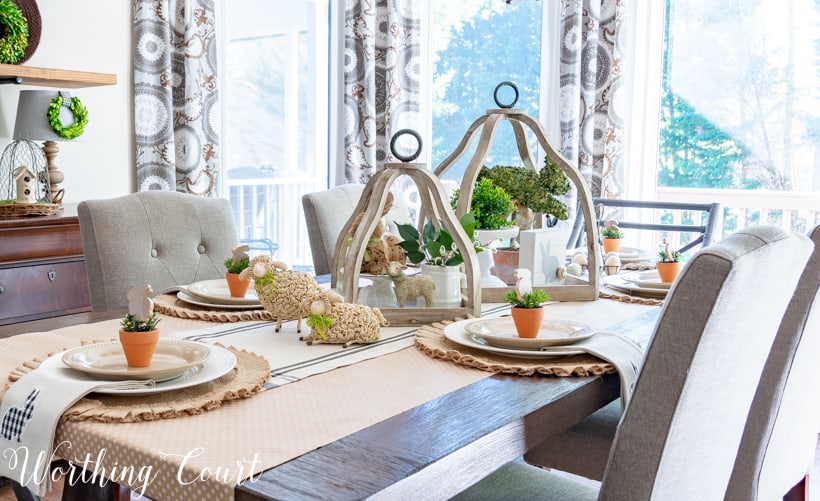 Pin
I was inspired by this cute polka dotted brown wrapping paper that I had been saving to use for just such a tablescape.  It makes a great base to build the whole holiday tablescape upon.  It's simply centered on the table and secured with masking tape up under each end of the table.  That was followed by layering a black and cream colored runner down the middle of the table.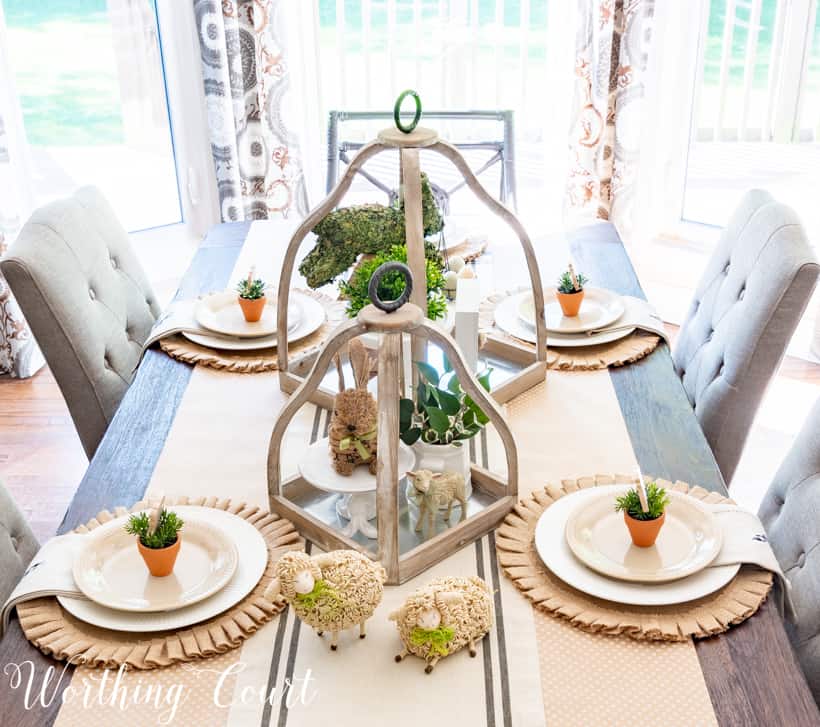 Pin
Next came the beautiful centerpiece where I used these fabulous open lanterns.  I purchased these a few months ago and shared the link to them in my newsletter.  Hopefully you're one of the fortunate ones who scored a pair as y'all bought them all!
I contacted the company though and they informed me that there are more coming, but that they probably won't arrive until July.  Keep an eye on my Instagram stories because that's where I'll be letting you know that they're back in stock along with a link for where to purchase.
Pin
The lanterns are filled with a variety of organic and neutral elements.  The secret to filling large lanterns like these is to use an odd number of pieces of varying heights and making sure there's lots of texture.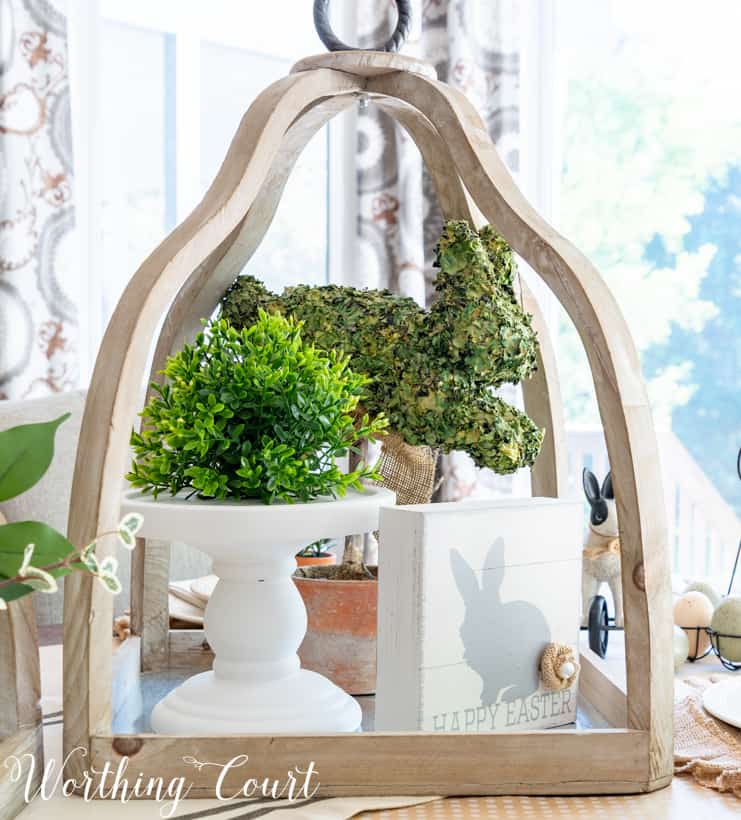 Pin
Since the length of the table was accentuated with the addition of a the wrapping paper and layered runner, the pair of lanterns alone weren't quite enough for the centerpiece.  Adding just a couple of cute accessories to each side of the lanterns extended the visual look of the centerpiece and helped it to fit the table better.  One of those items is this little black and white bunny on wheels, that I scored at a vintage market several years ago.  He's one of my favorite finds ever!  I've never seen another one quite like him.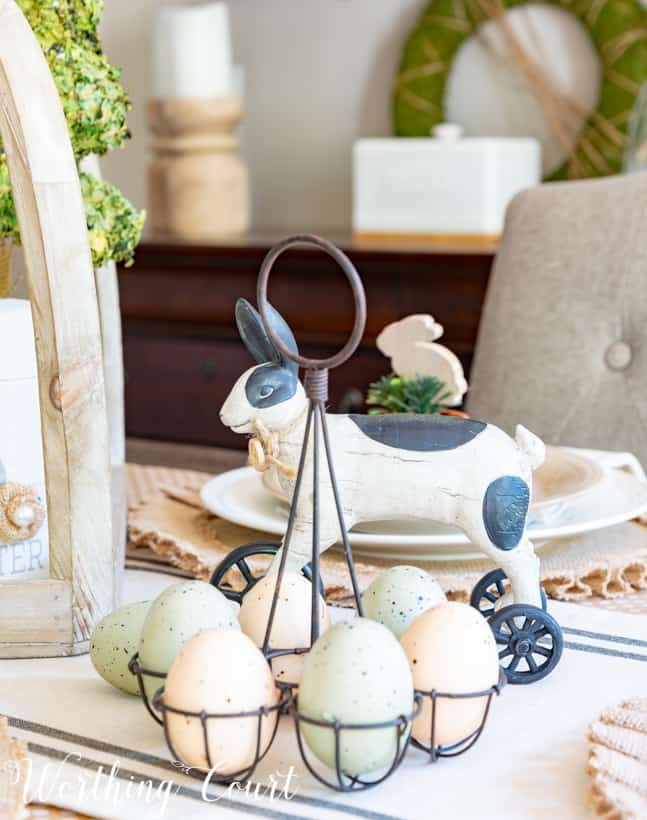 Pin
This post contains affiliate links.  See my full disclosure HERE.
CLICK ON THE BOLD TEXT TO SHOP THE ITEM
Now that the centerpiece was taken care of, it was time to put together the place settings.  Each setting consists of a round, ruffled burlap placemat, topped with one of my everyday white dishes, then an adorable black and white gingham bunny napkin, topped with a burlap colored salad plate.
Pin
I have an affinity for bunnies, so each place setting was given a cute little bunny emphasis by wedging a adorable black and white gingham bunny napkin down into the faux greenery of tiny little pots, that are actually meant to be place card holders.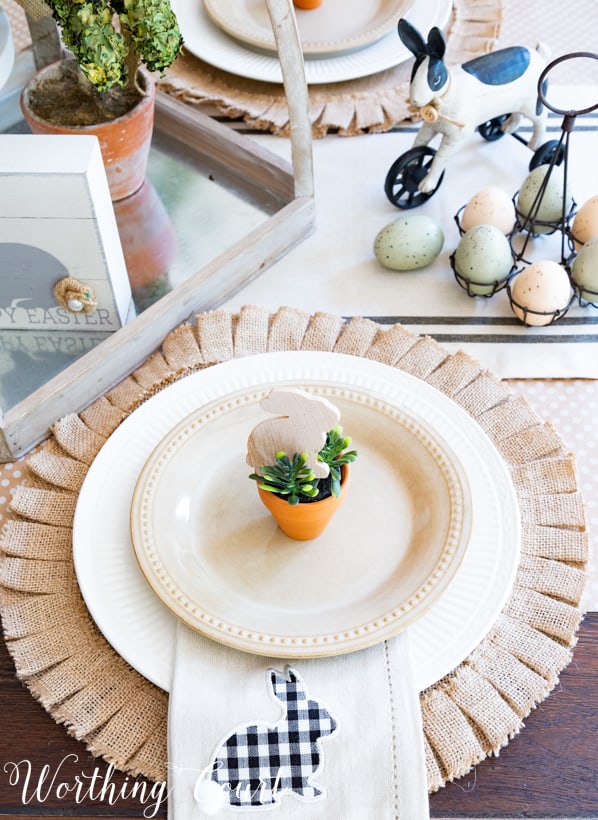 Pin
I hope you enjoyed my take on an Easter tablescape today and that your table is filled with those you love on this most special day!  Happy Easter, my friends!