Elegant, Easy Christmas Centerpiece For Your Dining Table
Step-by-step directions to transform your dining table with a festive, and elegant Christmas centerpiece that's easy enough for anyone to make.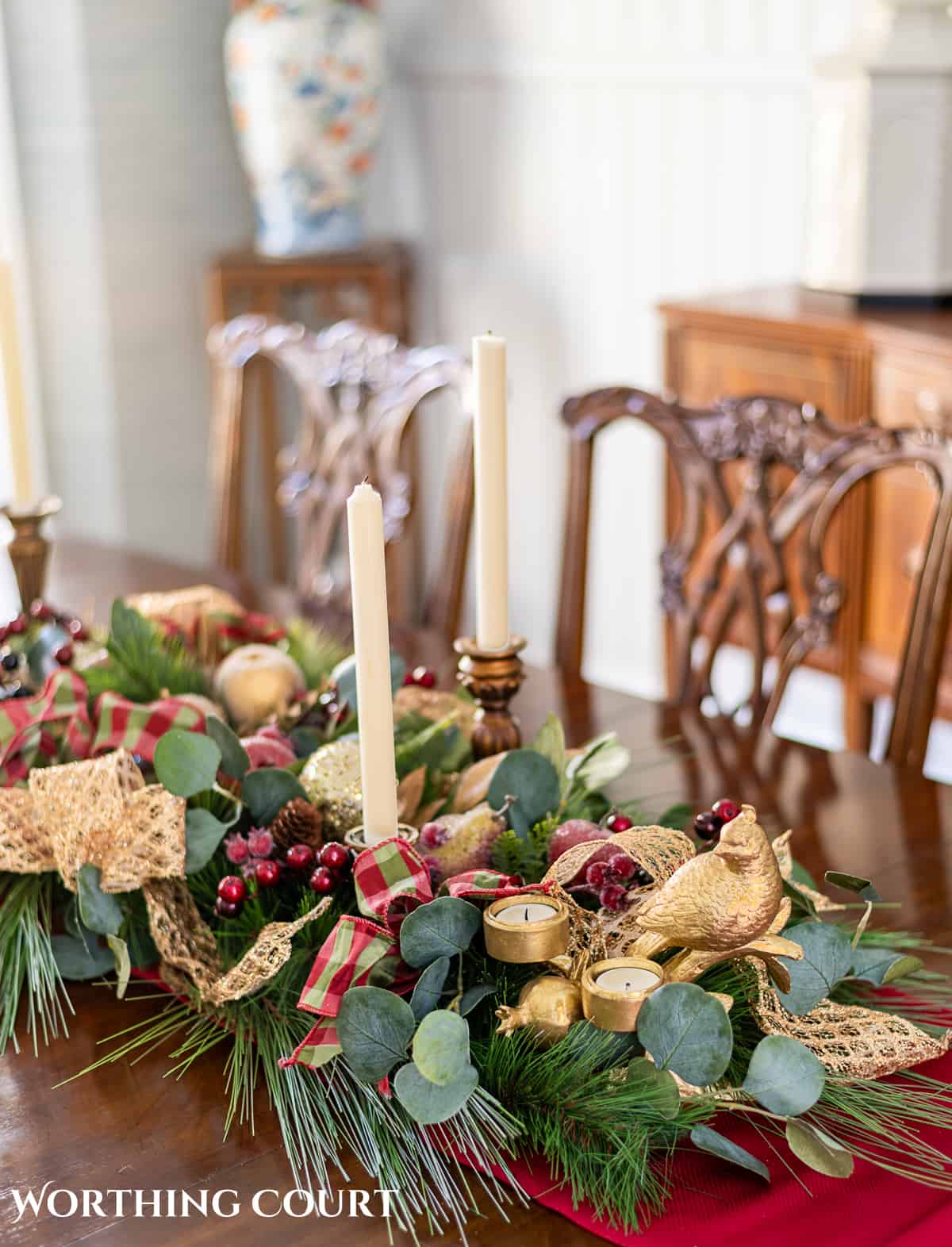 Affiliate links have been used. See my full disclosure policy HERE.
This step-by-step tutorial will walk you through the creation of a stunning Christmas centerpiece that will leave your guests in awe.
Today, I'm thrilled to be taking part in a fun Christmas centerpiece tour with a group of amazing blogger friends!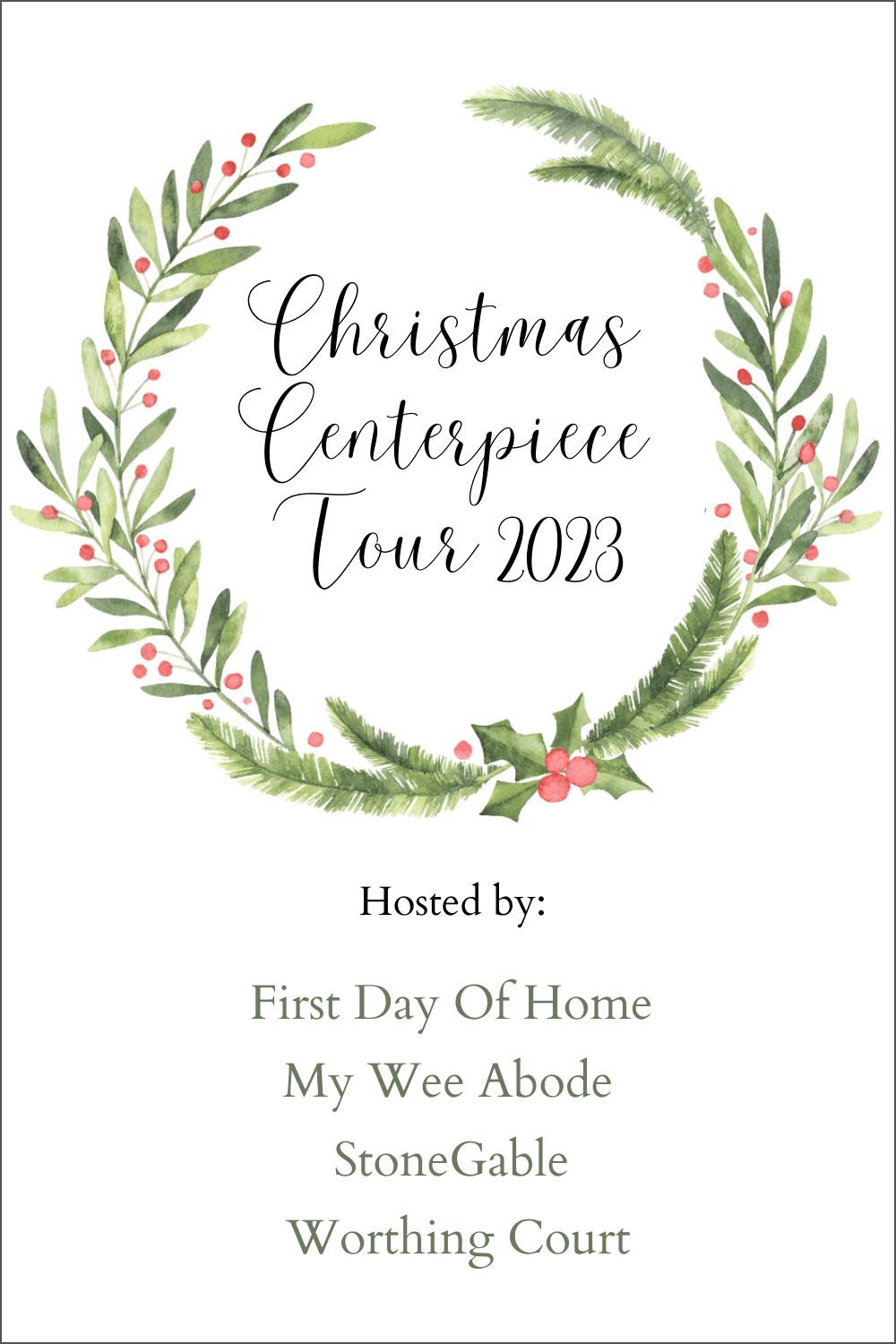 If you're coming over from Stone Gable, welcome to Worthing Court! Isn't Yvonne's centerpiece beautiful?
Yvonne is a dear, long-time friend that I originally met at a conference several years ago. Her home and her blog are every bit as beautiful as her sweet soul.
You'll see lots of Christmas decorating ideas over the coming weeks, so we decided to do something a little bit different.
Instead of a house tour, we did a little research and found out that when it comes to Christmas decorating, centerpieces are one of the most "googled" subjects.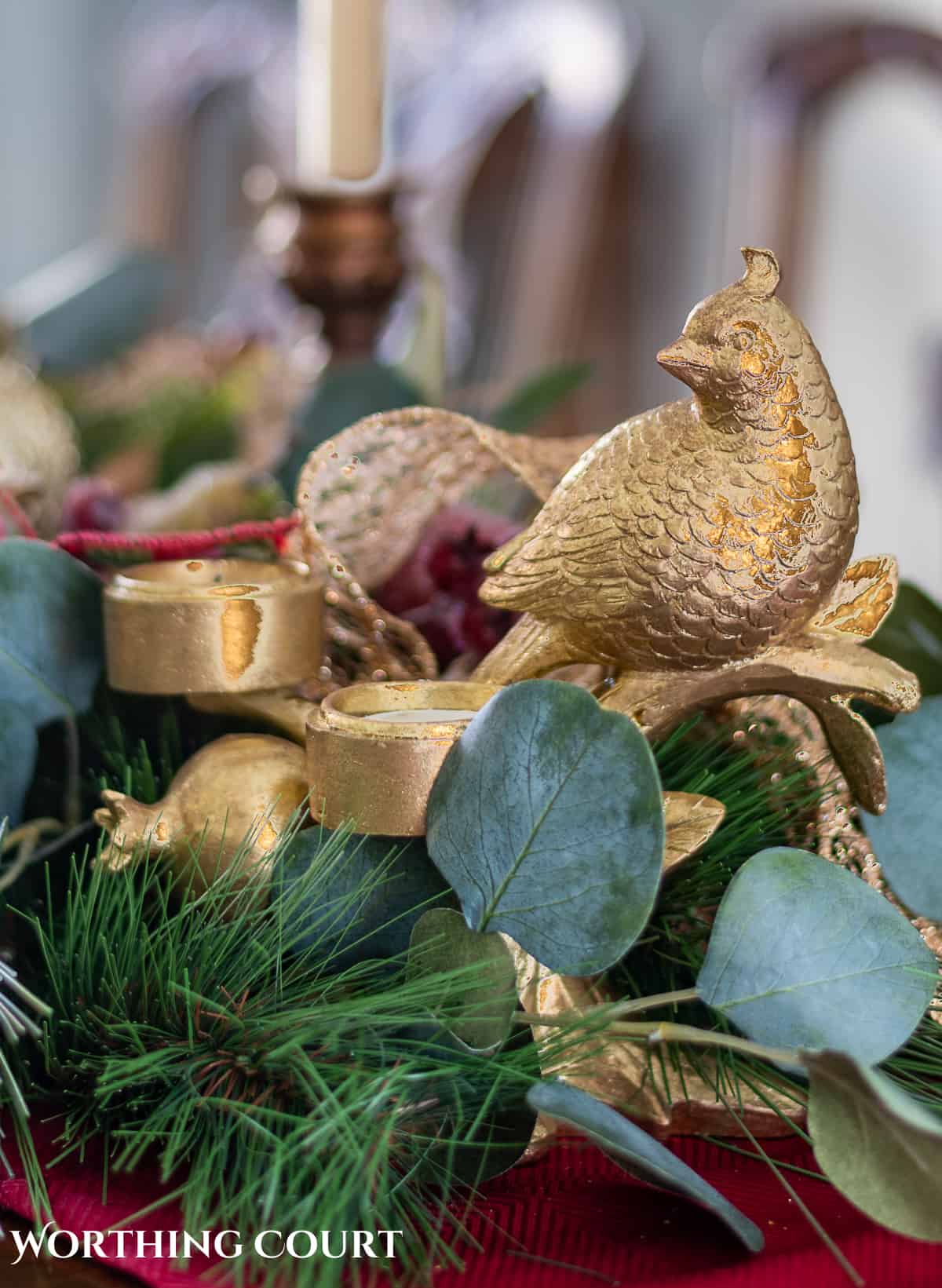 Over the next two days, you'll see amazing Christmas centerpieces, along with instructions for how to recreate them, from 10 of your favorite bloggers. The schedule for today and tomorrow is listed down below.
I always try to keep the Christmas decor somewhat cohesive from room to room in my house. But no matter what, I always go a little more elegant in my dining room.
My dining room Christmas tree this year was inspired by the colors in some old ribbon I found in my stash of decorations.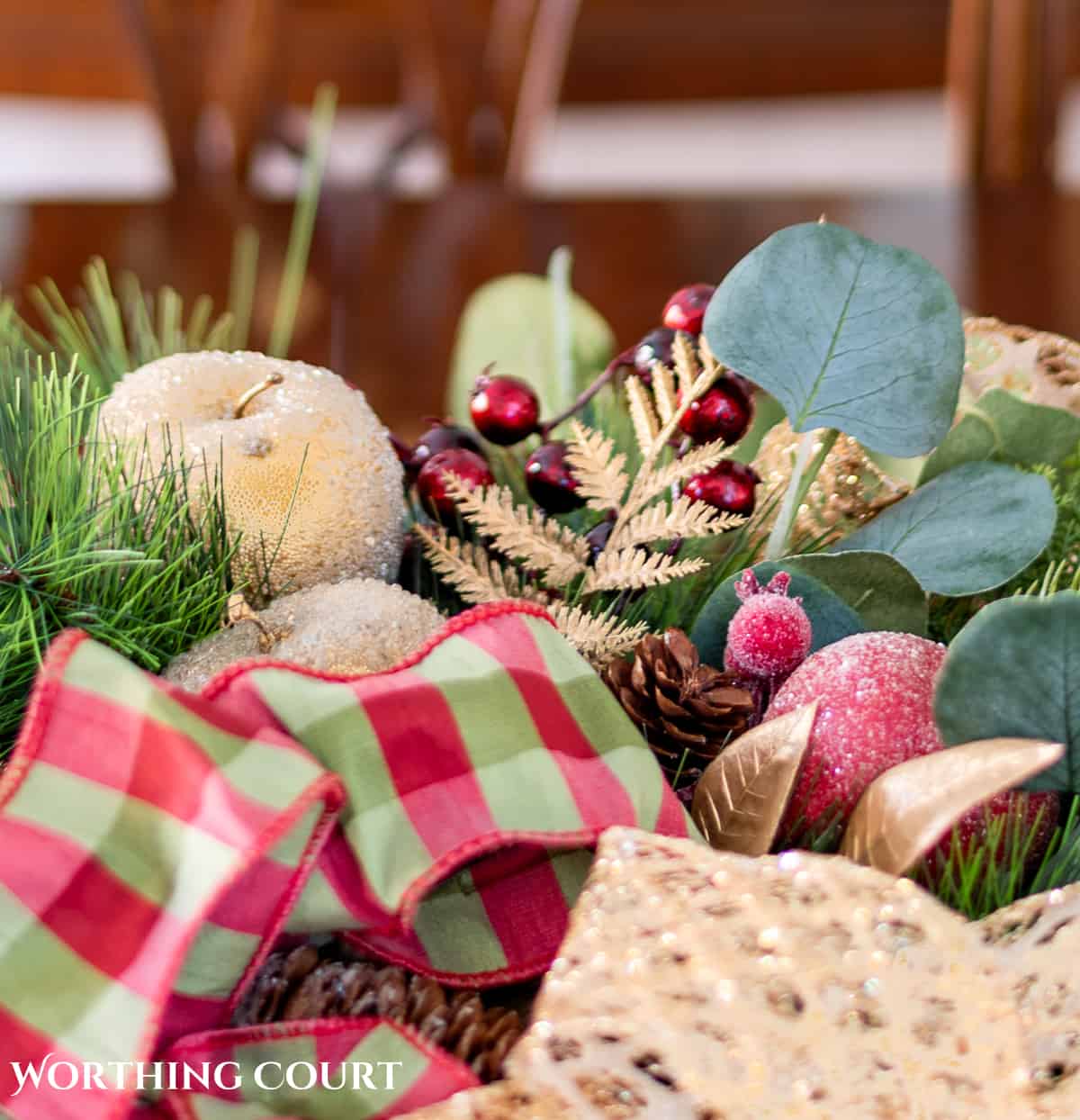 I just loved the combination of light and dark sage green, mixed with burgundy, and decided to run with it. After running across faux sugared fruit and evergreen swags in Michaels, a centerpiece was born.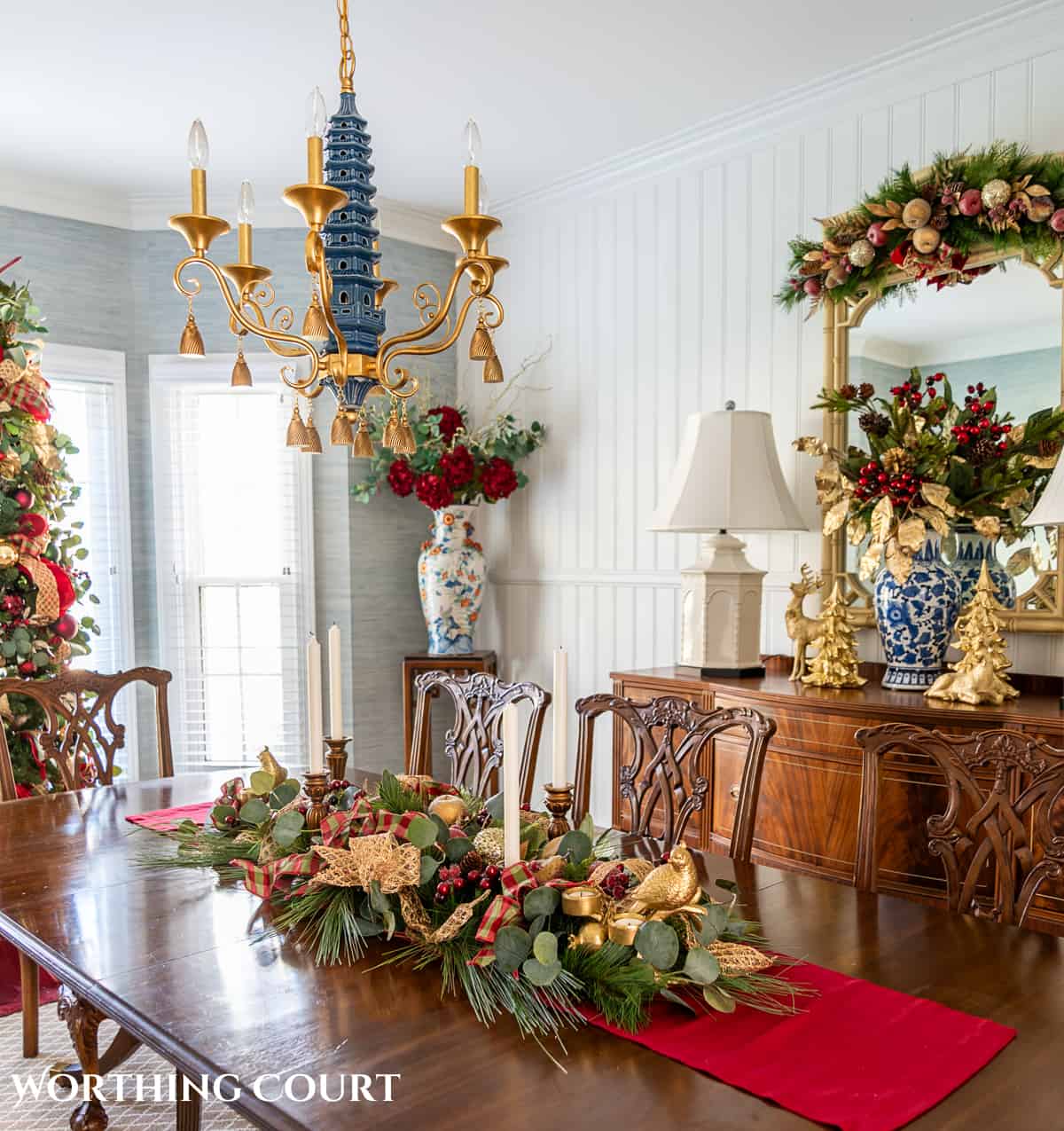 A centerpiece such as this may look complicated and hard to create, but I promise it isn't!
It's simply a matter of coming up with a theme, gathering supplies, and then layering, layering, layering.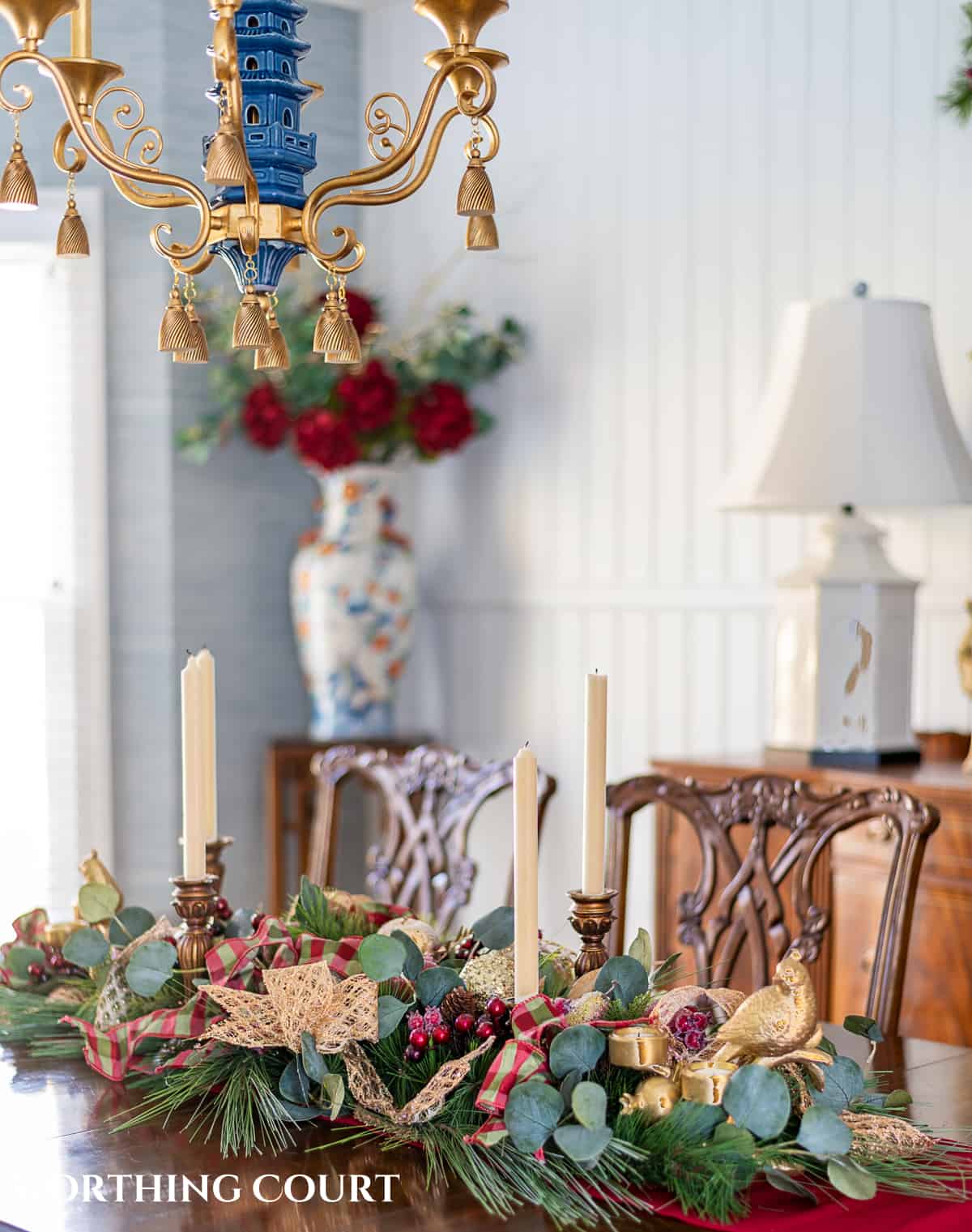 Let me show you exactly what I did.
After finding my inspiration piece (the sugared fruit swags), I first raided my stash and gathered everything that I thought I might possibly use in my centerpiece creation.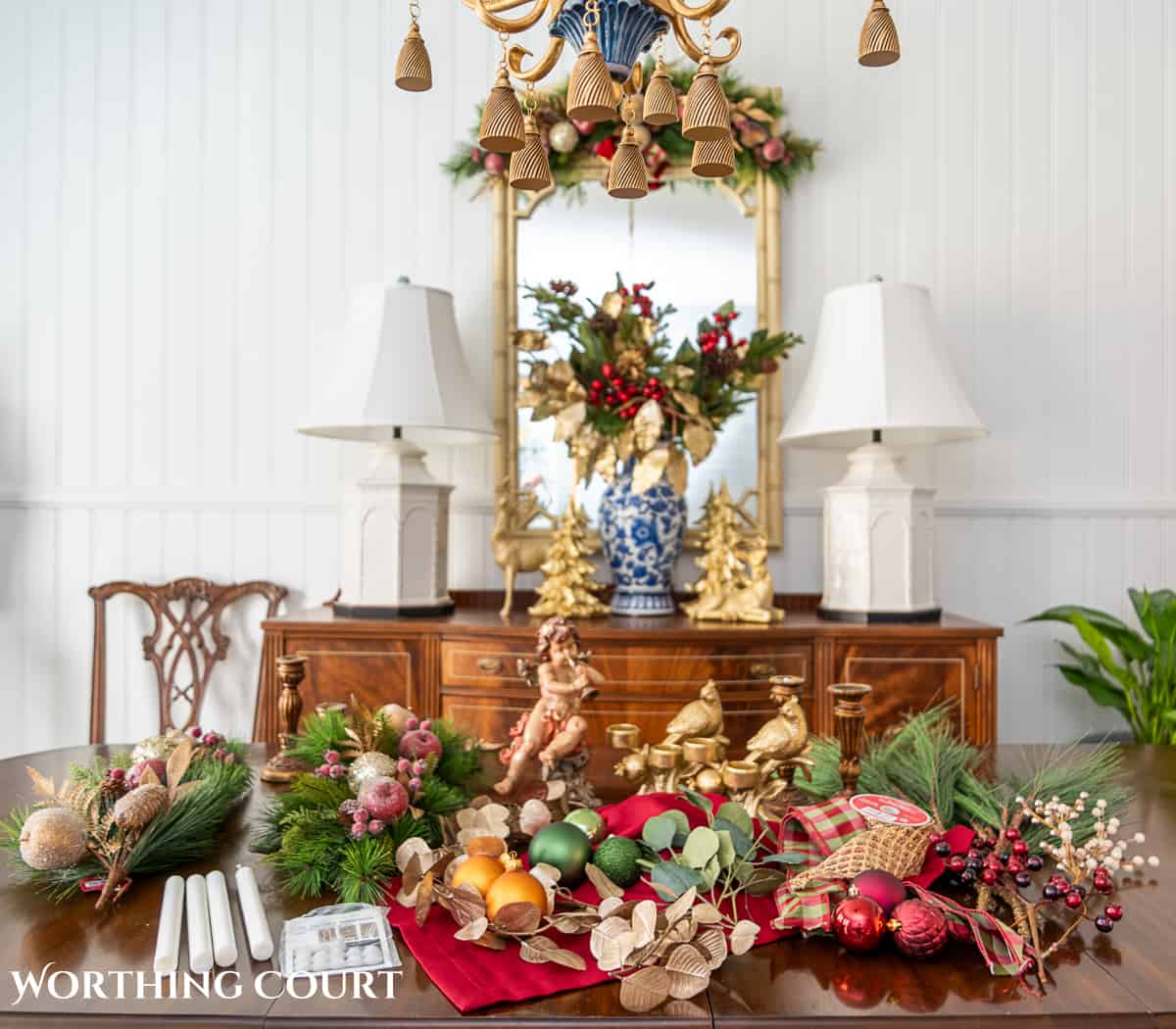 I collected a runner, greenery stems and swags, ornaments, ribbons, berries, candleholders and candles, a gold eucalyptus garland, and even a vintage cherub.
I knew that I wouldn't use every single thing, but seeing everything that I had to choose from made the whole project much, much easier.
I began the process by placing a 6′ long burgundy runner down the center of my table. It serves to protect the wood as well as provides a ground for the centerpiece.
The swags that I wanted to use, were too narrow to use on their own, so to beef up their appearance, I created a bed of long-needled, faux evergreen stems for them to rest on.
All of the stems were placed with the ends toward the center.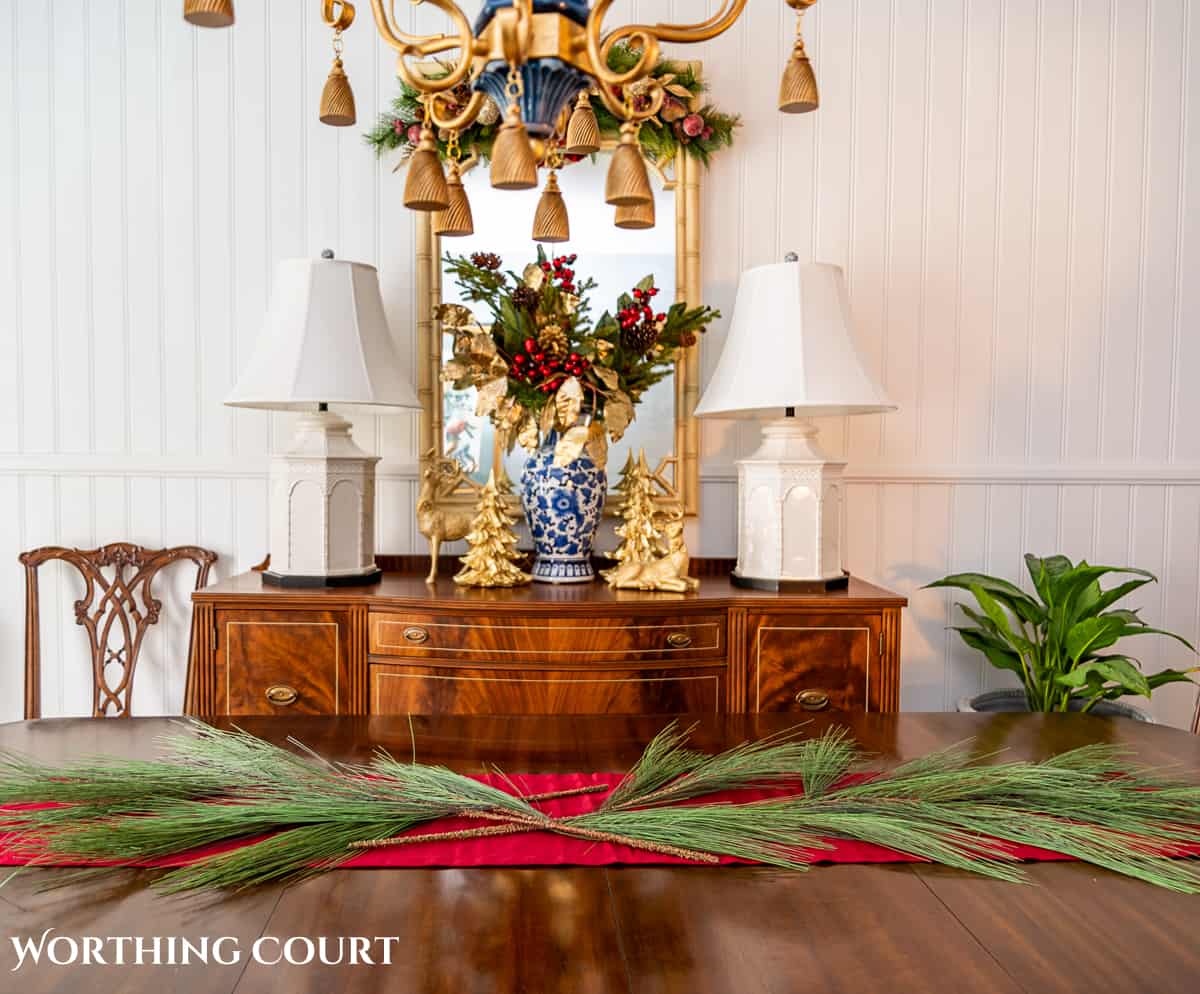 Next came a pair of the sugared fruit swags, also placed with the ends as close to one another as possible, to give the appearance of one long garland.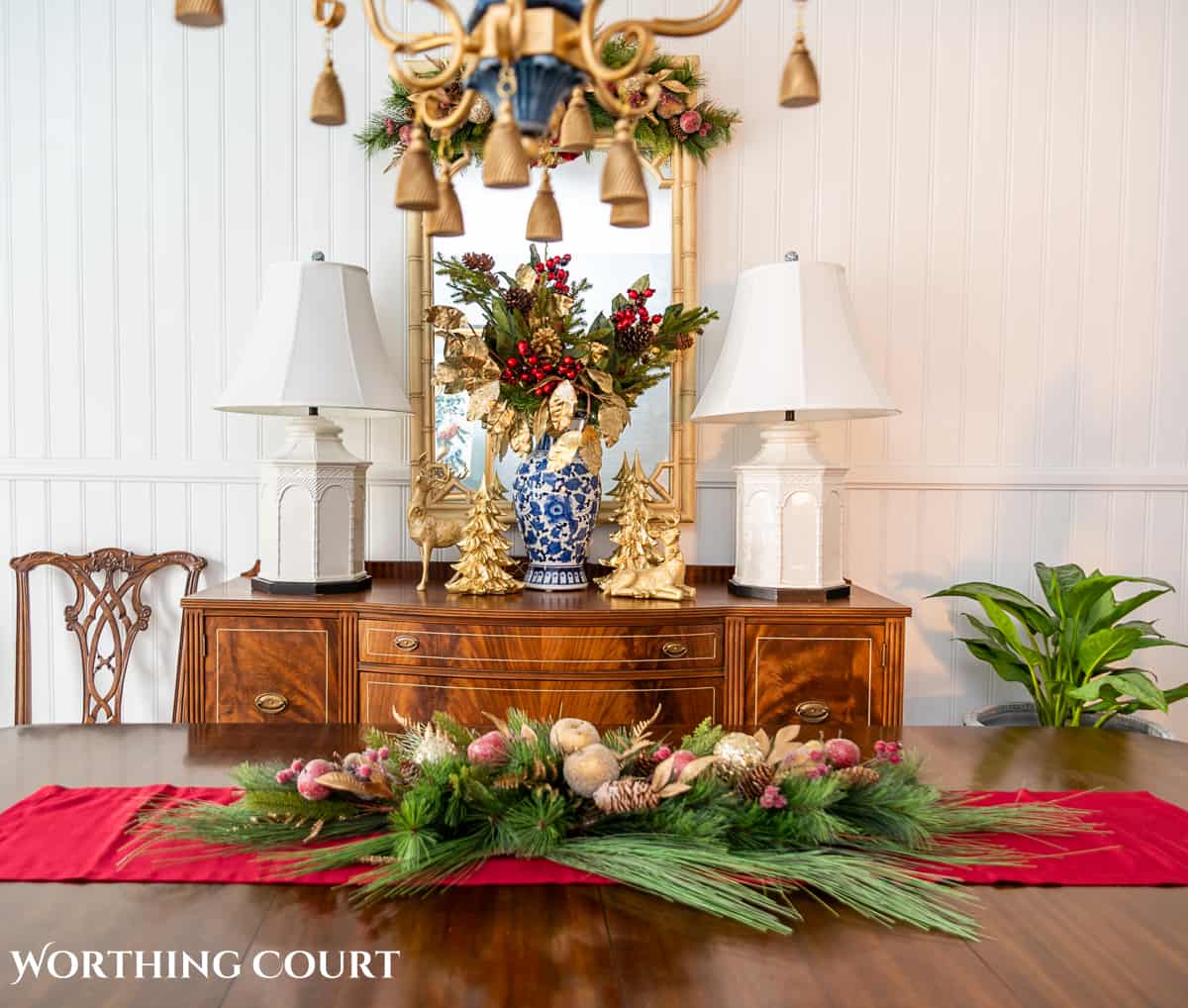 TIP: When using faux greenery of any kind, always fluff and bend the stems for a more natural and full shape.
The next items to be added were four tall candle sticks, staggered among the greenery, and a couple of golden quail candle holders that I purchased after Christmas last year.
I've been waiting for an opportunity to use them. They make perfect "bookends" to the centerpiece.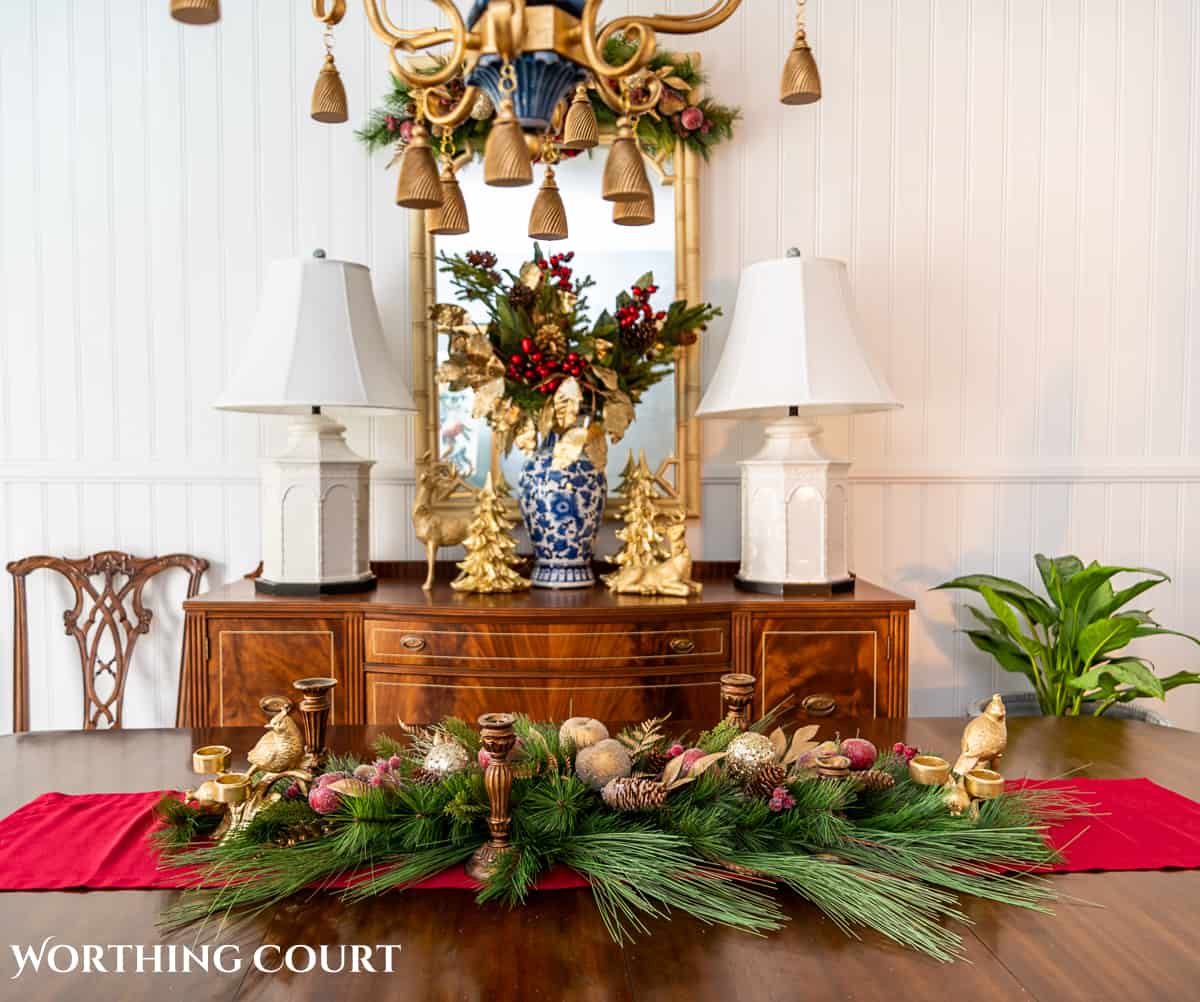 Next up came the ribbon, which really brings the whole display to life!
I started with green and burgundy plaid, followed by some of the prettiest gold ribbon I've ever seen.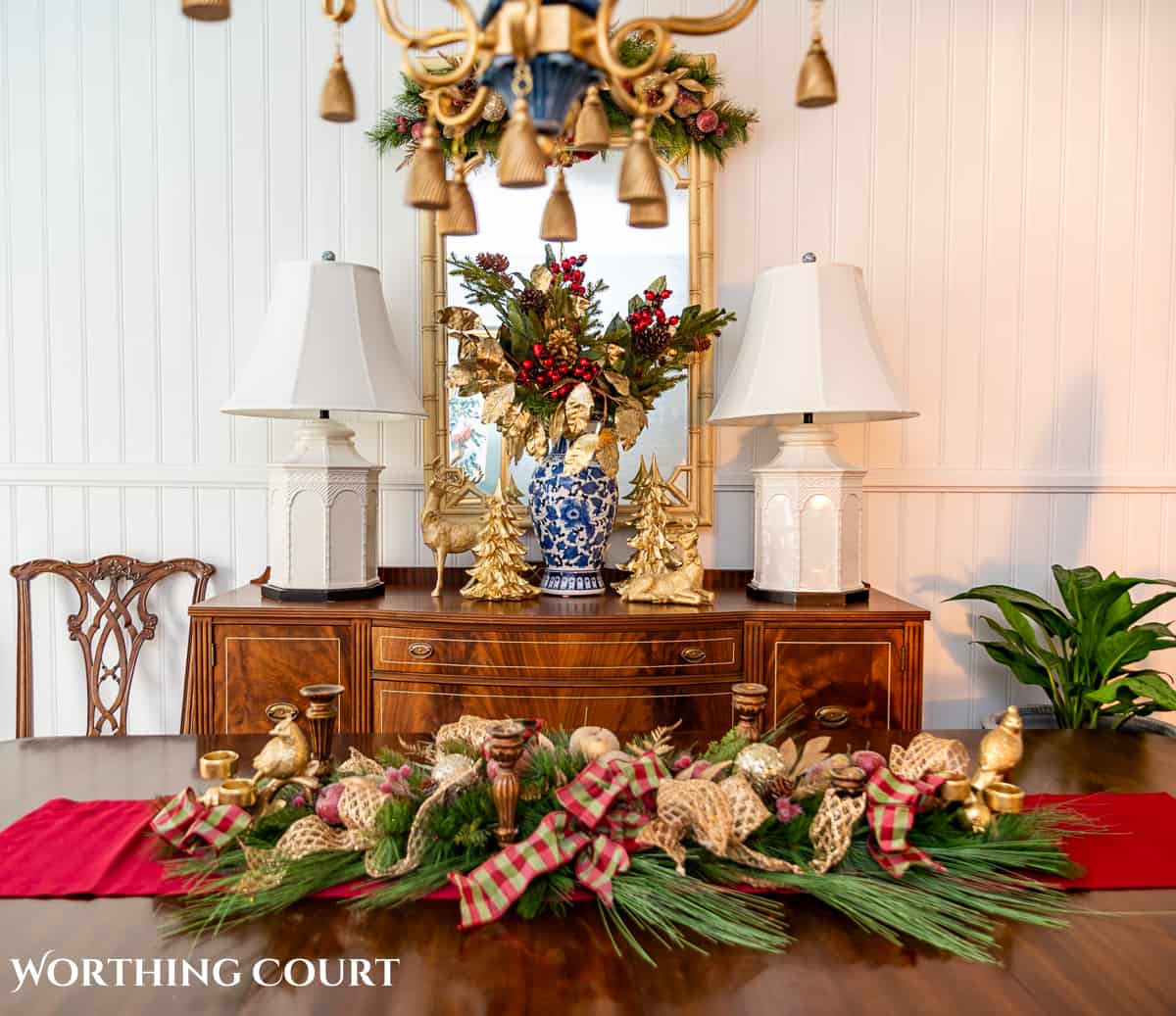 To place the ribbon in the centerpiece, I created single loops, with longish tails and simply stuffed them down into some of the gaps of the greenery.
Then, to make the centerpiece even more lush, I added bits of leaves that I cut from eucalyptus bushes.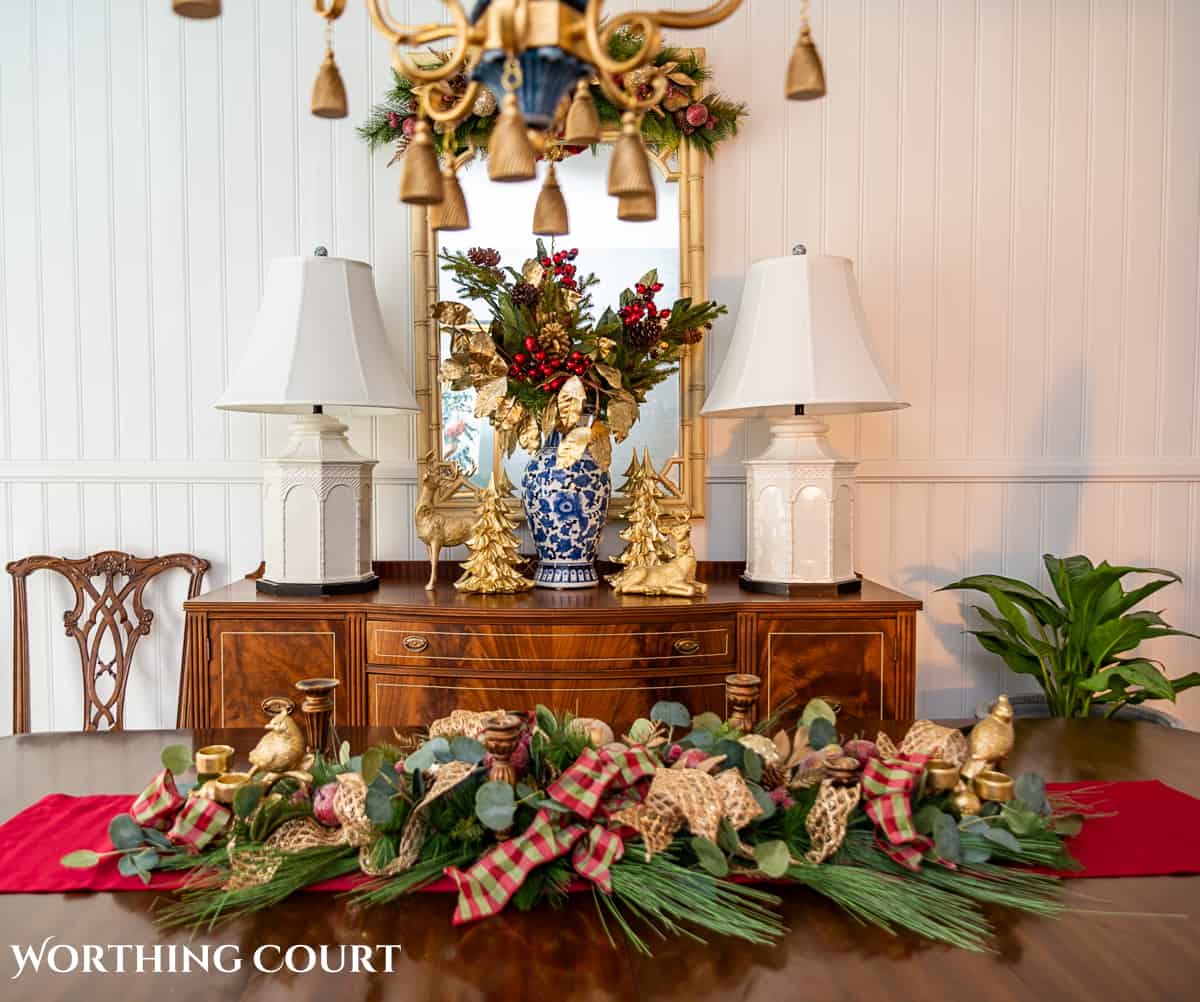 And then finally, to give it a final understated pop, I tucked in burgundy berries.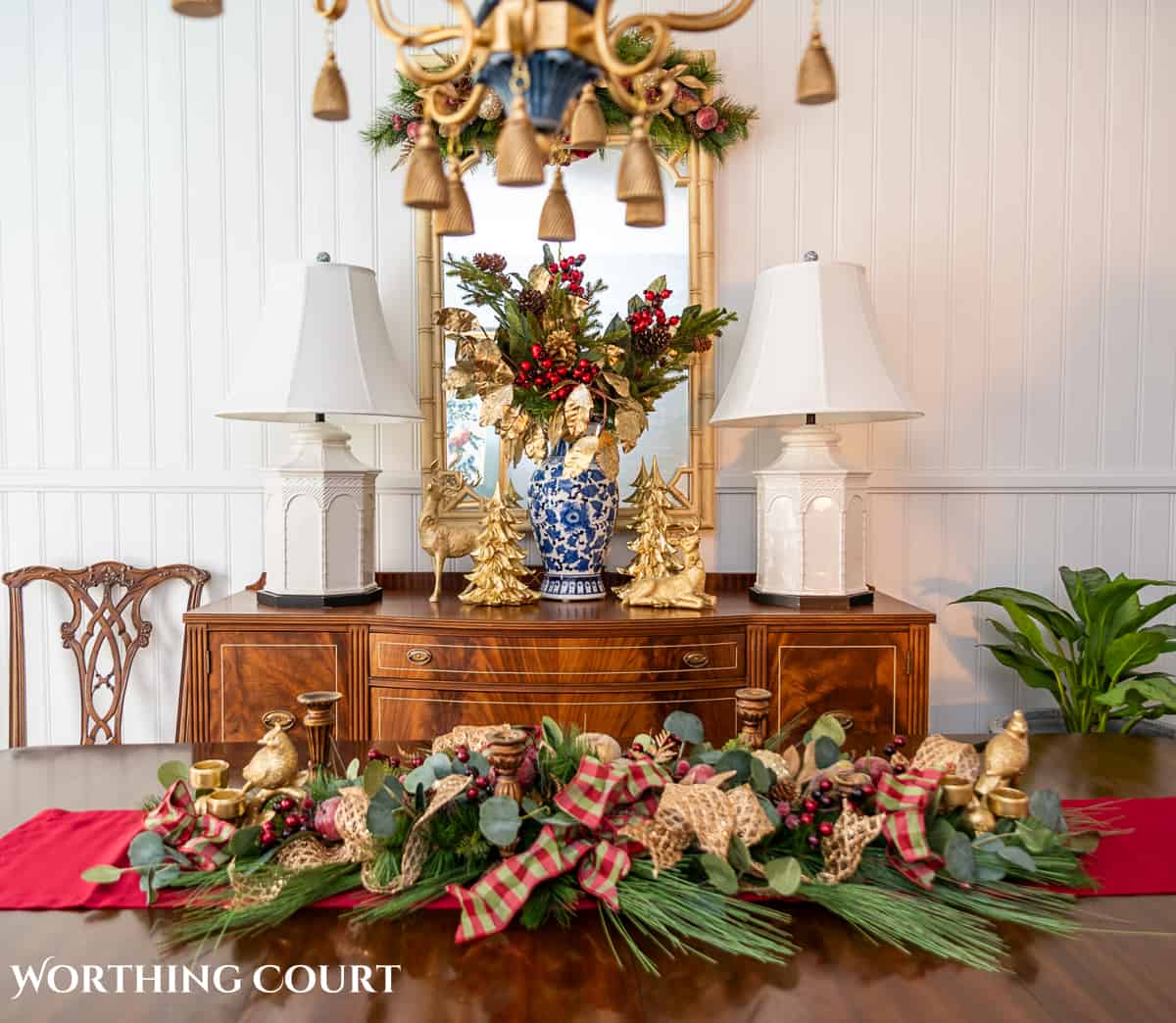 After the addition of the candles – voila! An elegant Christmas centerpiece was born in about 20 minutes.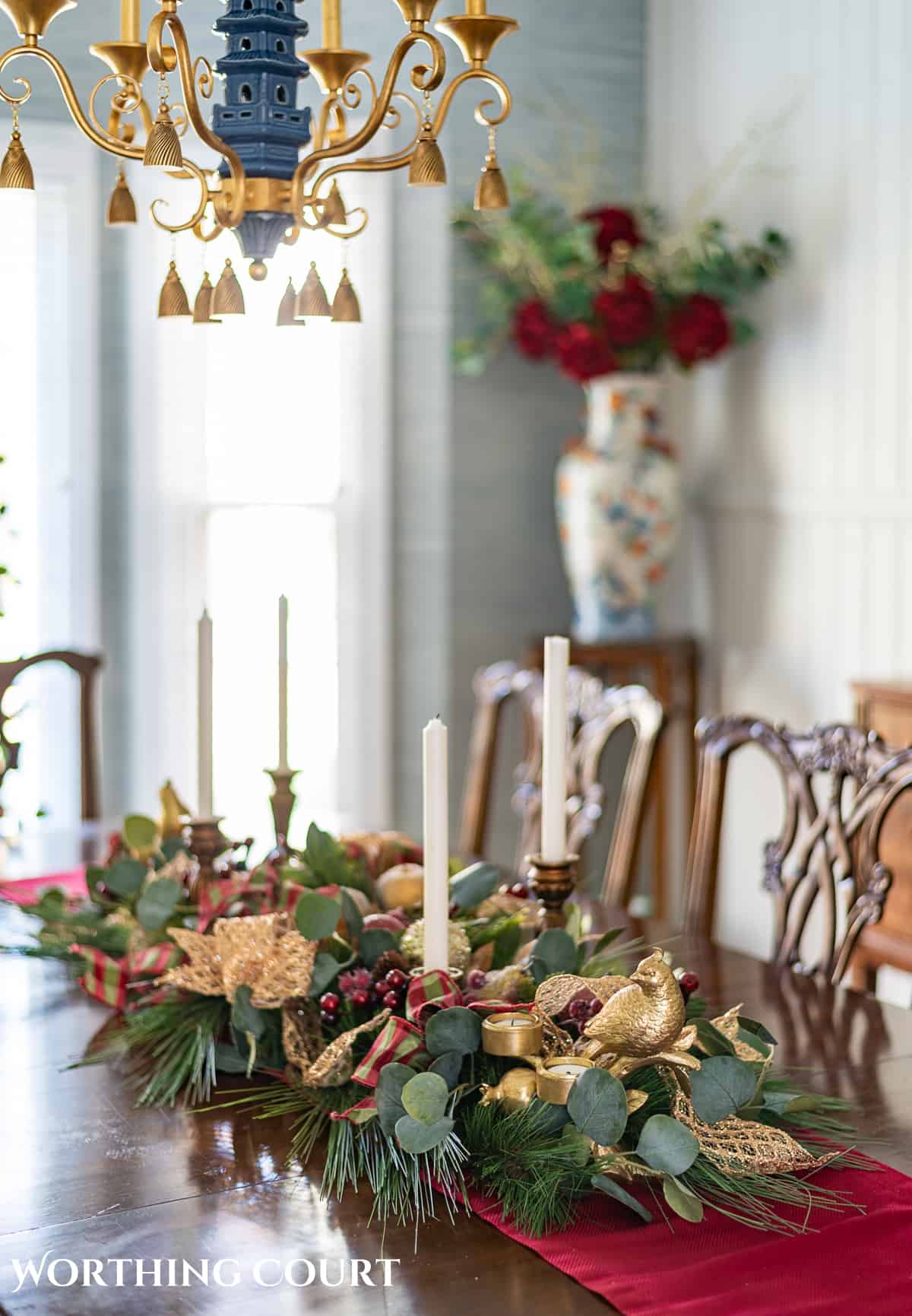 Creating an elegant centerpiece, such as this, isn't hard at all. It's simply a matter of gathering supplies and adding layer upon layer.
When you're finished, you'll have a lush, full, and elegant masterpiece for your dining table!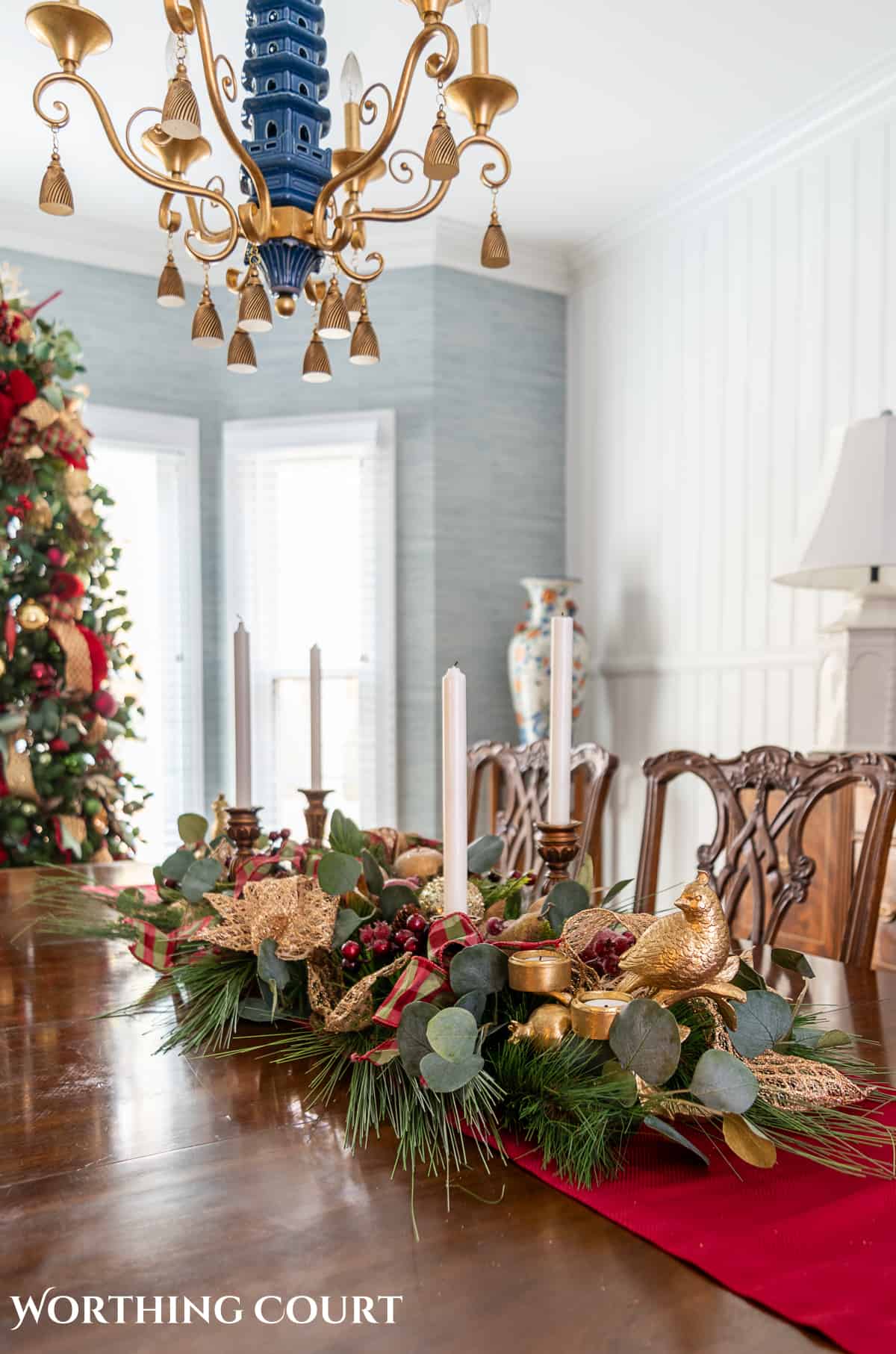 I hope you've found inspiration today for the creation of your own elegant masterpiece. Remember, the beauty of Christmas decor lies in the personal touch you bring to it.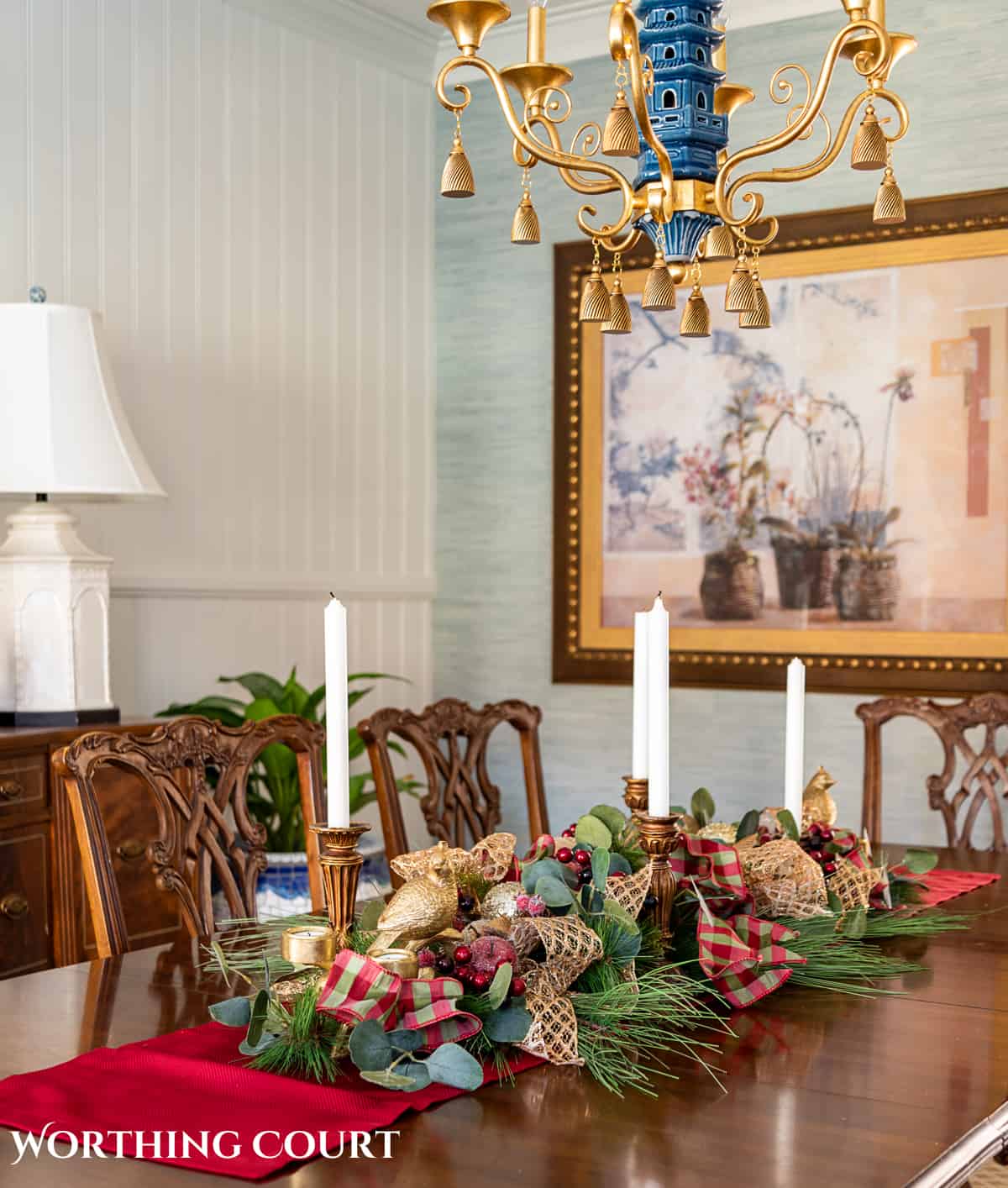 I've been delighted to be part of this Christmas centerpiece tour alongside these incredible incredible bloggers!
Next up on the tour is Marty, from A Stroll Thru Life. Marty is another long-time blogging friend. I know that you're going to be wowed by her creation!
Monday's Tour
Stonegable // Worthing Court // A Stroll Thru Life // The Tattered Pew // Thistle Key Lane
Tuesday's Tour
First Day of Home // My Wee Abode // Midwest Life and Style //
Bricks 'n Blooms // Craftberry Bush