How To Make Decorating For Valentine's Day (Or Any Other Time Of Year) Fast And Easy
Use this great idea to make your decorating for Valentine's Day, or any other time of year, fast and easy!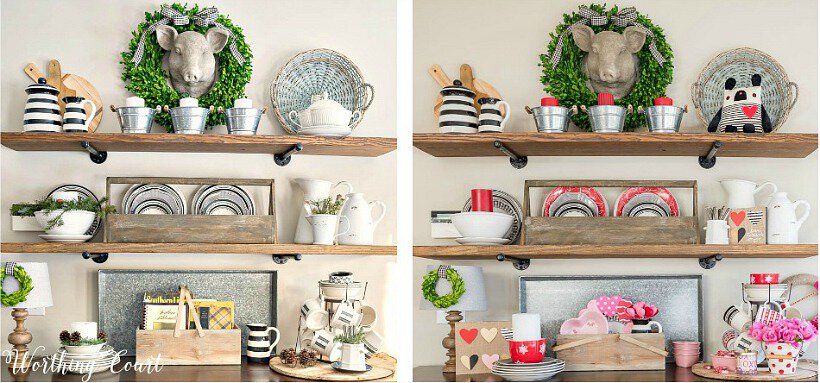 Pin
Do you have a spot in your home is that is your favorite place to decorate for the different seasons and holidays throughout the year?  My favorite space is the open shelves in my breakfast area!  Why?  Well, it's because they are one of the most visible spots in my home.  Located through the wide opening from the family room into the kitchen/breakfast area, these shelves are impossible to miss whenever we're moving about in our house.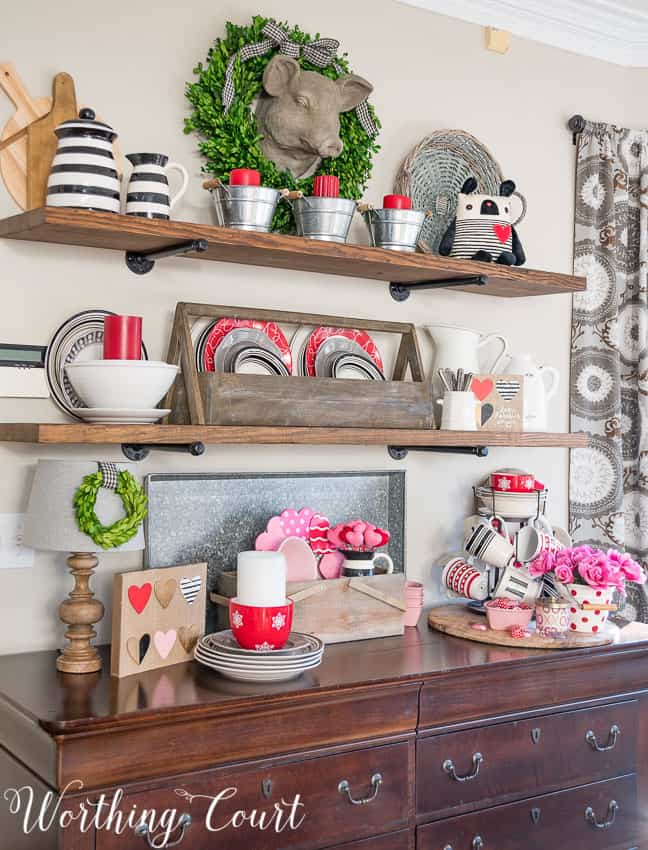 Pin
If you caught this previous post, "How To Quickly And Easily Keep Shelves Decorated As The Seasons Change", then you already know that my mission today is to show you how you can very quickly and easily add seasonal or holiday decorations to any spot in your home.
The secret is to start with a base of basic, mostly neutral items that will allow you to get a whole new look and celebrate any holiday or season with just a few easy  decor changes.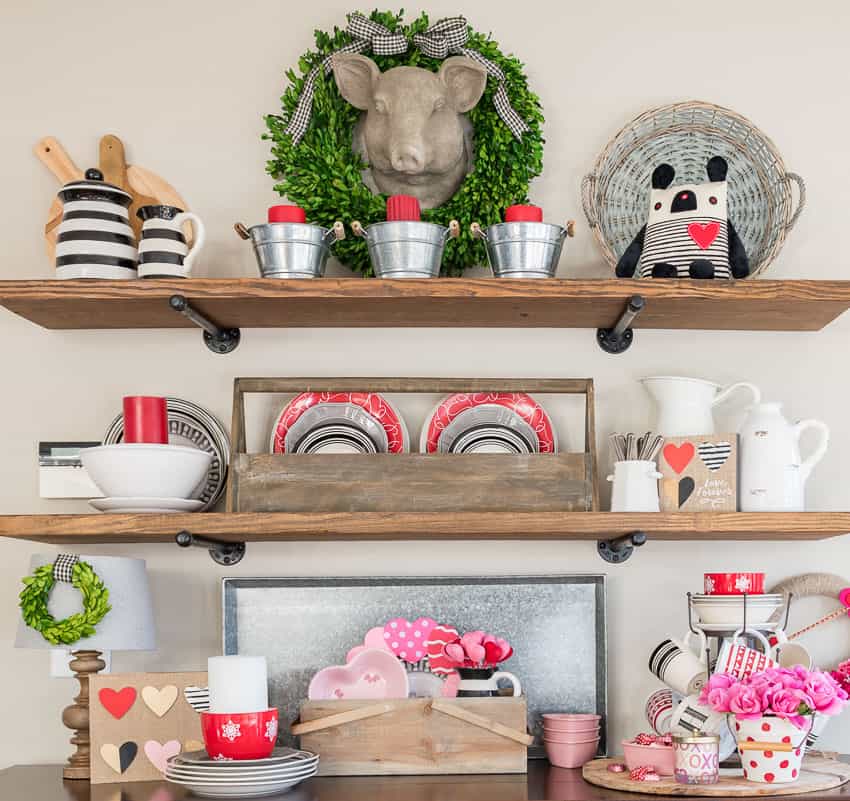 Pin
Take a look at this side-by-side comparison – a basic winter look is on the left.  You can see that by using a mostly neutral background, how easily I was able to only switch out a few things to go from Winter to Valentine's Day.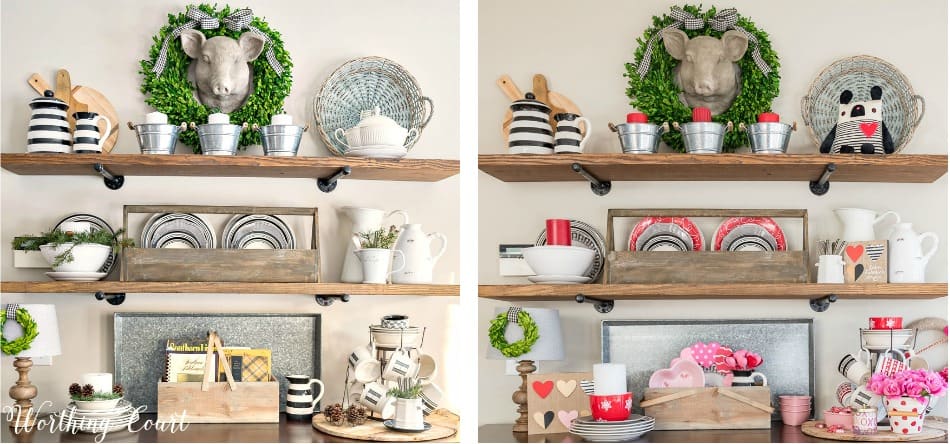 Pin
I don't do a ton of decorating for Valentine's and I don't have very many Valentine's Day specific decorations, so I keep them all in a small tub in the place where I store the rest of my decor.  All I had to do was to bring that small tub downstairs and pull out what I wanted to use on my farmhouse shelves this year.
Let me explain just how quick and easy it was!  Take a closer look at the right side of the shelves.  The white casserole dish on the top shelf was replaced with an adorable sitting pillow, I added a cute Valentine's heart plaque to the second shelf and a wonderful scented Valentine's candle to the bread board on the bottom.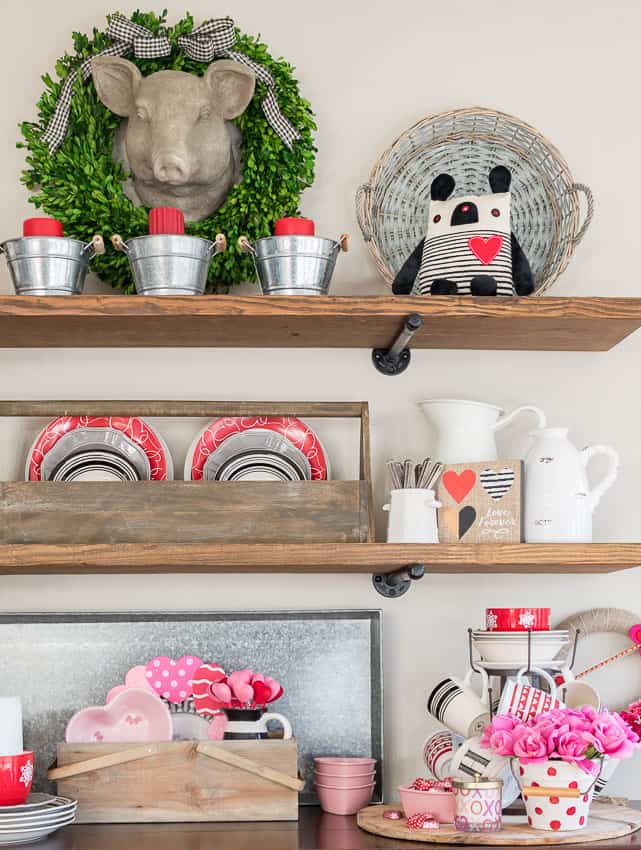 Pin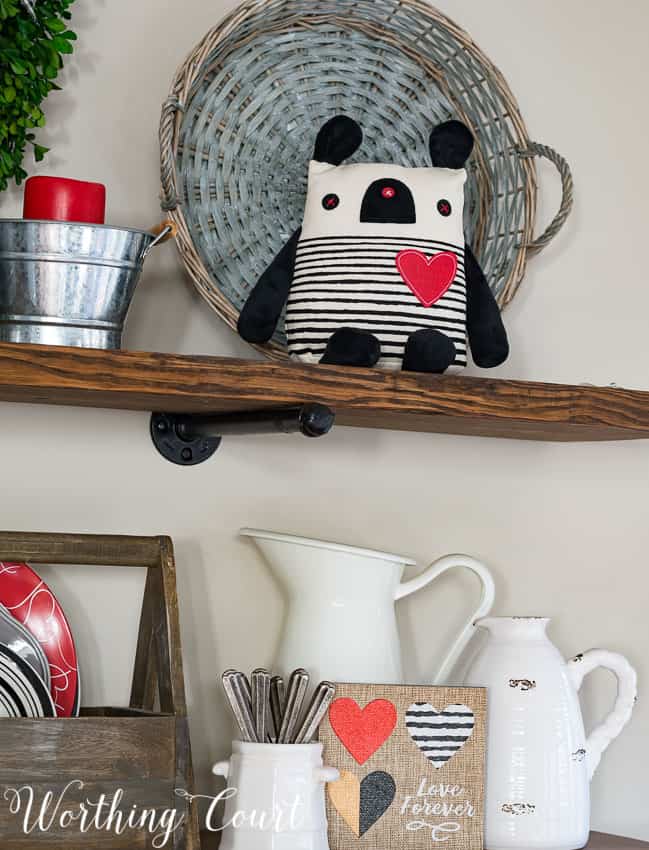 Pin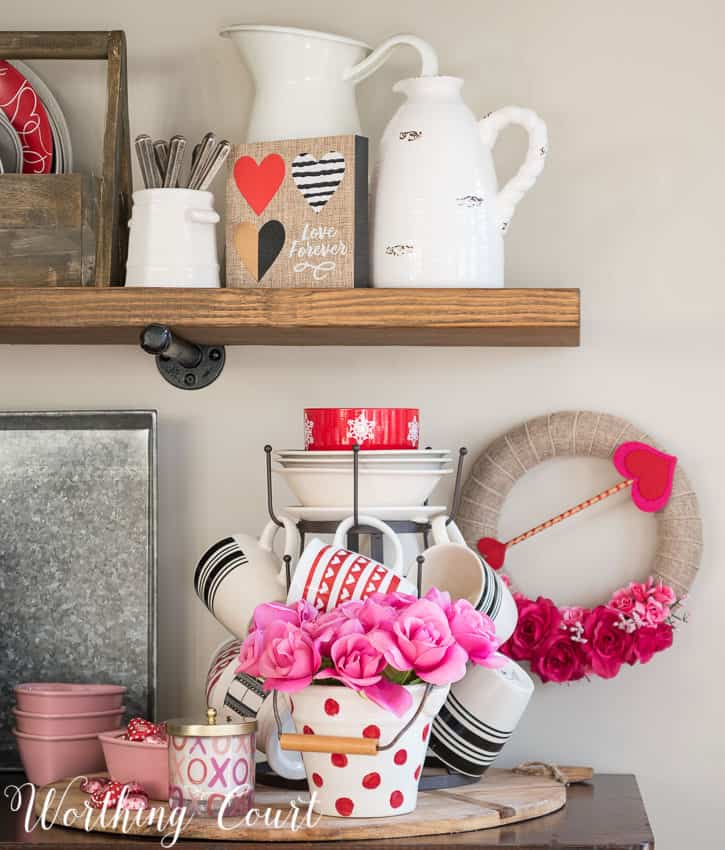 Pin
Get the directions for how I made that cute wreath for under $10 by clicking HERE.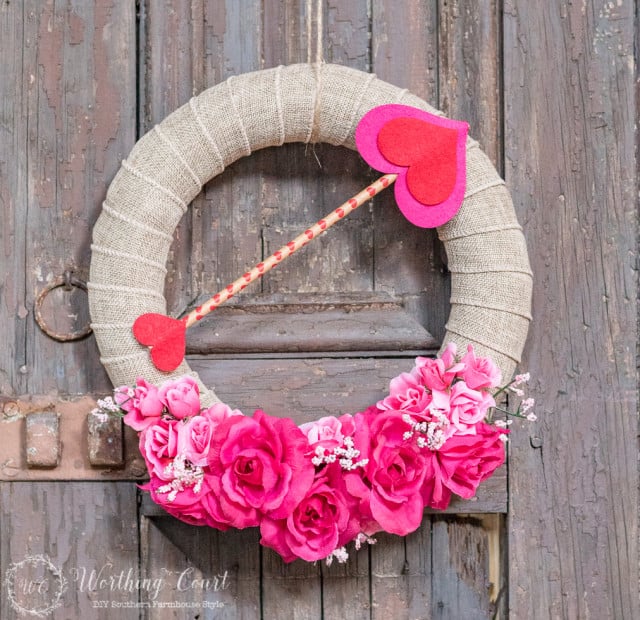 Pin
On the left side, I tucked in a larger Valentine's heart block to the decorations on the top of my sideboard.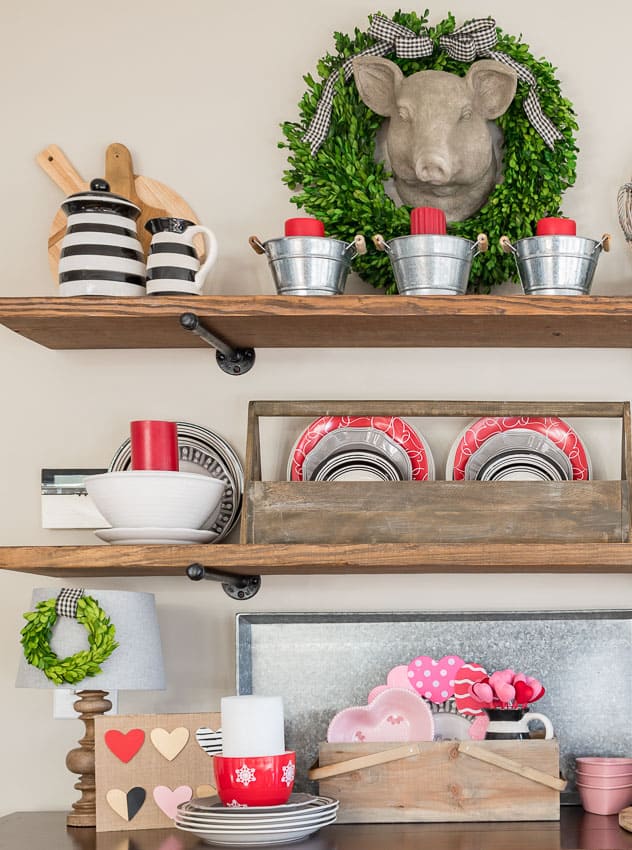 Pin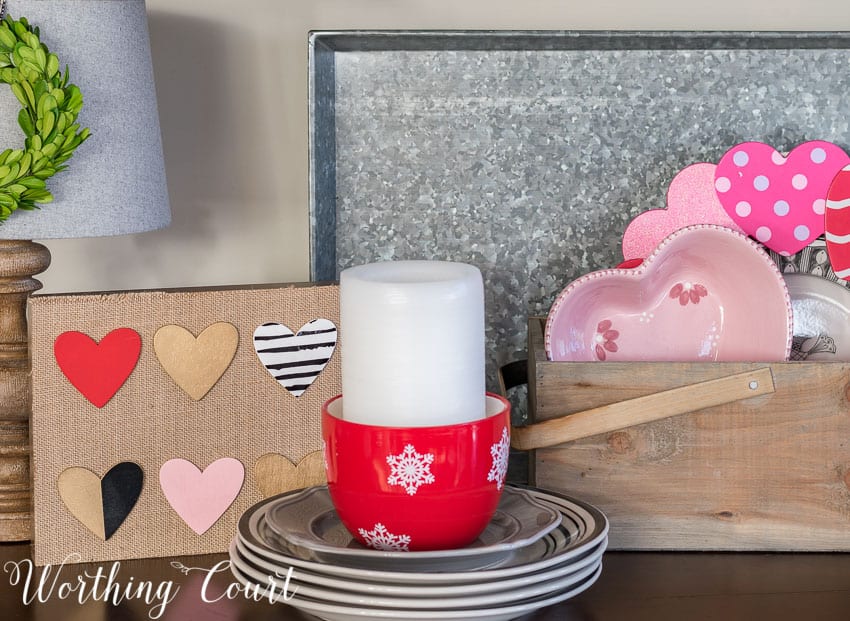 Pin
You can see that on the rest of the shelves, I simply replaced the white candles on the top shelf with red ones, added Valentine's themed dishes to both tool boxes and then switched out some of the accessories displayed on the round bread board that the lamp is resting on.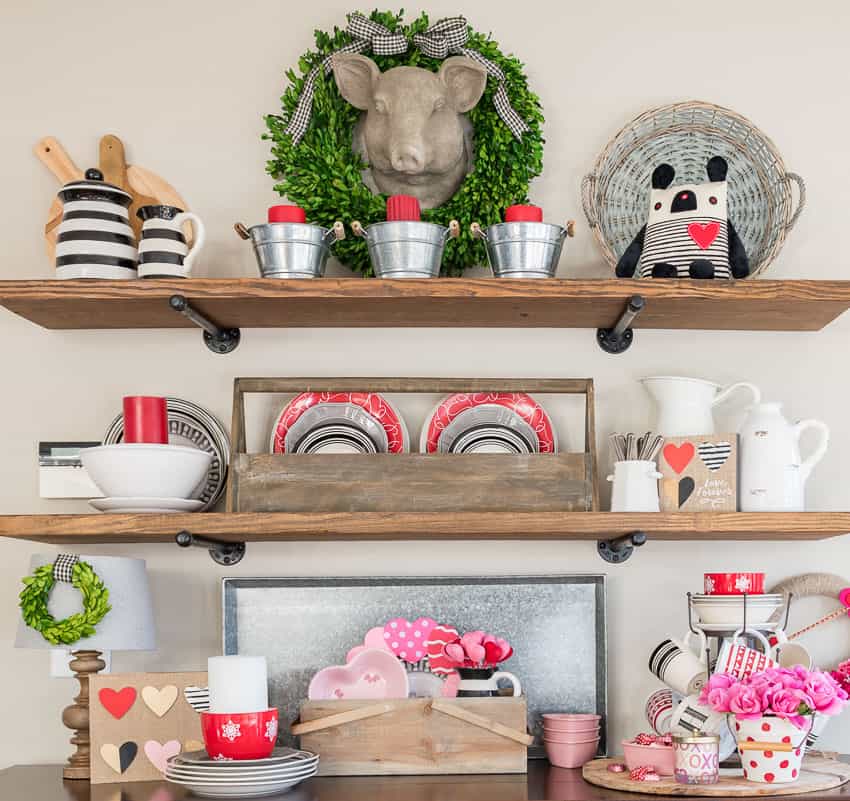 Pin So – have I convinced you yet?  I challenge you to find a spot in your home where you can put these same decorating principles into practice!