Elegant Christmas Decorations For A Dining Room
ELEGANT CHRISTMAS DECORATIONS TO COPY FOR YOUR DINING ROOM, FEATURING A FLOCKED CHRISTMAS TREE AND A GREEN, SILVER AND WHITE COLOR SCHEME.
Let's get ready for an elegant Christmas Eve dinner in the dining room!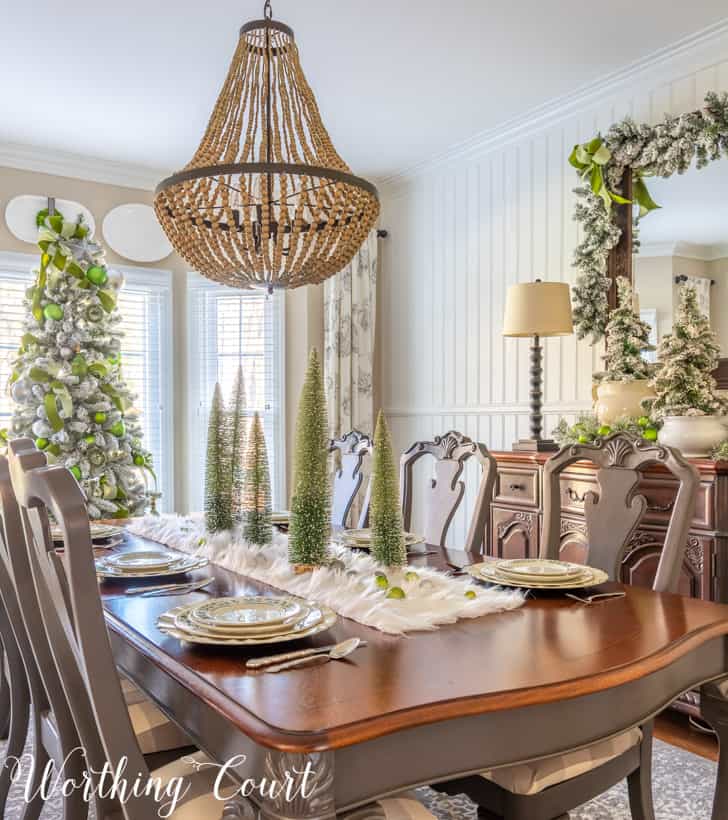 Pin
Hello there, my friend!  We are on the steep downhill slope, headed toward Christmas, but I have one more decorated holiday room in my home that I want to share with you.

That room would be my dining room, that I've filled with simple, elegant decorations for Christmas!  While the Christmas decorations in the rest of my home are decidedly more fun and festive, I always want my dining room to be more on the elegant side.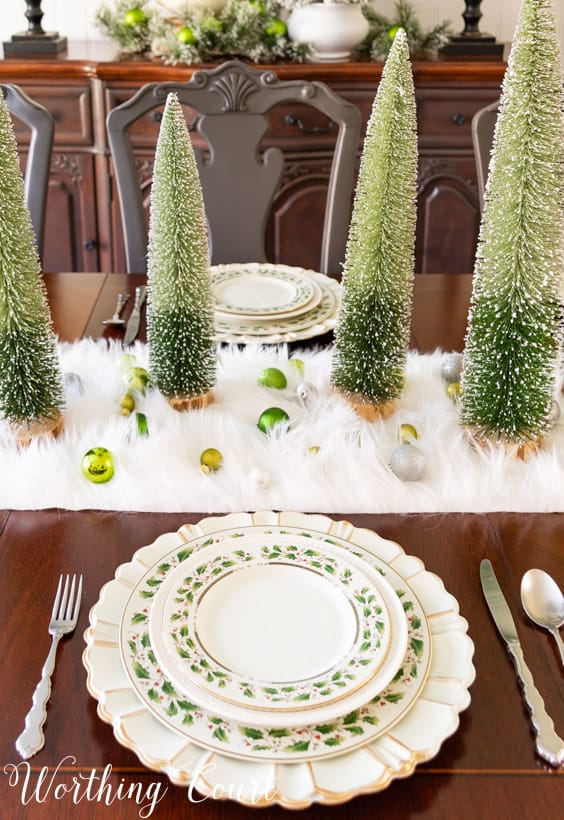 Pin
My dining room is the place where I love to host an intimate, special dinner, with my family, prior to attending our church service on Christmas Eve.
My flocked Christmas tree is the very first thing I decorated in here and is the star of the show!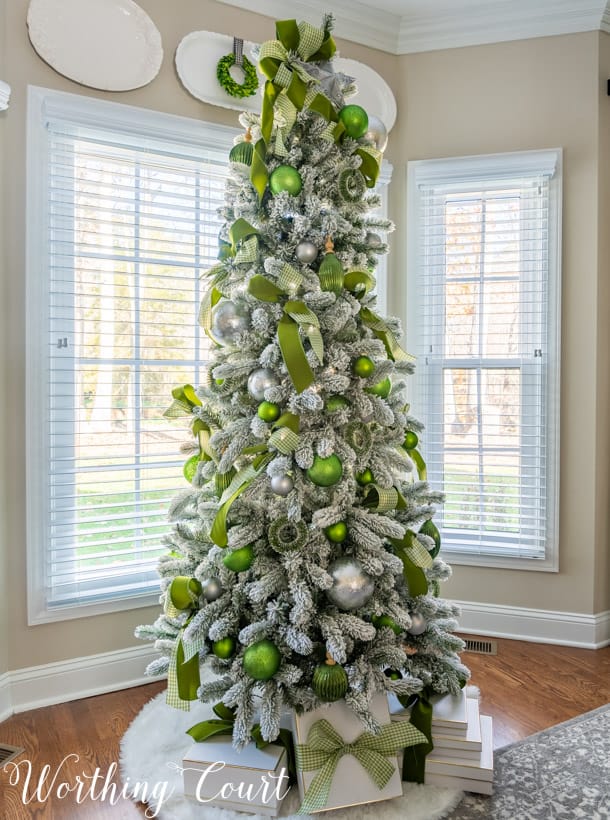 Pin
It's filled with large and medium sized apple-green and silver Christmas ornaments and the most luscious ribbon!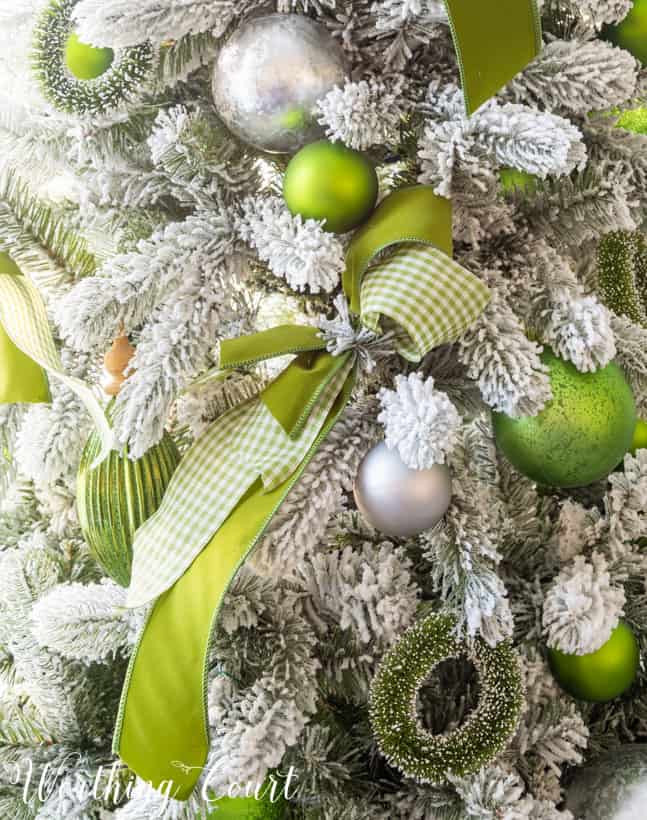 Pin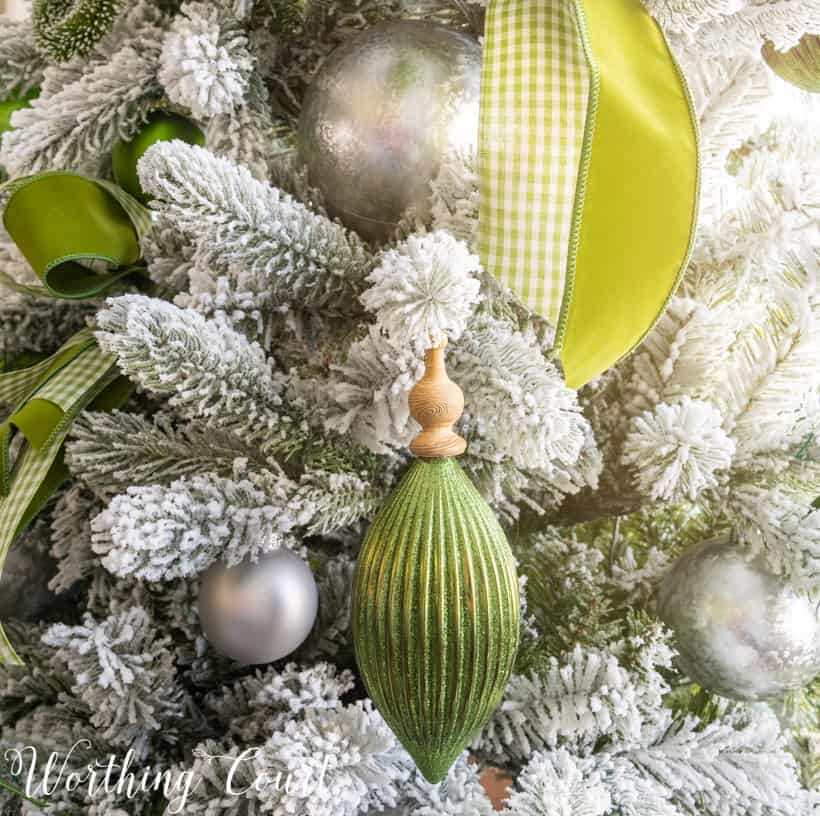 Pin
I made sure to add even more of the ribbon to the packages below the tree.  Do you like to wrap your gifts to match your tree?
Pin
The decorations in the rest of the room were inspired by what I did on my tree, starting with the sideboard. You can see that I added a flocked garland around the mirror, with more of that luscious ribbon at each corner.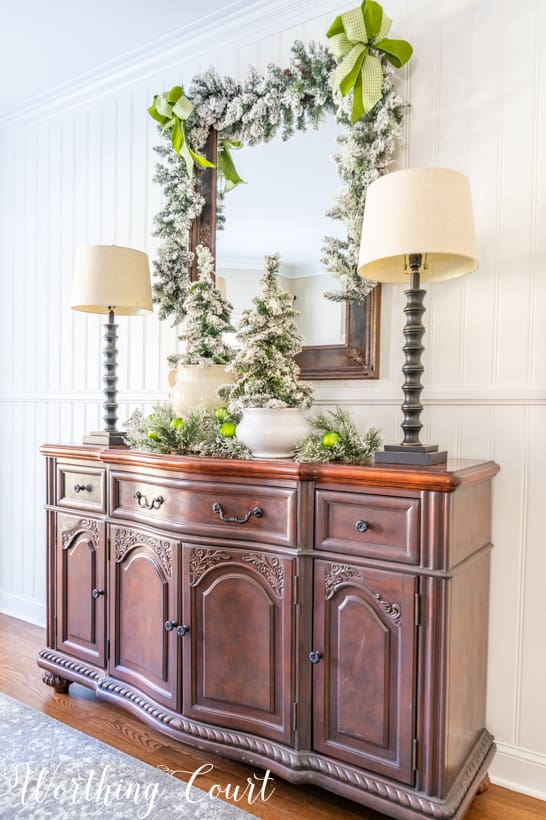 Pin
The decor on the top of the sideboard is simply put together with a couple of very inexpensive flocked trees in urns, with a few sprigs of faux greenery, accented with green ornaments, tucked around them.  So easy!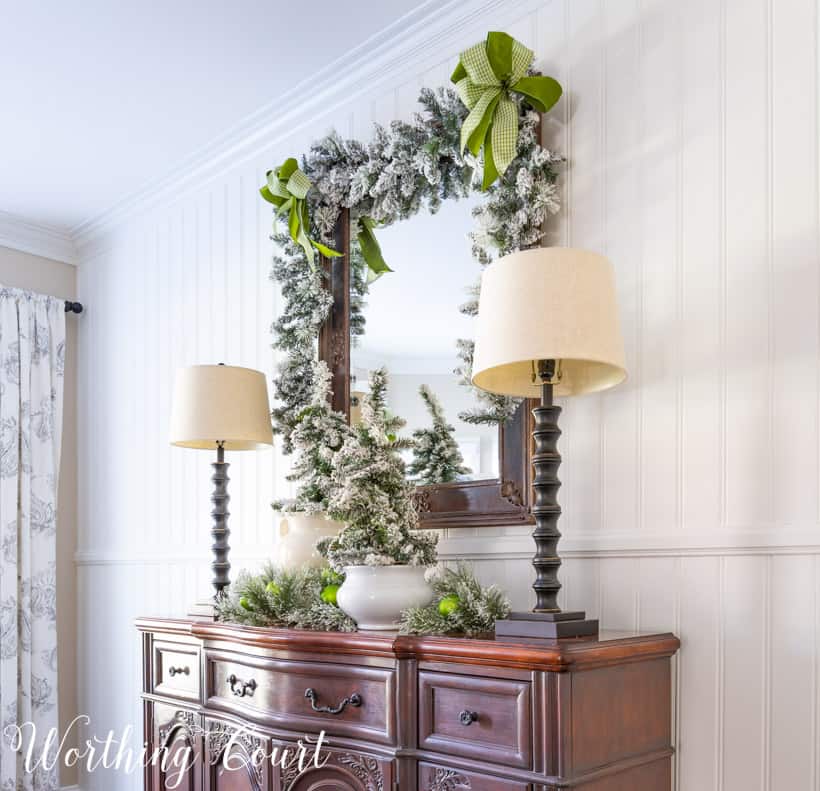 Pin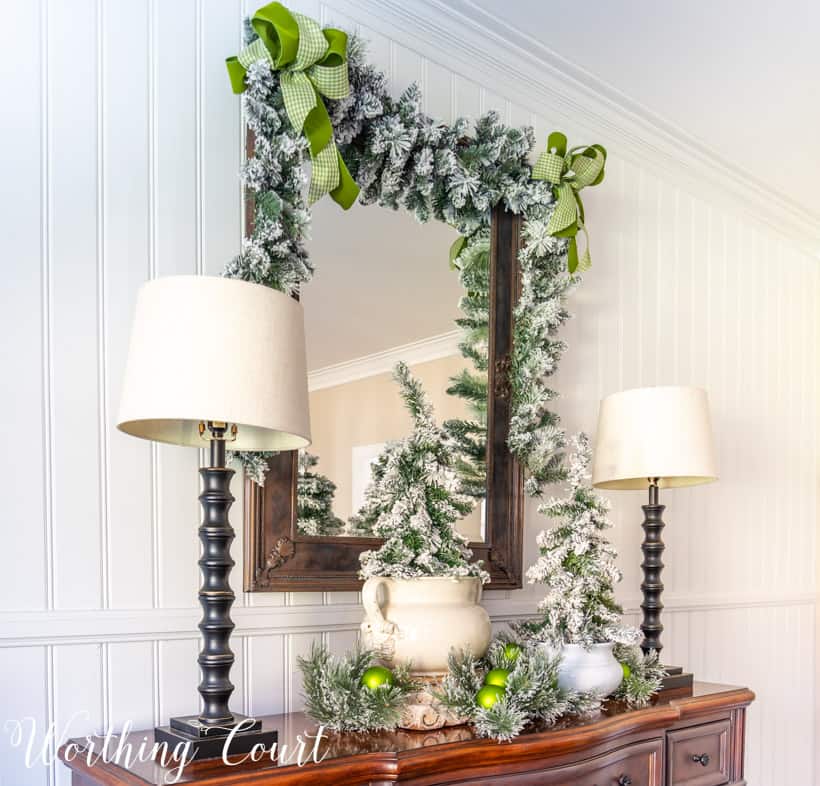 Pin
I haven't added napkins and glassware yet, but my dining table is elegantly set with some of my gold rimmed china atop scalloped edge chargers, which ties in with the scalloped edge flatware that I inherited from my mom.  I've loved setting my table ahead and being able to enjoy it for a few weeks since I only get to use this special china once each year!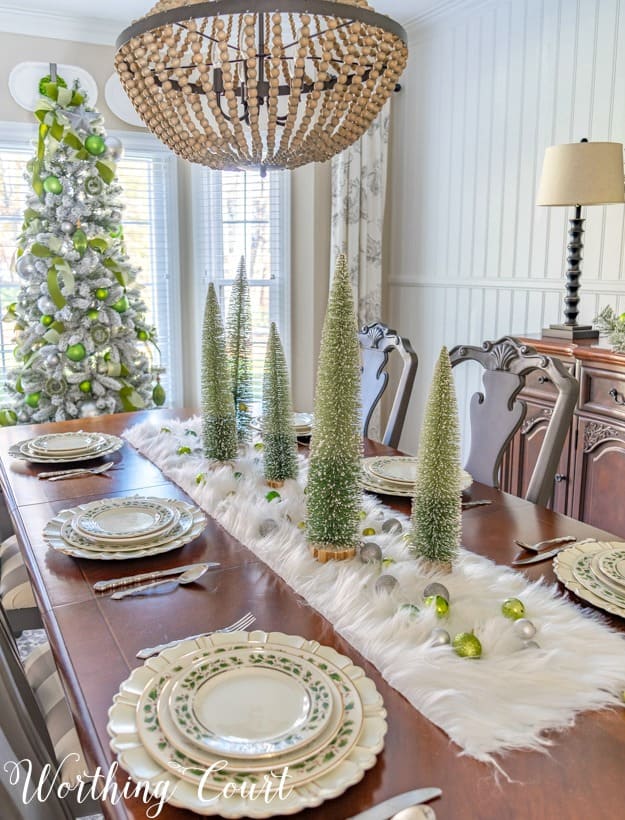 Pin
A piece of faux fur, from the fabric store, acts as a snowy base to a forest of these amazing bottle brush Christmas trees!  They have just a little bit of sparkle to them, which makes them perfect for the elegant feel that I crave in this room.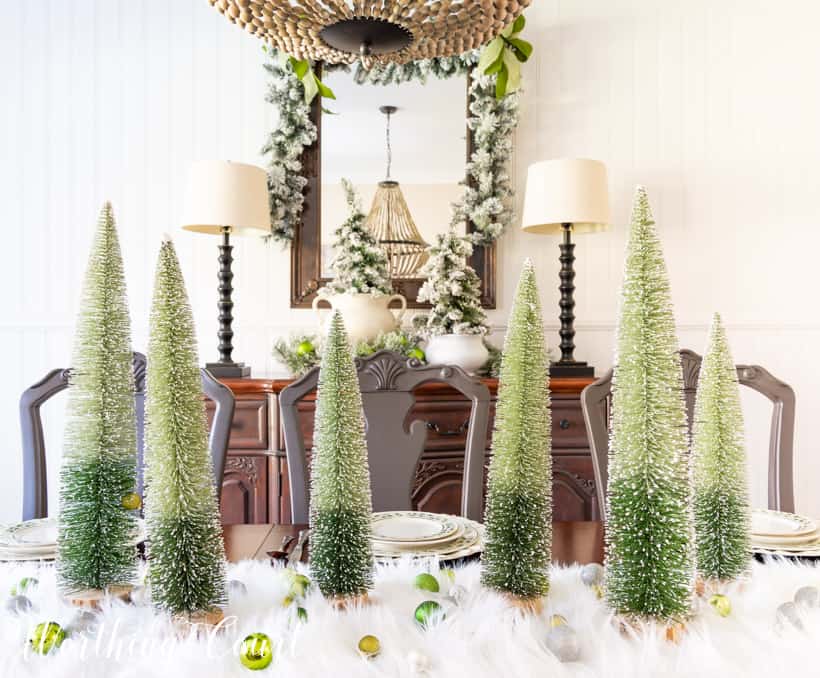 Pin
I scattered smaller versions of the same ornaments that I used on the tree all along the faux snow runner.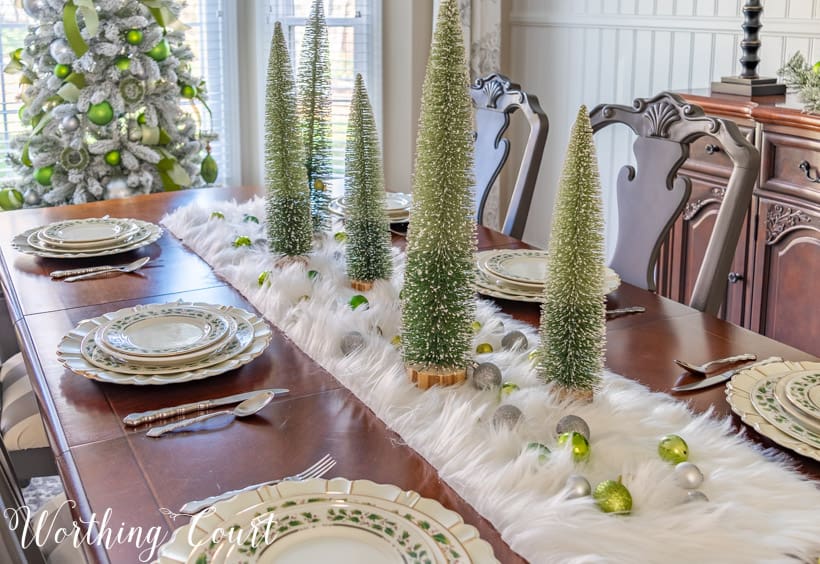 Pin
Thank you for stopping by for a visit today.  I've decorated this room many times for Christmas, but this year just might be my favorite!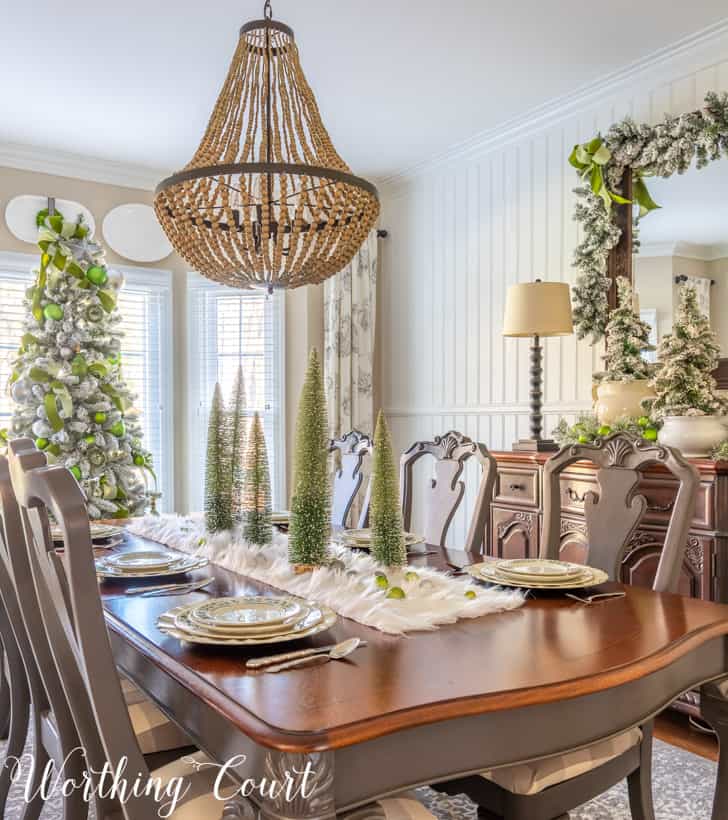 Pin