Friday Favorites 12 | Inspiring Design Ideas, Fashion And More!
Favorite home decor inspiration, fashion, recipes, decor steals and other random musings from the week.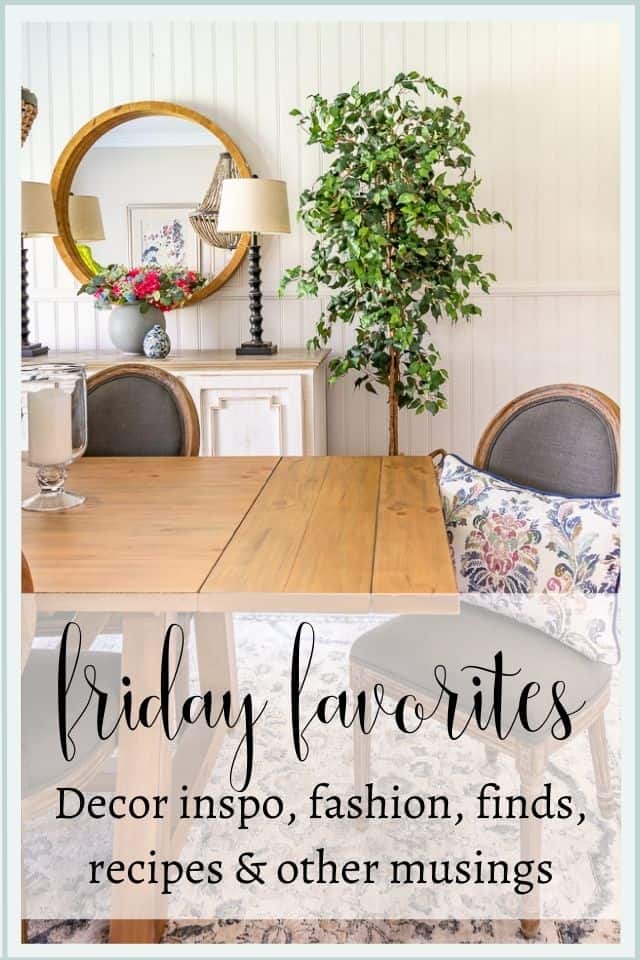 Pin
This post and photos may contain Amazon or other affiliate links. As an Amazon Associate I earn from qualifying purchases. If you purchase something through any link, I may receive a small commission, at no extra charge to you. Where possible, the exact product has been linked. If that product isn't available to link, I've linked something similar. All opinions are my own. See my full disclosure HERE.
STOPPED ME IN MY SCROLL
Do you ever run across an image that just makes you feel good to look at? That happens to me quite often, especially in the world of home decor. That's the case with the Instagram image of this beautiful room from the Ariel Okin Interior Design Studio.
I've studied and studied this image to try to figure out what it is about the room that gives me all the feels, but I can't quite put my finger on it. Is it the fabrics, the mix of patterns, the warmth of the colors, the furniture arrangement? I don't know exactly, but this strikes me as a room that I would love to have in my home.
If this appeals to you too, give them a follow on Instagram. Their entire feed is filled with beautiful inspiration.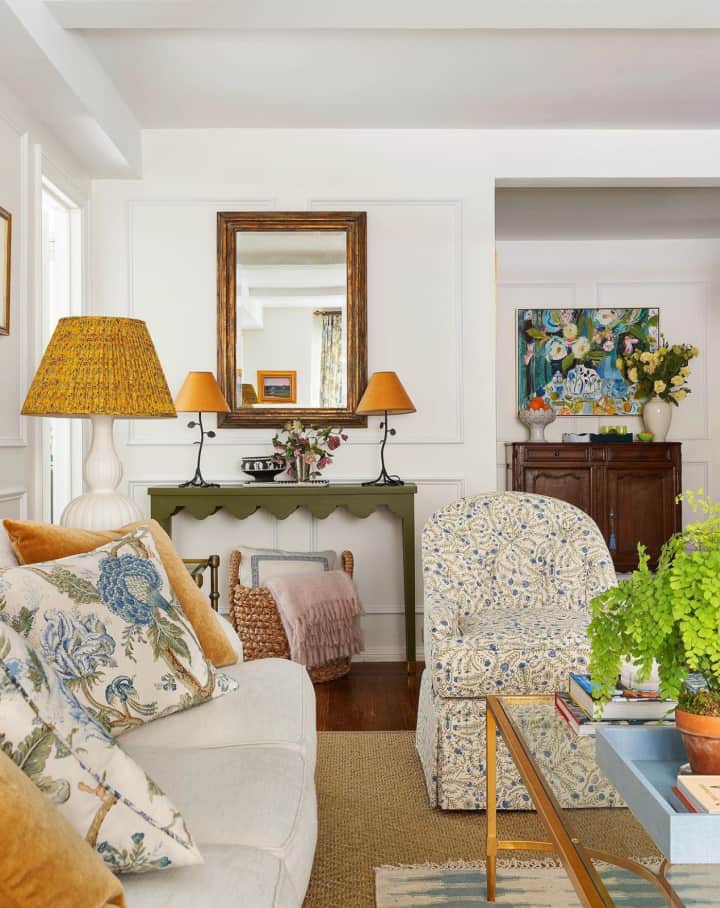 Pin
ARIEL OKIN INTERIOR DESIGN STUDIO on INSTAGRAM
OUTFIT INSPIRATION
This week's outfit inspiration is brought to you by one of my favorite tops to wear this time of year. The linen fabric and its flowing style make it super comfortable to wear. It's almost like wearing pajamas. I call this a casually dressy outfit.
I love the versatility of rollup, button tab sleeves! They come in handy in case the air conditioning is chilly inside, but then I can roll them back up when I go outdoors where it's warmer.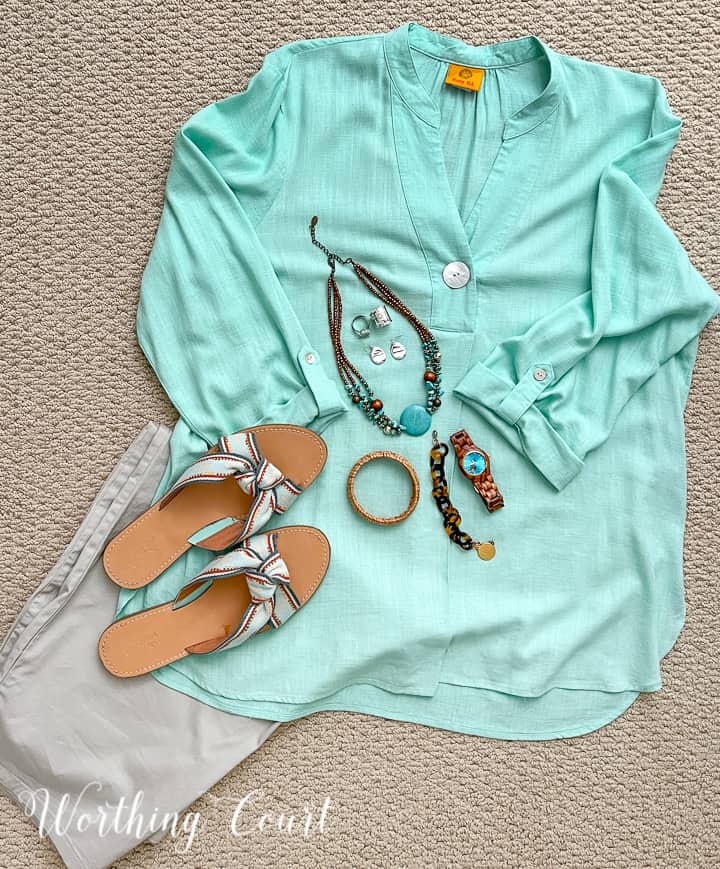 Pin
Linen is such an organic fabric that a necklace of turquoise combined with a rattan bracelet is a natural pairing. I even threw in a little leopard print to pick up the brown in the necklace. Animal prints go with everything – right???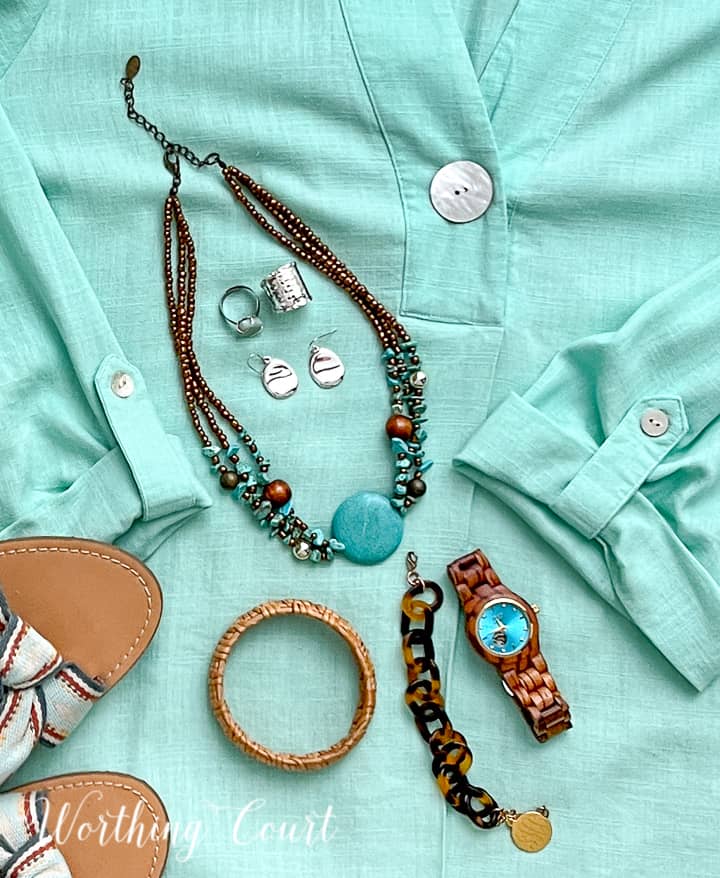 Pin
WHAT I'M WATCHING OR READING
I wish I had something good to watch to share with you, but tv and movie land is like a dry desert for me these days.
Every new movie that we try to watch is overly filled with poorly done cgi (computer generated imagery) or else bad language is used every other word. That just doesn't appeal to me, so we usually resort to watching old movies that we may have already seen a hundred times before.
So how about if I feature some old movies from time to time? If you're on the hunt for something decent, maybe some of these will jog your memory.
Dramas are my favorite type of movies, but a few weeks ago we were in the mood for some laughs and revived My Big Fat Greek Wedding. Have you seen it? If you haven't, you need to watch it for some good belly laughs.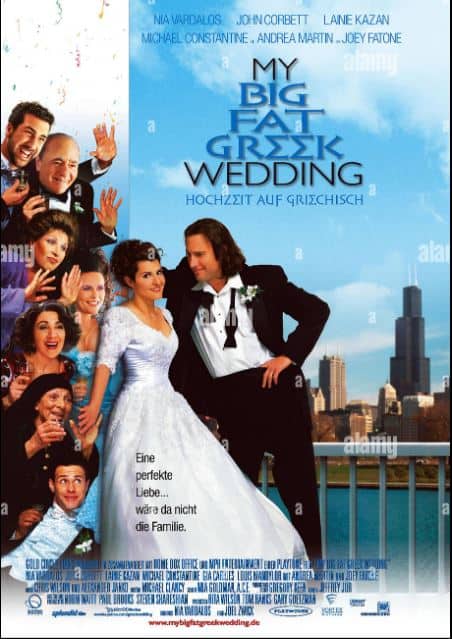 Pin
RECENT PURCHASE I LOVE
When I had multiple guests staying with me recently, I needed to put the finishing touches on the decor in our upstairs guest bedroom. Even though I've never shared the room here before, I do want to share these throw pillow covers that I purchased for the bed with you. I love them!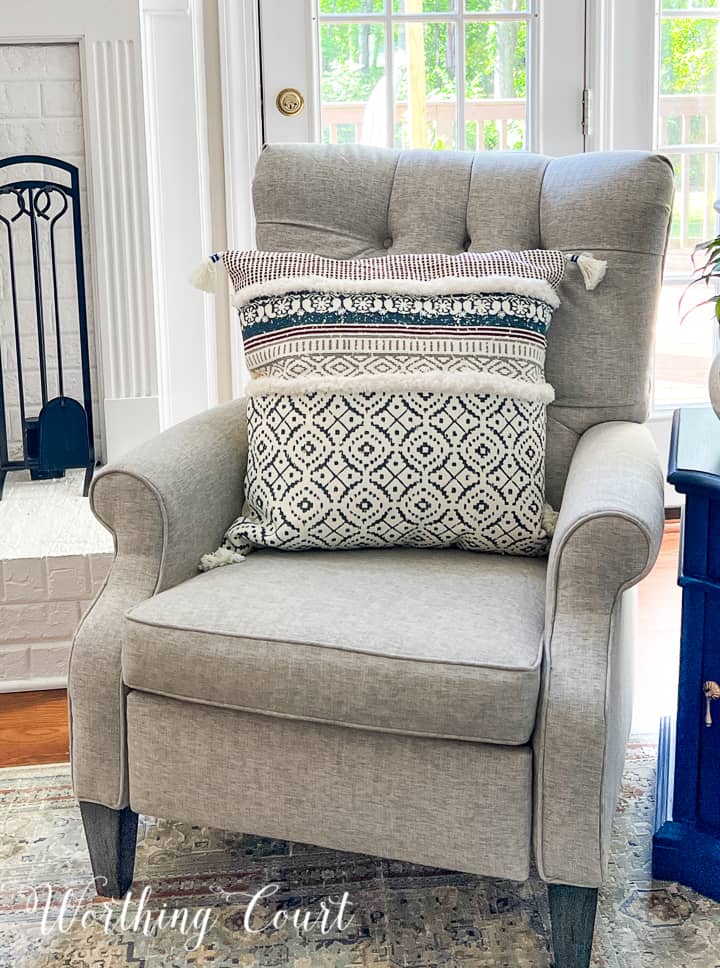 Pin
They're very affordable and I'm impressed with the quality of both the fabric and the workmanship. They come in multiple colors and sizes too. I'm using three of the 24×24 size on the queen bed as Euro shams.
They sell quickly, so I had to wait a few weeks to receive them, but it was well worth it!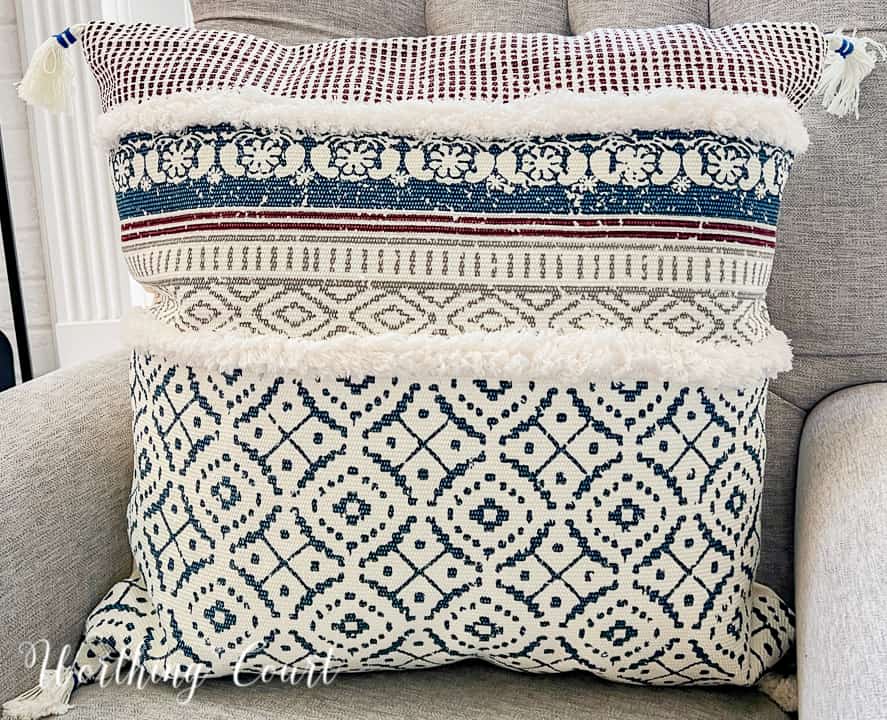 Pin
ON THE HOME FRONT
Thank you to all of you for your well wishes about recovering from a pinched nerve in my hip. I've been a good girl and have been doing the stretches that my doctor recommended and I'm happy to report that they are really helping. I'm ever so slightly better each day.
I'm taking several online classes that are blogging related over the next few weeks that I'm really enjoying and learning so much from. Some of my homework is pushing me out of my comfort zone a bit, but that's exactly what I need! As a result, I'm not doing a ton of new decorating because this is where I'm spending hours and hours every day. At least my "office" is right beside the windows in my breakfast room so that I can enjoy watching the birds at the feeder and bird bath.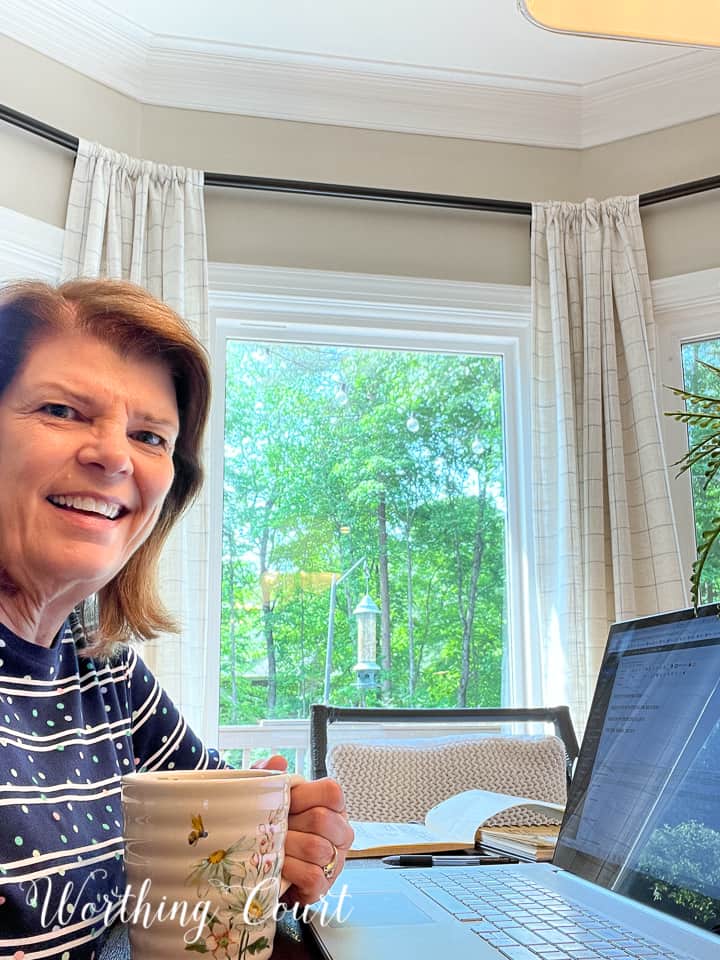 Pin
Thankfully, I get to take my youngest granddaughter to her horseback riding lessons each week, so that keeps me from being totally consumed with working on the computer, which I have a tendency to do if I'm really enjoying what I'm doing. I'm so proud of this not-so-little munchkin!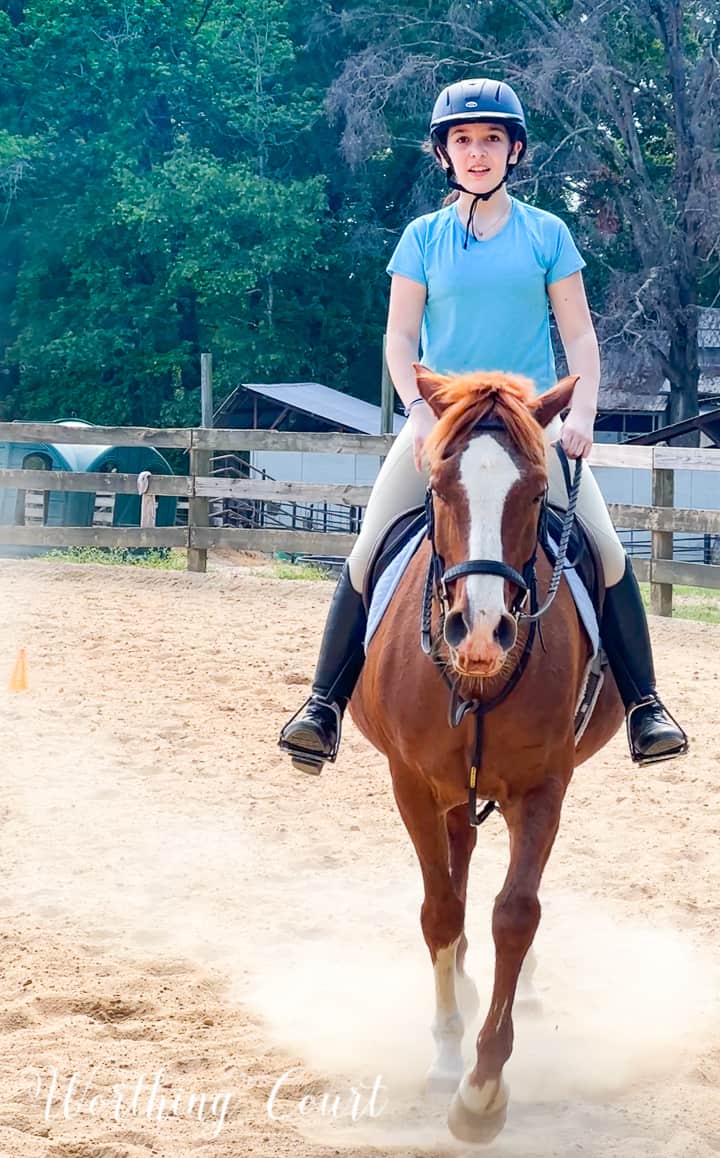 Pin