Healthy And Weight Watcher Friendly Grilled Chicken With Strawberry And Pineapple Salsa
This grilled chicken with strawberry and pineapple salsa recipe is a quintessential summer dish. The grilled taste of the chicken combined with fresh strawberry and pineapple salsa is a healthy way to enjoy some of the best flavors of summer!
One of the most used pieces of cooking equipment around my house, during the summer, is our grill. I love, love, love to cook out this time of year! No matter how simple the meal, grilling out always seems like an event to be enjoyed.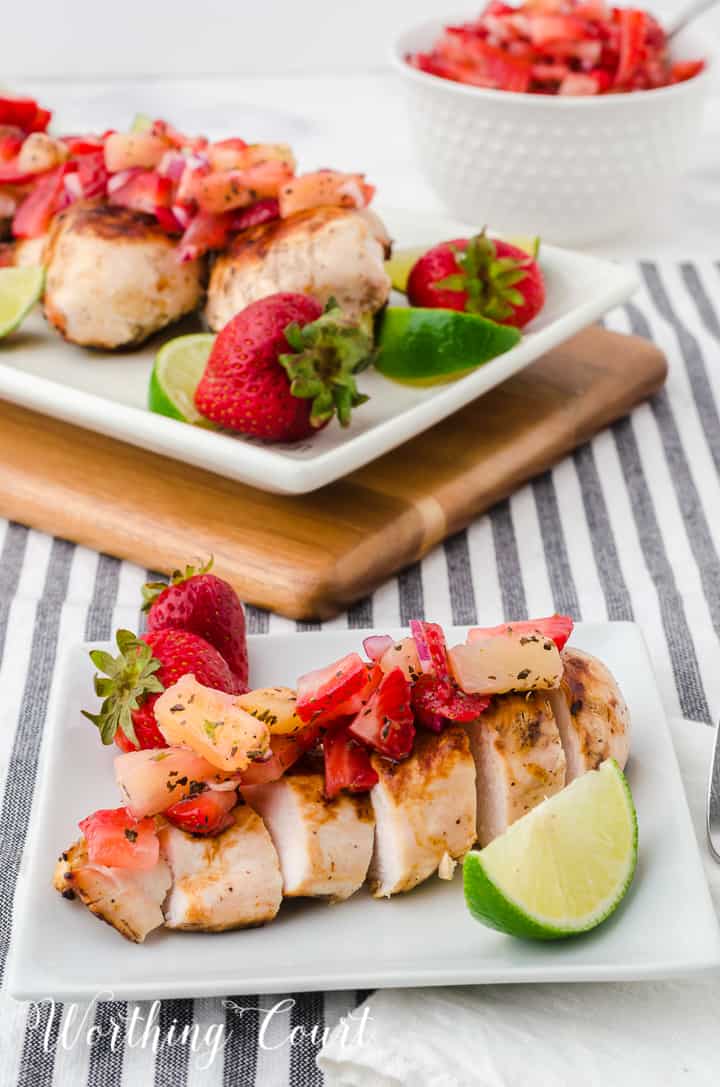 Pin
We grill lots and lots of chicken, so I love it when I find an easy recipe, like this one, that really ramps up the flavor of just plain ole grilled chicken.
Topping the grilled chicken with the fresh strawberry and pineapple salsa brings it to life! The mix of the grilled chicken taste (savory) with the salsa (sweet'ish) is a favorite.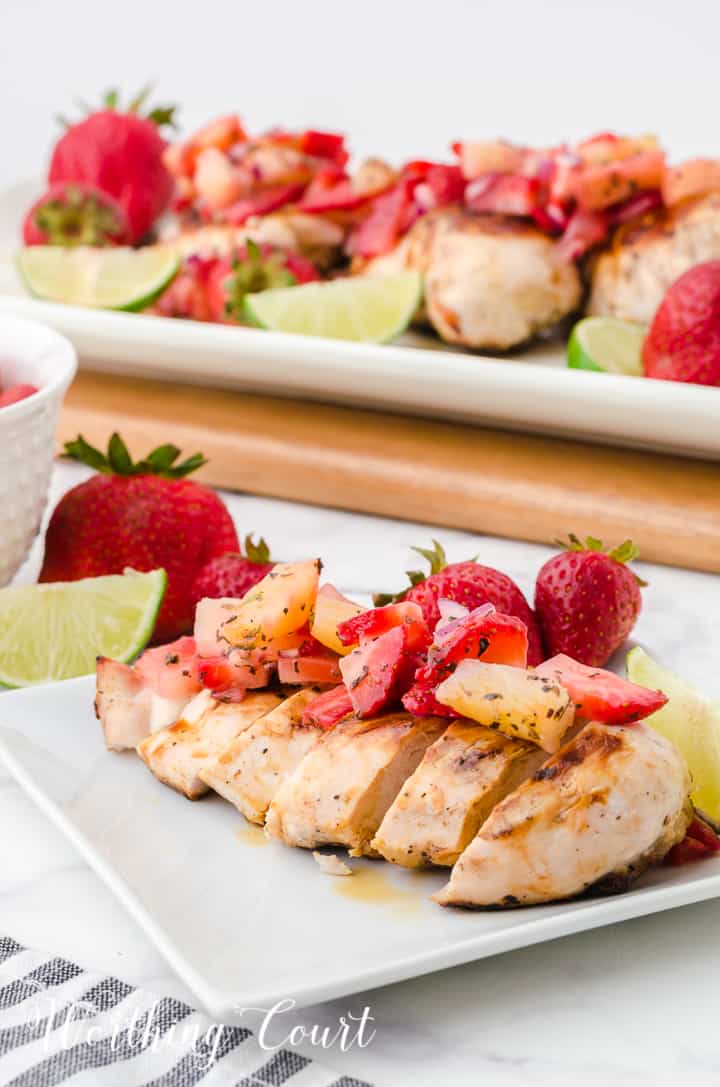 Pin
By the way – this month's Weight Watcher friendly recipe is part of the monthly recipe bloghop, hosted by my friend Marty at A Stroll Thru Life. This month there are 7 of us sharing some of our favorite recipes! Scroll down to the bottom to get the link to what everyone is sharing.
At only 3 points/serving, this recipe fits in well with the Weight Watchers Purple plan that my husband and I are following, but I certainly don't consider this "diet" food.
If you don't own a grill (or prefer not to use one), a stovetop grill pan works equally well. I actually own and love THIS ONE.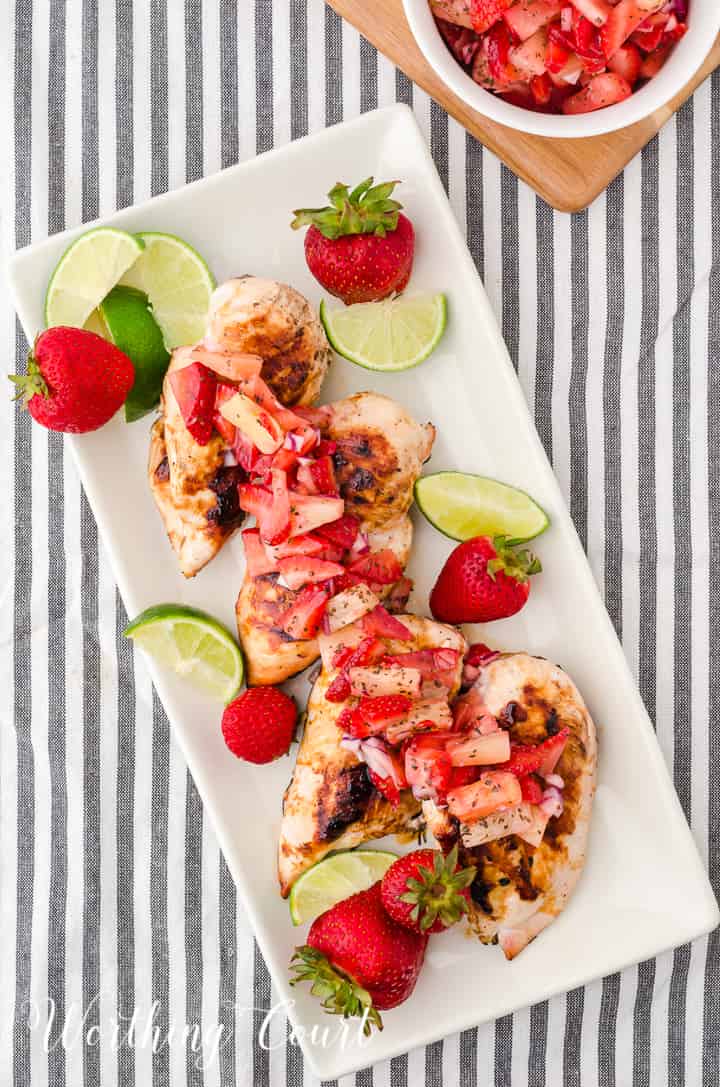 Pin
GET READY TO GRILL
If you're going to be cooking on an outdoor gas grill, did you know that there's a little bit of process that you should follow to prep your grill before adding the food to it?
Heat the grill to at least 400° (or high). Keep the grill at this temperature for about 5 minutes. This will make any leftover grilling residue easier to scrape off of the grill rack.
Clean the cooking grate by turning the heat off and scraping it with a bristle free scraping tool, such at THIS ONE.
Spray the cleaned grates with cooking spray, or wipe with canola oil, then preheat the grill to the desired cooking temperature.
Cook the food as desired and enjoy!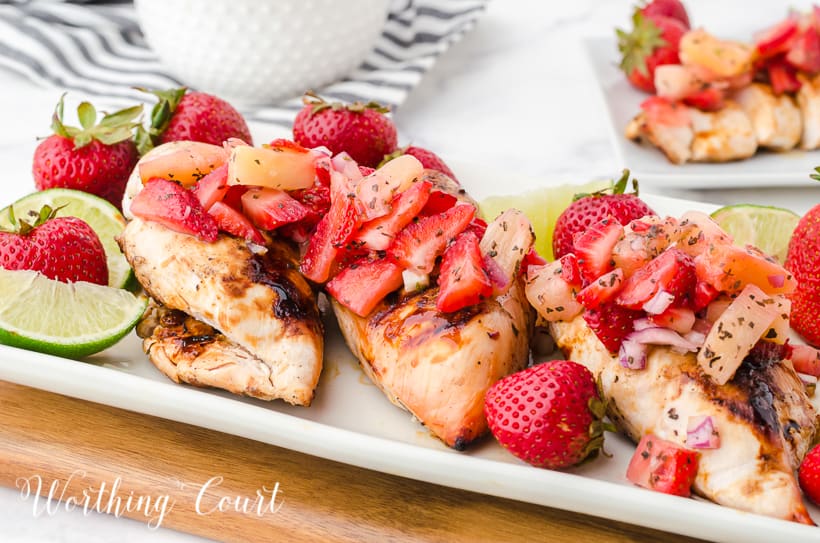 Pin
HOW TO MAKE GRILLED CHICKEN
It typically takes 9-10 minutes to grill boneless chicken breasts until thoroughly cooked, but here are a few tips for getting perfectly grilled chicken:
I used to always rinse my chicken before cooking, but that is no longer a recommended practice due to the possibility of contaminating surfaces with bacteria.
Spray the grill with cooking spray and preheat to the desired cooking temperature. I usually cook my chicken at 375° – 400°.
Add the chicken to the grill, close the lid and cook until the internal temperature (of the thickest part of the breast) is 165° and there is no pink in the middle. THIS is the best digital instant-read meat thermometer that I've ever used.
Flip the chicken halfway through the cooking process to get those beautiful sear marks on both sides.
After cooking, allow the chicken to rest for 5 minutes before serving.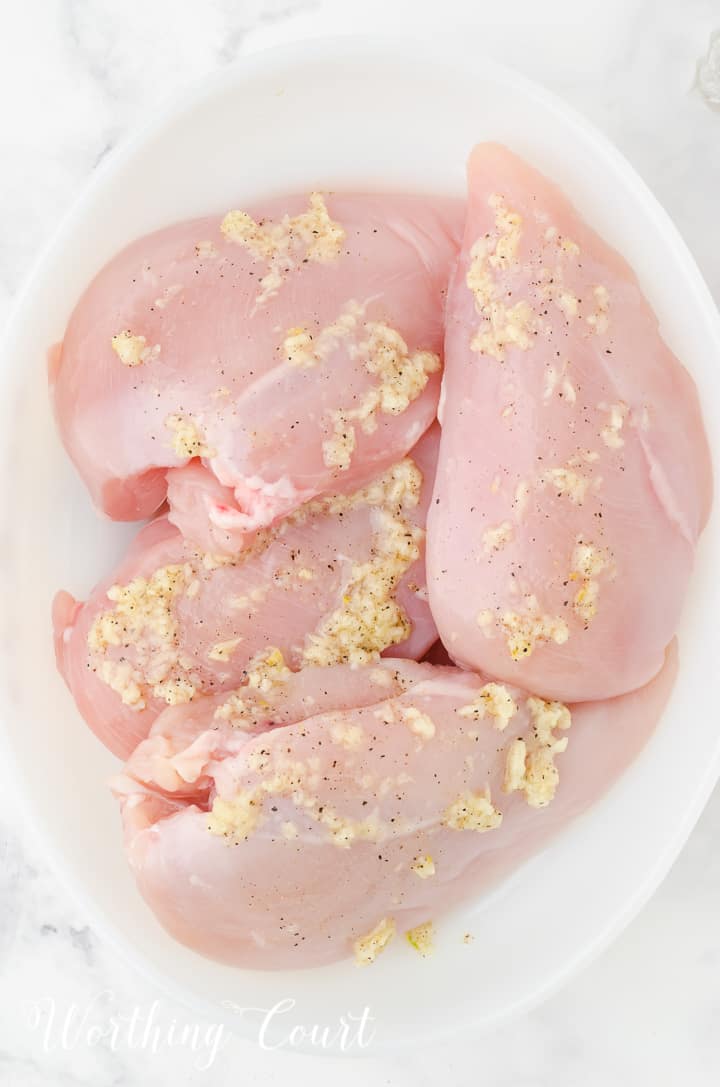 Pin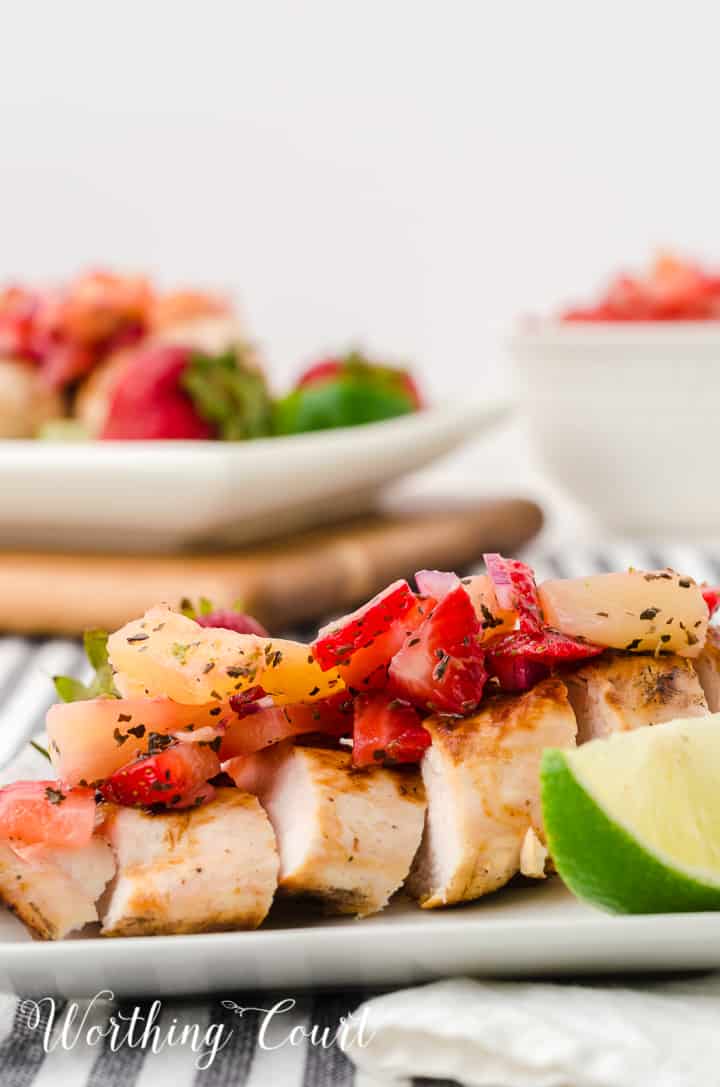 Pin
HOW TO PREPARE THE SALSA TOPPING
It's a simple process to prepare the salsa, but here are a couple of things to know:
The consistency of the salsa will be best if the strawberries and pineapple are cut into small pieces rather than large chunks.
Be sure to finely chop the onion so as not to have an overwhelming onion taste in individual bites.
The salsa will have the best flavor if prepared at least two hours before serving. This will give those yummy flavors time to mingle!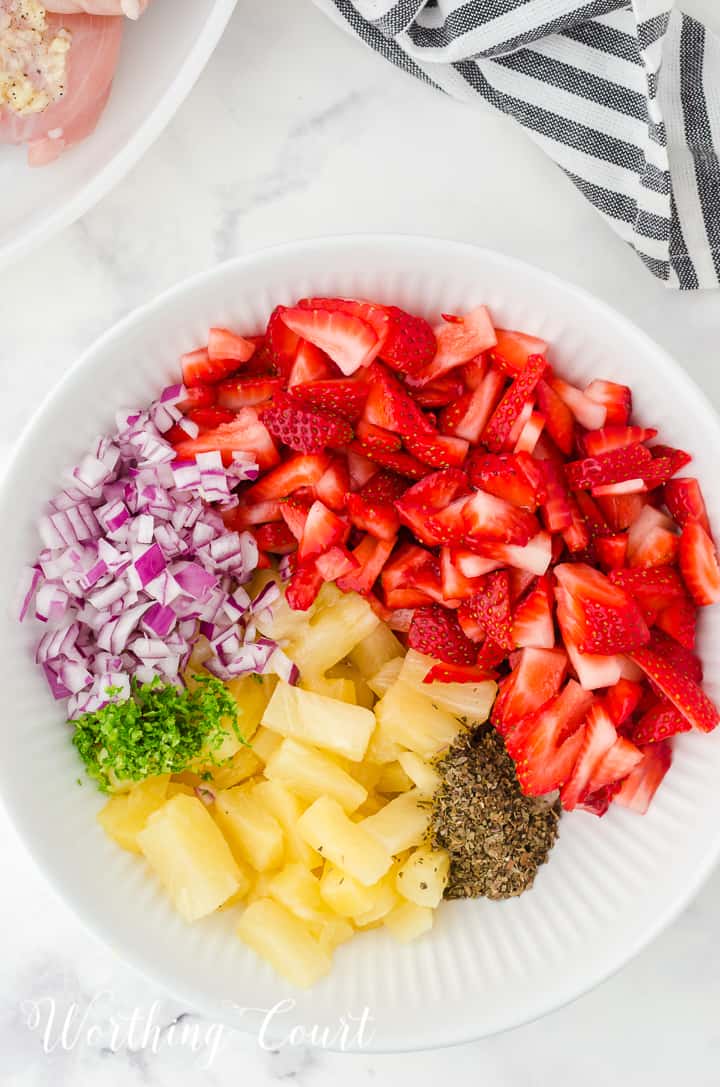 Pin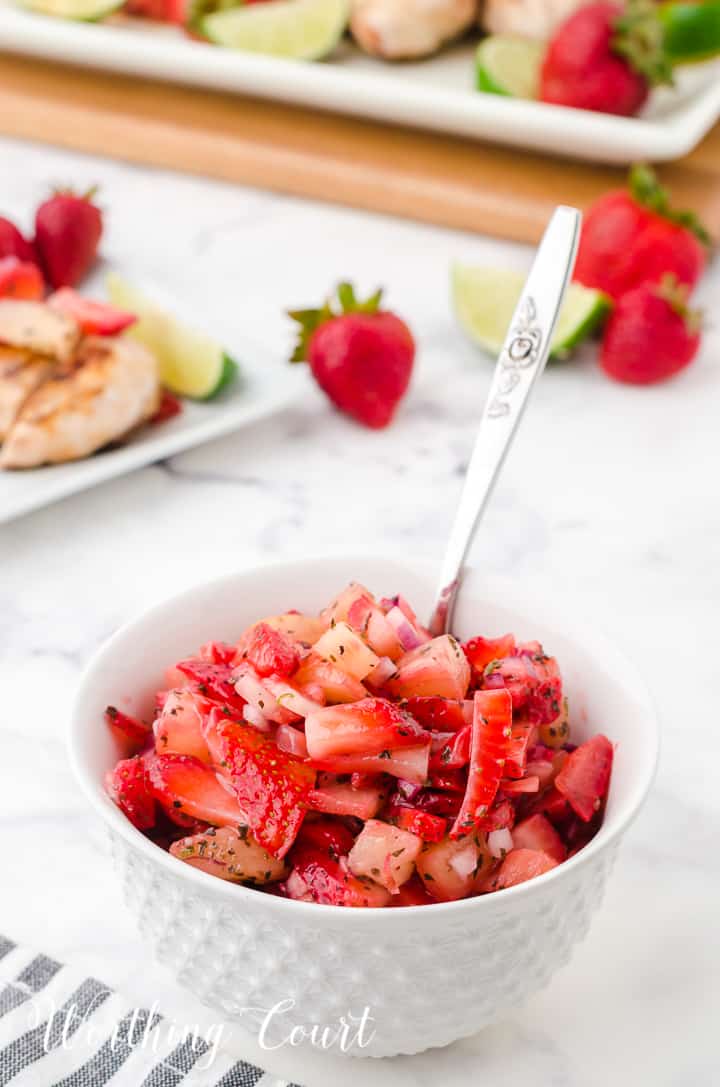 Pin
Healthy Grilled Chicken With Fresh Strawberry & Pineapple Salsa
Did you make this recipe? Leave a review!
---
This grilled chicken with strawberry and pineapple salsa is a quintessential summer dish. The grilled taste of the chicken combined with fresh strawberry and pineapple salsa is a healthy way to enjoy some of the best flavors of summer!
Ingredients
2

tblsp

fresh lime juice

2

tsp

minced garlic

2

tsp

olive oil

,divided

1/2

tsp

salt

1/4

tsp

ground black pepper

16

oz

boneless chicken breasts

,skinless, uncooked

2

cups

strawberries

,chopped with all tops removed

1

cup

unsweeted canned pineapple

,diced with ALL of the juice drained

1/4

cup

red onion

,finely chopped

1

tsp

dried basil

1

tsp

sugar

1

tsp

lime zest

2

sprays

cooking spray
Instructions
TO COOK THE CHICKEN:

1. Zest lime, set aside to reserve for use in the salsa.

2. Juice lime, set aside.

3. Combine 1 tblsp lime juice, minced garlic, 1/2 tsp oil, salt & pepper in a bowl. Add chicken to the bowl, turn to coat both sides, set aside.

4. With the heat turned off, lightly coat grill rack (or grill pan) with cooking spray, then heat grill to medium-high. Grill chicken until completely cooked.

TO PREPARE SALSA:

1. Combine strawberries, pineapple, red onion, basil, sugar, remaining lime juice, lime zest & remaining oil.

2. Top each breast piece with 2/3 cup of the salsa.
Notes
Prepare the salsa and chill for at least 2 hours before using.
I estimate each serving to be 3 points on the Weight Watchers Purple plan. 
---
Nutrition
Calories:
292
kcal
|
Carbohydrates:
18
g
|
Protein:
25
g
|
Fat:
13
g
|
Saturated Fat:
3
g
|
Polyunsaturated Fat:
3
g
|
Monounsaturated Fat:
6
g
|
Trans Fat:
1
g
|
Cholesterol:
73
mg
|
Sodium:
364
mg
|
Potassium:
467
mg
|
Fiber:
2
g
|
Sugar:
13
g
|
Vitamin A:
106
IU
|
Vitamin C:
51
mg
|
Calcium:
34
mg
|
Iron:
2
mg
DISCLAIMER: I am not a Nutritionist. I rely on information from third parties to provide all nutritional information, which can vary depending upon brands of products used.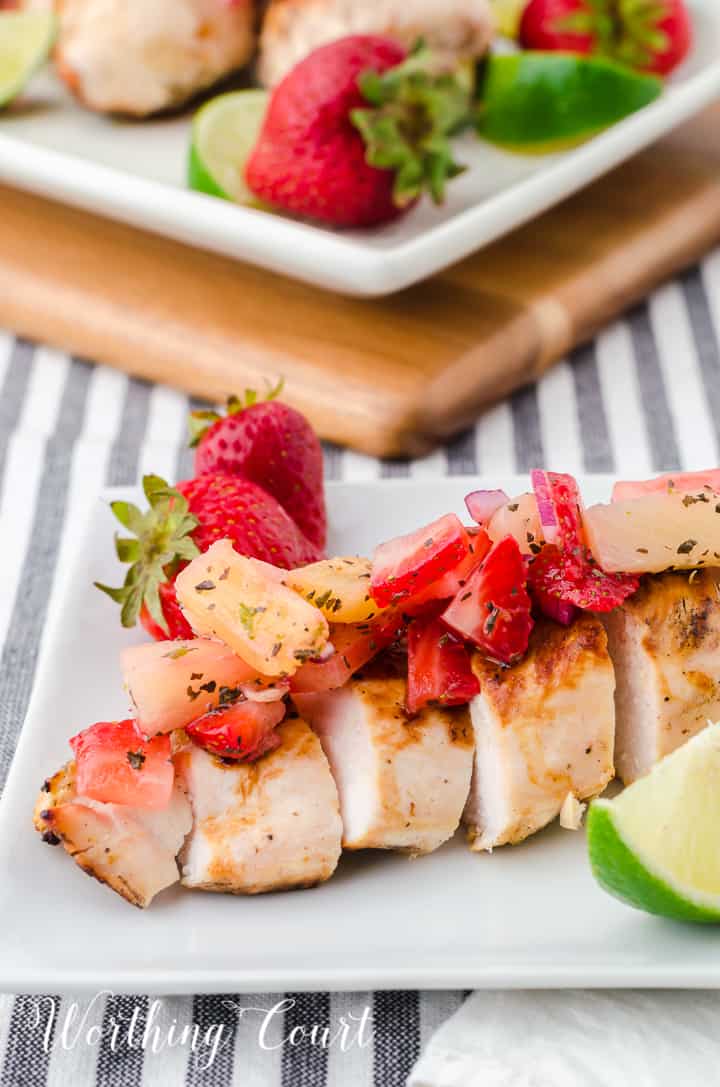 Pin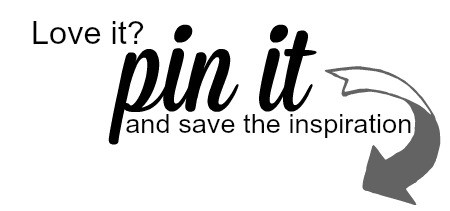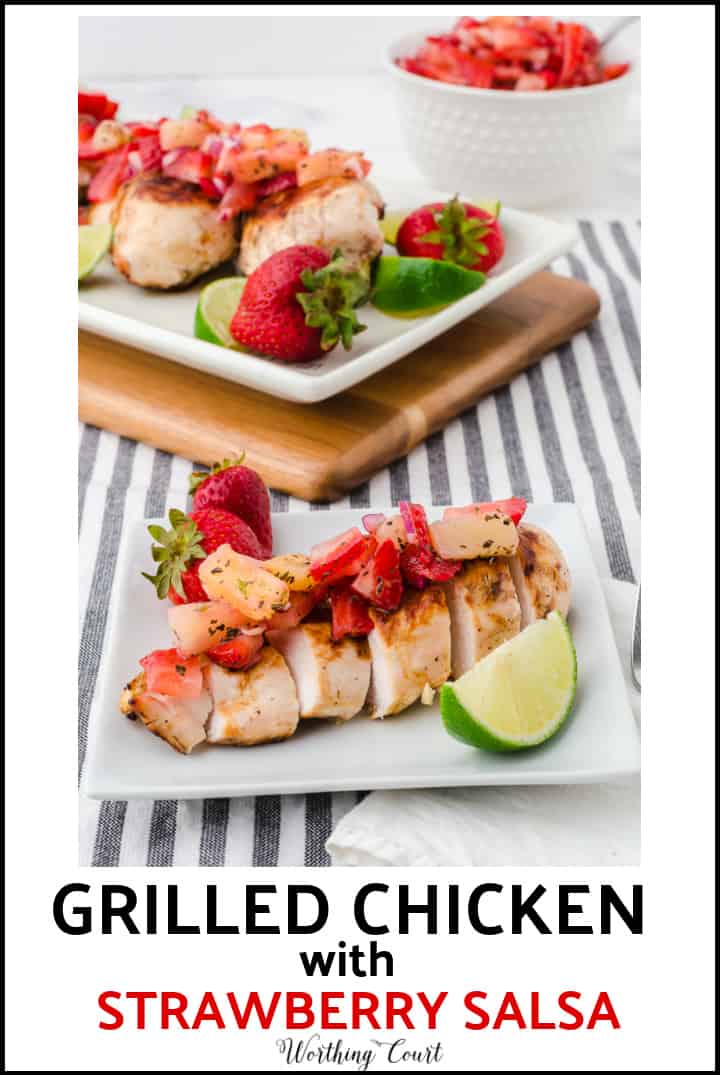 Pin
You don't want to miss these other fantastic recipes!
Pin
Our Southern Home – Homemade Garlic & Herb Butter – This would be a staple to have in the fridge at all times.
11 Magnolia Lane – Delicious Homemade Granola – This is so fabulous, you can add just the ingredients you love.
Pin
Blue Sky at Home – This is sure to become your Family Favorite Peach Cobbler too.
Worthing Court – Grilled Chicken with Strawberry Salsa – Adding Fresh fruit salsa turns this dish into a summer must.
Pin
Decor To Adore – Fast and Delicious Ground Beef Wellington – I am sure this fabulous dish will become a staple in your recipe box.
This Is Our Bliss – A few tortilla chips and a scoop of Easy Texas Caviar will be your family and friends favorite at your next BBQ.
A Stroll Thru Life – Summer Fruit – Easy Peach Pie your family will love.
Pin