House Tour – The Dining Room
Our dining room is located to the left of the foyer as you enter the front door.  This view is looking from the door to the kitchen.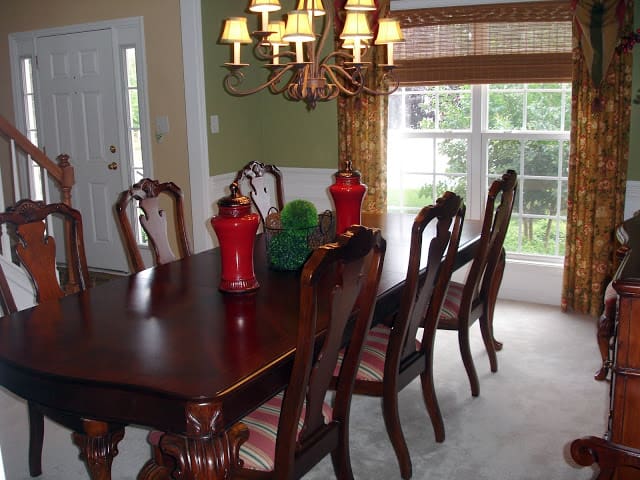 Here is the view into the room from the front door.  I'm on the hunt for new lamps for the sideboard.  I sold the ones that I had on craigslist.  I'd like to change the shades on the chandelier too.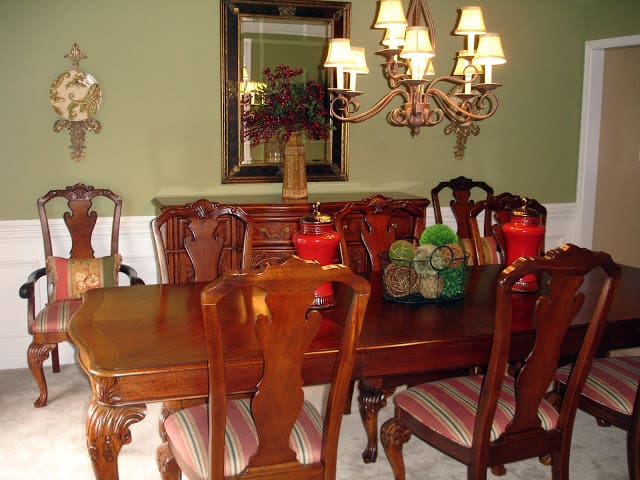 I picked up the ceramic urns at HobLob when they were 50% off.  Then I grabbed the wire basket from their clearance shelf for a song.  The decorative balls in the basket were either made by me or collected over time.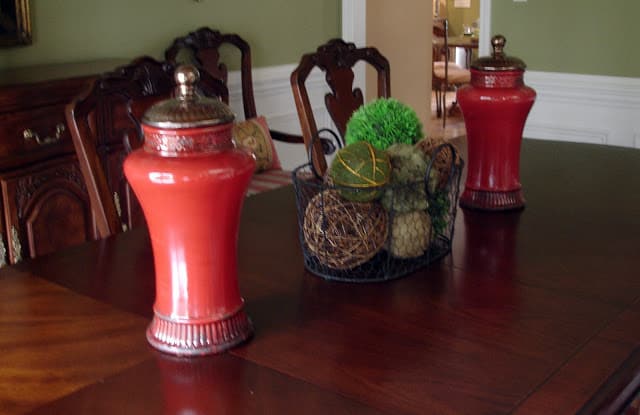 I couldn't get a great shot of it, but the room has a tray ceiling that has been painted and glazed.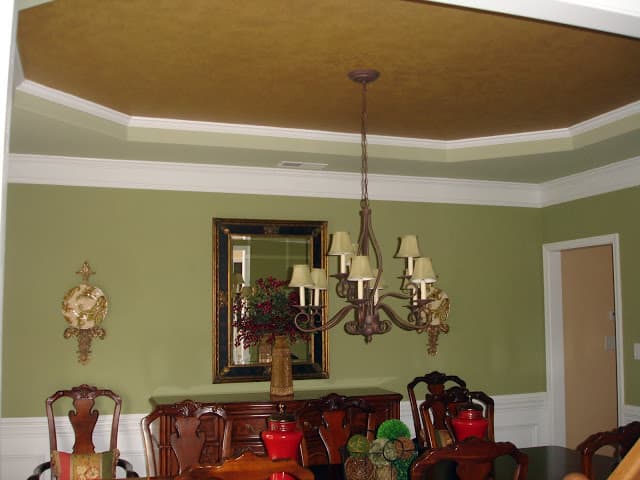 Just like the living room, I chose to use woven wood blinds with the draperies in this room.Another reason for repeating the woven wood blinds in here is because both the living room and dining room are on the front of the house.  Using the same type of blind, drapery style and drapery lining gives a uniform look from outside the house.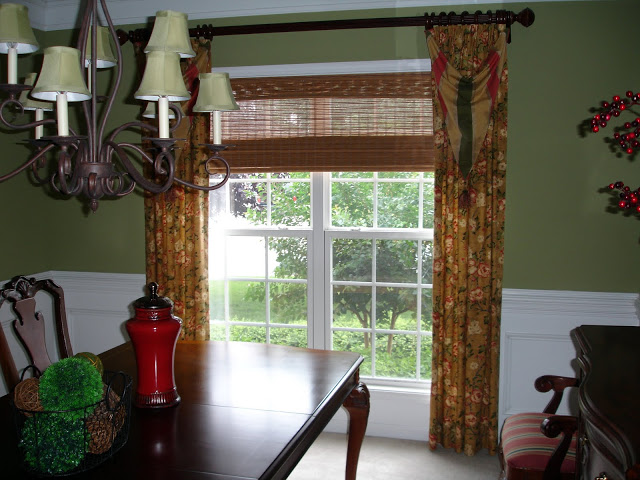 When I ran across this fabric for the draperies it was instant love!
I love to mix patterns within a space so the striped fabric for the pendant shaped "skirt" was a natural fit.
I used big, chunky drapery hardware in here and in the living room because the ceilings are 9′ tall.  Anything smaller would have been lost.  You can see that I hung the drapes close to ceiling to emphasize the ceiling height even more.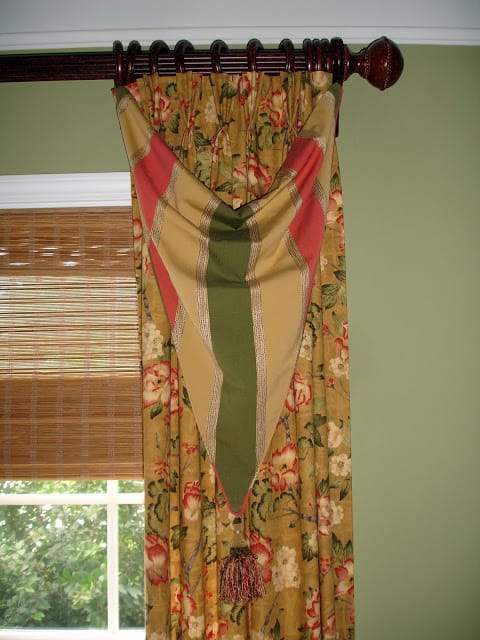 The pillows in the chairs flanking the sideboard are made using both of the drapery fabrics.  Too bad you can't really see the cute fringe on each side.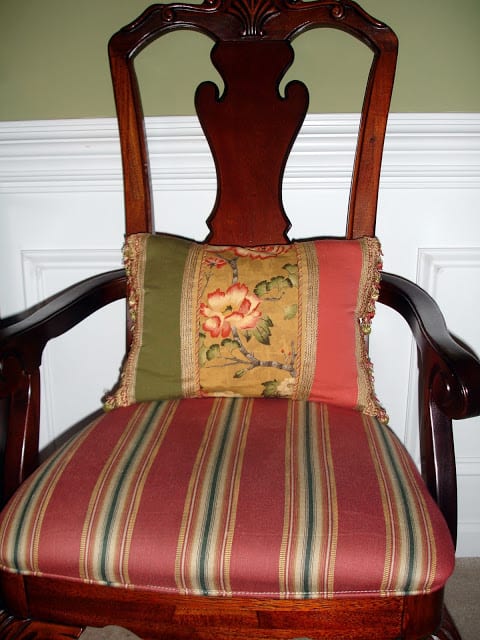 The other side of the room is hard to get a good shot of because so many things are in the camera's line of sight, but I wanted you to see that another one of my Auntie Syl's beloved paintings made it into this room too.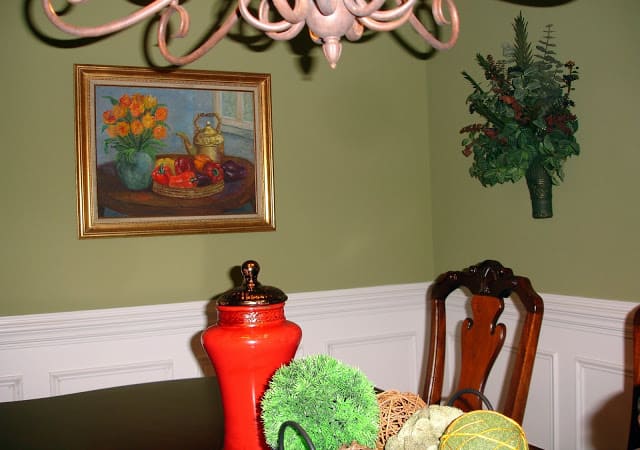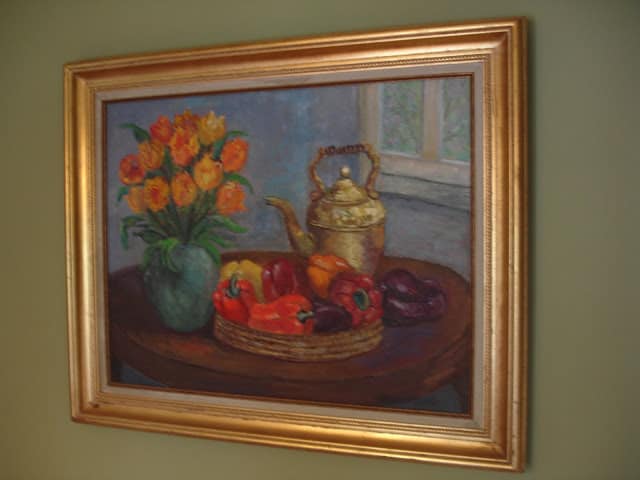 The wall urn is one that I put together several years ago.  I've contemplated taking it down.  What do you think I should do?
And…unlike the living room, the dining room does get used several times each year.  Holidays, family gatherings and the like.  Here's the table set for Thanksgiving dinner last year.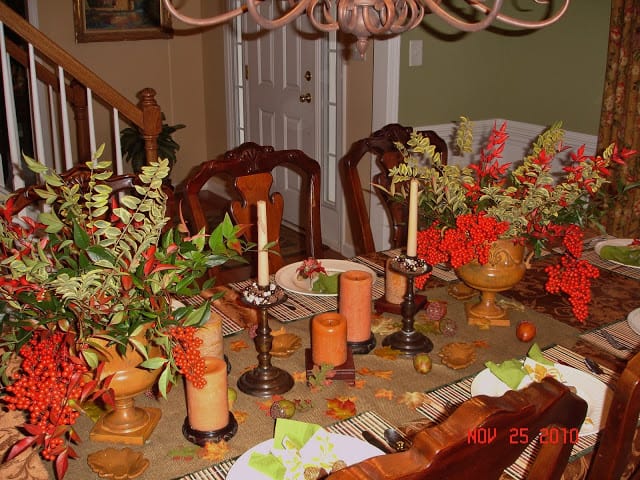 Thanks for stopping by!  I hope you enjoyed the tour.