How To Coordinate Rugs In An Open Floor Plan Or Adjoining Rooms
Determining how to coordinate rugs can be tricky in a home with an open concept floor plan or in a home with adjoining rooms. These rug coordinating tips will help to create a cohesive flow without the areas competing with one another.
Whether trying to coordinate rugs in a open floor plan, an open concept small apartment or in a home with adjoining rooms, it can be tough to do correctly. Rugs are like wallpaper. There's SO much to choose from!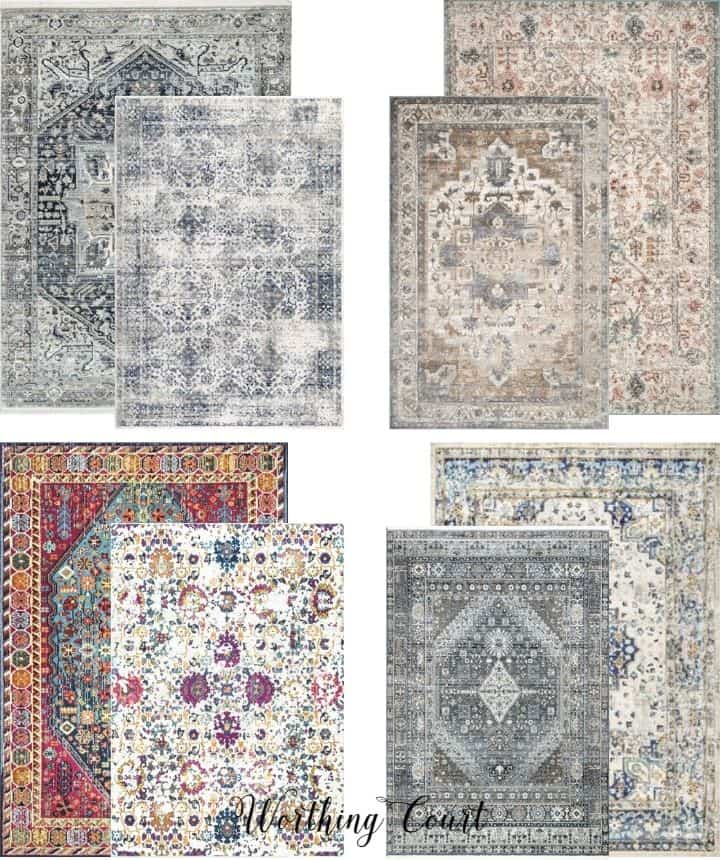 This post and photos may contain Amazon or other affiliate links. As an Amazon Associate I earn from qualifying purchases. If you purchase something through any link, I may receive a small commission, at no extra charge to you. All opinions are my own. See my full disclosure HERE.
I've written about many design dilemmas over the years that I've been blogging. In fact, I wrote an entire series on The Principles Of Interior Design.  Trying to figure out what rugs go together happens to be a dilemma that I'm actually struggling with myself right now.
I don't have an open concept floor plan, but I do have four adjoining rooms that are easily visible from each other. I'm shopping for area rugs for my foyer, office, dining room and family room. All of the rugs will be visible from one room to the other, as you can see from the below photos, so I've been doing a lot of research into what style rugs go together and how to coordinate rugs in adjacent rooms. Also – do all rugs have to match?
Here's the view looking from my foyer, through the office, into the dining room. I'll be replacing the two rugs that you can see.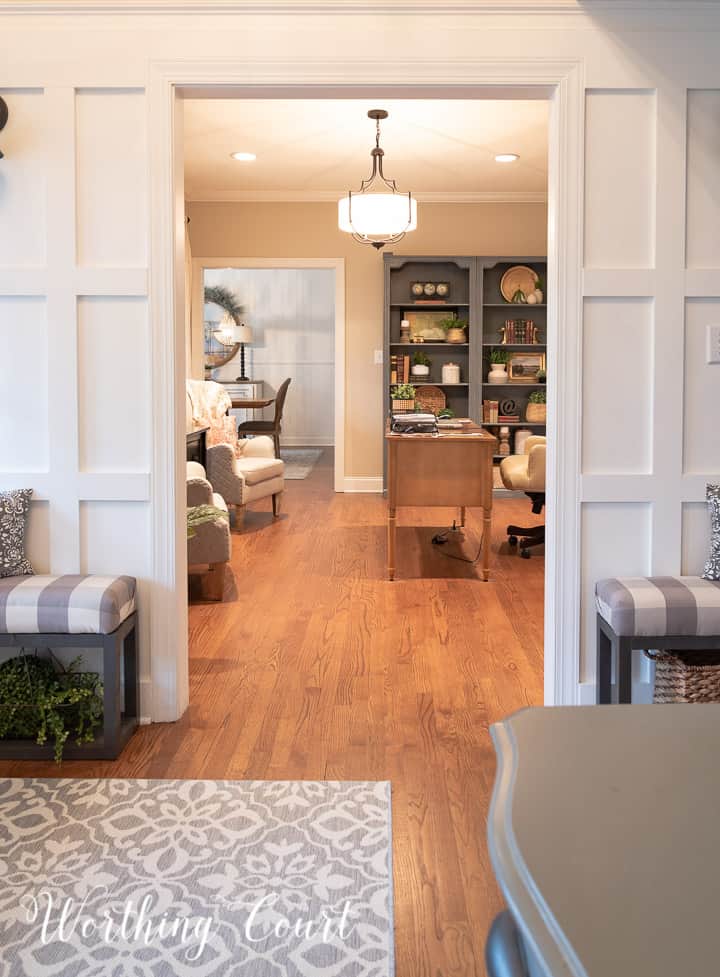 My foyer also opens up to my family room, which is the opening on the right side of the photo.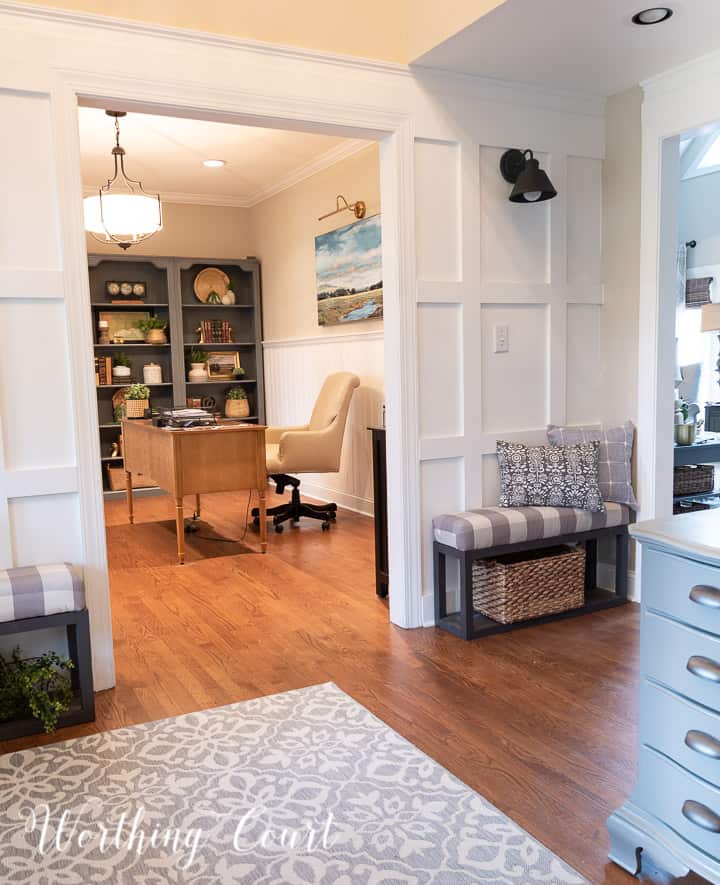 Here's a view from the opposite direction, looking across my dining room table, through the office, into the foyer. As you can see, all of these rooms flow right into each other.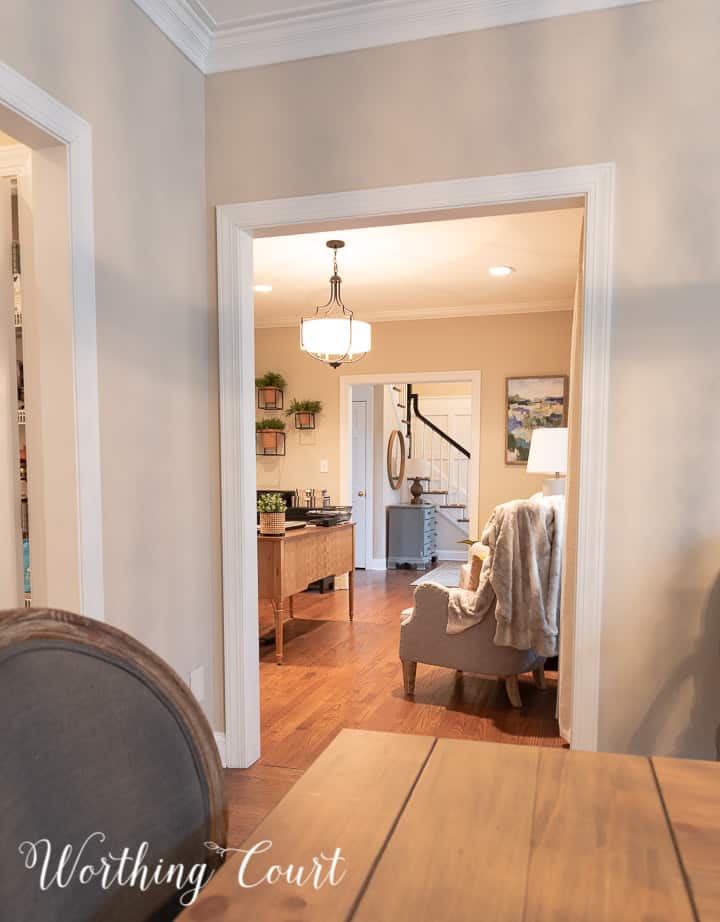 I'm sure that many of you struggle with the same thing, so down below, I've put together a roundup of three different rug color categories for you to use when shopping. Any of the rugs in each of the categories would work well together. But first, let's talk about all the tips for coordinating rugs.
For purposes of this blog post, we'll be talking about patterned area rugs that work well with traditional, cottage, farmhouse, modern farmhouse and transitional designs.
TIPS FOR HOW TO COORDINATE RUGS
Because of the seemingly infinite number of choices, choosing coordinating rugs can quickly become overwhelming (ask me how I know). But – using these tips will go a long way toward helping to create a beautifully pulled together and tasteful interior.
All of the rugs that you can see from a single spot in your home should compliment one another, such as an open living room and dining room.
Use a similar color palette. Of all the tips I have for you, this is THE most important one.
Use a dominant color across all of the rugs when mixing patterns. It's okay to mix different tones and shades of the same color as long as the dominant color remains the same.
Consider the furniture and other decor that you already own and will be keeping. Don't forget to insure that the dominant color works with your furniture and draperies.
It's best to keep the texture of the rugs the same. In other words, don't use a low pile rug in one area with a shag rug in an adjacent area.
Two rugs in one room can work well next to or near one another. Next to keeping the dominant color the same, the key is to vary the scale of the patterns of each rug. Use one rug with a small scale pattern with a rug with a medium or large scale pattern. The general rule is for one rug to be visually more dominant and for the other rug(s) to compliment it.
If you choose vibrantly colored rugs, tread carefully with your furnishings and other textiles in the room. You don't want there to be so much pattern and color that the room looks like a circus
I've listed a shopping guide for three different color families below. You can't go wrong with choosing multiple rugs from the same color family to use together. Any of them will compliment one another. They are all very affordable and some of them are them are even 80% off as of when I wrote this post!
The clickable link to each rug is listed below the image, moving from left to right and from top to bottom. All of the rugs are available in multiple sizes.
IVORY AND GRAY WITH BLUE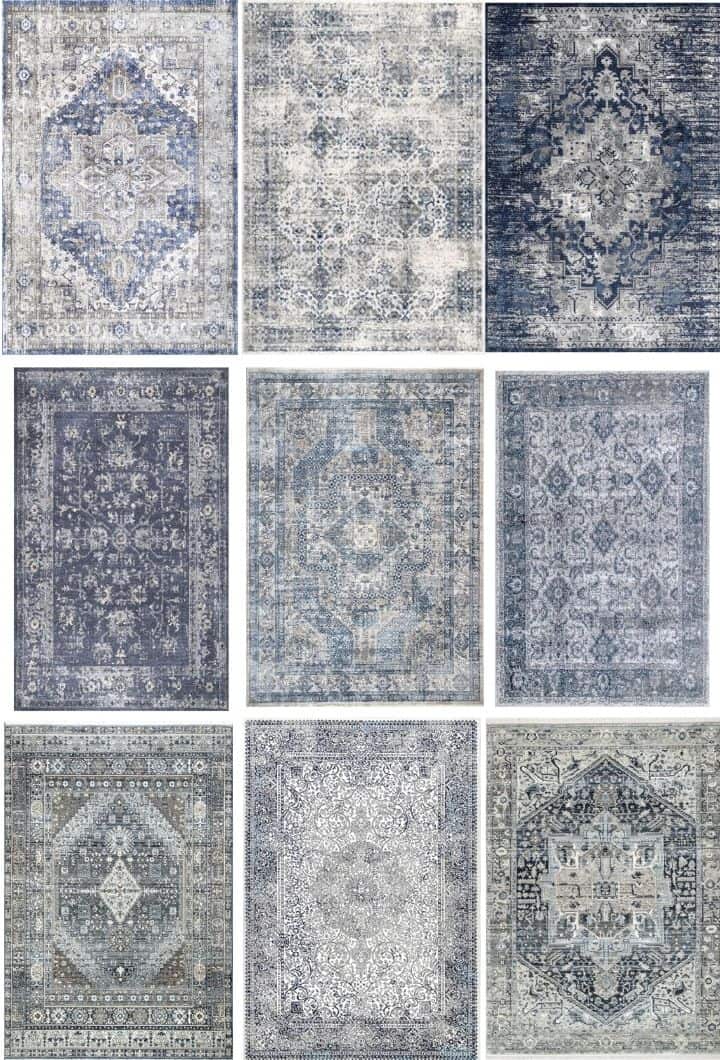 1) Katrina Blooming Rosette  2) Hazy Mysterious Tarnish   3) Shaded Medallion  
4) Blue Bordered Floral  5) Distressed Medallion  6) Oriental Herati 
7) Hectoria Shaded Medallion  8) Persian Wreath  9) Dark Blue Tasseled Medallion
IVORY AND GRAY WITH TAN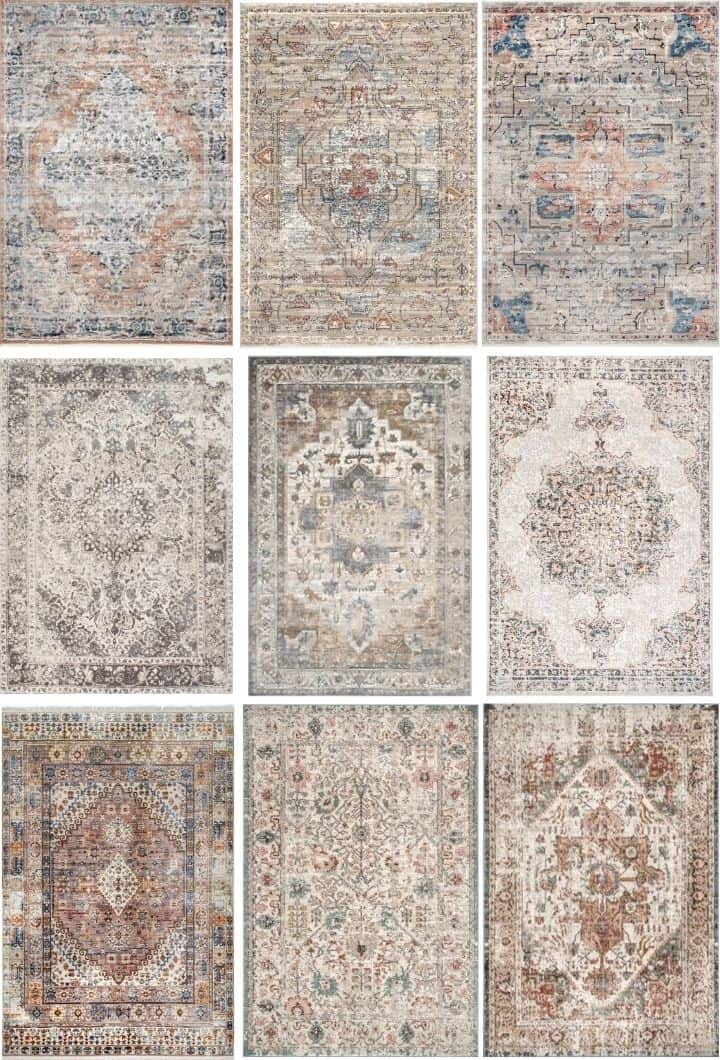 1) Shaded Snowflakes 2) Cardinal Cartouche  3) Croix Medallion 
4) Garnished Medallion   5) Crested Venetian  6) Faded Sun Medallion 
7) Distressed Medallion  8) Native Collage  9) Fading Herati
MULTI COLORED AND VIBRANT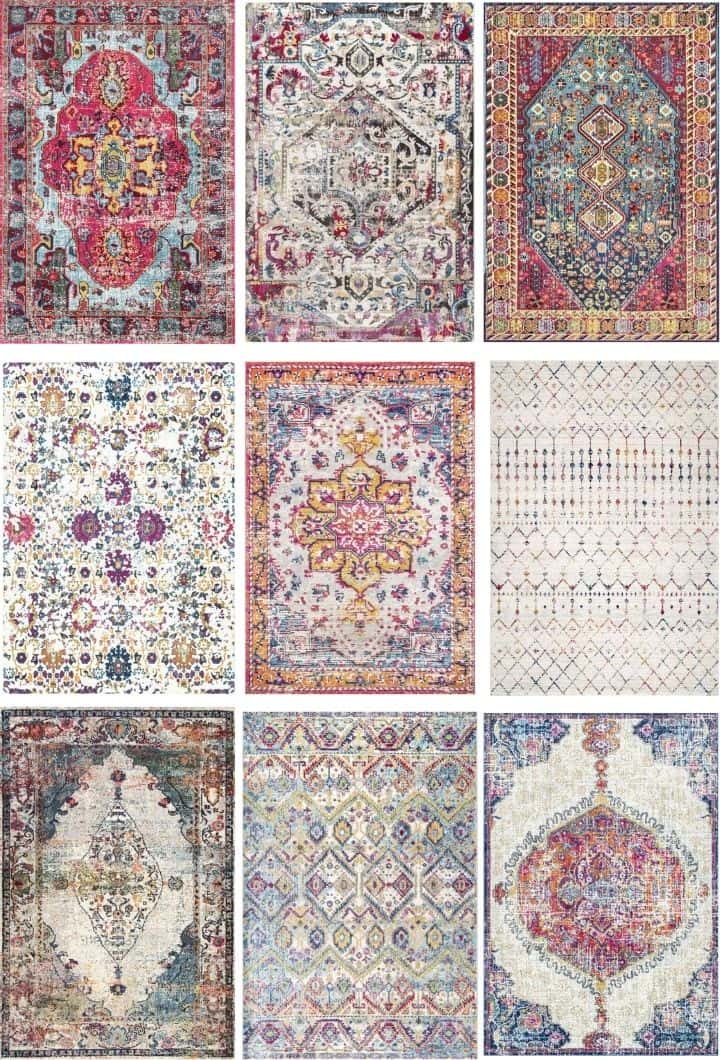 1) Multi Mosaic  2) Karmic Medallion  3) Vibrant Meadow 
4) Cardinal Peony  5) Blooming Medallion  6) Moroccan Trellis  
7) Fading Oriental Medallion  8) Aztec Trellis  9) Frilly Corinthian
The possibilities are endless. Just remember that each rug is a unique representation of your personality and design style. And don't worry about breaking any so called "rules". It's your home – make it a place that you love!