How To Create An Inviting Fall Front Porch
Use these easy ideas for creating an inviting fall front porch that is filled with charm and is sure to make your guests feel welcome.
What better way to welcome guests and loved ones to your home this year than with an inviting front porch that is filled with fall charm? But – guess what? It should be inviting to you as well!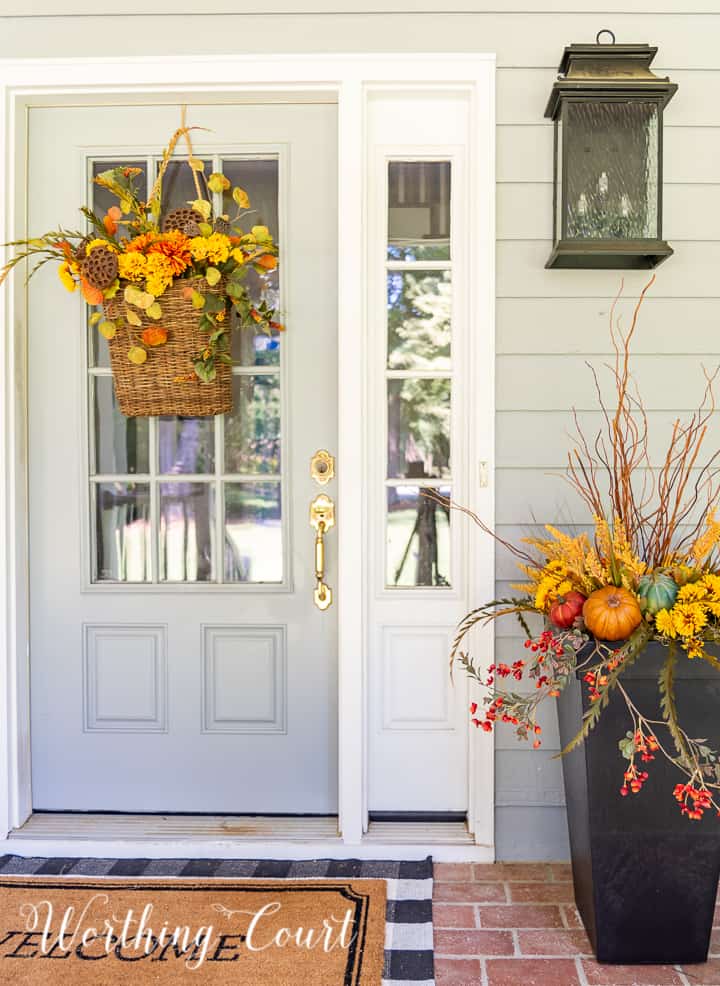 No matter what colors you choose to decorate with this year, whether it's traditional fall colors or strictly neutrals, there are few tricks to creating an inviting front porch.

If you've been following me for a while, you may remember that we happen to have a rather large front porch that I completely decorate for all the seasons, but for today I'm focusing on just the front door and its surrounding area.
(Before we go any further, let me give you a dose of reality. As you scroll through these photos, I hope you can overlook the lights that I forgot to dust and the spot of dirt that is on the door's threshold. Hopefully, my faux pas will make this all seem more real to you than some perfectly staged photo. That's what I'm telling my embarrassed self anyway. Ha!)
REFLECT THE BOUNTY OF THE HARVEST
Traditionally, fall is a season of harvest. It's the time of year when farmers reap the rewards from all of the seeds that were planted and all of the hard work that took place during the spring and summer.
The best way to do that is to stay away from skimpy or minimal decorating and use an abundance of materials surrounding your door.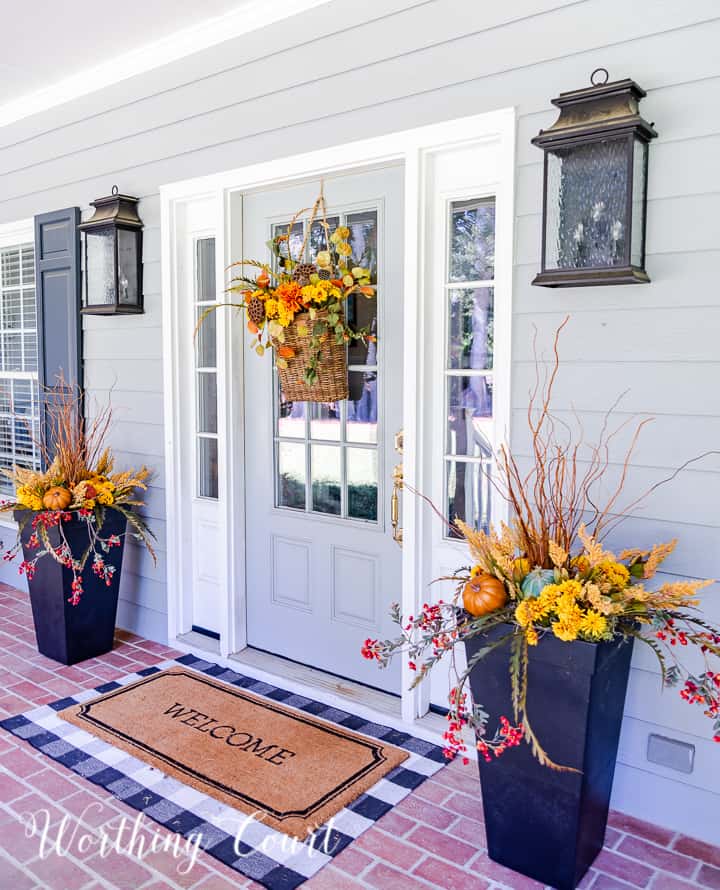 When filling planters, urns or baskets use a formula of thrillers (my tall sticks), fillers (the faux mums, wheat stems and pumpkins) and spillers (the leaves and stems that hang over the sides).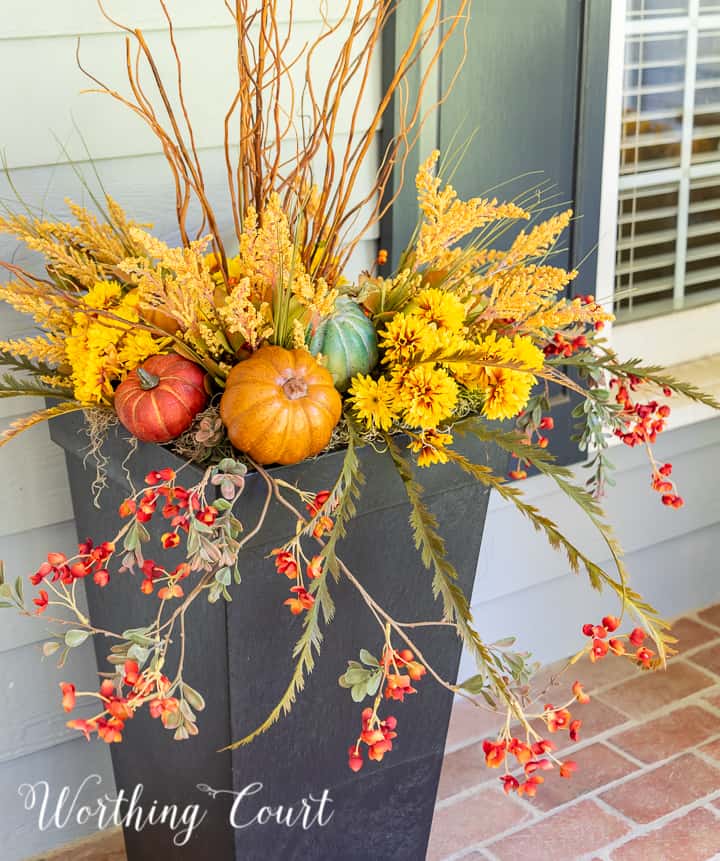 USE NATURAL MATERIALS
Using natural elements, no matter where you're decorating, has a way of calming the senses, creating a feeling of serenity and peacefulness and creates instant coziness.
To translate that into your fall front porch decor, imagine walking through the woods, an apple grove or a pumpkin patch on a crisp fall day. Think about the colors and textures that you would see and try to include some of those same elements in your porch decor.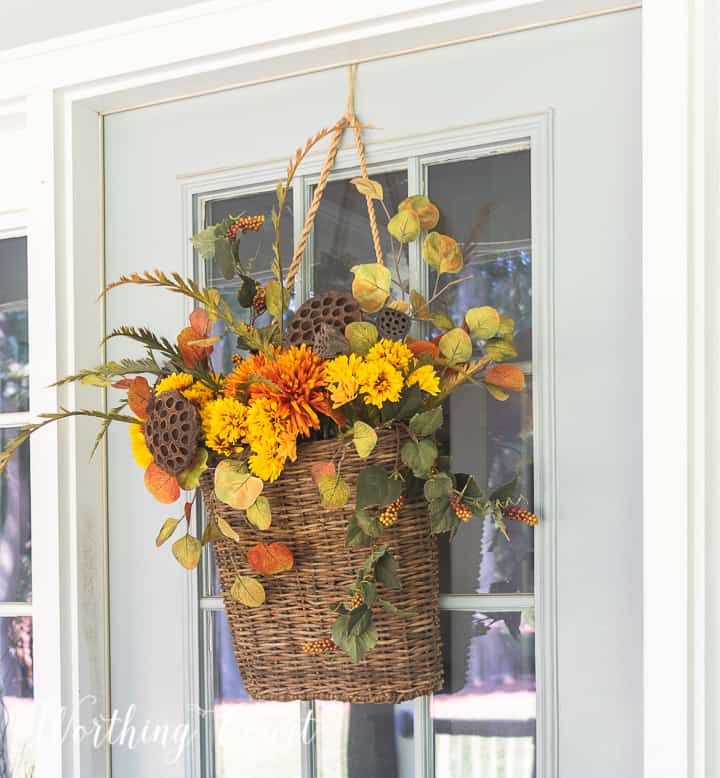 For example, the natural branches in my urns are a reflection of the bare trees to come and the pumpkins are just a natural this time of year.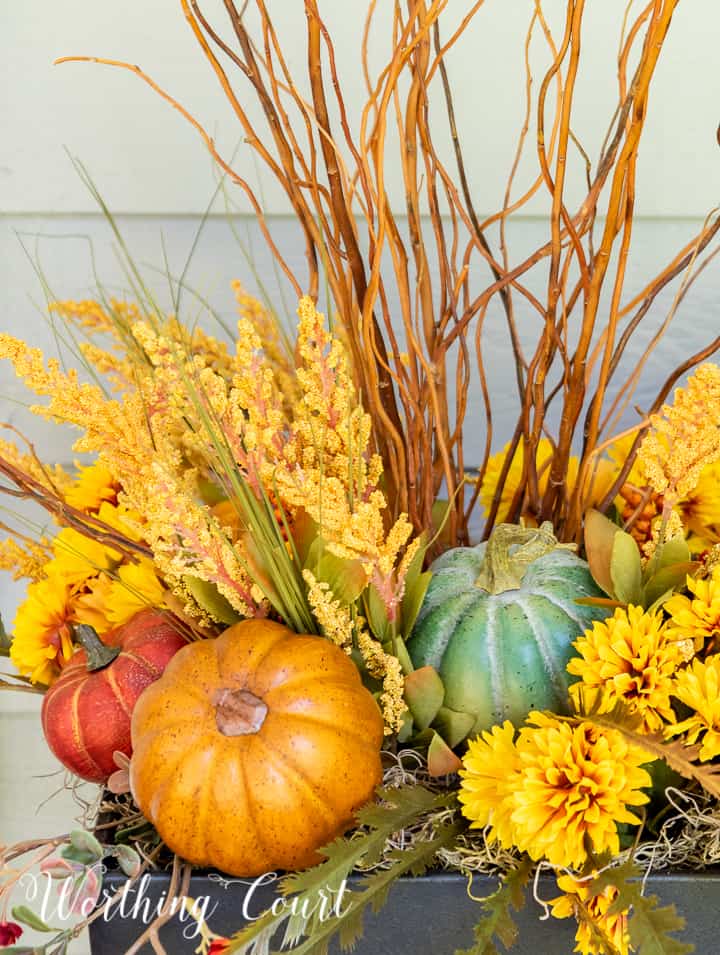 MIX A WIDE VARIETY OF ELEMENTS
This gives a direct nod back to reflecting the bounty of the harvest. In your planters and on your front door, use a mixture of different types of stems, branches and decorative items.
Trust me, it will add so much more interest!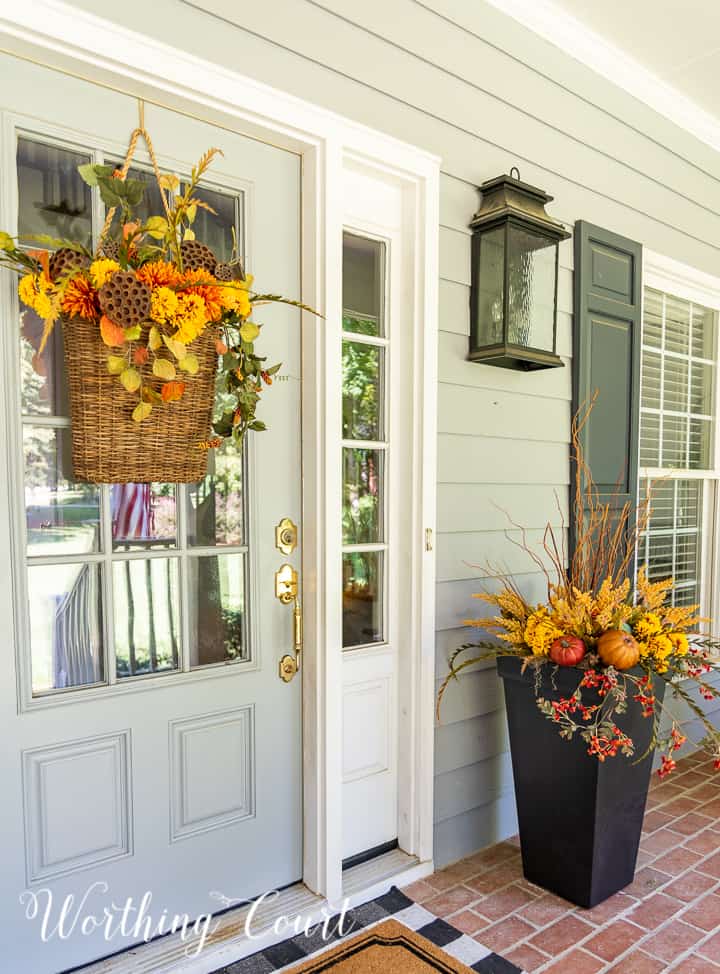 USE A COHESIVE DESIGN
To create a cohesive look on your porch, use the same colors throughout and repeat some of the same materials or the same type of materials.
If you'll notice, the basket on my front door doesn't contain the exact same materials, but they are the same style and blend with what is in the planters.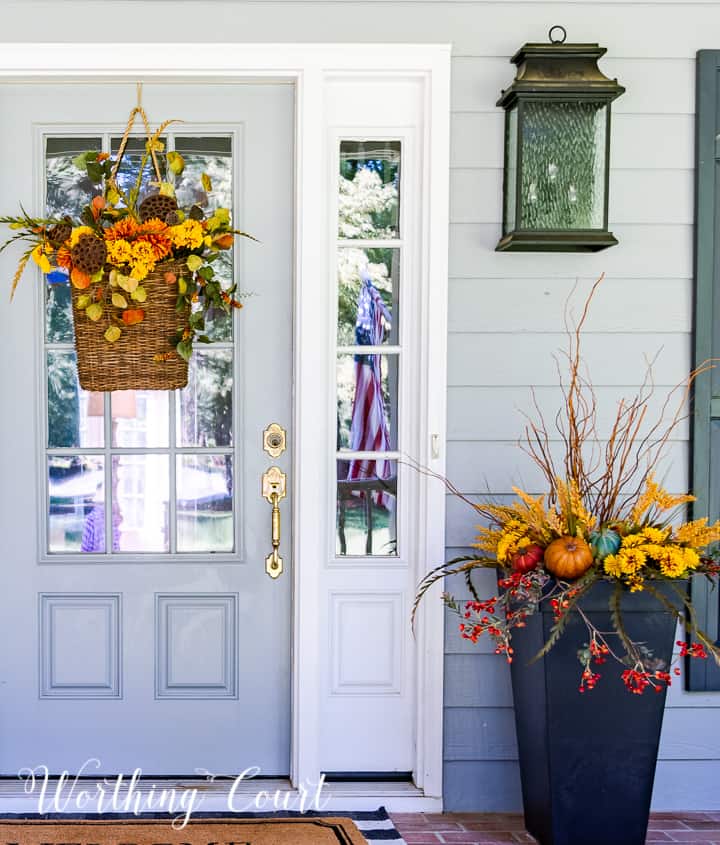 INCLUDE PLENTY OF TEXTURE
Texture is always important, no matter what part of your home you're decorating. Without it, your design will fall flat and will be unappealing.
FOCUS ON THE FRONT DOOR
No matter what how much extra room you may have on your front porch, make sure that the decor draws your eye to the front door. It's a natural focal point and is the first thing that visitors and passersby will see. To do that, make sure planters evenly flank the front door and contain the same elements.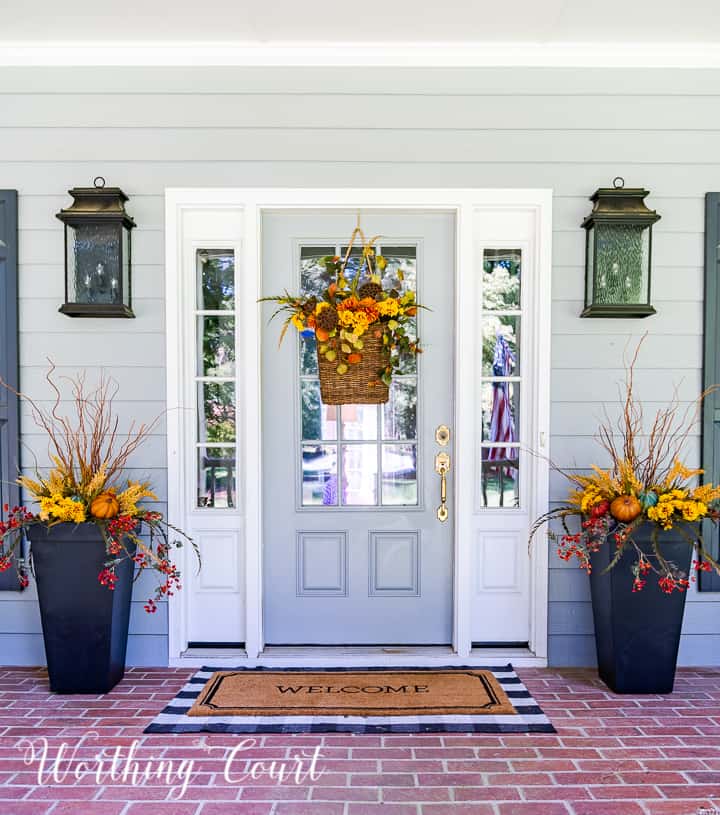 If you only have one planter, offset it with something else eyecatching on the opposite side.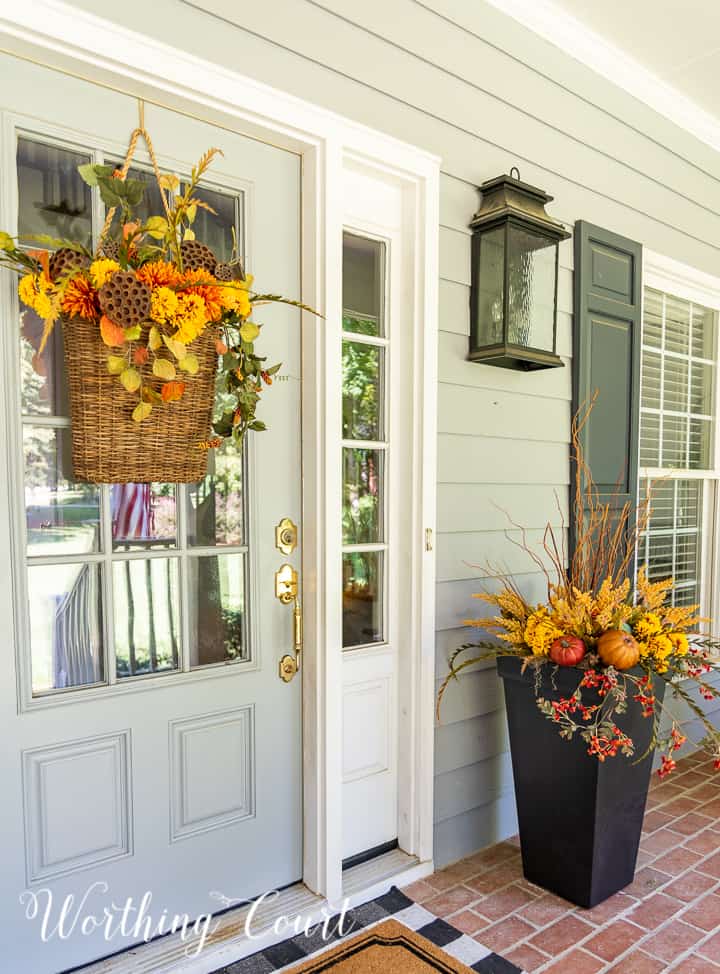 How will you decorate your front porch for fall this year?