Southern Screen Porch Reveal
I am excited to share my Southern screen porch which has been the perfect place to enjoy the outdoors but in comfort!
Boy, I feel like this has been such a long time coming.  The Southern screen porch on this house was one of our favorite things about it and now it's finally ready for us to use!  Settle back with a cup of your fave beverage cause this is a photo heavy post.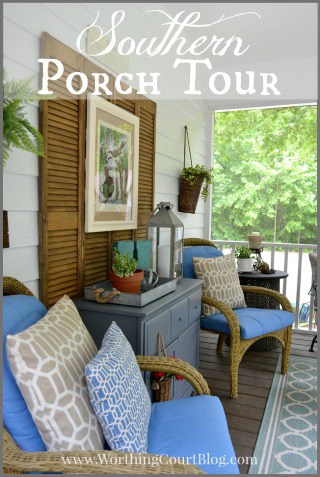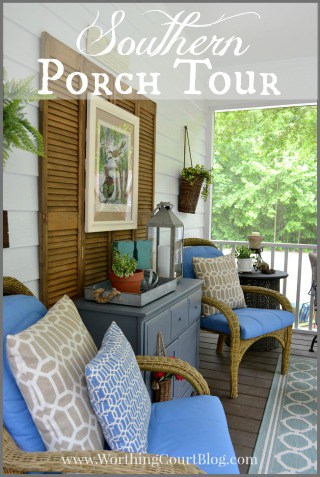 Pin
We moved into this house last September, when it was still plenty warm enough to enjoy the outdoors.  I wanted to do something to make the porch usable, put I was so, so busy with unpacking and dealing with the remodel that the porch became a hodpodge of all of our outdoor furniture from the last house.  Not pretty at all, but at least it was good enough for sitting outside.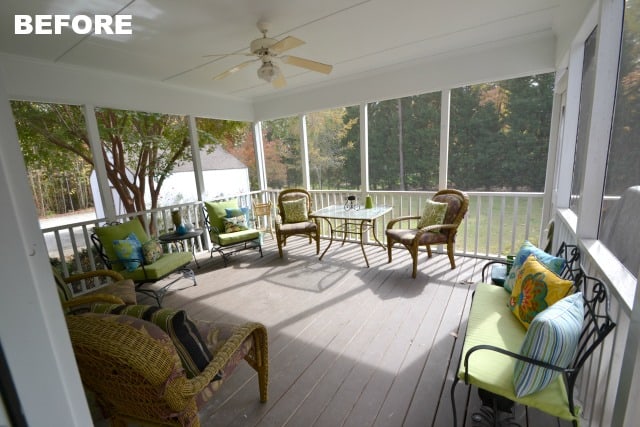 Pin
So, are you ready to see how it looks today?  Let's start with the wall that is immediately to the left as you walk out of the back door.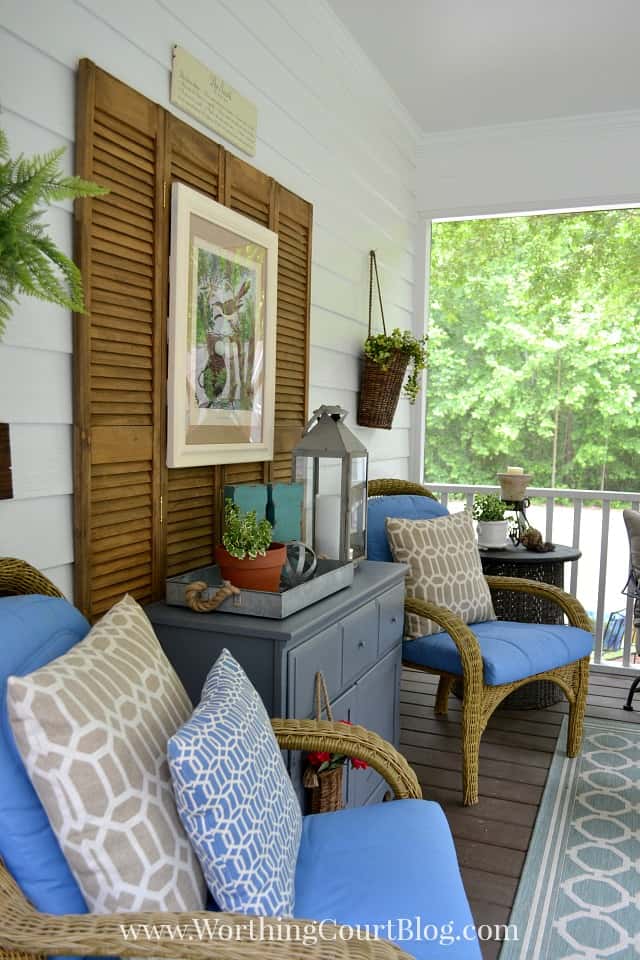 Pin
I posted on Facebook, that I was looking for some shutters or bi-fold doors and wondered if anyone knew where to find some.  Thankfully, a sweet friend alerted me to some at a Goodwill and I rushed right over to grab them.  I had intended to use them above our fireplace, but they wound up making the perfect backdrop for this little gray chest and a piece of art.  And bonus – no painting needed!  The shutters aren't even attached to the wall.  The chest holds them in place just fine.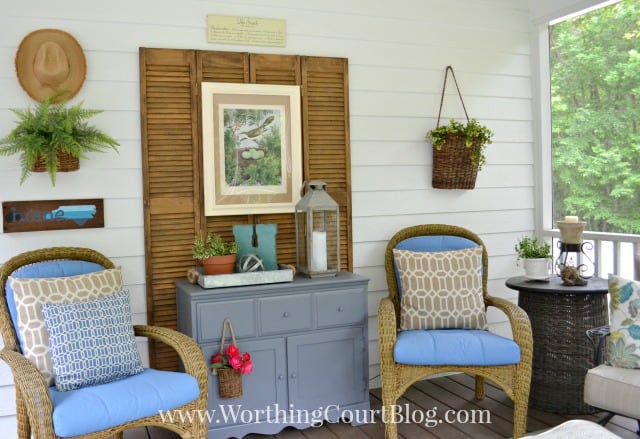 Pin
A free printable was exactly what I wanted for some pretty art on the porch.  I used PicMonkey to enlarge it to fit into a frame that I already had, downloaded the re-sized image to a thumb drive and took it to my local FedEx for printing.  I planned on making my own burlap covered mat, but found out that Hobby Lobby carries them and would cut it while I waited. You can find the printable HERE.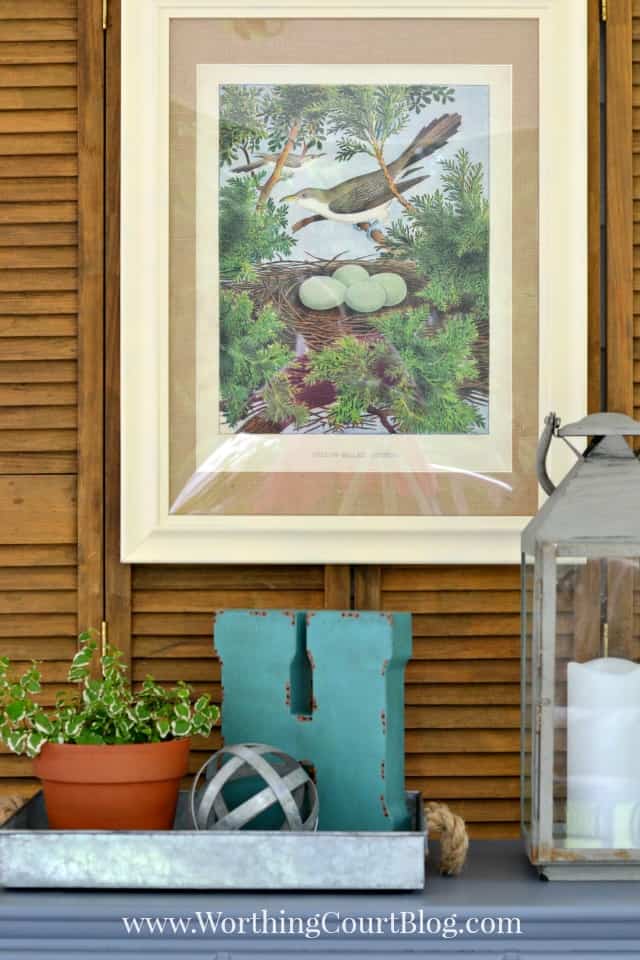 Pin
My gardening hat hangs right beside the backdoor so that I can quickly grab it when I'm on my way out to work in the yard.  And I love the North Carolina HOME sign that I found at a recent barn sale!  I'll be sharing that with you soon.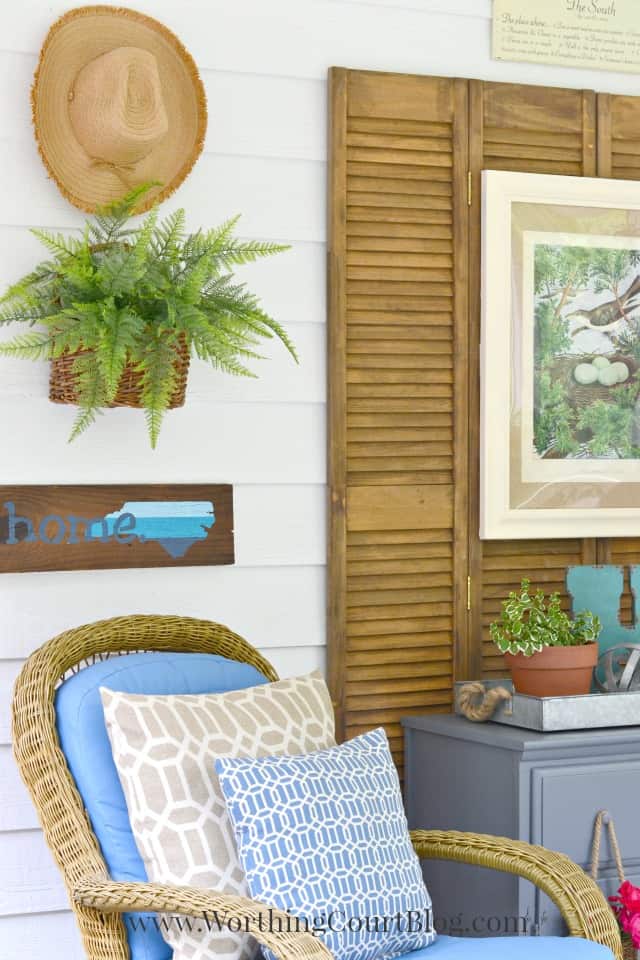 Pin
One of the holdups with getting the porch pulled together was making a decision about some outdoor wicker chairs that we already owned.  I hated to spend money to replace them because the frames and wicker are in good shape – plus they're very comfortable. But the cushions looked awful and were an odd shape that I couldn't find replacements for.  I first tried spray paint on the cushions (cause you know I'm a lazy painter), but one whole can of paint wouldn't cover the print on just one the cushions. Chalk paint to the rescue. Two coats of ASCP in Duck Egg took care of faded and grody, old, ugly cushions.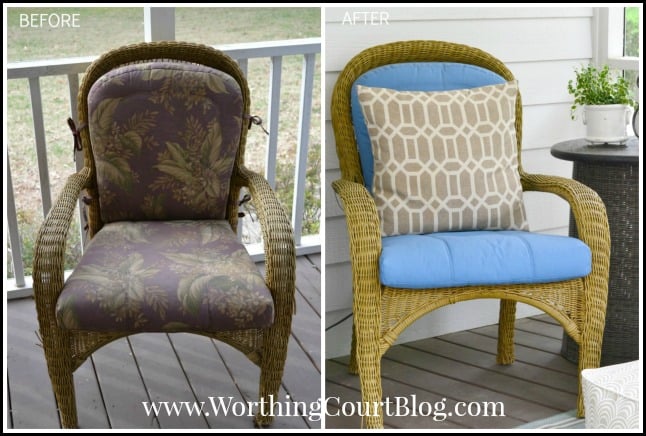 Pin
Adjacent to the updated wicker arm chairs, are wrought iron rockers that lived on the deck at our last house.  All they needed were some new cushions and throw pillows from Target to give them new life.  A couple of outdoor poufs from Target are good for putting your feet up or act as extra seating.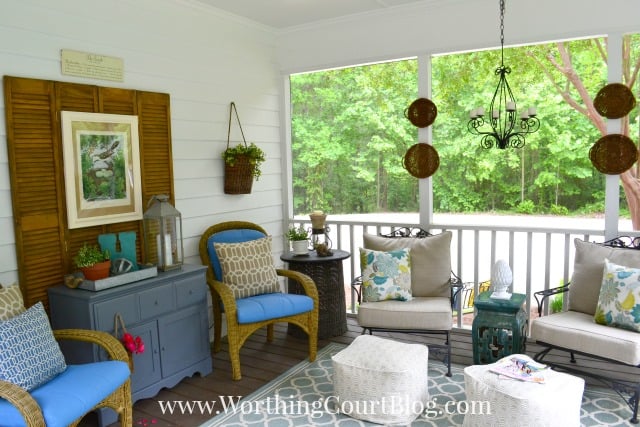 Pin
My friend, Nancy, gifted a candelier to me that she was no longer using.  The garden stool that it hangs over lived in the foyer of our former home.  The addition of some round wicker trays to the columns helps to give some definition to the area and makes it feel more like a room than just a wide open space.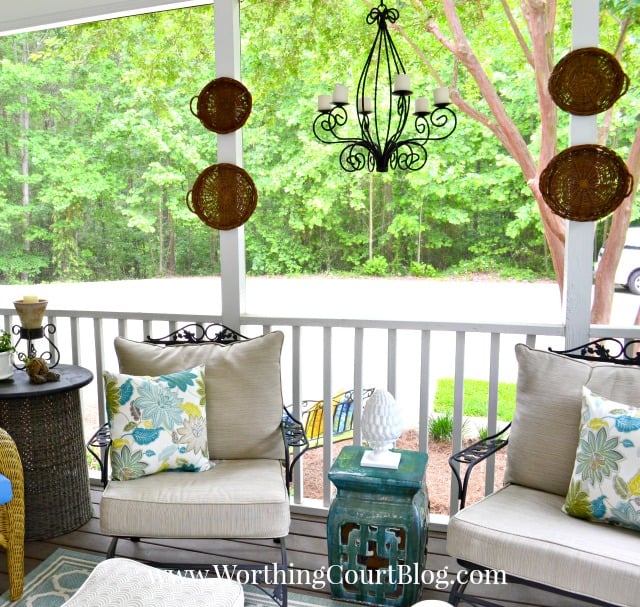 Pin
And here's my spot – the chair on the left.  It's the place that allows me to look out over the backyard and the pretty flowers and feeders on the deck.  It's where I put my feet up at the end of a long day and enjoy some of my favorite magazines.  See my little photo bomber?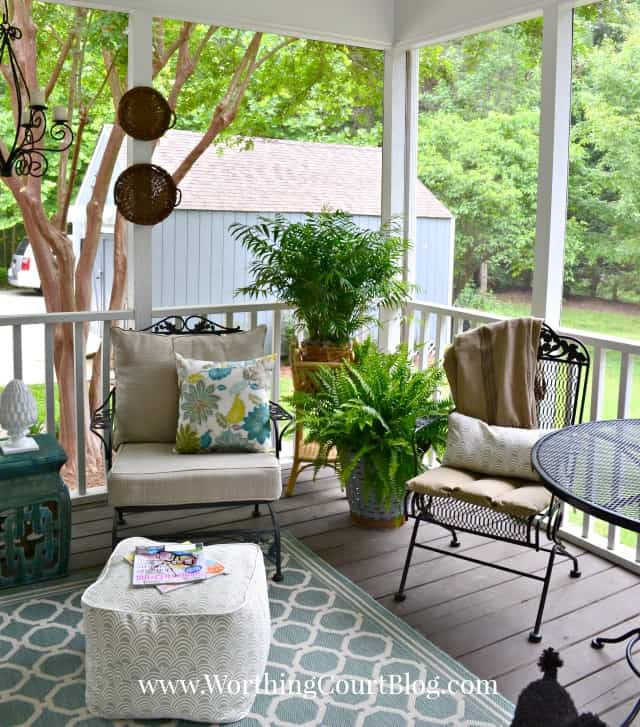 Pin
Pookie and I eat a lot of meals out here on the porch.  Believe it or not this round table used to reside under a tablecloth in the basement family room at our last house.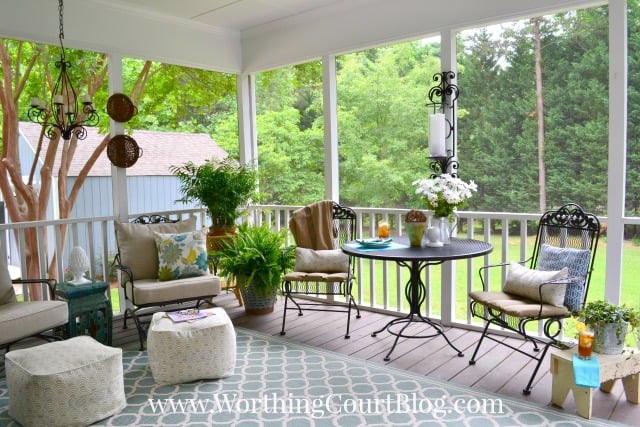 Pin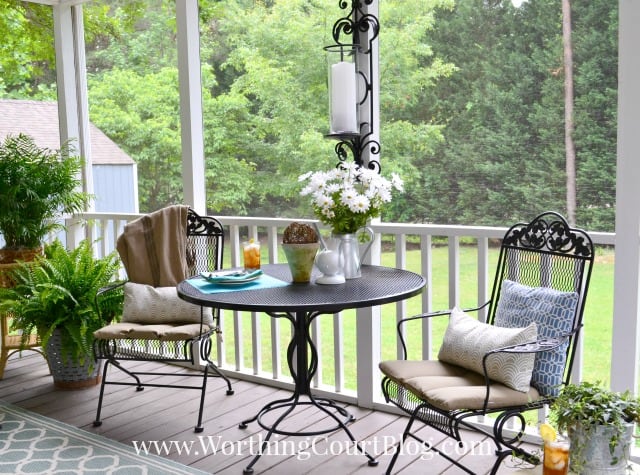 Pin
The last wall of the porch looks out onto our deck.  I didn't place any furniture here because it acts as the walkway from our back door out onto the deck.  A rustic grapevine wreath helps to define the space though.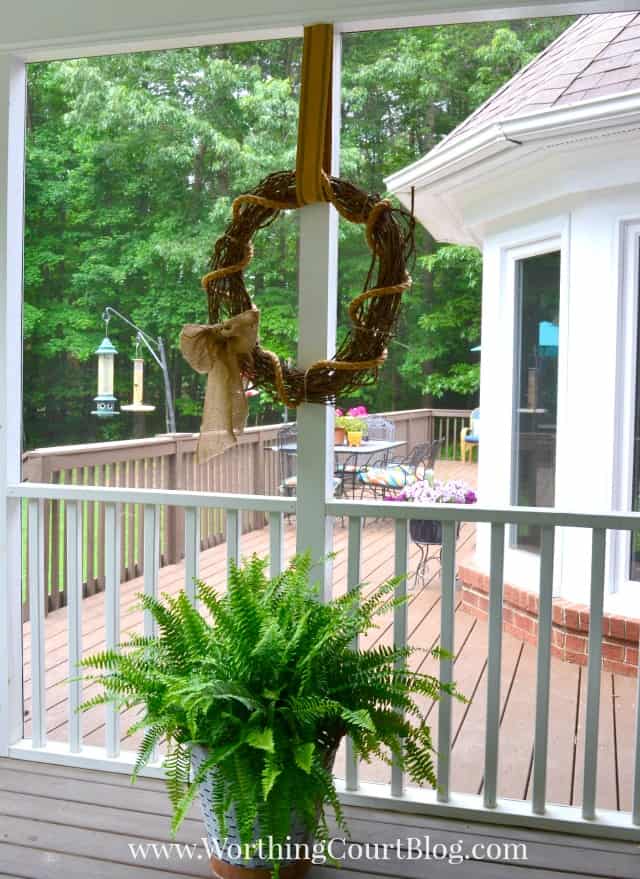 Pin
Thank you for stopping by for a visit on our Southern screen porch today.  Come on by anytime to 'set a spell' and enjoy a glass of sweet tea!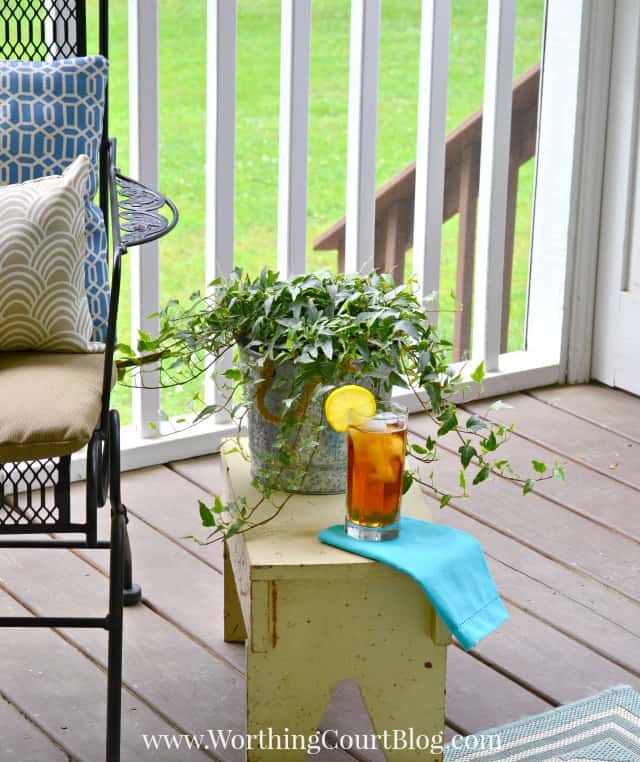 Pin