My After Christmas Snowy Winter Fireplace
Christmas may be over but your decor doesn't have to be! Come see how to put snowy winter fireplace decor together for a cozy look.
I usually find that decorating my fireplace after Christmas is fairly easy.  Often times, I already know what I want to do while I'm right in the midst of taking my decorations down.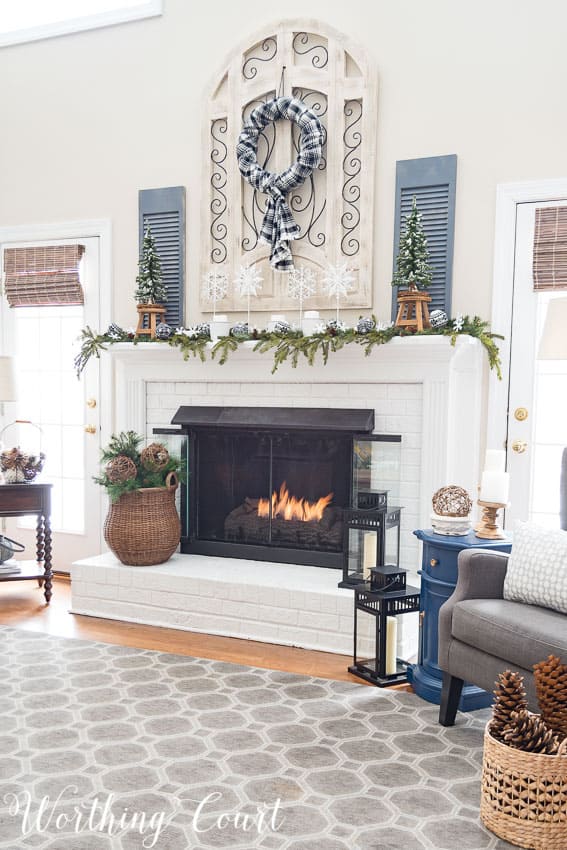 Pin
But, that wasn't the case for me this year.  I must have been all decorated out after the flurry surrounding the holidays and my creativity seemed to have left me in a lurch.  No matter how much I stared and stared at my fireplace, nothing would come to me!
YOU'LL FIND A SHOPPING GUIDE TO GET MY LOOK AT THE END OF THIS POST!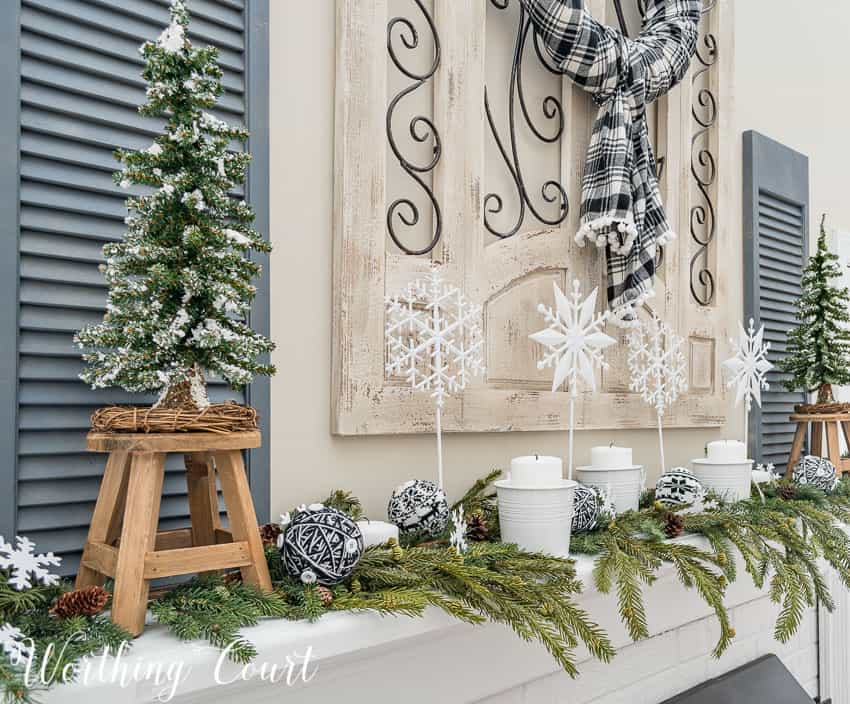 Pin
I used to fret about such things, but I've learned over the years to just relax and something will eventually come to me.  Well…that something came to me when Pookie and I were out hitting a few of the after Christmas sales!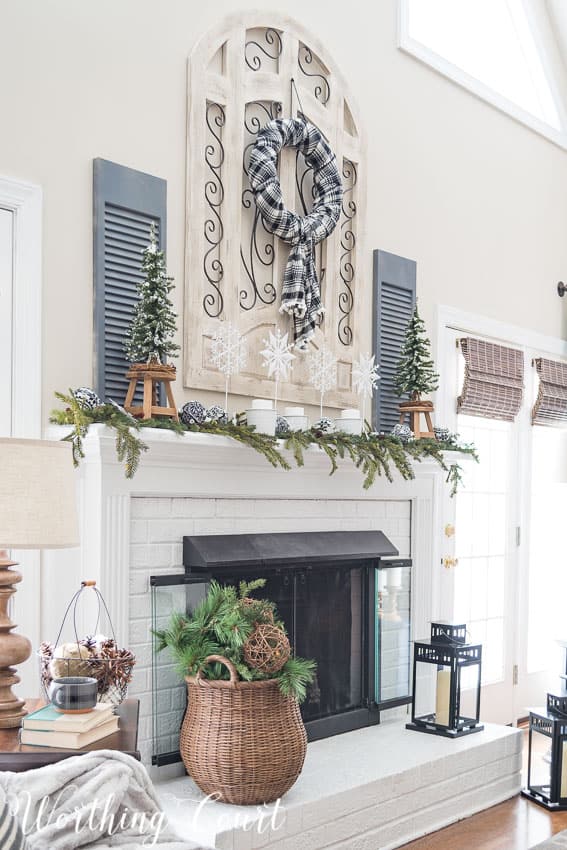 Pin
Oh, how I love shopping after Christmas!  Not the first day or even the second day after Christmas – it's too crowded.  I prefer to wait several days afterwards and then start hitting some of my favorite stores.  By then, most stores have marked their items down to rock bottom prices!
My first bit of inspiration struck at the dollar store where they had all of their Christmas marked 50% off – that's 50¢, y'all!  That was where I spied tons of snowflakes.   I had found my snowy theme!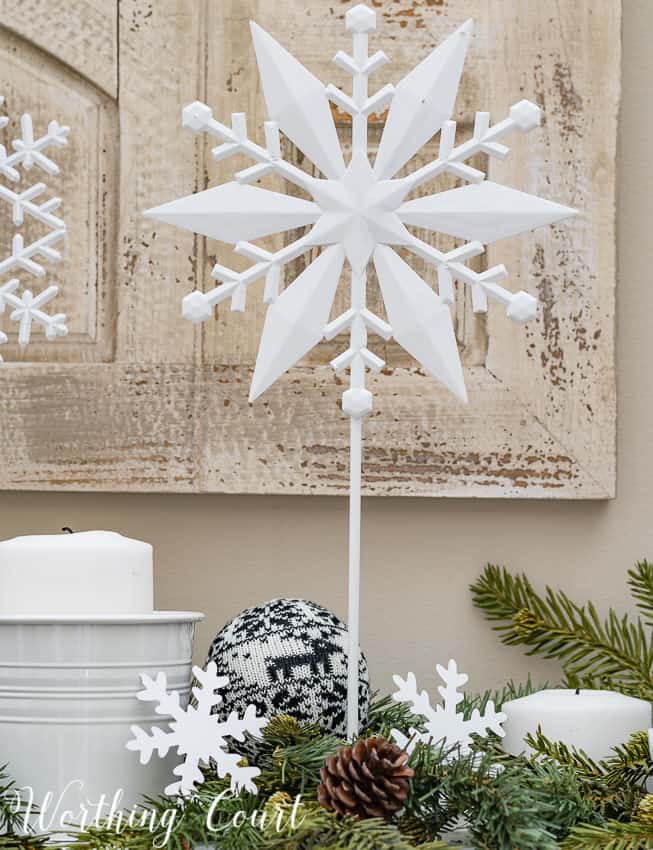 Pin
Then, I found several different styles of adorable black and white Nordic-look sweater and yarn-wrapped ornaments, at a different store, and my fireplace mantel plan was born!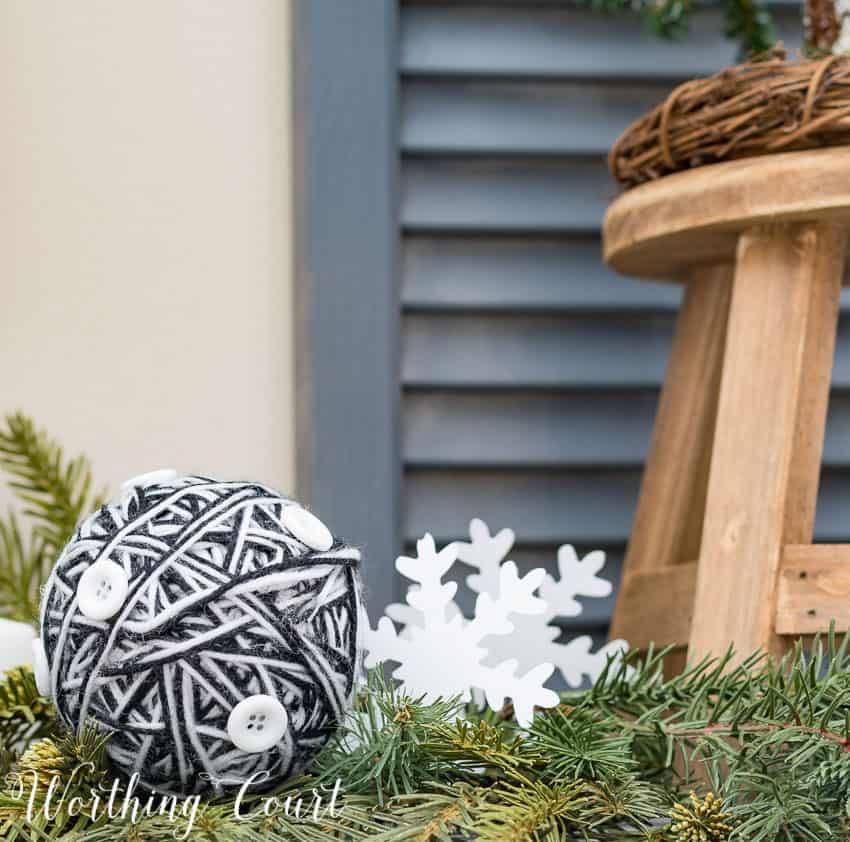 Pin
I left the layer of faux greenery from Christmas in place and proceeded to decorate away!  The adorable Nordic ornaments were placed here and there. As a final snowy touch, I scattered snowflakes around that I cut out with a snowflake punch and white cardstock.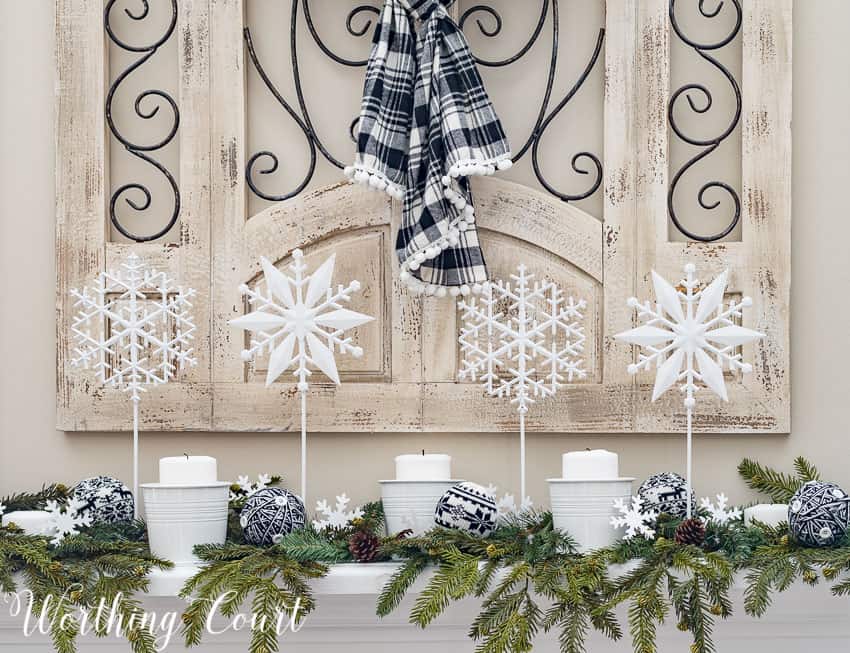 Pin
Cute little wooden stools were perfect for topping with my snow covered faux mini trees.  And the leaning shutters behind them make a great backdrop.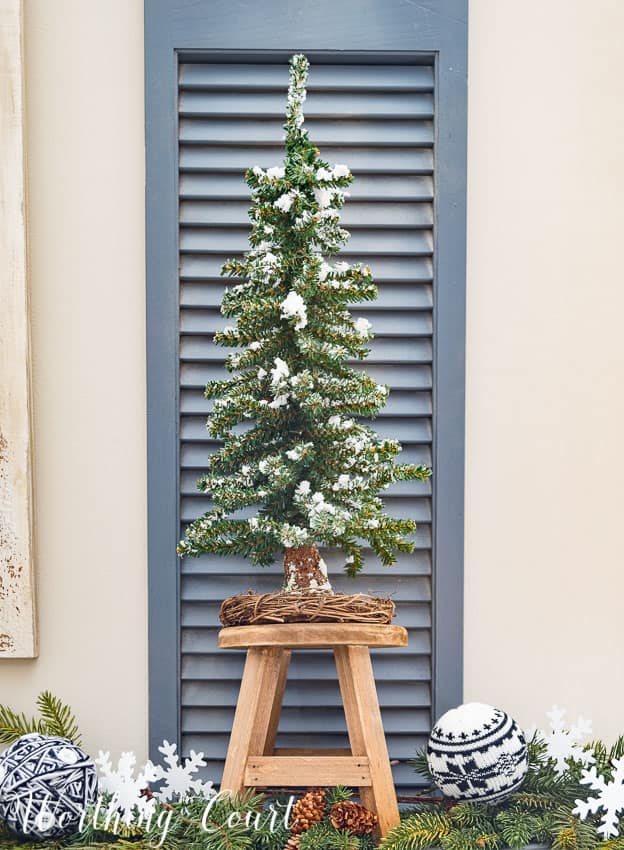 Pin
A trip to a local fabric store allowed me get what I needed to created the winter wreath above the mantel.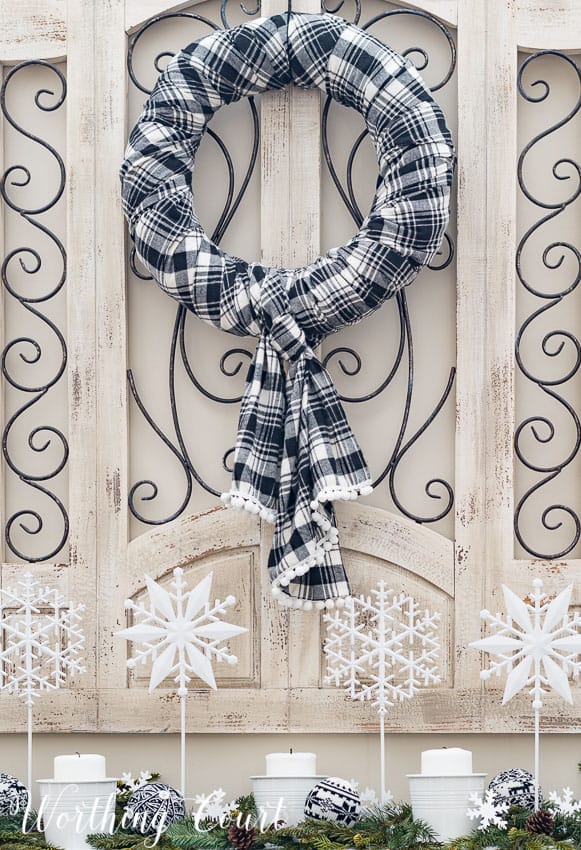 Pin
The wreath and snowflakes were soooo easy, y'all!  You can find the step by step tutorial by clicking HERE.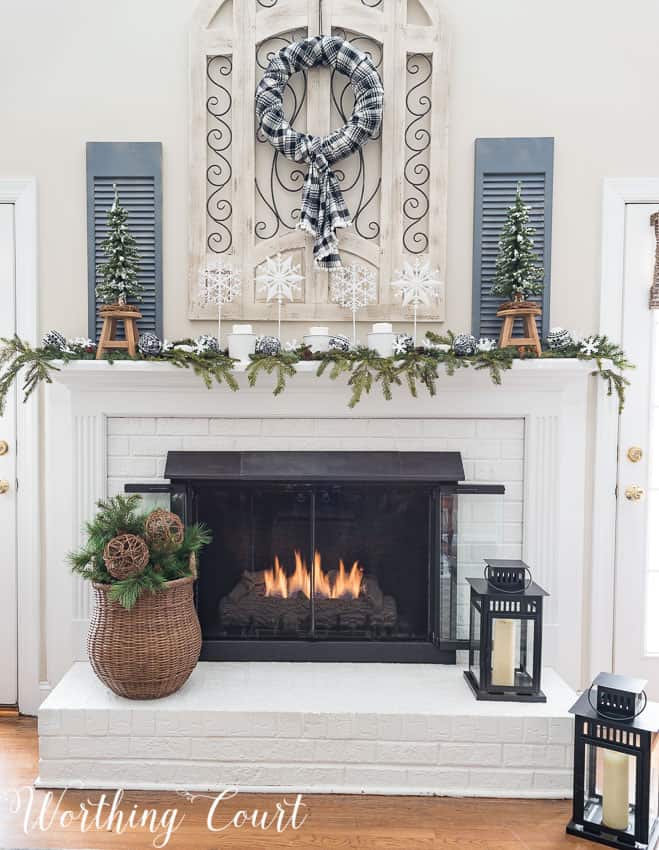 Pin
It turned out to be a little bit prophetic that I used a snowy theme for my fireplace, because here's what we woke up to Saturday morning.  This is what over 8″ of snow looks like at my house in North Carolina!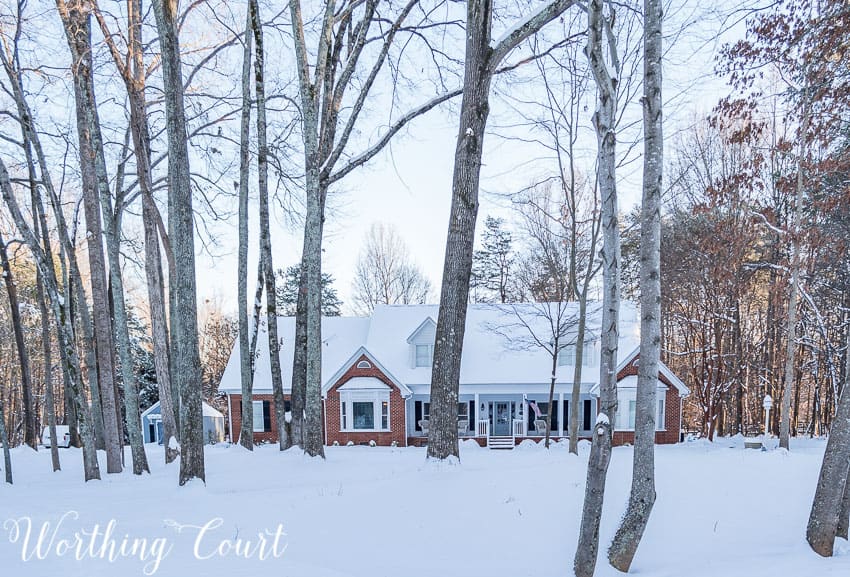 Pin
I try to do something different with my fireplace every season.  Check out how I decorated it last winter HERE.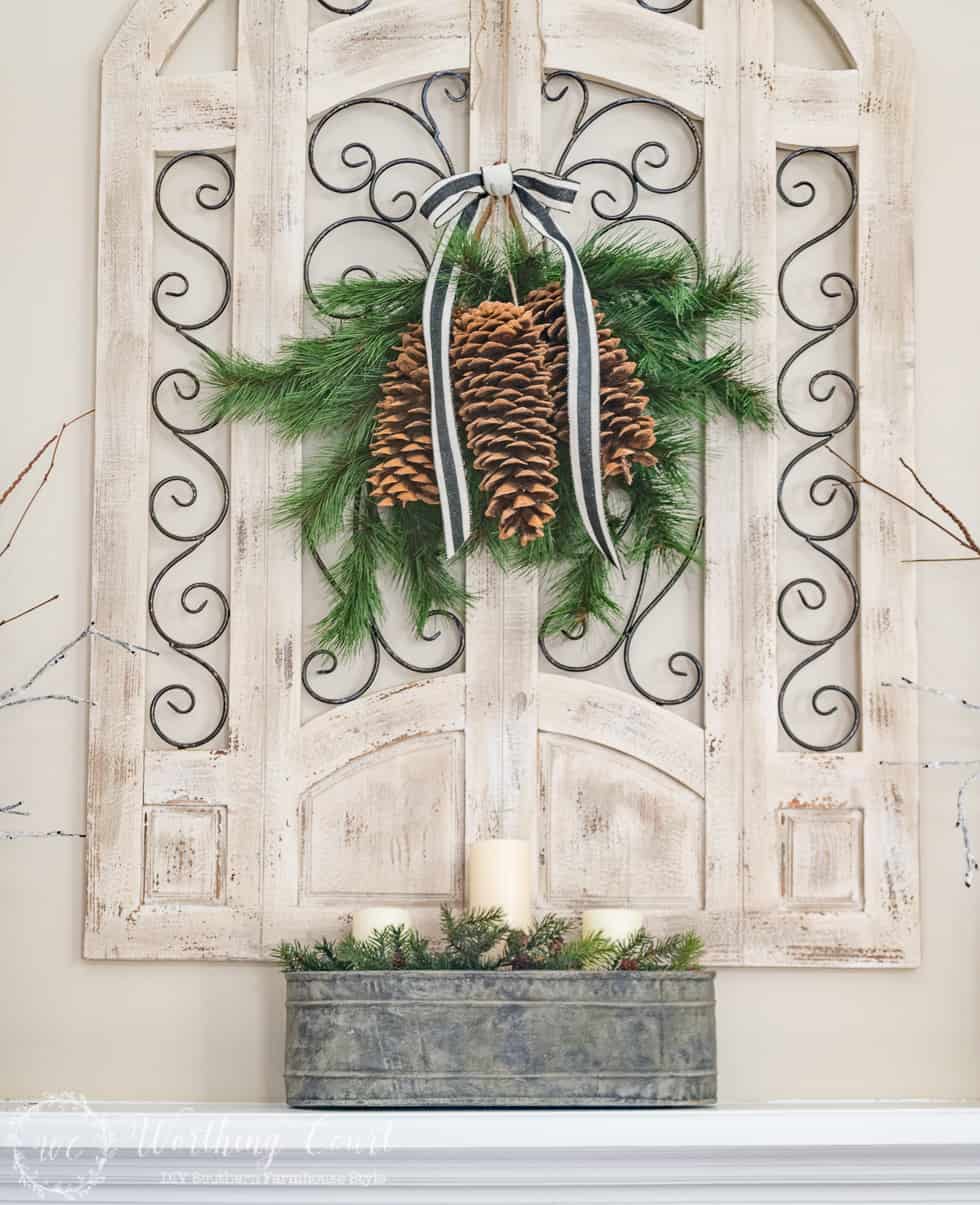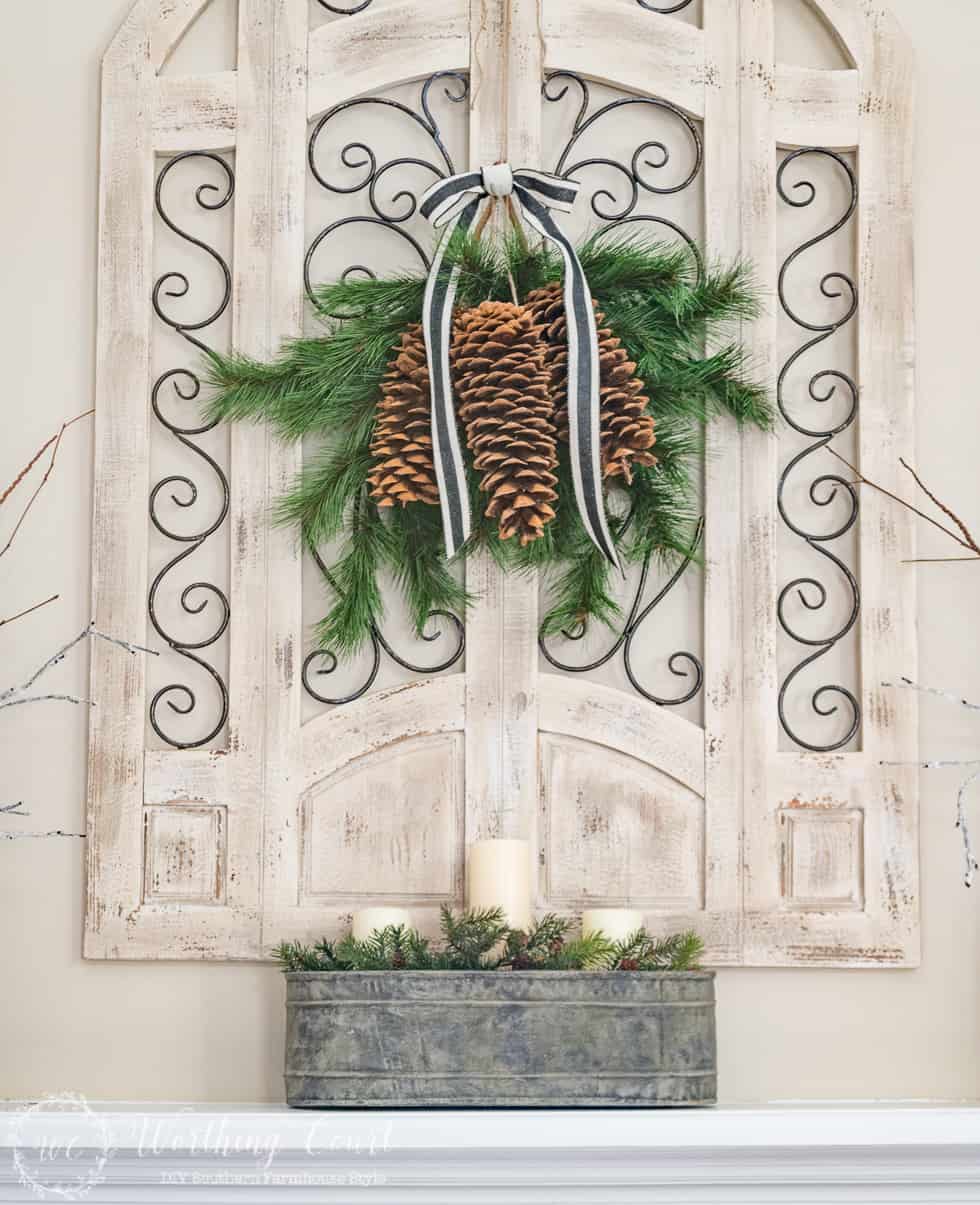 Pin
SHOPPING GUIDE
CLICK ON THE ITEM NAME THAT YOU'RE INTERESTED IN
(Some links are affiliate, at no additional cost to you.  See my full disclosure policy HERE.)
Wood and Metal Wall Plaque – Kirkland's (on sale!), Mine has been painted.
Gray Shutters (similar) – Wayfair (available in multiple colors)
Mini Flocked Tree (similar) – Wayfair (almost half off!)
Black and White Ornaments (similar) – HERE, HERE, and HERE 
Mini Wooden Stool – Hobby Lobby
Round Wicker Basket (similar) – World Market
Snowflake Shape Paper Punch – Michael's
 Sharing at THESE great parties!