Strawberry Cookies Recipe!
Strawberry cookies that require only 3 ingredients, are incredibly flavorful and are lower in calories than traditional strawberry cookies. Made with angel food cake mix, sugar free strawberry jam and mini chocolate chips.
Strawberry cookies, incredible and lower calories aren't words that I would normally use in the same sentence, but these truly are!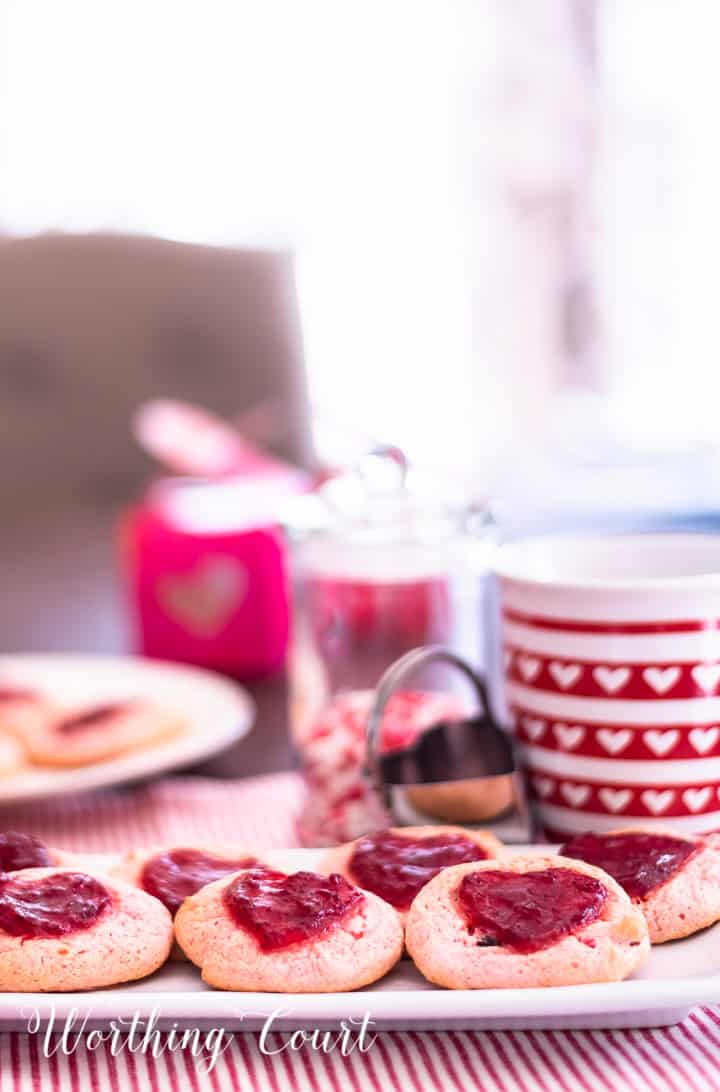 Pin
When I tasted these, I simply could not believe that they calculate to be only 3 points each on the Weight Watchers Purple plan. They are literally bursting with strawberry flavor. Scroll down for the recipe.
I stumbled across this recipe idea when I was searching for a special guilt-free treat for my sweetheart for Valentine's Day that we could enjoy in lieu of chocolate candy. The fact that it's a homemade Valentine's treat makes it all the more special, in my book.
The pink of the cookie and the red of the strawberry jam makes for a beautifully appealing cookie!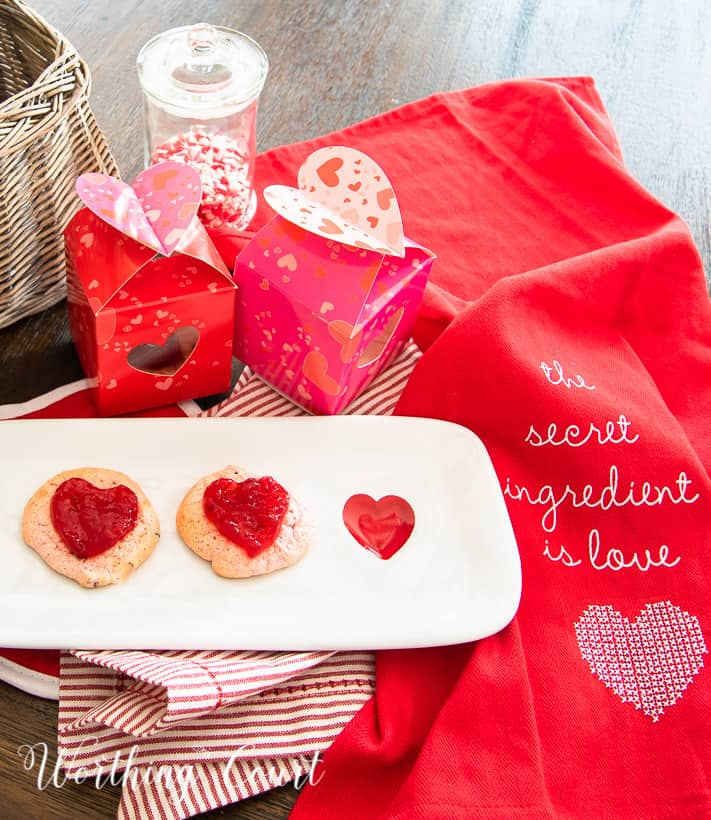 Pin
DIET FRIENDLY STRAWBERRY COOKIES
If you're counting calories, sugar grams, fat grams, but have a sweet tooth, then I want to be best friends.  😀  When you have a huge sweet tooth (like I do), giving up everything sweet makes trying to stick with a weight loss plan that much more difficult.
These lower calorie homemade strawberry cookies are the perfect combination of soft and chewy in the middle and crispy on the edges with a scrumptious strawberry flavor.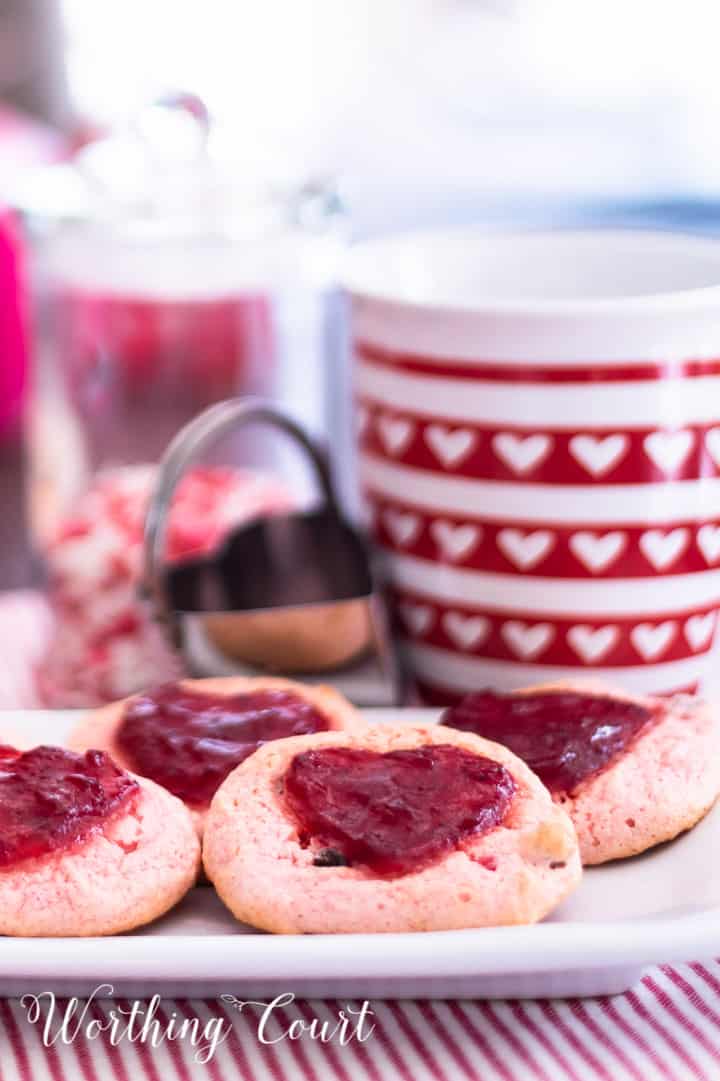 Pin
WHY ARE THESE DIET FRIENDLY COOKIES?
The main ingredient in these strawberry cookies is readymade angel food cake mix. In terms of a diet friendly cake, angel food is the way to go. Most of the lower calorie count of the cake mix is a result of there being no fat or any type of oil in it, unlike other types of cake mix. Cut out the fat and you drastically reduce the calories in any food!
The use of egg whites in angel food cake mix, along with cream of tarter (that's already in the mix), gives any recipe that it's added to a light and fluffy, yet chewy texture.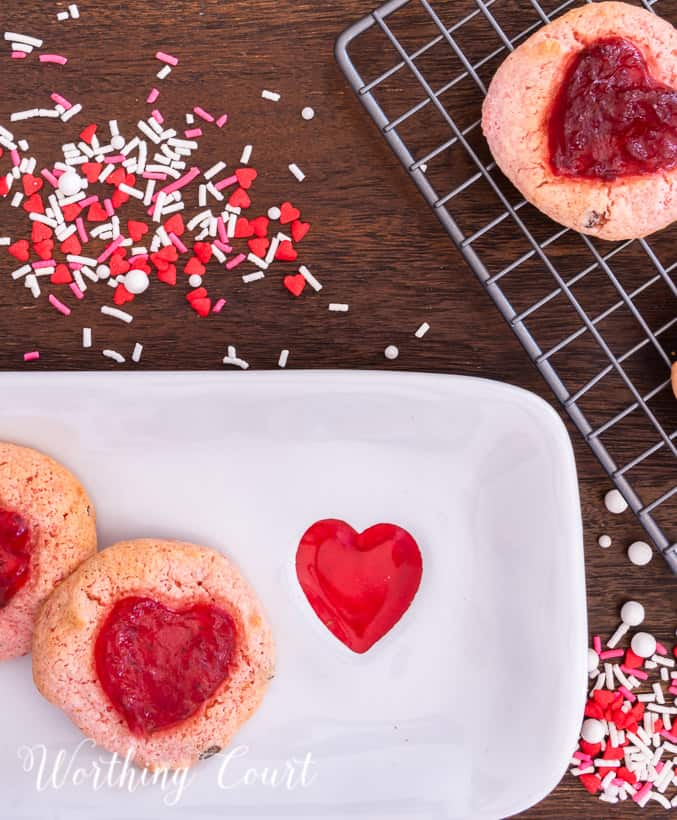 Pin
STRAWBERRY COOKIE RECIPE INGREDIENTS
Did I mention that this strawberry cookie recipe requires only 3 ingredients?!? I just want to make sure that you pick up on that little fact.  😀
Angel food cake mix.
Sugar free strawberry preserves.
Mini chocolate chip morsels.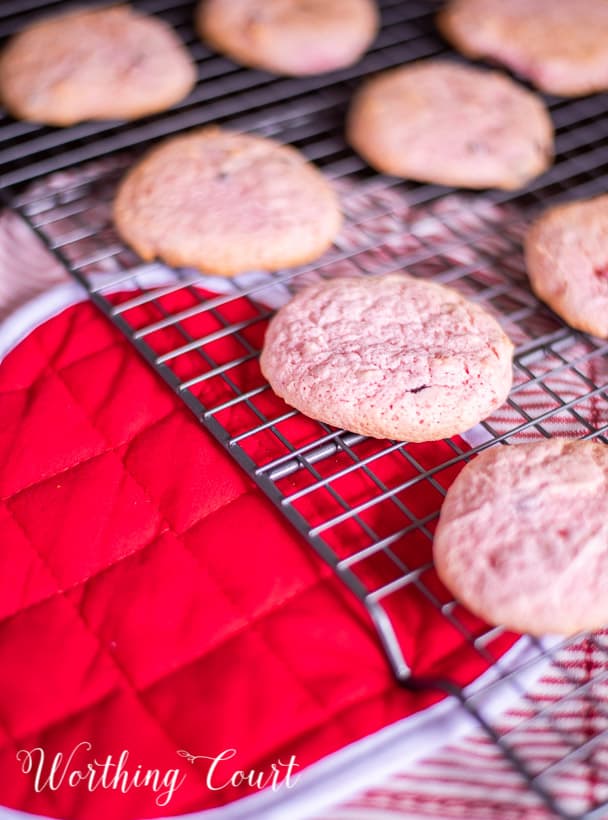 Pin
HOW TO MAKE STRAWBERRY COOKIES
Honestly, it's hard, if not impossible, to make a cookie recipe that's any simpler. This is almost a dump, mix and bake recipe.
Preheat the oven and prepare a baking sheet by spraying with non-stick cooking spray.
Add the entire box of angel food cake mix to a large mixing bowl.
Measure and add sugar free strawberry preserves.
Beat these two ingredients together at low speed for 1 minute, until evenly moistened. Continue to beat 1 additional minute. If using a stand mixer, use the paddle attachment for mixing.
Using a spoon, stir in the mini chocolate morsels.
Drop by rounded tablespoonfuls onto the prepared baking sheet. I love using THIS SCOOP!
Bake 10 to 12 minutes.
Cool on the baking sheet for 1 minute. Transfer to cooling rack to cool completely.
Optional: Add strawberry preserves to the top of the cookies for garnish.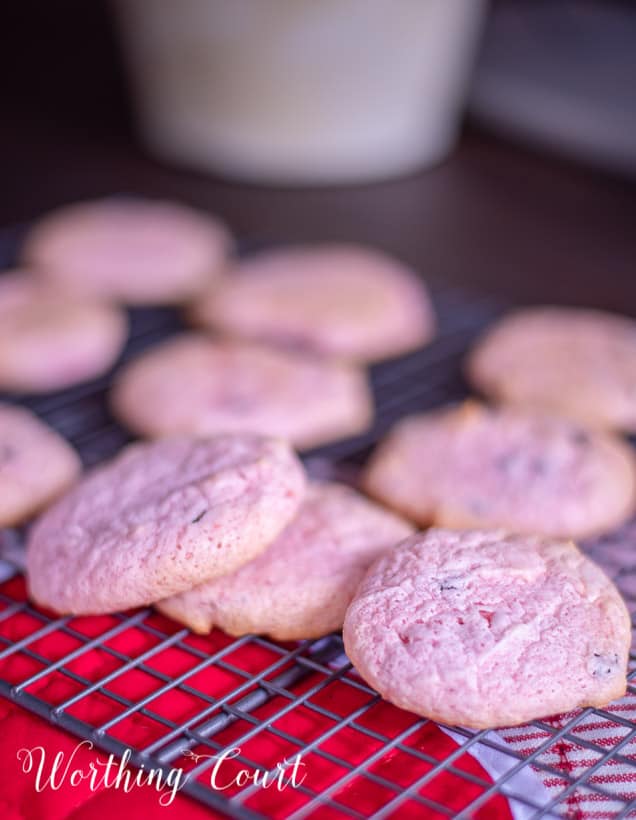 Pin
HOW TO ADD A STRAWBERRY PRESERVES HEART
To make them even more tempting (and reinforce the Valentine's Day treat theme), I added a heart shaped garnish to the top of each cookie in the shape of a heart.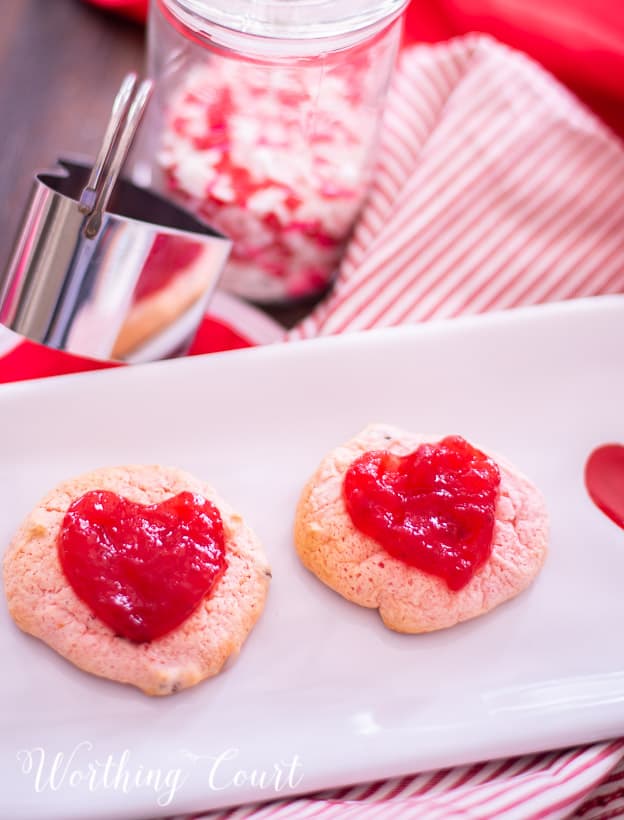 Pin
This was super easy to do by using a heart shaped cookie cutter as a template.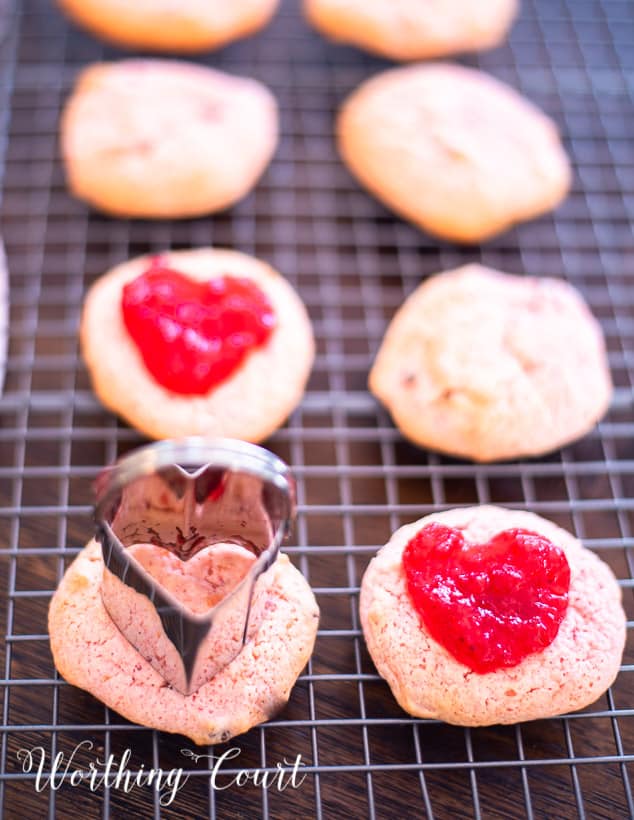 Pin
I created a makeshift icing bag by placing some of the strawberry preserves in a small plastic storage bag and cutting a very small hole in one of the bottom corners. I then squeezed some of the strawberry preserves inside of the cookie cutter on top of each cookie after they were completely cooled. I used a knife to help spread the preserves around, to completely fill the heart, before I removed the cookie cutter.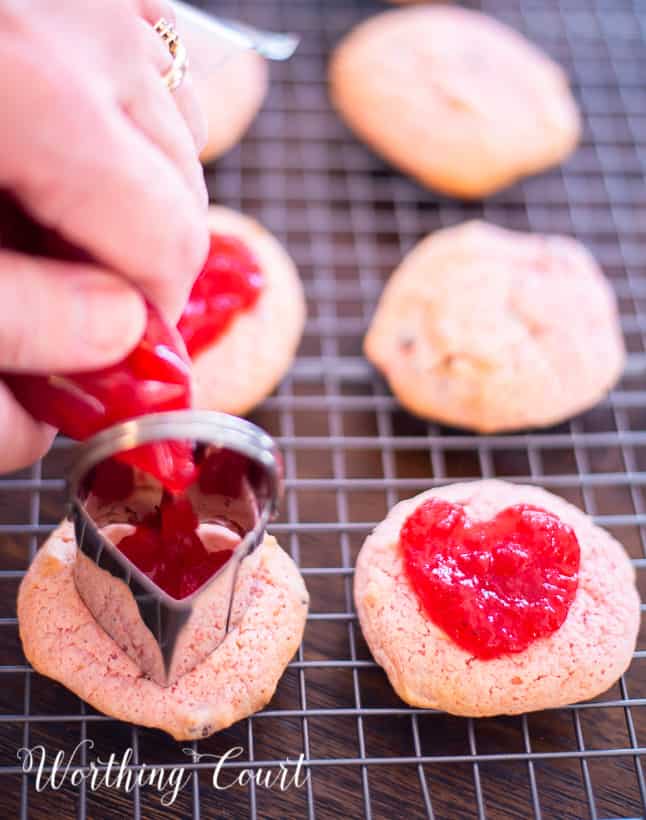 Pin
A FEW MORE TIPS
You can use parchment paper on the baking sheet instead of using cooking spray, if you prefer, but the cookies will not be crisp on the bottom.
Don't overbake the cookies! It's time to pull them out, even if they look a little underdone as they'll continue to cook a bit after they're removed from the oven. I actually think mine are a little too brown, as you can see in the photos.
Brands I used are: Betty Crocker Angel Food cake mix and Smucker's Sugar Free Preserves.
I find that using a scoop, such as THIS ONE, is much easier to add the cookies to the baking sheet with than using a spoon.
Adding the strawberry preserves heart to the top is optional, but it made them extra special for Valentine's Day.
Store with wax paper between the cookies to keep them from sticking together.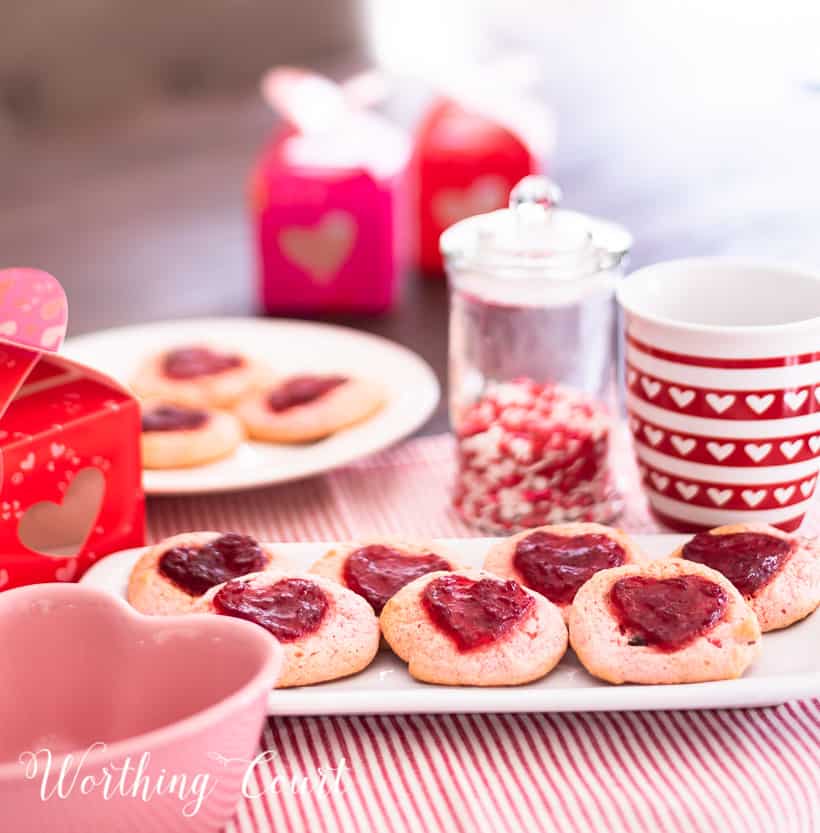 Pin
Strawberry Cookies
Did you make this recipe? Leave a review!
---
A strawberry cookie recipe this is bursting with sweet strawberry flavor, requires only 3 ingredients and is lower in calories and fat than traditional Strawberry Cookie recipes. Makes a great Valentine's Day treat or a treat for any time of year.
Ingredients
1

lb

Angel Food Cake Mix

Use entire box. Do not add water.

3/4

cup

Sugar Free Strawberry Preserves

3

tbsp

Mini Semi-Sweet Chocolate Chip Morsels
Instructions
Preheat the oven to 325° F. Prepare a baking sheet by coating with non-stick cooking spray.

In a mixing bowl, add entire box of cake mix and preserves. Mix at low speed for 1 minute until evenly moistened. Continue to beat for 1 additional minute.

Stir in chocolate chip morsels.

Drop by rounded tablespoonfuls onto the prepared baking sheet.

Cook 1 minute on baking sheet. Place on cooling rack to continue cooling.
Notes
The brands that I used in this recipe are Betty Crocker Angel Food Cake Mix, Smuckers Sugar Free Strawberry Preserves and Nestle Mini Semi-Sweet Chocolate Morsels.
Do not overcook! Remove from oven before the edges begin to turn brown.
The strawberry preserves heart garnish pictured on each cookie is optional and is not included in the ingredient amounts.
Store with wax paper between the cookies to prevent them from sticking together.
I estimate each cookie as 3 points on the Weight Watchers Purple plan.
---
Nutrition
Serving:
0.5
lb
|
Carbohydrates:
13
g
|
Protein:
1
g
|
Fat:
1
g
|
Saturated Fat:
1
g
|
Sodium:
32
mg
|
Sugar:
3
g
DISCLAIMER: I am not a Nutritionist. I rely on information from third parties to provide all nutritional information, which can vary depending upon brands of products used.
You can believe that we've added this to our recipe rotation and will be enjoying them year round!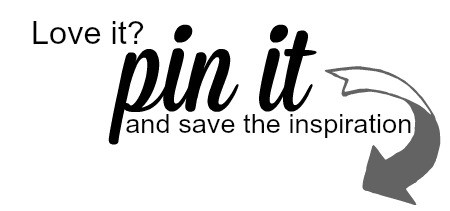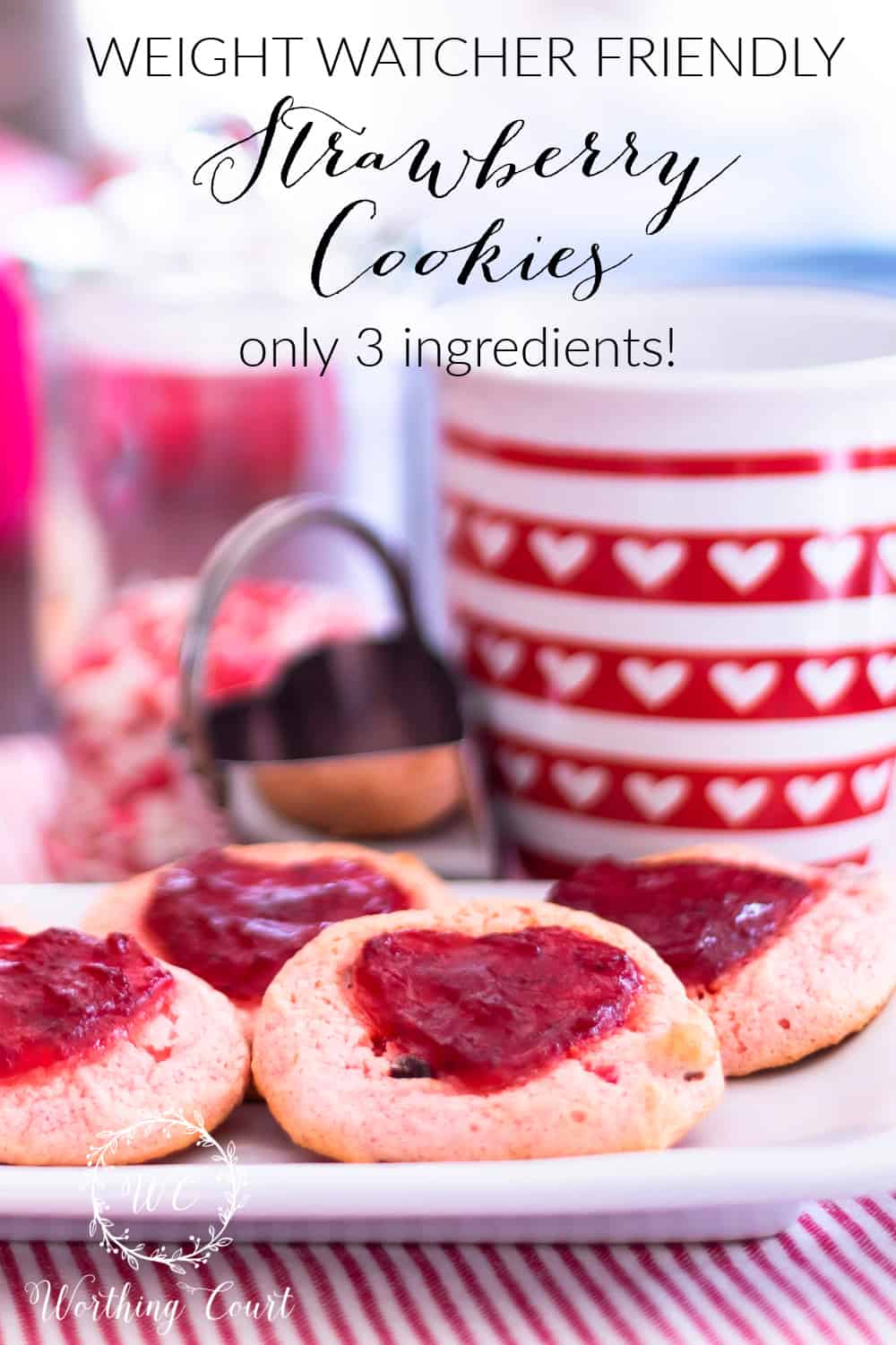 Pin