Weight Watcher Friendly Strawberry & Spinach Salad With Goat Cheese
Ripe strawberries, spinach, goat cheese and a mouth watering raspberry vinaigrette dressing, along with a few other ingredients, come together to create a delightful, Weight Watcher friendly strawberry spinach salad.
It's the height of strawberry season here, so it's the perfect time to share one of my very favorite salads! I literally could eat this strawberry salad every day, especially by changing things up a bit from day to day (read on to see what I mean).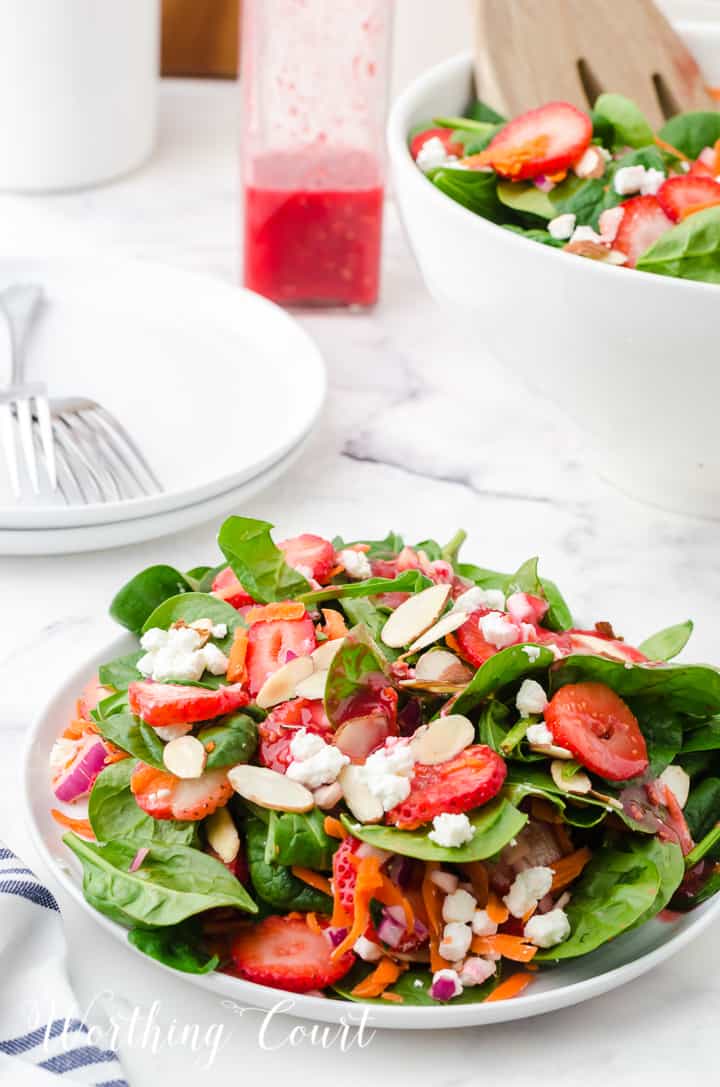 Pin
My husband and I are following the Weight Watcher's Purple plan, but this yummy, low calorie strawberry and spinach salad isn't just for those who are weight conscious. It just happens to be a super delicious accompaniment to a meal!
By the way – this month's Weight Watcher friendly recipe is part of the monthly recipe bloghop, hosted by my friend Marty at A Stroll Thru Life. This month there are 9 of us sharing some of our favorite recipes! Scroll down to the bottom to get the link to what everyone is sharing.
I realize that strawberry spinach salad is probably something you've already seen, or possibly made yourself, but what makes this salad recipe rise to the top is the bursting-with-flavor raspberry vinaigrette dressing!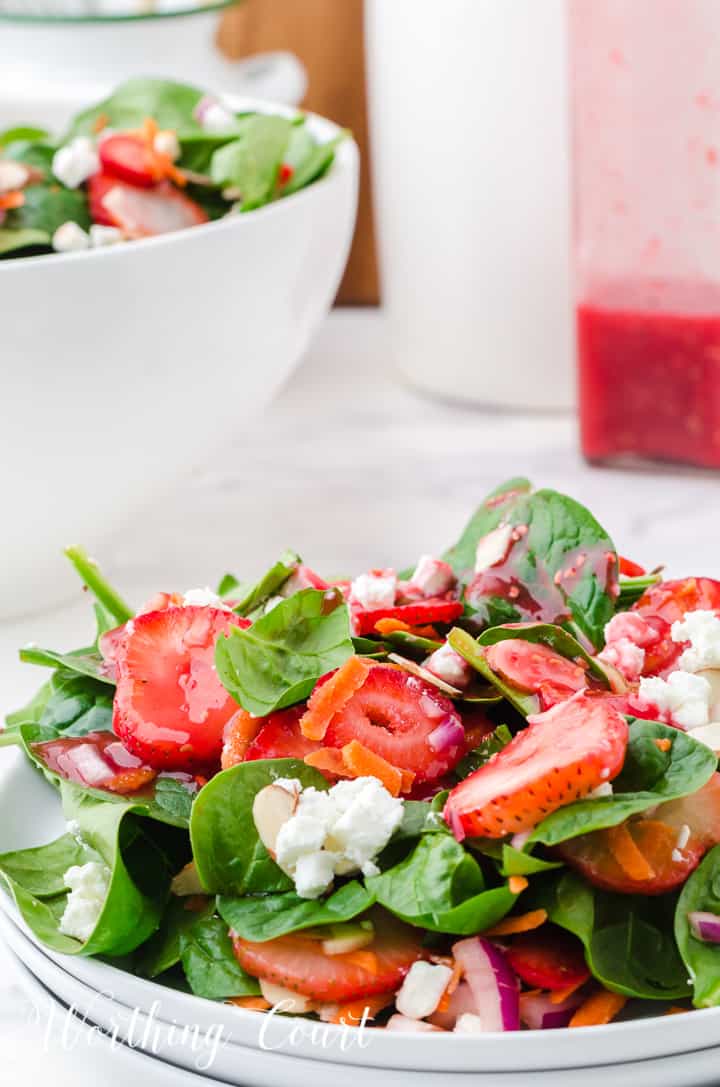 Pin
This post is filled with lots of photos of this amazing salad that's almost too beautiful to eat!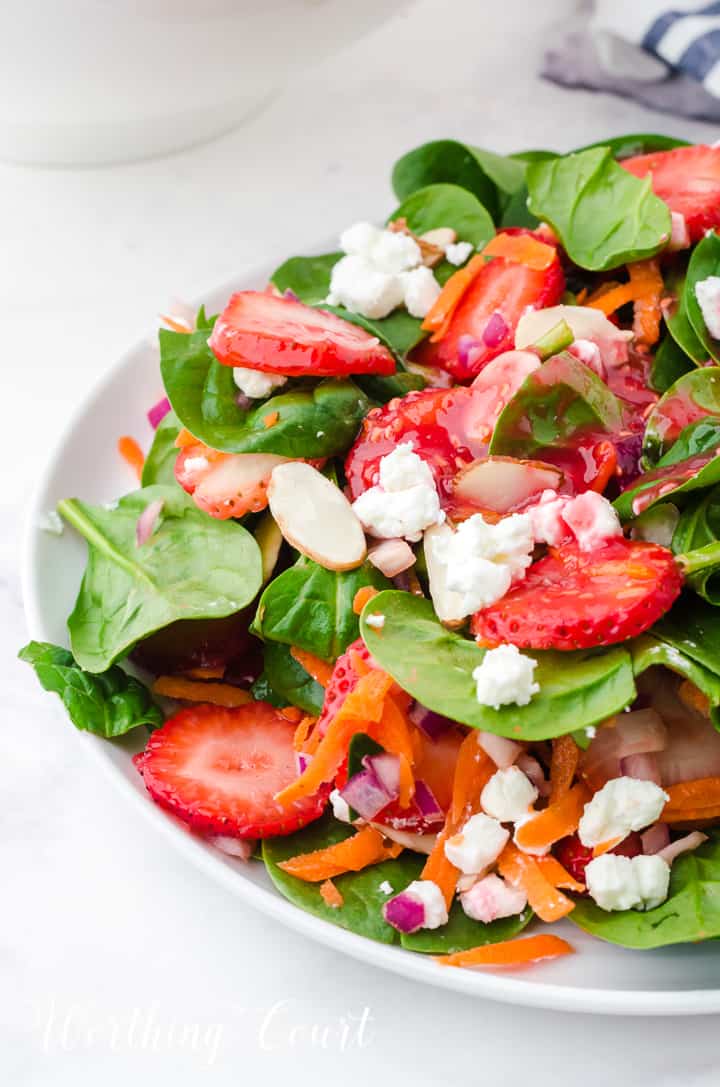 Pin
Other than the amazing flavor, another reason that I love this recipe is that it isn't heavy and overly filling – two words that I really don't want to be a part of the description for a summertime meal.
One other thing you should know. For those of you who aren't a fan of spinach, any type of lettuce (but I recommend Romaine) may be substituted in its place.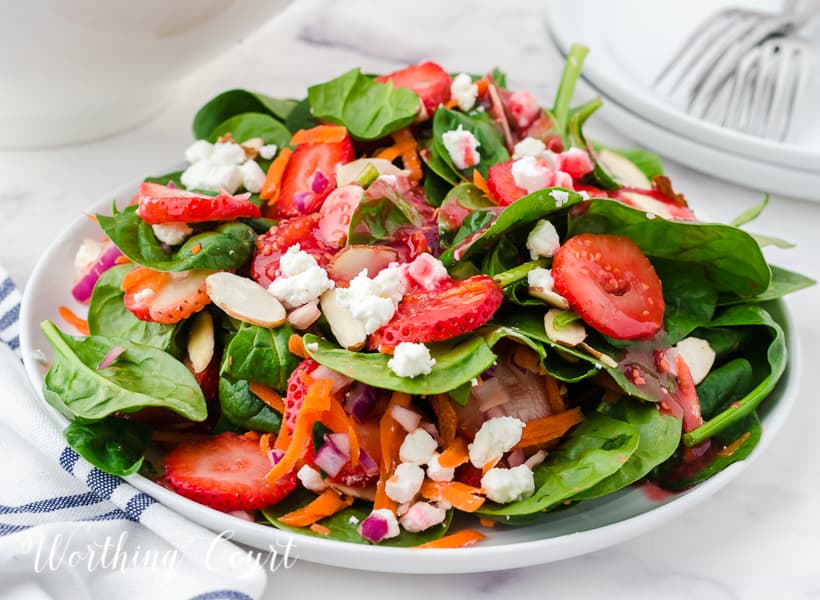 Pin
TURN THE SALAD INTO A MAIN DISH
You may think of a salad as a side dish, but it can easily be turned into a main dish with the addition of any of the following:
rotisserie chicken
deli turkey or ham
shrimp or salmon
sliced or chopped hard boiled eggs and bacon bits.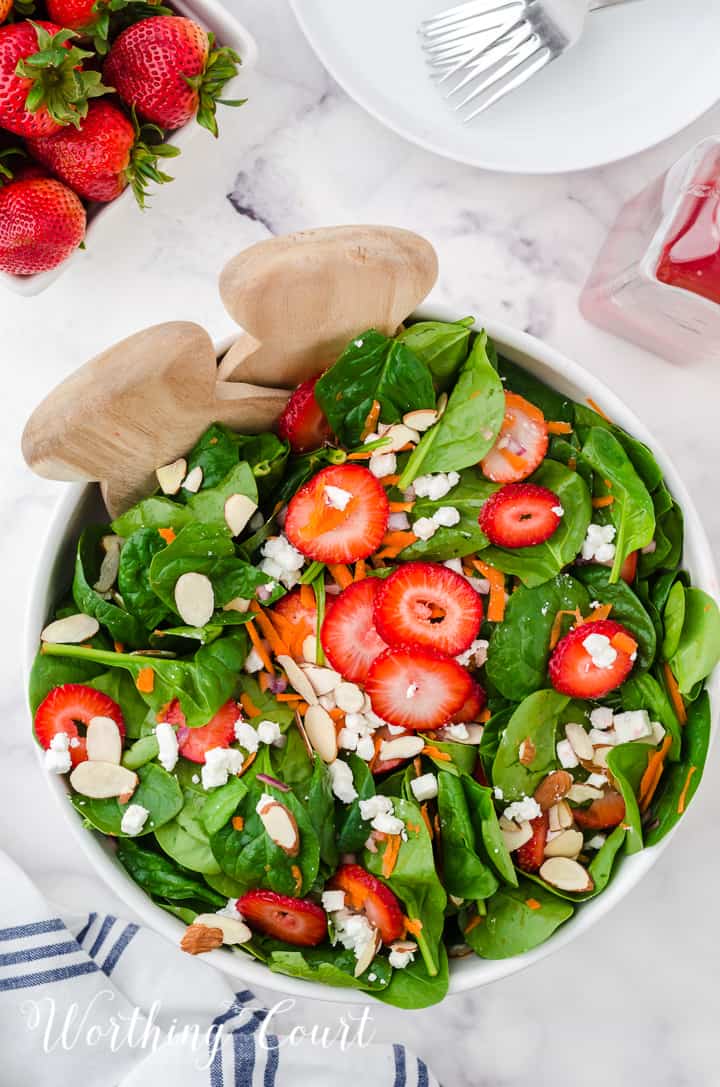 Pin
VARIATIONS OF A STRAWBERRY SALAD
This is such a versatile salad recipe! With just some simple changes, you can give it a whole new flavor. If you're following Weight Watchers, just be sure to recalculate the points if you make any changes.
Add canned, drained, sugar free mandarin oranges, cranberries and walnuts or pistachios (in place of the almonds)
The addition of any type of berry would work, such as raspberries, blackberries or blueberries.
Replace the goat cheese with feta or blue cheese crumbles.
For a healthy fat, add advocado chunks or slices.
Toast the almonds before adding them to the salad.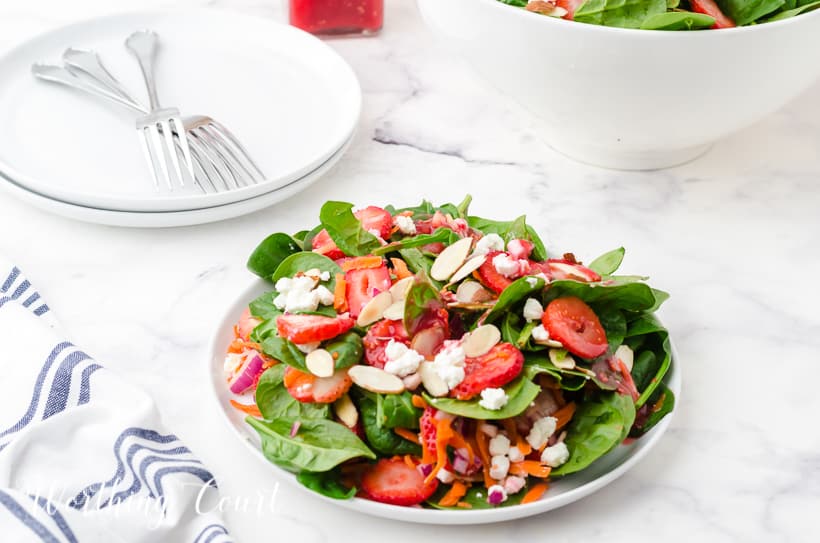 Pin
TIPS FOR SELECTING THE BEST STRAWBERRIES
Whether you pick your strawberries fresh from the field or purchase them already harvested, there are a few things you should look for to make sure you're getting the sweetest, most flavorful berries:
Use your nose! You'll want to select strawberries that have a sweet, strong strawberry smell.
Look for a bright red color. The berry isn't fully ripe if there's white around the stem or in the middle.
Small berries tend to be juicier, but this isn't always the case. Color is more important than size.
Strawberries have the best flavor when they're picked in-season.
Make sure the caps are green and fresh, not wilted or withered.
When possible, buy from a farmer's market or from a strawberry farm. Berries from a grocery store are often raised in hot houses and aren't as flavorful.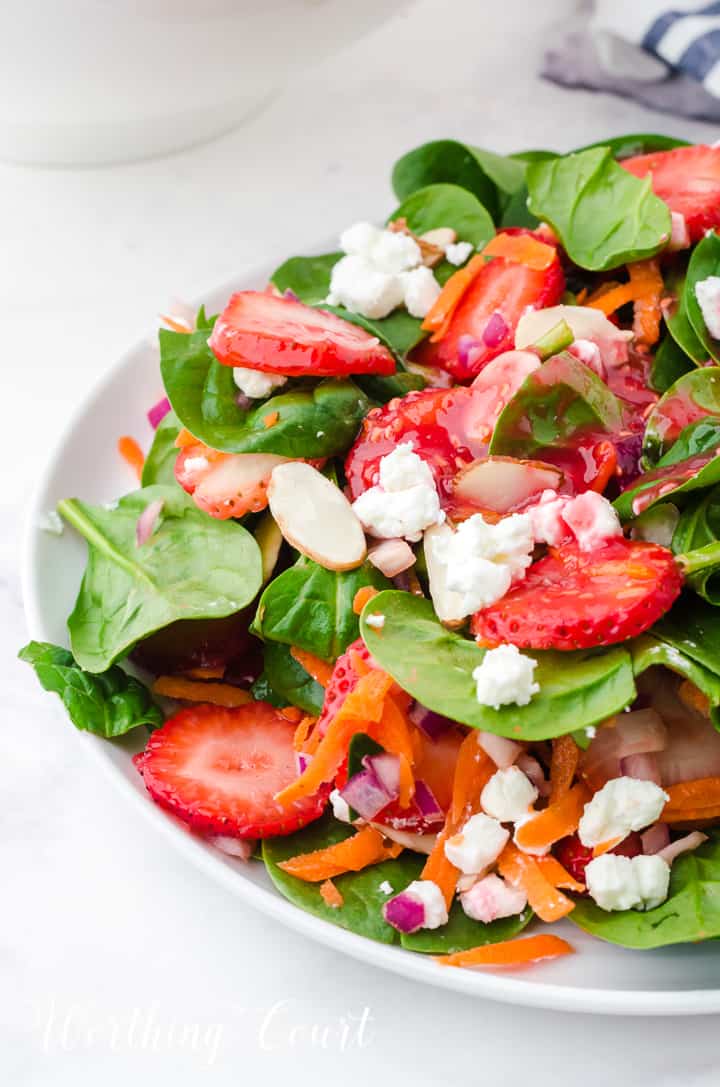 Pin
HOW TO MAKE THIS WW FRIENDLY STRAWBERRY SPINACH SALAD
It really couldn't be much easier to throw this salad together in a jiffy!
For the salad: Prepare the strawberries by removing the tops, rinsing and slicing each one in half or into thin pieces. Gently toss all of the ingredients together in a large serving bowl. Garnish with goat cheese, sliced almonds and other optional items of your choice.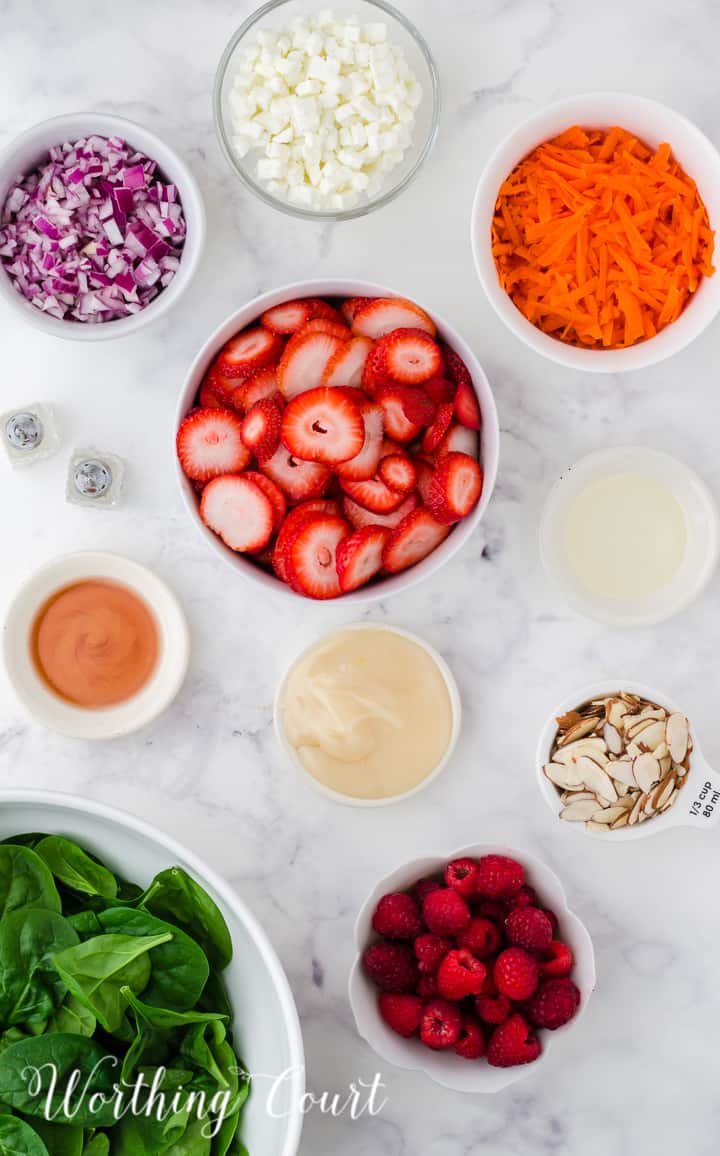 Pin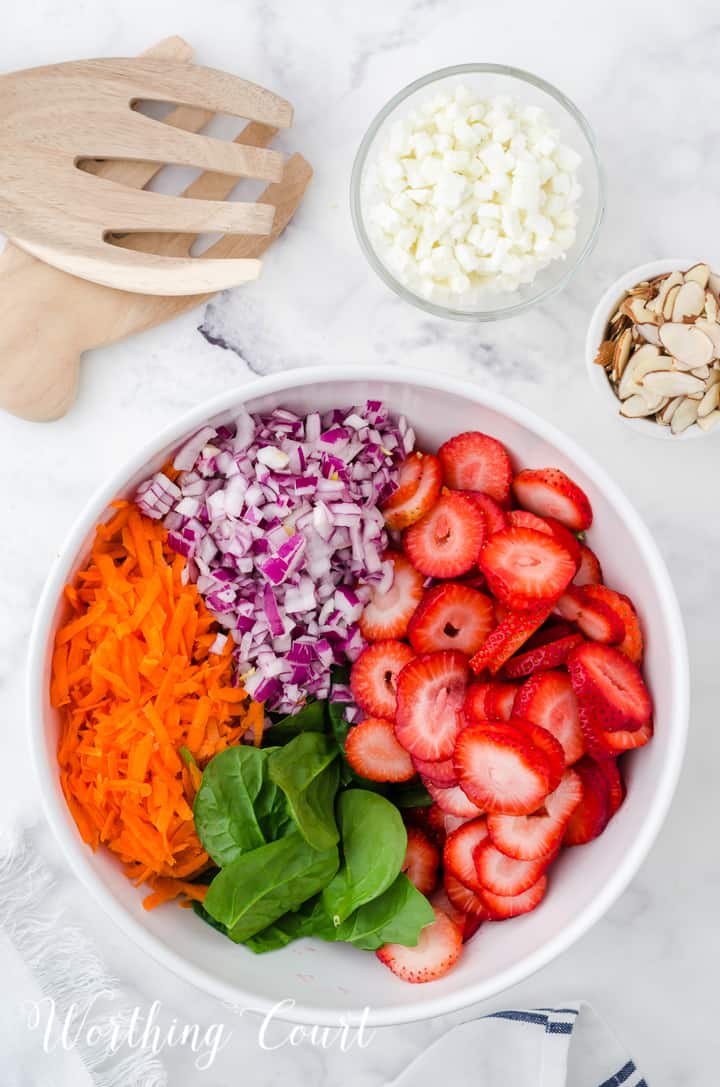 Pin
For the dressing: Mix all ingredients together in a blender. Chill for at least 2 hours, then drizzle each salad with 2 tablespoons of dressing. I recommend that the dressing not be added to the salad until it's ready to be served to avoid sogginess.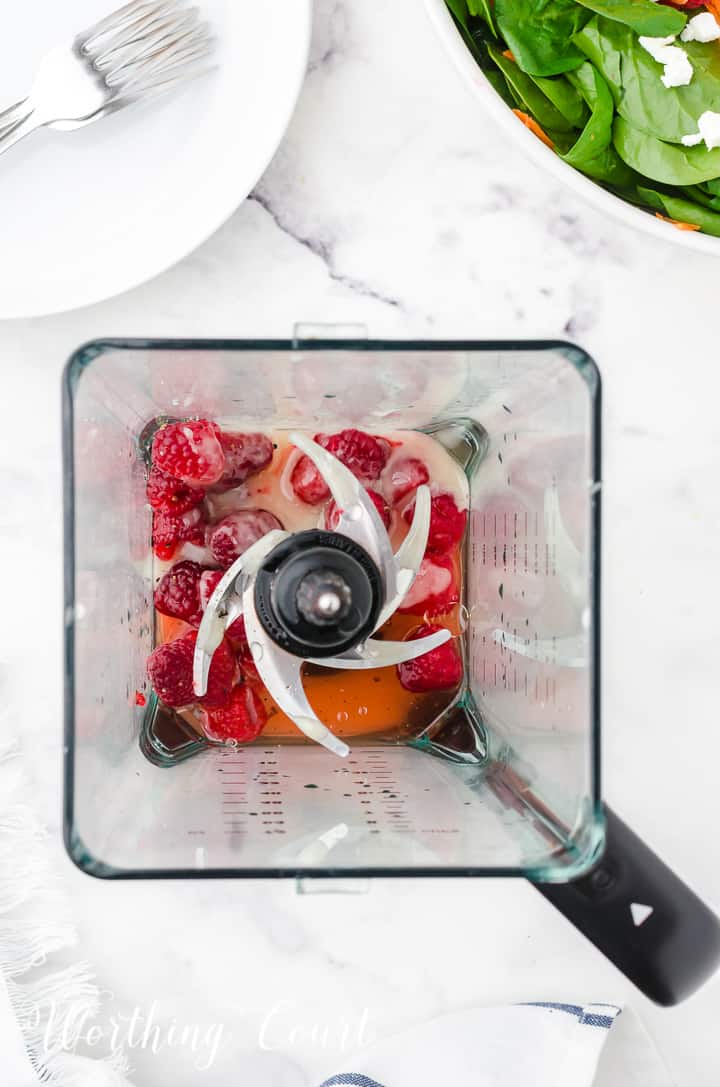 Pin
Weight Watcher Friendly Strawberry Spinach Salad With Goat Cheese
Did you make this recipe? Leave a review!
---
Ripe strawberries, spinach, goat cheese and a mouth watering raspberry vinaigrette dressing, along with a few other ingredients, come together to create a delightful, Weight Watcher friendly salad.
Ingredients
5

oz

fresh spinach

3

cups

fresh strawberries

1

cup

raw red onion

finely chopped

1

cup

shredded carrots

1

oz

almonds

slivered or sliced

3

oz

semi-soft goat cheese

crumbled

1/2

cup

fresh raspberries

1/8

tsp

ground black pepper

1

tbsp

red wine vinegar

1/2

tsp

salt

2

tbsp

water

2

oz

honey
Instructions
For the salad:

Remove stems from strawberries, rinse and allow the berries to dry.

Gently toss together spinach, strawberries, carrots and onion in a large bowl.

Garnish with almonds and goat cheese.

For the dressing:

Mix all ingredients together in a blender. Blend until berries are liquified.

Chill for at least 2 hours before serving.

Drizzle each salad serving with 2 tablespoons of dressing.
Notes
I estimate each serving to be 8 points on the Weight Watchers Purple plan. Be sure to recalculate if you add any additional ingredients.
Additional optional toppings: rotisserie chicken, deli ham or turkey, sliced hard boiled eggs, bacon bits. 
---
Nutrition
Calories:
166
kcal
|
Carbohydrates:
27
g
|
Protein:
5
g
|
Fat:
5
g
|
Saturated Fat:
2
g
|
Sodium:
345
mg
|
Potassium:
314
mg
|
Fiber:
5
g
|
Sugar:
19
g
|
Vitamin A:
1
IU
|
Vitamin C:
1
mg
|
Calcium:
108
mg
|
Iron:
1
mg
DISCLAIMER: I am not a Nutritionist. I rely on information from third parties to provide all nutritional information, which can vary depending upon brands of products used.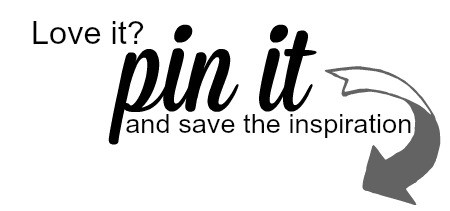 Pin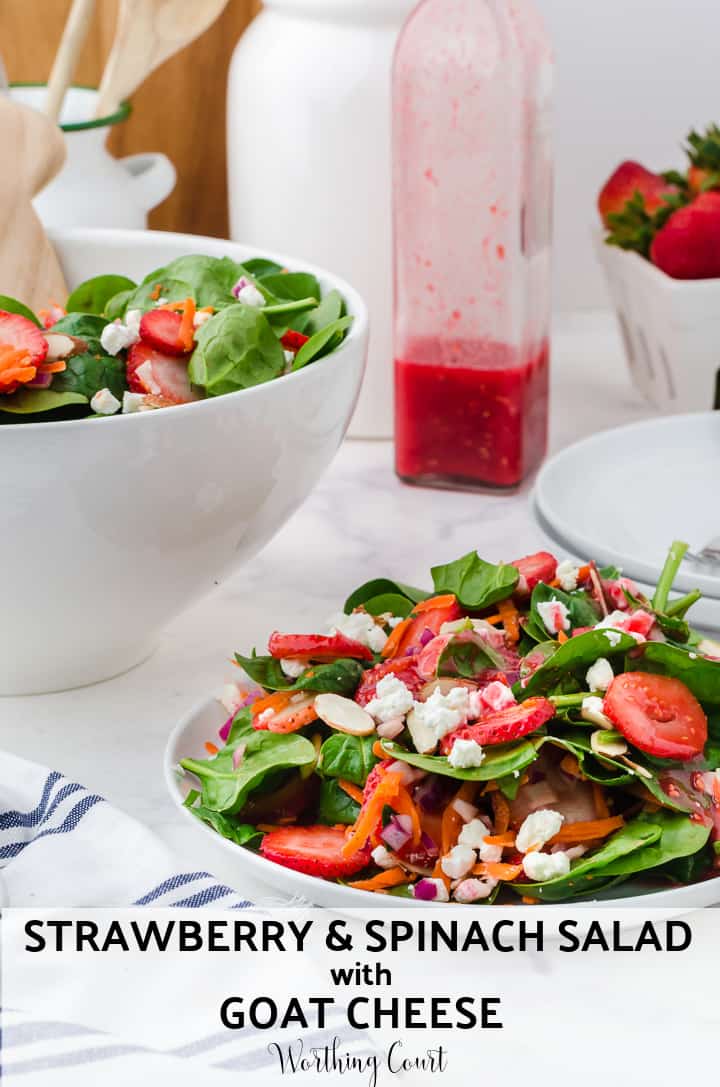 Pin
Check out these other yummy sounding recipes. I see several that I'm looking forward to trying!

Pin
Decor to Adore – Fast & Delicious Shrimp Pad Thai
Worthing Court – Strawberry & Spinach Salad with Goat Cheese
Pin
Our Southern Home – Steak Tacos with Avocado Salsa
CitrineLiving – Quick & Delicious Greek Yogurt Dill Dip
Pin
A Stroll Thru Life – Chicken Pasta Salad
11 Magnolia Lane – Jalapeno Margaritas
Pin
Bloom In Black – picky eater approved Crispy Tofu Tacos
Southern State of Mind – Quick & Easy Four Ingredient Banana Bread
Pin
This Is Our Bliss – Fresh & Easy Mexican Coleslaw