Beautiful And Easy DIY Thanksgiving Centerpiece Ideas
Elevate your holiday table with inspiration from these gorgeous diy Thanksgiving centerpieces.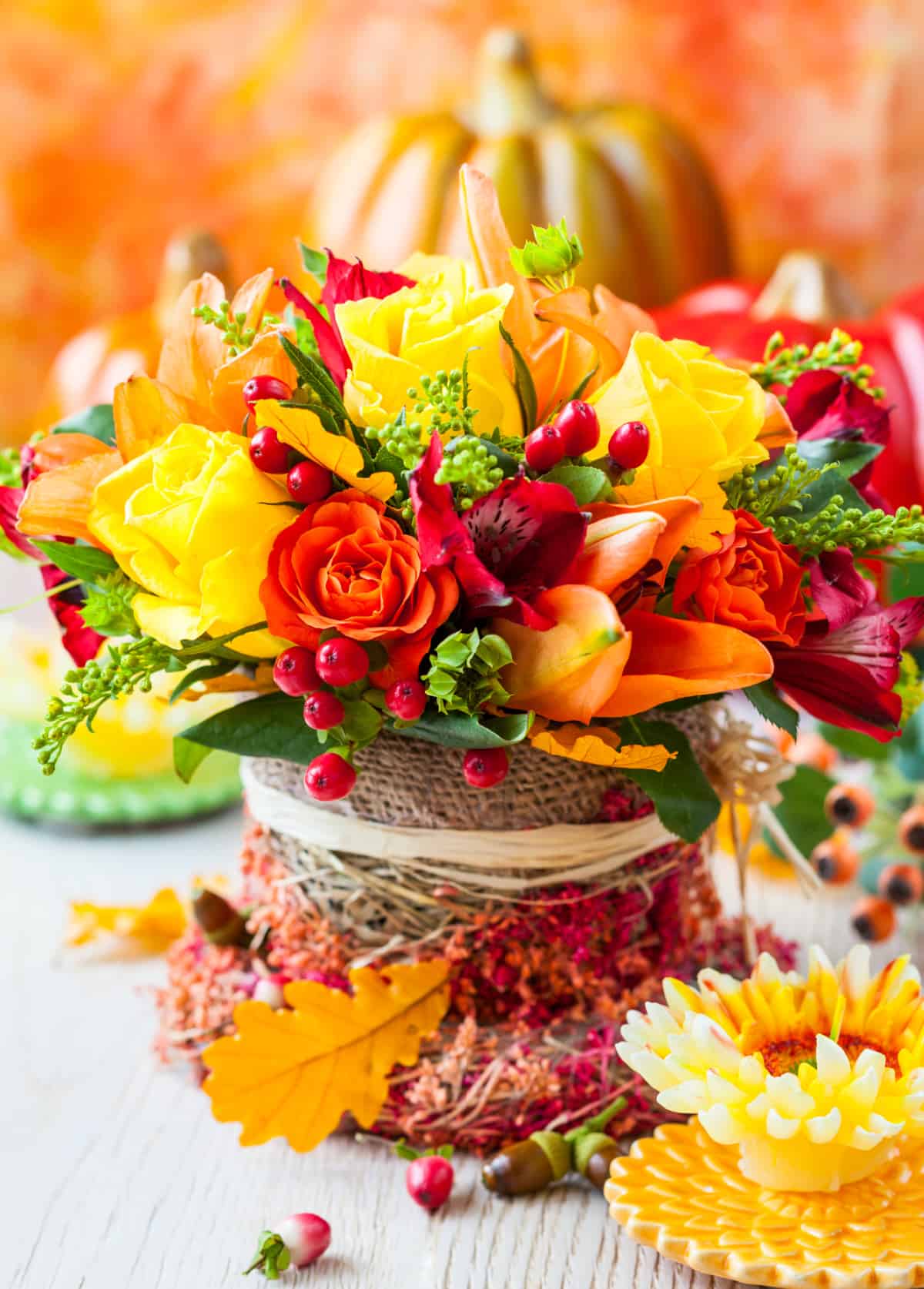 These creative ideas incorporate natural elements, adding warmth and charm to your Thanksgiving gathering, to make it a memorable occasion for you and your loved ones. Let's look at the art of turning simple materials into stunning table decorations.
These eleven easy centerpiece ideas are not only visual eye candy – they will spark your imagination so that you can add your own personal touch to your Thanksgiving celebration!
Why Thanksgiving Centerpieces Matter
Thanksgiving centerpieces aren't merely decorations – they are the heart and soul of a well-prepared dining table.
A beautiful Thanksgiving centerpiece has the power to transform your gathering into a warm and inviting atmosphere that truly captures the spirit of the festive season.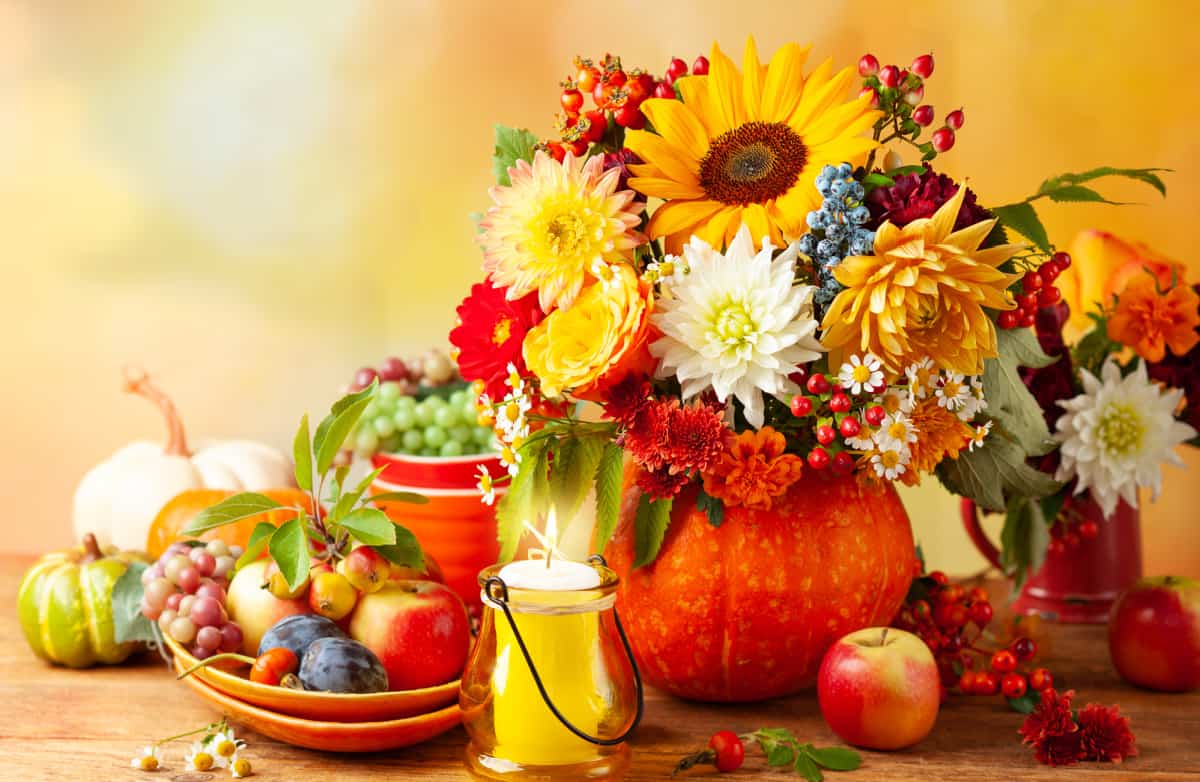 No matter how simple in appearance, Thanksgiving table decorations, that include a centerpiece, take center stage and serve as the focal point of the entire table. It's the perfect way to tie together the color scheme on your dining room table!
Historically, Thanksgiving, at its core, is a celebration of a bountiful harvest. It's the time when we express our gratitude for nature's gifts. So, incorporating natural elements into your Thanksgiving centerpieces isn't just a design choice; it's a reflection of the very essence of the holiday.
Whether using real or faux, using elements from nature in your centerpiece design serves as a powerful reminder of the origins of this tradition, allowing you to bring the spirit of thankfulness right to the center of your table.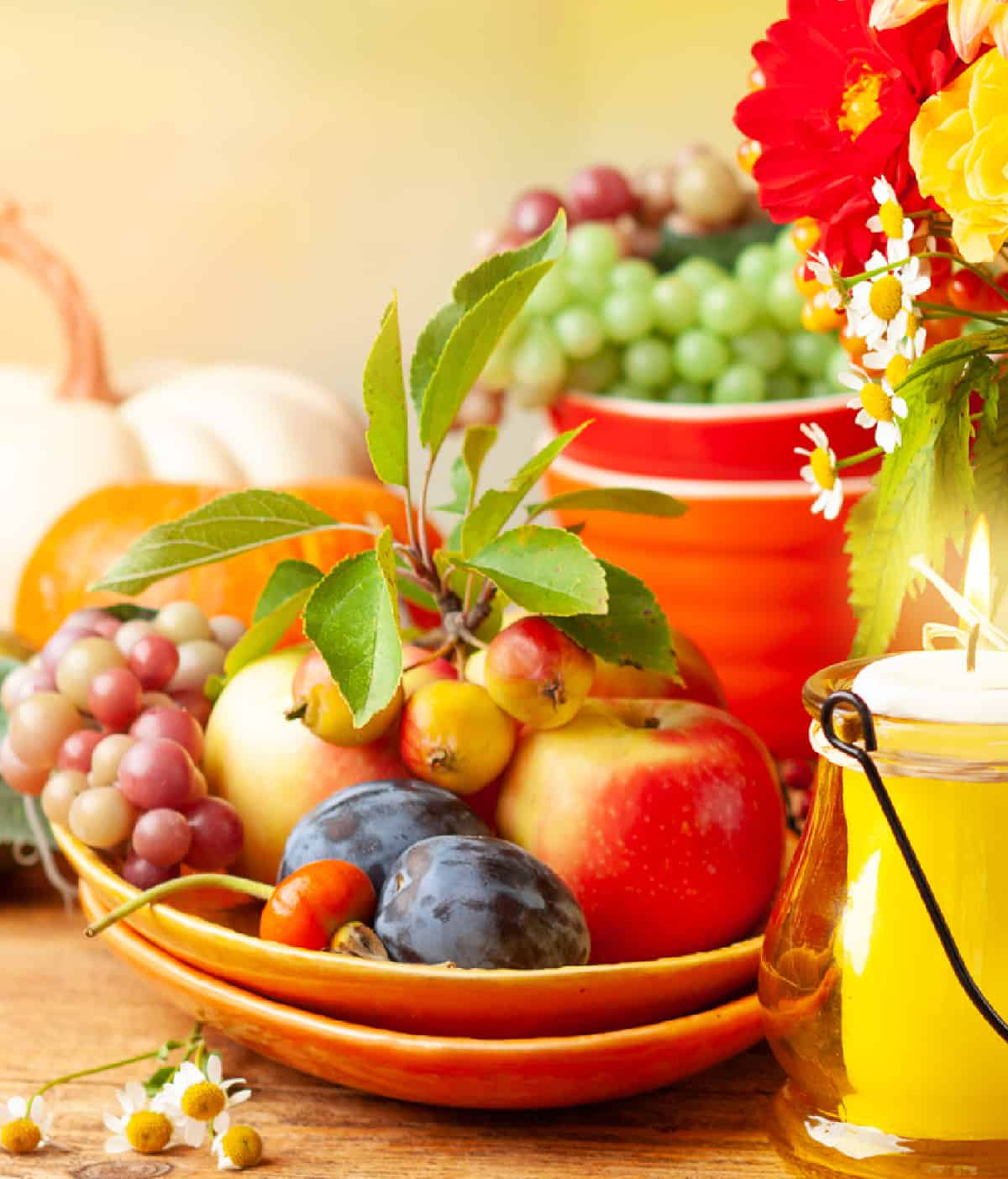 Think of these arrangements as capturing the very spirit of the season, encouraging us to reflect on the blessings we've enjoyed throughout the year. So, yes, your centerpiece is more than just a pretty addition – it's the heart and soul of your Thanksgiving table, a mix of style and sentiment to go along with your celebration.
Traditional Harvest Centerpieces
Traditional harvest centerpieces typically feature a mix of fall fruits, vegetables, and seasonal flowers, such as pumpkins, gourds, apples, and other elements that are plentiful this time of year. They provide a natural look and evoke a classic Thanksgiving vibe.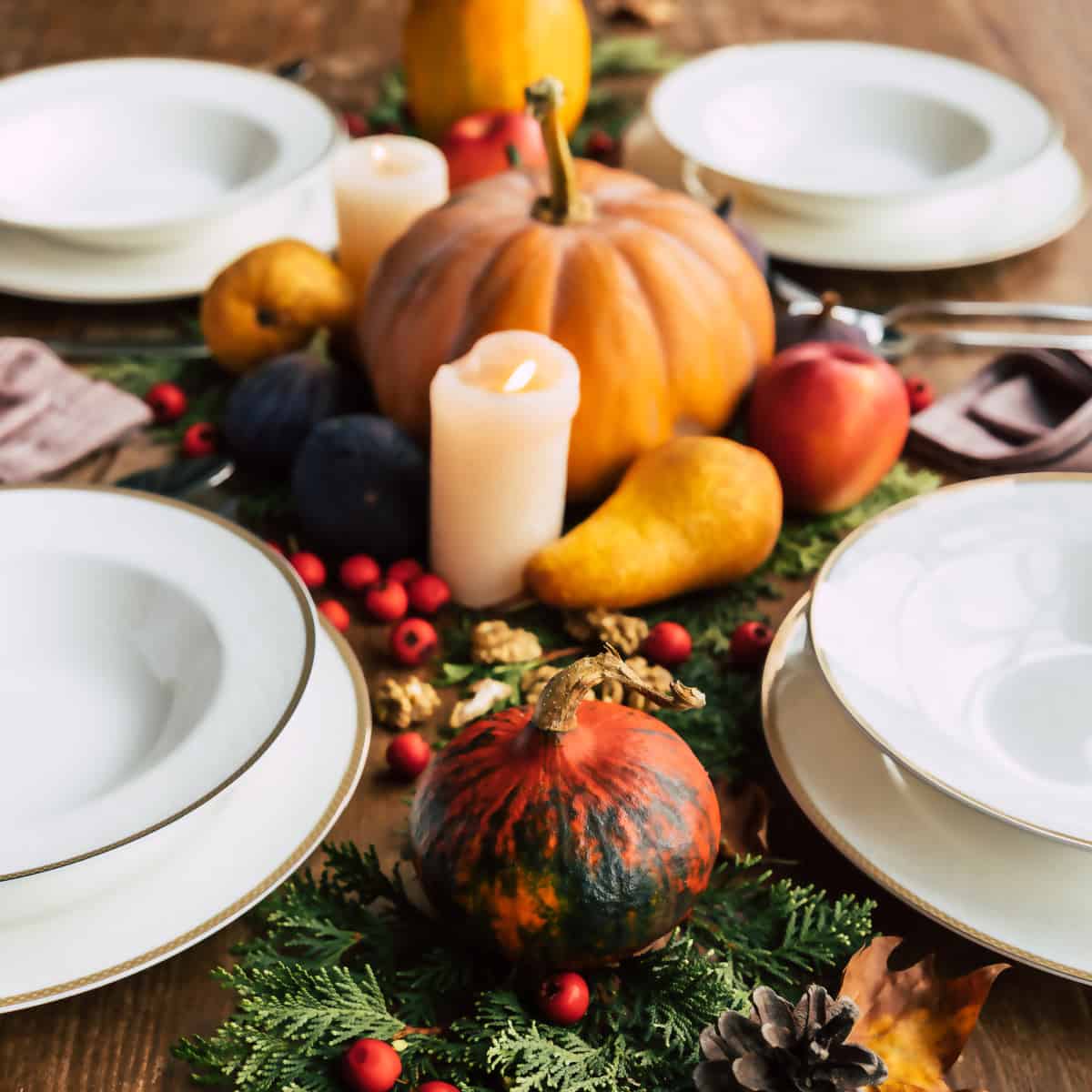 You can probably purchase most of the elements of this type of centerpiece right in your grocery store!
TIP: To protect the wood of the table, place live foliage and produce on a table runner, especially if you aren't using a tablecloth.
To recreate an easy diy centerpiece such as this, make a "bed" of evergreens or fall foliage going down the center of your table.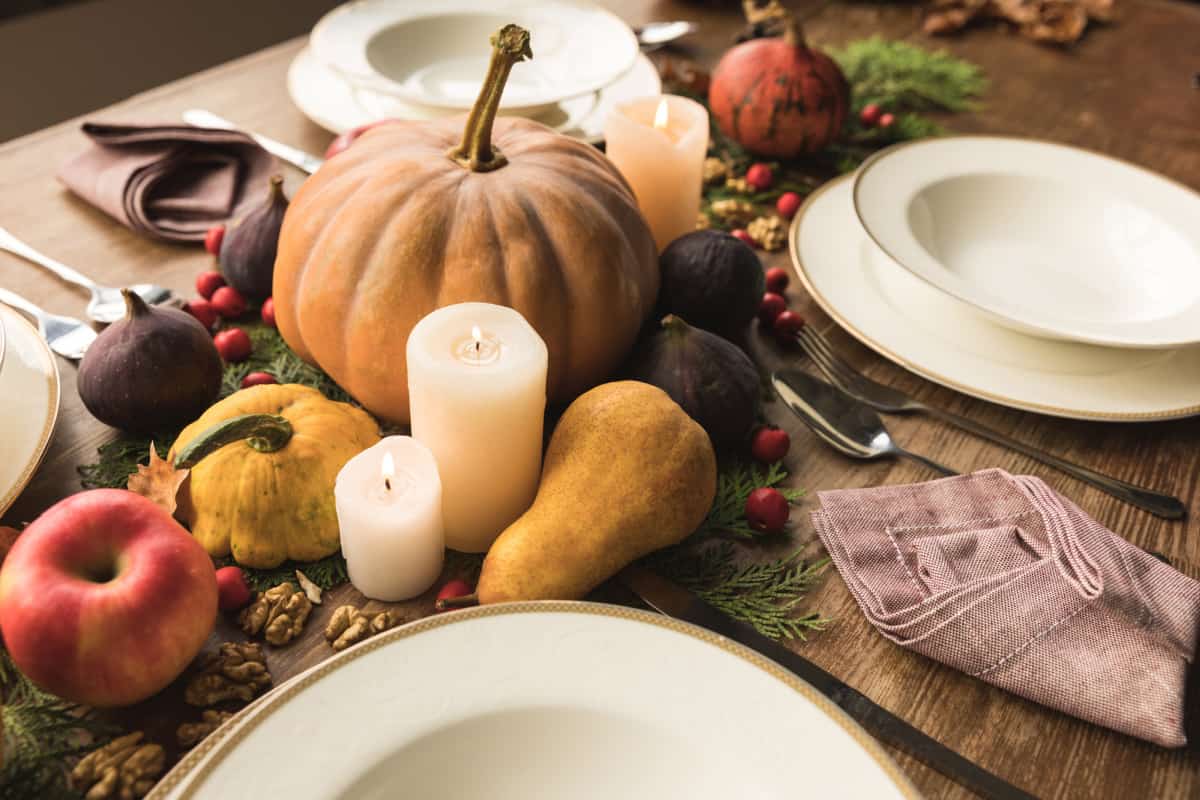 Add a large'ish pumpkin to the center of the bed. Then scatter additional mini pumpkins, fall fruits and vegetables, and seasonal flowers along the bed on each side of the center pumpkin.
Add a few strategically placed pillar candles for the ideal Thanksgiving dinner table ambiance.
Make this your best Thanksgiving ever!
Ready to make this Thanksgiving truly special?
I've got you covered with everything from a cooking timeline to tips to inspirational table settings.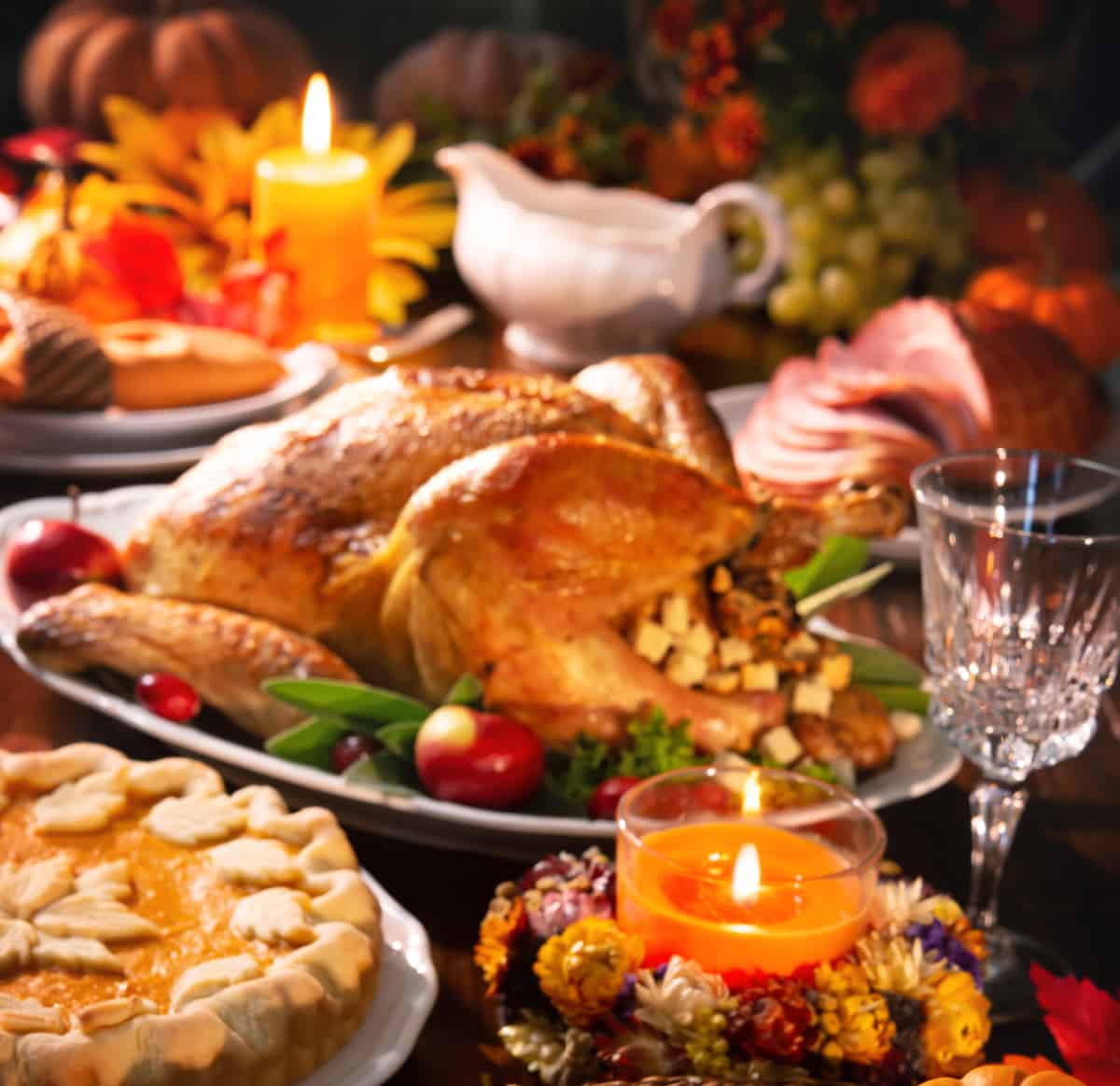 Cornucopia Centerpieces
The cornucopia, often referred to as the "horn of plenty," is a symbol of abundance and prosperity and is often filled with colorful and varied contents that evoke the beauty of the autumn harvest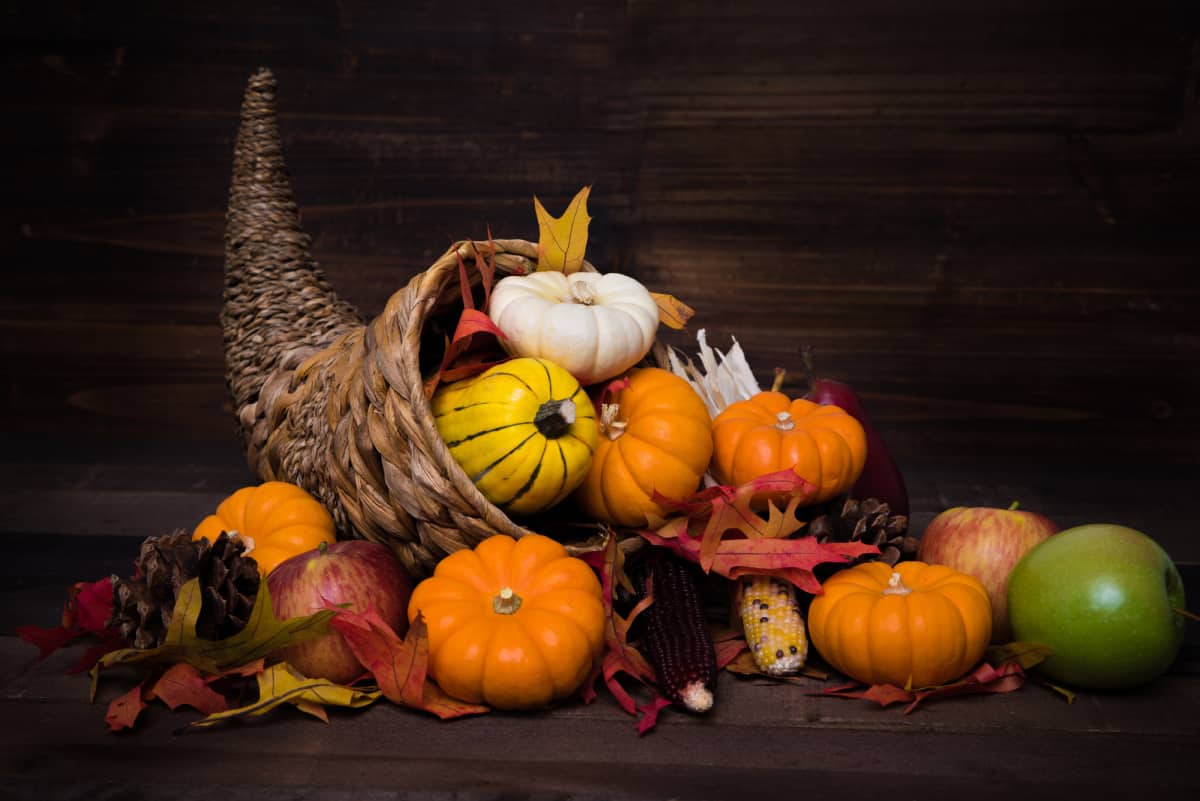 This style of centerpiece is very nostalgic and has a rich tradition when it comes to diy Thanksgiving decorations.
Typically in the shape of a horn or basket, they'll be overflowing with a variety of fruits, vegetables, and fall leaves that represent a bountiful harvest season.
A cornucopia is the perfect representative that reflects the spirit of the Thanksgiving holiday.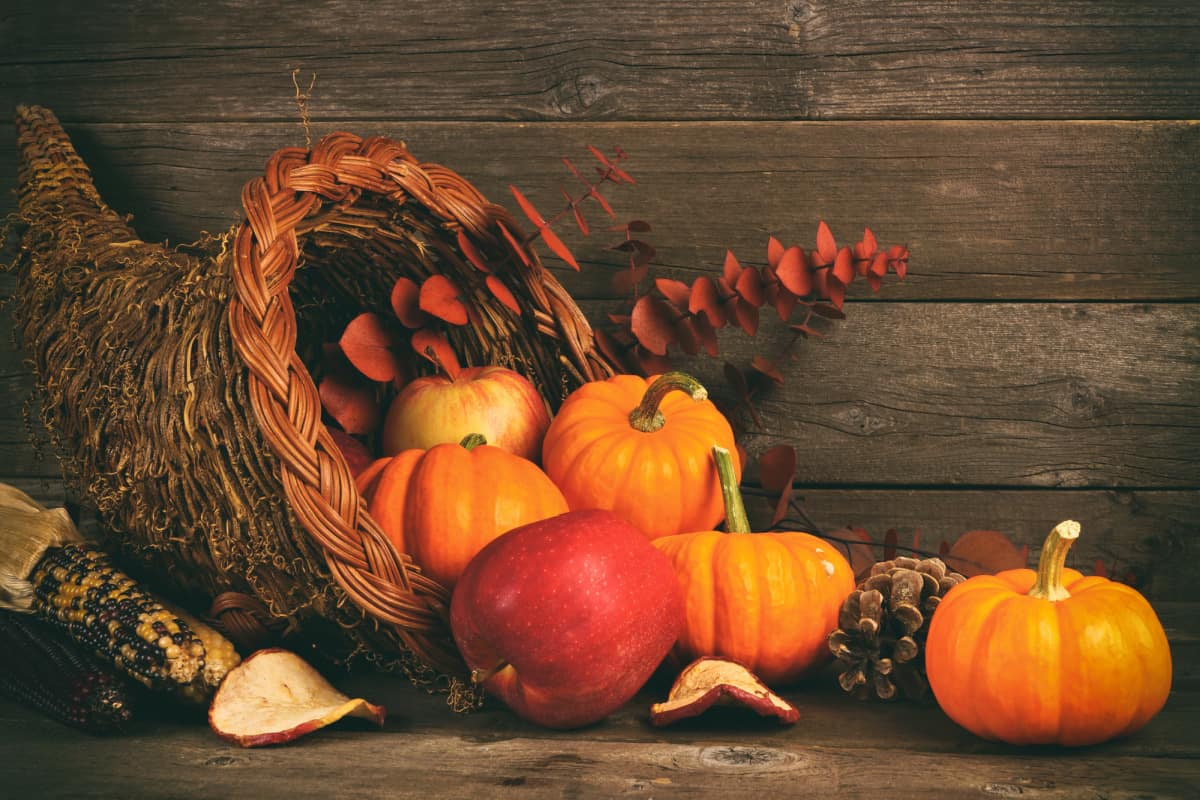 No matter what you might choose to fill yours with, it's a centerpiece that remains a cherished and time-honored choice for a Thanksgiving tablescape.
Floral Thanksgiving Centerpieces
Of all the centerpieces that you might find in the center of the table, a floral centerpiece is probably the most common. They automatically bring the warmth and beauty of nature right to your table!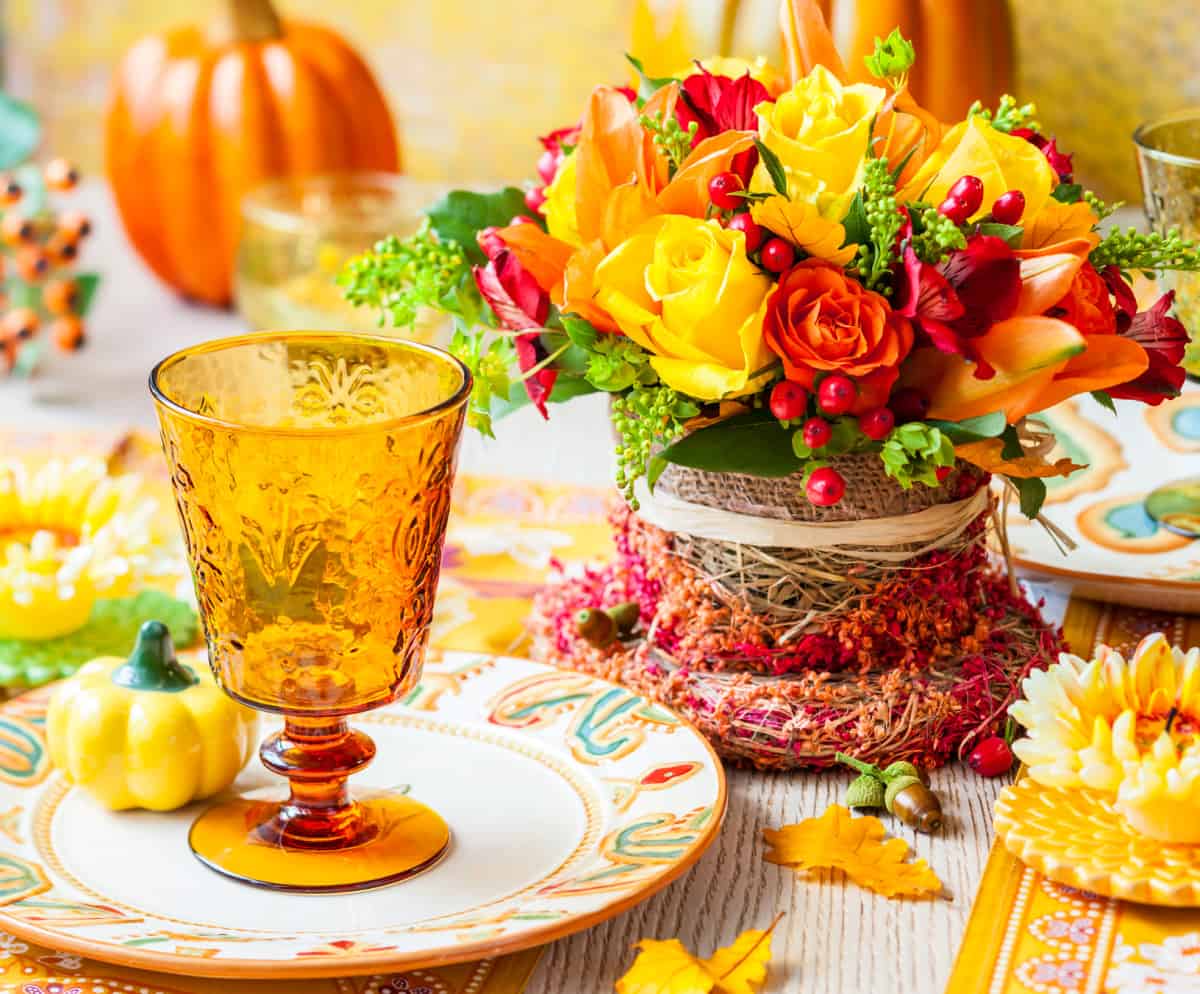 Whether you opt for fresh flowers or artificial ones, it just doesn't get much prettier than an arrangement of flowers in a pretty container.
Placing it in the middle of a wreath or adding berries, pine cones, bits of Spanish moss, or other embellishments to the outside of the container are just a few creative ways to make a small'ish centerpiece appear larger.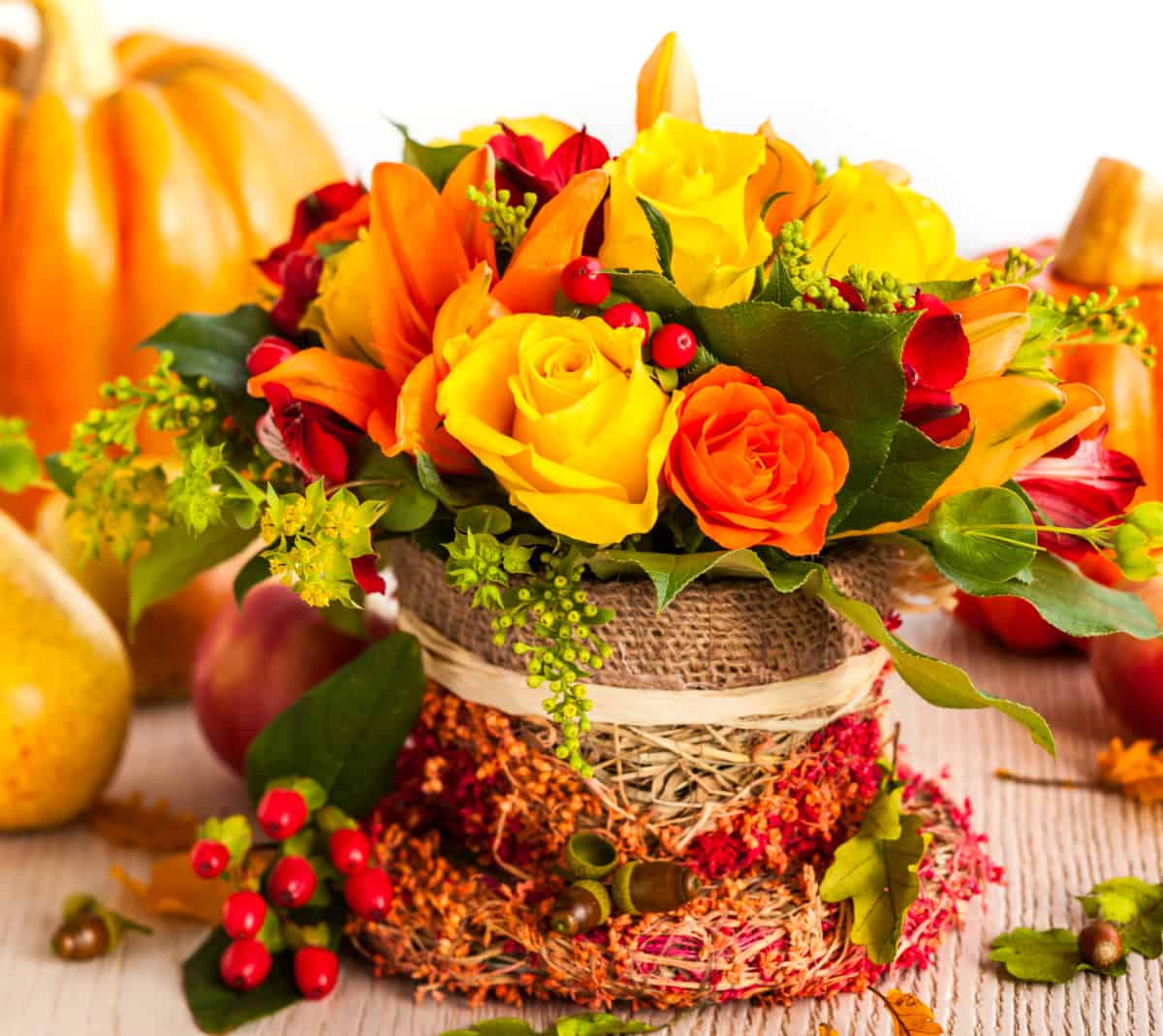 Flanking a smaller centerpiece with hurricane vases is another great way to extend the size of a centerpiece.
A 5 Minute Thanksgiving Centerpiece
In the world of diy Thanksgiving centerpiece ideas, it doesn't get much faster or easier than this.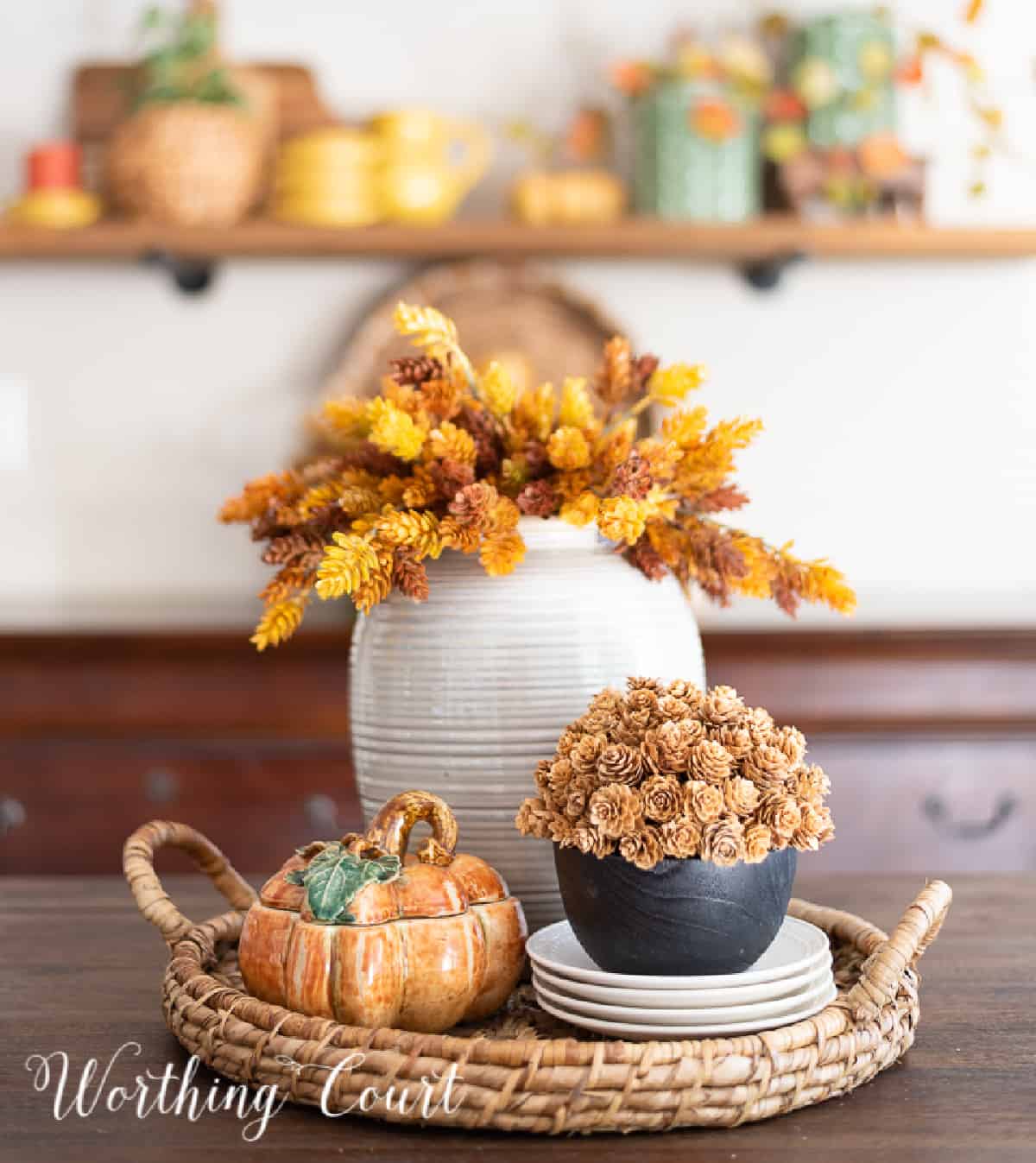 When you are running short on time, grab a round basket or tray and fill it with a few items of home decor that represent the colors of fall.
Place some fall stems in a vase and boom – you're done!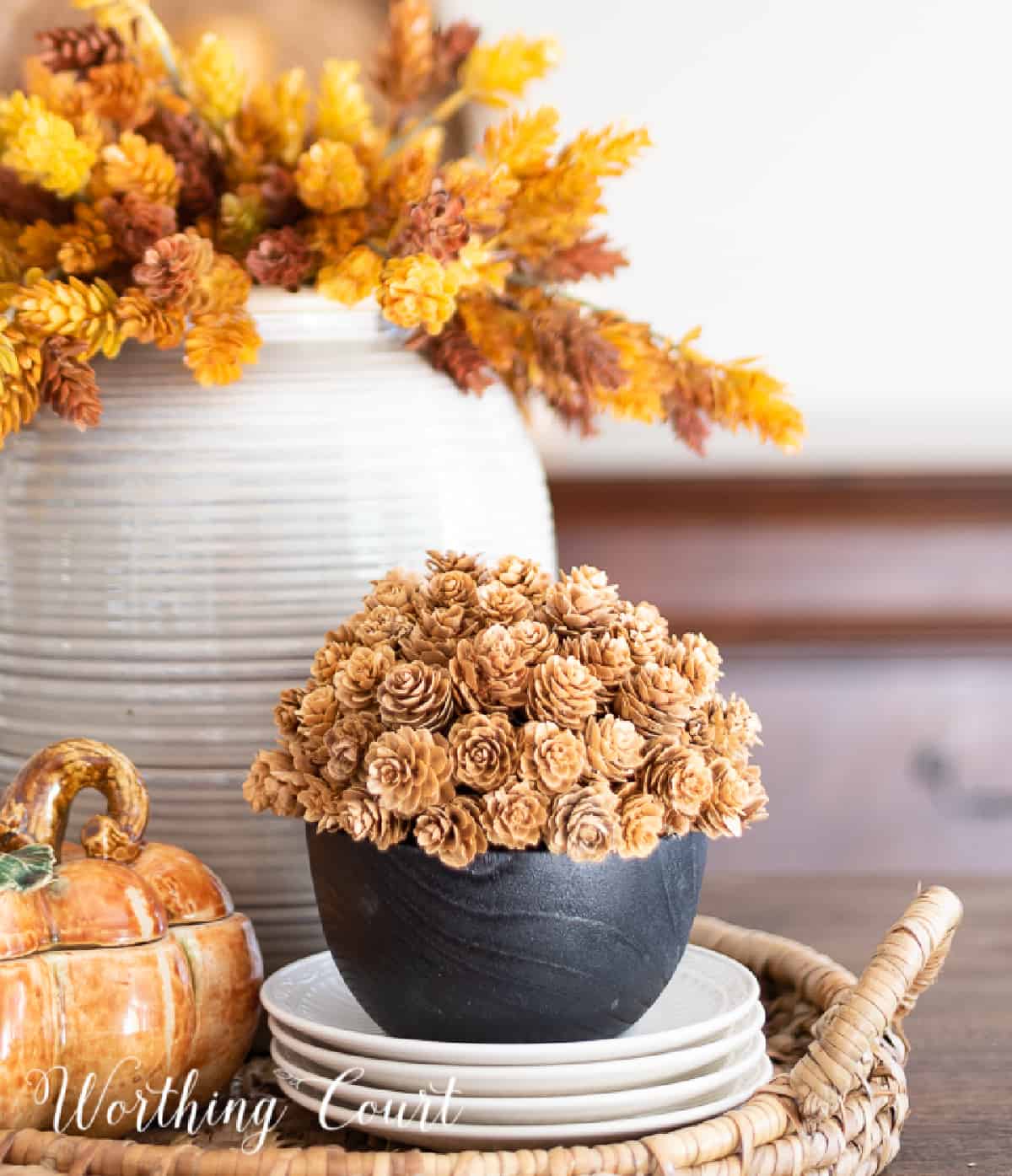 TIP: When creating a vignette centerpiece, remember the rule of using odd numbers.
One advantage of a centerpiece such as this one is that it isn't overly large and leaves plenty of room on the table for the place settings and any other table decorations that you'd like to add.
Non-Traditional Color Centerpieces
Any centerpiece that combines natural elements and taper candles is always a timeless choice in my book.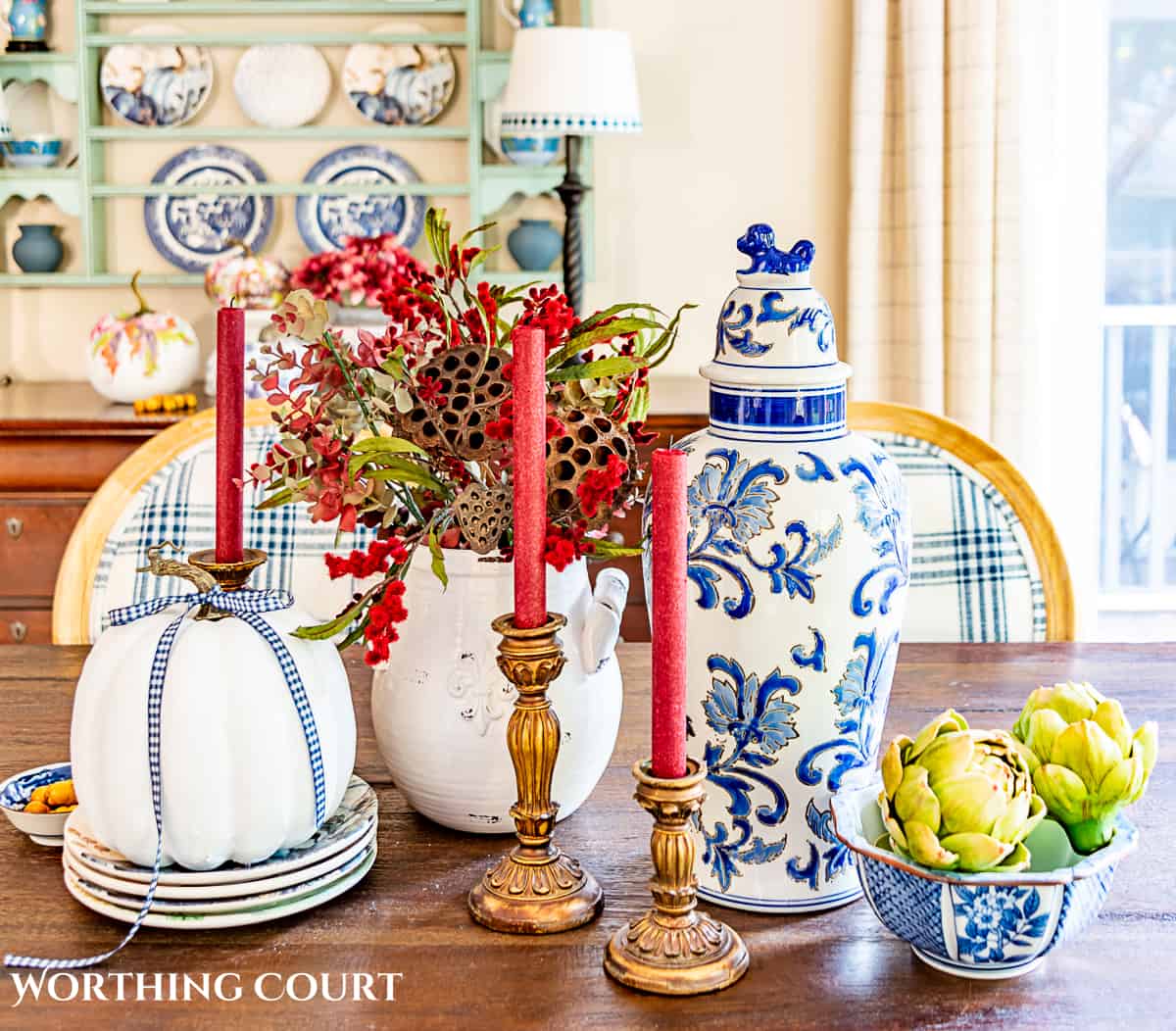 And gone are the days when only white or ivory candles were deemed 'acceptable' for a beautiful centerpiece!
For this traditionally-themed Thanksgiving centerpiece, you'll notice that I used burgundy tapers to bring a cohesive look to the colors in the floral arrangement that I put together in the tall vase. Burgundy is one of many traditional fall colors and mixes beautifully with blue and white.
This arrangement is a prime example of mixing faux with real elements. Mixing real dried seed pods with a variety of faux stems gives the arrangement the organic feel that it needs.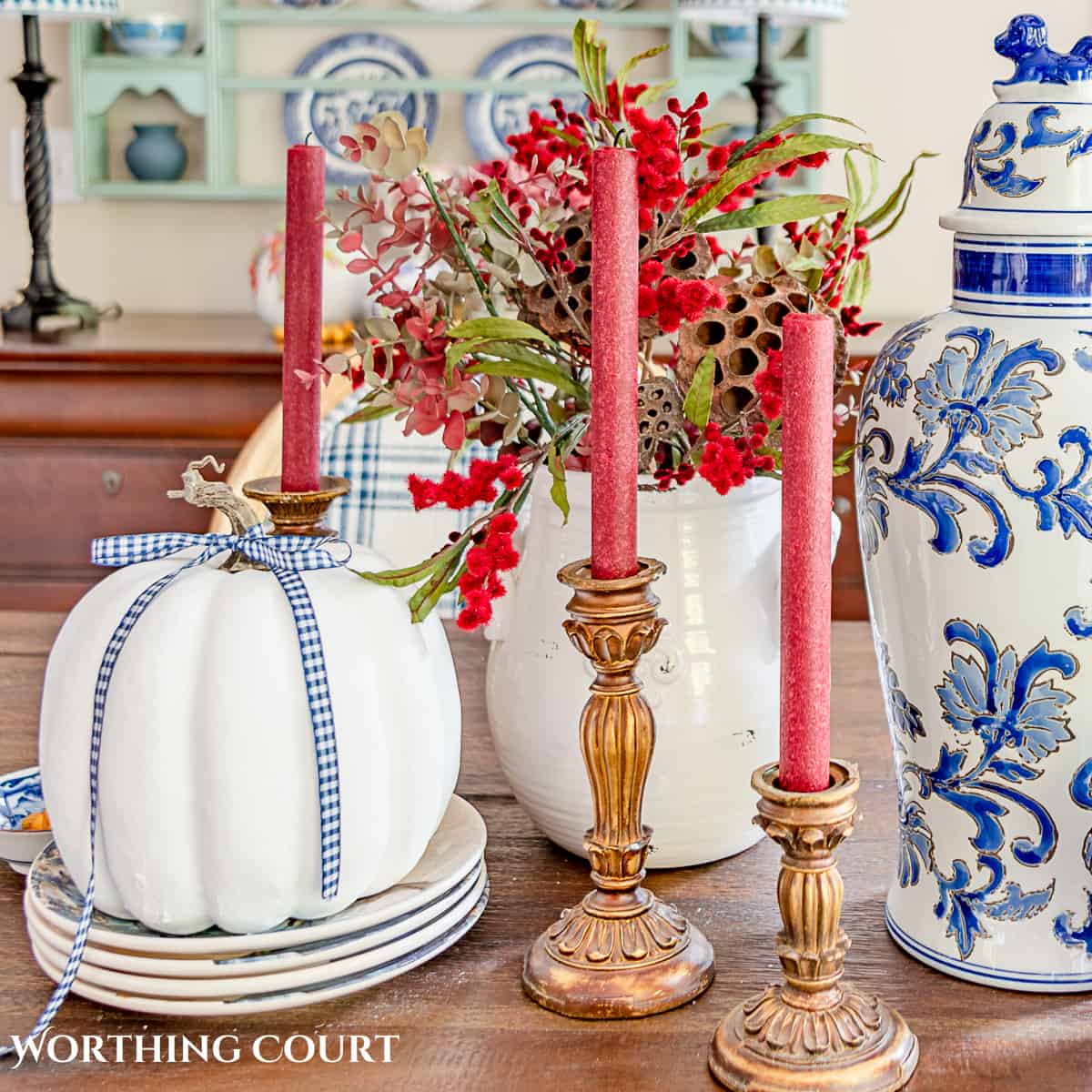 The great thing about an easy centerpiece such as this one is that it can be put together at the beginning of fall and then effortlessly become a part of your Thanksgiving table setting. Yay for taking less time to set your table on Thanksgiving Day!
Rustic Centerpieces for Thanksgiving
Rustic centerpieces work well for taking a very formally set Thanksgiving table down a notch, without taking away from the beautiful table.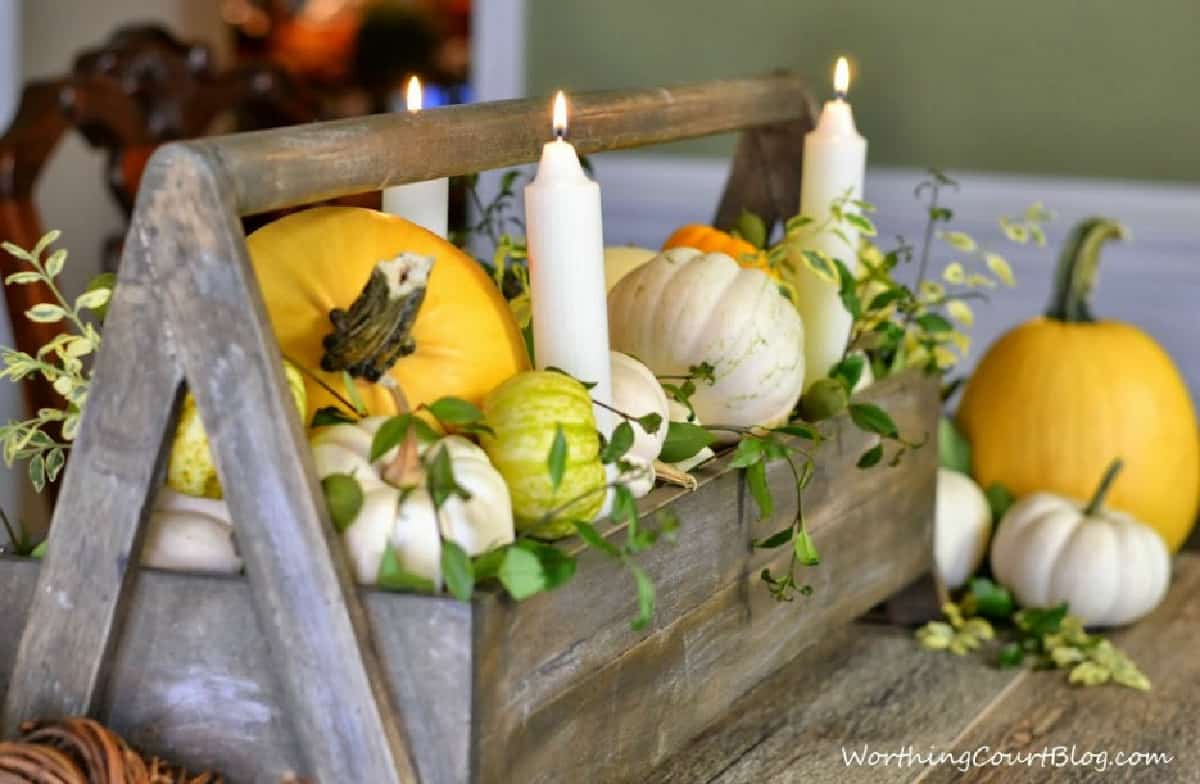 To get this rustic look, I arranged a variety of pumpkins in a long wooden box, then added taper candles and bits of greenery from my yard in the empty spaces.
Thrift stores are wonderful places to shop for a wooden bowl, wicker tray, or other type of container to use to create a simple, rustic centerpiece for the big day.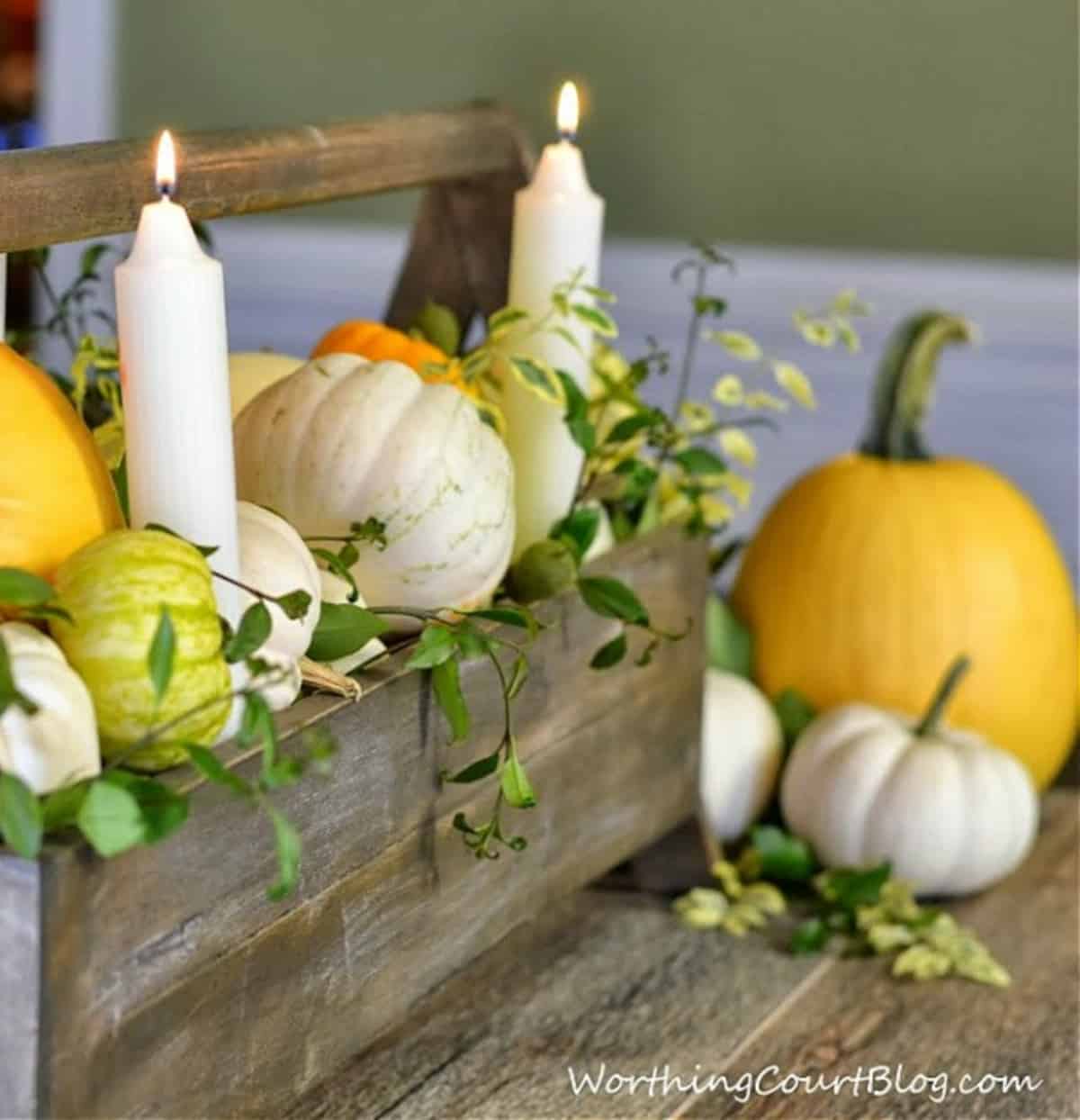 Other elements that you can add to a centerpiece for a rustic look include pine cones, bits of Spanish moss, cinnamon sticks, beads, and moss balls.
Elegant, Yet Casual Idea
I called this table setting elegant, yet casual. It all started with a pretty cream-colored faux pumpkin in a wooden pedestal bowl that I surrounded with bits of fall leaves, berries, and partridge feathers.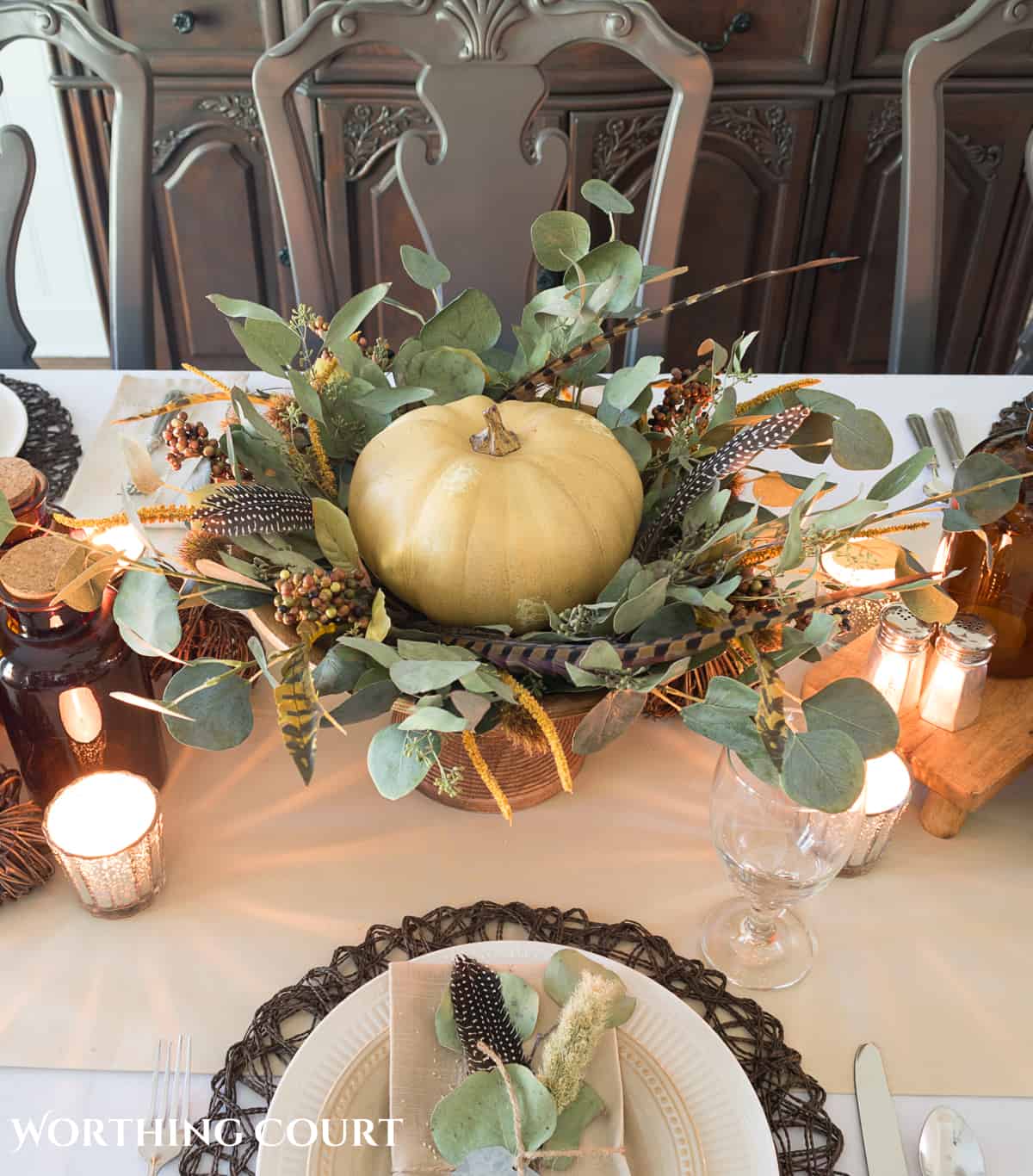 TIP: Don't dismiss your local dollar store. It's a great resource for inexpensive picks and bits that you can add to your table and arrangements.
I flanked both sides of the pumpkin with large, brown glass bottles that came from a thrift store. It's a little on the wild side, don't you think?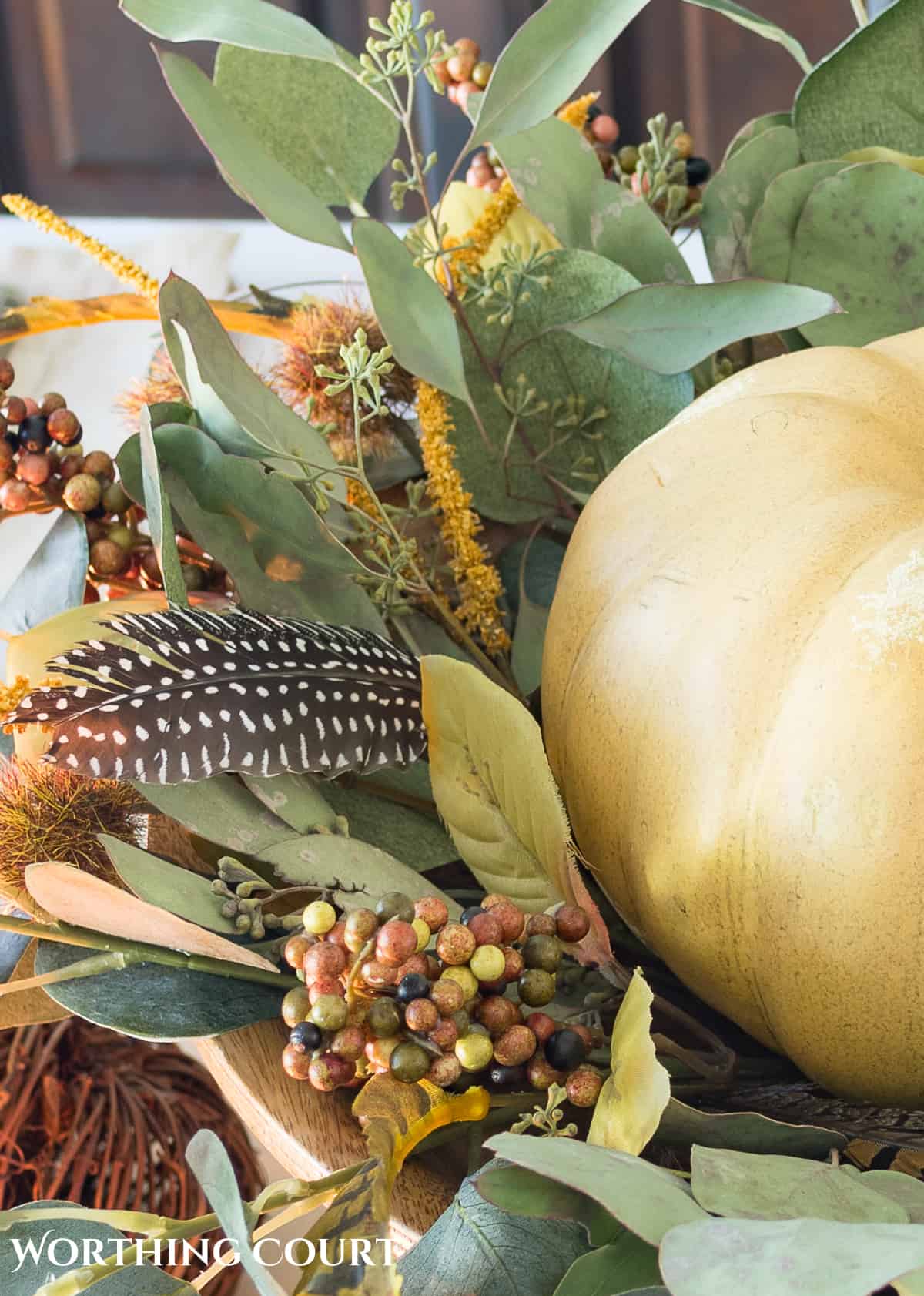 I think that the reflection of the mercury glass votive candles in the bottles is so, so pretty and adds a magical feel to the table.
Dried Hydrangeas In A Centerpiece
Here's another super easy Thanksgiving table centerpiece using pieces of everyday decor.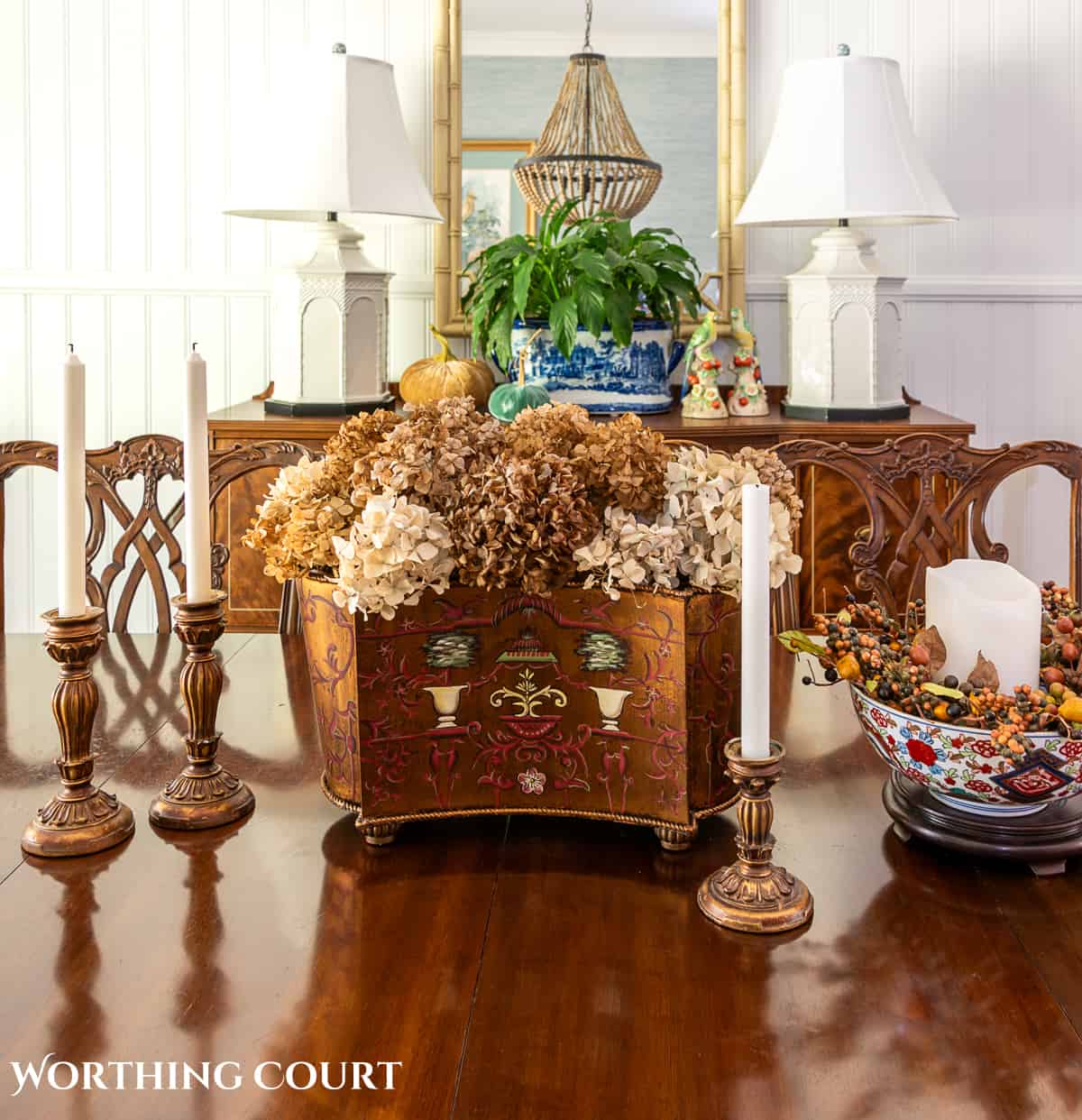 A rectangular, fall-colored cachepot is gorgeous when filled to overflowing with dried hydrangea blossoms.
This is an asymmetrical centerpiece that is made to seem larger by placing a decorative bowl on one end and by breaking up the placement of a trio of candle holders.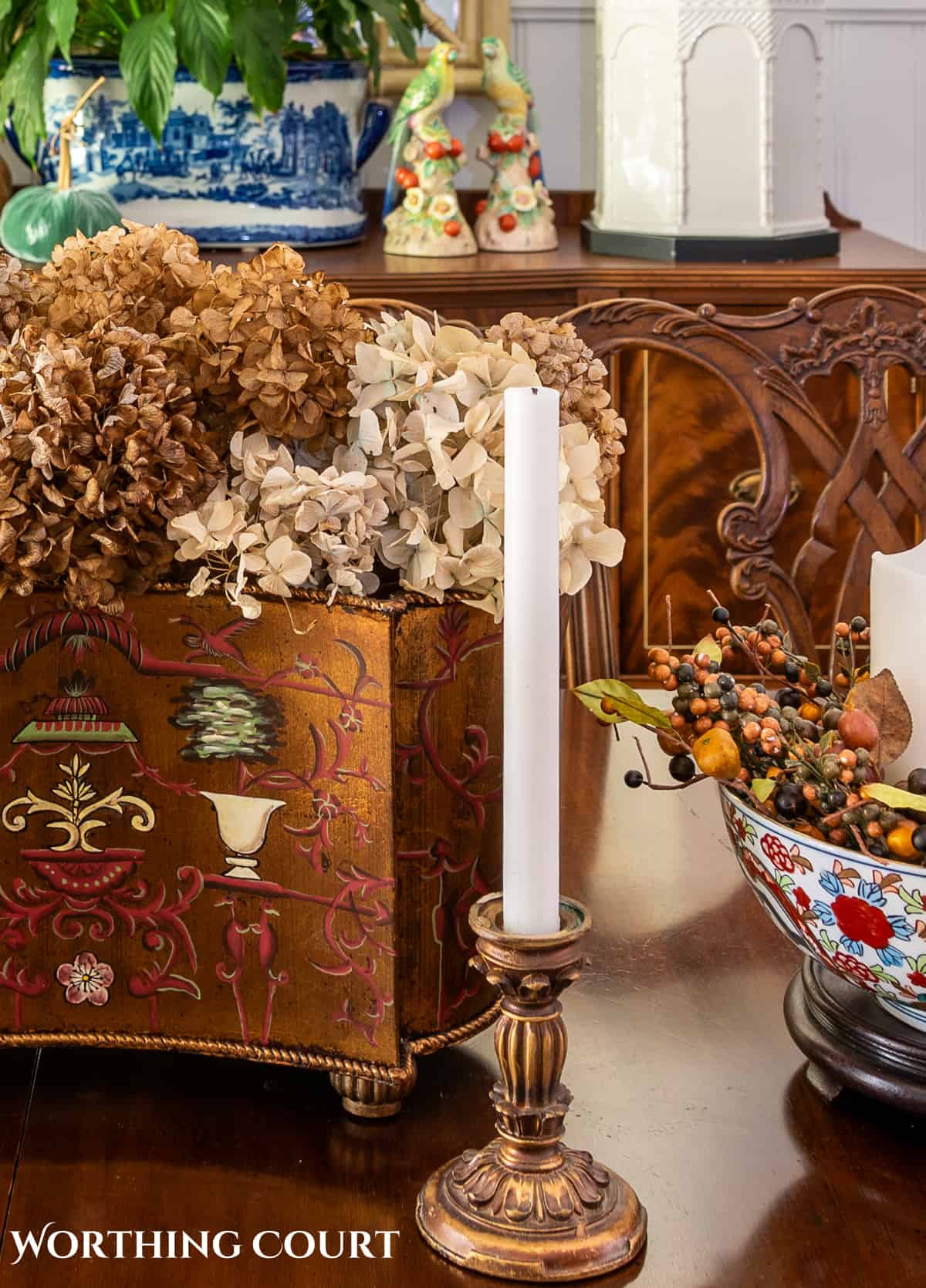 Varying the heights and the positioning of all of the elements in a centerpiece keep your eye flowing across the display instead of focusing on one single aspect of the arrangement.
Easy & No-Fail DIY Centerpieces
And lastly, here are a couple of no-fail, guaranteed easy Thanksgiving centerpiece ideas. Bonus – they're filled with natural elements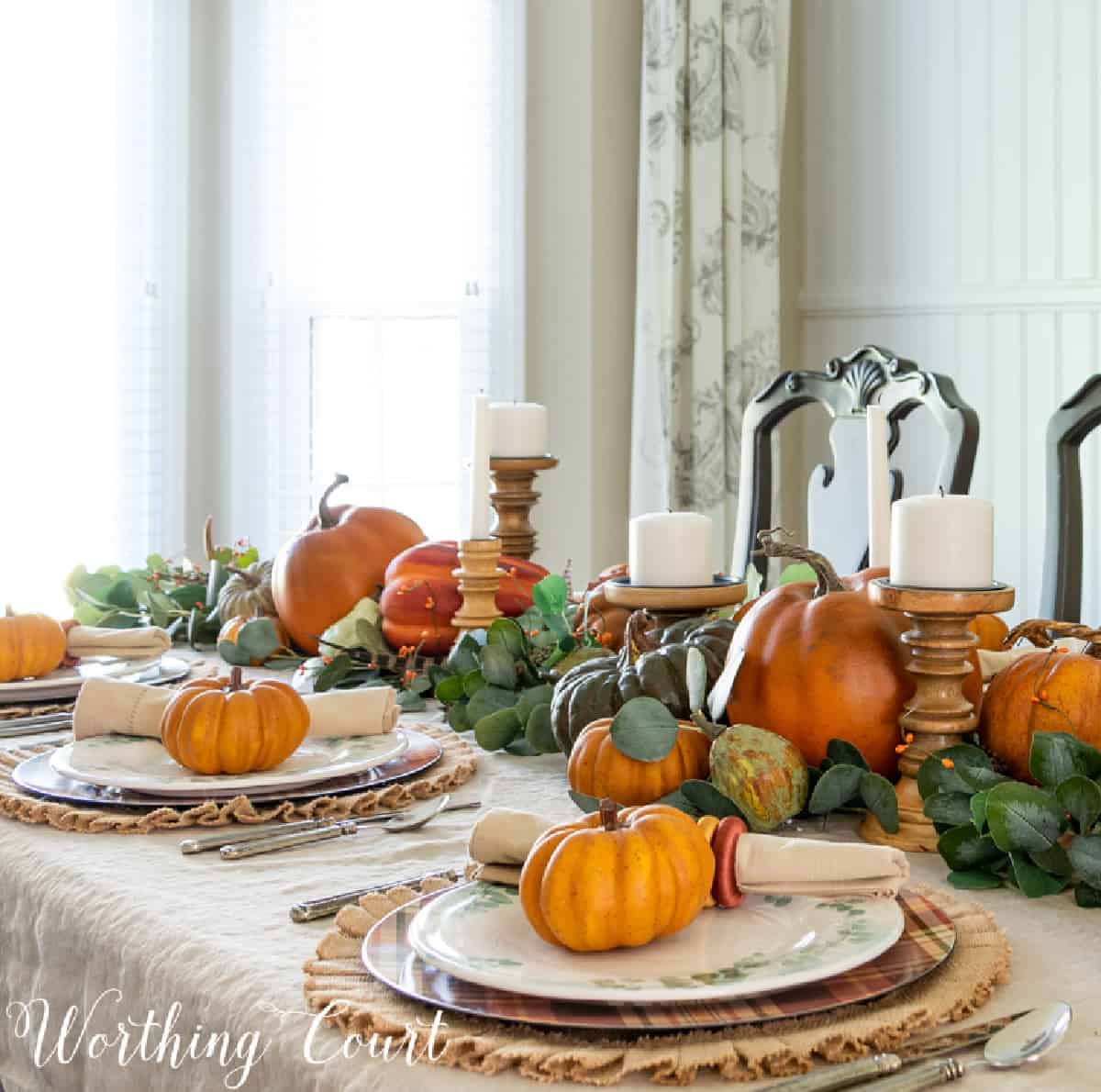 I call them freeform centerpieces and they rank as the perfect Thanksgiving table decor idea when your creativity has flown out the window.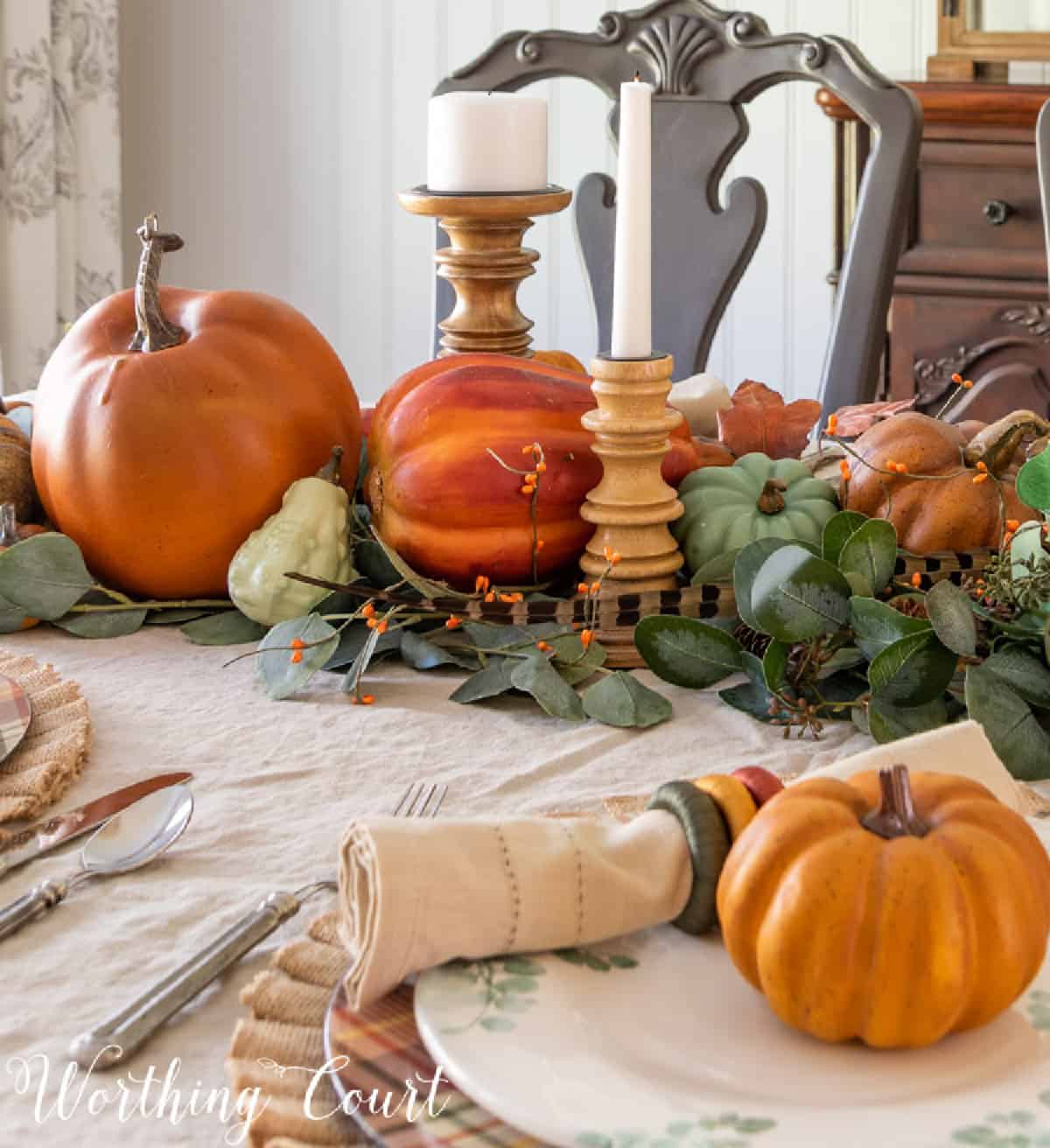 Begin placing foliage down the middle of your table. You can make it as long or as short as you like. Top the foliage with real or faux pumpkins in varying sizes and colors, turning them this way and that.
Next, tuck bits of greenery into the empty spots. Dried hydrangea blossoms are good to use here too.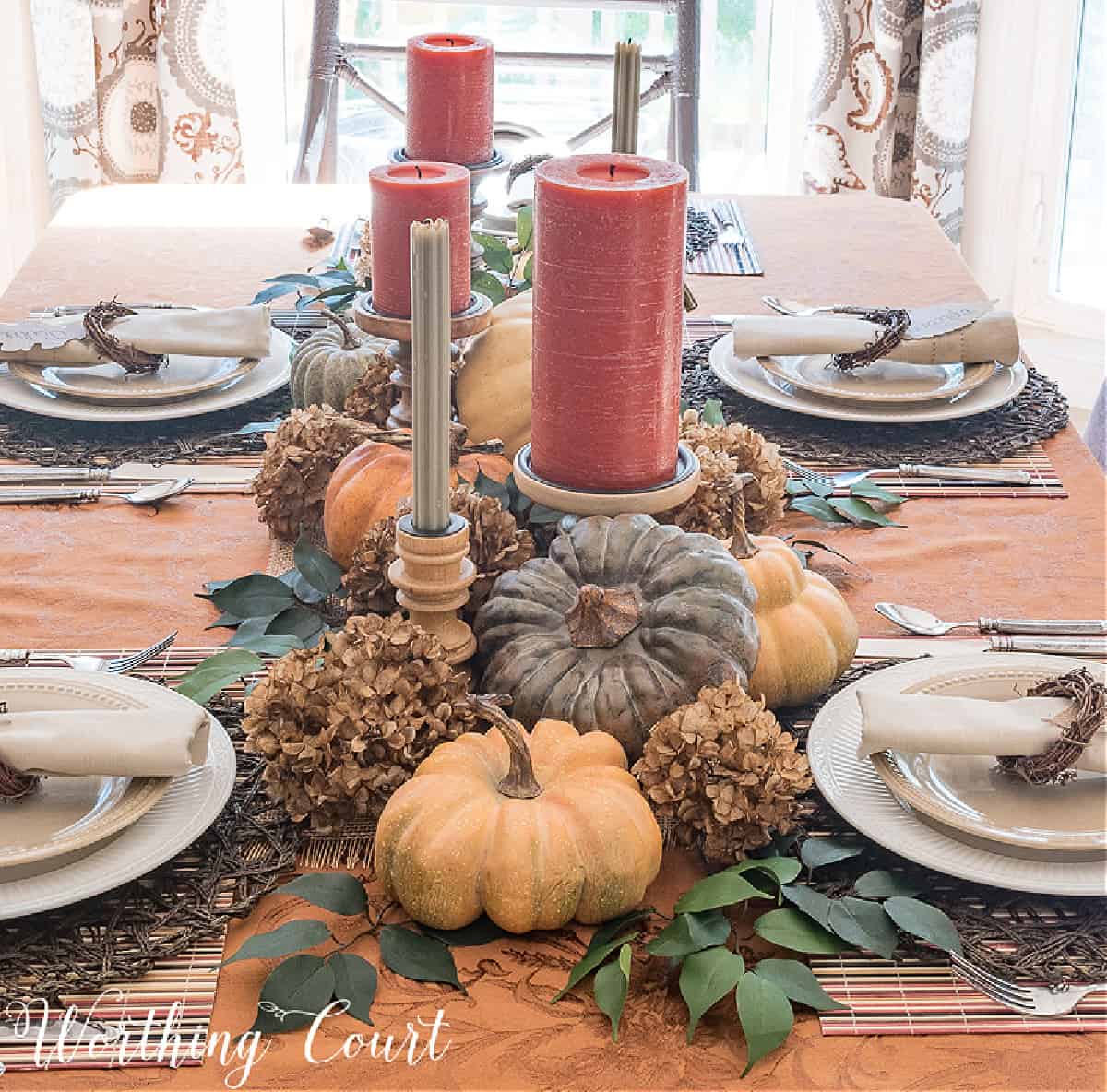 To finish it off, work in a few candle holders or pillar candles into the arrangement.
TIP: For added interest use multiple colors, shapes, and sizes of candles in a centerpiece.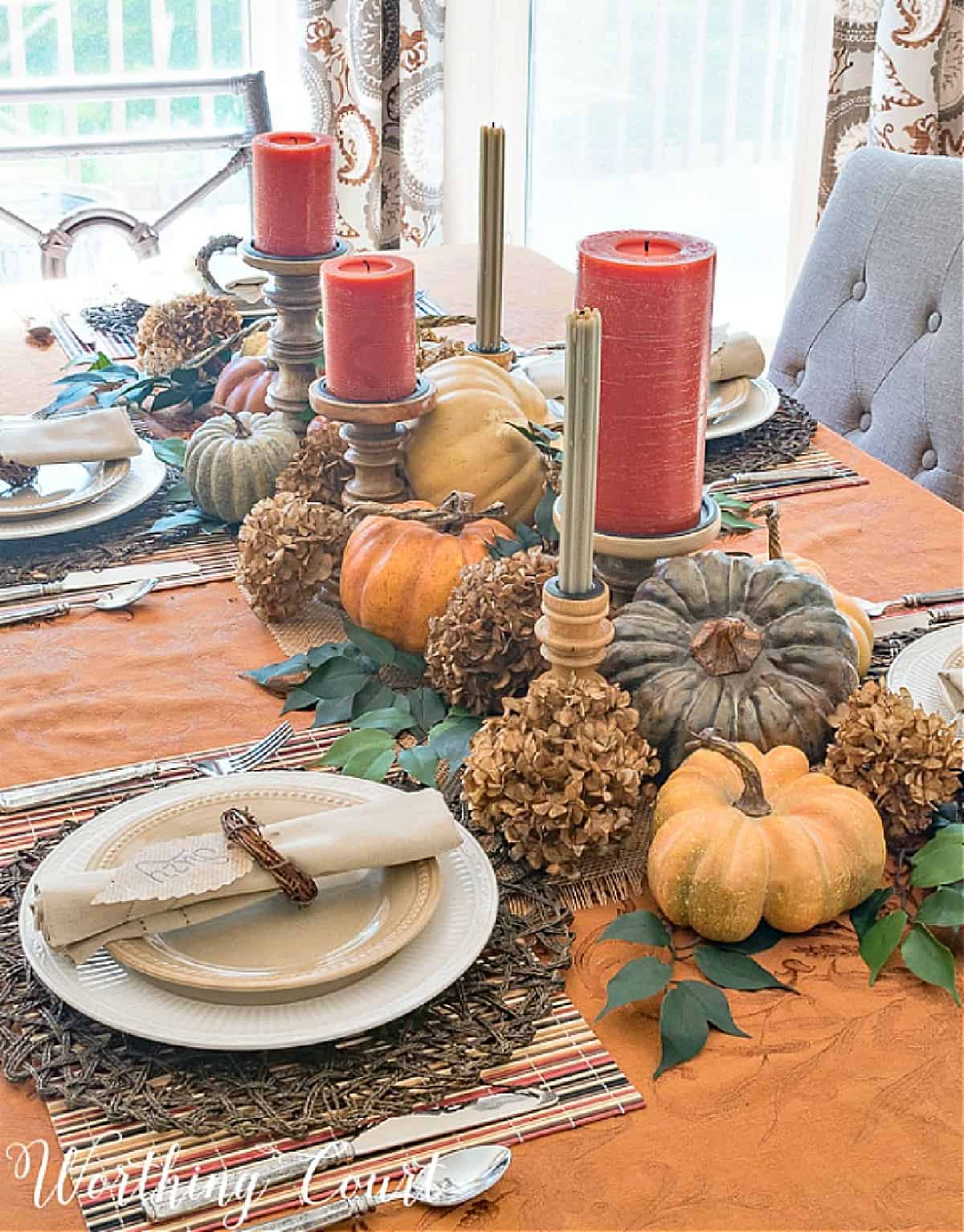 I promise, you just can't go wrong with this type of centerpiece. Your table will look full and lush and bountiful!
These centerpiece examples are more than just pretty table decorations; they're like the heart and soul of your holiday table. Whether you're going for a rustic, traditional, or elegant look, it's all about adding that touch of natural charm and creativity.
So, when you place that centerpiece on your table, you're not just setting up decor; you're setting the stage for cherished moments with your loved ones.
Let your imagination run wild, mix in some natural elements, and watch your Thanksgiving table come to life. Here's to a holiday filled with warmth, love, and beautiful table settings!