Another Large Area In My Master Bedroom Makeover Journey Completed!
BUDGET FRIENDLY WINDOW TREATMENTS FOR A LARGE WINDOW AND IDEAS FOR MAKING A SITTING AREA COZY.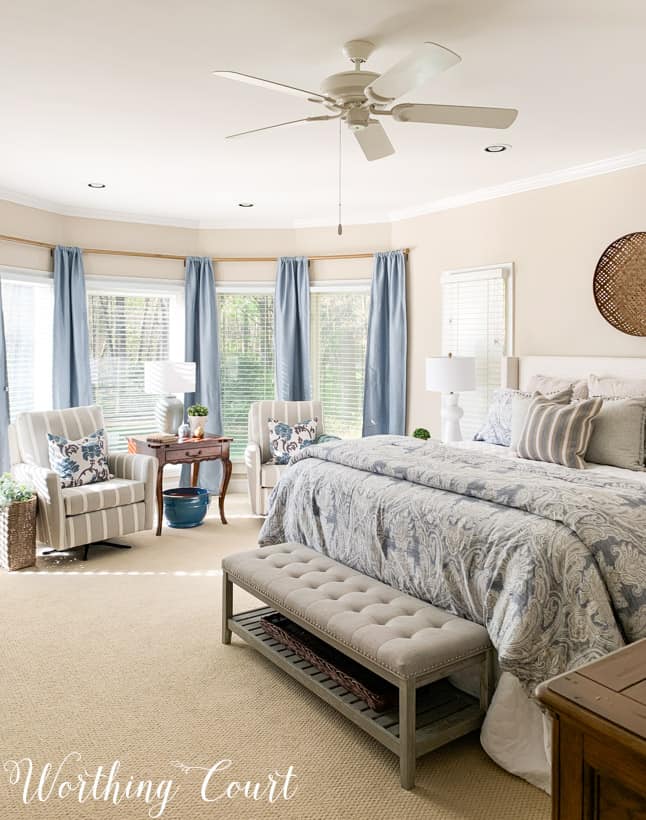 Pin
Affiliate links have been included in this post.  See my full disclosure HERE.
Whelp, the completion of my beutiful master bedroom makeover is almost done! After completing the decor and window treatments in our sitting area, I only have one more project to do.
The most recently completed update in the room is to our serene sitting area, which is located in a large bay window in our bedroom.
Let me remind you of what this area looked like before, when we first looked at the house.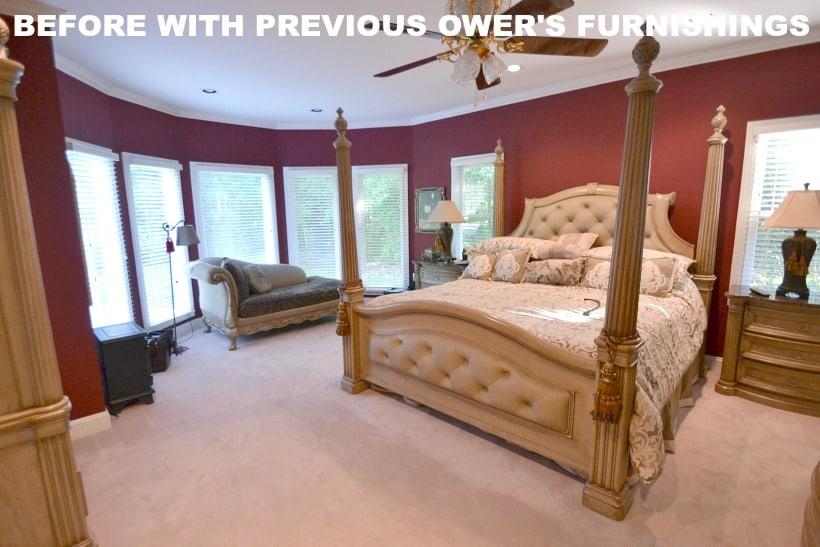 Pin
Unfortunately, I was a terrible blogger and didn't take any photos of what the room looked like after we moved in, before I started the makeover.
But – here's how the sitting area looked just a few weeks ago. At this point the walls had been painted a neutral white, the carpet was replaced and we brought in a couple of swivel rockers that we found at HomeGoods. So comfy! Unfortunately, I don't have a link for them, but the brand is Tommy Bahama.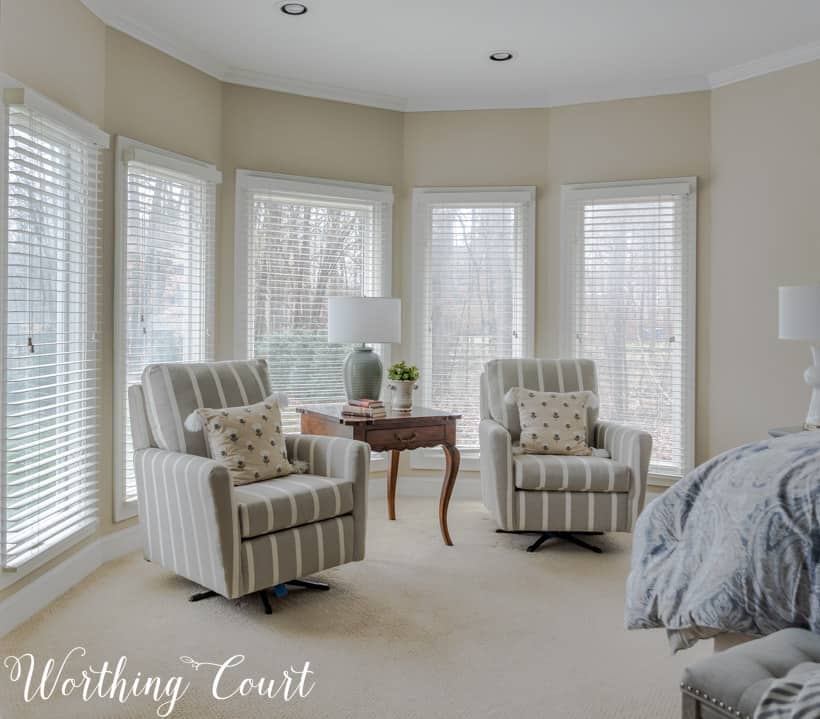 Pin
And here's how this exact angle of the room is looking today. The curtains added instant softness, coziness and brought some much needed personality to the room.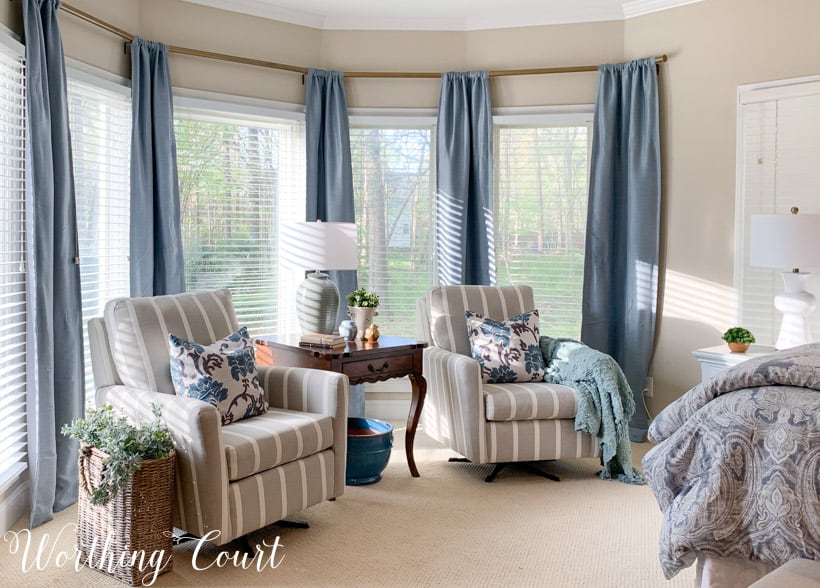 Pin
Their color is kind of a chambray grayish blue color and really works to bring out the background of the fabric on the comforter that we keep folded at the bottom of our bed.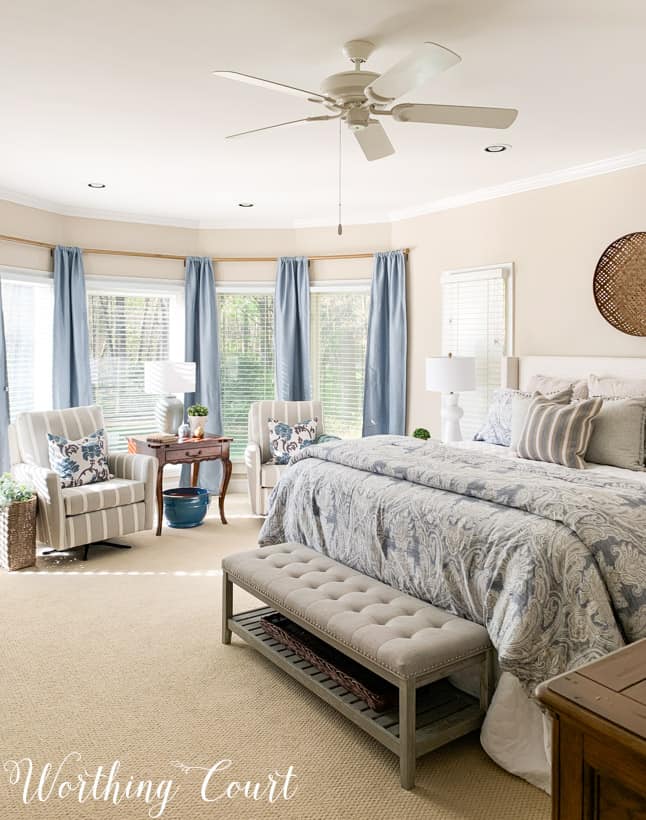 Pin
Large areas like this can be hard to turn into a cozy spot, but with the addition of the draperies and a few accessories, I think it's just right!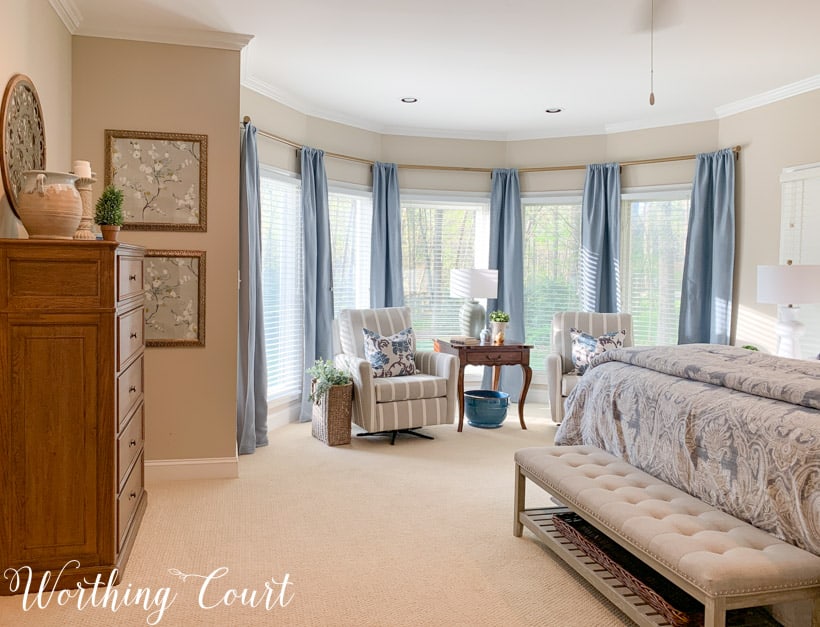 Pin
If you've ever priced true bay window hardware, you know how expensive it can be! To save a ton of money, we used the same bay window drapery hardware hack that we used in our breakfast room, which you can read more about HERE.  So easy and so budget friendly! I estimate that we spent under $30 for all of the drapery hardware on this window.
You can use this same method on any window really – it isn't just for bay windows.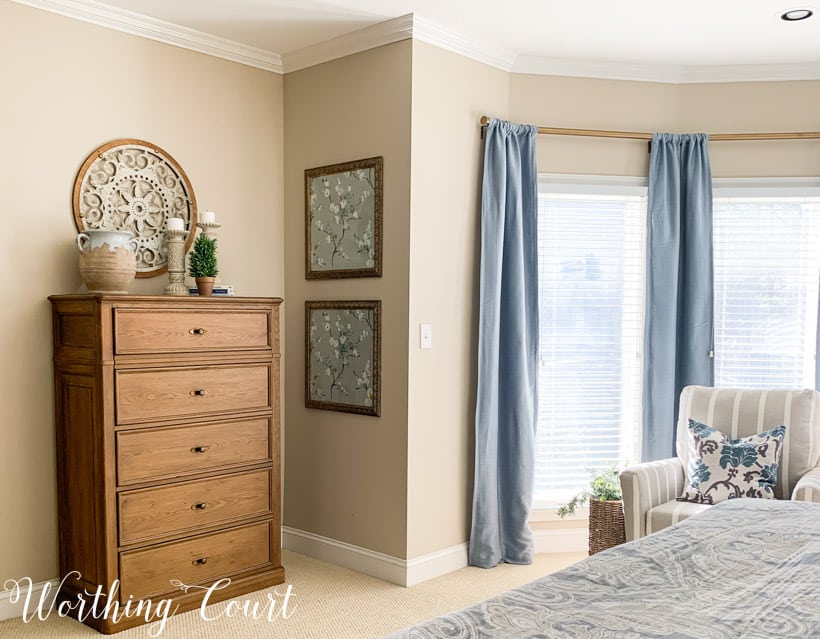 Pin
Here's my updated to-do list for this room:
Purchase new dresser and chest of drawers and change hardware.
Purchase new chairs.
Purchase new bed and bedding.
Purchase new bench for foot of the bed.
Hang wallpaper. Use wallpaper somewhere other than on a wall.
Replace and hang mirror above dresser.
Paint nightstands and change hardware.
Makeover or replace lamps on nightstands.
Add artwork above bed and above chest of drawers.
Add window treatments in bay window.
Replace ceiling fan.
Replace lamp in bay window area.
Purchase accent pillows.
Add sconces to either side of mirror above dresser.
Make faux Roman shades for windows beside bed.
Address problem with extension cords and other wire. (I think I have a solution!)
Up next is the last project to be done in here, which is to make faux Roman shades for each of the windows that flank our bed. I'll be making a video tutorial for that, so stay tuned!