I often get asked how I go about putting a vignette together.
It's easy to freeze with indecision if you don't feel confident in your ability, but just follow these simple steps and you'll be a Vignette Queen in no time at all!
1. Consider the space
What is the size of the area where your vignette will go?  That will play into what the overall size of the vignette should be and ultimately into how large or small each of the elements should be.
For example, my kitchen island is a popular place for me to keep a vignette year round.  It is a relatively open, slightly large place, so,I typically keep the vignette on the largish side and use larger pieces.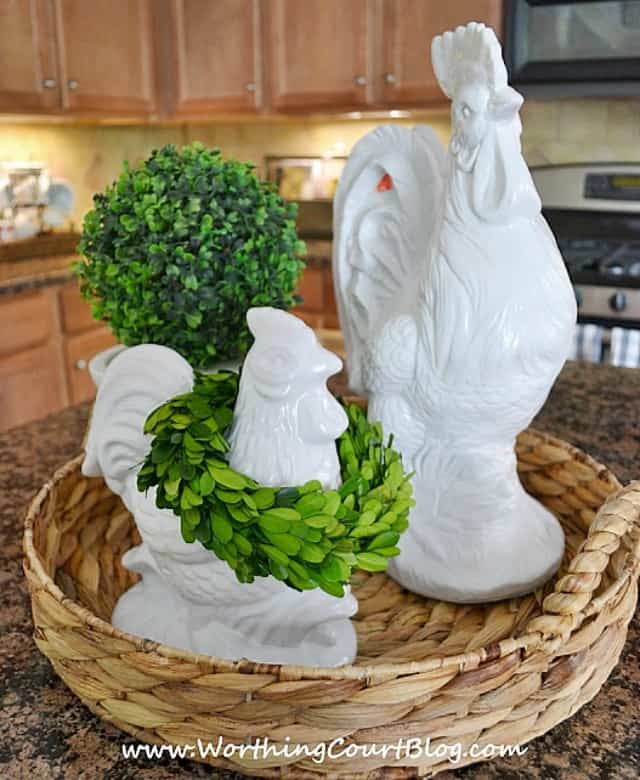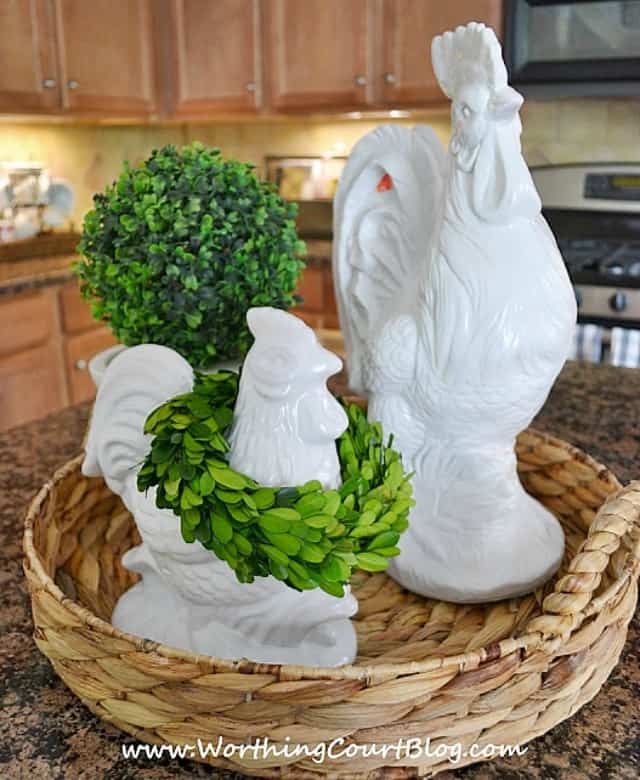 However – my great room/family room is another largish and open space and is two stories tall.  But, the bookcases where I display vignettes are confined.  So in this case the overall size of the vignettes is smaller, even though the room is large.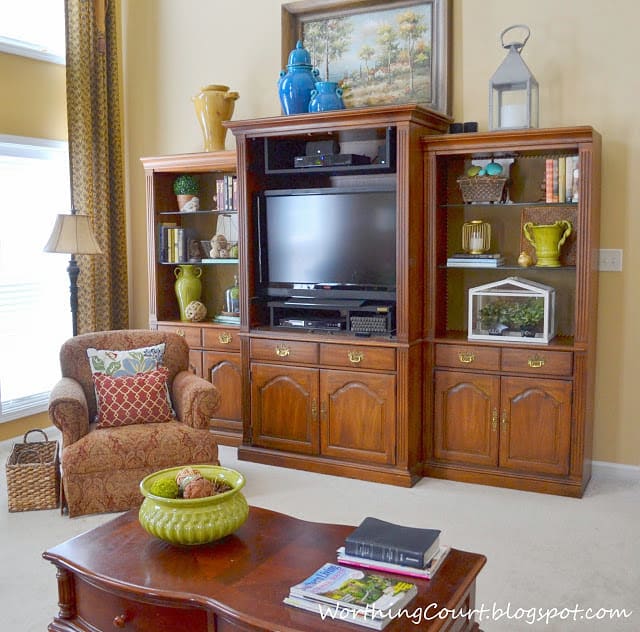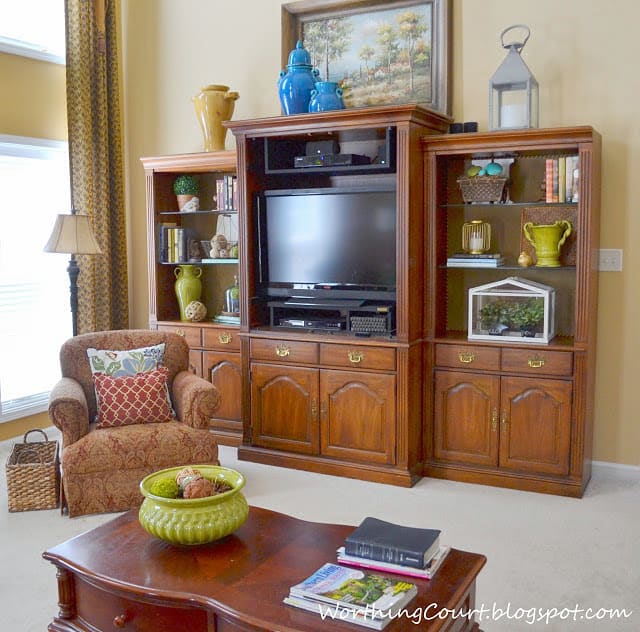 BTW – I'm redecorating my family room and am uber excited about making my bookcases over and sharing the new look with you!
2. Do you have a theme?
I'm not talking about holiday themes.  I'm talking about the rest of the year.
Let's go back to my kitchen island.
I wanted the vignette that is currently on my island to be a reflection of the fresh green that accompanies spring and that would be bright enough to carry me through summer.  So I used the power of spray paint to transform a couple of roosters that I already had and added some boxwood and faux greenery, I think it's perfect for spring.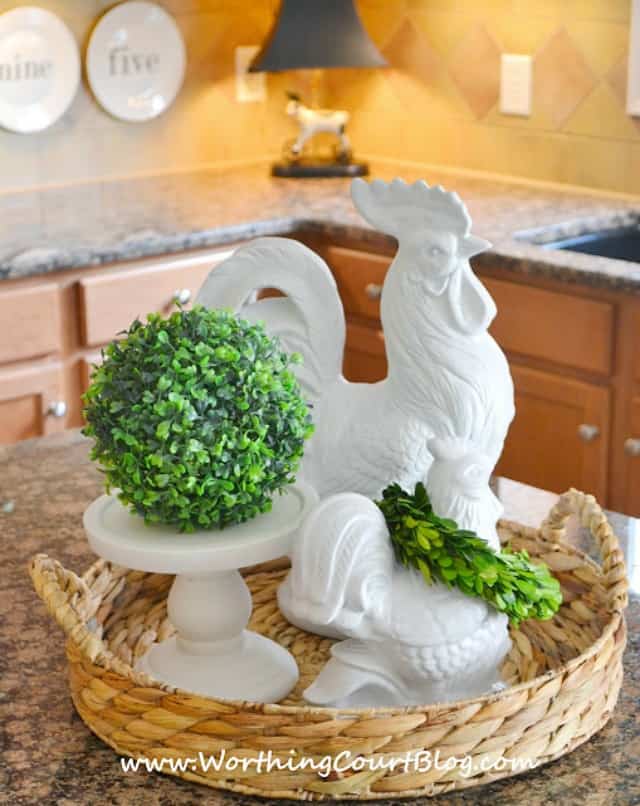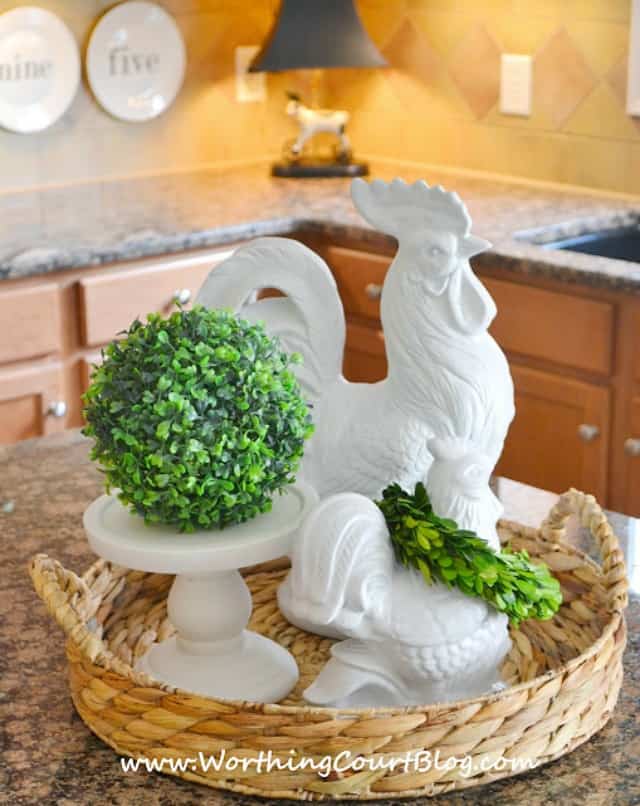 This is the vignette that was on my island last summer.  See the theme?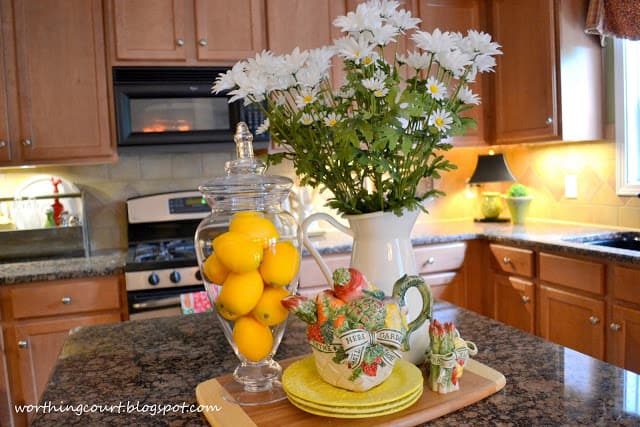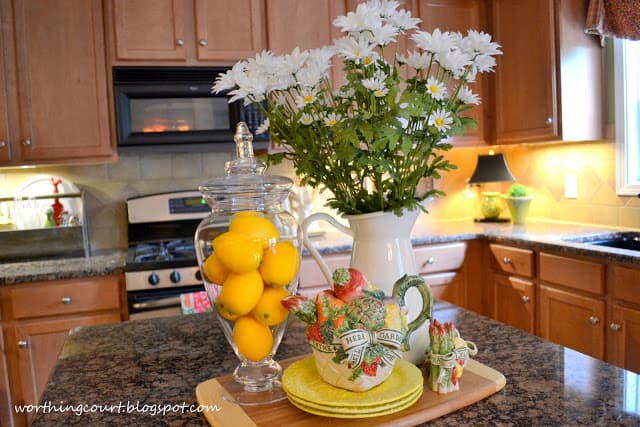 3. Gather supplies
Once I have an idea of the overall size that the vignette needs to be and keeping the theme in mind, I gather my supplies.  I always pull way more things out of my stash and from around the house than what I actually wind up using.  I'm usually surprised by what I wind up combining together.
You wouldn't believe how the floor and the space around this vignette looked before I decided what I wanted to include in this winter vignette in my foyer.  You literally couldn't walk through there.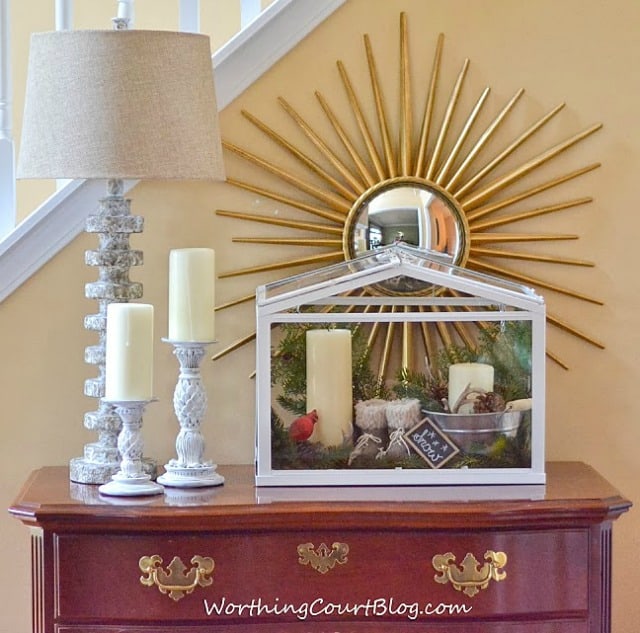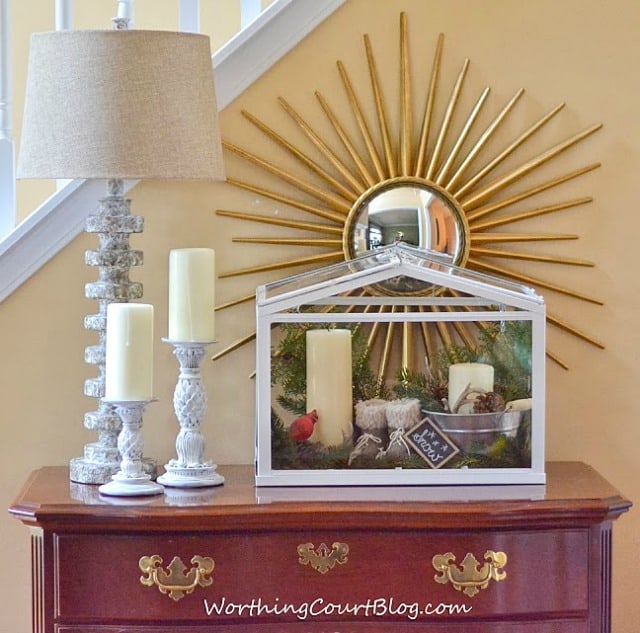 4. Play!
Now is the time to start playing and "compose" your vignette!
I usually start with an item that I know I want to include and build around that.  Don't be afraid to experiment.  Add items and take away items until you get your vignette looking just like you want it to.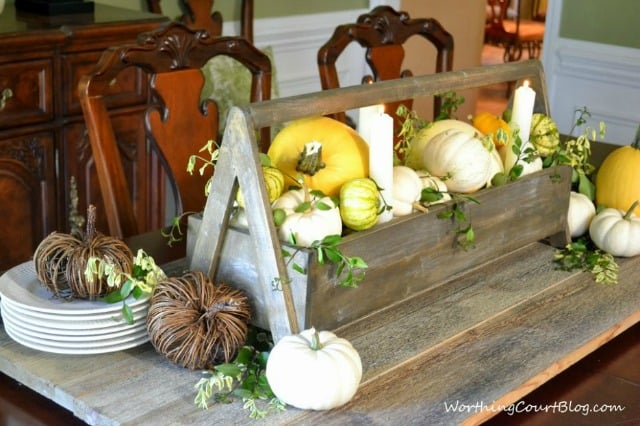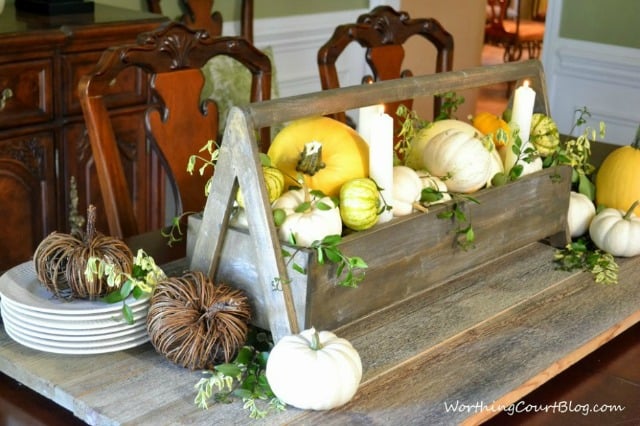 Mix together large and small items of varying shapes, sizes and textures.  The goal is to keep the eye moving while admiring your vignette.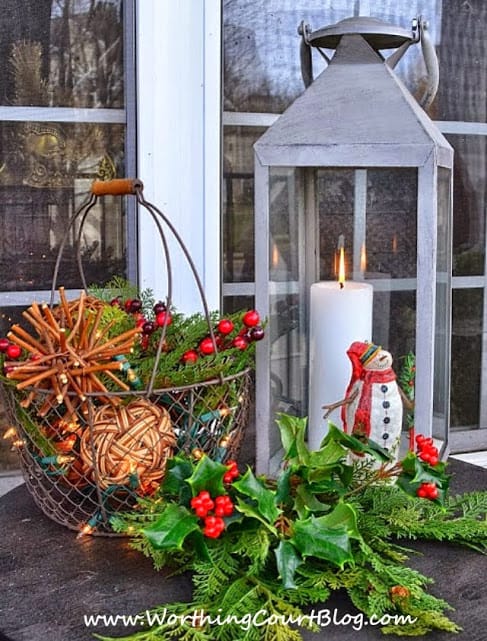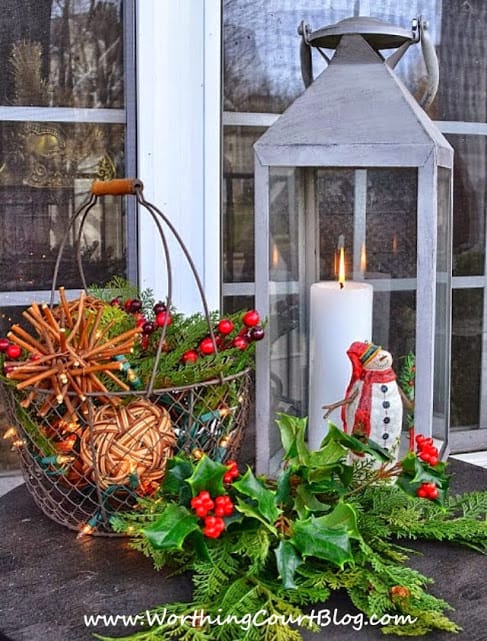 If a vignette doesn't come together for me quickly, it's easy for me to doubt myself and freeze with indecision.  But, I've found that if I walk away for a little while and forget about it, I usually am able to complete it later with no problems.  Maybe you can try this trick too.
5. Vignettes aren't just for tabletops
Don't think of vignettes of just being something that you place on the top of a table or in a bookcase.  A vignette can be located any place where you combine multiple items together.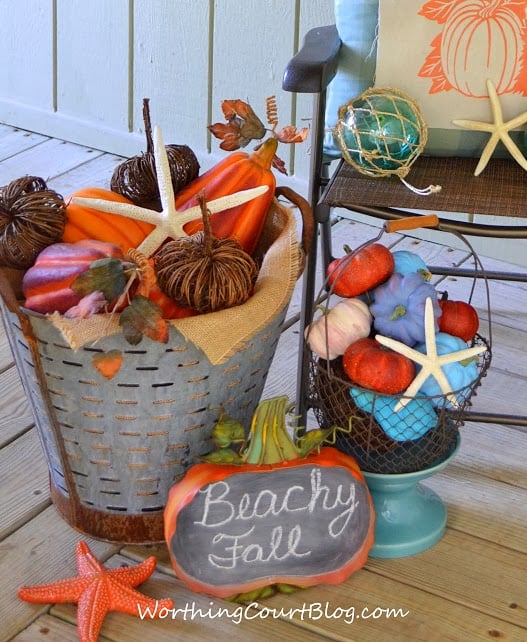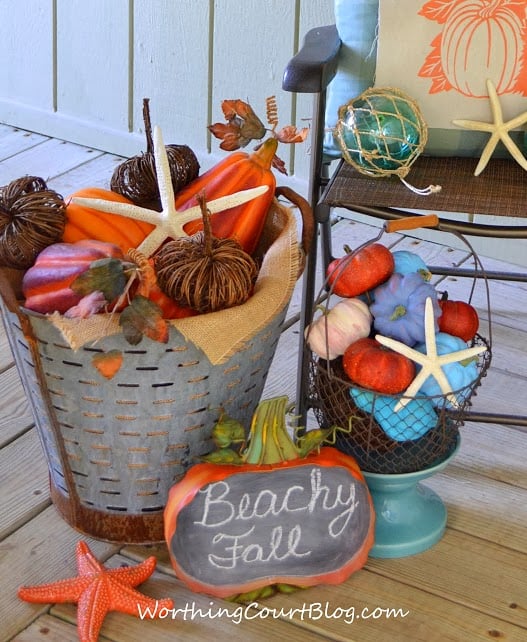 Above all, remember that this isn't rocket science and you need to have fun!  Do what you like and not what you think everyone else will like and you be happy with your creation.