Decorate Your Foyer For Christmas The Easy Way!
Don't forget to decorate your foyer for Christmas! I have lots of holiday inspiration ideas for you.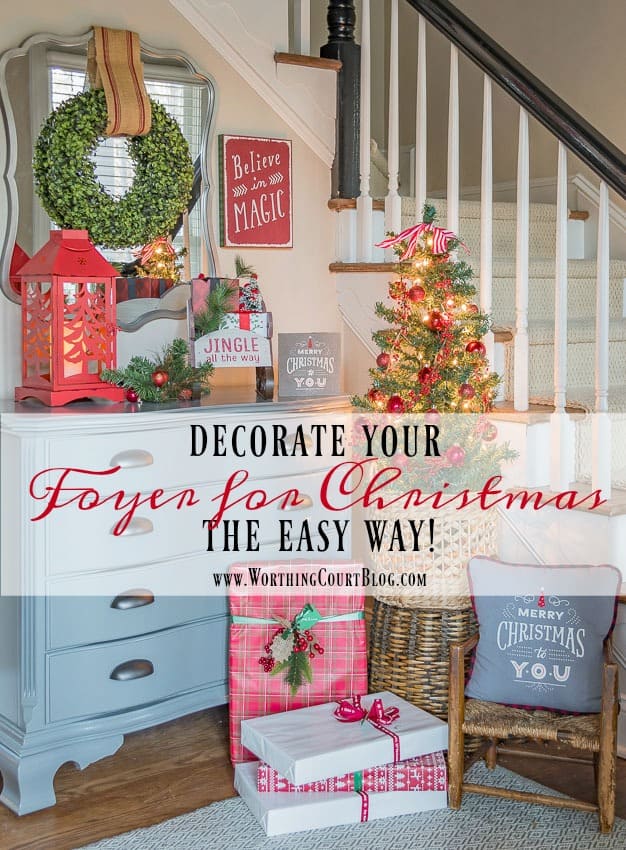 Pin
I was asked to participate in the #HallmarkAtWalgreens campaign, sponsored by Hallmark at Walgreens.  Although I have been compensated, all opinions are my own.
I get so excited when I'm decorating my home for Christmas.  I want there to be Christmas touches everywhere!  But you know how it is – we get so caught up in the hustle and bustle of the holiday season that before you know it, the creativity is squeezed right out of us.
Holiday Home Decor Items From Walgreens
After completing most of the Christmas decorating in my home, I was running out of fresh ideas, not to mention supplies, to decorate my foyer with.  Imagine my surprise (and delight), when I discovered that Walgreens carries Inspirations from Hallmark Christmas decor in their stores!  Not only do they carry their Christmas decor – they carry a great selection of Inspirations from Hallmark gifts that are on-trend, priced right and are exclusive to Walgreens.  I was able to purchase what I needed to decorate my foyer plus the few hostess and neighbor gifts that I still needed.  Now I can relax and take care of the remaining to-do items on my list all in one place.  #winwin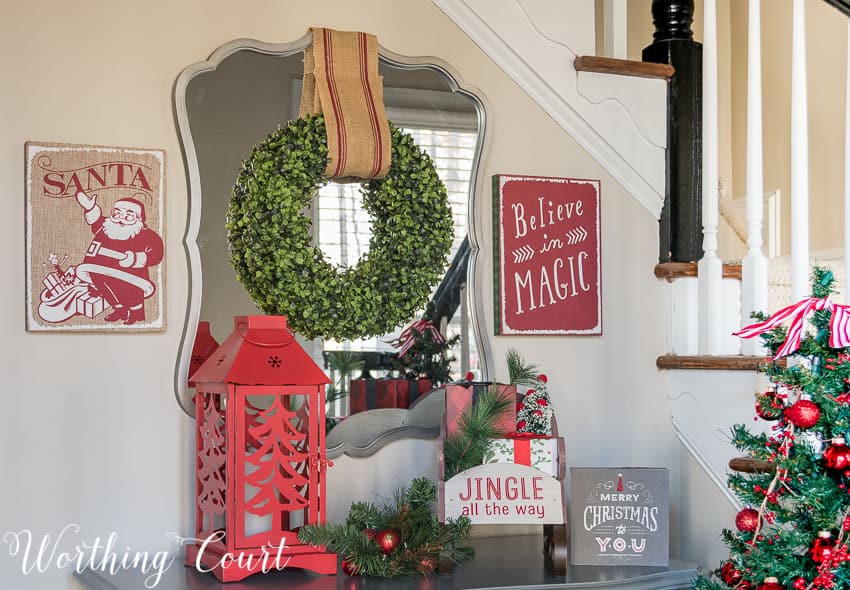 Pin
There were many, many fun and festive items to choose from, so I was able to find several things that fit right in with the rest of the Christmas decor in my house.  My one hundred year old little vintage chair, handed down to me from mom, makes an appearance somewhere in my house every Christmas.  How cute is Inspirations from Hallmark's 'Merry Christmas To You' throw pillow perched there?!?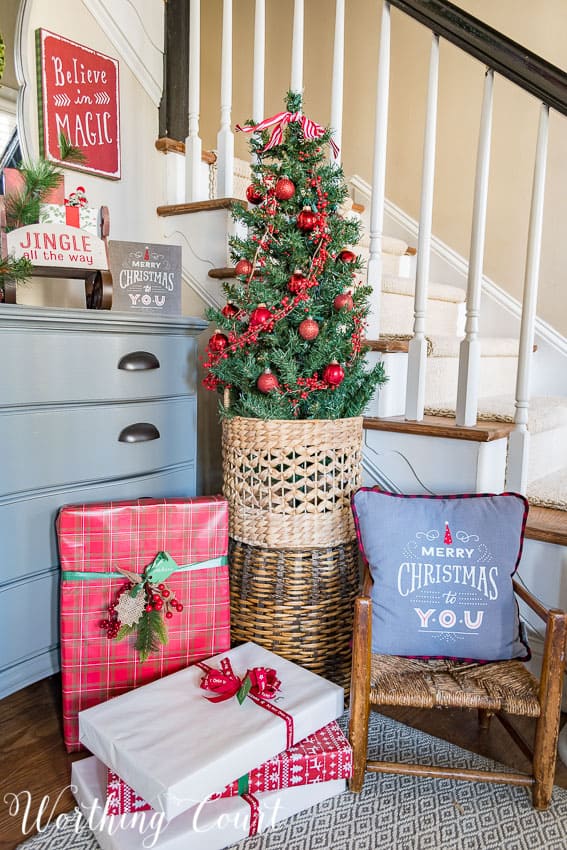 Pin
Their on-trend products made the decorating of the foyer come together in a flash!  No fuss – no muss – no putting stuff together.  Take a look at how easy it was to create this holiday magic.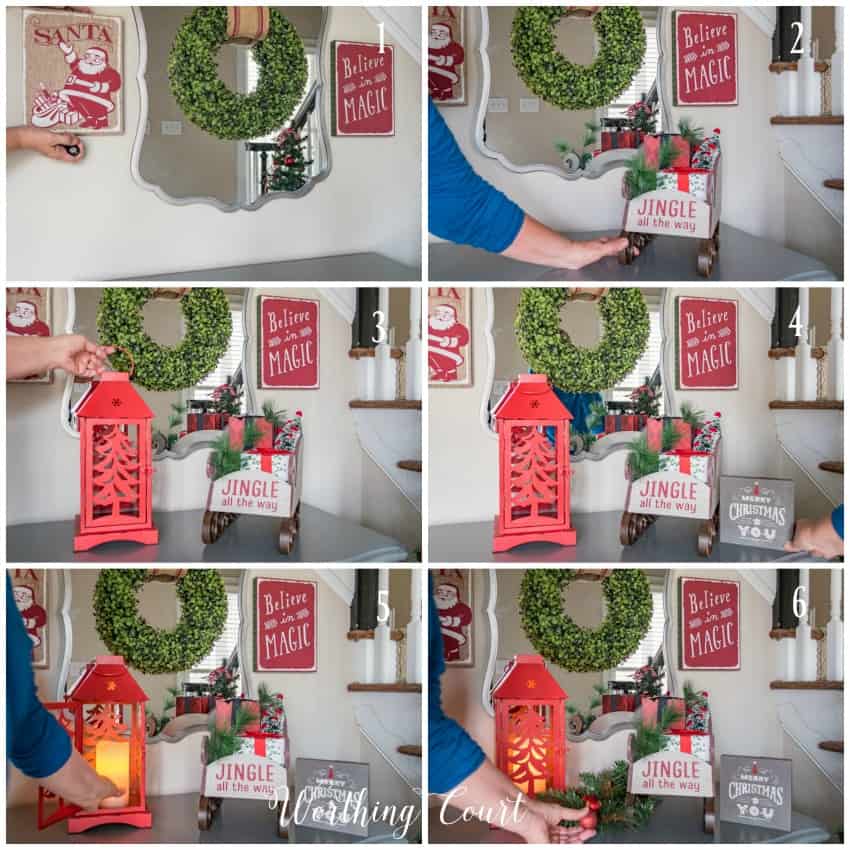 Pin1. Hang a light weight Inspirations from Hallmark Christmas plaque on either side of a mirror using non-damaging, removable wall hangers.
2. Place one large item on the right side.  I used Hallmark's 'Jingle All The Way' sleigh.  I love that it's already filled with all sorts of Christmas goodies and I didn't have to put anything together.
3. Place a large lantern on the left side.  I love, love, love the red lantern from Inspirations from Hallmark!
4. Add a stand-alone plaque.  This cute Hallmark plaque echoes the pillow down in my little chair!
5. Add a candle for ambiance.
6. Add a bit of Christmas greenery to fill in the empty spot with a few shiny ornaments tucked among the branches.
Boom – done in under 15 minutes!
I added a small Christmas tree that I already had and pulled a few wrapped presents out from under our main Christmas tree to create a cozy and welcoming Christmas foyer!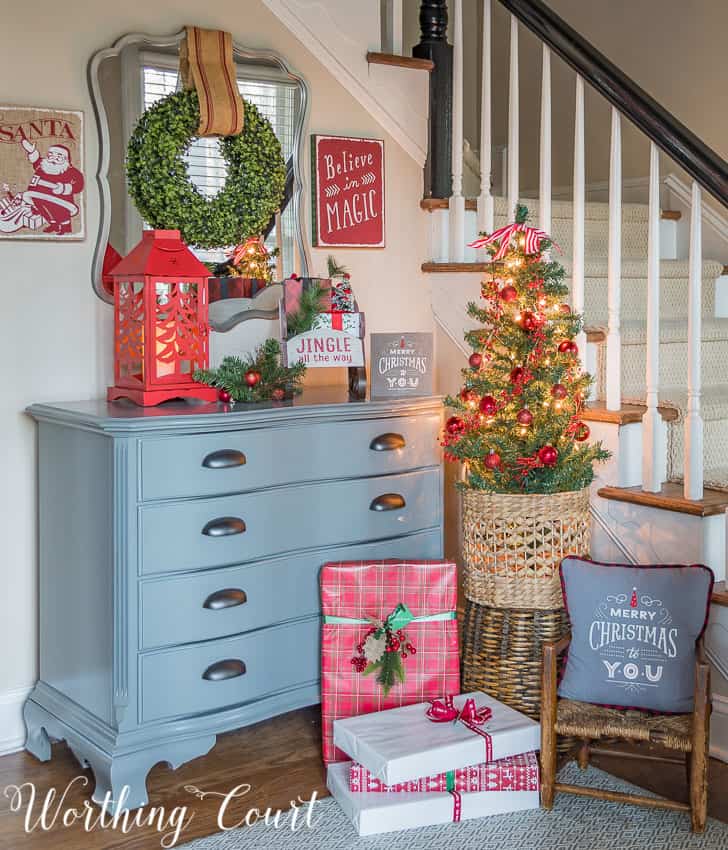 Pin
Thank you so much for stopping by today.  I know you'll be amazed at the variety of Inspirations from Hallmark Christmas decor, gifts, Christmas wrapping paper and holiday cards to be found at your local Walgreens!
Sharing at THESE great parties!