A Modern Coastal Farmhouse Style Dining Room Makeover In Our Beach Condo
Mixing styles of decor in your home keeps it looking fresh and interesting.  Take a look at how I've combined a rustic chandelier with modern farmhouse style in my dining room.

We've been working on our cozy new-to-us beach condo for weeks and I'm super excited to start sharing the changes that we've made with you!  First up is the dining area.  I want to show you how this GORGEOUS rustic chandelier from Lighting Connection inspired the entire new look for the relaxed dining room area.  Annnd…there's an amazing giveaway from Lighting Connection at the bottom, so be sure to read to the end.  You don't want to miss it!
DISCLOSURE: I was compensated for this post by Lighting Connection.  All opinions are mine alone.
Let's start at the very beginning.  Here's a BEFORE of the dining room area that I'm working with in our new condo.  As you can see, it's a small area that opens to kitchen and the front entry area.  What you can't see in this photo is that it is also open to the family room.  My goal was to get rid of the beach-look overload and replace it with modern farmhouse style with just a bit of a coastal beach vibe.  I want to give a nod to the fact that you're ocean front, but I don't want that look to be in your face.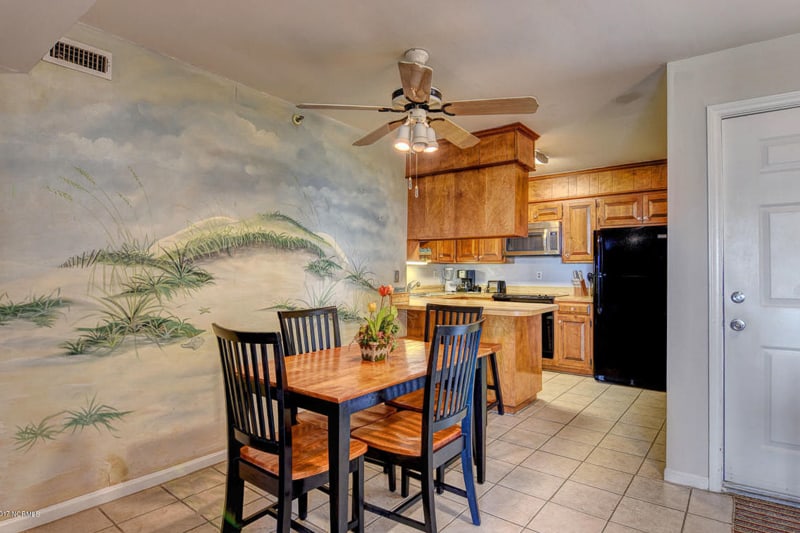 Pin
When I'm designing a space, I need an inspiration piece.  I may have an idea of the general look that I'm going after, but it really helps to find something specific to inspire me.  I started out on Pinterest (you can follow me HERE), but I couldn't find the exact combination of styles and colors that got my design juices flowing.  Know what I mean?
When I wasn't successful finding the inspiration that I needed on Pinterest, I turned to looking at light fixtures.  I knew that I wanted to get rid of the dated ceiling fan and replace it with a fabulous statement making modern rustic chandelier.  I found exactly what I was after at Lighting Connection when I came across their Costello Orb Chandelier and then the rest of my design plans fell into place.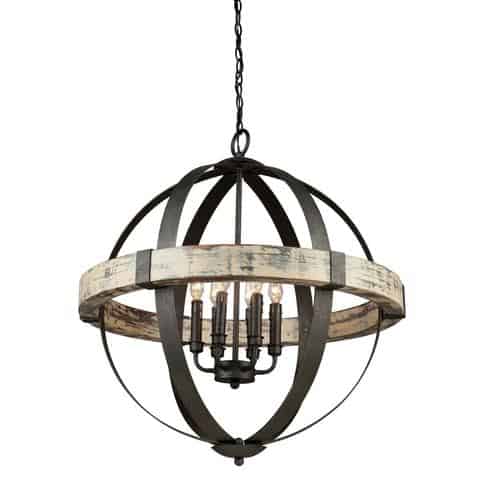 Pin
Costello Orb Chandelier from Lighting Connection
And here's what this beautiful rustic chandelier looks like in place.  Love, love, love!  Yes, it's large (it's the 26″, 6 light version) – in fact you may think that it's too large for the space.  But, because of the way the kitchen, front entry and family room are all open to one another, I felt like a smaller fixture would get lost in the space.  I admit that I was pretty nervous, but now that it's in place, I'm really happy that I listened to my inner design instincts and went with the larger version.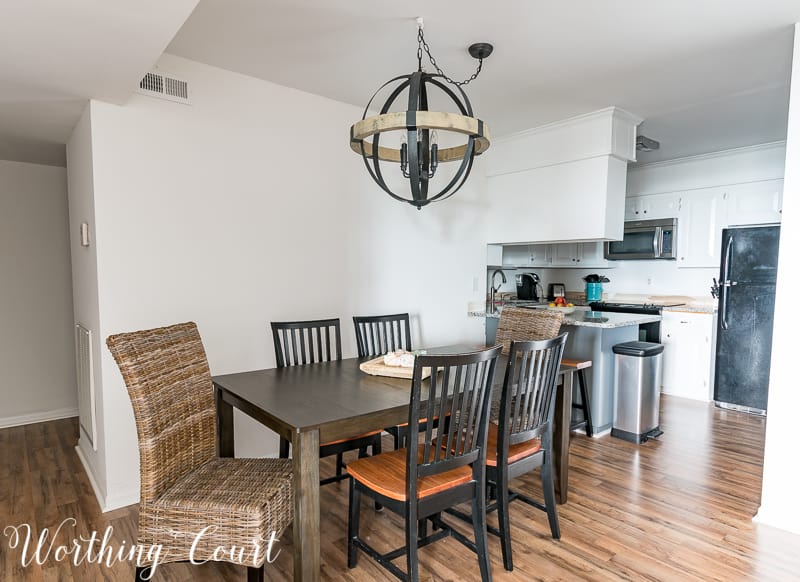 Pin
And yes, the chandelier is hanging a bit higher then I'd normally hang a fixture above a table, but this knockout rustic beauty is meant to serve as a light fixture for the entire space, not just for table lighting.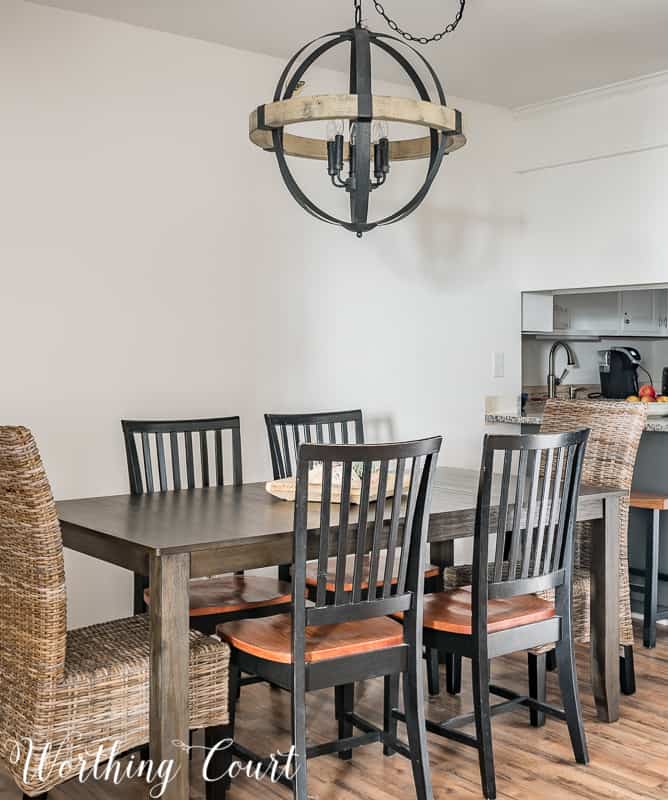 Pin
We've come a long way in the space already, but we're finally finished with the major condo projects and are down to the fun decorating part.  😀  Here's a breakdown of our to-do list for this part of the condo.
Paint walls (Sherwin Williams Snowbound), trim (Sherwin Williams Extra White) and ceilings (Sherwin Williams Ceiling White)
Remove tile and replace flooring (Tavern Oak Laminate Flooring from Lowes)
Add board and batten to wall behind table
Paint board and batten a medium shade of gray
Remove ceiling fan and replace with a statement chandelier
Purchase larger dining table
Purchase end chairs that have a beach vibe
Paint existing side chairs and barstools
Add an area rug
Add artwork
I'll be sharing all of the resources as we complete the room.  For now, I'm happy to report that this area is coming along exactly as I envisioned when I created this dynamic mood board to help keep me on point.  Psst!  Love the idea of using a mood board for your own home decorating?  Learn how easy it is to create one by clicking HERE!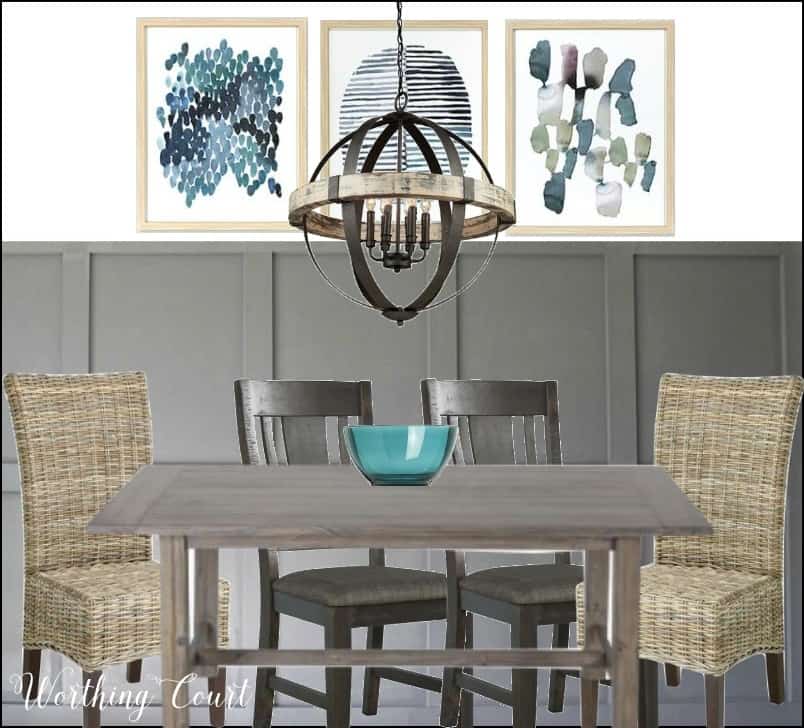 Pin
Connect with Lighting Connection for even more inspiration!  Follow on Facebook HERE.  Follow on Pinterest HERE.  Follow on Instagram HERE.
Lighting Connection has an amazing selection of modern, up to date lighting at really great prices.  Enter for your chance to win a $150 e-gift card!  The contest will end on Tuesday, Oct. 31st at 11:59pm EST and the winner will be notified by email.  No purchase is necessary.
UPDATE: THIS GIVEAWAY HAS ENDED