One Simple Thing Decorating Idea: Embellish Draperies With Ribbon
Want an updated home, but don't have a lot of time or money for home improvements? I've got good news…you don't need either one! Here is one simple thing you can do to update your home right now.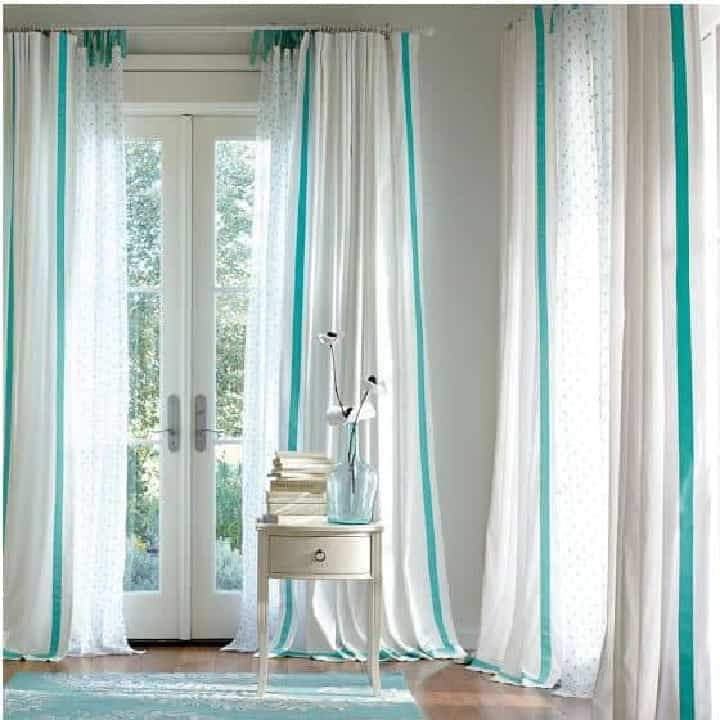 Let's face it, between cooking, cleaning, church, jobs and keeping up with our families, we're all short on time. And even when there is time, there may not be much leftover energy or budget.
Even so, we still love the being able to freshen up our homes.
Here's the good news!
You don't have to completely redecorate a room to give it a fresh look. There are loads of single, simple changes that you can make around your home to give it the updated, freshened-up look that you're craving!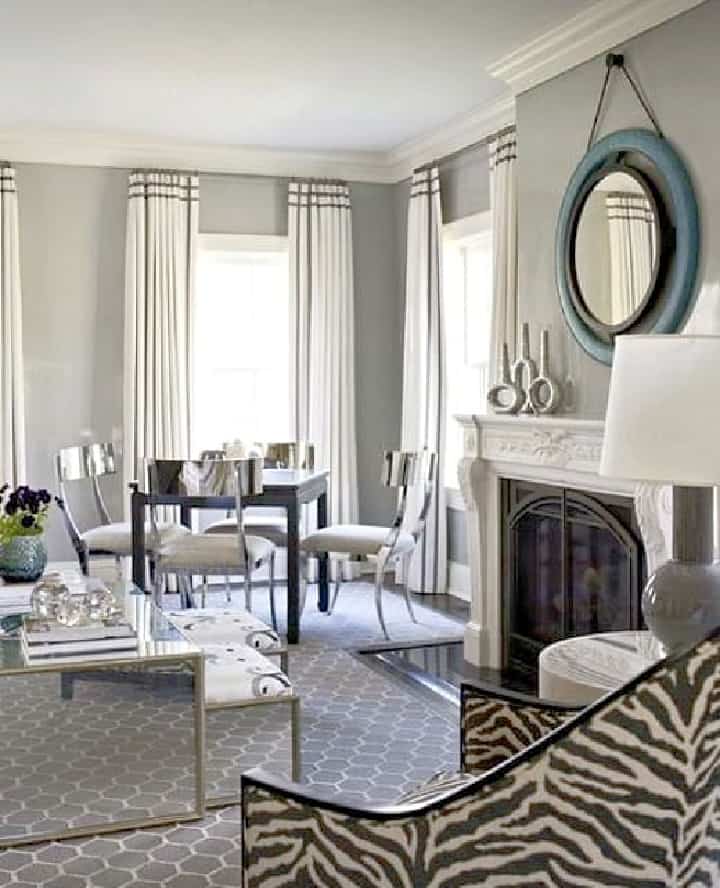 Today, I'm sharing with you One Simple Thing that you can do to freshen or update any room!
Draperies are one of the most visible things in every room. My belief is that they are the jewelry in a room. It's hard to walk into any room and not notice windows, especially if there are some sort of window treatments – right?
Why not take advantage of the "real estate" on those oh-so-noticeable draperies and add a custom detail, such as trim?
And bonus! This trick works well with any design style – from traditional to contemporary and everything in between.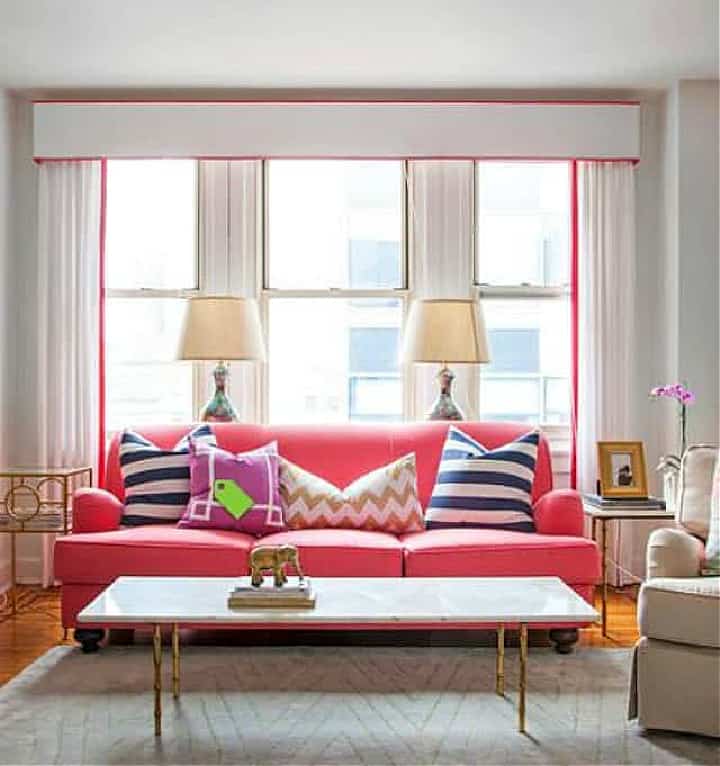 Many interior designers add embroidered or plain trim to draperies to give them a high-end custom look. But those types of trim are generally not budget friendly.
You can keep the cost down and still get the high-end designer look by using something as simple as grosgrain ribbon. The wider the width of the ribbon, the more noticeable it will be.
You don't need to know how to sew to add ribbon to draperies. An iron and some iron-on tape will do the trick. You'll want to run the iron-on tape down both sides of the ribbon – not just down the center.
My top picks:
Look at a few examples how plain white draperies come to life when colorful ribbon is added.
Run two rows of narrow grosgrain ribbon along the edge for greater impact.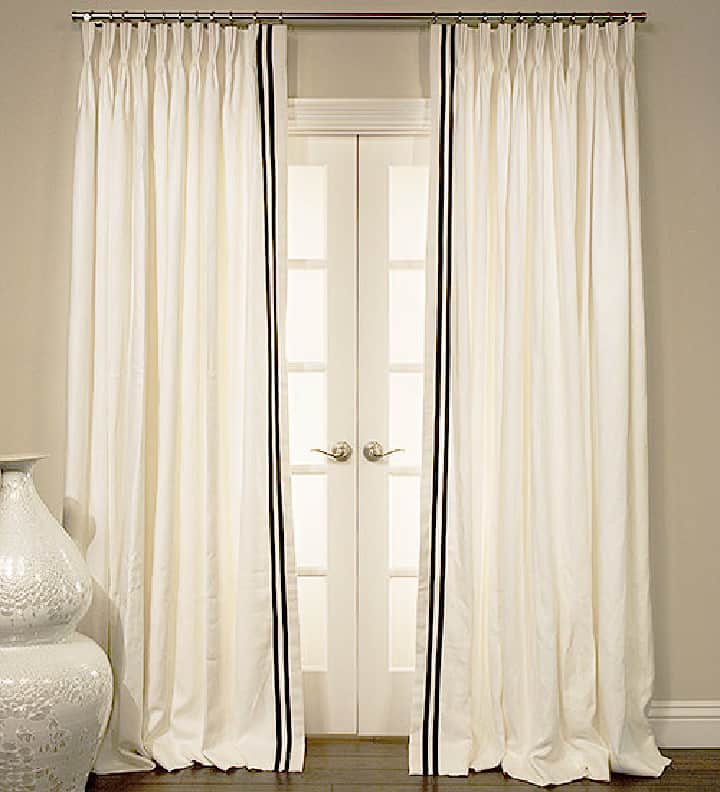 The edge of draperies isn't the only place you can add trim. The multiple rows of ribbon on the bottom of this drapery panel is very eye-catching.
Tie a valance and draperies together by using the same grosgrain ribbon trim on both the valance and the draperies, like this example from Susan at Between Naps On The Porch.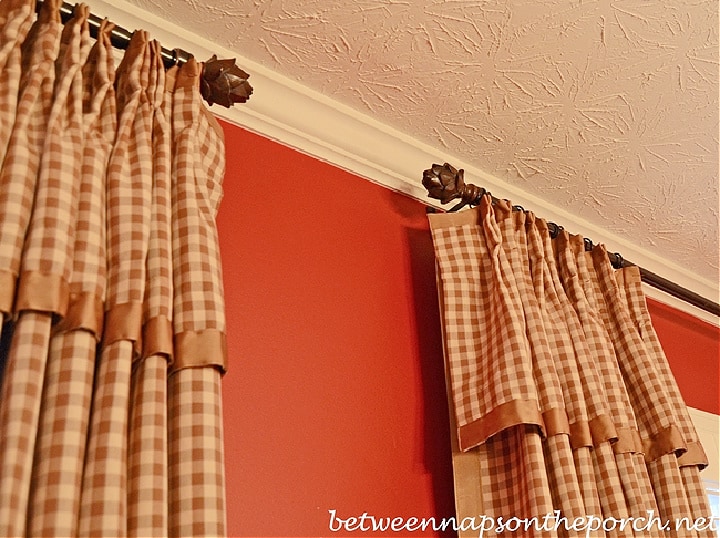 You can use ribbon to create a classic Greek Key pattern that will never go out of style. For an excellent tutorial (with a video), Click HERE.
If you're going to create some type of a design, I recommend using ribbon that is 1″ wide or less instead of wider ribbon.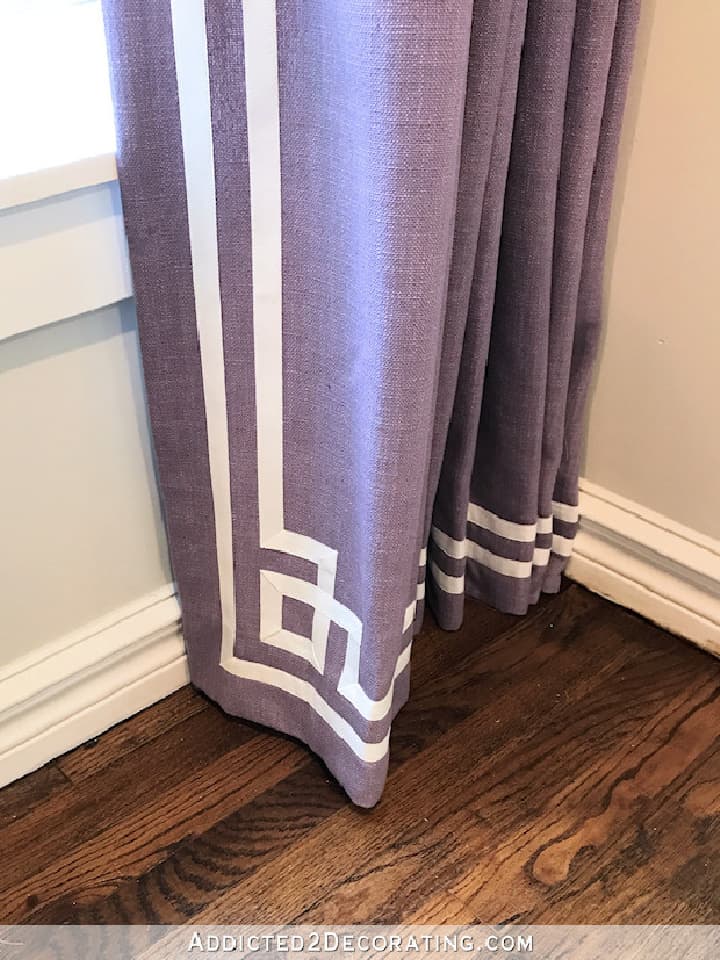 Following the same general directions as the Greek key tutorial, you could also do a fretwork design.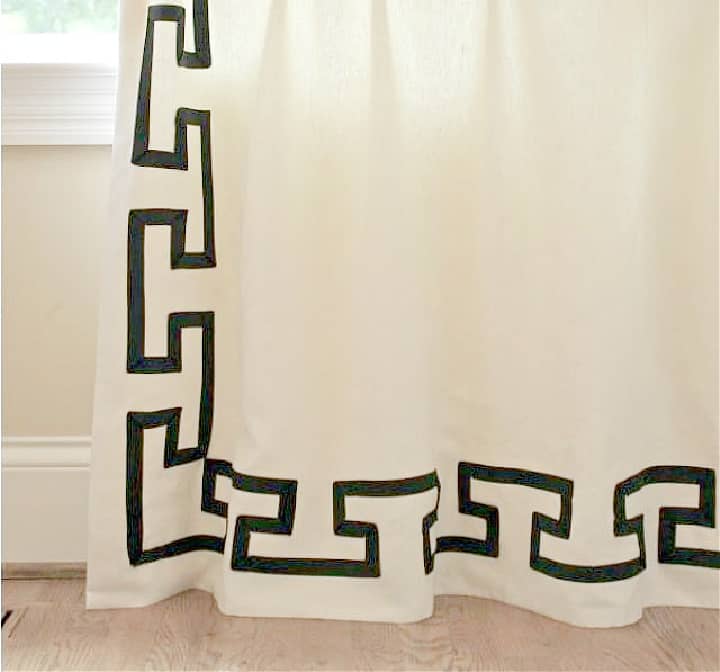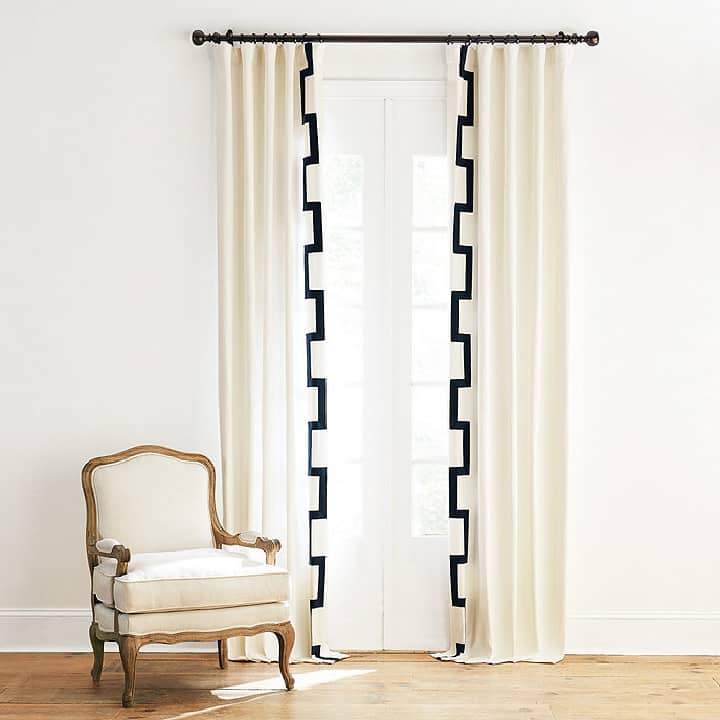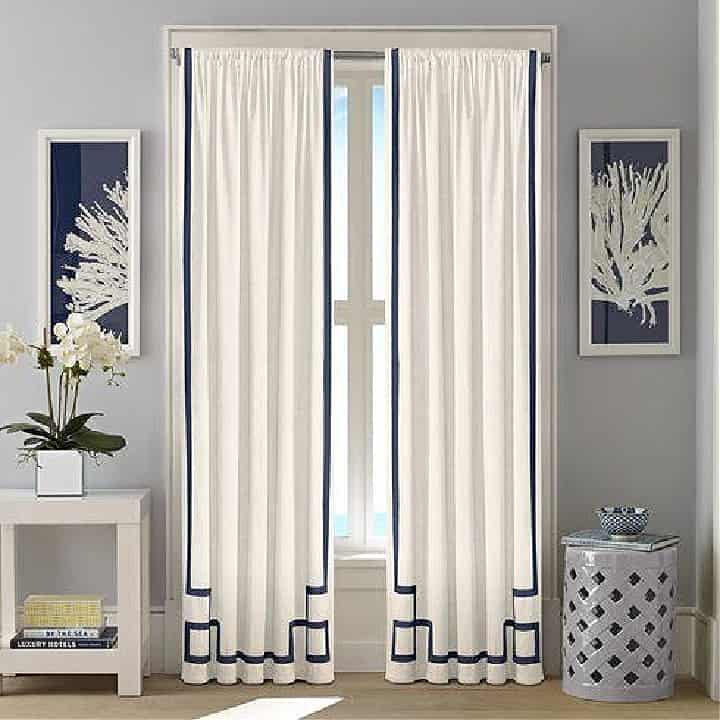 Use your creativity and have some fun! For an added accent, this person put a button at the intersection where the ribbon crisscrosses.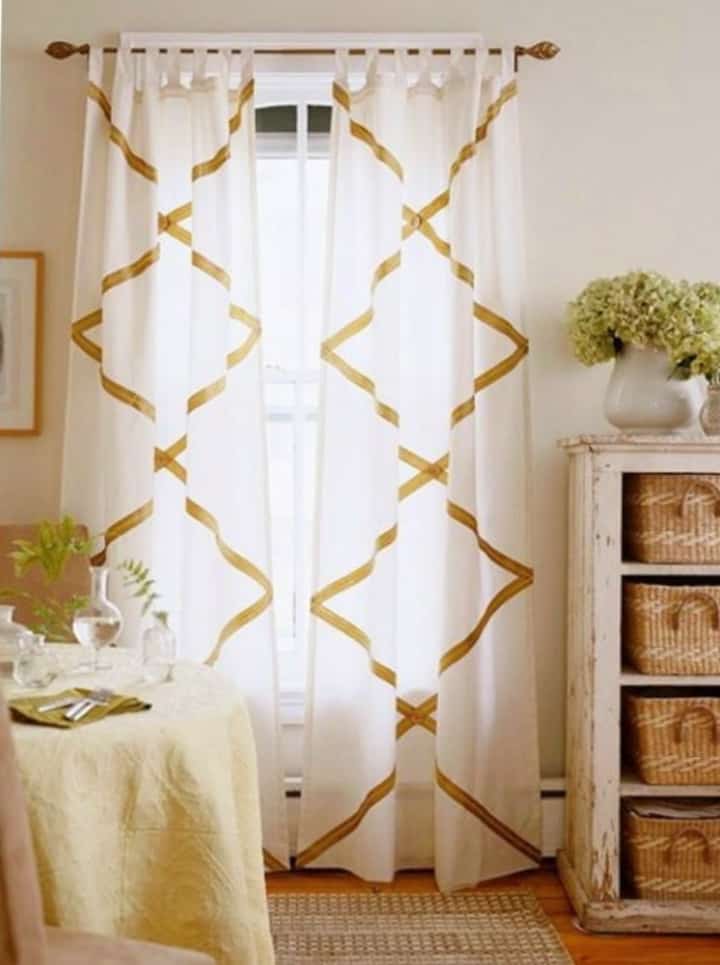 And in case you hadn't noticed, ribbon trim isn't just reserved for white draperies!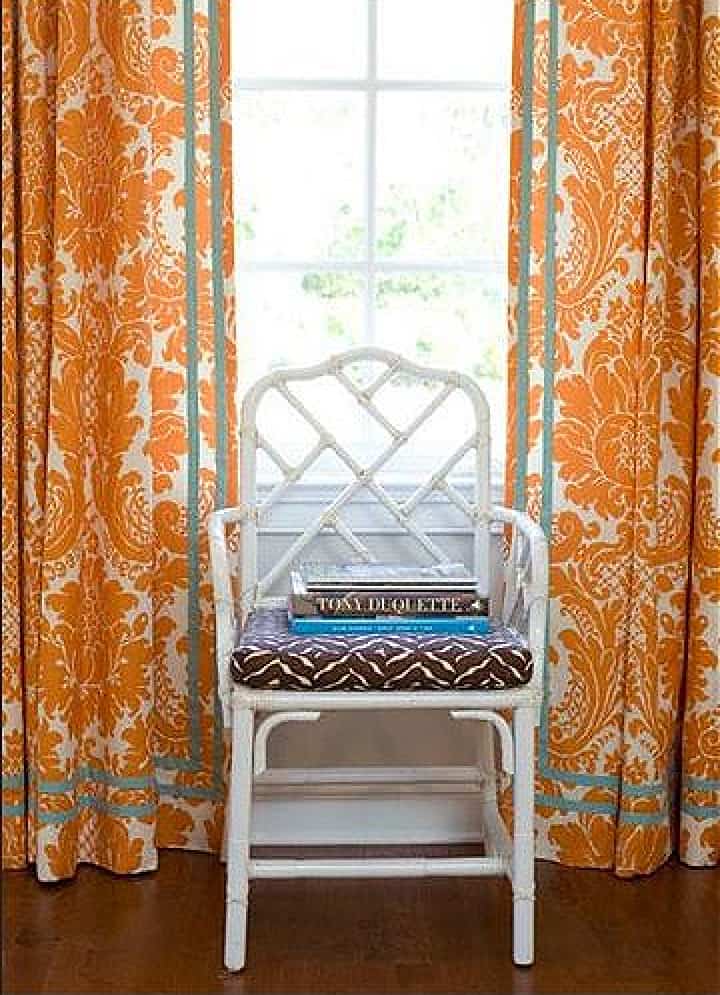 Have you tried this idea with any of your window treatments?