How To Layer Decor When You Decorate
One of the best interior design tips you need that will give your rooms a pulled together and finished look.
There are a lot of different things to consider when creating a beautifully decorated space, but one of the best interior design tips that I can give you is to layer your decor.  It isn't difficult at all!  Once you learn a few tricks from the design trade you'll be able to use this decorating technique in every room of your home.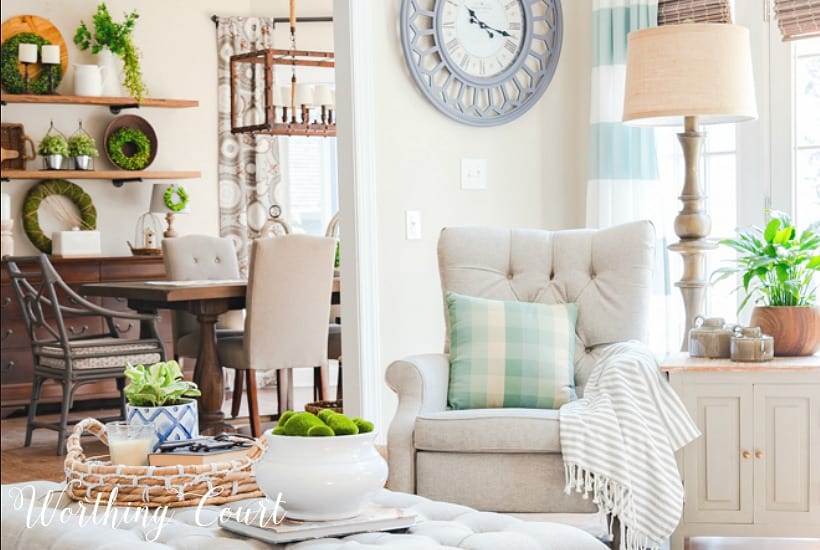 Pin
You might be wondering exactly what layering your decor means.  It's the art of building a room from the ground up.  It's the interior designer secret that adds depth and interest to a space.
Beginning from the floor up, here's a breakdown of the many elements in a room where layering comes into play:
Flooring: carpeting, area rugs, area rugs layered over one another
Walls: paint, wallpaper, framed artwork, mirrors, decorative wall hangings
Windows: draperies, valances, shades, blinds
Furniture: sofas, chairs, tables, beds, coffee tables, end tables
Lighting: overhead lighting, table lamps, task lighting, accent lighting
Textiles: pillows, throw blankets, bedding
Decorative Elements: greenery and flowers, books, containers, tchotchkes
Consider each one of these elements as a different layer.  Focus on building the room by adding each layer, one at a time.  Let's take a look at layering in action in my recently refreshed family room.
FLOORING
I have hardwood floors in all of the living areas of our home.  Some of the areas have area rugs and some do not.
My family room is one of the spaces that does have an area rug and during its refresh, I layered another area rug on top of the existing one.  The additional rug broke up the soft sea of gray that was my large main area rug and helped to pull together all of the colors in the room.
A WHOLE NEW LOOK FOR MY FAMILY ROOM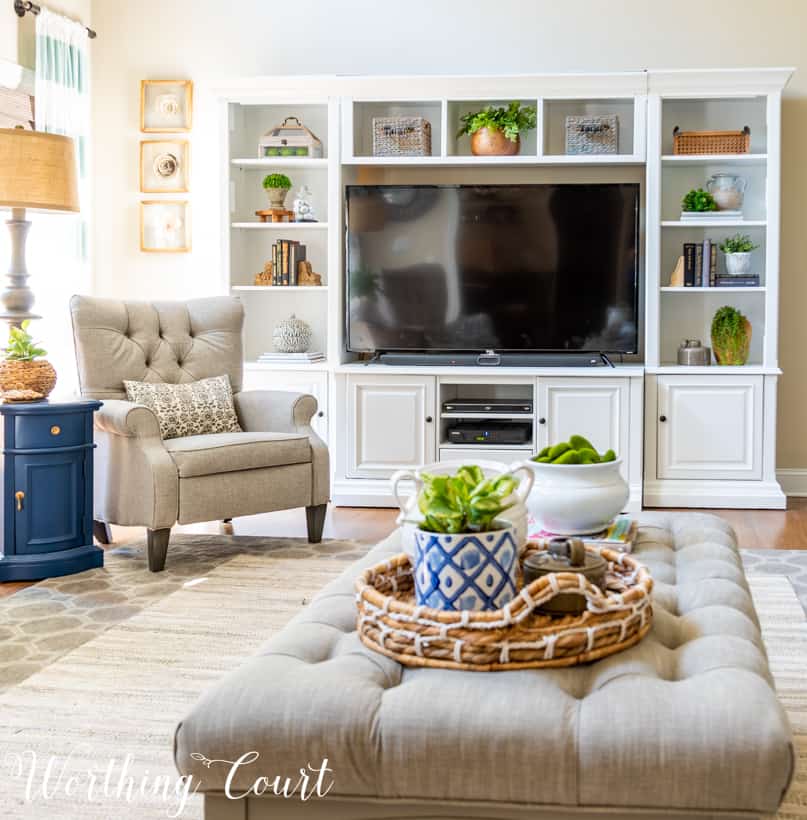 Pin
WALLS
In the world of interior design tips, layering decor on a wall can be as simple as hanging a single piece of artwork on the wall or as complex as creating a stunning gallery wall.
If you crave simplicity, then that single piece of artwork is just fine.  On a larger wall, such as the one above my sofa, I needed to add dimension to the wall because of the architecture of the room.  I created that dimension by the adding three sconces centered above the pretty watercolor prints.  Now my wall doesn't look so flat up under the overhang above my sofa.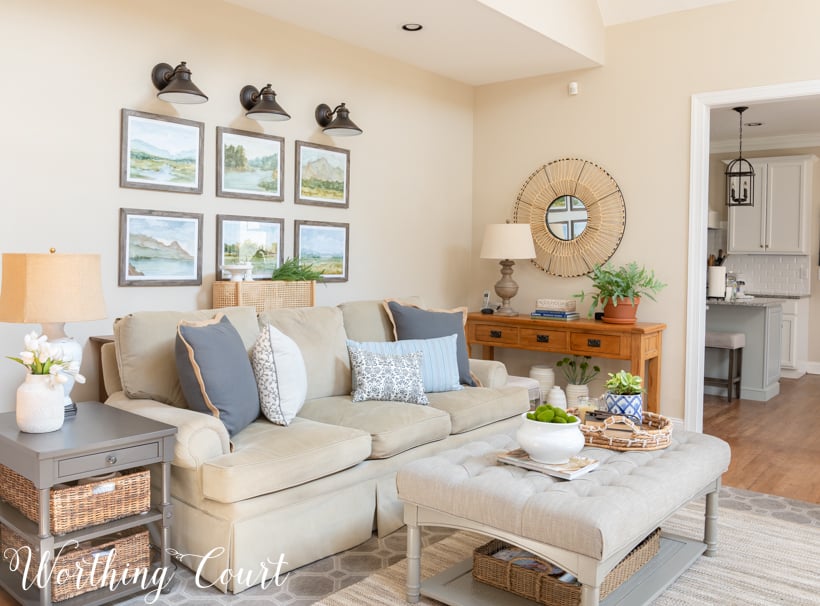 Pin
WINDOWS
A simple pair of draperies on a window can be just fine.  In fact, that's what the majority of the windows in my home are like.  But – sometimes a window (and the room) needs more.  Adding another layer to your windows can turn a bland wall into so much more!
For example, if you study the fireplace wall in this room, you'll realize that it's really just one looonnnng wall of flat stuff.   There's a fireplace, flat against the wall flanked by a pair of flat French doors.  Left alone, it would be boring and well…..flat.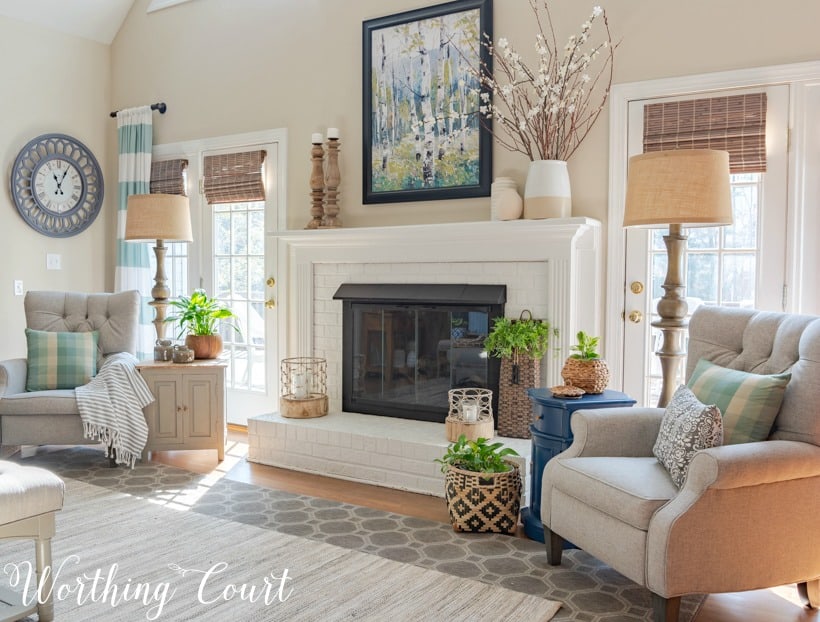 Pin
To get rid of all of the square angles and to frame out the entire wall, I added the softness of pretty drapery panels.  But instead of just hanging a drapery panel on each door, I also added wood slat blinds and then hung the drapery panels over them.  The added layer of blinds adds some much needed dimension to the wall!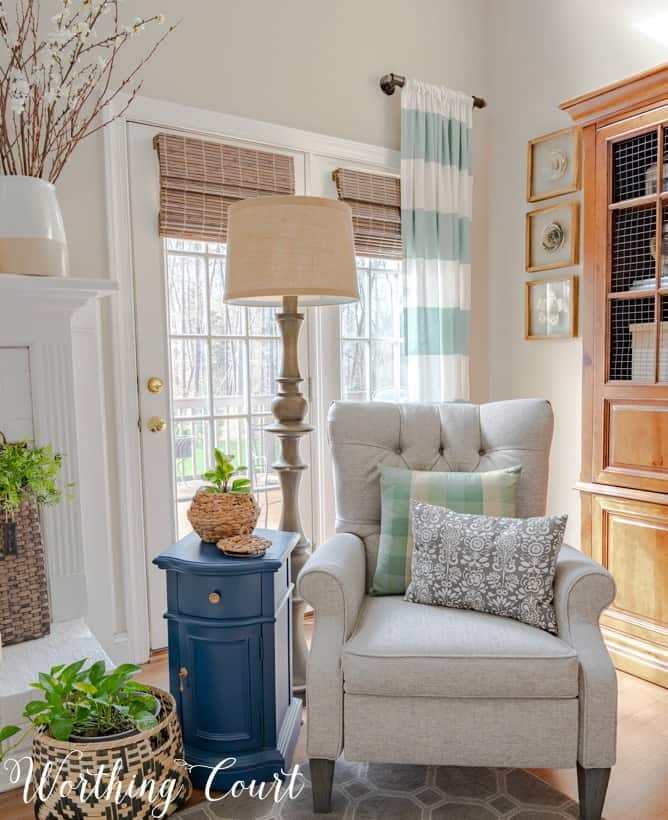 Pin
FURNITURE
Using a coffee table in front of a sofa is just one example of layering furniture in a room.  Left to his own devices, my husband would much rather never have a coffee table in a room.  He's a tall guy (who's eyes aren't always looking down – translate that to bruised shins!) with a long reach, so his desire for a wide open space is understandable.
As much as I try to accommodate his wishes, that just doesn't work for me.  I need the coziness of enough layers of furniture in a room to keep it from feeling like an incomplete space.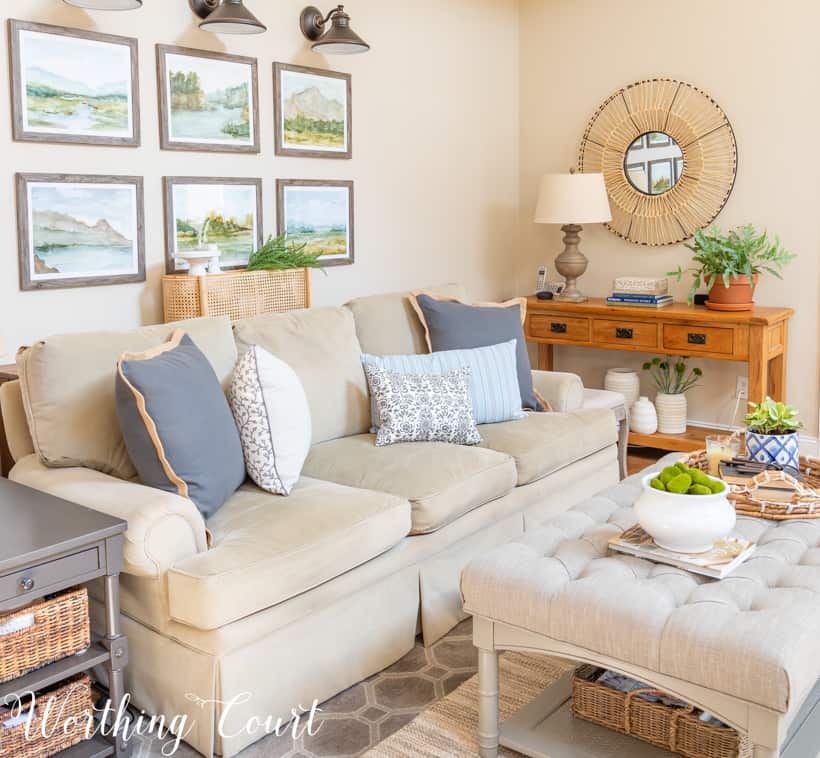 Pin
LIGHTING
The idea of layering lighting in a room means that instead of just having one light source, such as an overhead light, your rooms should have multiple types and levels of light.  Think of it as creating a "lightscape" by using an overhead light source + table lamps + floor lamps + task lighting (when needed) + accent lighting.
All these things combined together will give you a room that's functional as well as a visually balanced room.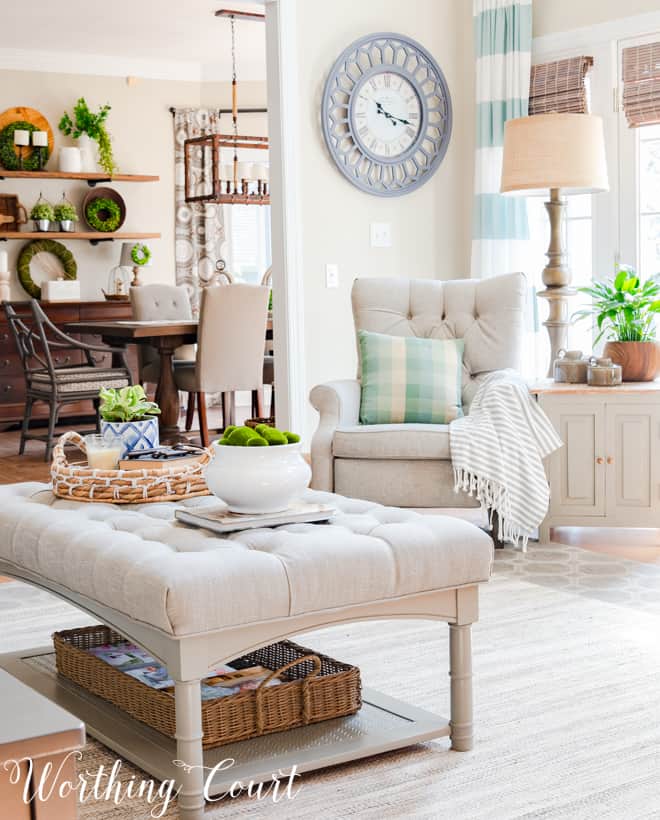 Pin
TEXTILES
Pillows, blankets and throws make layering with textiles so easy!  Think of textiles as the works of art that add instant personality and style to your home.  The exact same sofa decorated with boldly colored and patterned pillows or throws will give the same room a whole different vibe than that same sofa layered with soft neutrals.
And don't be afraid of mixing patterns!  The trick is to make sure that the colors and sizes of the fun patterns compliment one another.
Here's the key: 1) include one pattern that is larger and will be become the dominant one in the group, 2) choose a second pattern that's half the scale of the first pattern, 3) mix geometric or plaid patterns with floral ones, 4) for a fourth layer, add a solid or something with a tiny pattern and 5) groupings of odd numbers always look best.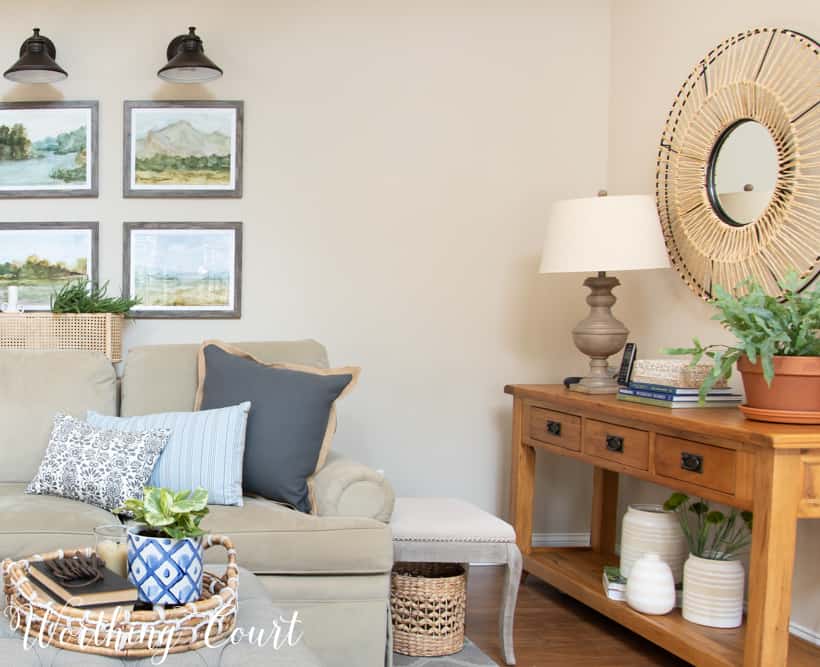 Pin
DECORATIVE ELEMENTS
The decorative accessories that you add to your room act as the final layer of the decor.  In addition to textiles, this is your opportunity to really let your personality shine!  It's also an opportunity to draw the eye where you want to or to disguise some aspect of the room that's less than attractive.
When adding the accessories layer to your decor, you want to strike that soft balance of not too much and not too little.  If you're unsure, try snapping a few photos of your room with your phone.  You'll be amazed at how differently things come across in a photo than in real life.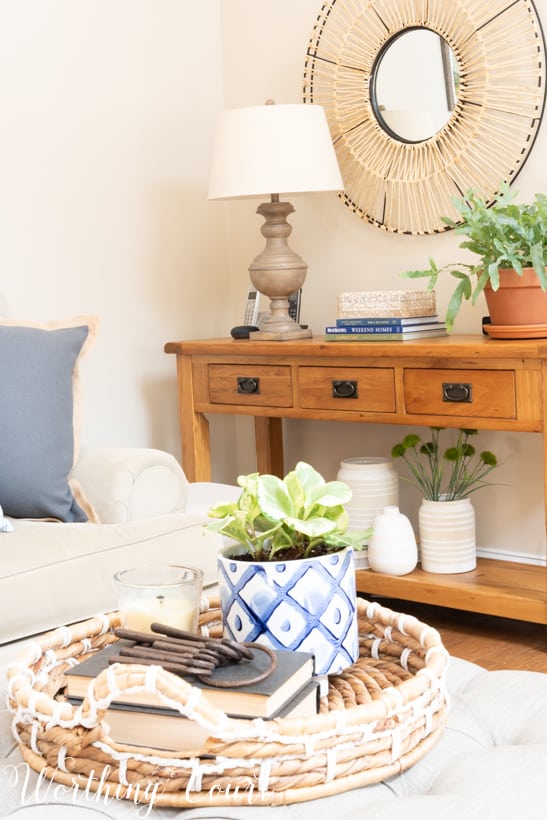 Pin
Let me encourage you to take a little time to experiment and to try different combinations and you'll become a master of this important aspect of decorating before you know it.  And above all – have fun!