An Updated Traditional Home Office Refresh
If you've been following along with my blog for the last few years, you already know that my decorating style has DRASTICALLY changed over the years!
Our previous home was filled with heavy furniture and dark colors and definitely leaned toward a Tuscan style. I was more than ready for change by the time we moved into this house, seven years ago.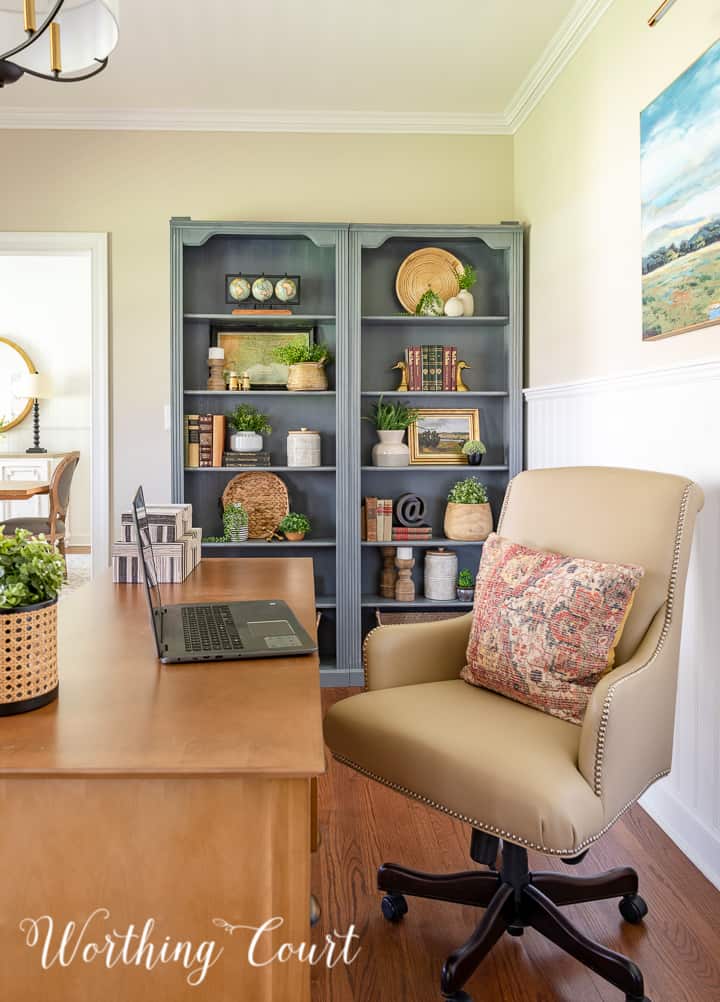 Pin
When we moved here, farmhouse style was all the rage and I fully embraced it! After living with gold, green and red in our former house for so many years, I loved the soft neutral colors in our new-to-us home and how easy the farmhouse style look was to achieve.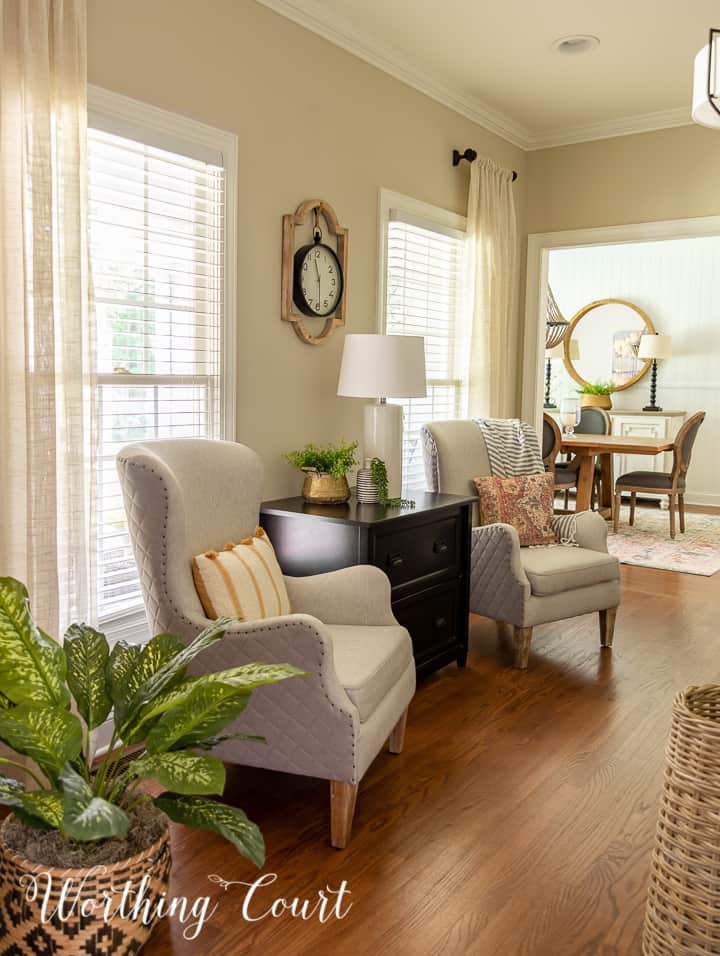 Pin
With all of that said, I've been s-l-o-w-y making my way through several rooms in my house to give them more of a simplified, updated traditional style with a little cottage style thrown in. You may have noticed a bit of a shift in my decorating style when I started our master bedroom and master bathroom makeovers.
BEFORE I GO ANY FURTHER THOUGH let me clarify one thing – guys, you do you! Decorate your home with what YOU love and don't feel like you have to constantly redecorate. Styles and trends will always continue to evolve. Noone that I know of (including myself) wants to spend the time or money to constantly redecorate.
BUT – this is my job. It's what I've been passionate about since I was a little kid playing with Barbie dolls and "decorating" their homes. I love, love, love doing things around my home that hopefully inspire you!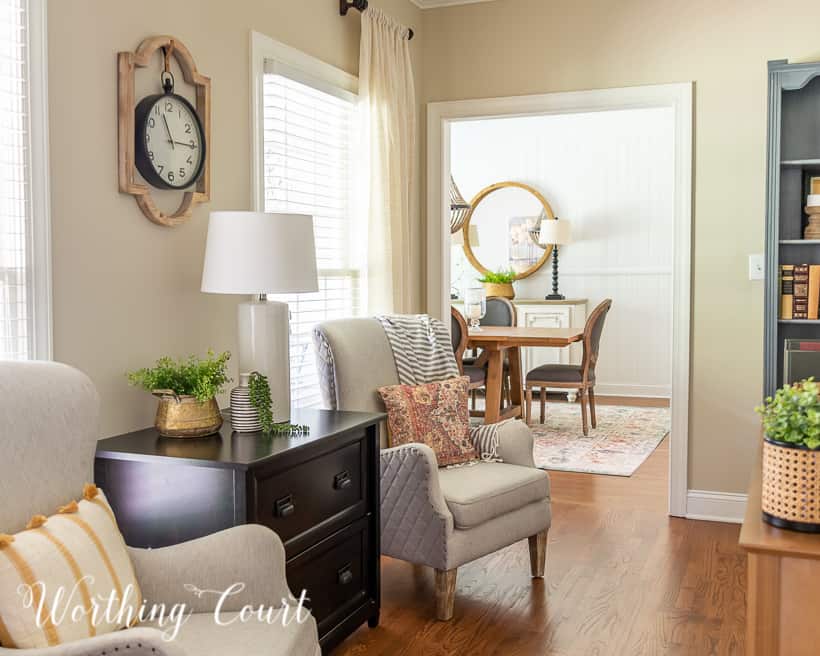 Pin
I'm currently working on six different rooms in my house, but as you've probably figured out by now, the room that I want to share with you today is our updated and refreshed home office. I consider it to be "done", but honestly there are still some small changes I'd like to make.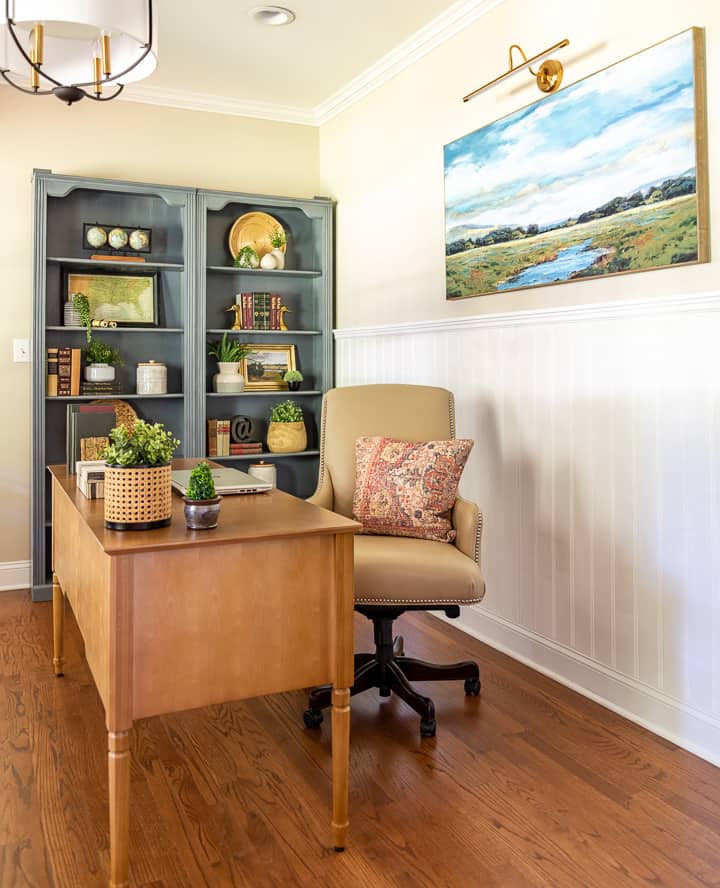 Pin
For example, I still want to work on our bookcases. I've already edited them and removed several things, but they're still looking a bit too cluttered and farmhouse'ish for me. I'm considering painting them, but I'm unsure of what color. White??? Navy???
I think it would help if I can remove the arched trim along the top of each bookcase too.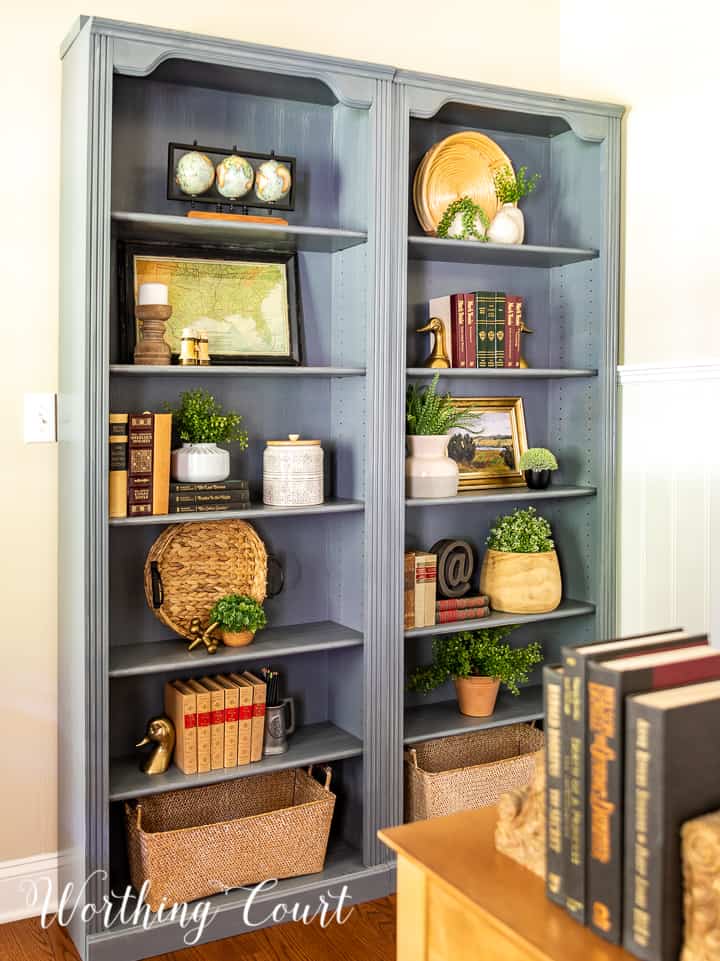 Pin
I'm not a minimalist by any stretch of the imagination, but even I think these could do with a bit more editing. The problem is that I love everything that I have displayed here and can't decide what to give up! Can you relate???
Pin
Let me give you a rundown of all of the things that I've changed to update this room: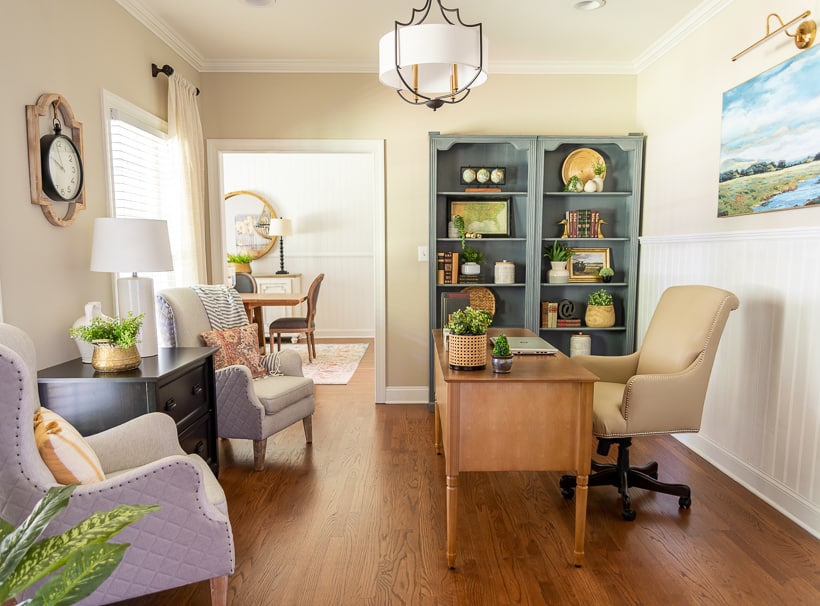 Pin
I did my best to keep expenses down, but to get the updated traditional style that I was after, I felt that I really needed to replace a few pieces of furniture, but I made sure that I shopped for good quality at a good price. Everything new was purchased over the course of a year though so that I could pay as I went.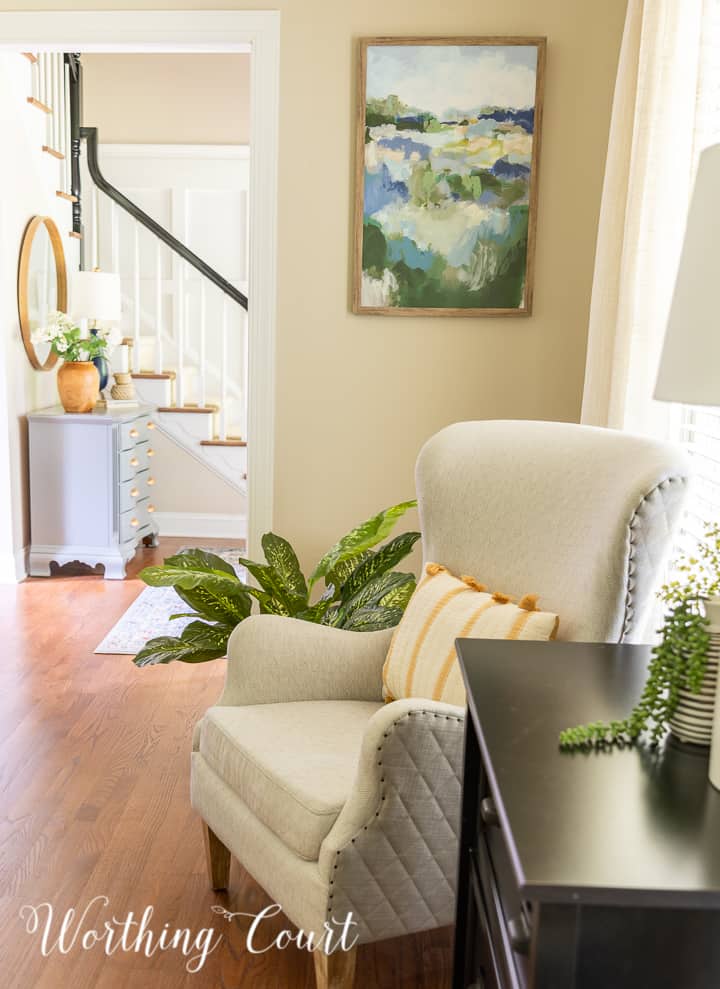 Pin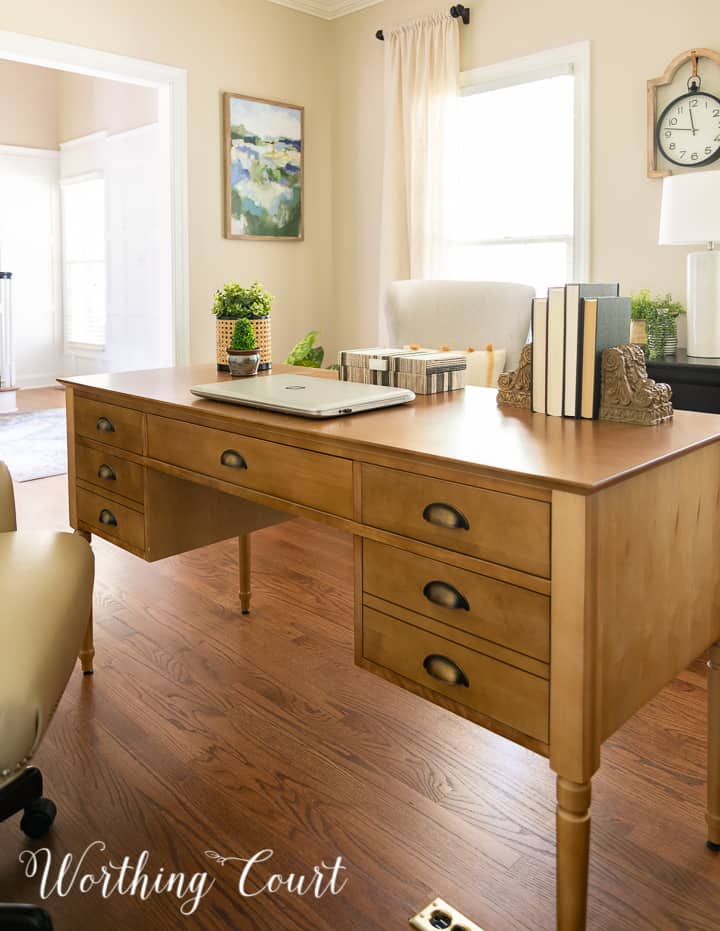 Pin
I know I'll get this question, but I opted not to put an area rug in here for two reasons: 1) it would have interferred with the rolling desk chair and 2) I think it would have been too much since this room opens to the foyer on one side and the dining room on the other, each of which have an area rug that's visible from the office.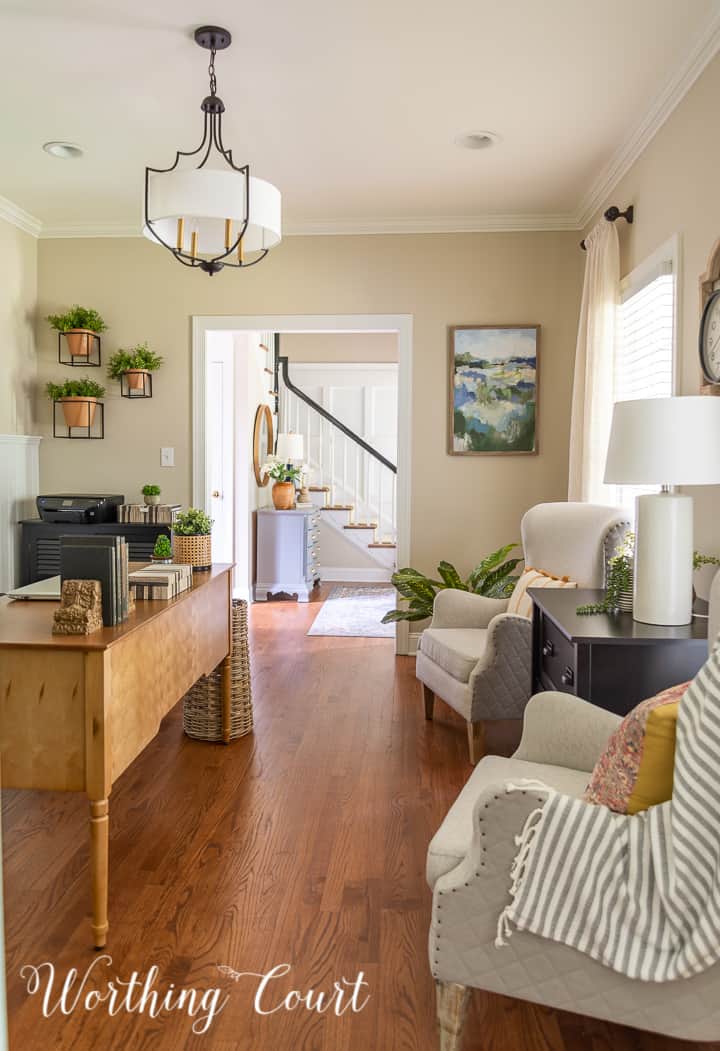 Pin
To give you a better idea of the changes, here are a few before and after photos for you. And no, I didn't repaint the walls – unfortunately, there was weird lighting the day that I took the new pictures, which throws the wall color off.  🙁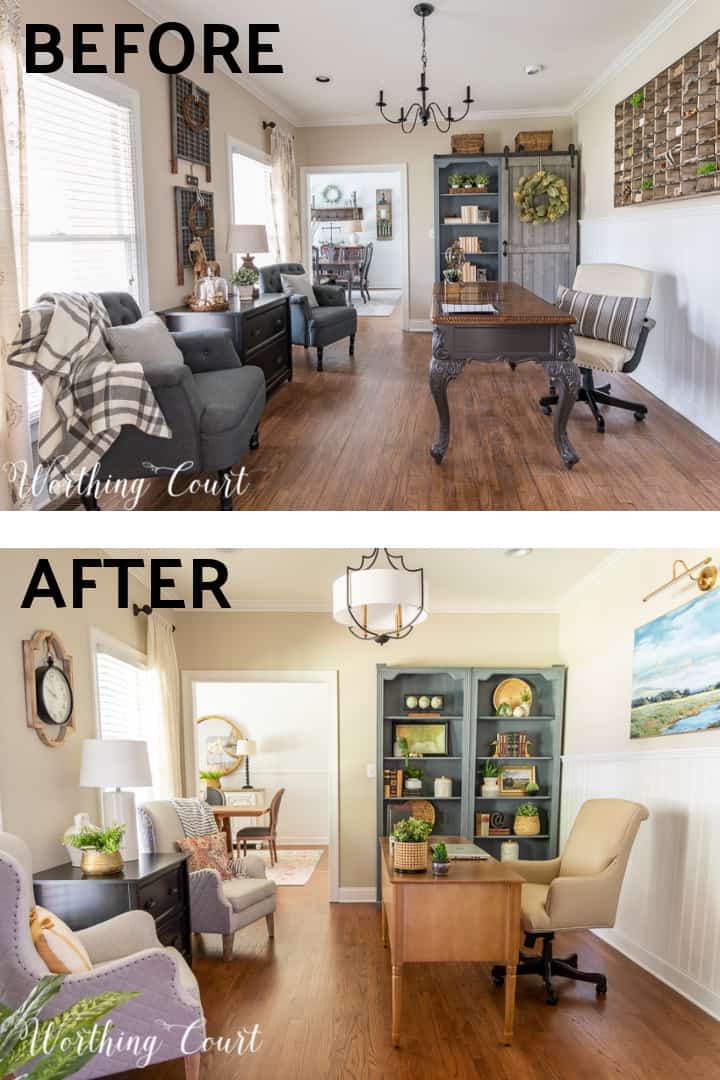 Pin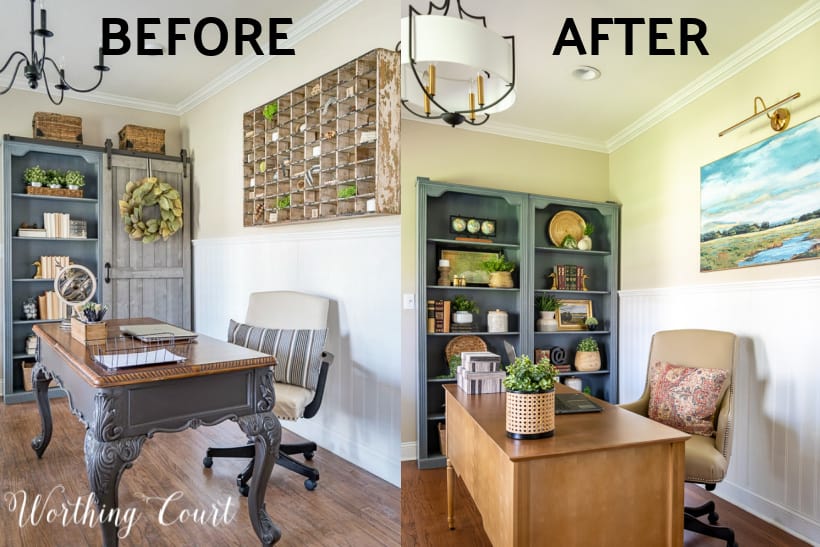 Pin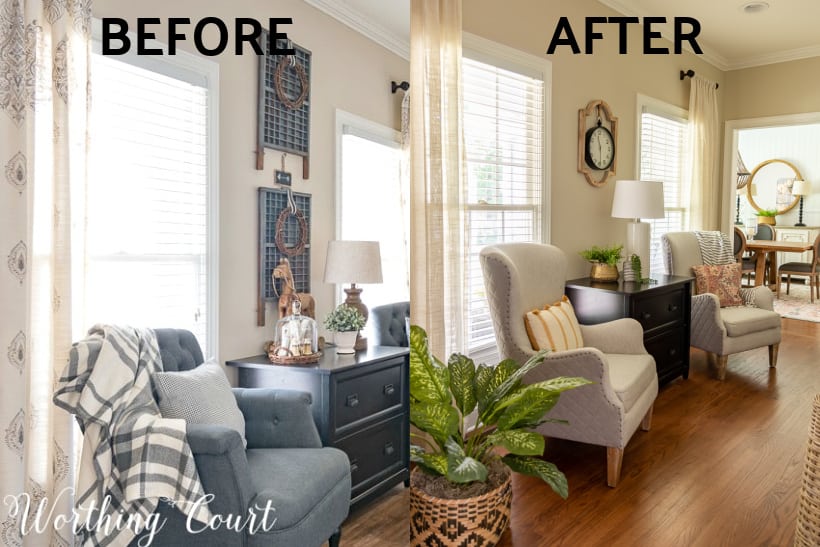 Pin