I usually don't put an exclamation mark in my blog post title, but y'all – I am so stinkin' thrilled with the bookcase makeover for our home office! A few weeks ago, I mentioned that I was working on the bookcases and was concerned with how they were going to turn out. Thankfully, I'm in love with the end result and find myself stopping often just to stare at them!
Did you notice that the dining room is striped bare of all its fall finery? That's because Christmas is in the house! LOL I'll be sharing my Christmas dining room soon!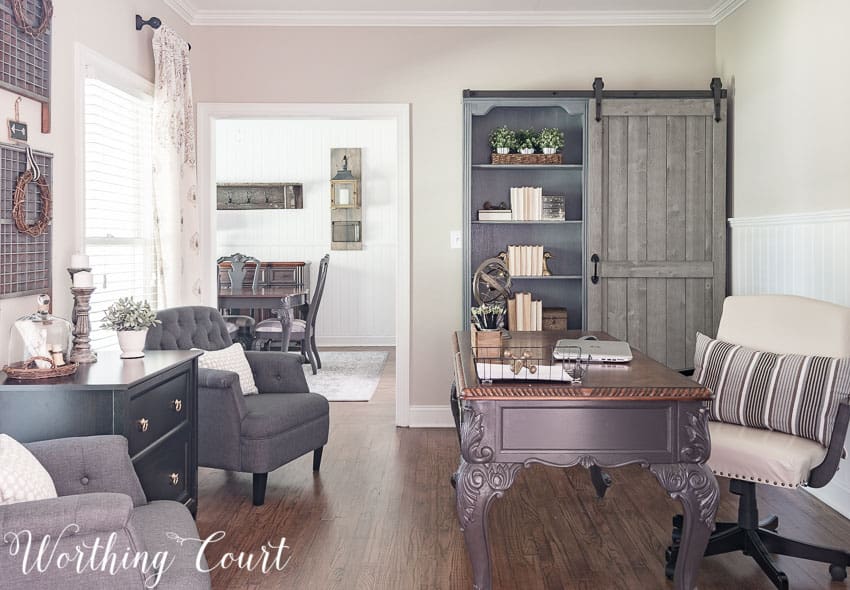 To fully appreciate the change in the bookcases, take a look at the before. These are cheap-o bookcases that had a waxy, fake looking cherry stain on them. Their most redeeming quality is that the shelves are solid wood, so they don't sag under the weight of a lot of books.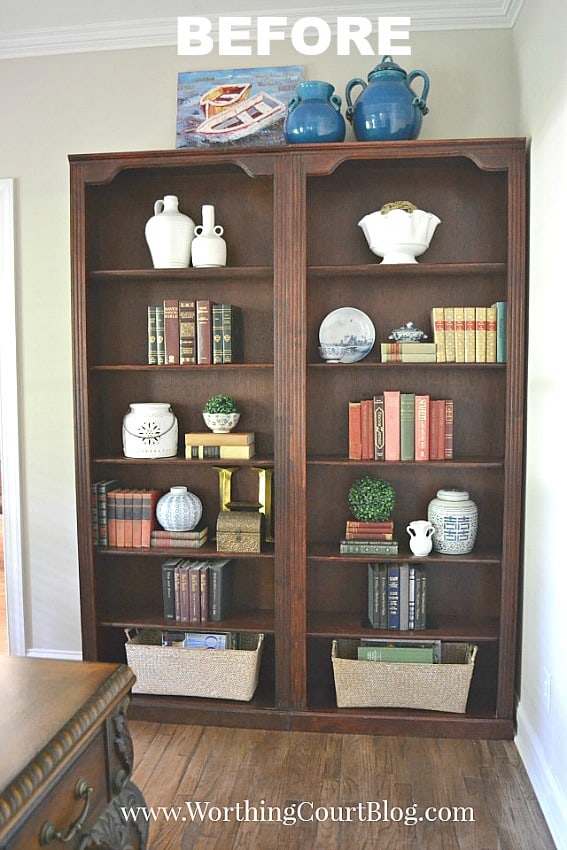 Here they are today, after giving them a couple of coats of primer paint (to completely cover the red'ish stain) and brushing on gray stain. I used one of those cheap chip brushes to apply the stain and allowed it to dry without wiping any of the stain off. Primer paint used: Kilz 2 Latex Primer in Gray. Stain used: Rustoleum Ultimate Wood Stain in Weathered Gray.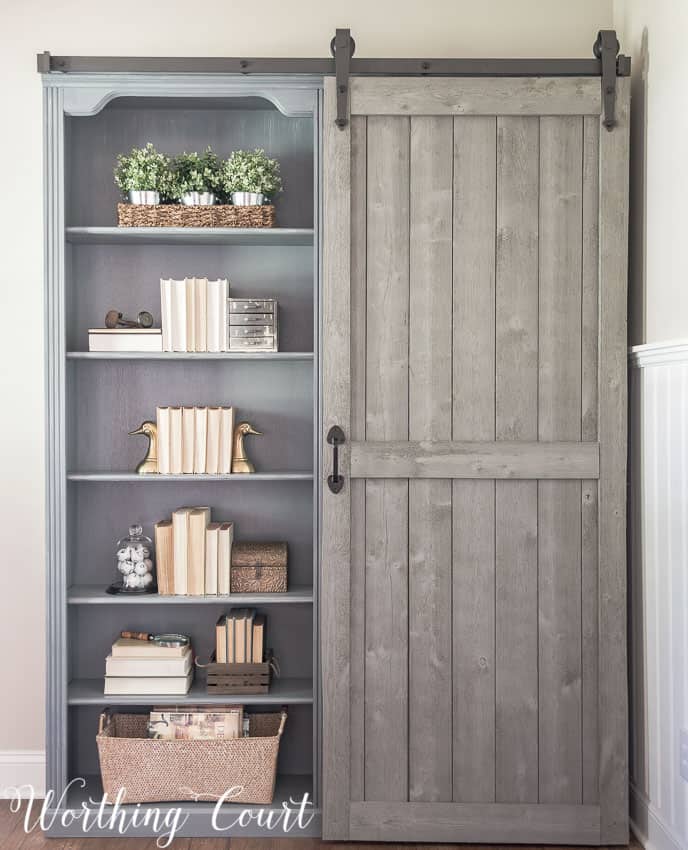 This closeup shows the weathered looking finish that was created by brushing the stain on top of the wood and allowing it to dry without wiping it off.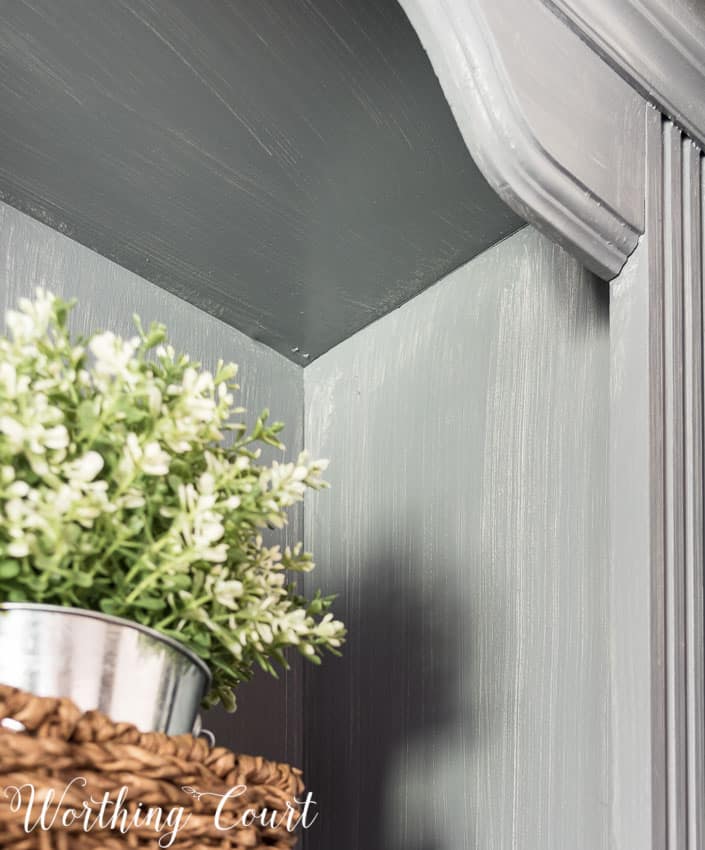 I know that the gray of the door and gray of the bookcases doesn't match, but I think that it makes the door look more authentic.
You might wonder why I chose to cover half of the bookcases with a sliding barn door. Well, it's because I needed more storage space, not more space to display tchotchkes. The shelves behind the sliding door are filled with boxes that hold all sorts of home office paraphernalia. This side of the bookcases is only open when we need access to something in one of those boxes.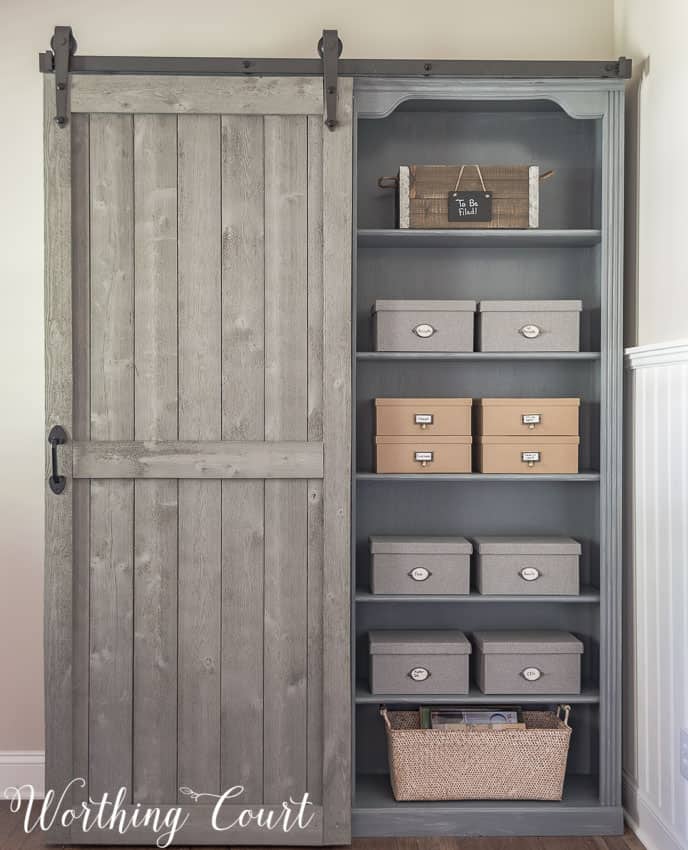 I was a little scared of the door, because I was convinced that installing the sliding door hardware was going to be complicated. Nothing could have been further from the truth! After much research and shopping around, we ordered the hardware from Home Depot. CLICK HERE TO ORDER THE SAME HARDWARE (affiliate link – see my full disclosure HERE). The smallest size available was a few inches longer than what we needed, so Pookie simply used our Dremel to cut the slider bar down to the correct length. I touched the end up with a black magic marker and now you'd never know that it had been cut.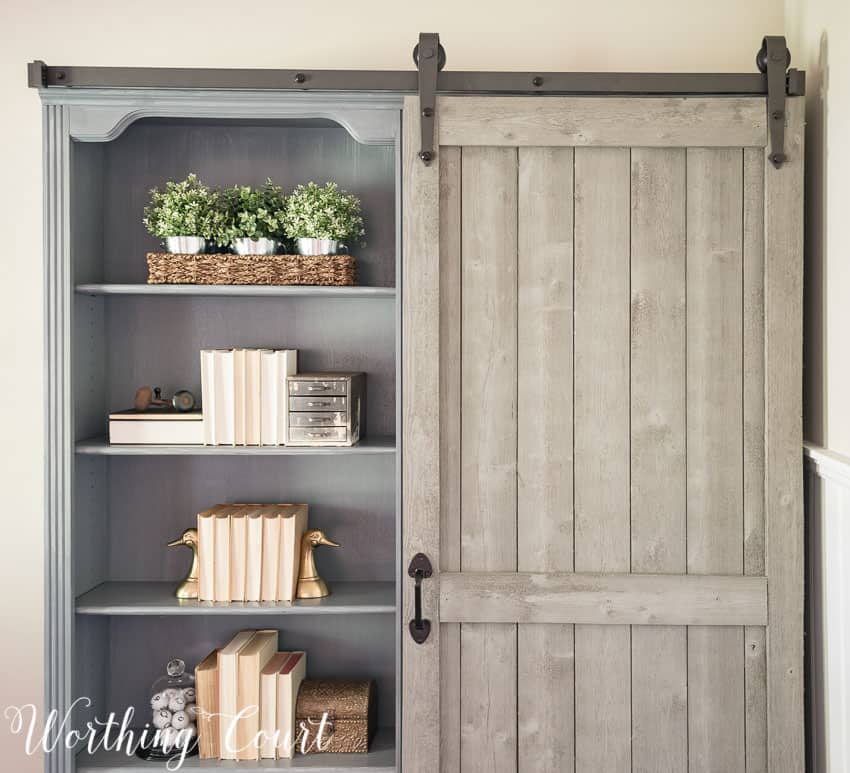 Pookie built the barn door out of pre-painted rustic lumber sold at Home Depot. Click HERE to see the exact lumber that we used. Each piece of lumber was 8′ long and had a rabbited edge on each side. One rabbited edge faces the front and other faces in the back.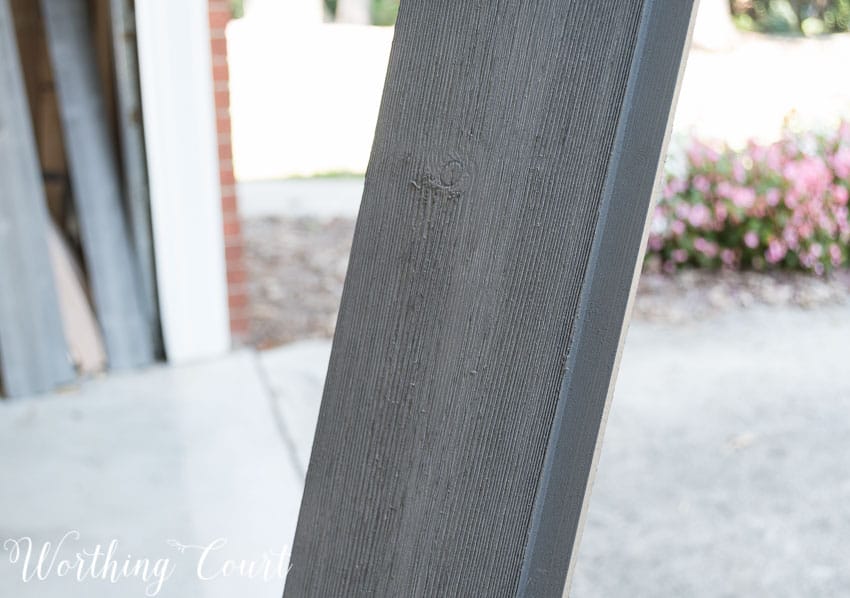 Having those rabbited edges made building the door a dream! First, we determined how wide we wanted our door to be. Then Pookie laid the lumber out on the floor of our garage, using wood glue along each rabbited edge, and allowed it to thoroughly dry. No nails were used in this part of building the door. After the glue had dried, the door was cut to the length that we wanted and other boards were cut down to be used to frame out the top, sides and for a middle brace. Those boards were attached with wood glue and wood screws.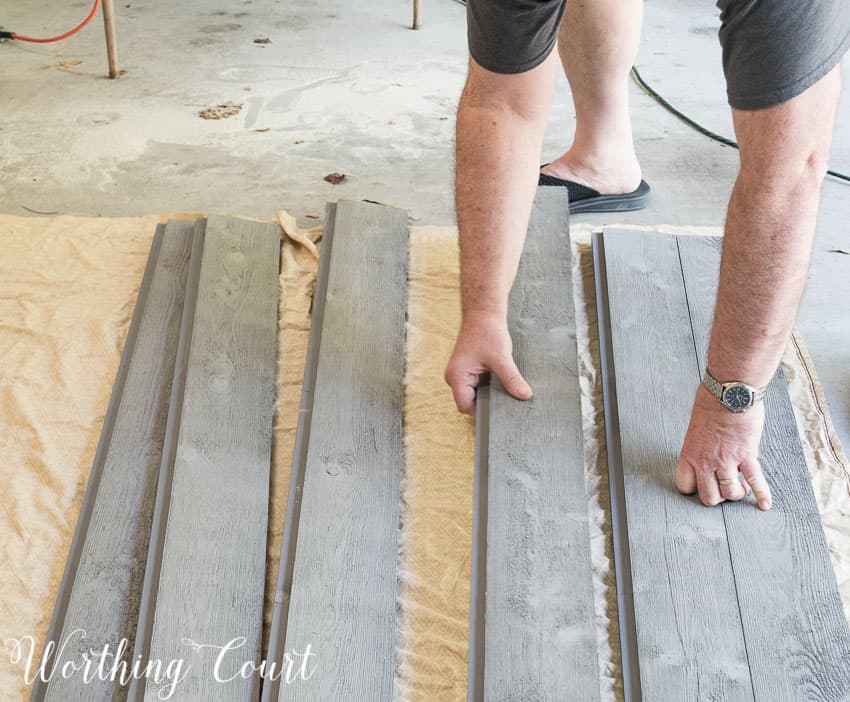 Thankfully, Home Depot had a label on the backside of each of the pieces of lumber with the paint formula that was used to paint the wood. I had a small container of that mixed at the store and used it to touch up the few places that needed it after the construction was completed. A wrought iron gate handle, also from Home Depot, finished the door off.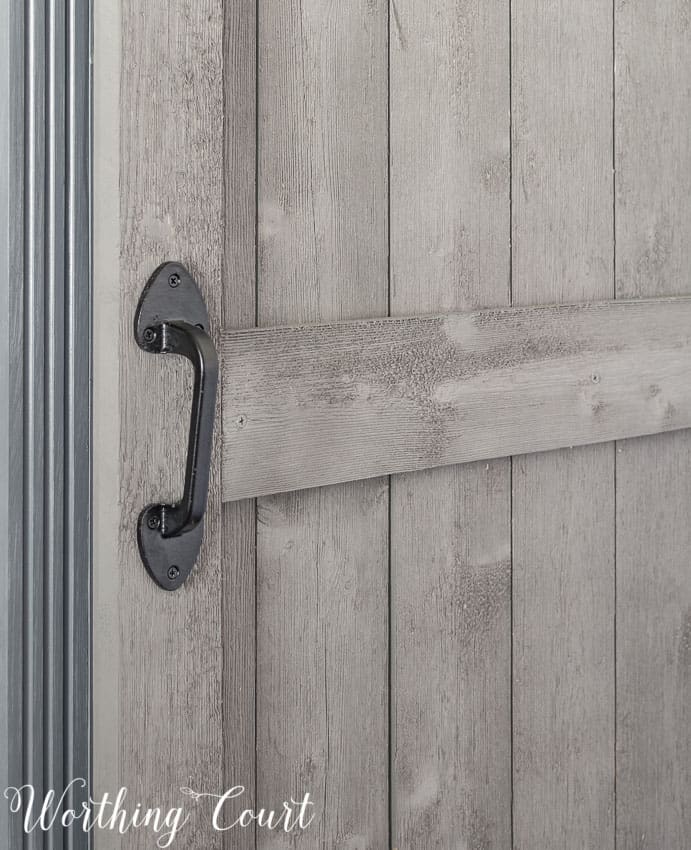 Unless I come up with something else, this office makeover only has one project left to do and that's getting some artwork up on that wall behind the desk chair! You can catch up on all of the projects that have gone into this makeover, from start to finish, HERE. UPDATE! CHECK OUT THE FULL BEFORE AND AFTER OFFICE REVEAL HERE!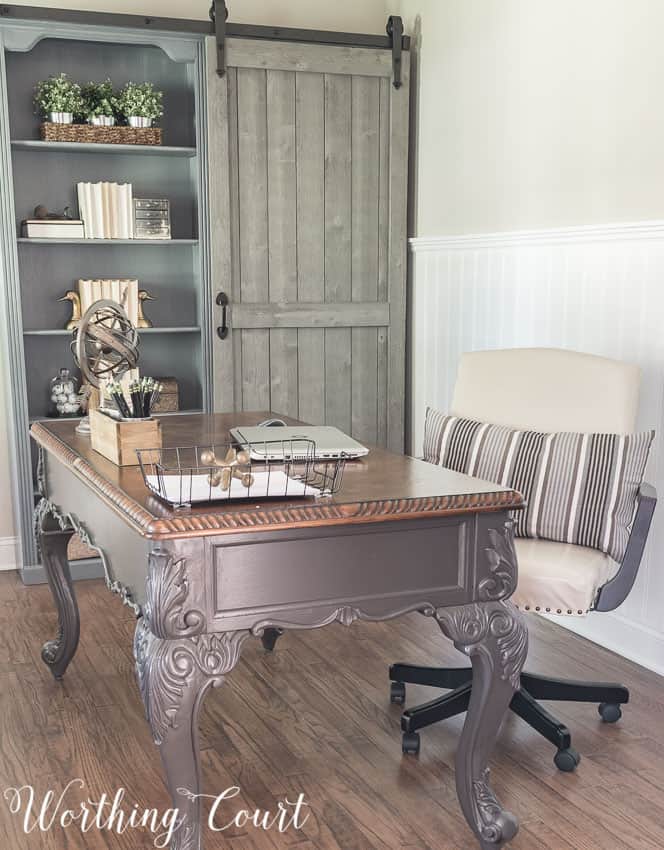 NEED BOOKCASE MAKEOVER INSPIRATION? SAVE IT FOR LATER.

Sharing at THESE great parties.