A Whole New Look For My Family Room Just In Time For Spring
Take a look at these decor ideas for giving a family room a brighter, and more updated look for spring!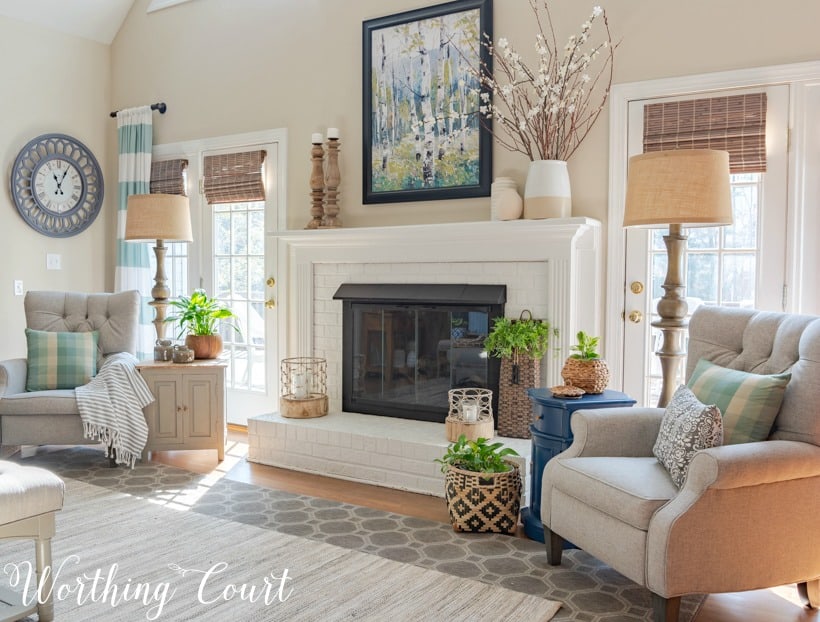 Pin
This post contains affiliate links. See my full disclosure HERE.
If you've been watching my Instagram stories, then you already know that I've been working on a whole new look for my family room for months. And today, I'm super excited to reveal it to you! This couldn't be better timing as I'm a part of the Spring Tips And Ideas bloghop going on today along with several of my bloggy friends! If you're coming over from The Pickled Rose, welcome! Kristi's home is fabulous and filled with so many inspiring decorating and diy ideas. I love following her on Instagram too, where she shares lots of tips and how-to's.
Before we start on the tour of my updated family room, you might want to go HERE and take a look at what it looked like previously. It had a very themey farmhouse vibe going on, which I loved for a long time, but the room was ready for a brighter, more updated neutral look with lots of spring touches – still farmhouse, but an updated version of it.
The only new furniture that I purchased for the makeover were the two recliners that flank the fireplace – and those were a necessity. If you had seen the condition of my husband's beloved poofy brown leather recliner up close, you'd know that getting him a new chair was a must! Now finding him a chair, that would suit his idea of comfort and my idea of style, is a whole 'nother story. 😀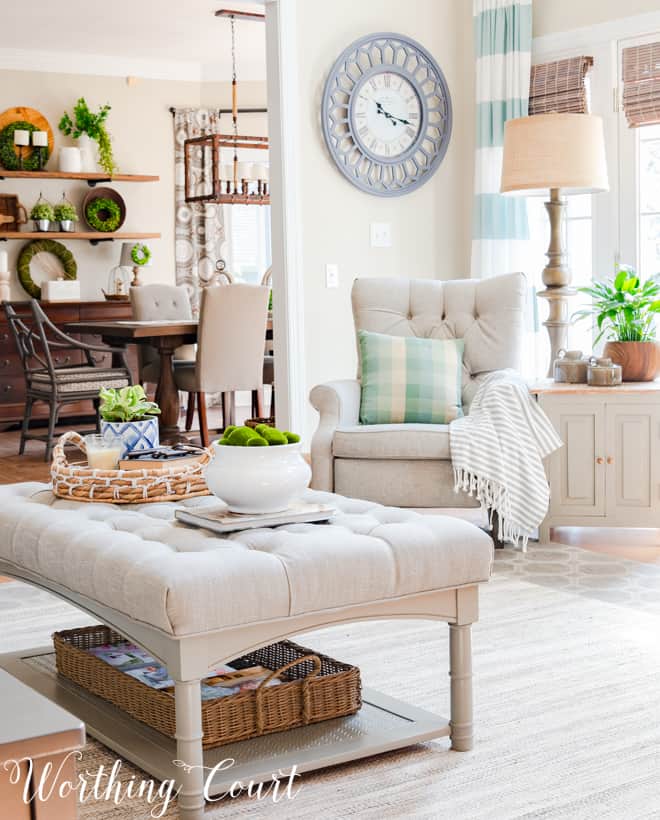 Pin
If you're on the hunt for a recliner that is stylish, up to date and comfortable, I can definitely recommend these. If it helps at all, my husband is 6′ 2″ and needed something with good shoulder and neck support for those all important naps. #winkwink This isn't a sponsored post at all, but I always love sharing good decor finds with you!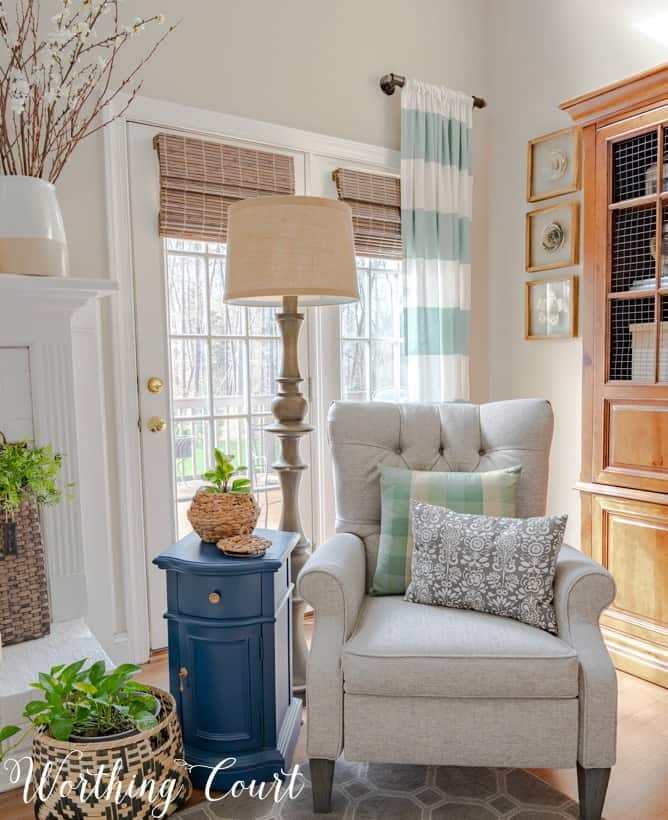 Pin
The other very noticeable change in this room is above the fireplace where I removed the large architectural piece, that lived there for several years, and replaced it with a canvas print that I fell in love with. I wanted something that could remain here year round and that would allow me to do simple seasonal and holiday decorating around. The print came from At Home and is framed with an open backed frame from Hobby Lobby, which I painted black.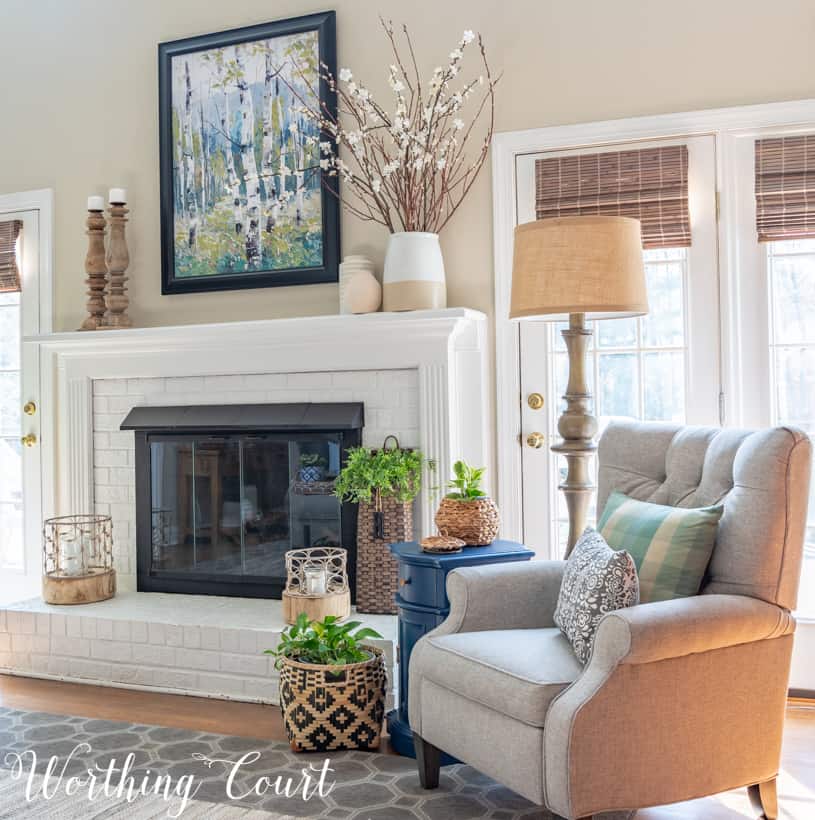 Pin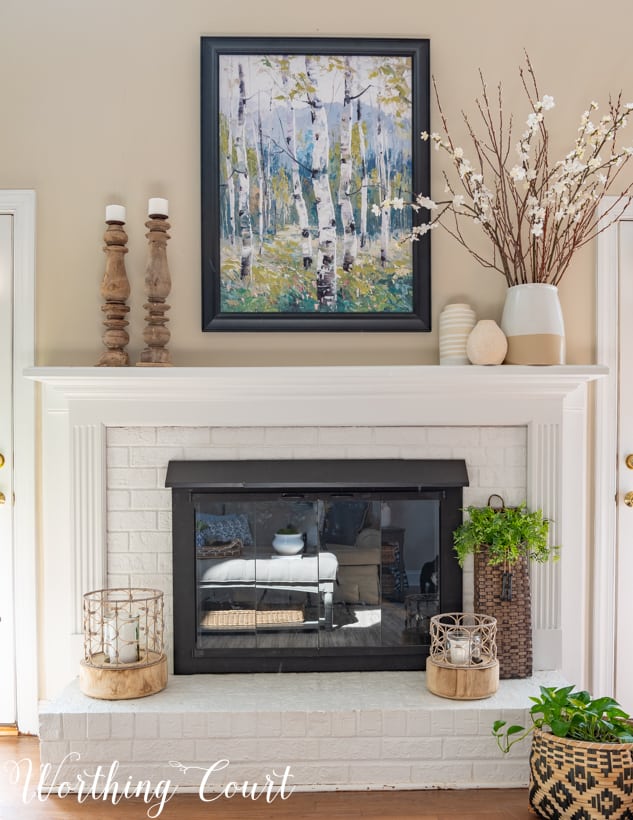 Pin
My favorite color combination these days is shades of beige, soft gray, woods and whisper white with touches of blue and greenery sprinkled in. The weathered candlesticks (from my trip to Magnolia Market), the trio of beige and white vases (available HERE, HERE and HERE) and the lanterns (both sizes available HERE) along with a basket of greenery down on the hearth, work perfectly for me for decorating my fireplace this spring.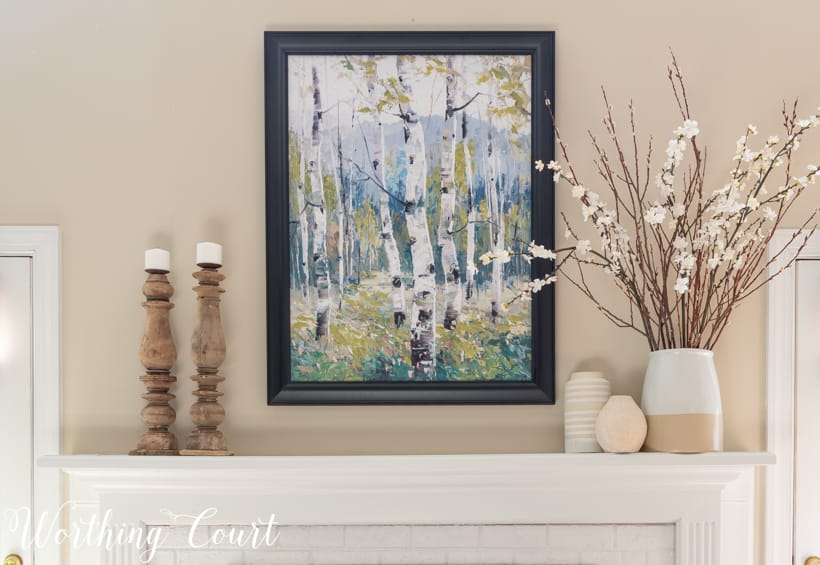 Pin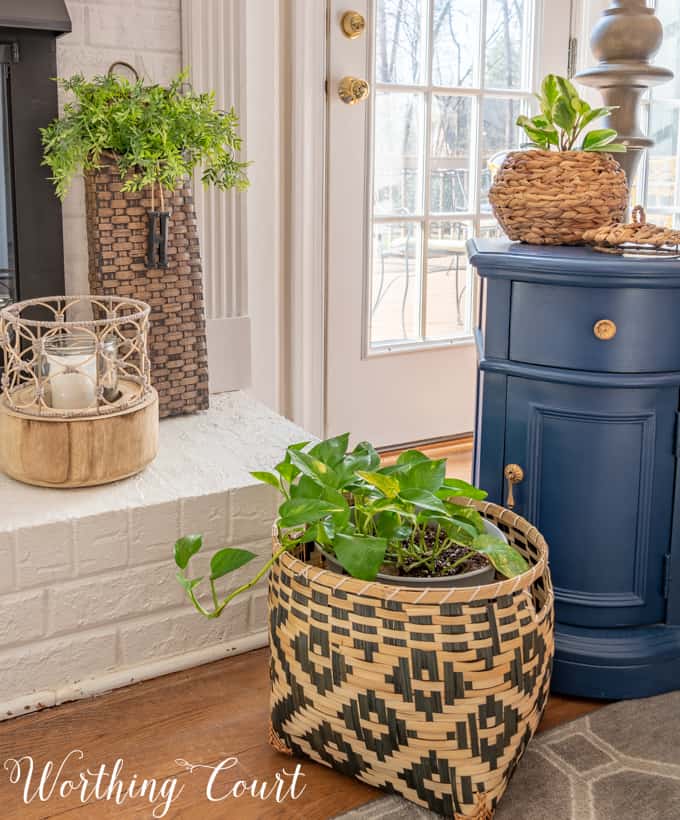 Pin
The rug that I layered over our existing larger gray area rug brings those same colors into the room and helps to break up the sea of gray that existed in here before. I contemplated painting our entertainment center, but have decided not to. I really like the warmth that the wood adds to the room.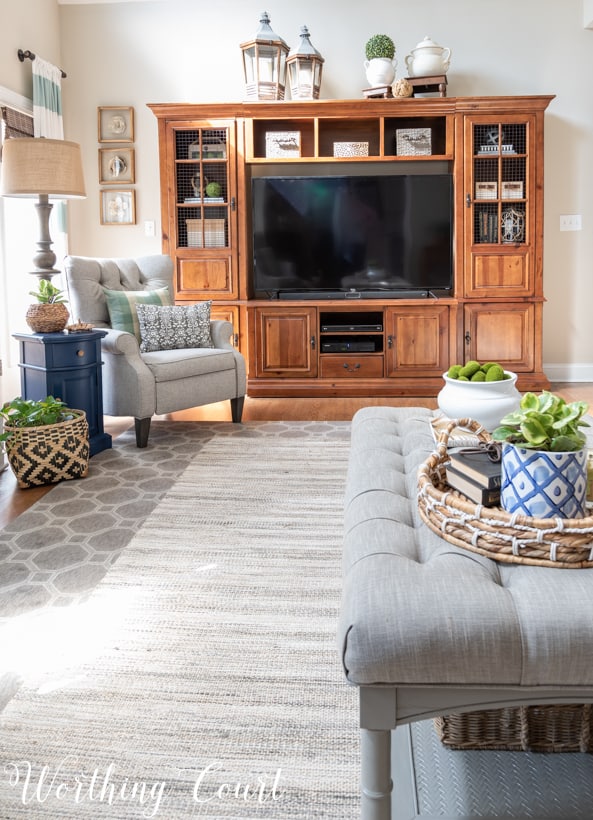 Pin
UPDATE – I changed my mind and decided to paint the entertainment center after all. And wow, what a difference that has made in this room! Now that it's done, I honestly don't know why I hesitated.
You can read about how we painted this beast without sanding and the products that we used HERE.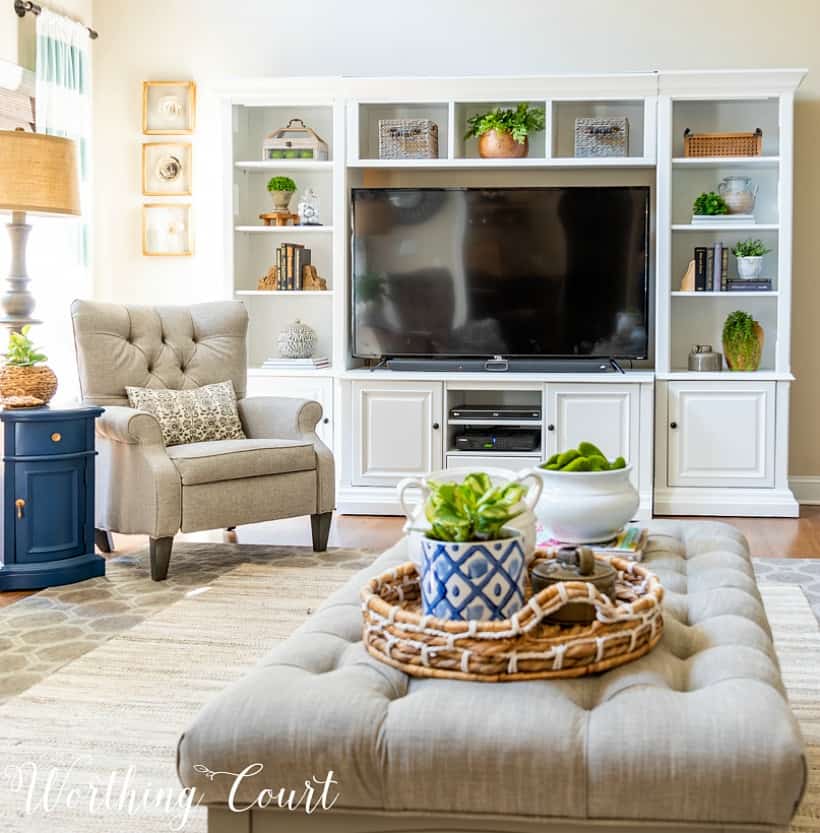 Pin
The other side of the room saw big changes too. In addition to painting my side table with my very favorite gray paint, I simplified the very full gallery wall above my sofa with a grouping of pretty watercolor prints (available HERE, look for all six prints by this artist in the collection called Watercolour Sketchbook) and three sconces.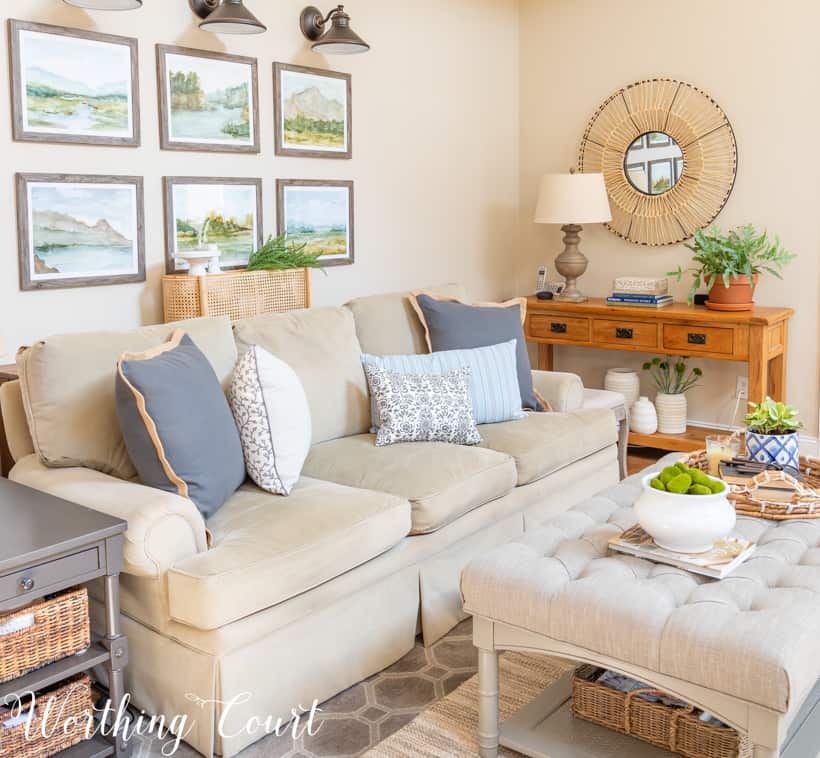 Pin
This wall needs some dimension and texture on it because of the overhang above it that's there due to the catwalk for the hallway upstairs. Without the dimension and my diy sofa table behind the couch, it looks like my couch is just shoved up against the wall and that really bugs me.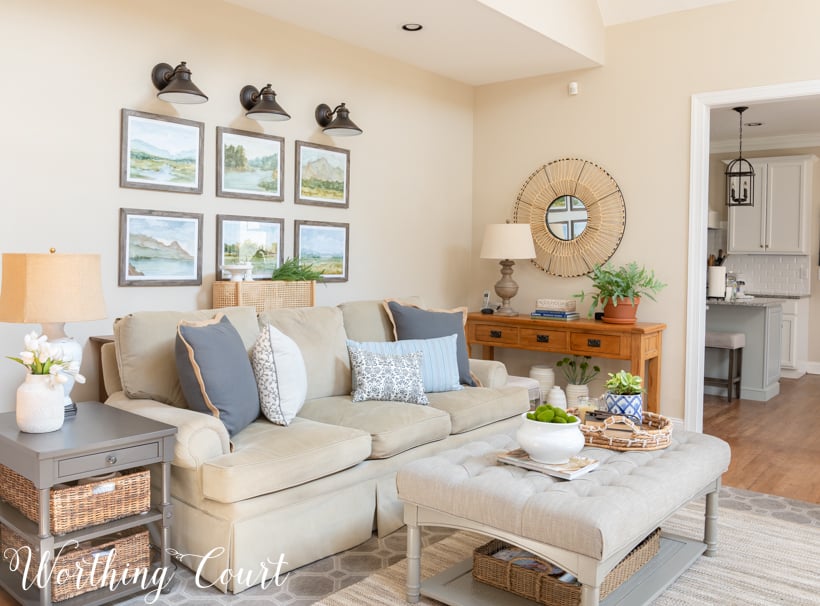 Pin
Oh, I forgot – I do have one more home decor project in here and that's to paint or refinish the pine console table. The mirror (similar mirror available HERE) that I added above it gives it a fresh look, but the yellow'y orange color of the table has to go! Not sure exactly what I'm going to do, but I have a few ideas up my sleeve. Stay tuned to my Instagram stories for that makeover!
Pin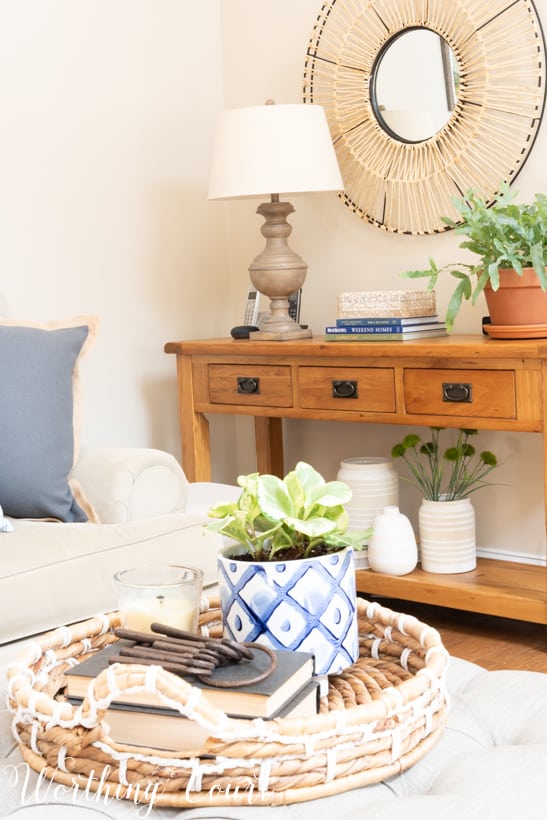 Pin
And lastly, let's talk about my new coffee table. But wait – I said the only furniture I bought was the chairs – right??? That's true! This is my old coffee table with the base painted (Annie Sloan in French Linen), the legs cut down and the top upholstered. Y'all, I am seriously in love with this thing!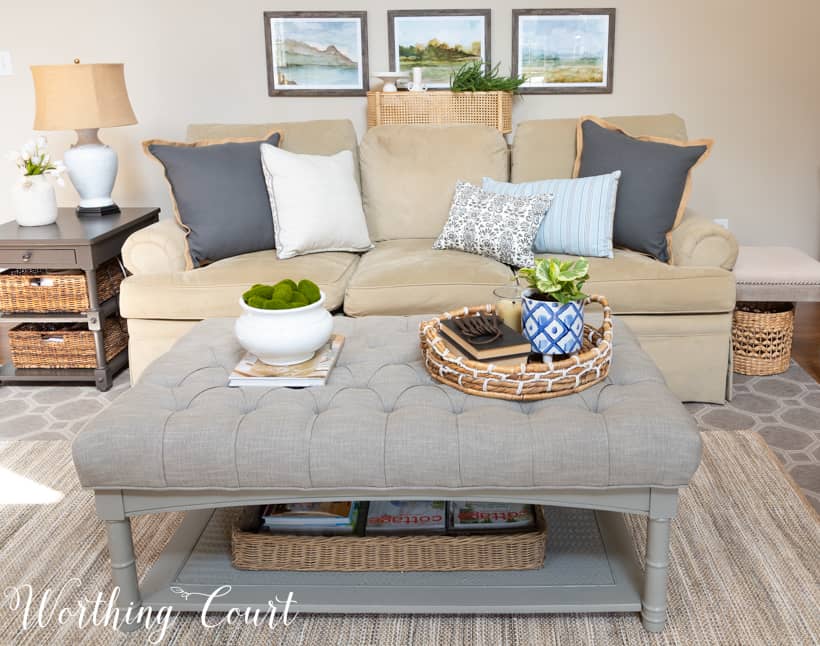 Pin
Normally, I prefer to makeover furniture myself, but adding all of the diamond tufts to the top of this table wasn't something that I was willing to tackle. So off to my upholster the table went for a few weeks and they did a fabulous job. I priced a new coffee table out, but because of the large'ish size of our table, going this route was much less expensive than buying a new one. A big thank you to all of my Instagram friends who helped me pick out the best fabric!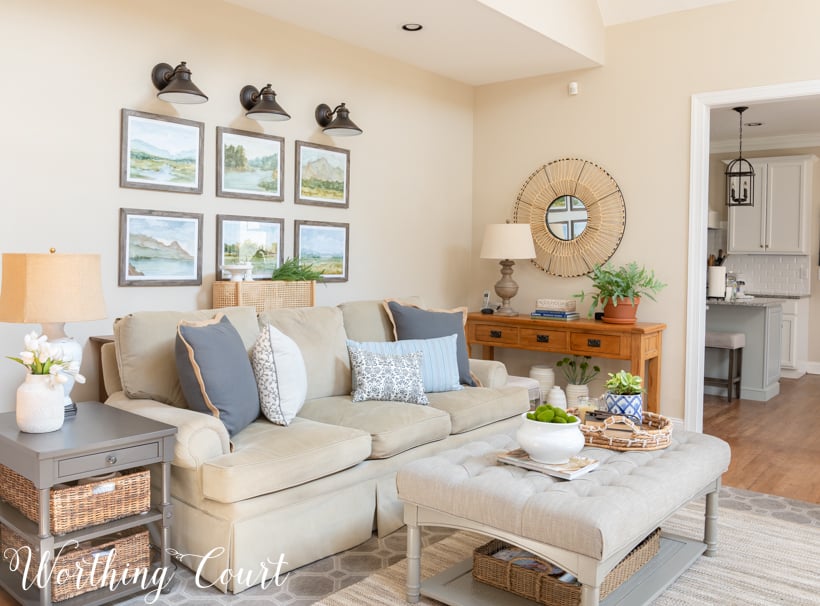 Pin
Thank you for stopping by today! I hope you enjoyed this tour of my refreshed family room and agree that it looks much brighter and more up to date.
Now, you'll want to be sure to go visit Sue at Wood + Vine Designs to see her gorgeous spring decor!