Modern Farmhouse Spring Front Porch Styling On A Budget
Easy and doable ideas for adding spring touches to your front porch without breaking the bank.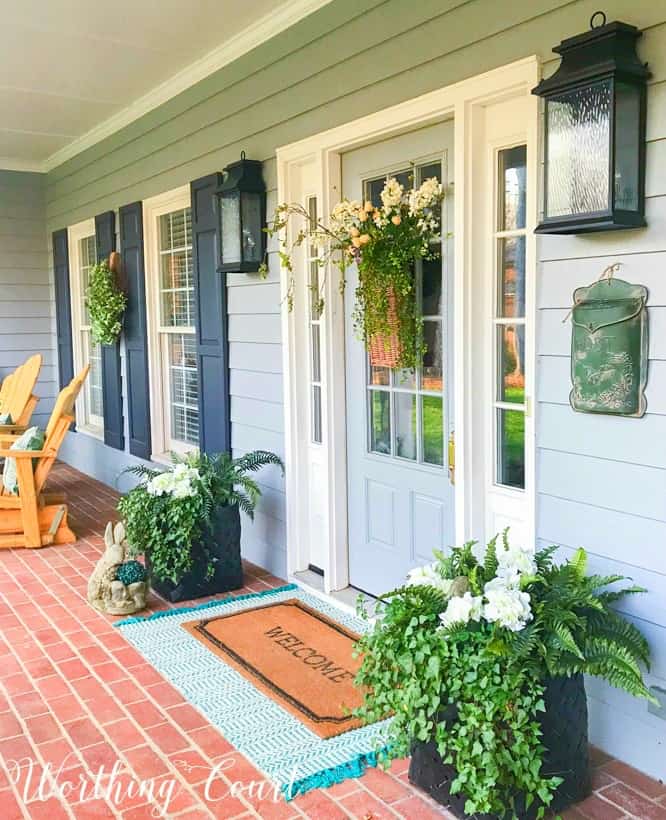 Pin
Today, I'm excited to be joining my friends for the annual Spring Ideas Tour, put together by my friend Angie from Postcards From The Ridge.  Our little group has spent the entire week bringing you spring inspiration for your mantels, tables and so much more!  Today, it's all about porches and we're going to take look at how I inexpensively decorated my front porch for the season.
Welcome!  Here at Worthing Court, it's finally time to get the front porch ready for warm weather living.  Every year toward the end of February, I get antsy and start dreaming of  warmer days ahead, so it's time for a celebration when I'm finally able to bring out all of the spring pillows!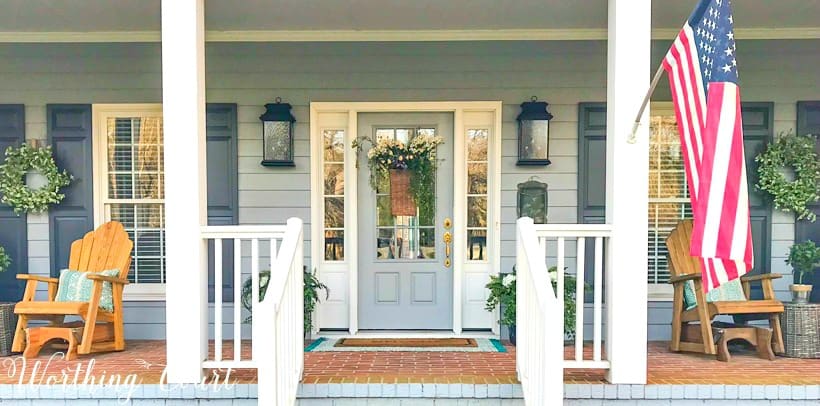 Pin
I'm always trying to decorate on a budget, so to save money, I used the same aqua/blue and cream pillows as last year.  But – to add a little freshness and cheer right at the front door this year, I layered a new aqua area rug under the welcome mat.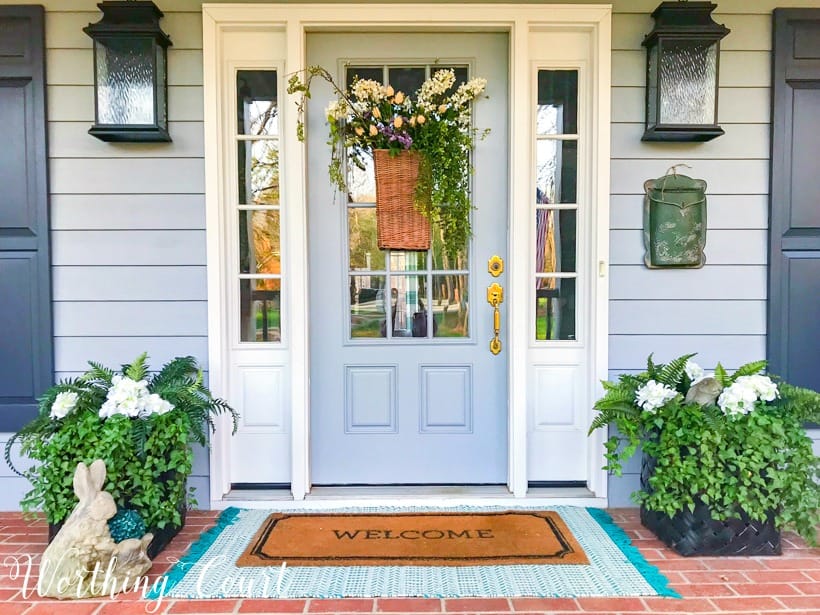 Pin
I keep ivy growing in the pots inside of the baskets flanking my front door all year long.  By only planting the ivy toward the front of the pot, it leaves room in the back to add any seasonal plants or decor I want to.  During the fall I had pumpkins, and at Christmas and through the winter, I had evergreen trees with pinecones and lights.  For the spring, I've added ferns, a few hydrangea blooms and a couple of cute little concrete bunnies to the mix.  And btw – the ivy is real, but the ferns and hydrangeas are fake.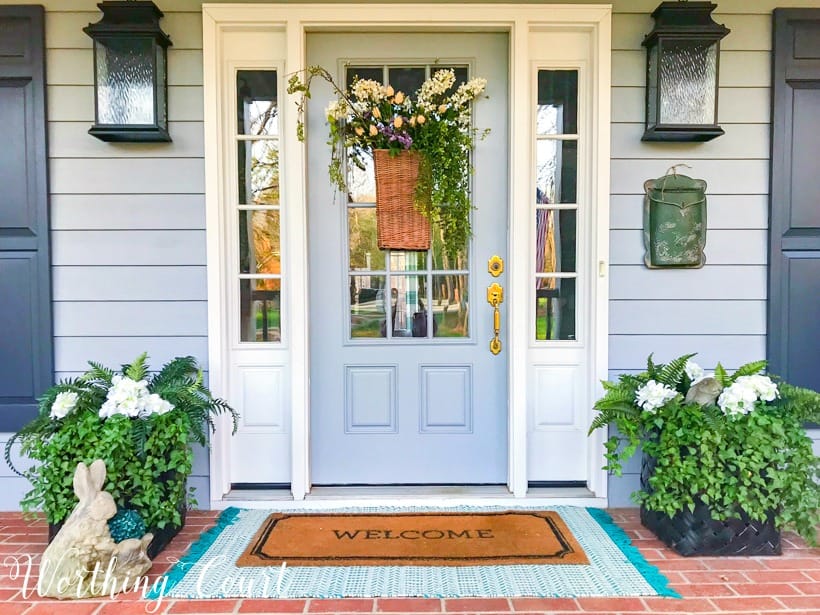 Pin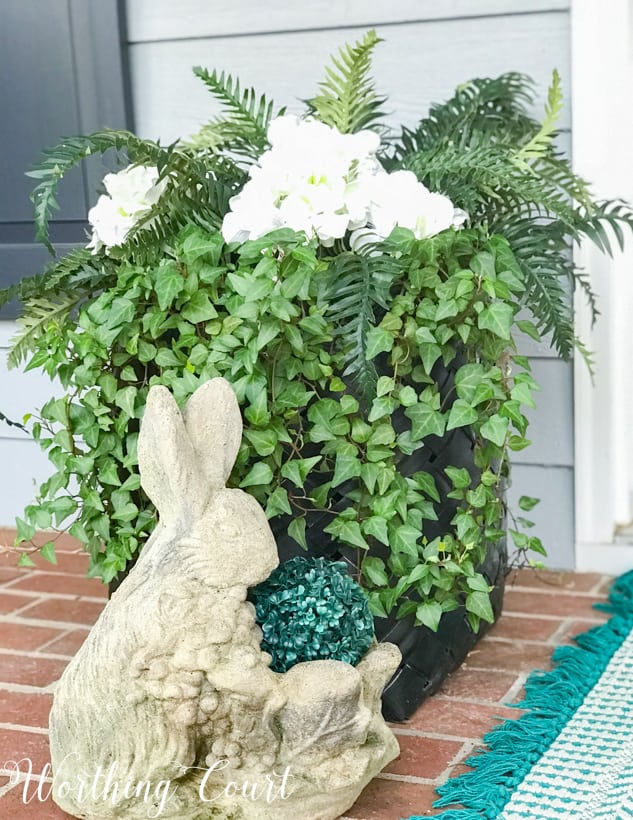 Pin
Instead of a wreath on my front door, I added a basket filled with a variety of stems and greenery.  The trees are just beginning to leaf out here where I live, so the bare'ish stems don't look like I'm rushing the season too much.  Here's a little secret for you – to keep the stems from falling to the side, I've stuffed plastic grocery bags down inside the basket.  Ssssh – don't tell!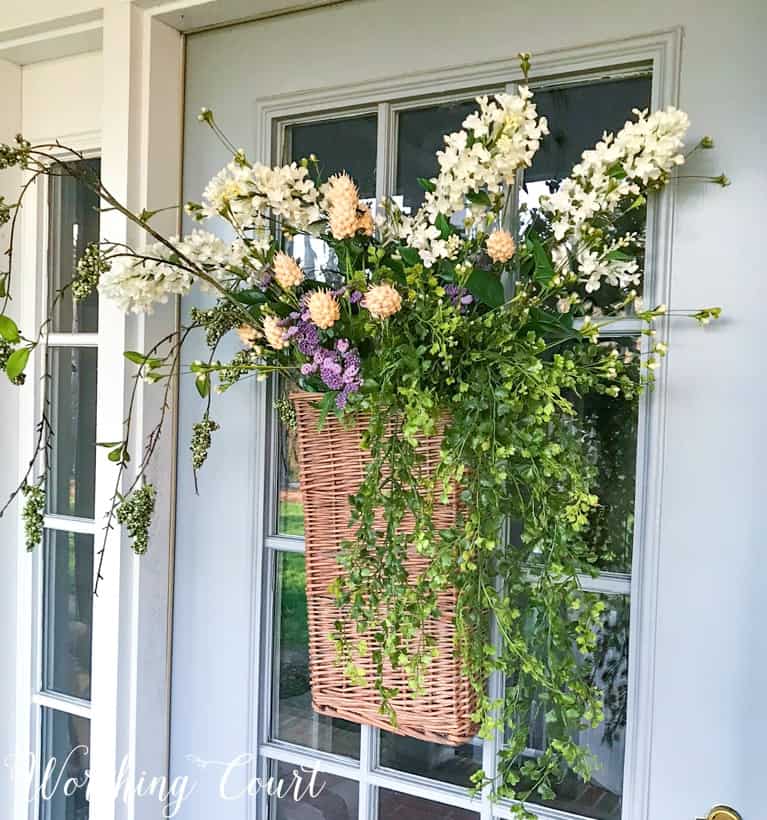 Pin
One of our favorite places to spend time, once the weather turns warm, is right here in these gliding Adirondack chairs.  When we're wiling away some time in these chairs, I liken it to "watching the cars go by", except for the fact that we live on a court and the most exciting thing we watch is our dogs chasing the squirrels across the front yard.  They never catch them, by the way. 😀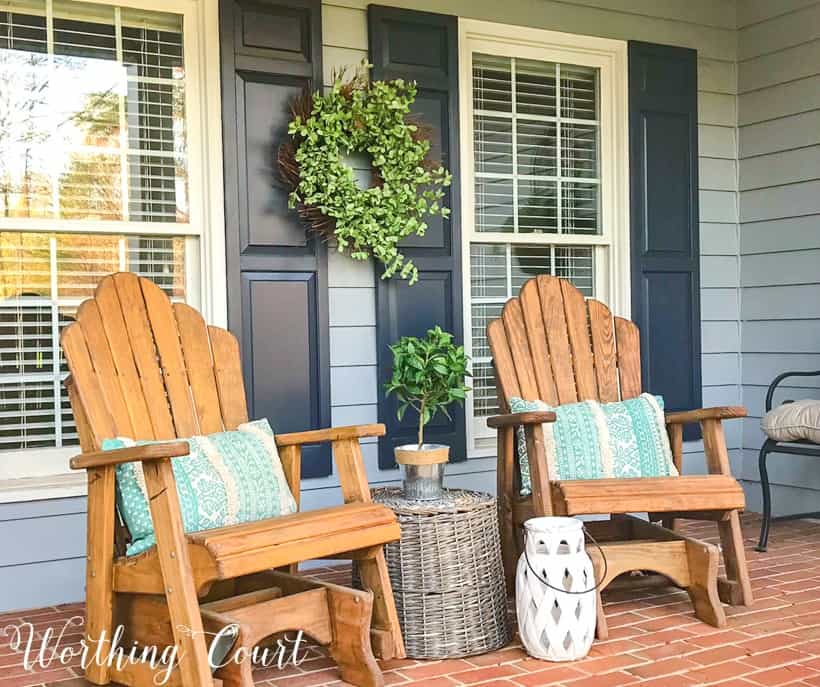 Pin
Other simple decorations include a eucalyptus wreath between the shutters of both sets of windows, a cute pretend mailbox beside the front door, simple topiaries on the round tables between the chairs and a couple of white lanterns for an extra touch of brightness.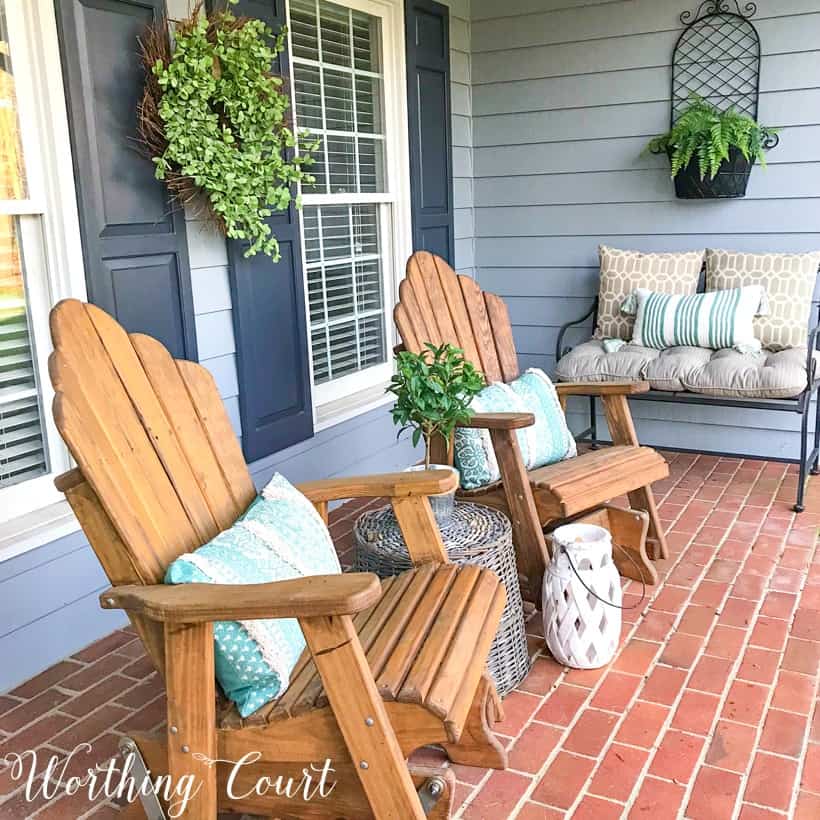 Pin
Such simple decorations, but definitely spring worthy!  How do you decorate your porch for spring?
You'll want to check out these ideas from my friends for even more spring inspiration!
Monday ~ Mantels
Postcards from the Ridge // Anderson + Grant // Virginia Sweet Pea // Daily Dose of Style
Tuesday ~ Tablescapes
Wednesday ~ Spring DIY
Thursday ~ Spring Recipes
Friday ~ Porches & Decks