How To Give An Old Entertainment Center A Makeover With Paint – No Sanding Required
Here's how give an old entertainment center a makeover, what kind of paint to use on wood furniture and how to paint furniture without sanding.
I recently gave my family room a little makeover geared toward giving the space a brighter, more updated look.  But, when I was thought I was finished, I realized that something was still off.  It took me a while, but I finally realized that what I needed to do was to give my old wall unit entertainment center a makeover.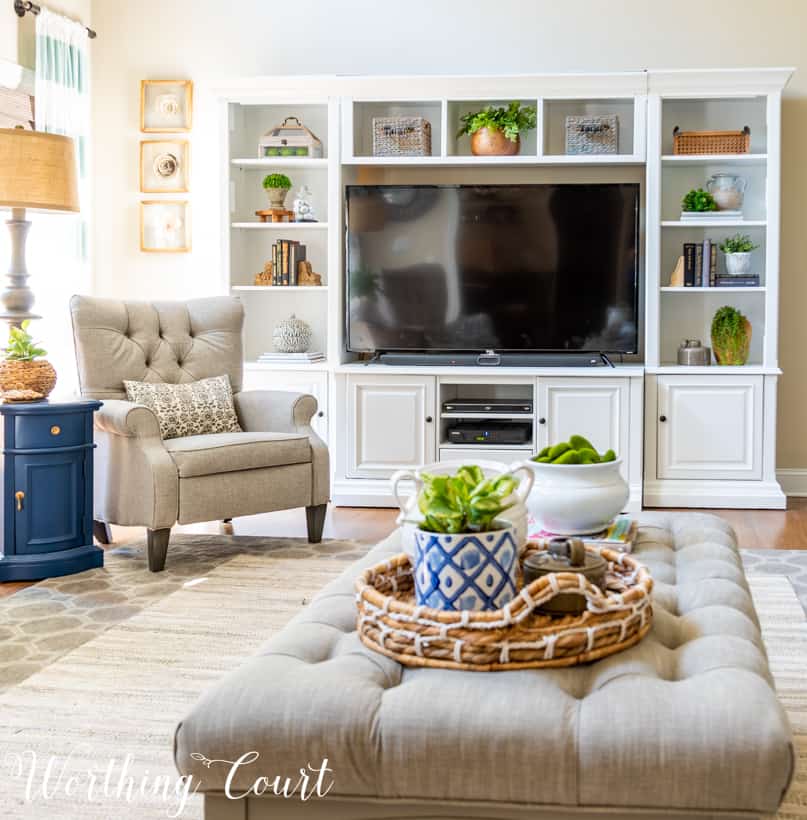 Pin
I had been telling myself for a long time, that keeping the natural wood was a good thing because it added a bit of warmth to the room (and natural wood certainly does!), but the color of the wood used on the entertainment center just wasn't cutting it.  I think it was pretty, but it just wasn't right for the new look and feel of the room.  Take a look at what the entertainment center looked like before, after the rest of the room had its makeover. Something just seemed off.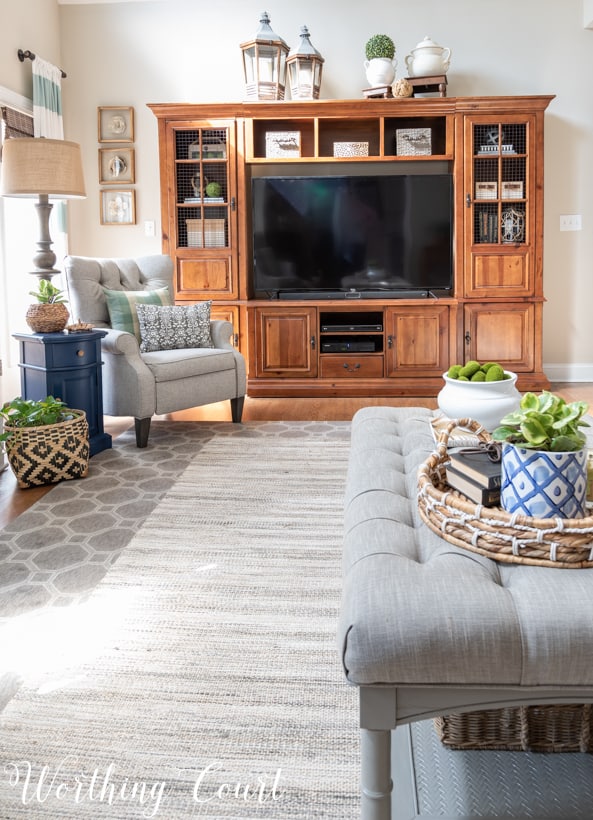 Pin
Even though I knew that something needed to be done to it, I almost let myself not do anything at all for fear of making a mistake.  Before I took the major step of painting it (once it's painted, it's painted – right?), I used Pinterest as a resource to look for entertainment center ideas to inspire me.  Fortunately, I was able to follow my own advice about overcoming my decorating fears and am soooo glad that I did!
I'll go ahead and fess up and tell you that I didn't paint it myself – I hired my painter to come in and do it.  What would have taken me days and days, they were able to knock it out in a few short hours.  I even snapped a quick pic with my phone so that you could see what the painting process looked like.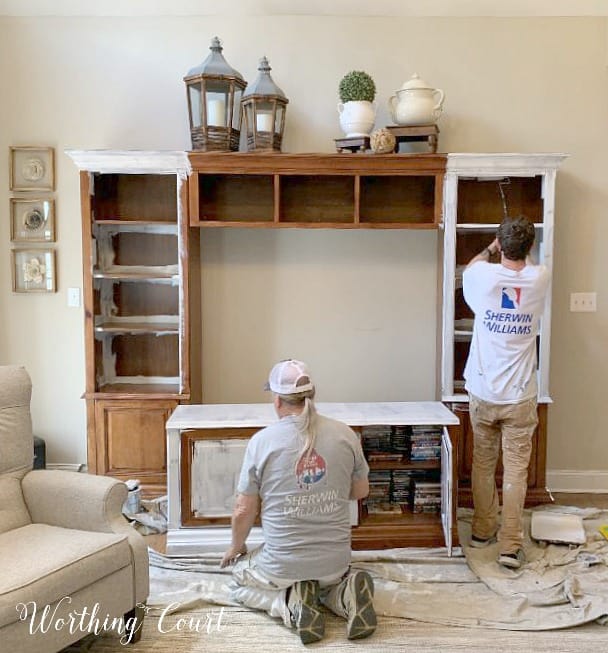 Pin
I had a few questions and concerns.  What is the best kind of paint to use on wood furniture?  Did I need to sand it first or wipe it down with something like mineral spirits?  It turned out that the products they used didn't require any sanding or wiping down beforehand.
The painters applied one coat of Sherwin Williams oil based ProBlock Primer in white and two coats of Sherwin Williams SuperPaint semi gloss interior latex in Extra White.  A full third coat wasn't needed, but there were lots of places that needed the third coat touch-up.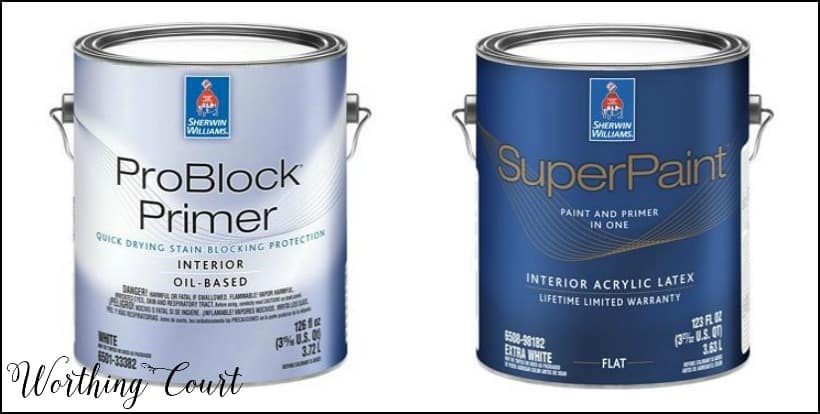 Pin
Painting the unit wasn't the only update that I gave to the entertainment center.  I also removed the doors and filled all of the holes where the hinges had been.  Even though I wasn't going to reuse the doors, I had those painted too……just in case.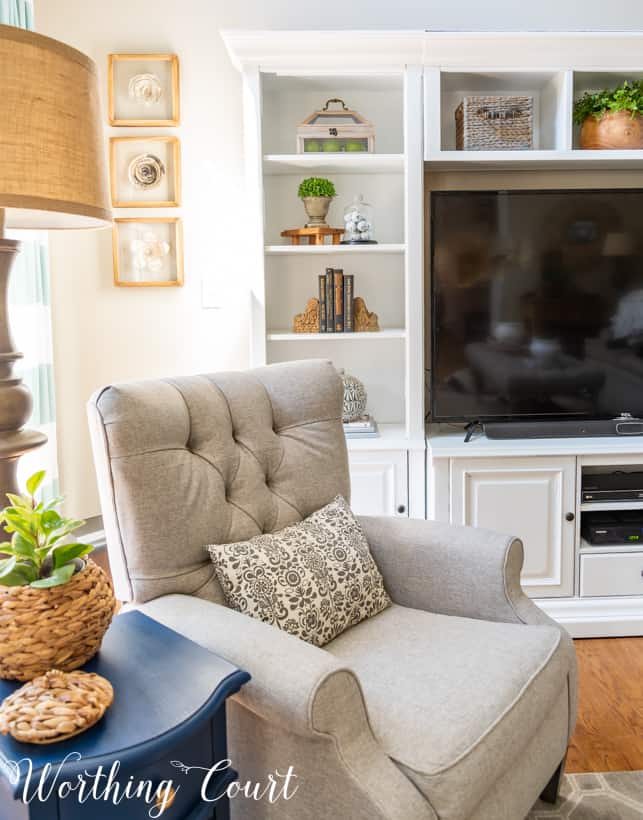 Pin
Pin
If you look closely you can see that hardware doesn't look exactly the same either.  Nope, it isn't new hardware, nor did I paint the hardware.  I simply didn't use the backer plates for the knobs when I reapplied the hardware to the cabinet doors, which adds to the updated appearance.  Don't forget those little details, they make such a big difference in the look!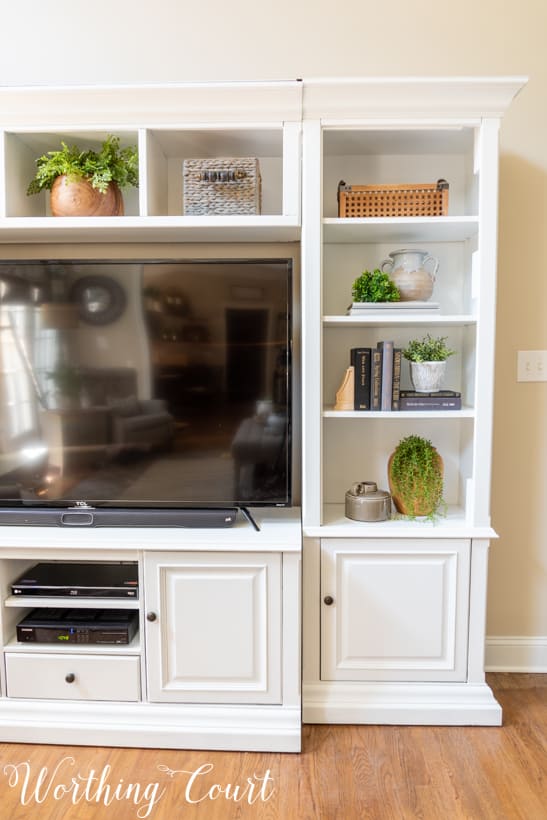 Pin
I allowed the unit to "cure" for three days before adding anything back to the shelves, including the tv.  I was so proud of myself for not buying anything new to fill them with.  Everything came out of my design stash.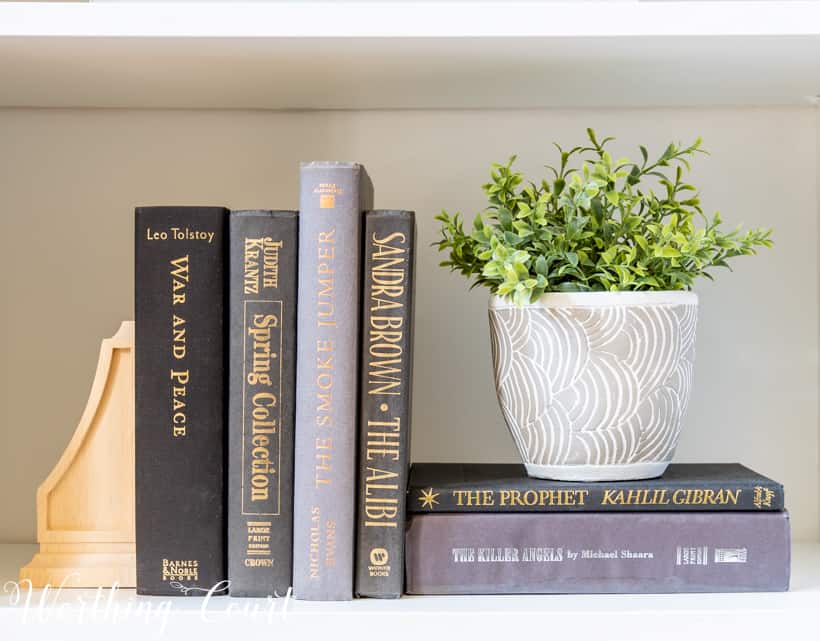 Pin
The other choice that I made was to remove everything that used to live on top.  The items that had been on top just looked too heavy now that the unit was painted white and after filling the shelves again.  I thought that I'd be placing something else there, but I'm pretty much loving the cleaner, less heavy appearance.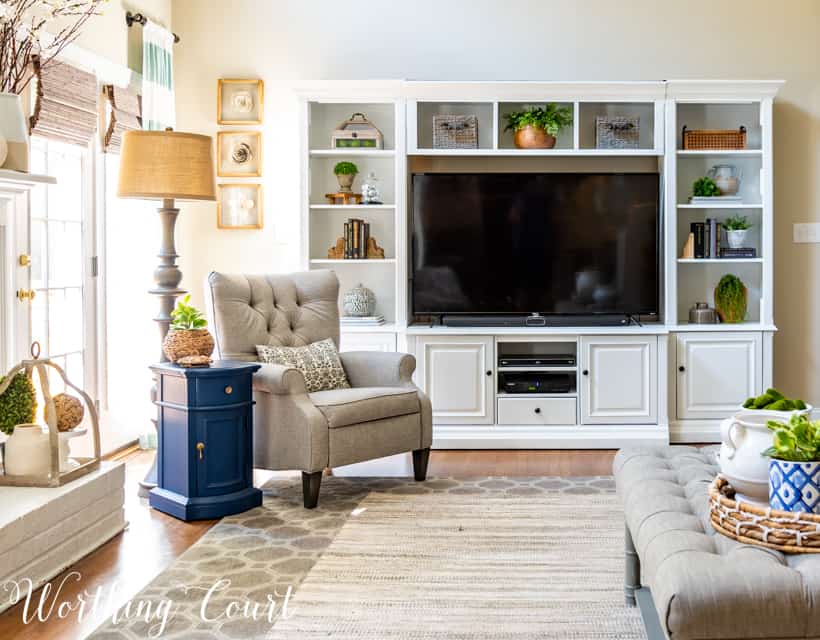 Pin
I think the ultimate compliment came when I asked my daughter what she thought of my old entertainment center makeover and she said, "Mom, that looks just like Pottery Barn!".
Pin
Pin