How To Overcome The Fear Of Making A Mistake When You Decorate
Do you have a fear of making a mistake when you decorate?  These practical tips will help you to overcome those fears and get you on the road to creating a home that you love.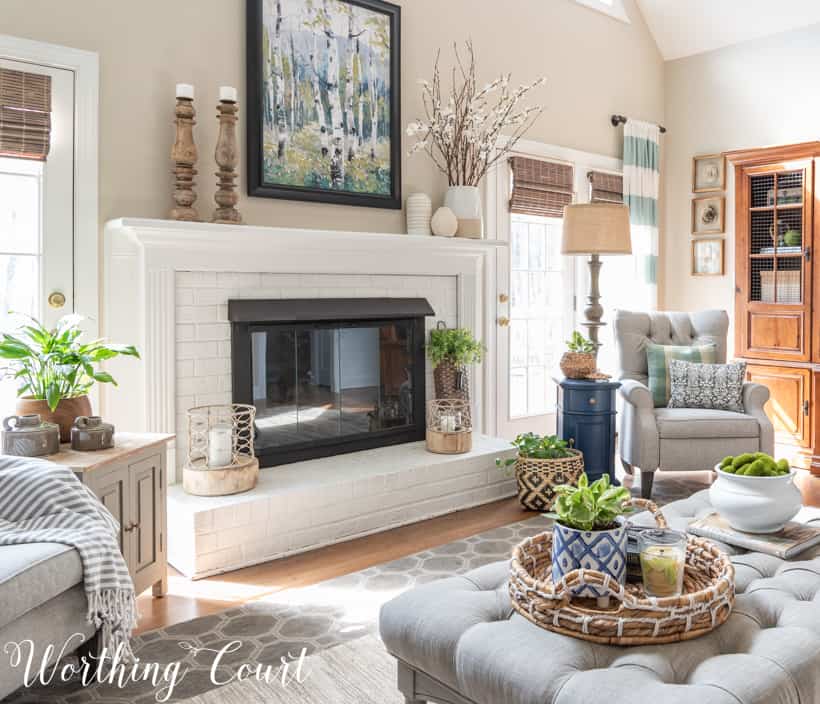 Pin
I hear this so often  – "I have such a fear of making a design mistake when I decorate my home that I don't do anything.  Where do I even begin?".  Guys, I so get it!
True confession – my biggest fear to this very day is "What if other people don't like it?".  Or worse yet, what if I don't like it?  What if I have to spend more money and time making it right?  Fear of decorating is basically just fear of making a mistake!  Even though I still struggle with those fears occasionally, I've been able to overcome the worst of them by remembering these practical tips for decorating.
START SMALL
I believe that the major hurdle in overcoming fear of anything (except spiders!) is to build up your confidence.  If you aren't experienced with doing full room makeovers, it's probably best if you start with a few small home projects first.
Try your hand at simple projects such as: painting candlesticks or other small accessories, creating a vignette or centerpiece or rearranging shelves.  If it doesn't turn out right the first time, take a deep breath and try it again!  Maybe you need to walk away for a while and come back to the project at another time.  Taking a step back for a bit almost always helps me when I'm feeling stuck.
You'll gain confidence in yourself with each project that you try and will soon be ready to move on to greater things!  Not sure where to start?  Don't worry – there are literally thousands of tutorials for doing just about anything.  Just Google whatever you're interested in and you'll see.  😀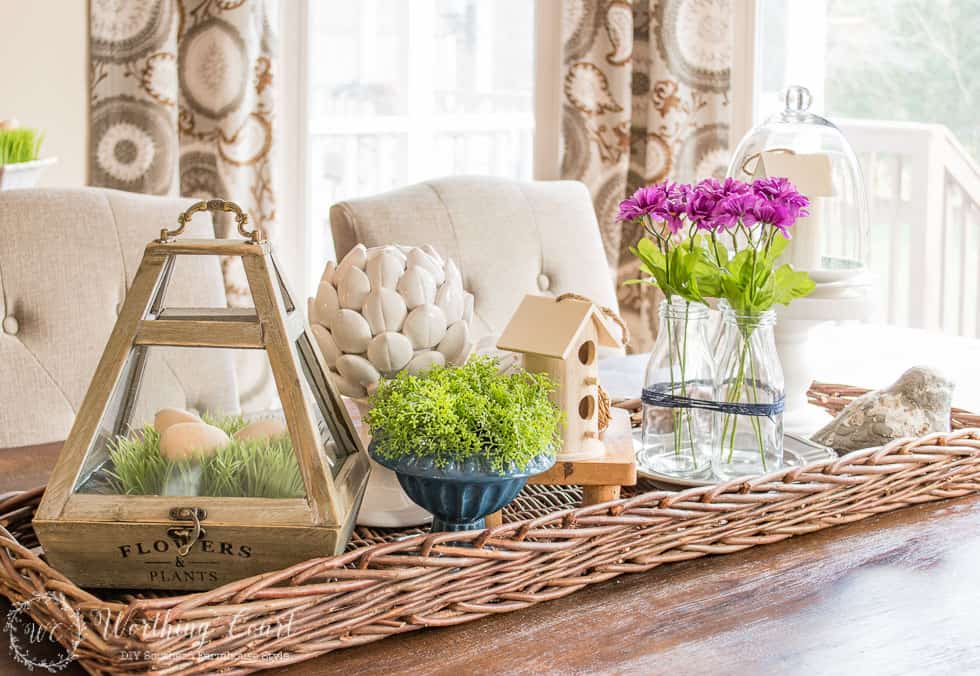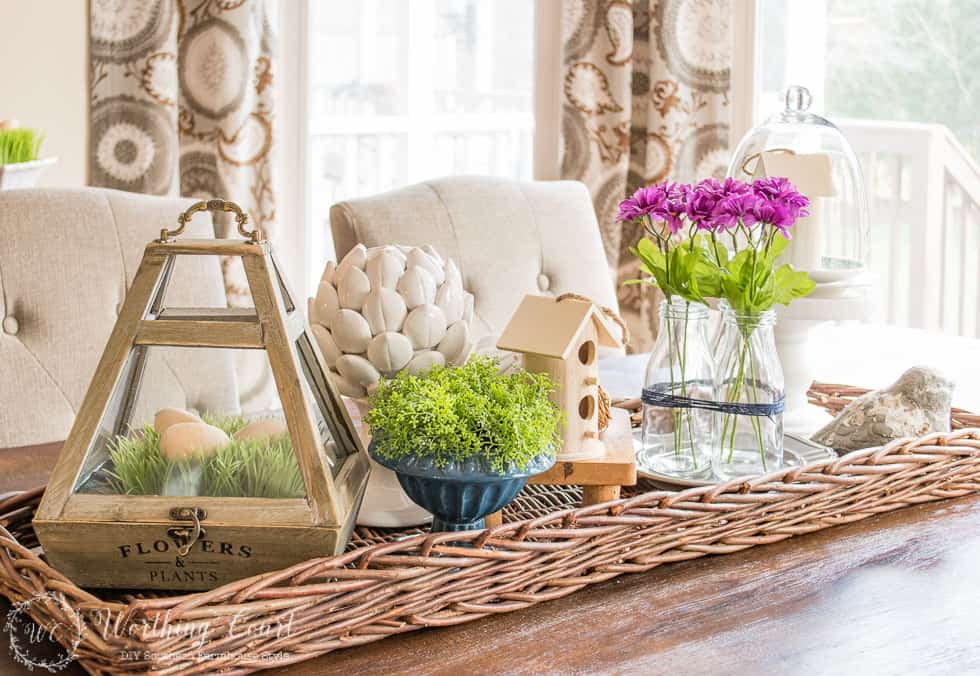 Pin
TAKE THINGS ONE STEP AT A TIME
Maybe you can't visualize everything that you'd like to change in one of your rooms, but I bet you can think of at least one or two small things.  Go ahead – try one!  Then sit back and live with it for a while.  Try something else and live with that.
Sometimes just getting started will give you the inspiration and confidence boost that you need to tackle redecorating that whole room.  I had lots of fears about my dining room makeover, but taking it one step at a time was exactly the right prescription for decorating success for me.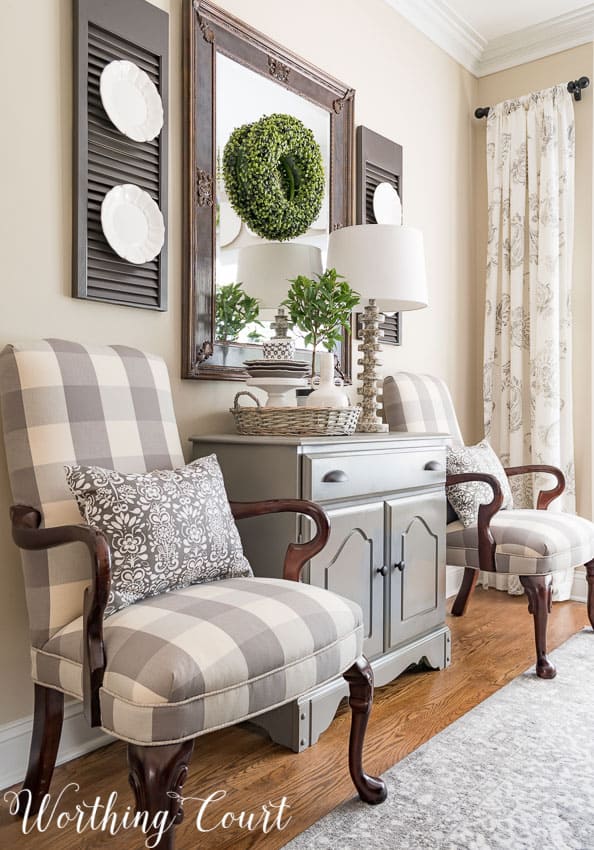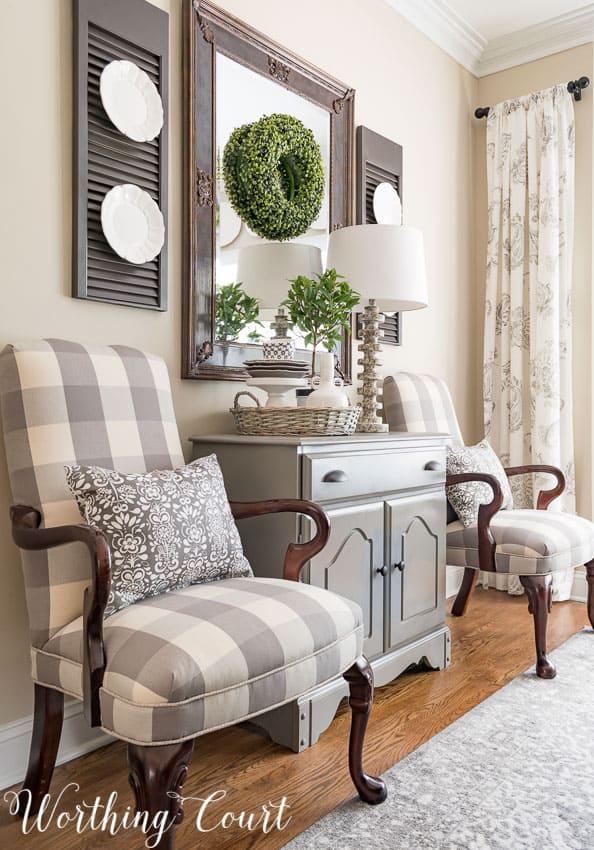 Pin
GATHER INSPIRATION
Everyone's favorite place to find inspiring room decor is Pinterest and it's easy to see why.  You can search on any topic and Pinterest will reward you with oodles of inspiring images!  If you haven't already, create your own Pinterest account where you can save images that speak to you.  When I first started trying to decorate my own home, pre-Pinterest days, I would literally find a photo that I liked and do my best to copy every single thing in it, right down to trying to find the exact items or at least the closest to them that I could and arrange them in the same way.
I highly recommend checking out any show houses where you live or taking any home tours that your area may offer.  You might be amazed at what a difference it makes to see things in person.  If no photos are allowed, take notes!
Online isn't the only place to find inspiration – don't forget about magazines!  I can't tell you how many hundreds of pages that I've torn out of magazines and added to my decorating inspiration notebook.
Once you've gathered your inspiration and are ready to move on, I highly recommend creating a design board.  I do this with every room makeover before I make the first change in the room.  You'd be surprised how often giving yourself a virtual image of all of the pieces you want to combine in the room will pretty quickly show you any glaring mistakes.  Plus, they're a great way to keep you on task and on budget.  Creating design boards is easy and so much fun!  Get the step-by-step directions for making one HERE.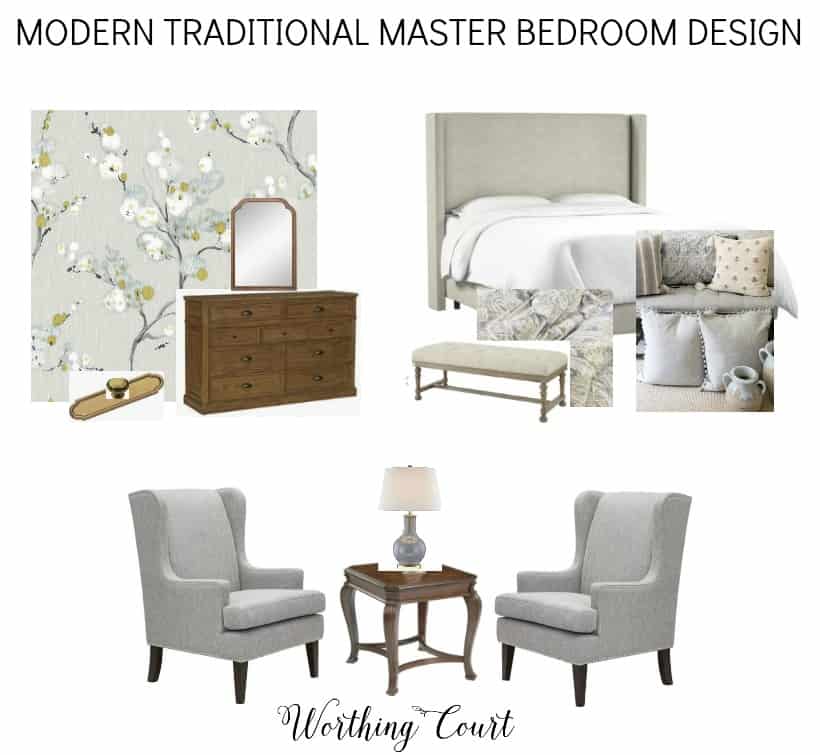 Pin
ACCEPT THE FACT THAT YOU WILL PROBABLY MAKE MISTAKES
You may as well just accept it – in all likelihood, you will make some mistakes along the way.  A mistake doesn't make you a failure or mean that you can't do it.  Even professionally trained interior designers admit that they make mistakes too.  When it happens – don't be hard on yourself!  At least you tried and learned something in the process. If it's the wrong paint color, well…it's only paint and can be repainted.  If it doesn't look right in your home…return it and try something else (make sure to familiarize yourself with a stores return policy before making purchases and to keep all receipts).
In our former home, I made the big mistake of painting our entire basement a dark gold color.  What was I thinking?  It was only paint, and I admit it was a lot of it.  If we had stayed in that home, I definitely would have been repainting that entire room.  Or how about the time that I tried filling up a large blank wall in our former master bedroom?  Or that time that I decorated the whole downstairs of my previous home around my red couch, instead of just having the couch recovered.  And then there's the time that I bought two chairs, just because they were a great price.
I've made lots of decorating mistakes and I'm sure there will be more in my future, but all those mistakes (and successes) in the past taught me a ton and gave me the courage to purchase our very dated home and tackle a whole house remodel, even though I'd never undertaken a project of that magnitude before.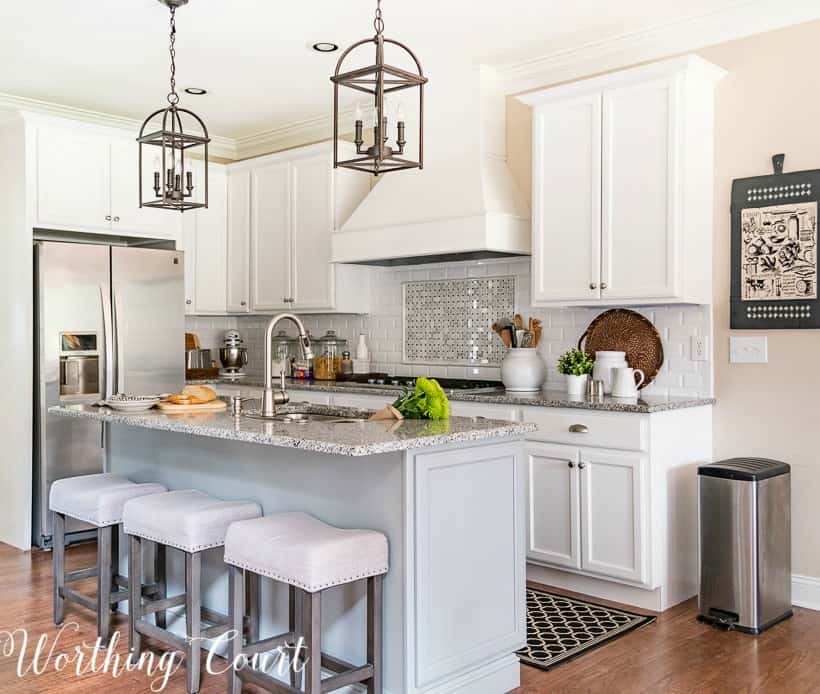 Pin
ABOVE ALL – DANCE LIKE NO ONE IS WATCHING
I bet you've heard that saying many, many times in your life.  Just think of all the fun that we miss when we're are so worried about what other people think!  If you truly do dance like no one is watching, you aren't worried about having the perfect dance moves – you just want to enjoy yourself.  Right?
Well, the same thing can be said about decorating your home.  The first notion that I believe you need to strive to rid yourself of is worrying about what everyone else will think.  This is for YOU, not for family members who don't live in your home, not for your friends and not for any other visitor.  Period.
Remember – you know what's best for you and your home.  No one else is living your life or living in your space.  Accept that people will always have an opinion, that it won't always agree with yours and that's okay!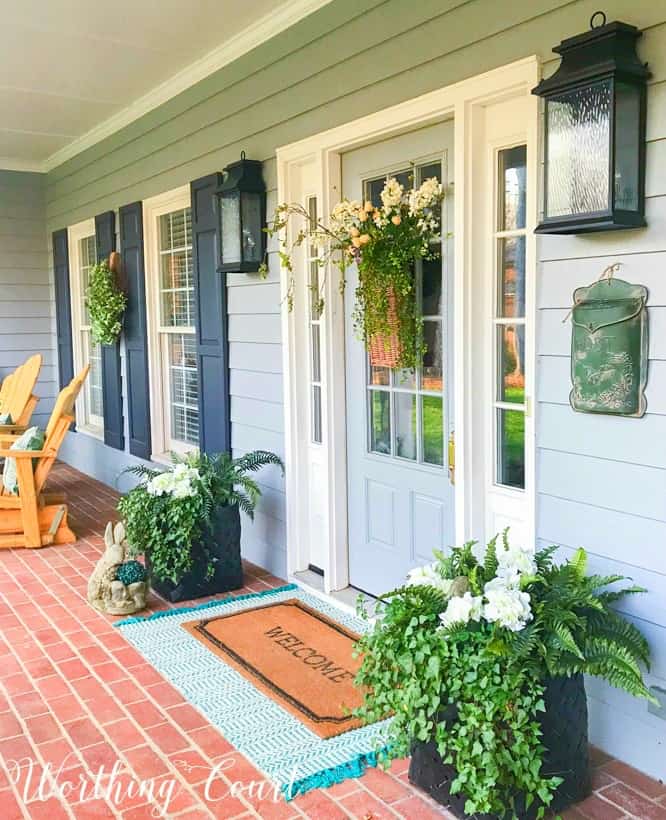 Pin
So, I'm really curious to know – has your fear of making a mistake kept you from decorating your home?  Do you have any tips to add for how you overcame that fear?