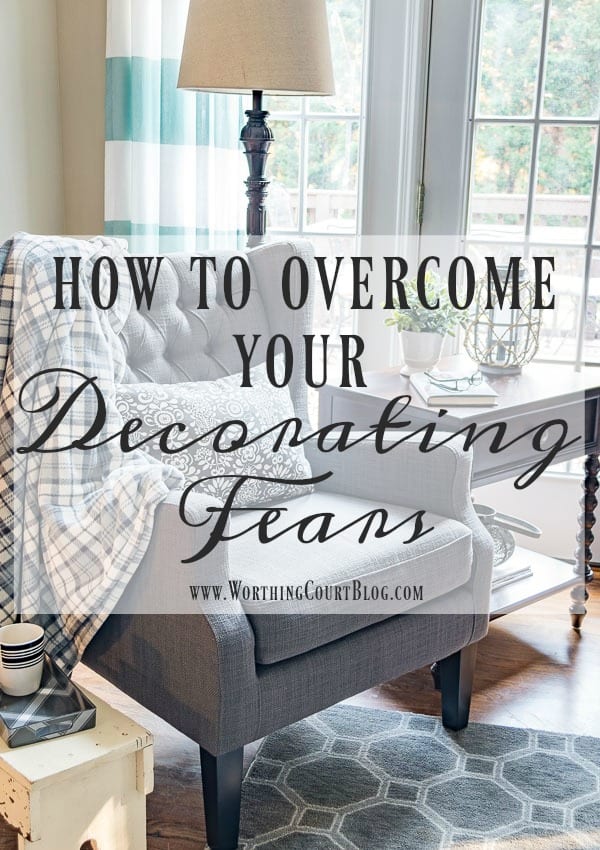 I have a couple of questions for you. Do you suffer from the dreaded "Fear Of Decorating" syndrome? Are you so afraid of making a mistake that you just don't do anything? My friends, I don't want you to be afraid! The whole purpose of this blog is to encourage you and give you confidence that you can turn your dwelling into a home that you and your family will love!
True confession – once upon a time I was paralyzed by my fear of "What if other people don't like it?". Or worse yet, what if I don't like it? What if I have to spend more money and time making it right? Fear of decorating is basically just fear of making a mistake! I still suffer from these fears occasionally, but I've been able to overcome the worst of them by following these tips.
START SMALL
I believe that the major hurdle in overcoming fear of anything (except spiders!) is to build up your confidence. If you aren't experienced with doing full room makeovers, it's probably best if you start with a few small projects first. Try your hand at simple projects such as: painting candlesticks or other small accessories, creating a vignette or centerpiece or rearranging shelves. If it doesn't turn out right the first time, take a deep breath and try it again! Maybe you need to walk away for a while and come back to the project at another time. You'll gain confidence in yourself with each project that you try and will soon be ready to move on to greater things! Not sure where to start? Don't worry – there are literally thousands of tutorials for doing just about anything. Just Google whatever you're interested in and you'll see. 😀

MY LATEST VIDEOS
SMALL TOUCHES MAKE ALL THE DIFFERENCE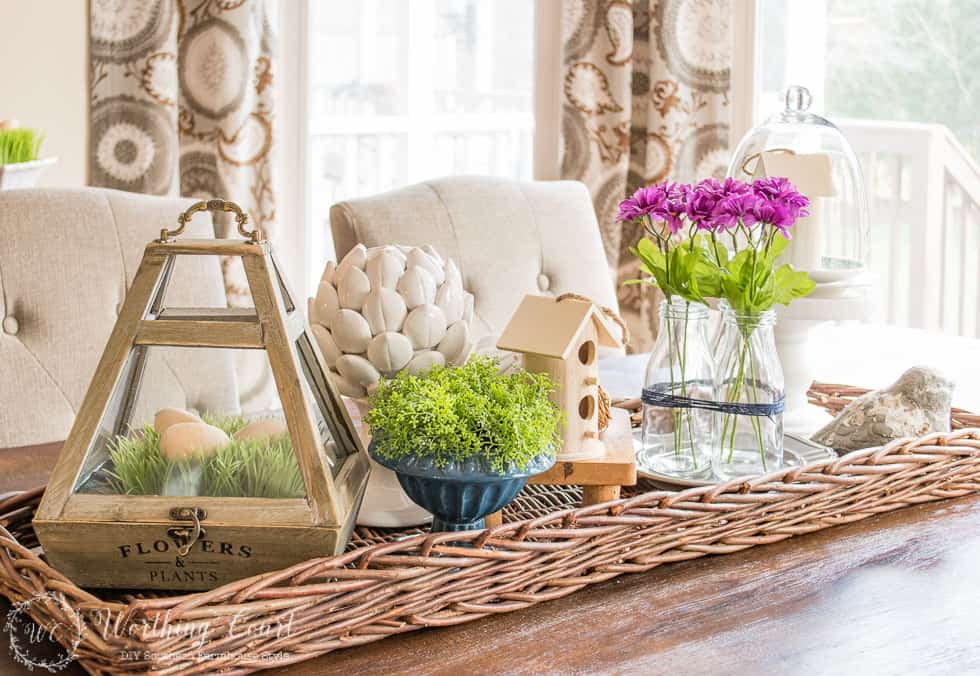 TAKE THINGS ONE STEP AT A TIME
Maybe you can't visualize everything that you'd like to change in one of your rooms, but I bet you can think of at least one or two small things. Go ahead – try one! Then sit back and live with it for a while. Try something else and live with that. Sometimes just getting started will give you the inspiration and confidence boost that you need to tackle redecorating that whole room. I had lots of fears about my dining room makeover, but taking it one step at a time was exactly the right prescription for success for me.
FARMHOUSE DINING ROOM – BEFORE AND AFTER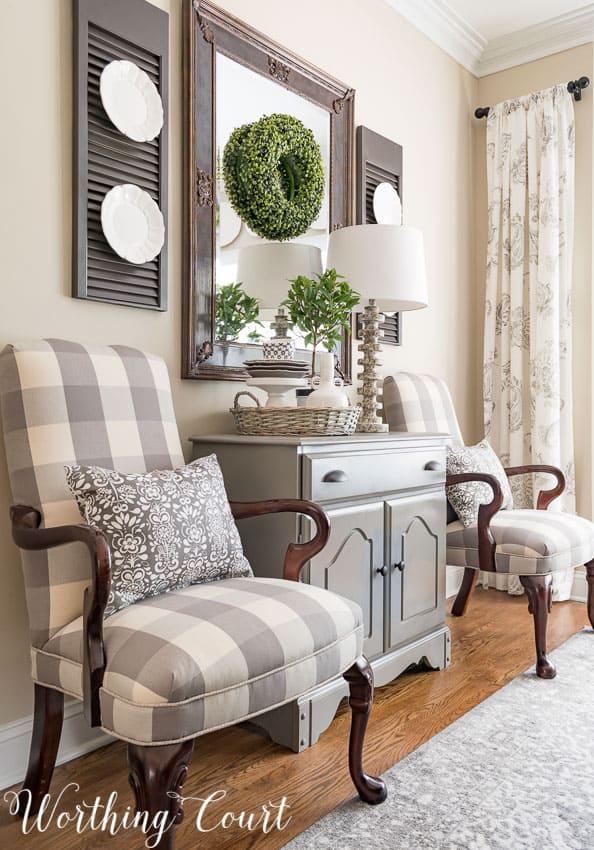 GATHER INSPIRATION
Everyone's favorite place to find inspiring room decor is Pinterest and it's easy to see why. You can search on any topic and Pinterest will reward you with oodles of inspiring images! If you haven't already, create your own Pinterest account where you can save images that speak to you. When I first started trying to decorate my own home, I would literally find a photo that I liked and do my best to copy every single thing in it, right down to trying to find the exact items or at least the closest to them that I could.
I highly recommend checking out any show houses where you live or taking any home tours that your area may offer. You might be amazed at what a difference it makes to see things in person. If no photos are allowed, take notes!
Online isn't the only place to find inspiration – don't forget about magazines! I can't tell you how many hundreds of pages that I've torn out of magazines and added to my decorating inspiration notebook.
When faced with choosing lighting for my foyer makeover, I didn't know where to find farmhouse style light fixtures that appealed to me, so I spent a lot of time on Pinterest searching under "farmhouse lighting" until I came up with a few options that I thought would work well together.
FARMHOUSE FOYER LIGHTING OPTIONS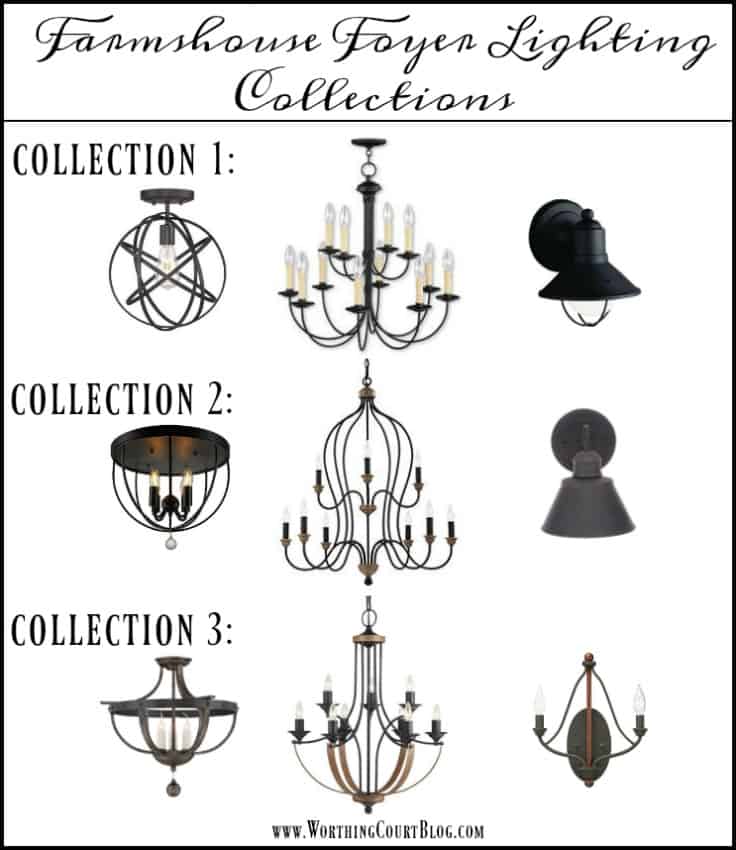 ACCEPT THE FACT THAT YOU PROBABLY WILL MAKE MISTAKES
You may as well just accept it – in all likelihood, you will make some mistakes along the way. A mistake doesn't make you a failure or mean that you can't do it! Even professional interior designers admit that they make mistakes too. When it happens – don't be hard on yourself! At least you tried and most likely learned something in the process. If it's the wrong paint color, well…it's only paint and can be repainted. If it doesn't look right in your home…return it and try something else (make sure to familiarize yourself with the stores return policy before purchases and to keep all receipts).
In our former home, I made the big mistake of painting our entire basement a dark gold color. What was I thinking? It was only paint, and I admit it was a lot of it. If we had stayed in that home, I definitely would have been repainting that entire room. Or how about the time that I tried filling up a large blank wall in our former master bedroom? Or that time that I decorated the whole downstairs of my previous home around my red couch, instead of just having the couch recovered. And then there's the time that I bought two chairs, just because they were a great price.
I'm sure there will be more decorating mistakes in my future, but all those mistakes (and successes) in the past gave me the courage to purchase our very dated home and tackle a whole house remodel!
THE EVOLUTION OF A KITCHEN – BEFORE AND AFTER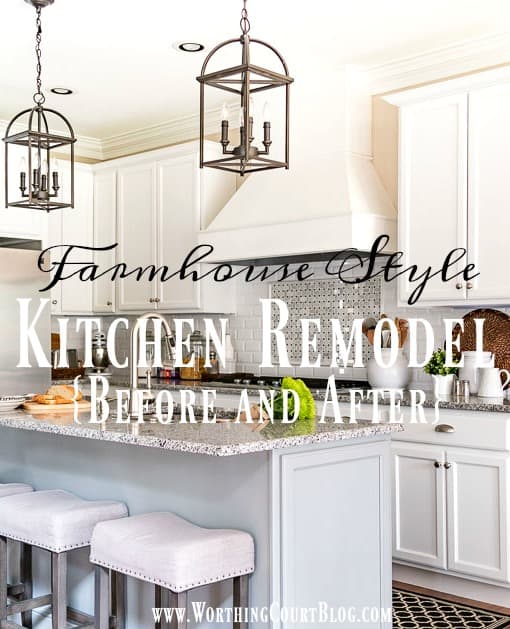 So, I'm really curious to know – has your fear of decorating held you back? Do you have any tips to add for how you overcame them?
Sharing at THESE great parties.