Easy And Fast Last Minute Christmas Decorating Ideas
Haven't had time to finish your Christmas decorating?  Don't panic!  There's plenty of time to get it done using these fast and easy ideas for adding Christmas decor all throughout your home.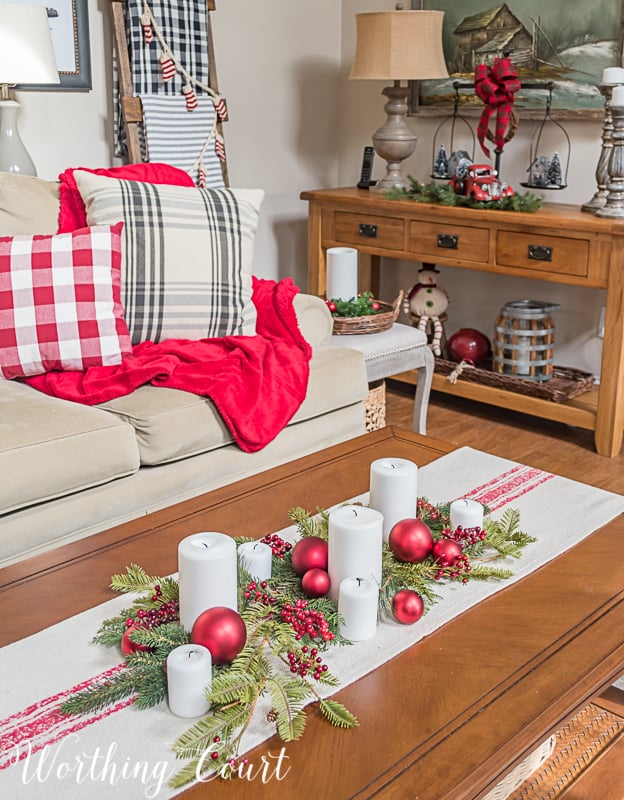 I know firsthand what's it's like to feel the pressure to "get it all done" and how impossible it may seem.  Don't fret or worry though – if your home is still looking a little Christmas-bare, these super fast and easy decorating ideas and tips will have your home singing "It's Beginning To Look A Lot Like Christmas" in no time at all!
YOUR FRONT DOOR
The first thing you probably think of is to place a holiday wreath on your front door.  I love being able to make a Christmas wreath instead of purchasing a ready made one, since I can usually take the wreath apart after Christmas and reuse the "naked" wreath another time.  BUT – I don't have time for anything complicated!
Grapevine wreaths are perfect for making your own Christmas door wreath.  They're very inexpensive and are easy to work with.  Oftentimes, I can just poke Christmas'y picks in between the vines of the wreath and don't have to wire or glue anything in place.  That's exactly what I did with this wreath.  I only needed two of two different types of Christmas bushes/picks and a pretty diy bow for this pretty wreath.  The bow is held in place with floral wire, but the sprays are simply poked into the vines.
CLICK HERE TO SEE THE ENTIRE PORCH DECORATED FOR CHRISTMAS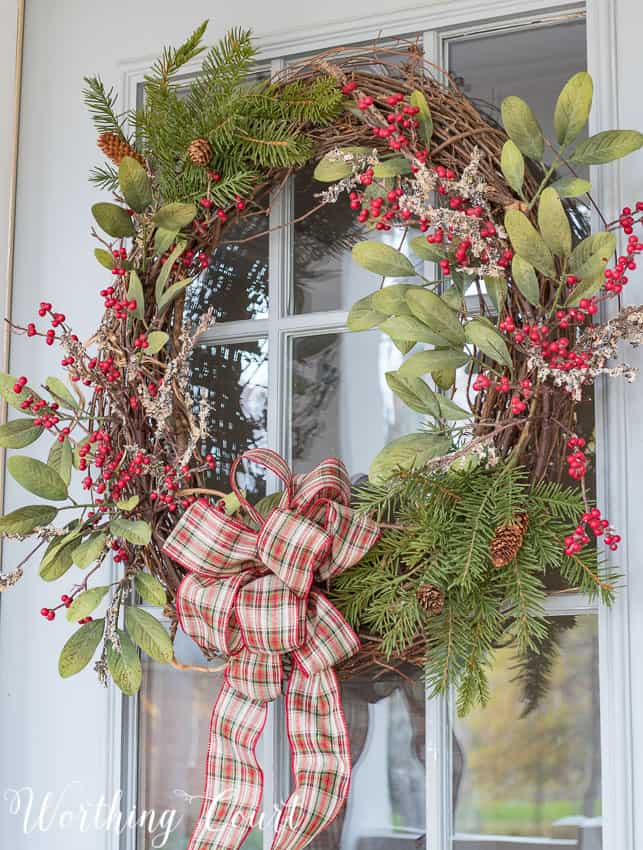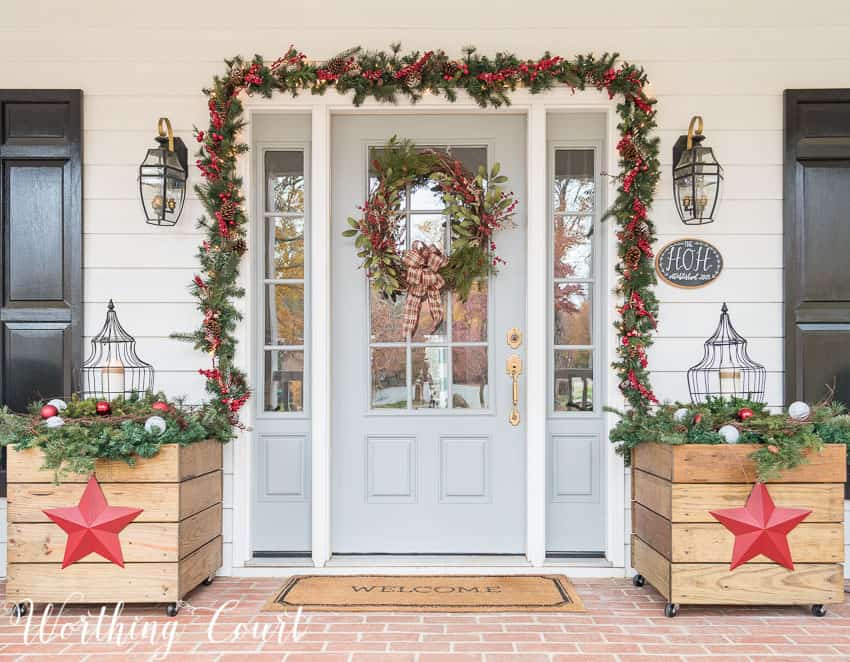 This "wreath" couldn't be any faster or easier to put together.  Tobacco basket + two evergreen sprays + one cute Christmas decoration = done!  Everything is held together with jute twine.  The wreath looks simply enchanting!
CLICK HERE TO SEE THE CHRISTMAS DECORATIONS ON THIS ENTIRE PORCH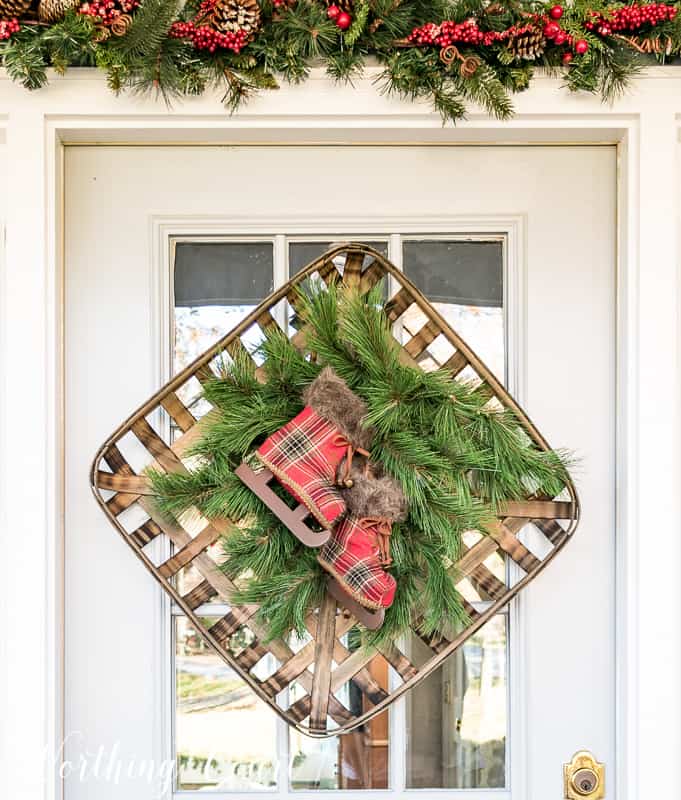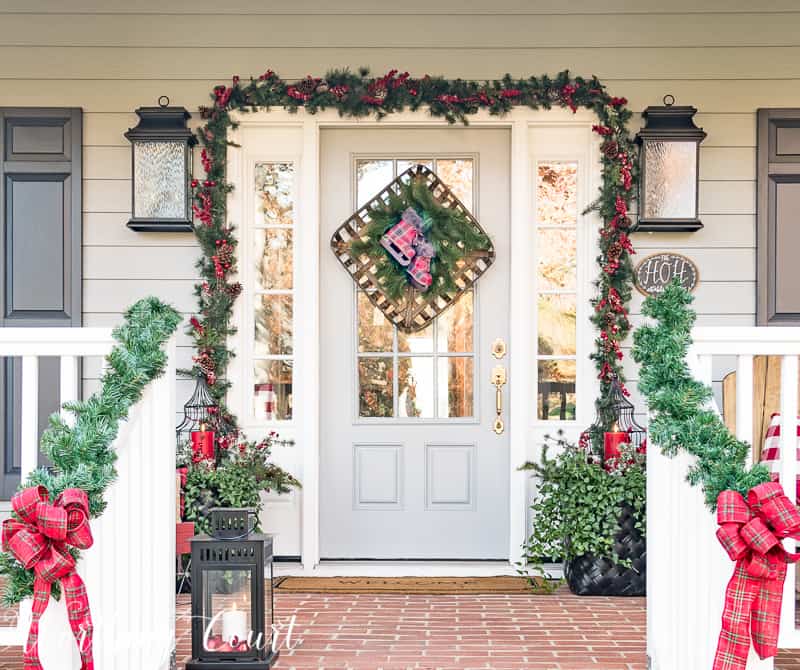 Both of these porches are from two different Christmases, but you can see some similarities that make my decorating much faster and easier.  I reused the same garland around my front door, my door is flanked by containers and I've used the same lanterns, even though the containers themselves are different.  I'm a huge proponent of K-I-S-S decorating.  Click HERE if you don't know what I'm referring to.
YOUR ENTRYWAY DECOR
Even if you don't have a full blown foyer, you can still add simple holiday touches to welcome your family and guests. If you don't have room near your front door for a small chest or table, locate a vignette where it will be visible as soon as your guests enter your home.  Something that can be seen from the front door, even if it isn't right at the front door.
TOUR THE ENTIRE FOYER BY CLICKING HERE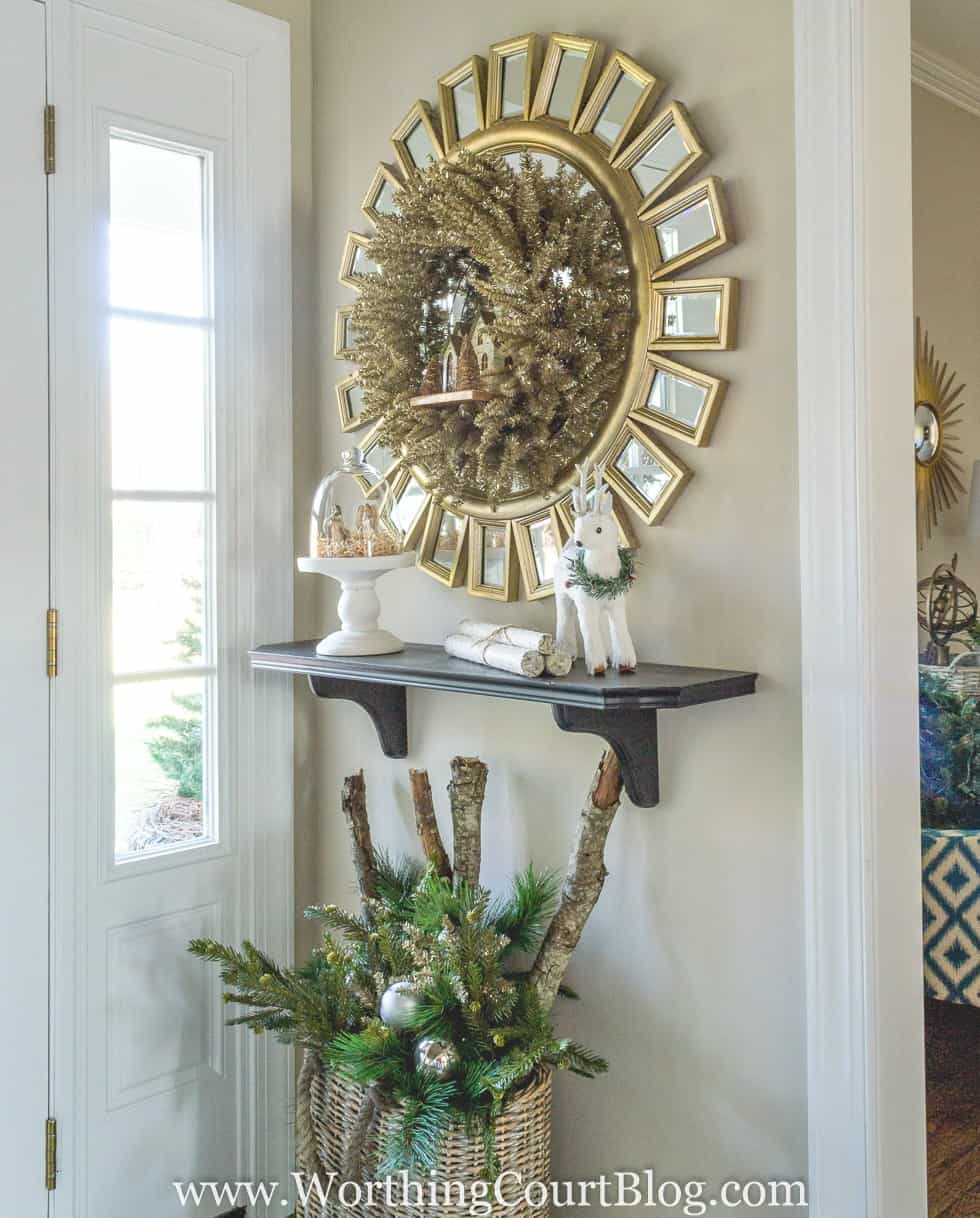 If you do have a small table or chest, look how fast you can add Christmas decorations to it.  You can do the same thing on a tabletop elsewhere in your home too!
CLICK HERE TO SEE ALL OF THE CHRISTMAS DECORATIONS IN THIS FOYER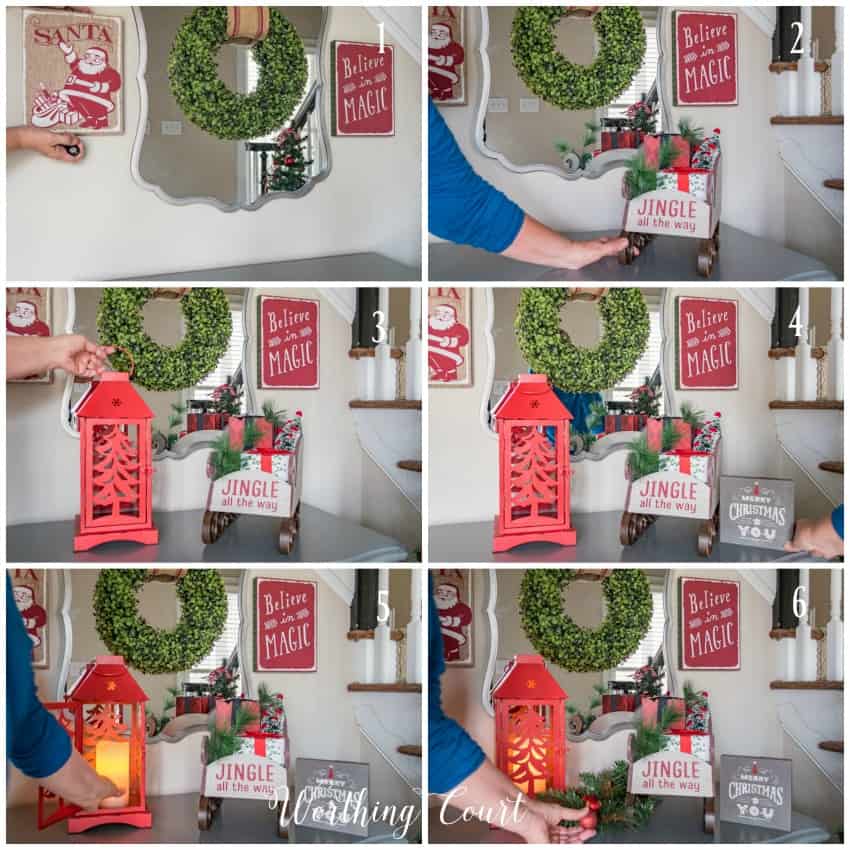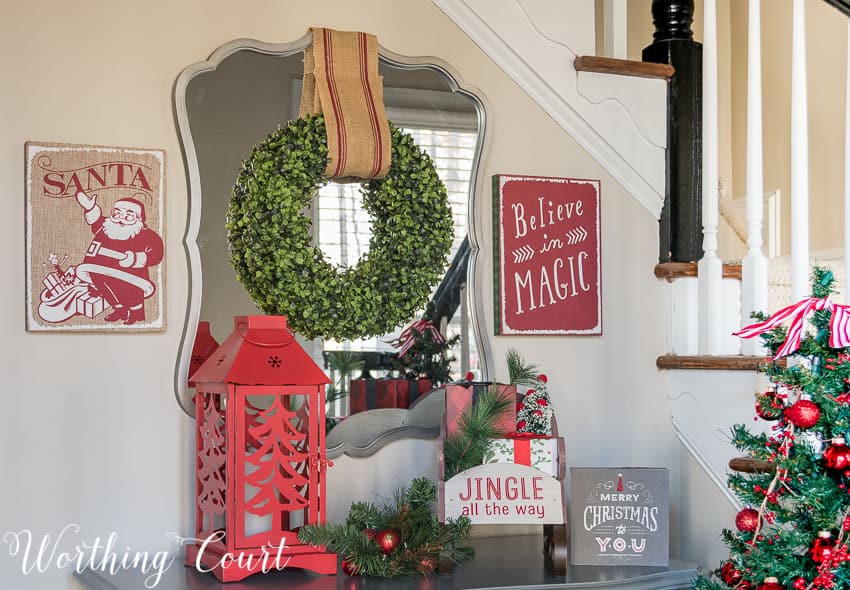 YOUR LIVING SPACES
Coffee tables are probably one of the spots most often decorated in our living spaces.  To be honest, I almost always struggle with mine.  It seems like everything I do is either too small, too tall or too disjointed.  This is the first year that I can say I'm completely happy with what I did and it was the easiest thing ever!  Formula: table runner + multiple sized white candles + faux greenery sprigs + small and large Christmas tree ornaments.  Like I said, sooo easy and I love it.
CLICK HERE TO SEE ALL OF THE CHRISTMAS DECORATIONS IN MY FAMILY ROOM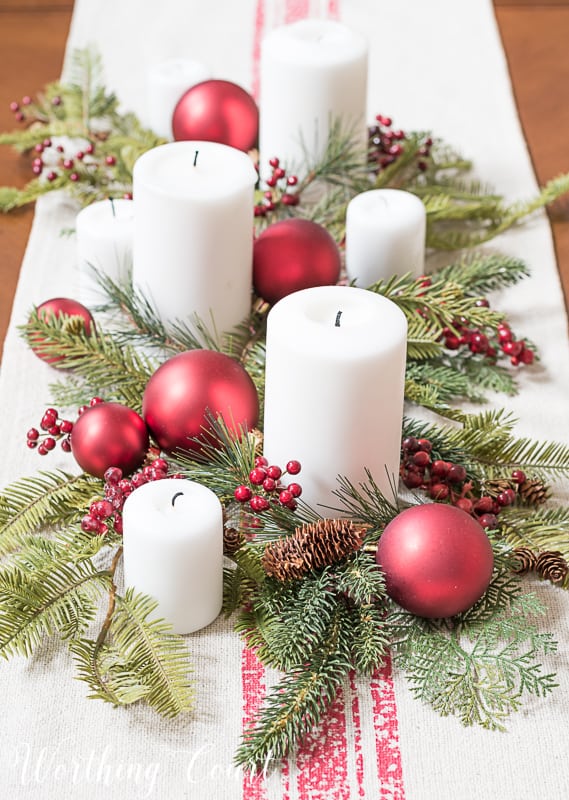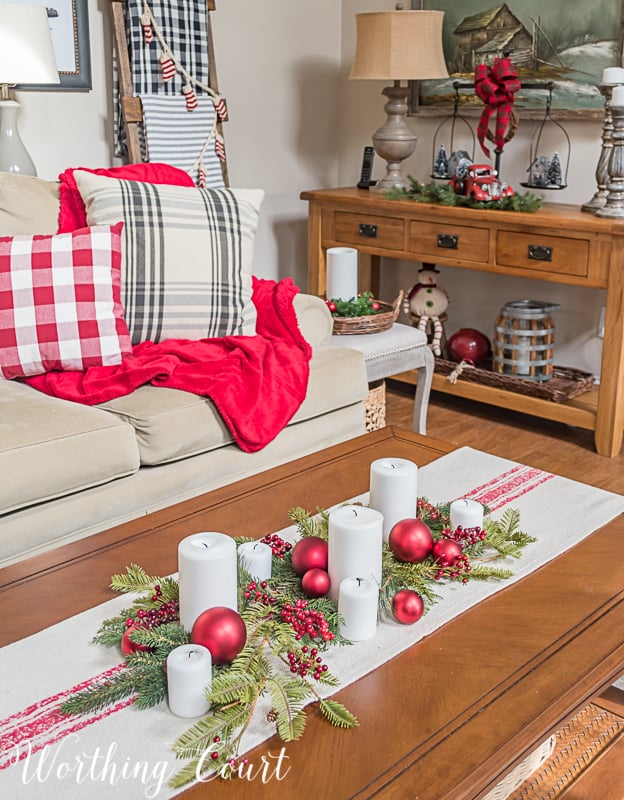 YOUR KITCHEN
My kitchen always becomes a real workhorse during the holidays.  Lots of memories are made there!  So, while I want my kitchen to be festive for Christmas, I also want to make sure that I don't clutter the counters with too much decor stuff that's difficult to move if I need to.
Boxes or trays become great spots for corralling a variety of Christmas'y items without taking up much space.
CLICK HERE TO SEE ALL OF THE CHRISTMAS DECORATIONS IN THIS KITCHEN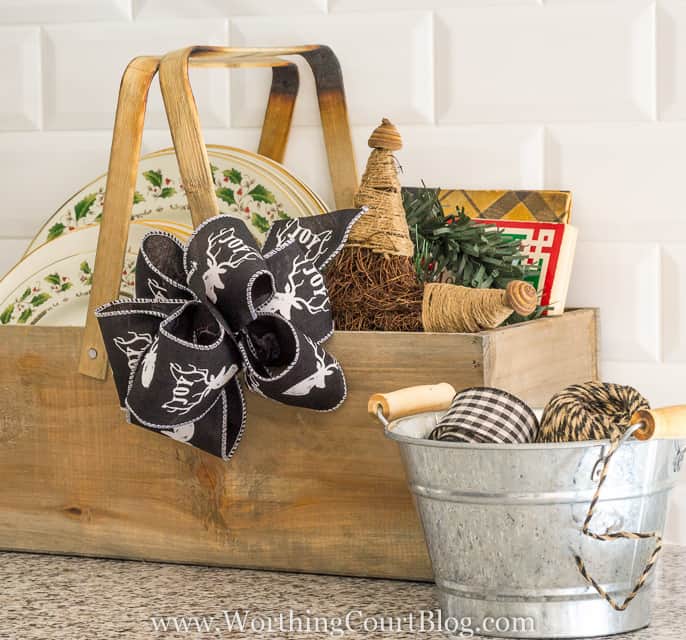 A basket becomes an easy-to-move way to contain everything you need for a hot chocolate station.
CLICK HERE TO TOUR THE ENTIRE KITCHEN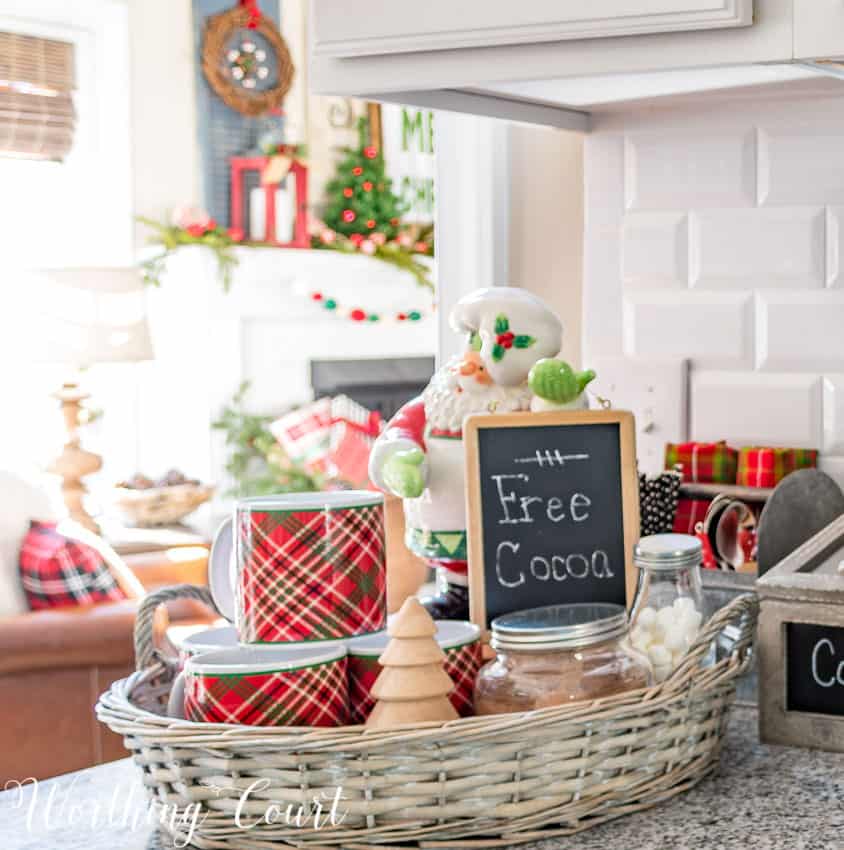 If you have a kitchen island that you like to decorate for the holidays, using a cutting board for the base of a vignette makes it easy to move things out of the way when the space is needed for food prep or cleanup.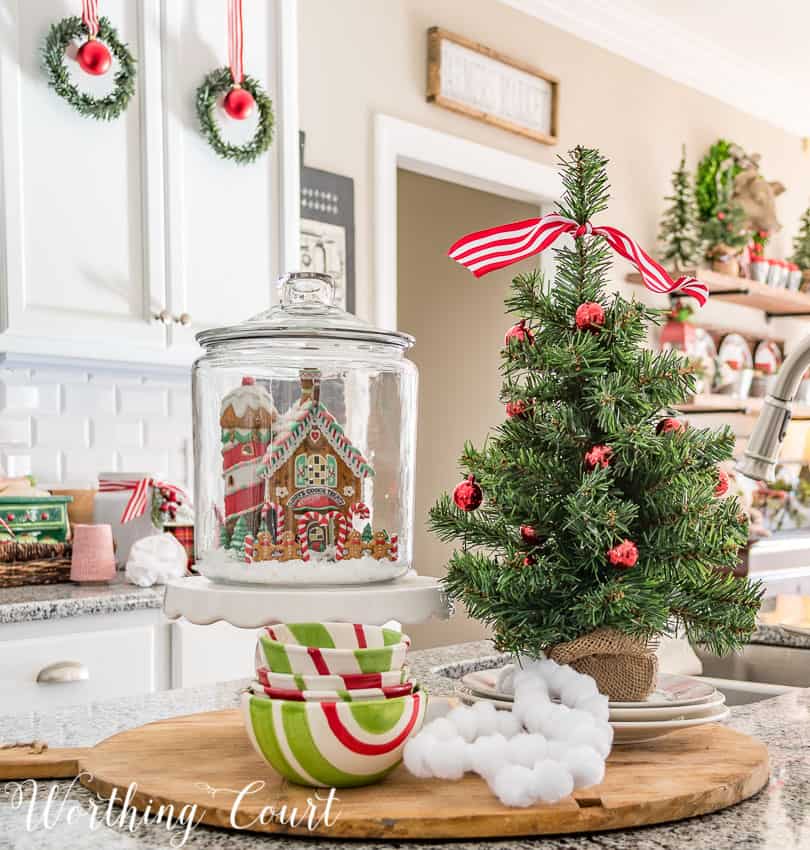 YOUR DINING AREA
Just like a wreath is probably the first think you think of for your front door, I bet that a centerpiece is the first thing that you think of for the table in your dining area.  Once again, no need to spend a lot of time putting together something complicated.  This centerpiece may look like it took a lot of time to create, but here's the less than 10 minute formula: tray + scarf in the bottom + lantern to anchor one end + fake mini trees + one more cute thing + a stake of plates + candles + fake greenery sprigs + Christmas tree ornaments = a fabulous looking centerpiece!
CLICK HERE TO TOUR THE ENTIRE SPACE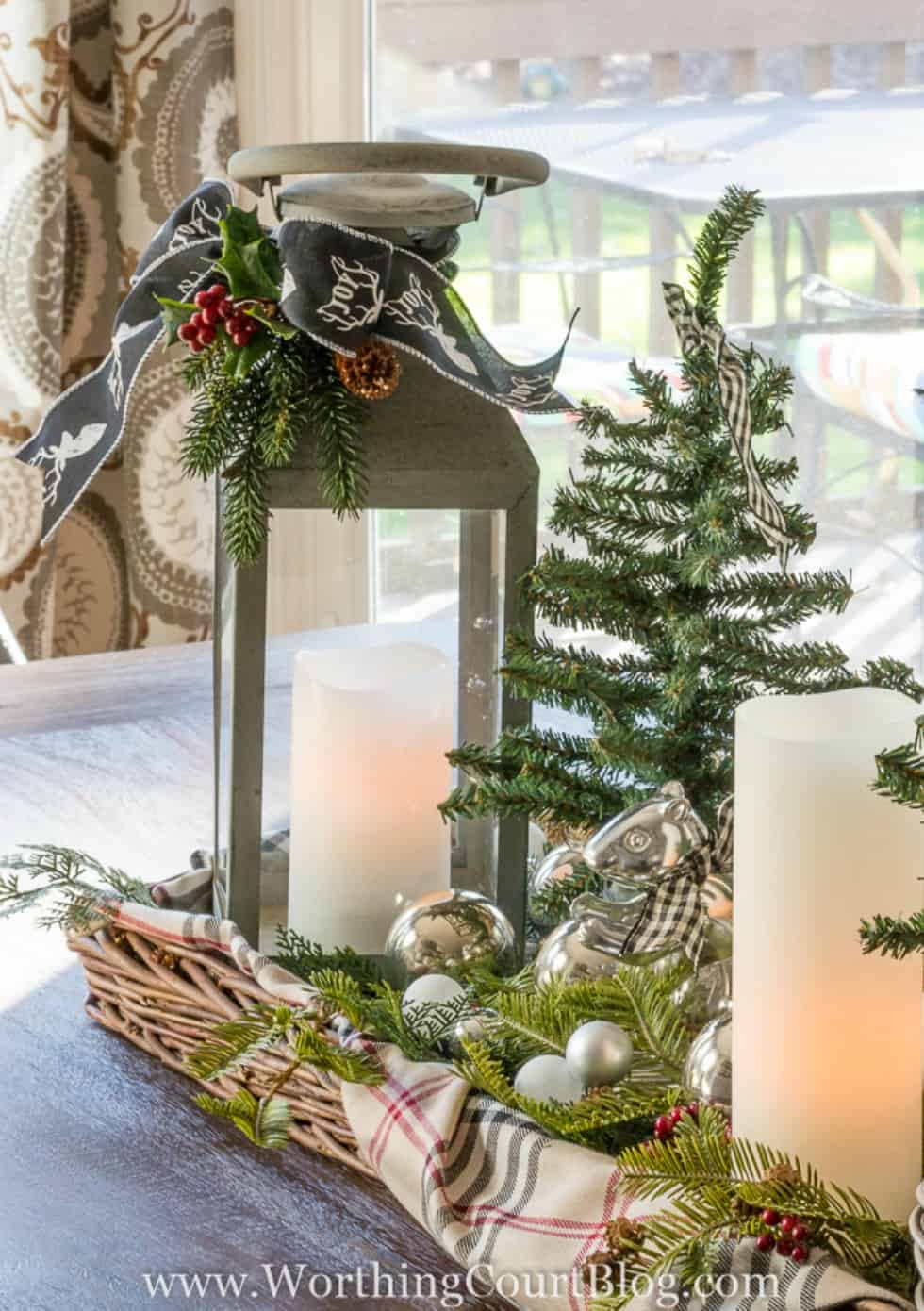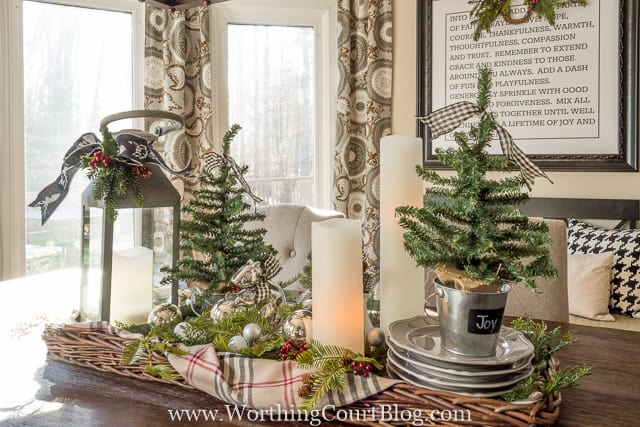 Here's a centerpiece that's even easier.  Once again, I've used a breadboard for the base and added a pitcher filled with fake greenery, another empty container of the same color and a stack of plates topped by a cute Christmas decoration.
CLICK TO TOUR THIS ENTIRE DINING SPACE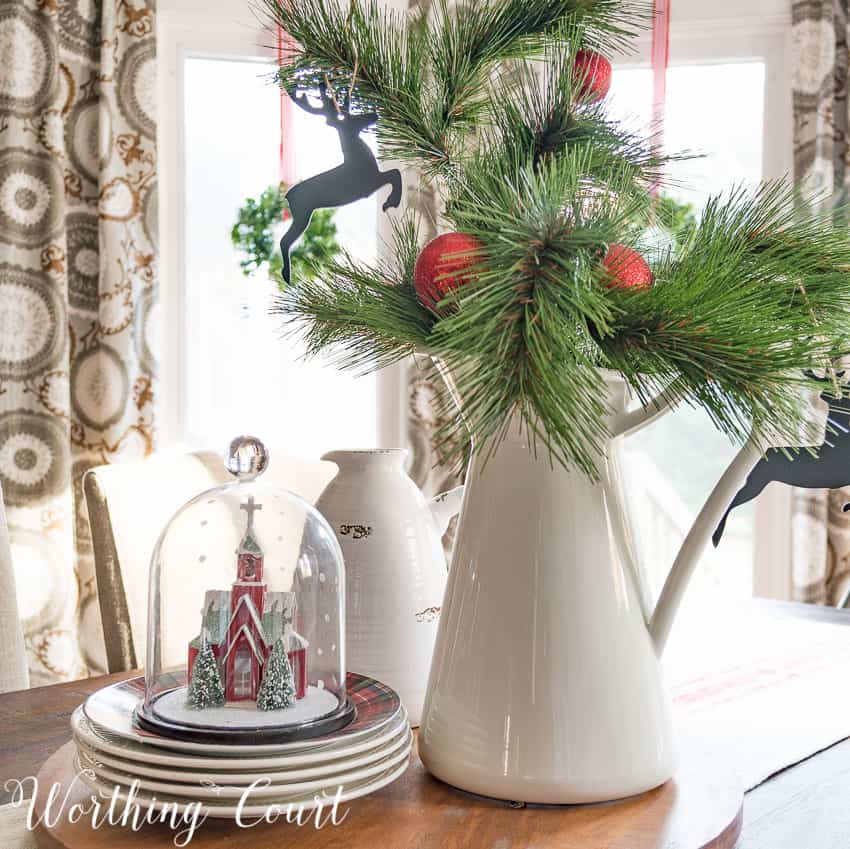 A FEW MORE EASY AND FAST IDEAS
Benches are a perfect spot to add Christmas throw pillows.  Stack a few presents on it too to create a welcoming look!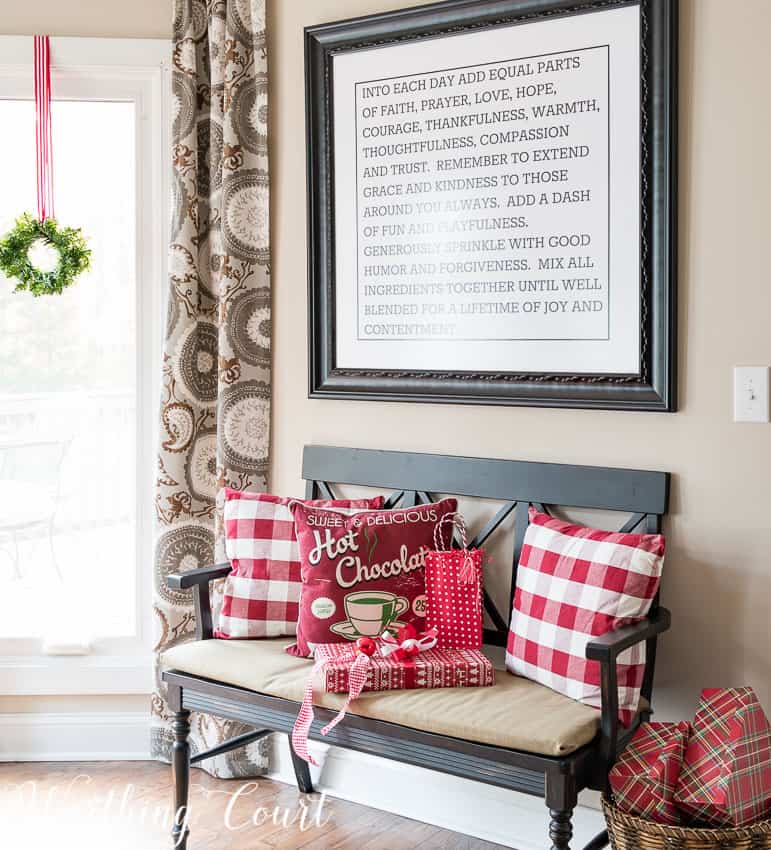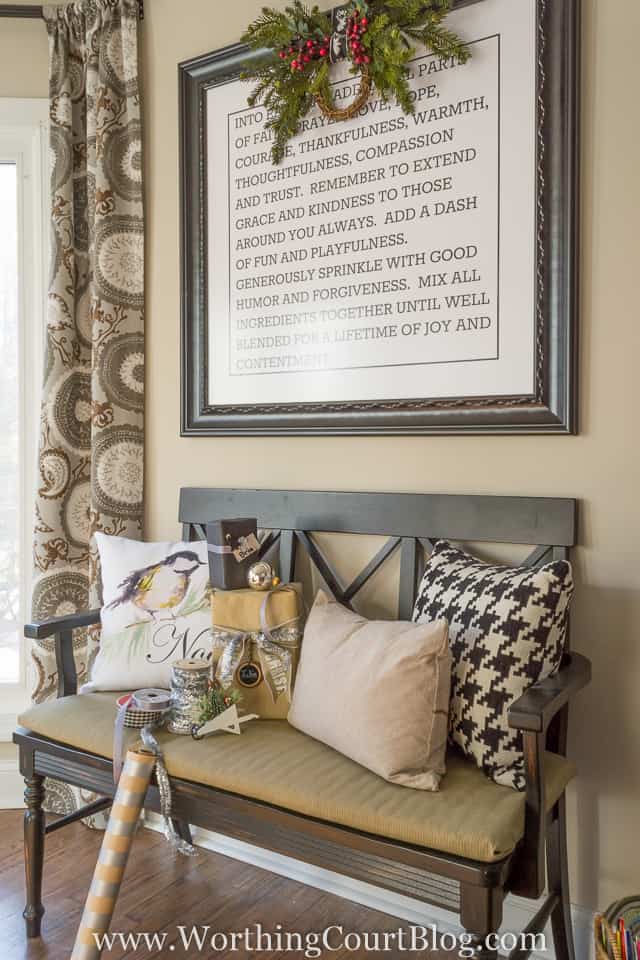 Fill a basket with cheery, festive gifts.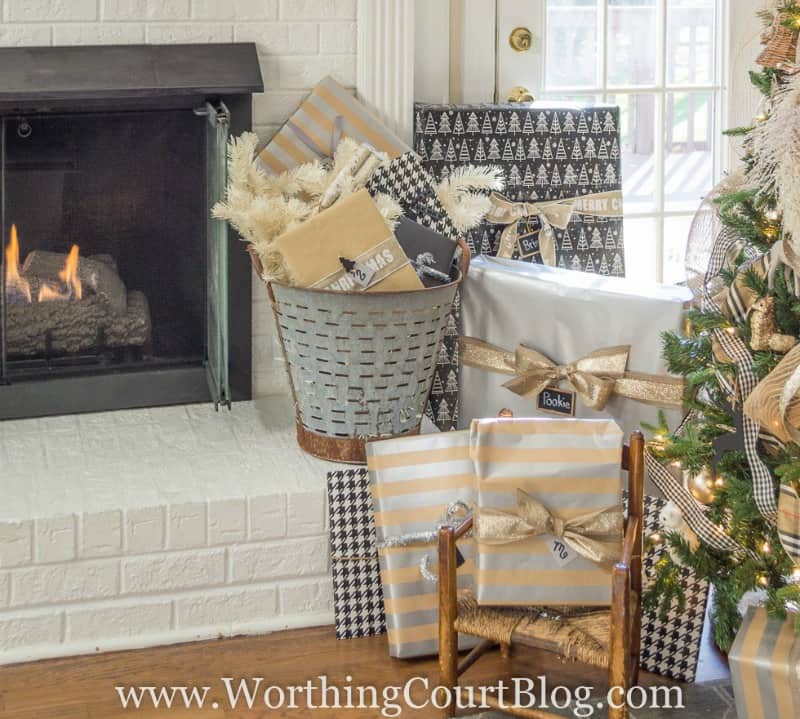 Small wire baskets are great for filling with Christmas goodies and can be tucked in just about anywhere!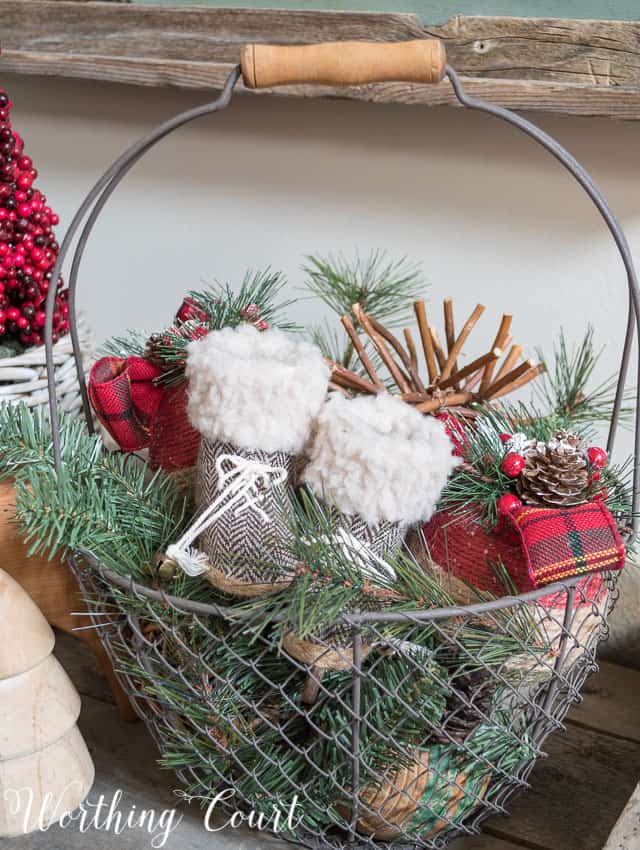 Don't forget that the presents under your tree act as decorations too!  Try to coordinate your wrapping paper and trimmings with what is on your tree for a cohesive look.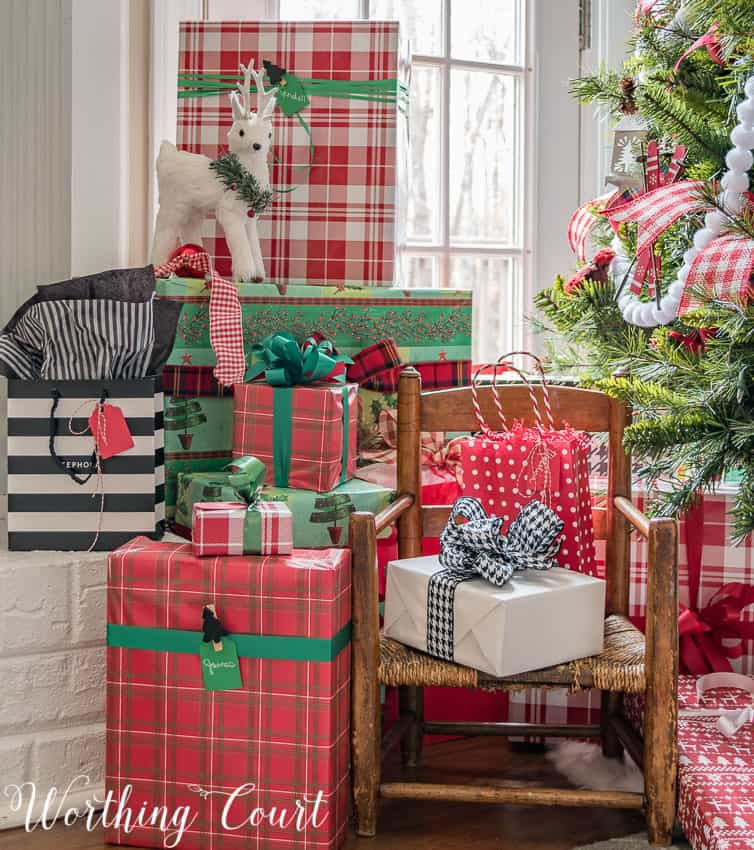 I certainly hope that you've found some of these last minute Christmas tips helpful!