Fresh And Easy To Copy Spring Decorations In My Breakfast Room
A room filled with fresh and easy spring decorations that you can copy in your own home.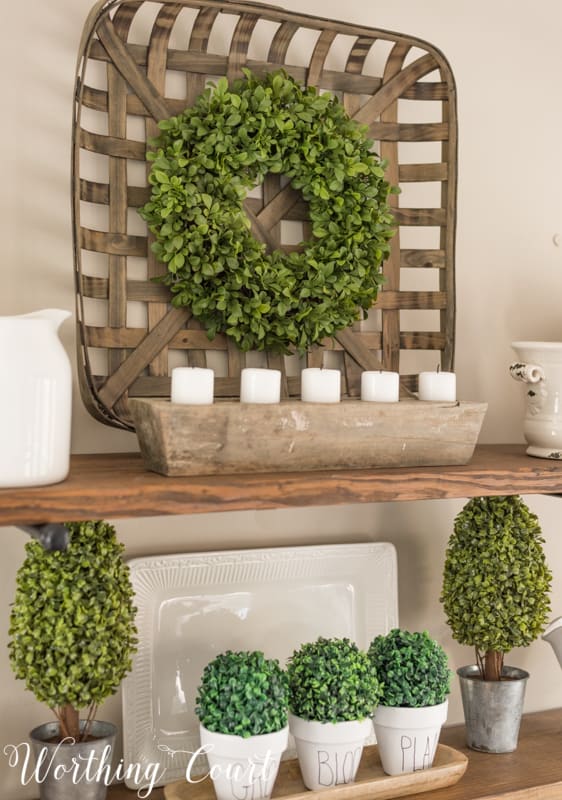 Pin
I think that by the time winter is drawing to a close (finally!), all of us are ready to bring out our welcoming spring decorations to add a brighter and fresher look to our homes!  Something to help us shake off all of the gray skies and drab colors of winter.  Something to make our hearts and homes lighter and brighter.
I can't think of a more fresh color combination for spring than green and white.  Using green helps to draw the outdoors in, even before all of the trees have leafed out, and combining it with soft white gives a fresh bright look to the whole room.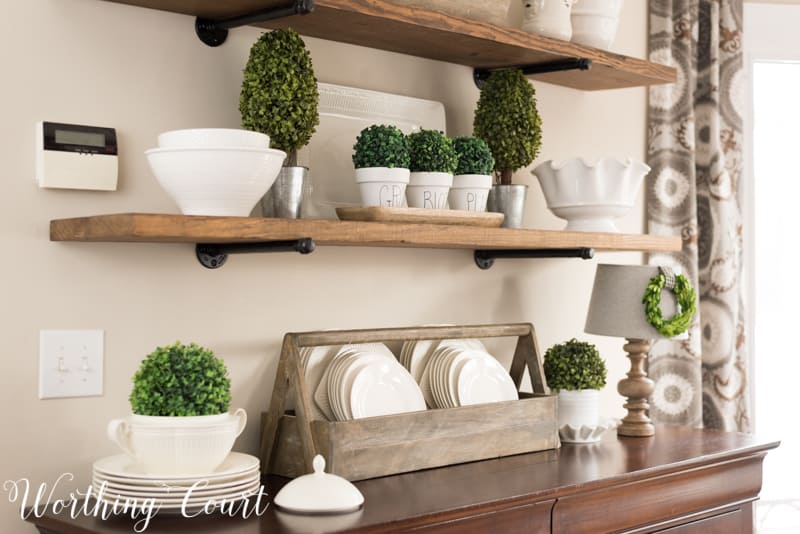 Pin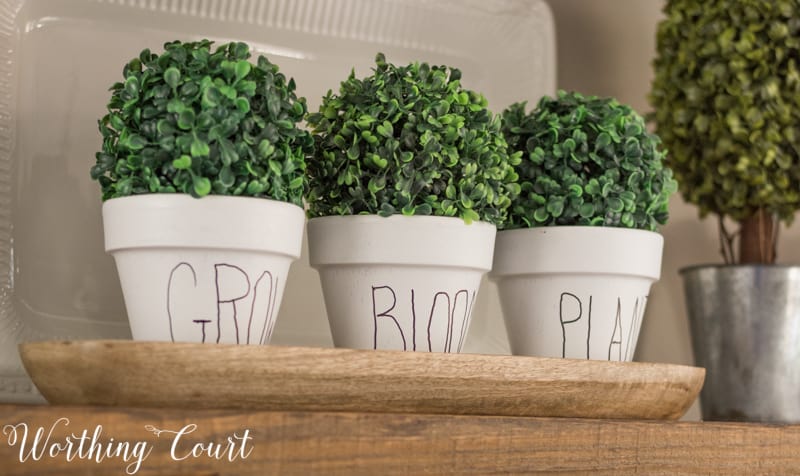 Pin
The spring decorations in my breakfast room this year are so easy!  I pulled most of what you see here from my kitchen cabinets.  A very few things came out of my decor stash and only two items were purchased.  Resources are listed at the bottom of the page.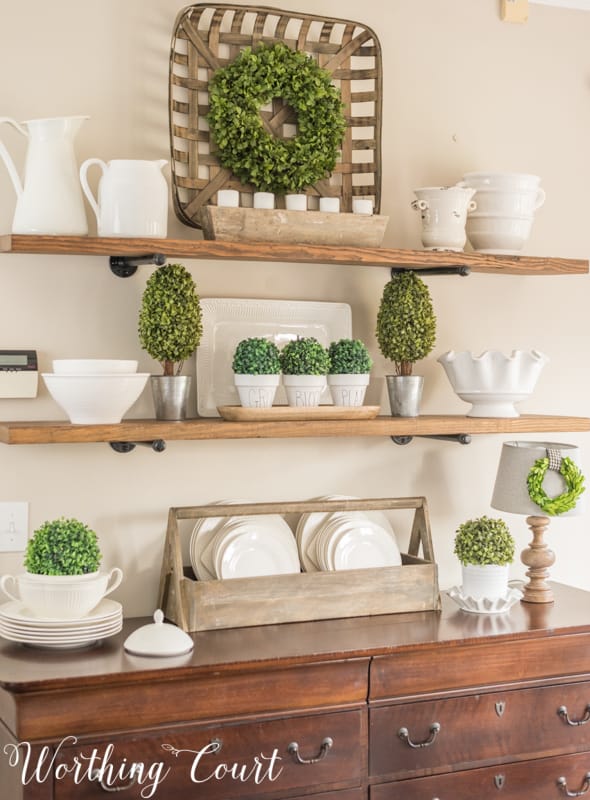 Pin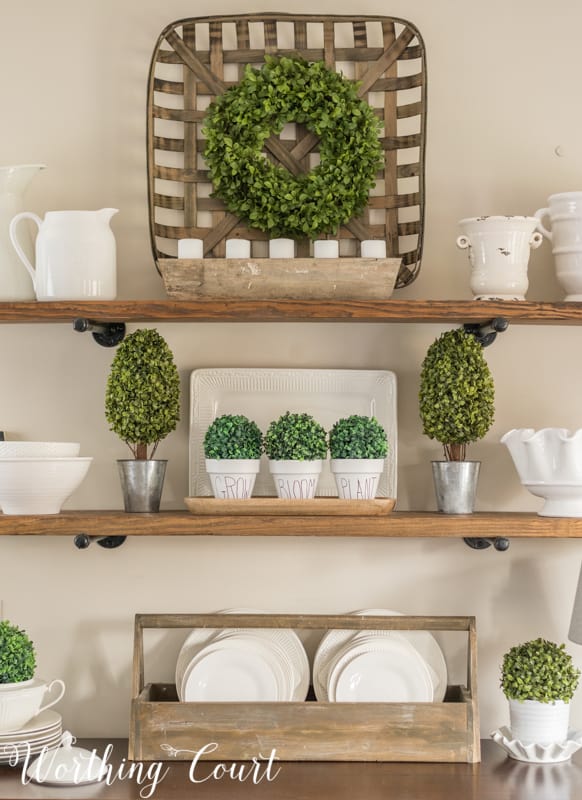 Pin
Whether you use green and white or some other color combo, you could copy this look so easily by raiding your own cabinets and combining your favorite dishes, bowls and serving pieces together.  If you're using all white dishes, you can accent with any color you like.  If you're using patterned dishes, keep it simple and uncluttered by pulling one color from the pattern and using that as an accent color.
To tie the open shelves in with the rest of the room, I added a super simple centerpiece to the table.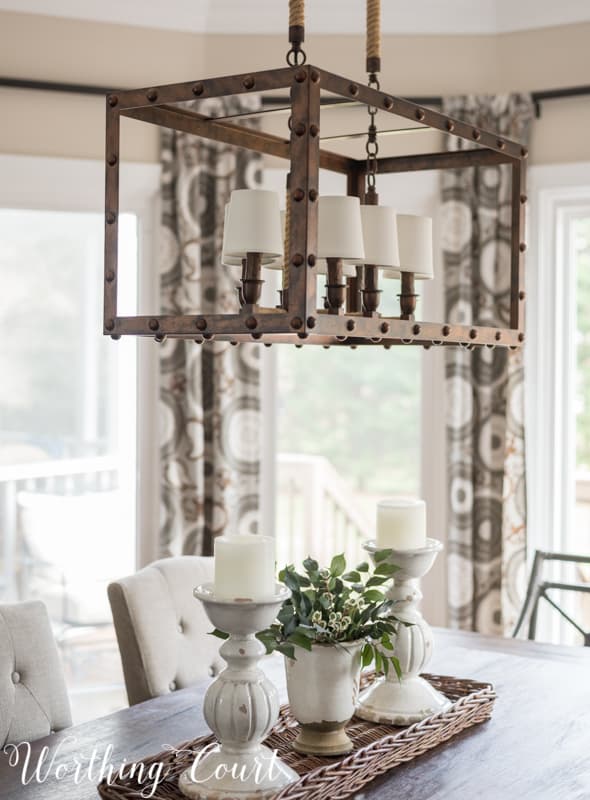 Pin
Fill a container with snips from an assortment of faux greenery bushes, add two candlesticks and place it all in a tray or basket that suits the shape of your table and voila! – a centerpiece in about five minutes!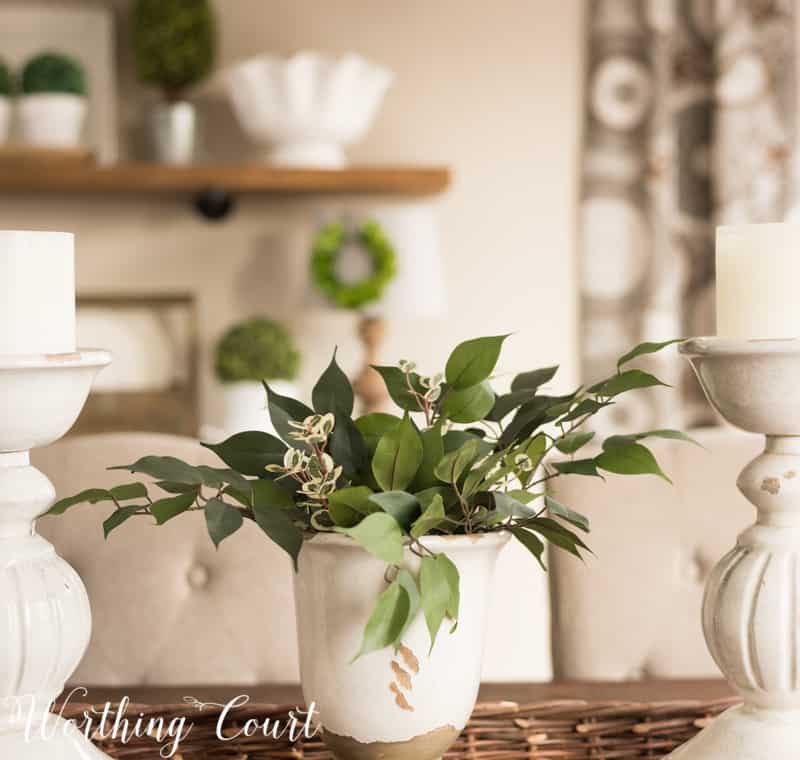 Pin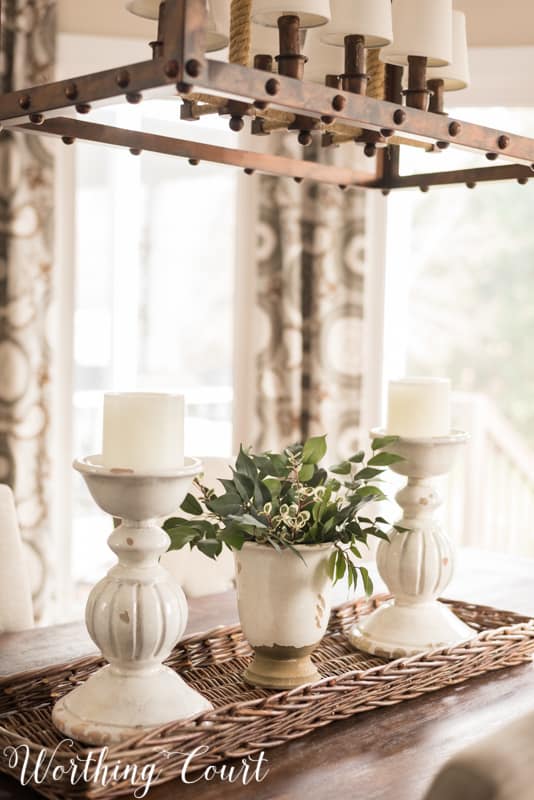 Pin
Let's pull back and take a look at the whole dining room.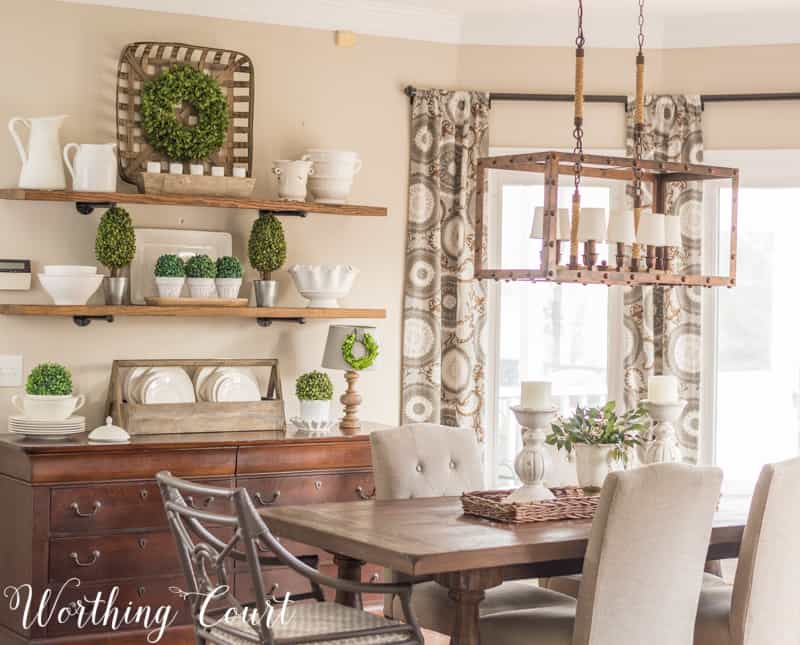 Pin
Fresh, clean and simple for spring!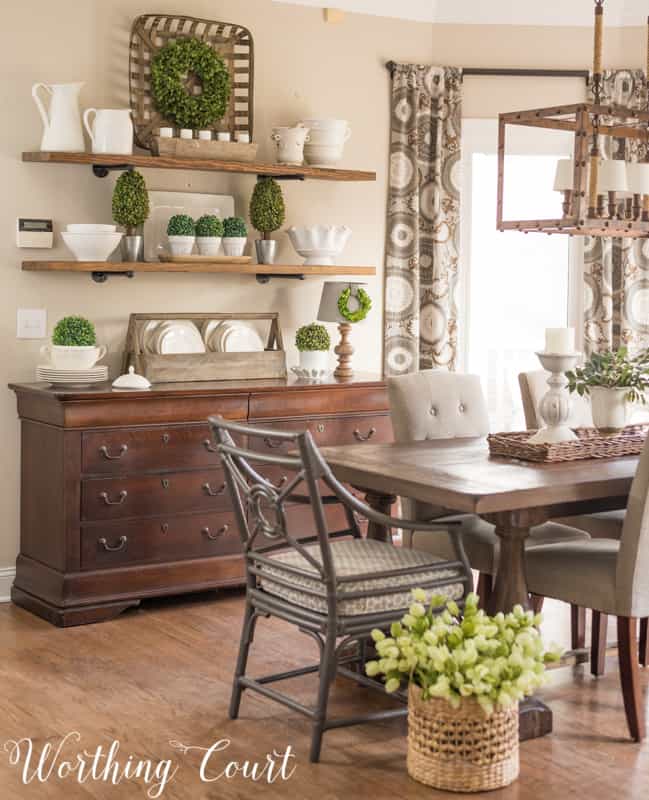 Pin
RESOURCES:
Some links to products are affiliate links, which allow me to make a small commission from your purchase at no additional cost to you.  See my full disclosure policy HERE.
Tobacco Basket – Wayfair
White Pitchers, Urns and Bowls – Ikea, Pier 1, TJ Maxx, Marshalls, HomeGoods
Large White Platter, Stacked Dishes and Dishes in Wooden Box – Italian Countryside Pattern by Mikasa from Macy's
Boxwood Wreath – Wayfair
Boxwood Topiaries – Wayfair (similar to mine)
Boxwood Orbs – Small – Hobby Lobby, Large – Hobby Lobby
Sugar Mold Candle Holder – Amazon
Rae Dunn Lookalike Planters – DIY Project, Tutorial HERE
Small Wood Tray Under Planters – Wayfair
Wood Toolbox – Wayfair (similar to mine)
Small Lamp – Base – Target, Shade – Target
Boxwood Wreath on Lamp Shade – Wayfair
White Candlesticks – Pottery Barn Outlet
White Urn in Centerpiece – Pottery Barn
Long Wicker Basket on Table – Local Home Decor Shop
Draperies – Target (similar to mine)
Dining Table – World Market
Chandelier – No Longer Available
Gray Upholstered Parsons Chairs – Walmart
Gray End Chair – Craigslist