Rustic Farmhouse Breakfast Area Reveal – Before And After
We've lived here for a little over a year now and I've tweaked and tweaked my breakfast area until I finally have it looking just the way that I want it. I've shared parts of the area several times – both here on the blog and on Instagram. (Do you follow me on Instagram? You totally should. winkwink)
Here on the blog, I shared when I came up with a kitchen and table linens storage solution, when I added a large printable above the bench (you can download a 9×11 copy of the printable HERE), when I made some changes to the gallery wall for fall, when I replaced the gallery wall with diy rustic industrial shelves and most recently was when I shared my Farmhouse Christmas Kitchen with you. But I wanted to come back today to take a closer look with all of the Christmas decorations removed and with the whole area pretty much back to normal.
And BTW – you can read all about the diy projects that I did for this space and get the tutorials HERE.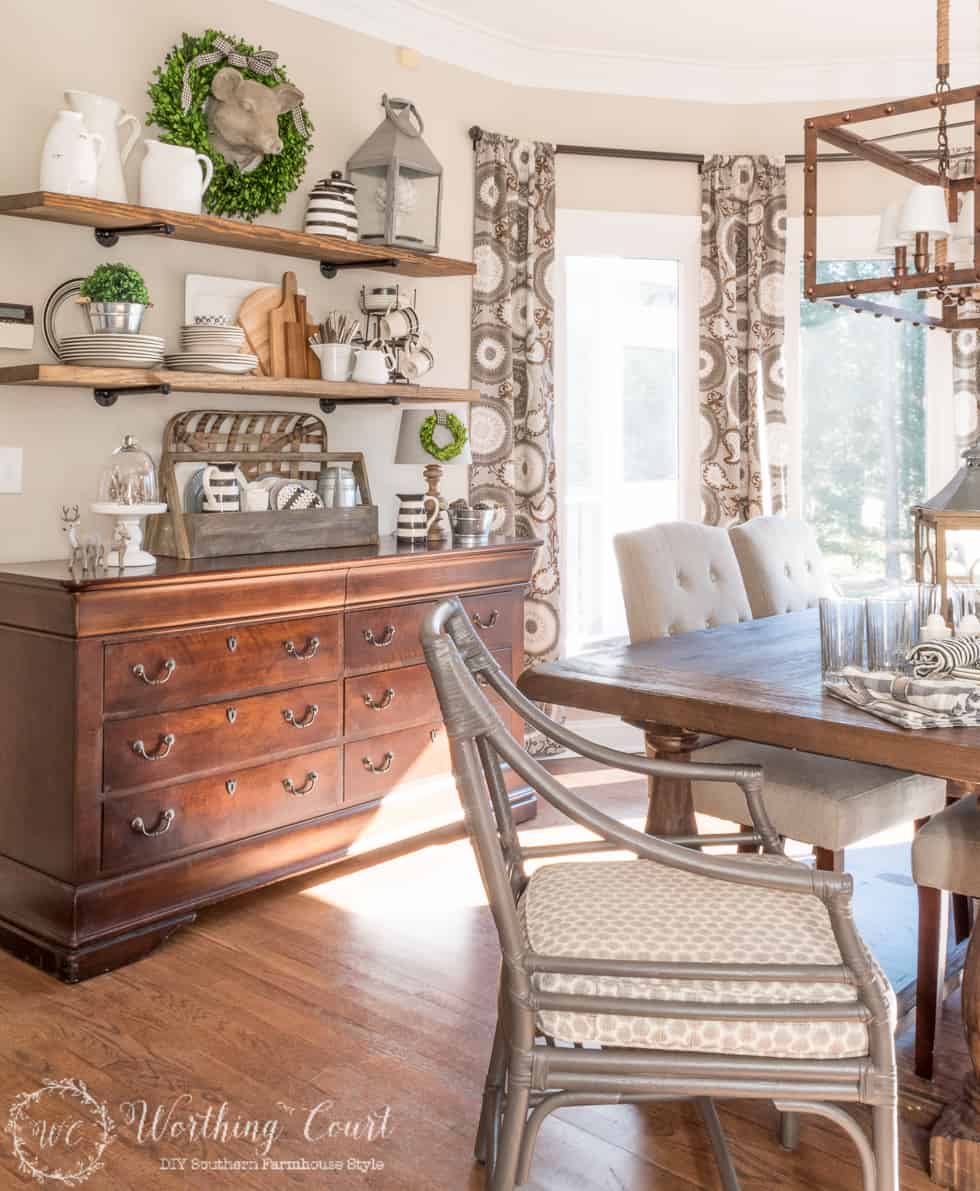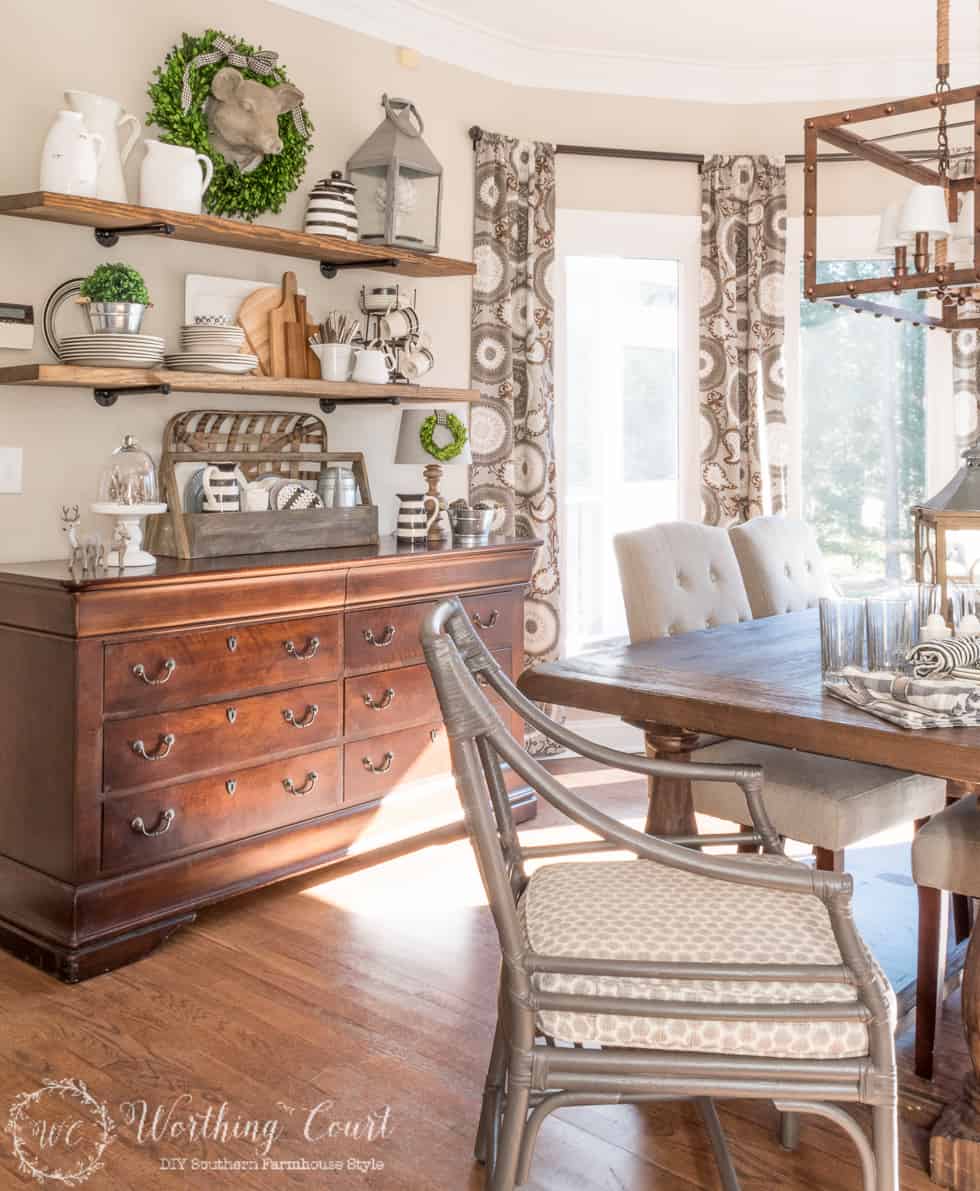 The first new addition to the breakfast area is an amazing new light fixture from Parrot Uncle. Have you ever added something to a room and then realized that it was just what the room needed? That was the case for me when this rustic/industrial beauty was installed. Oh, how I love it!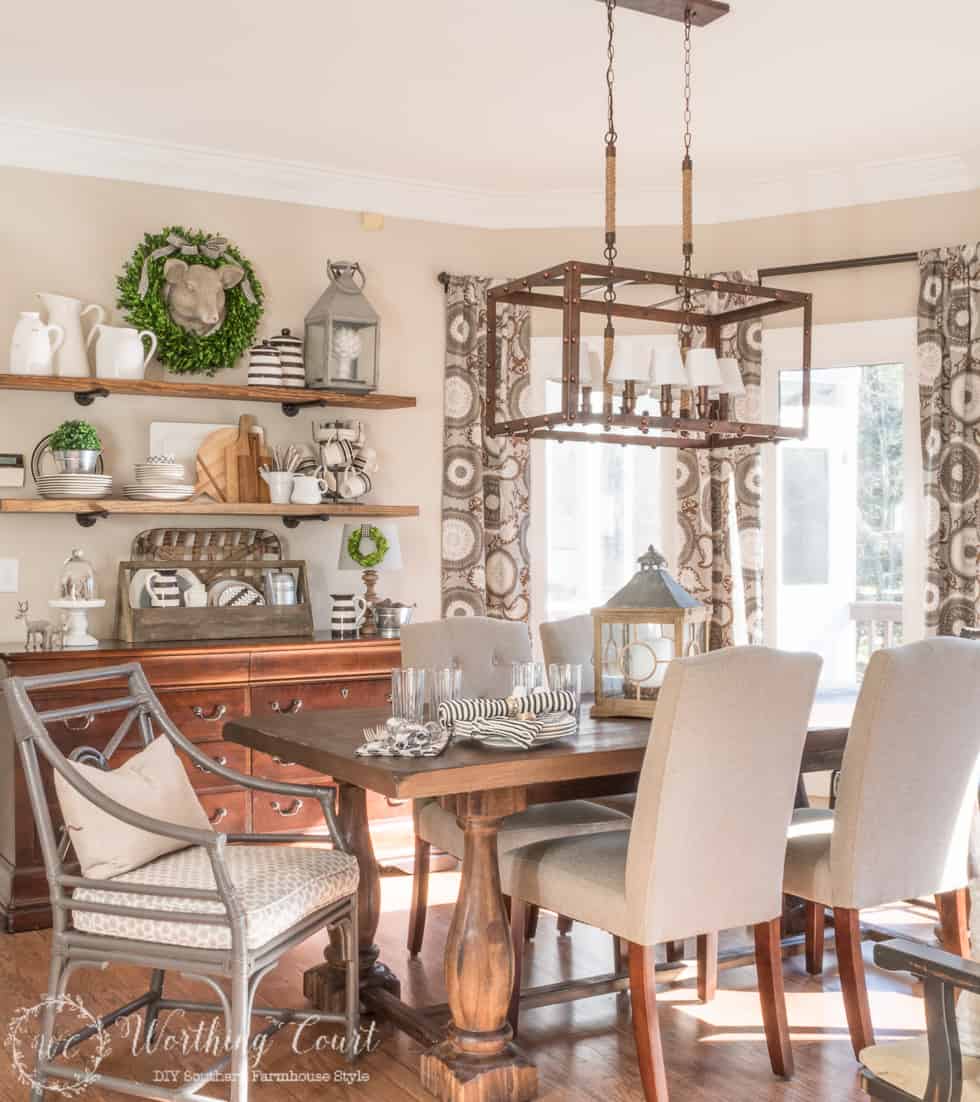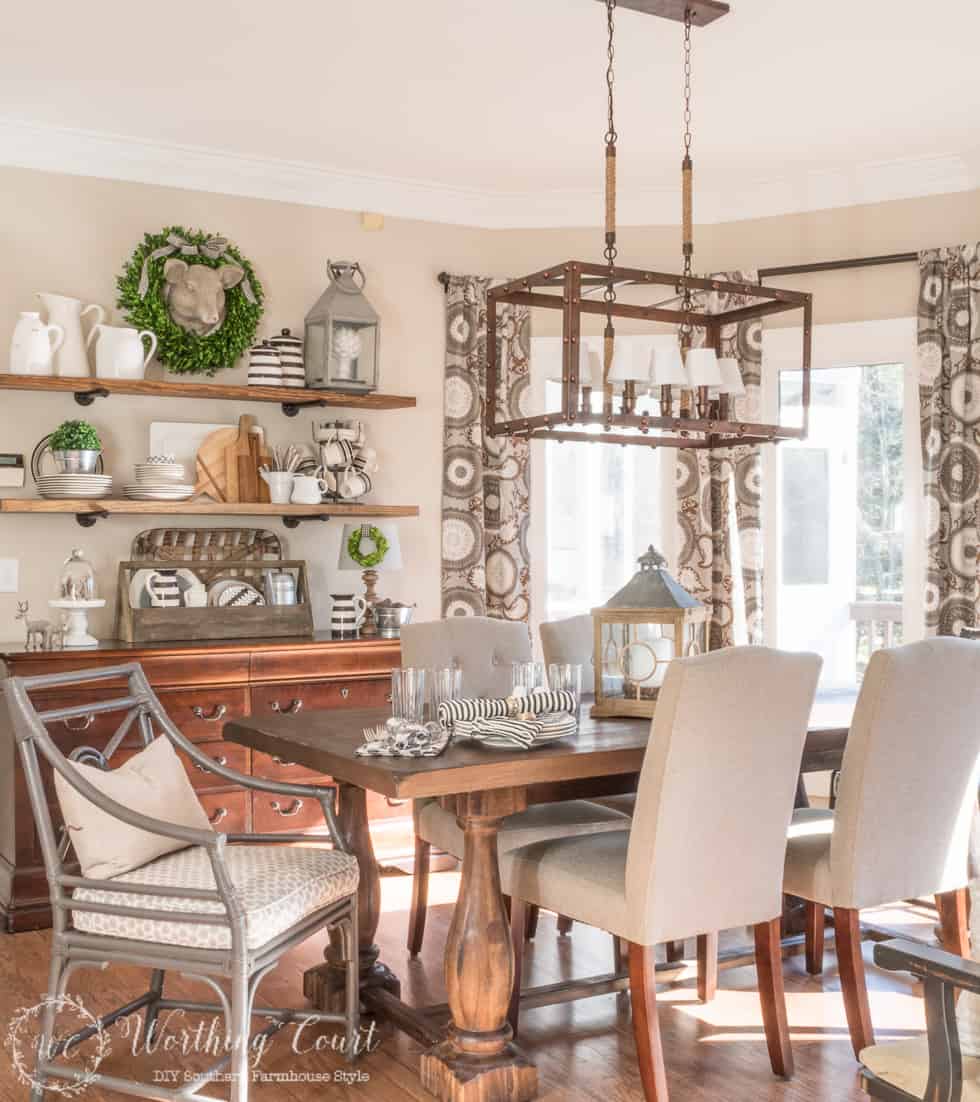 I admit that I was a little afraid when I pushed the button to order this fixture. It sounded so much larger than the dinky one that was previously in this space. Even though I felt that the size of it was exactly what this area called for, I was relieved when it was hung and looked just right. Just look at all that rope and nailhead goodness.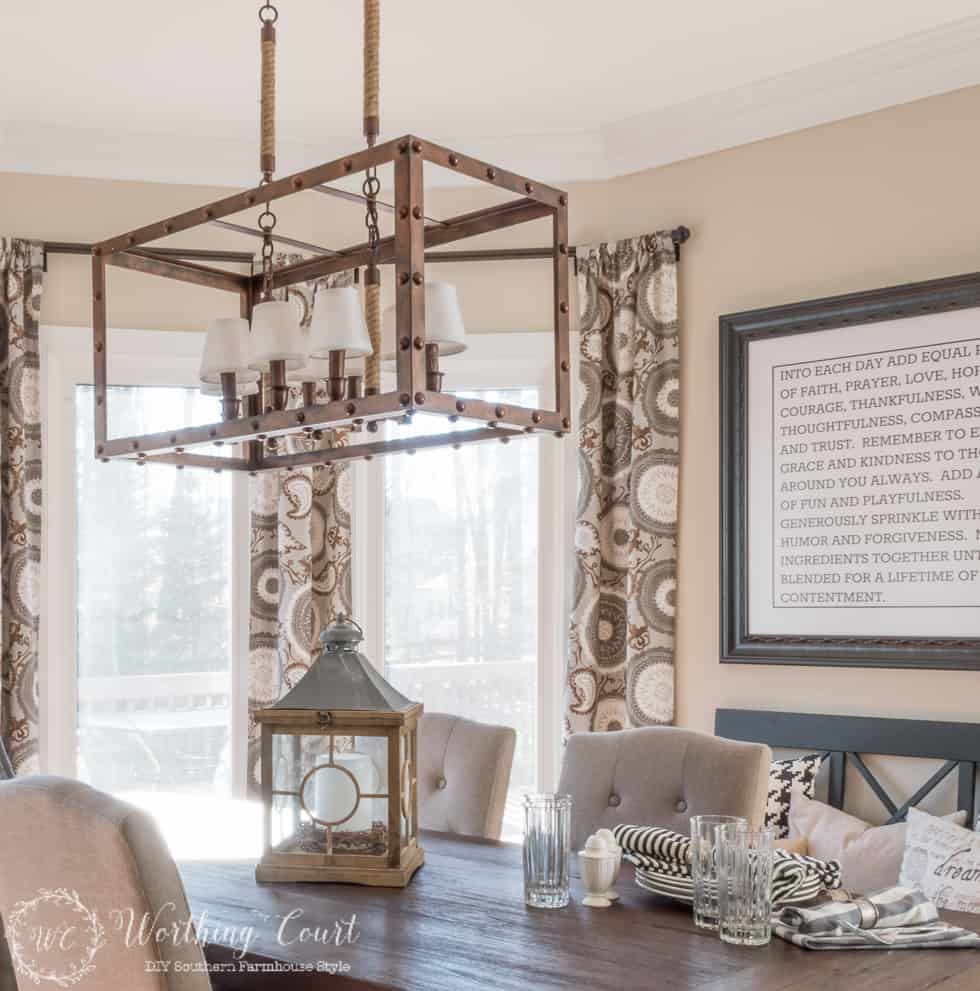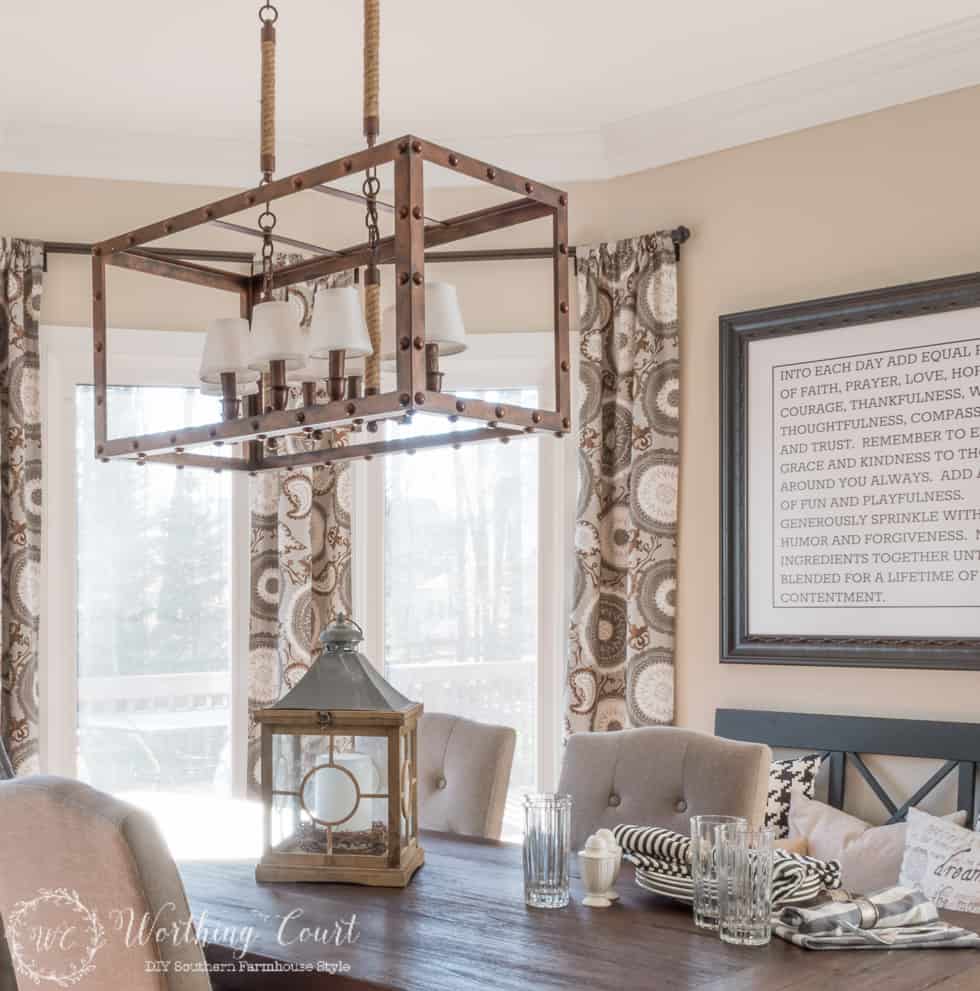 I definitely think that a diy installation of a fixture this size is a two person job. Pookie installed it along with some help from my daughter's fella. It isn't that the fixture was hard to install – the connections are just like any other – but this was a bit too heavy for me to help him with. I would say that the hardest part of the whole installation was getting the plate that goes against the ceiling perfectly lined up so that it was straight.
The light fixture is well made and sturdy. I think it looks much more expensive than it actually sells for. Two of the light shades were missing when it arrived, but all I had to do was to let the folks at Parrot Uncle know and they sent a whole new set of eight shades right away.
Here's a closeup of the fixture. Did I mention all of the rope goodness that's going on? What you can't see in this photo is that rope is also wrapped around each of the lamp arms. Swoon. And the nailheads? I die.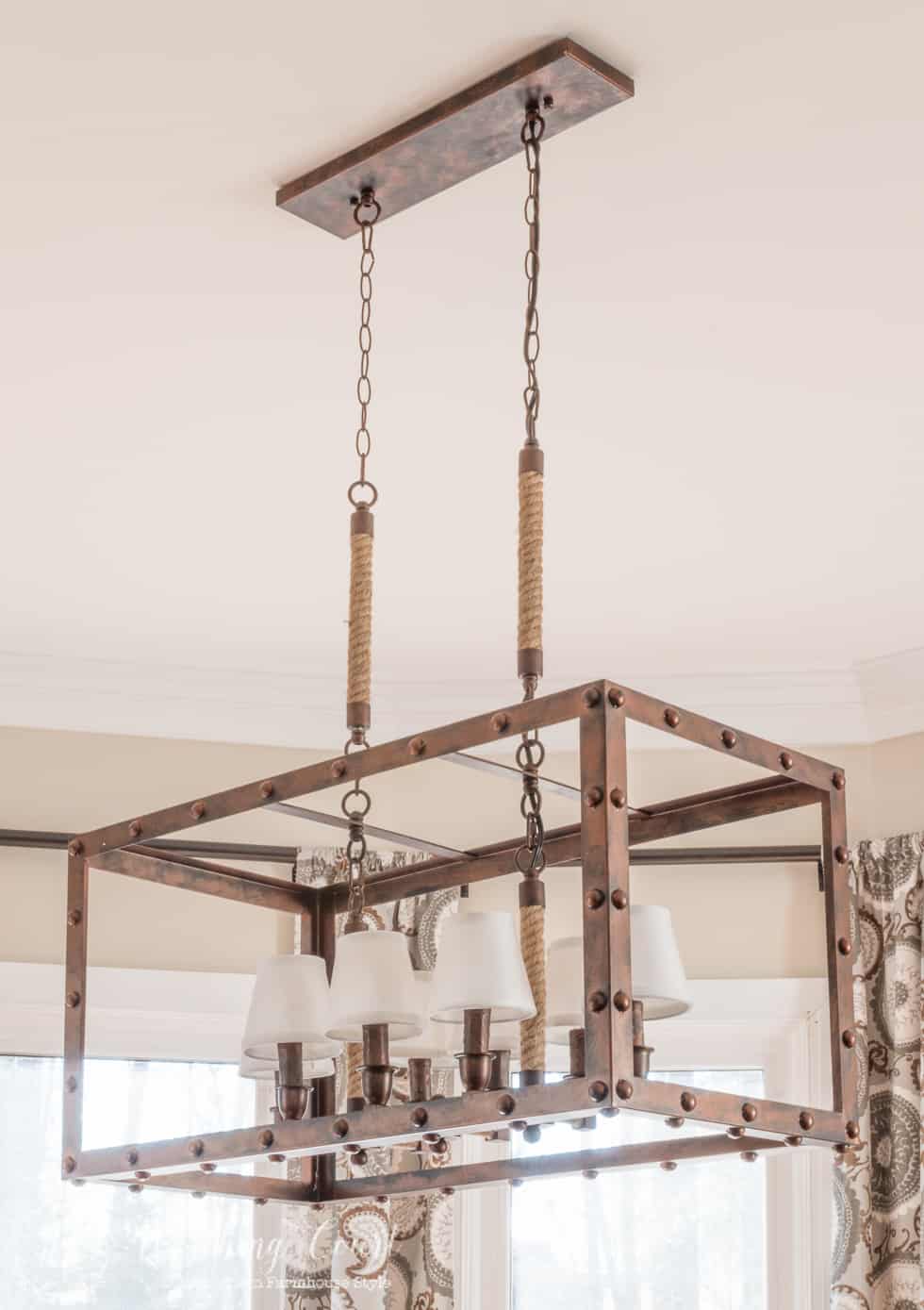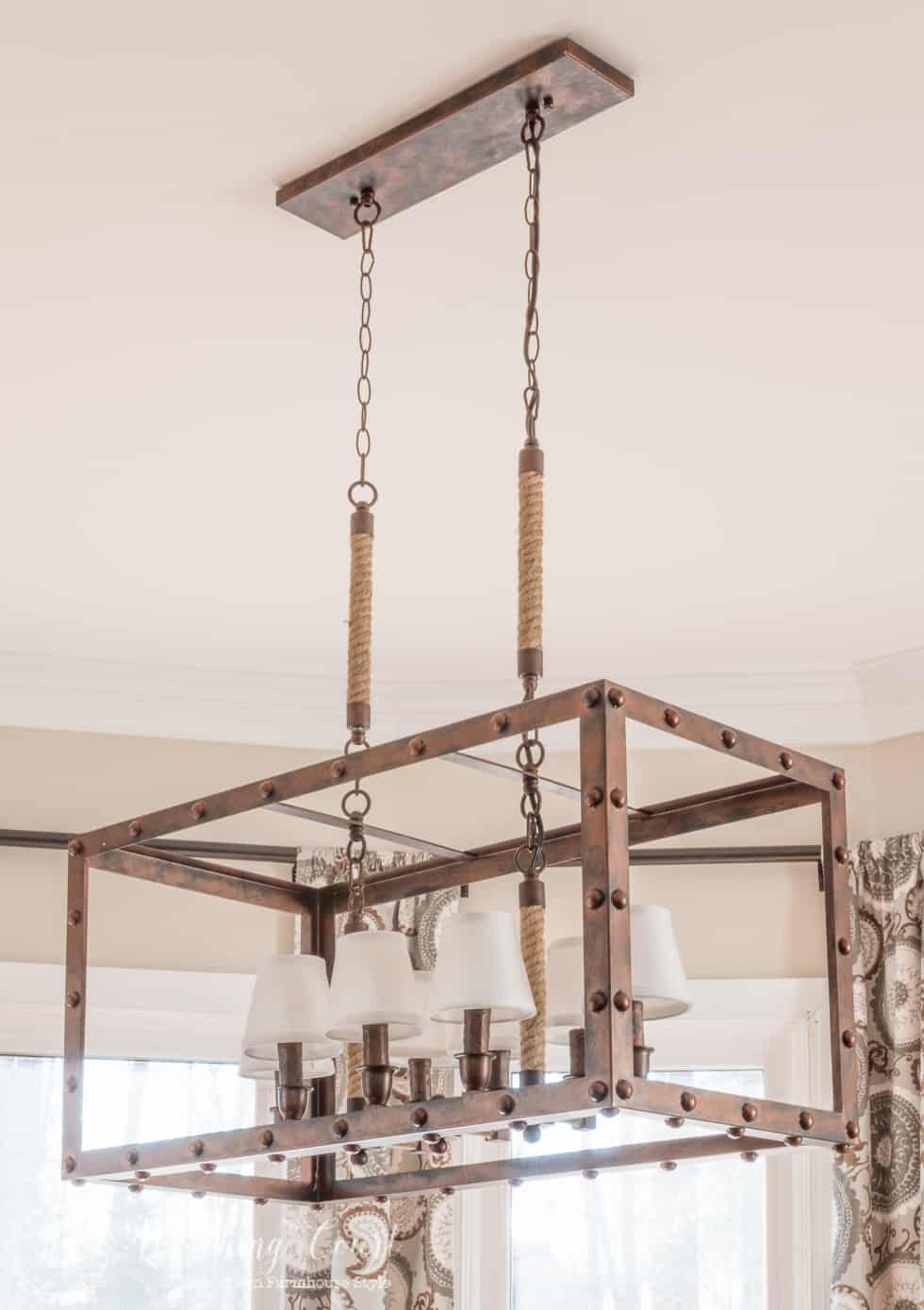 A huge, huge thank you to Parrot Uncle for providing me with the finishing touch for my breakfast area! (See my full disclosure policy HERE.) You can see their full line of pendant lighting HERE. They carry all sorts of lighting for every style, including cool floor lamps, which you can check out HERE.
I've mentioned before, that our breakfast area sits in one of two turrets that are on the back of our house (the other is in our master bedroom). I love, love, love the panoramic view that it provides of our back yard, but it was a bit of a challenge to come up with window treatments that were a) affordable, b) easy to install and c) didn't block any of the view. I always thought that I would go with diy faux roman shades on each of the windows, but decided that they wouldn't be quite right. My solution was an affordable, no-sew, drapery option. You can see how I put the whole window treatment together HERE. BTW, that's the granite on the corner of the kitchen island that you see in the lower left corner in the photo.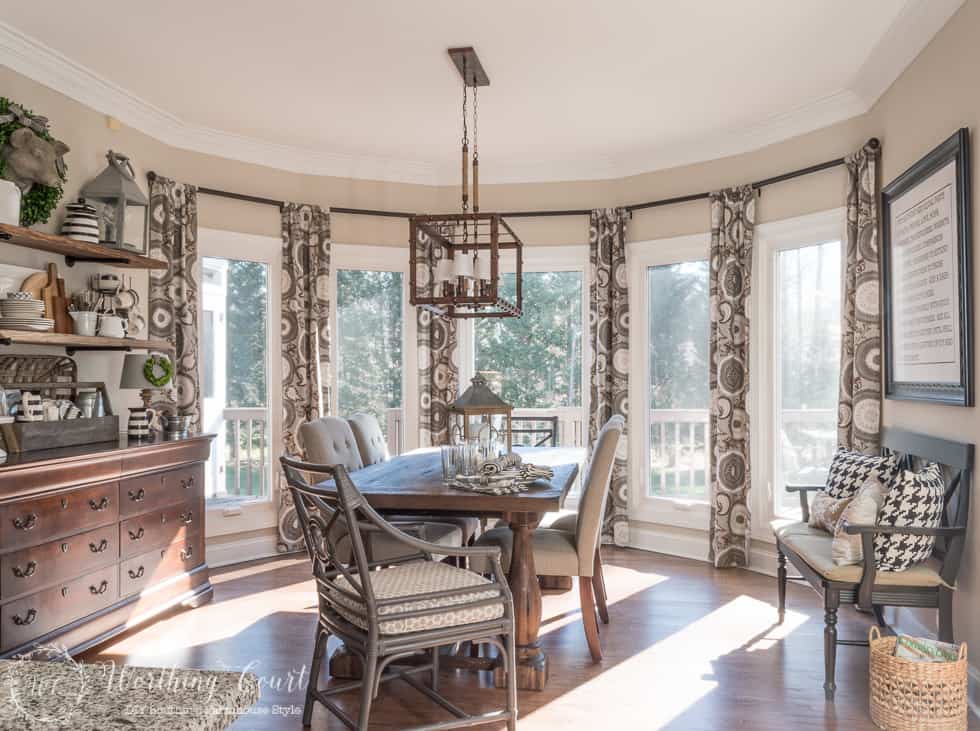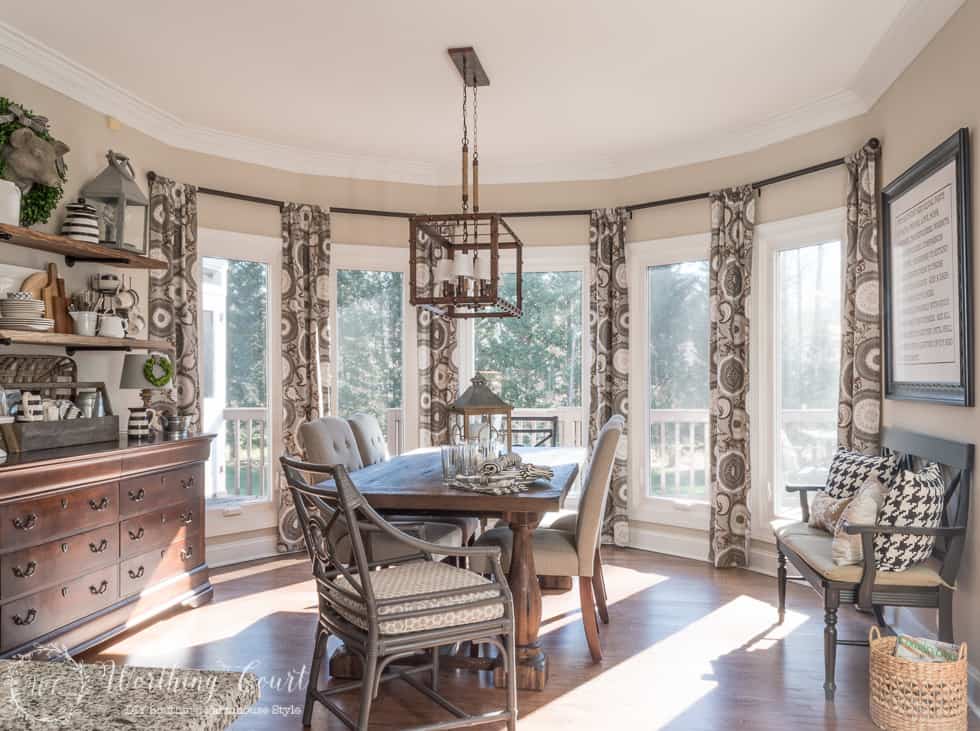 I almost always think that window treatments give most any room the finishing touch that it needs. In this case, they help to enhance the view instead of blocking it or detracting from it. My windows aren't that dirty – it's just the glare from the sun!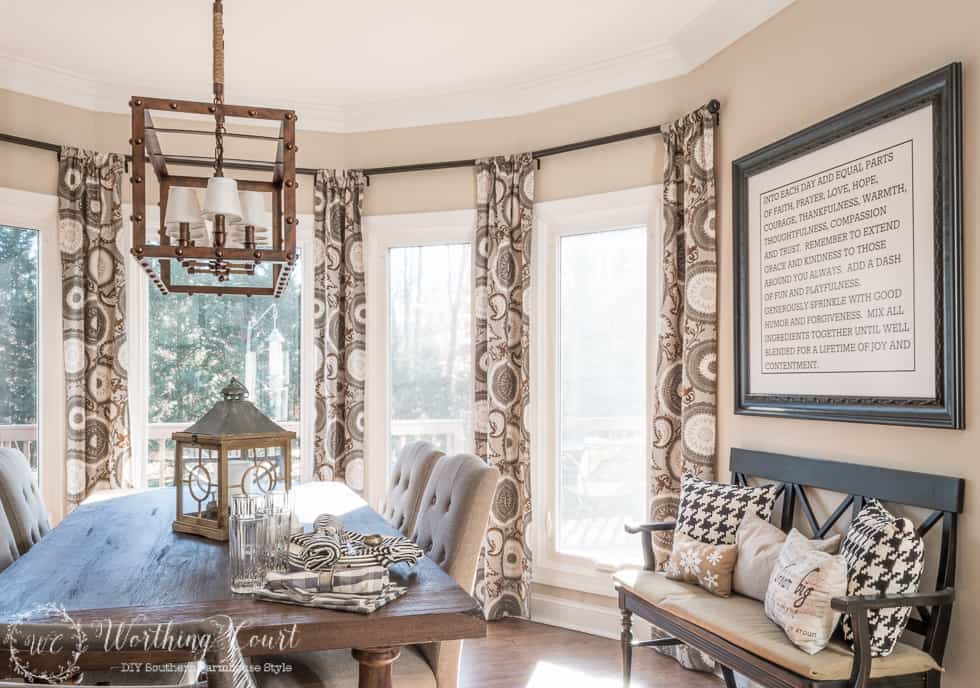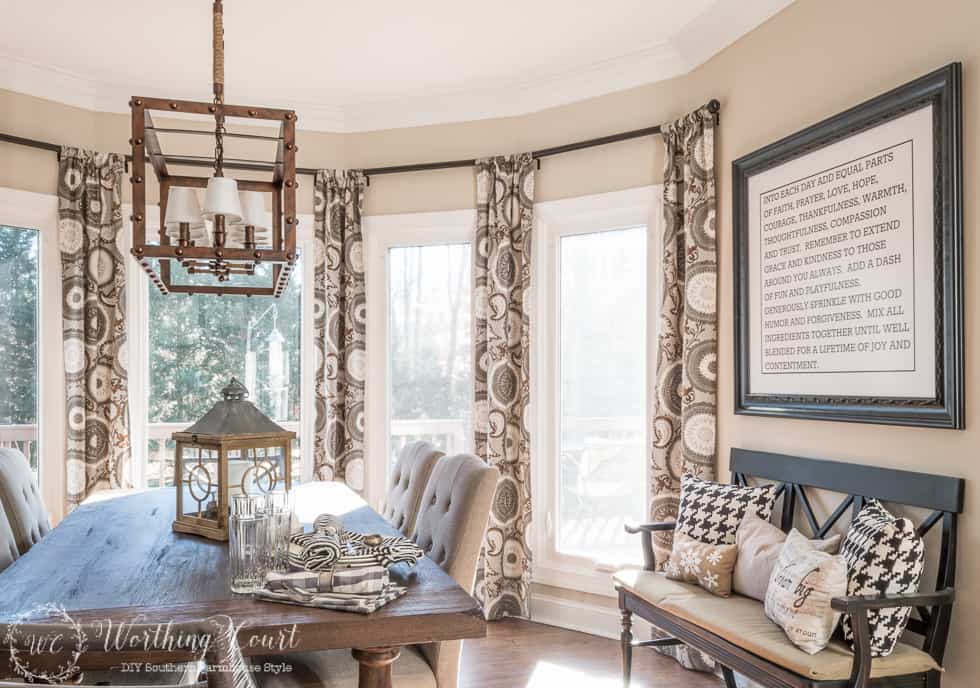 Plus, the grays, whites and browns in the drapery fabric tie in perfectly with the rest of the room.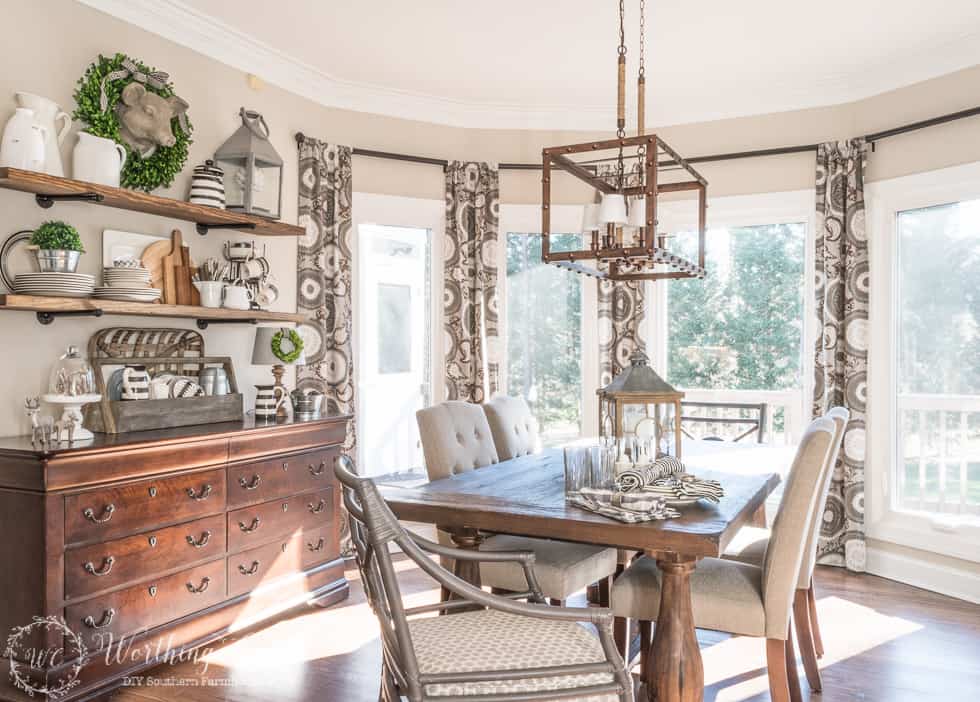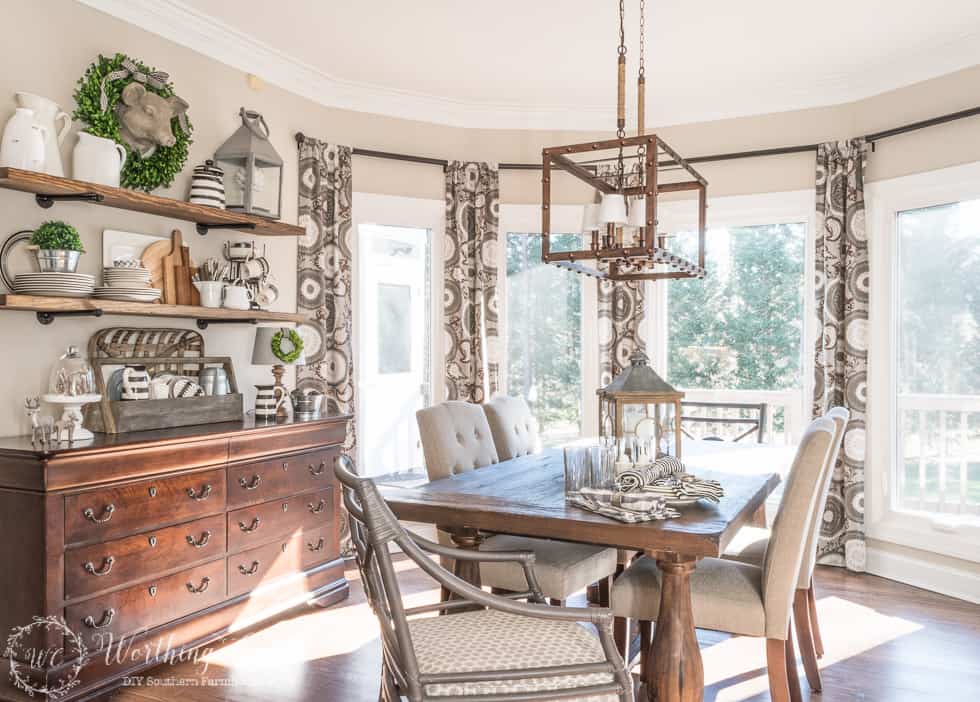 Over on the sideboard, I replaced a few things after I removed the Christmas touches that I had added. I filled my vintage looking toolbox with an assortment of black, white and gray dishes. How cute are the black and white striped pitchers? I found them in the dollar spot at Target last week. Did you spy the wood block that I used to raise the pitcher in the toolbox higher? Shhhh…don't tell.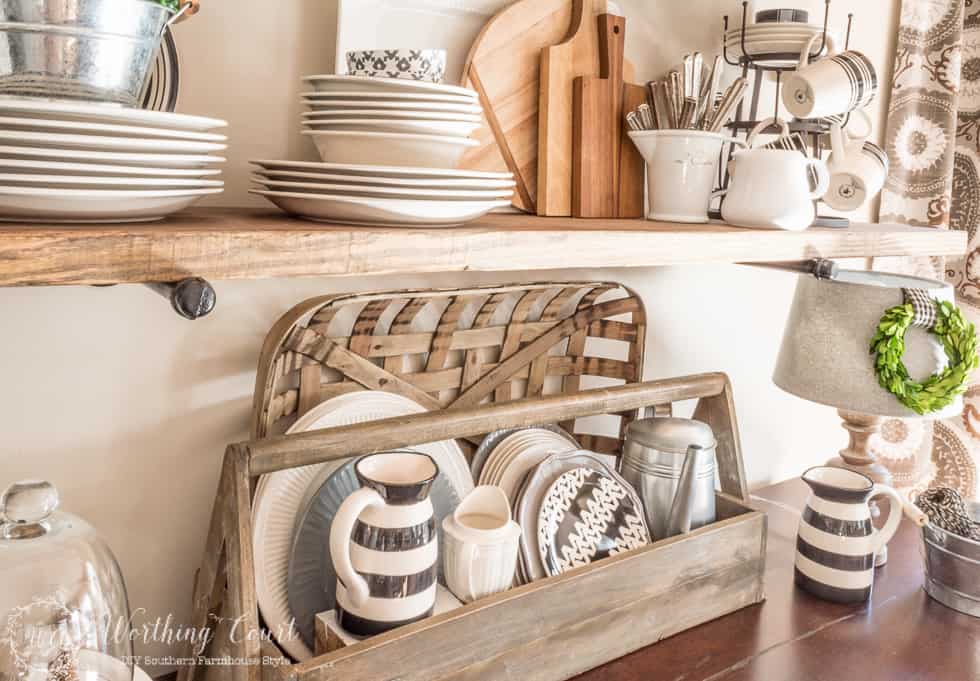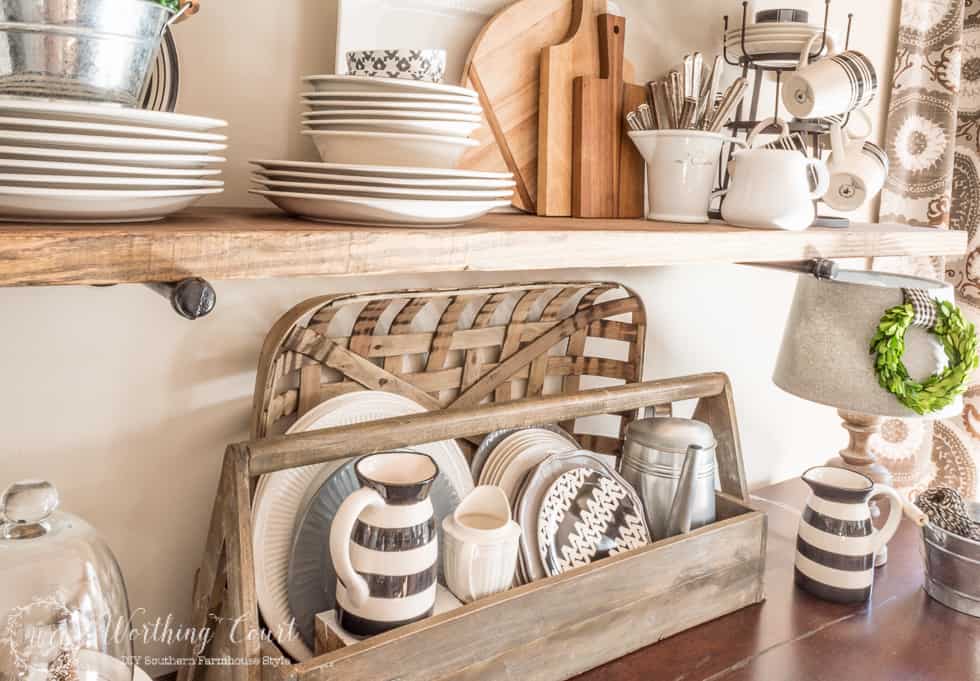 I added a little touch of winter with a few sweet deer Christmas ornaments and neutral bottle brush trees under a cloche.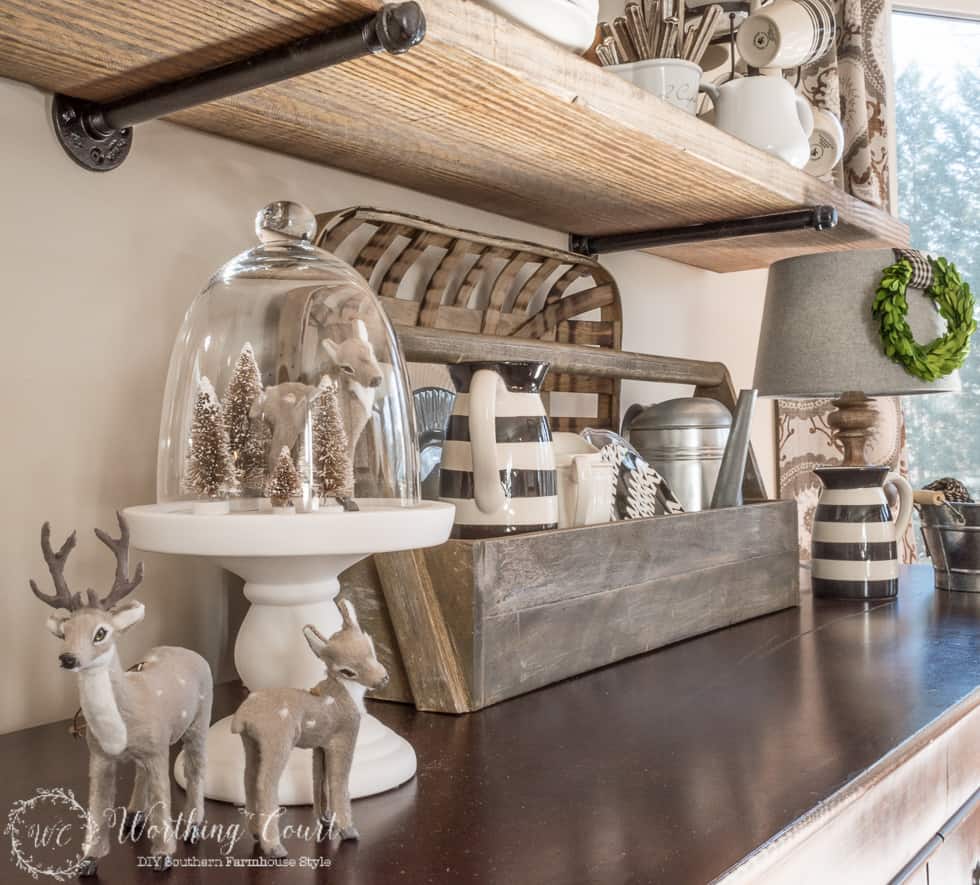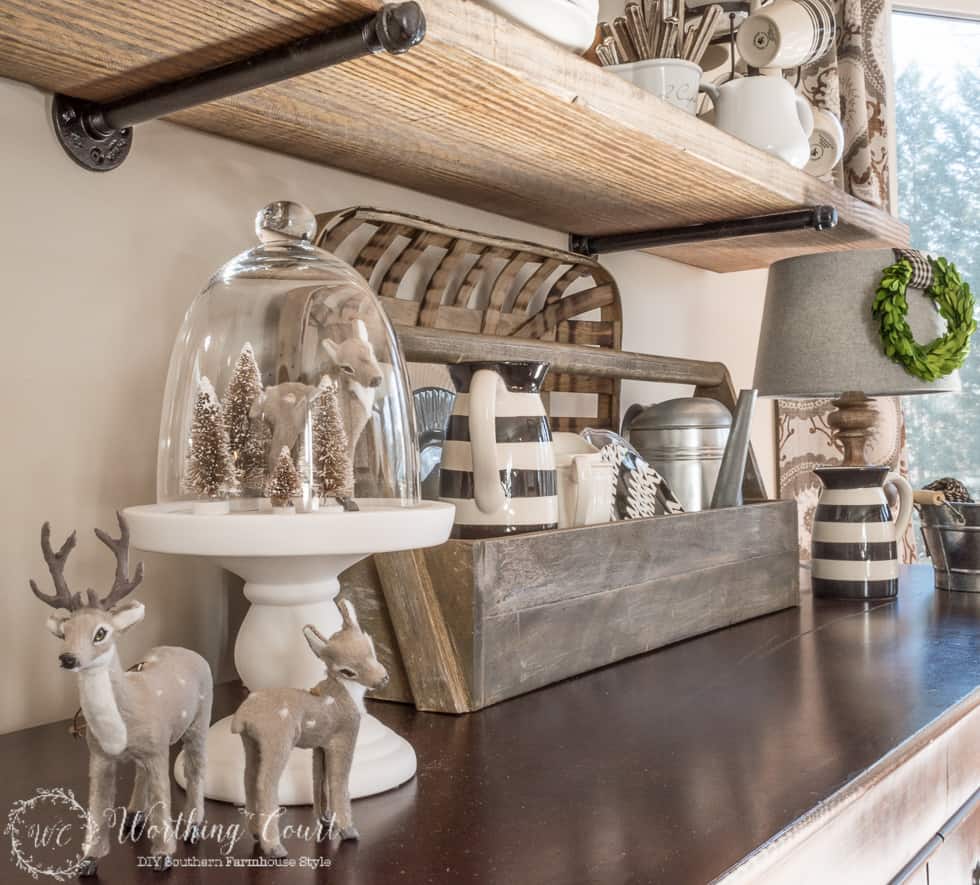 I allowed Mr. Wilbur to keep his position of authority, but removed the small silver Christmas ornaments that I had tucked into the wreath. I replaced the ginormous Christmas pinecones with a lantern holding an artichoke stacked on a couple of gray plates and stole the black and white canisters from my laundry room.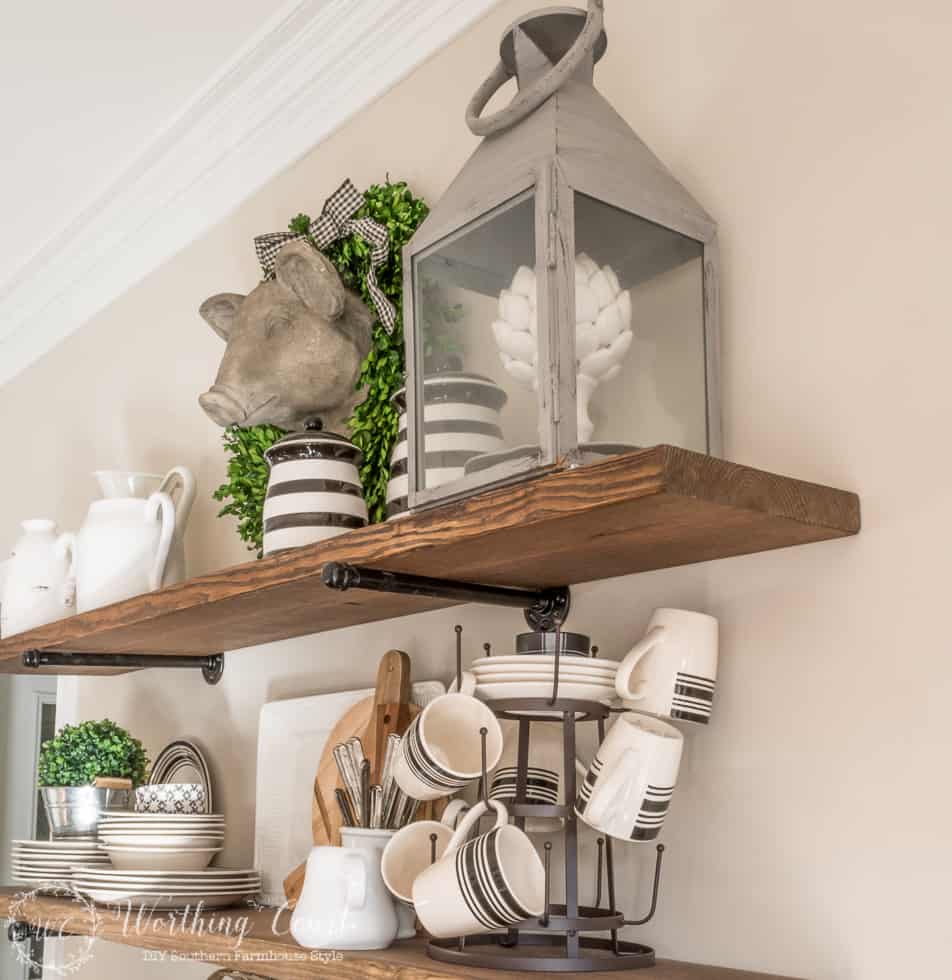 The addition of a faux boxwood orb, a white platter and a faux tobacco basket behind the toolbox completes the look that I'll keep through the winter.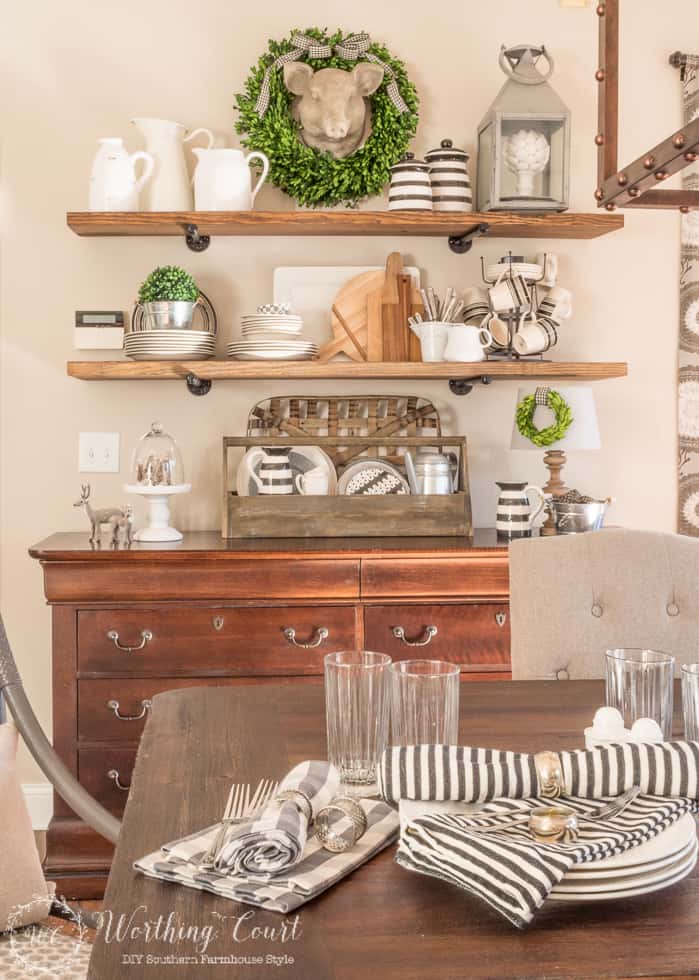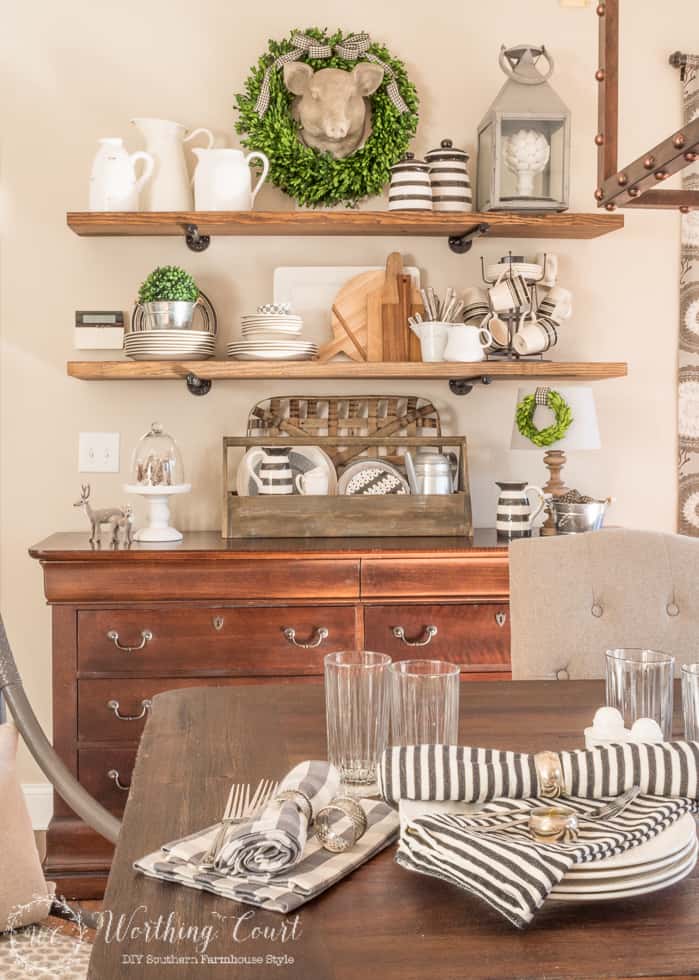 Oh – I promised a you a before, didn't I? Here is what the breakfast area looked like on the day that we first looked at the house.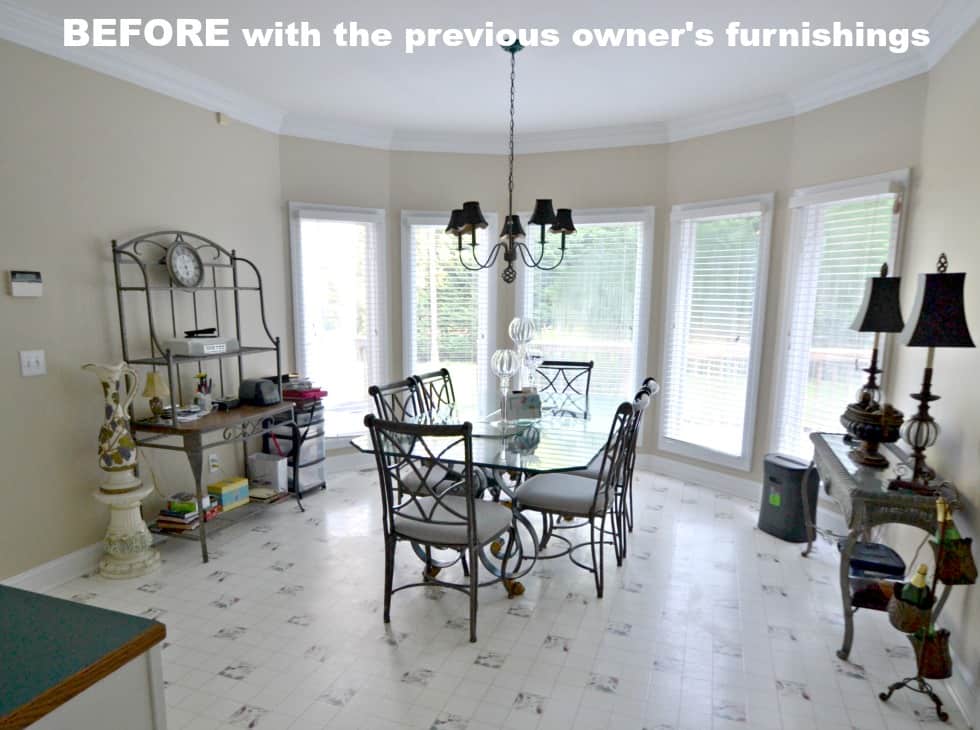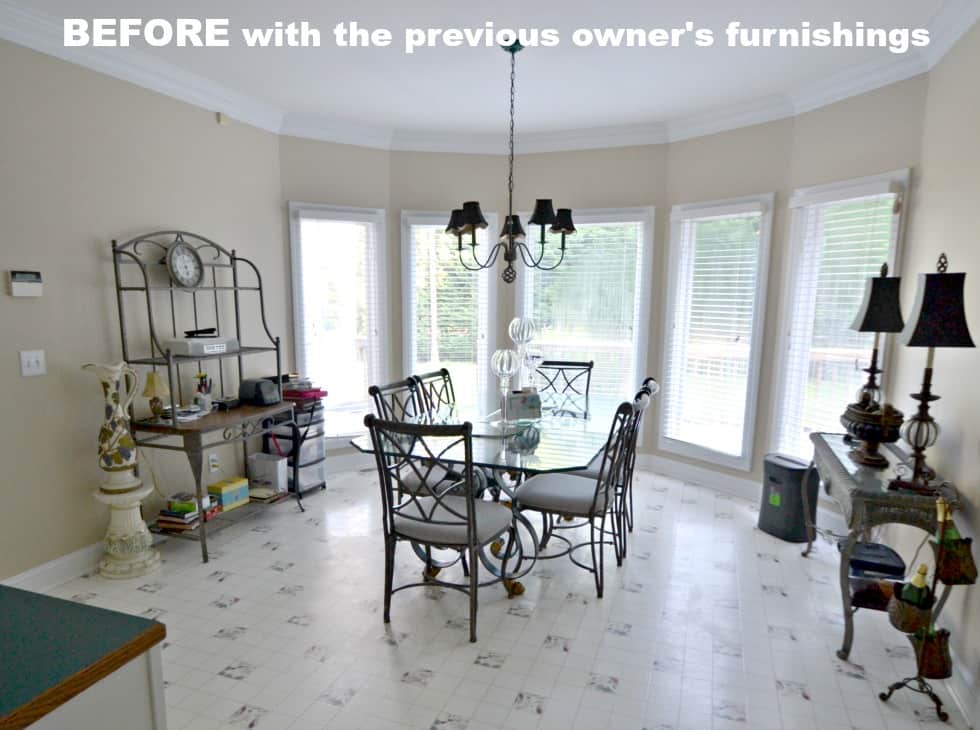 And here she is AFTER. Other than decorating the space, we replaced the vinyl flooring with hardwoods and painted with Sherwin Williams Accessible Beige. Oh, and we replaced all five of the windows in the turret too.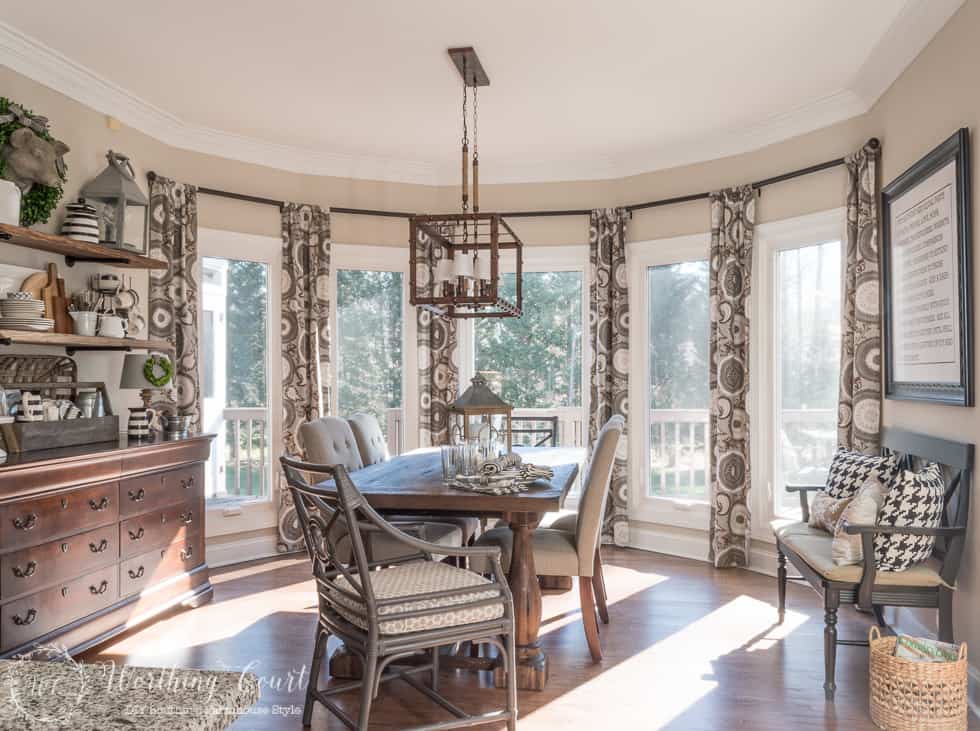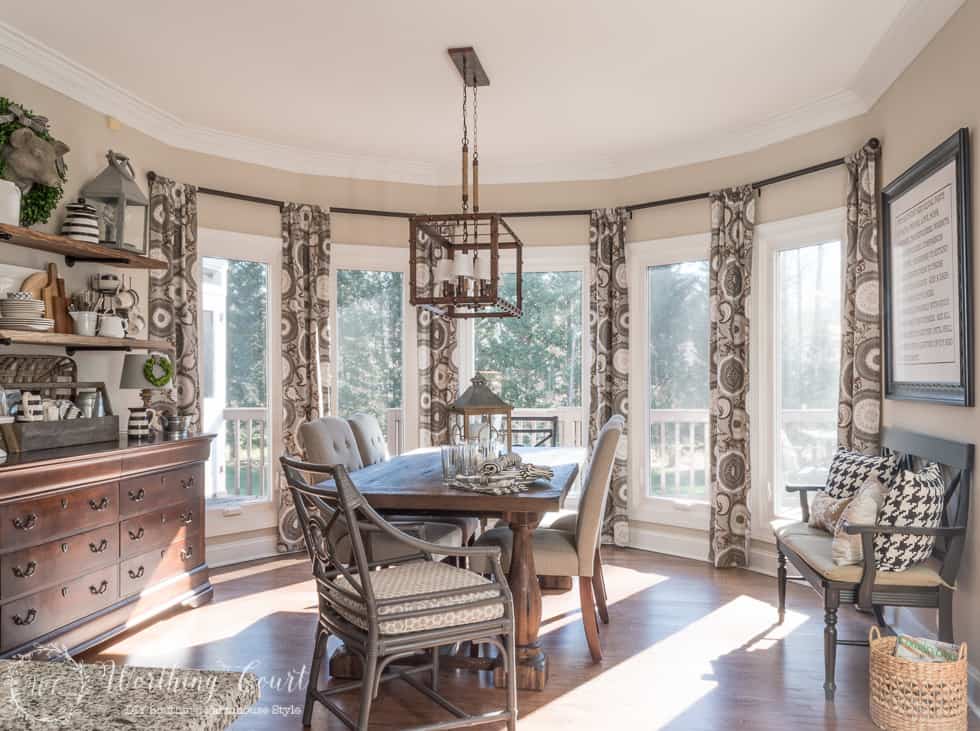 Nowadays, this is my view from my spot on the couch, which I admit, I kind of like.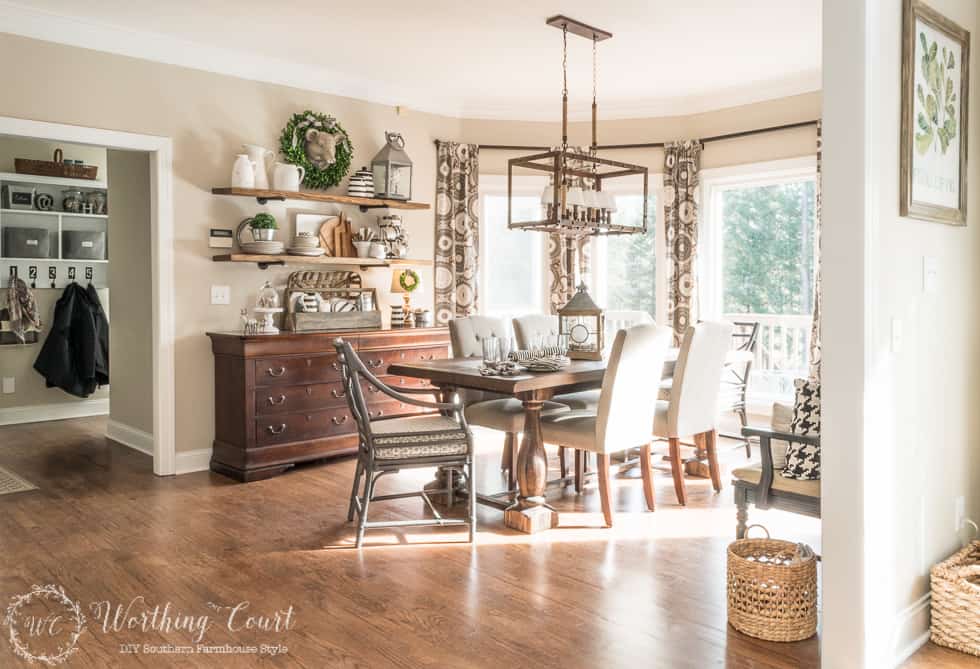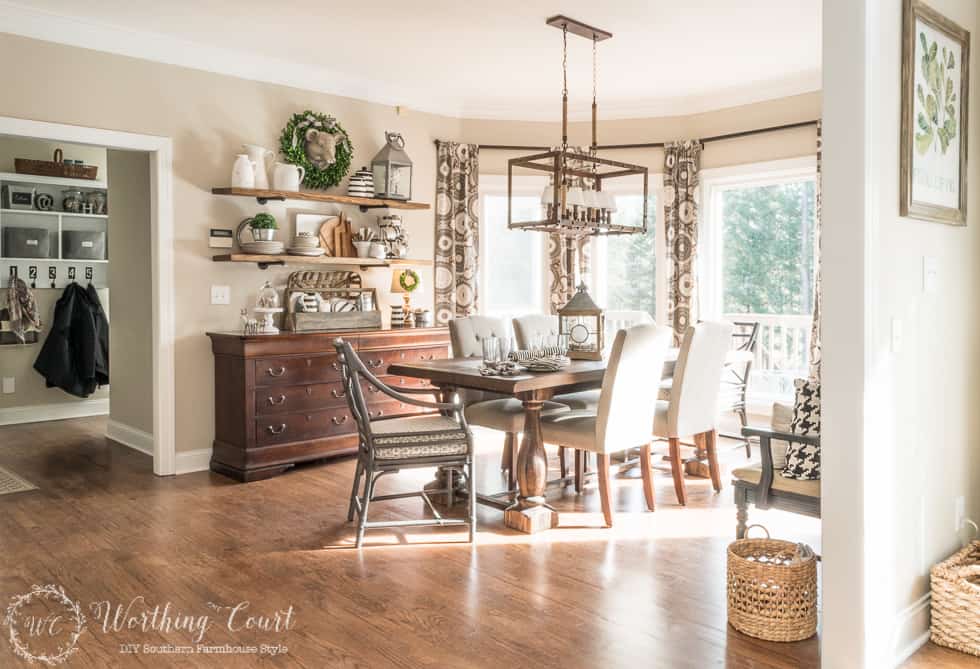 And btw – our breakfast area and kitchen are one long room. The kitchen was a total gut job. Here she is all decked out for Christmas. Click HERE to take the full kitchen tour.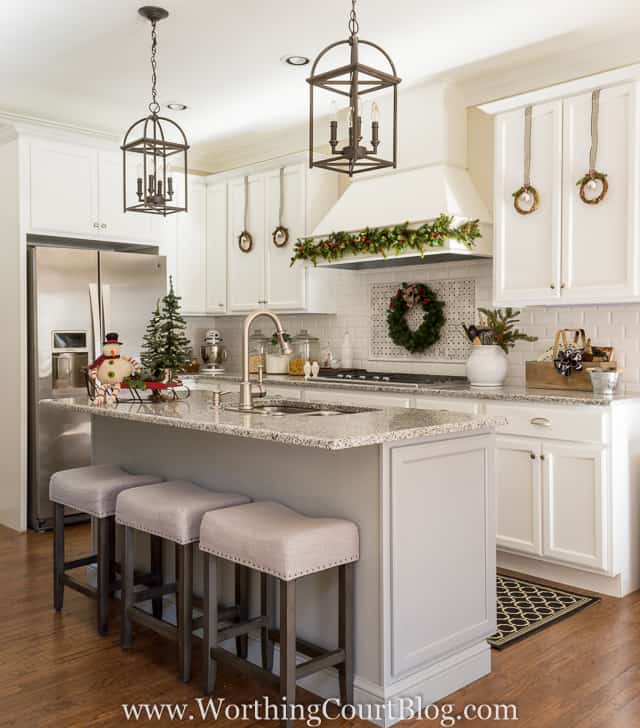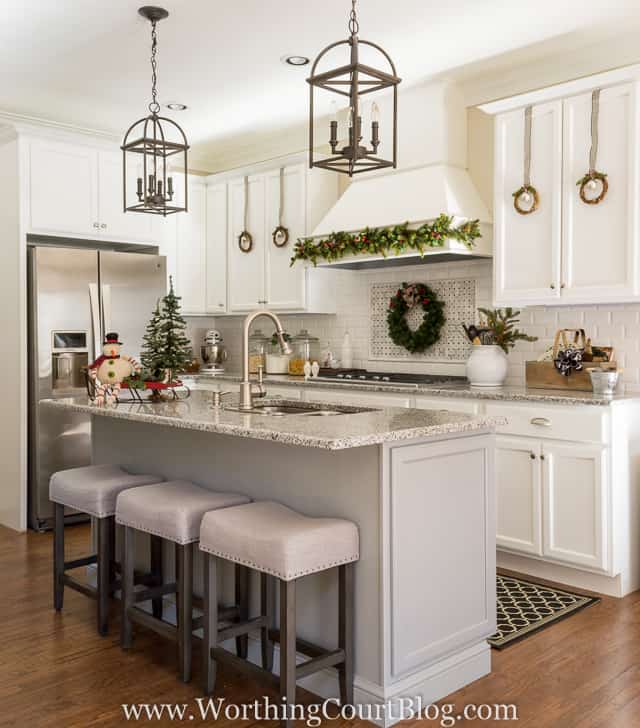 Thank you for stopping by to check out my breakfast area makeover today!