My Urban Farmhouse Christmas Front Porch
I am sharing all the details of my show stopping urban farmhouse Christmas front porch!
Welcome to Worthing Court's Farmhouse Christmas Front Porch, located in the heart of suburbia!  I'm excited to be joining a Christmas Porch Tour hosted by Amy of Atta Girl Says!  Whether your style is vintage, rustic, farmhouse, French country, traditional or cottage, you'll find lots of  inspiration as you deck your halls for the holidays.  Scroll to the bottom for the links to visit everyone else's Christmas porch.
We've lived in our home for a little over two years now, but this is the first Christmas that I've gone all out decorating my front porch for Christmas!  Still under the influence of the much adored tartan plaid plates that I used in my Christmas Breakfast Nook, I used a lot of red on my front porch.
Decorating My Porch For The Holidays
The very first thing that I did was to create a Christmas inspired garland to surround my front door.  I attached three red berry garlands (from Michael's) to three of those very inexpensive plain green garlands, using the greenery branches to wire them together at the ends.  I then tucked white lights into all of the branches.  Super easy to do and so much less expensive than the greenery and berry mix garland that I saw at another store!  Oh, and those planters?  They're new ones that Pookie built for me!  We'll talk more about them in a bit.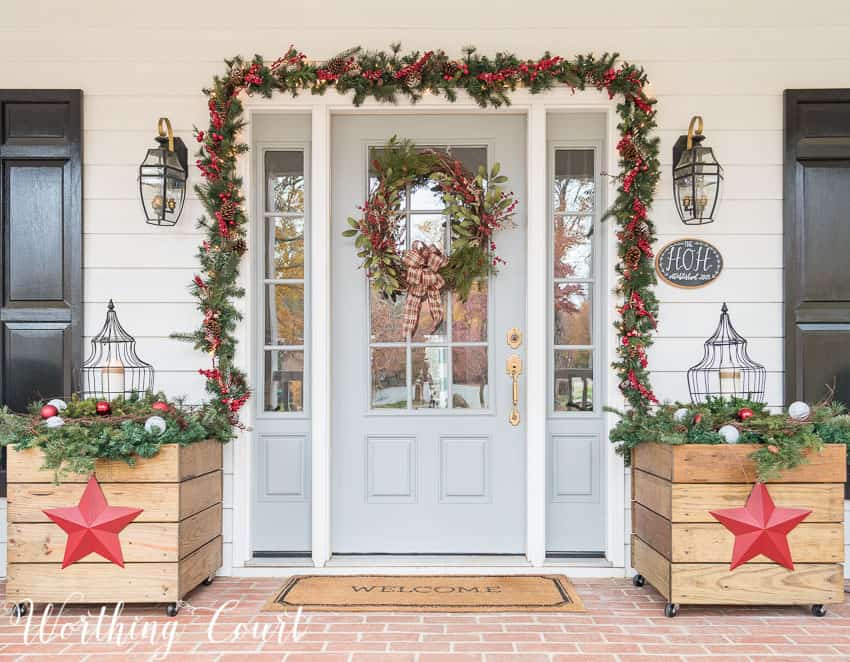 Pin
The holiday wreath is made from a grapevine wreath with two faux greenery pics and two leaf and berry picks attached to it with floral wire.  And of course, I had to add a plaid Christmas bow!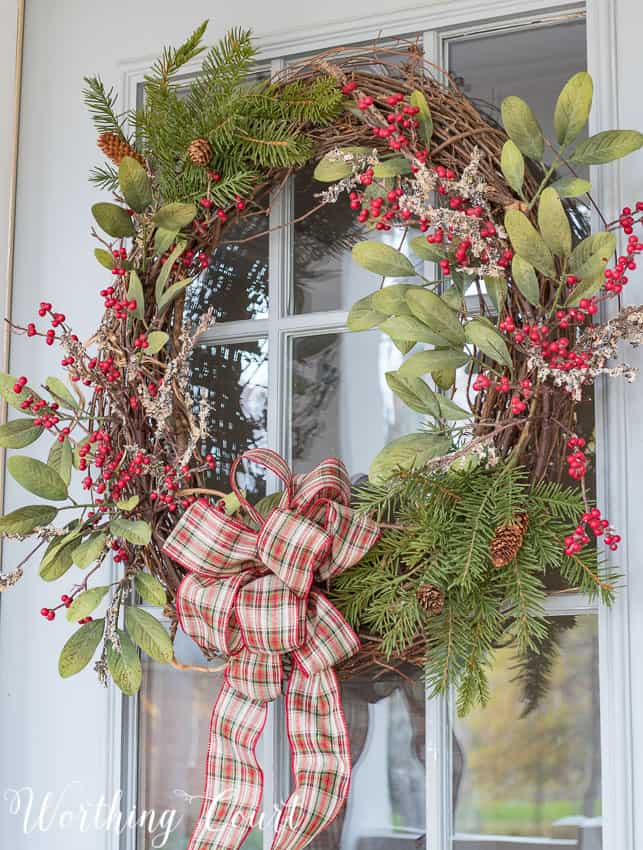 Pin
Our wide and deep front porch is one of the things that sold me on this house, but it takes a lot of stuff to fill it!  I had so much fun adding all sorts of Christmas goodies, but the width of the porch and the large square columns make it difficult to photograph.  So….I'll be showing you my porch one end at a time.
We bought a new Christmas tree for the inside this year, so I saved the old one to use on the porch.  I love it!  The tree is flanked with white wicker rockers that live out here year round.  I added a throw, Christmas pillows, lanterns and lots of other goodies to cozy it up.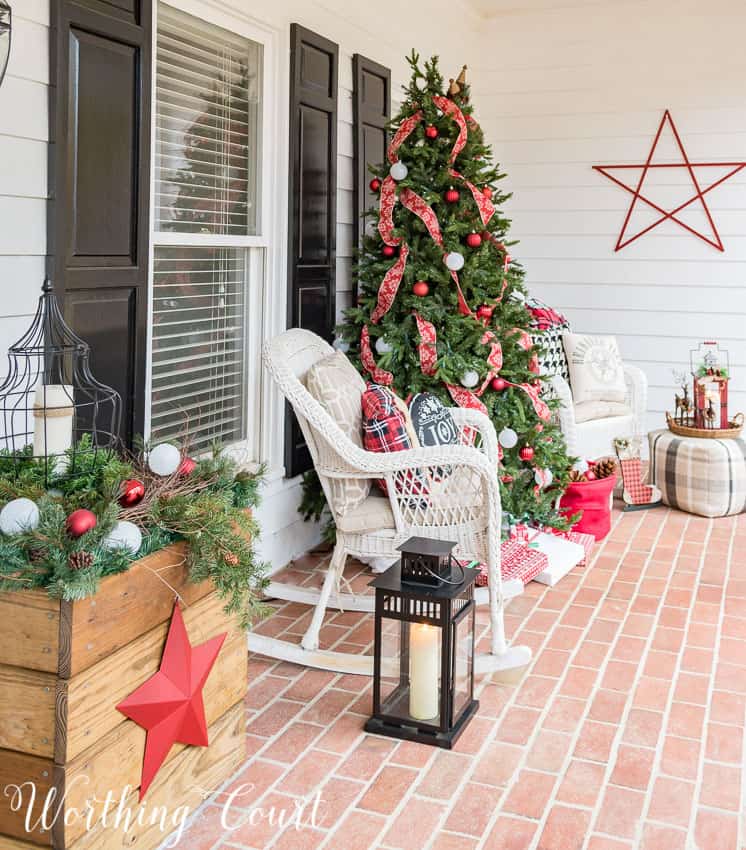 Pin
The big blank wall needed something, so I purchased wooden screen slats at the big box store, cut them to 36″ long, glued them together (with wood glue) in the shape of a star and spray painted it red.  So easy to do, but I will say that it took me a bit of fussing to get the star to just the right shape.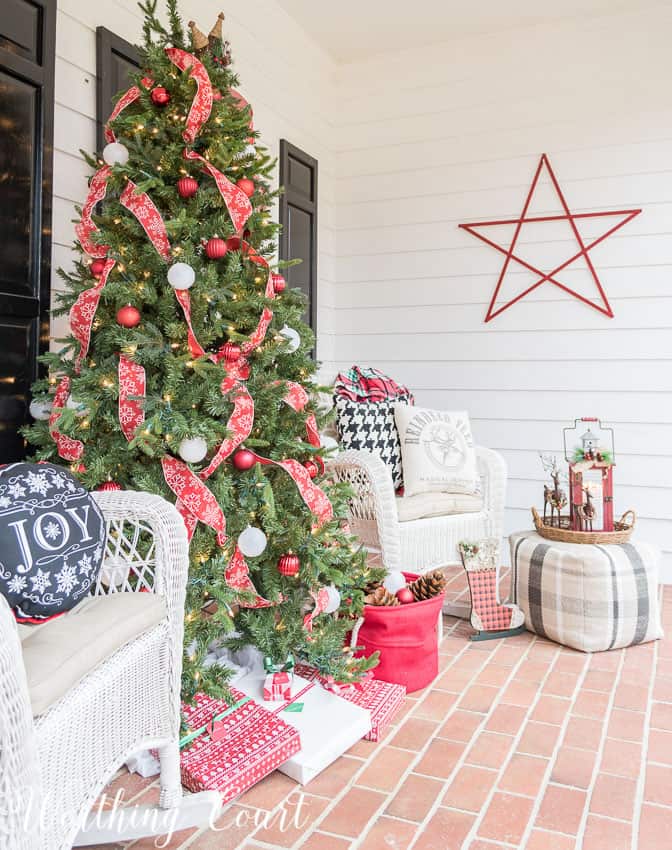 Pin
I added a bench filled with throw pillows between the rockers on the other side of the porch. An old wood crate holds a lighted Christmas tree filled with red stars and happy red striped ribbon.  The wreath above the bench is filled with white lights too.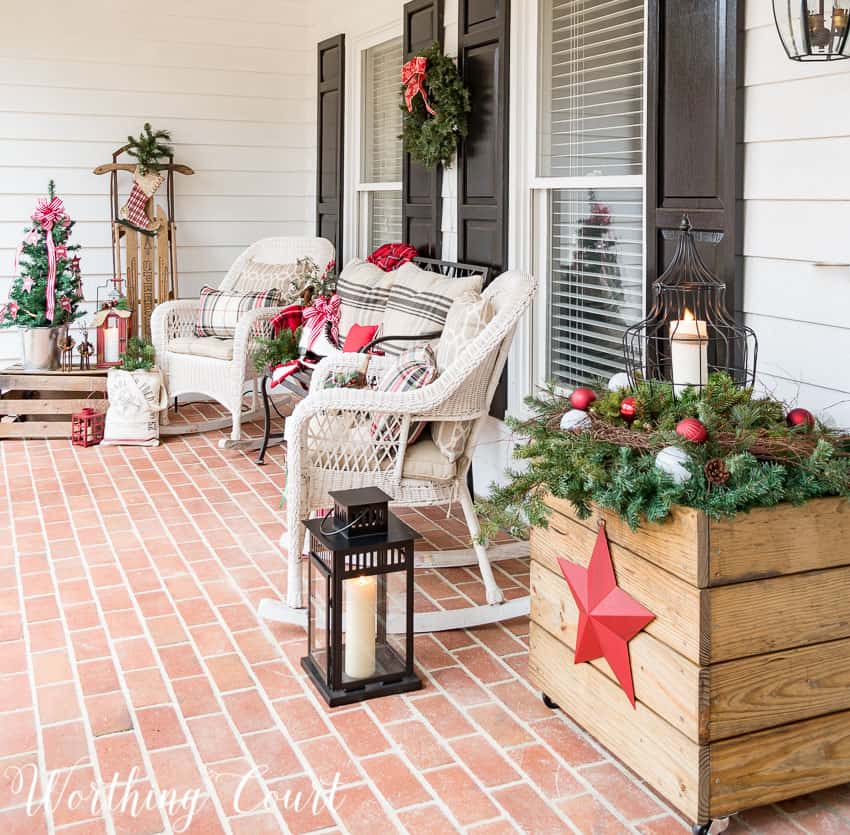 Pin
A beautiful vintage sled, leaning against the wall helps to fill in the blank space and to create a feeling of coziness for the holidays.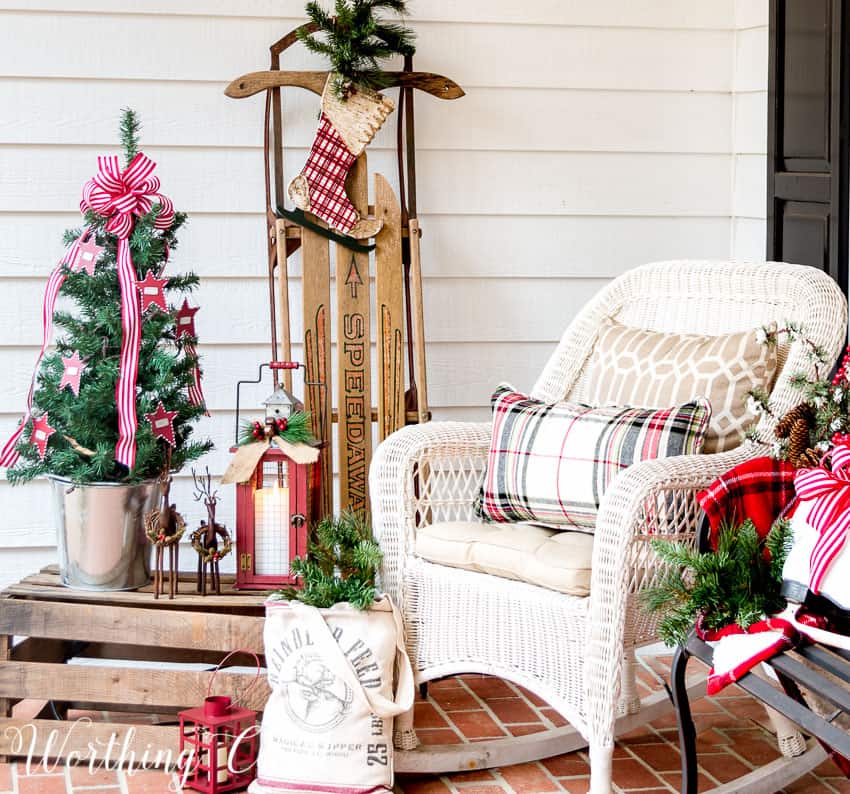 Pin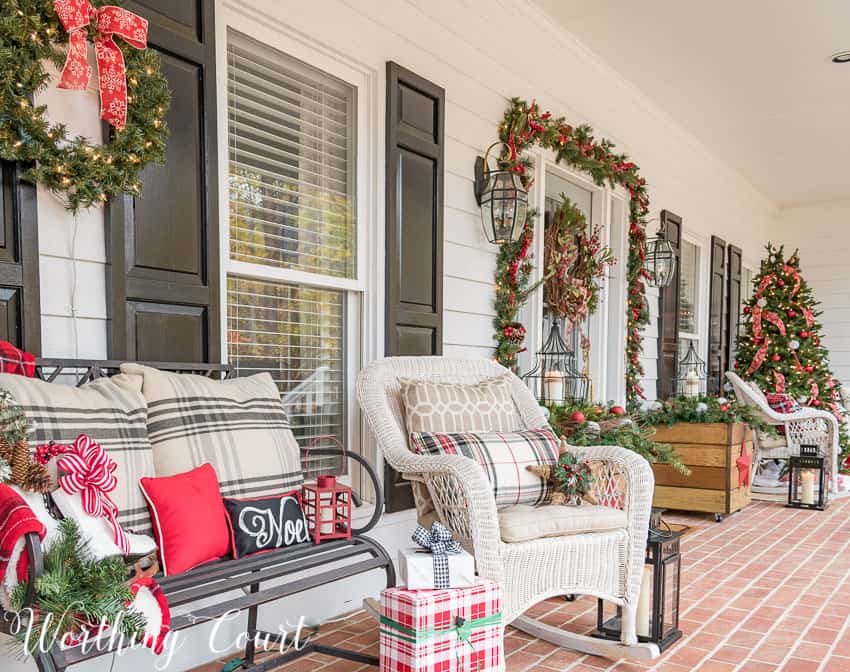 Pin
Now about those planters.  I wanted to replace the black urns, that formerly flanked my front door, with two wooden planters that I saw at Remodelando la Casa (you can find them HERE).  Pookie made them for me using Christina's directions.  Mine are larger though – they're 24″ square, plus we added castors to the bottom.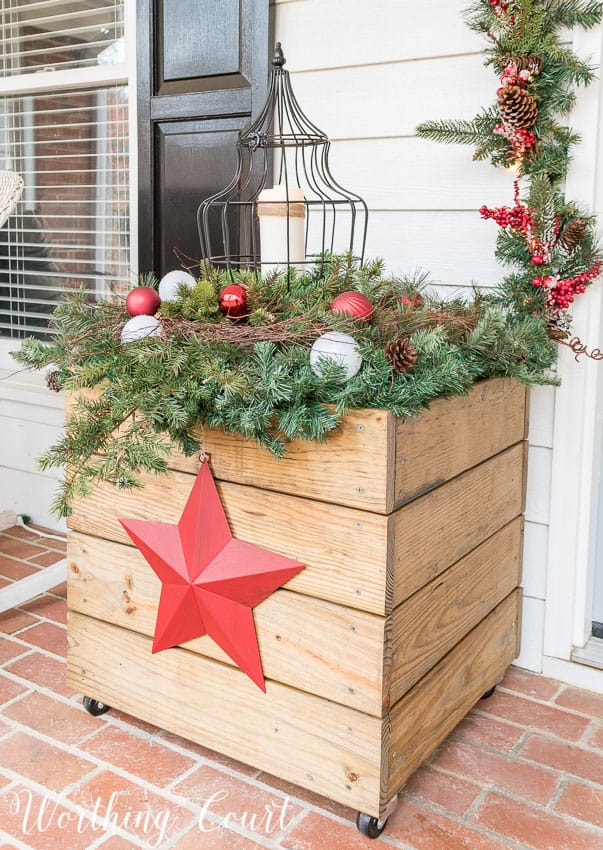 Pin
I filled them full of every greenery pick that I could find and then added the same lanterns that I used in the urns for my fall front porch.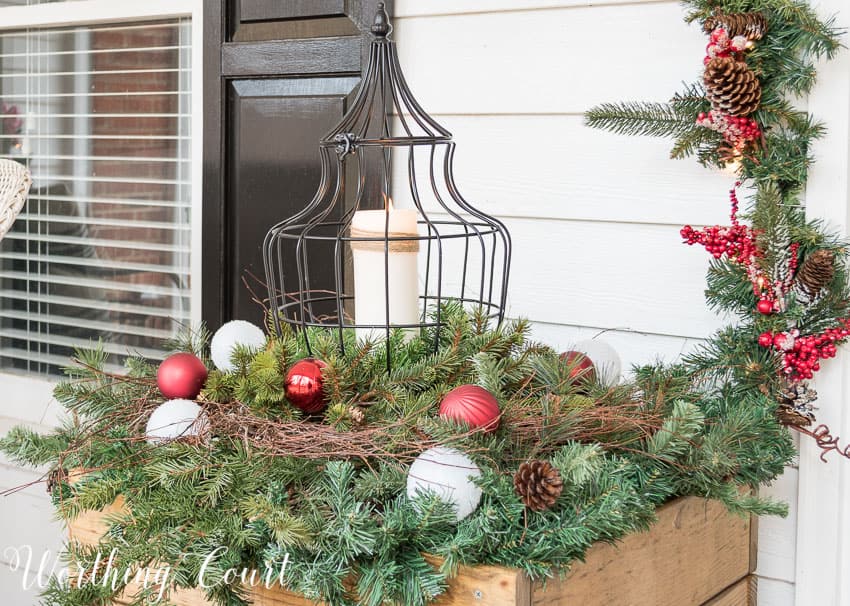 Pin
I found these metal stars in my stash and painted them red for the finishing touch!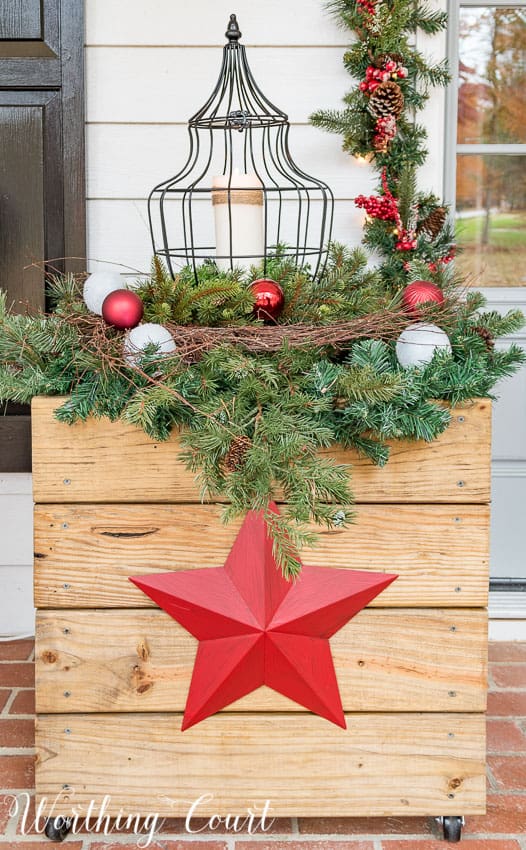 Pin
I mentioned before, that our porch is wide and deep.  I thought I'd give you a shot of what the whole porch looks like from a distance.  In a perfect world, the area around the shrubs would be free of leaves and no leaves would be in the gutters, but the reality is that my house is surrounded by woods and we have several huge oak trees in our front yard.  In spite of clearing the leaves every few days, this is how it will look until all of the trees have finished shedding for the winter.  At least I was able to get the leaves off of the porch long enough for me to take pictures for you!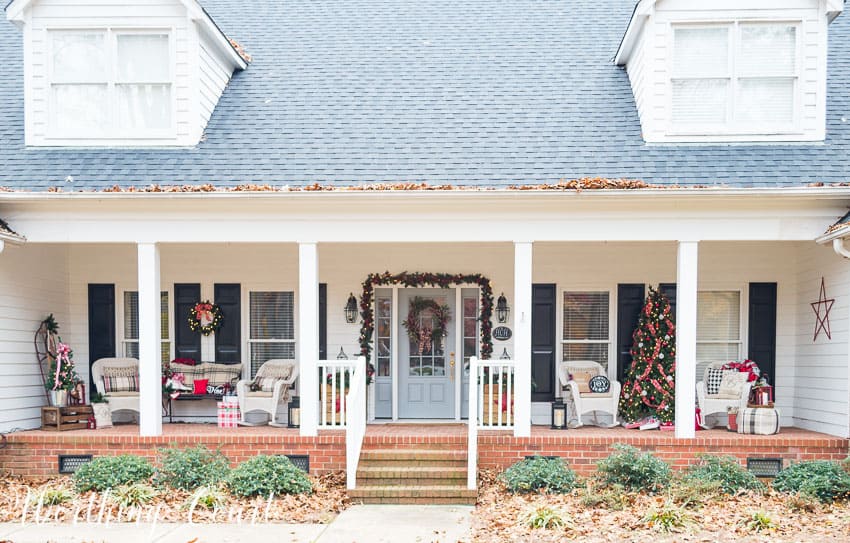 Pin
Thank you so much to Amy for putting this tour together and thank each of you for visiting!  Click on the links below to visit the other gorgeous Christmas porches.
Pin
Atta Girl Says | Cottage at the Crossroads | Cottage in the Oaks
| House of Hawthornes | Our Southern Home
Postcards from the Ridge | Refresh Restyle | Worthing Court
LOOKING FOR MORE FARMHOUSE CHRISTMAS INSPIRATION?
CHRISTMAS IN MY FARMHOUSE BREAKFAST NOOK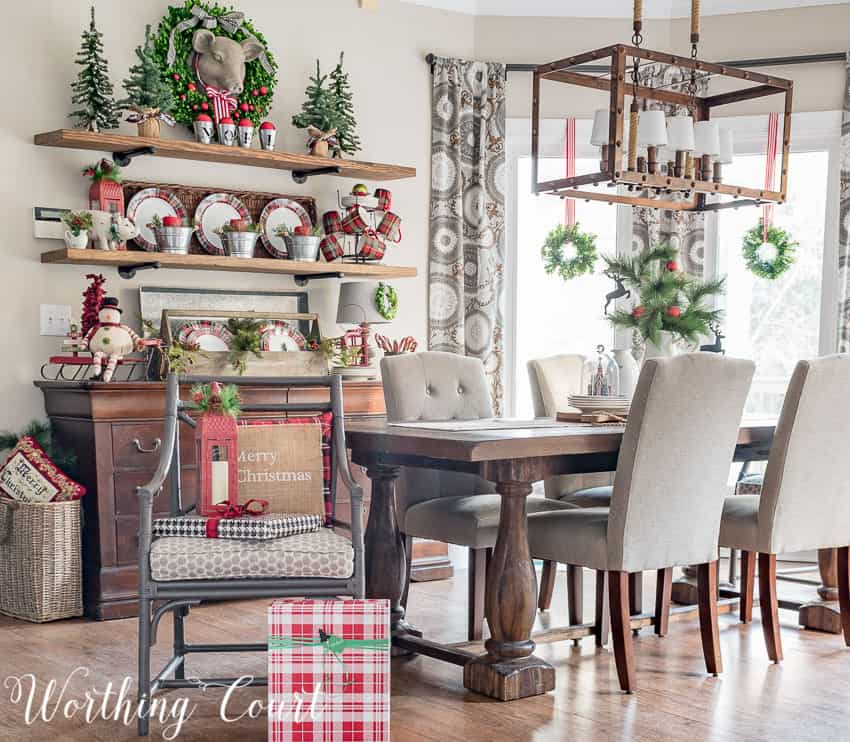 Pin
MY VERY MERRY FARMHOUSE CHRISTMAS MANTEL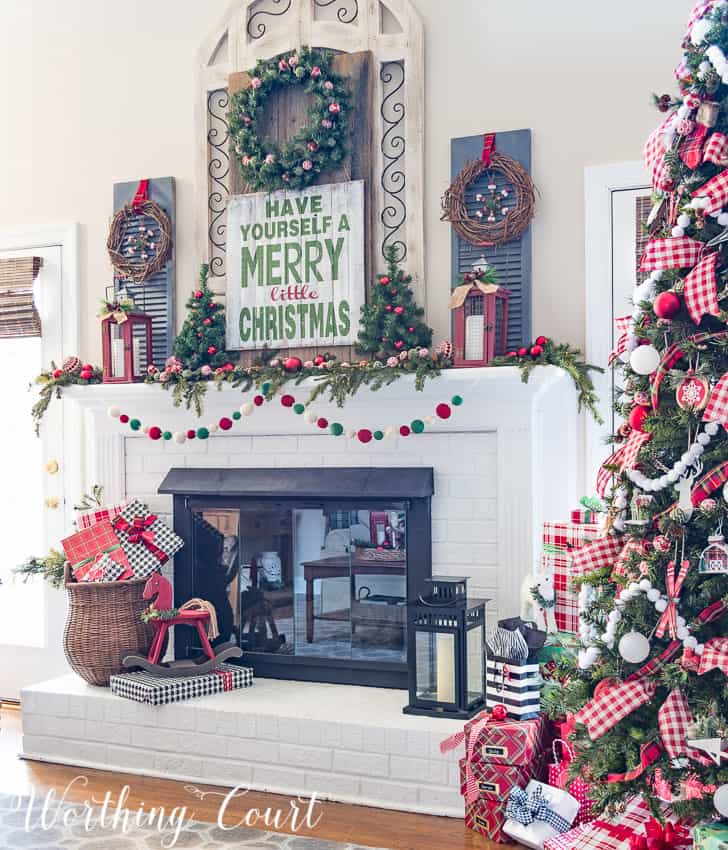 Pin
Sharing at THESE great parties.