Elegant French Blue And Silver Christmas Dining Room Decor
Ideas for using French blue and silver to decorate a Christmas tree and dining room for an elegant, understated look.
Have you ever noticed how wonderful French blue looks mixed with silver?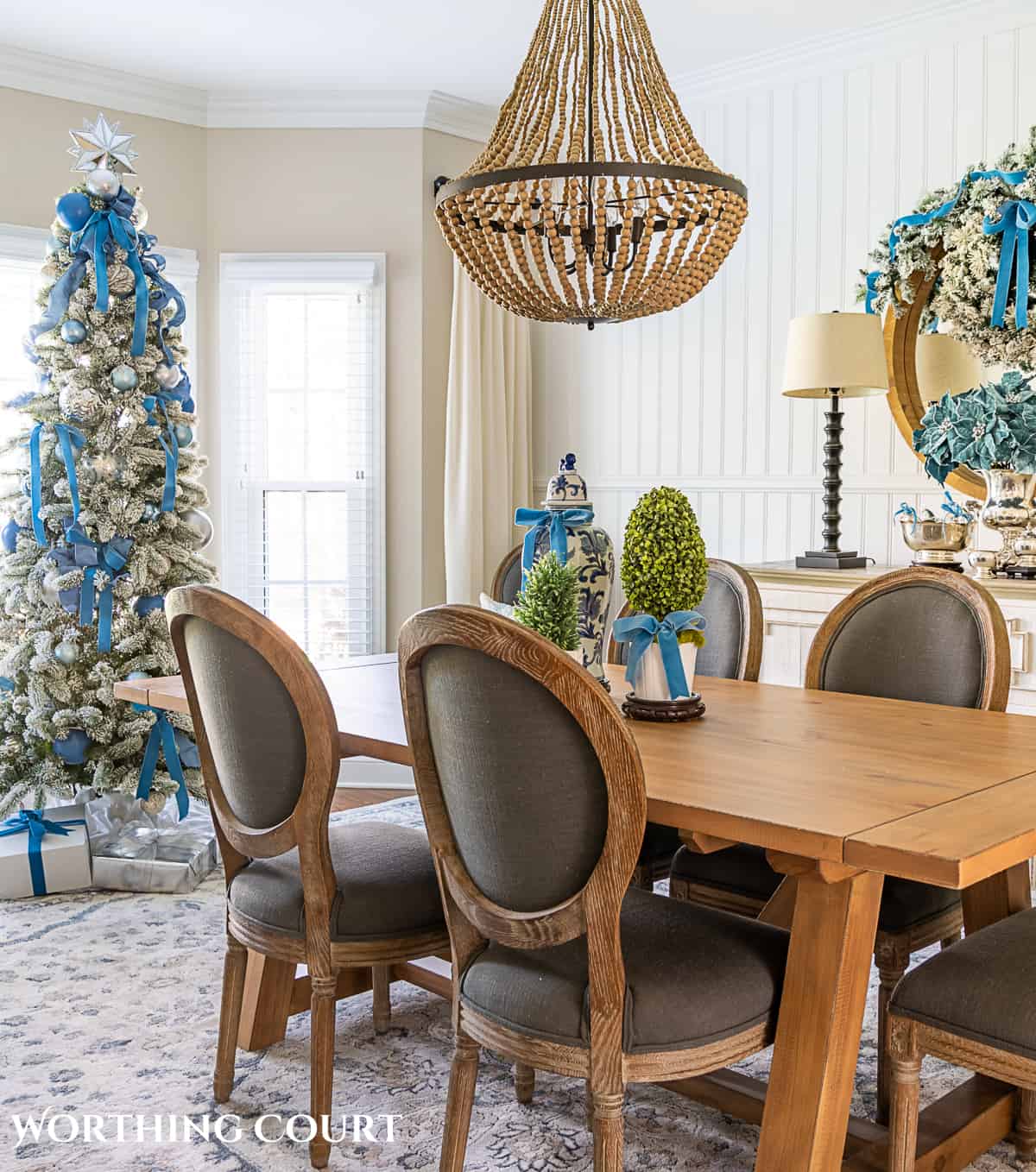 This post contains affiliate links from Amazon and other retailers. See my full disclosure policy HERE.
It's a beautiful combination that allows you to ramp the fancy factor way up or keep it toned down. I chose to go somewhere in-between, since I love having a touch of elegance in my dining room for Christmas.
It all started with this a beautiful sparkly, mirrored star (that I found at a local store) and my collection of silver Reed & Barton bells and Wallace sleigh bells. I have bells from every year starting in 1976.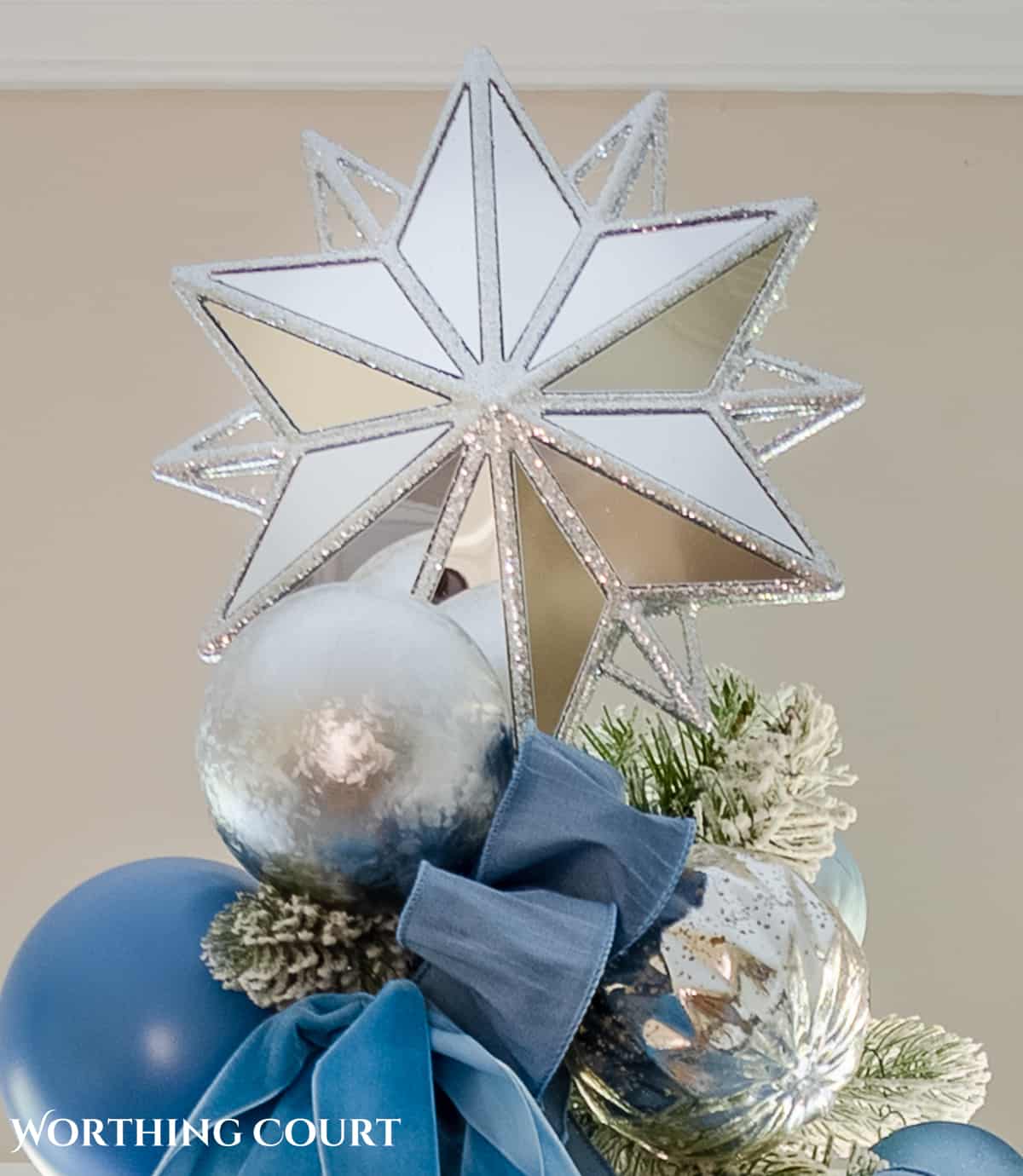 You can find a star almost identical to mine HERE. Trust me, my photo doesn't do it justice. We'll take a closer look at the tree in a moment.
By the way, you'll be able to shop much of what you see in this post below.
This is just a small portion of my collection of bells after their annual polishing session. I have bells from every year starting in 1976.
If you have any silver plated items to polish, you want to be sure to check out the video in my Instagram highlight entitled "Polish Silver". It's an easy and fast way to polish all of your silver. You can thank me later. 😊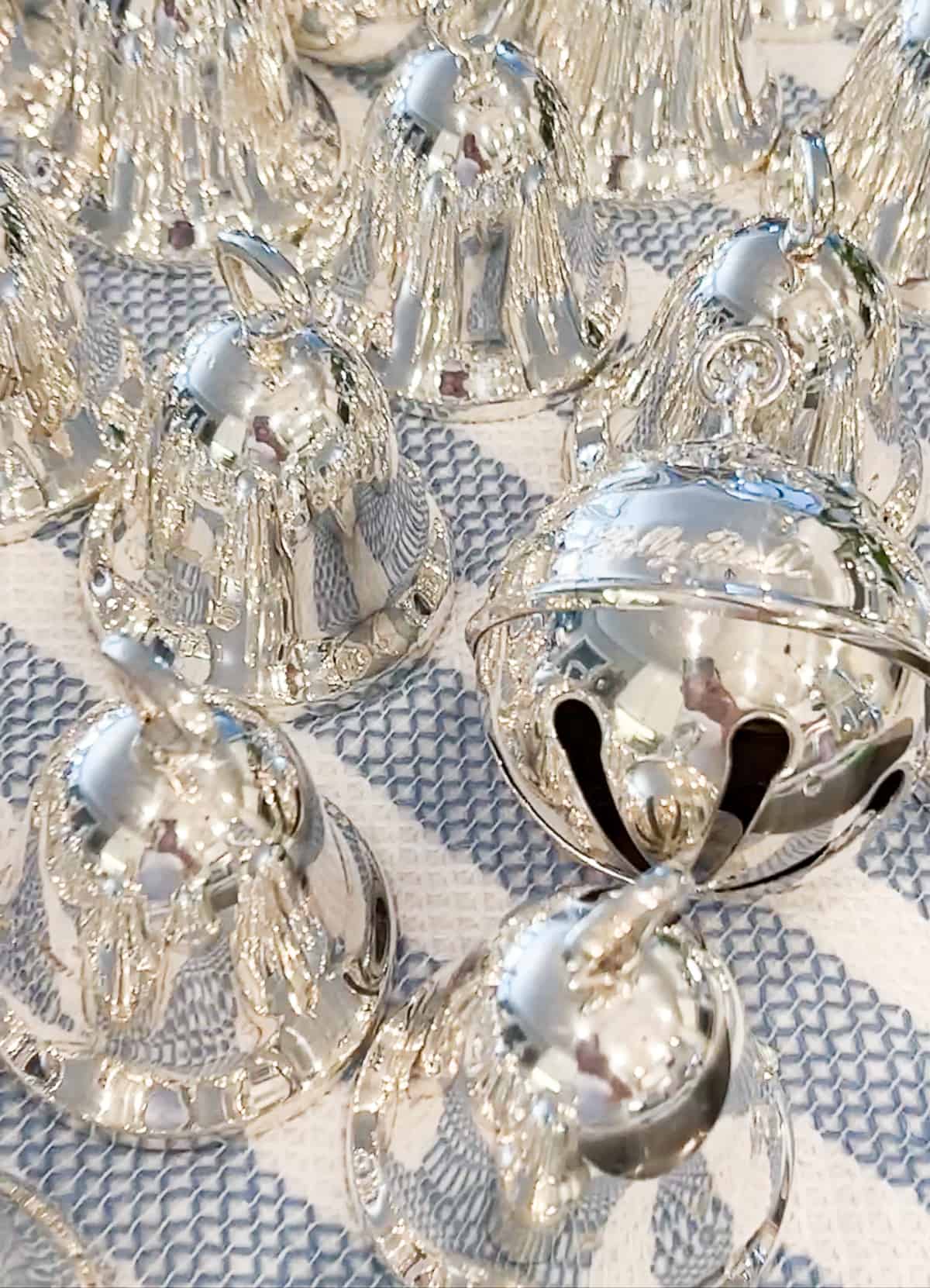 Before I go any farther, let me welcome you to the annual Celebrate Christmas Home Tours, hosted by my friend Leen at Sand Dollar Lane. If you're coming over from Leslie's at Feet Under My Table, welcome! Be sure to check the links at the bottom for the rest of the participants in the tour. There's something for everyone!
SIDEBOARD DECORATIONS
The moment I decided on this color scheme, I knew immediately that I would be able to use some of my vintage silver pieces to create a vignette on my sideboard, including this champagne bucket, which is a favorite.
That was so exciting to me because these items are tucked away in a cabinet and rarely see the light of day.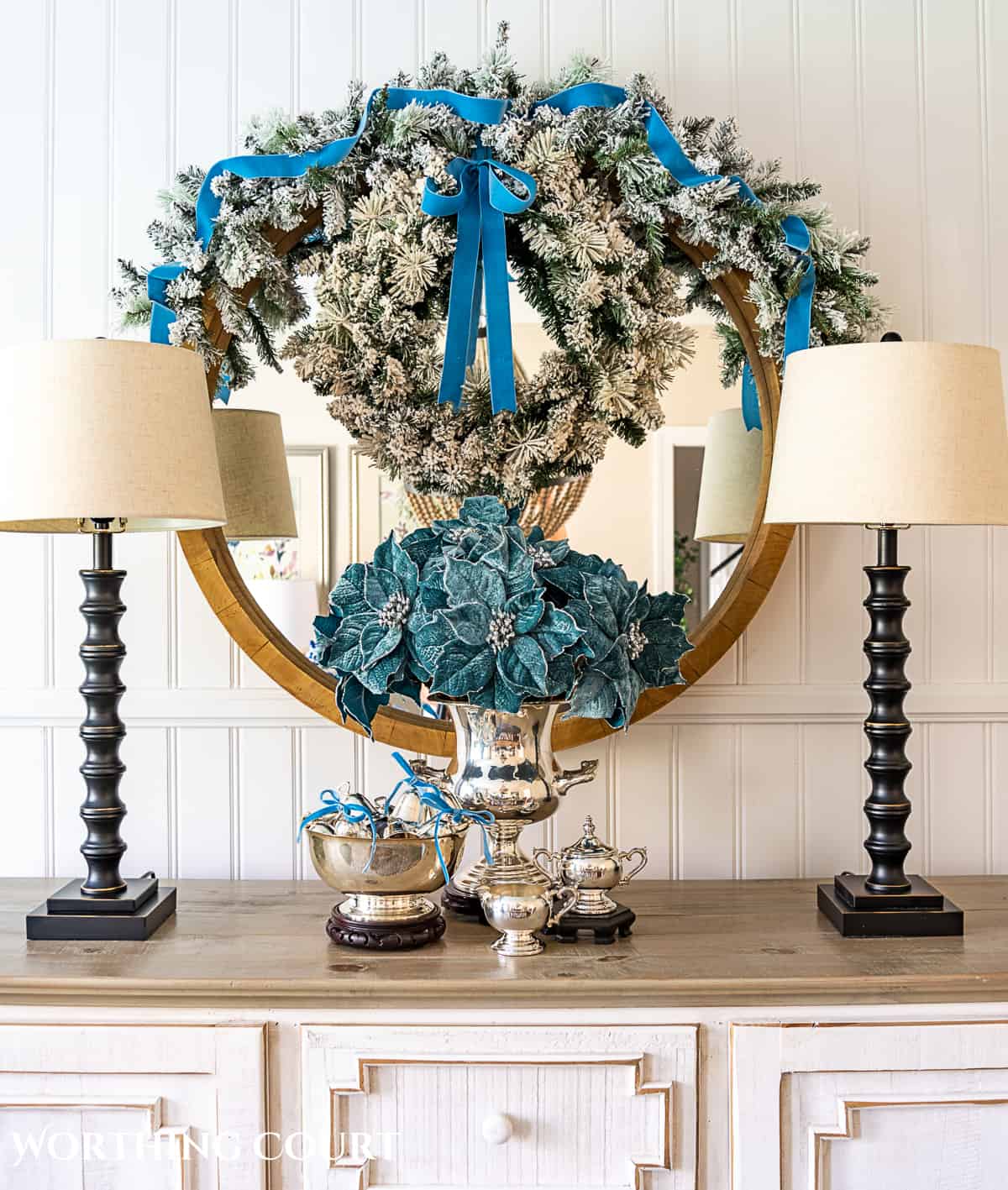 My husband's parents gave him the champagne bucket filled with silver dollars many years ago when he became a commissioned officer in the Marine Corps. It was to help him purchase his officer uniforms, which were around $1000 at the time.
The silver Paul Revere Bowl and sugar bowl and creamer belonged to my mom. I have the rest of the tea service, but decided not to display the whole thing.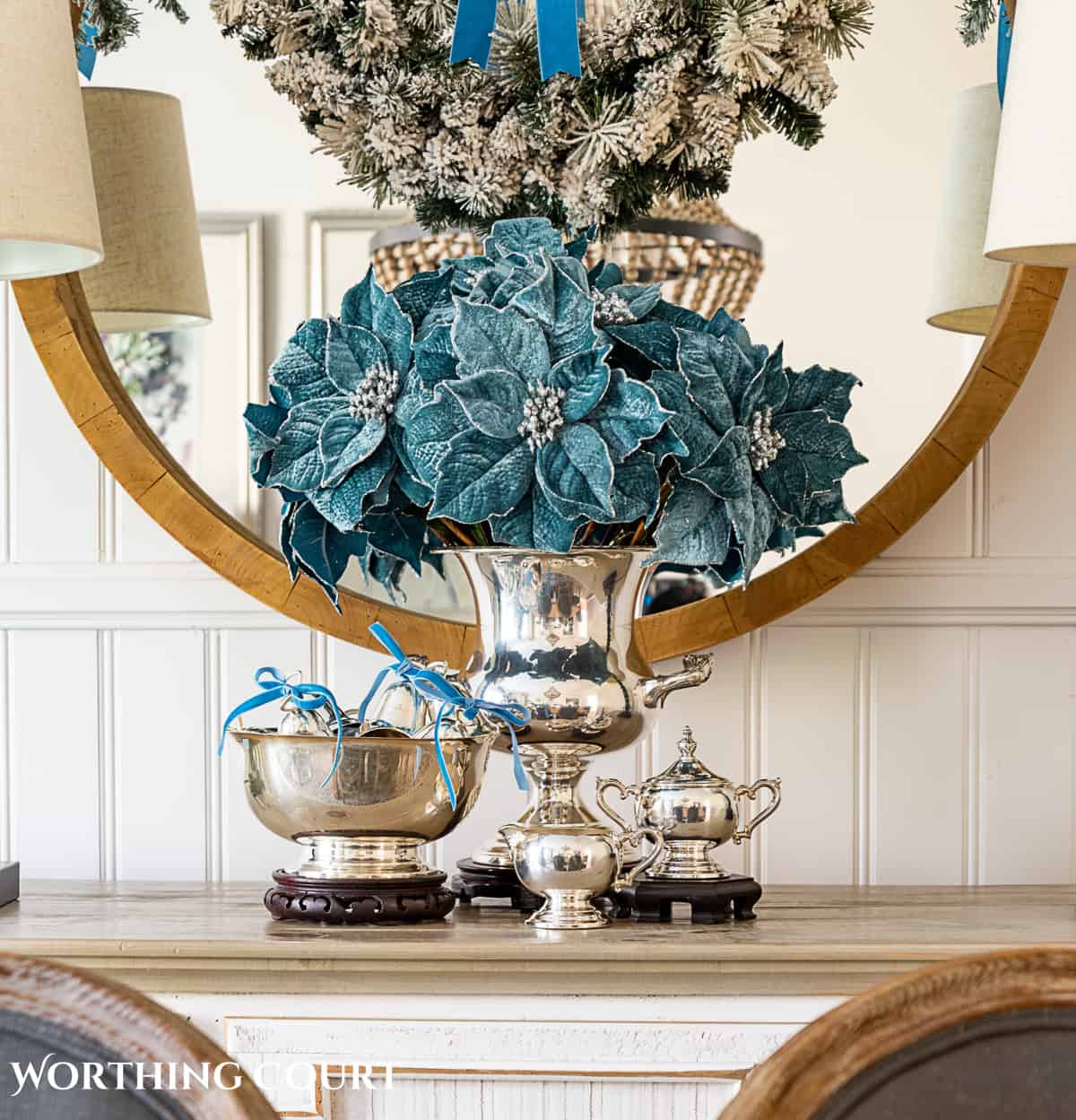 I love the sparkly look of it filled with shiny silver bells, but in this photo it looks like I should have given it a bit of a polish. It looked just fine until I saw it in a closeup. Oops!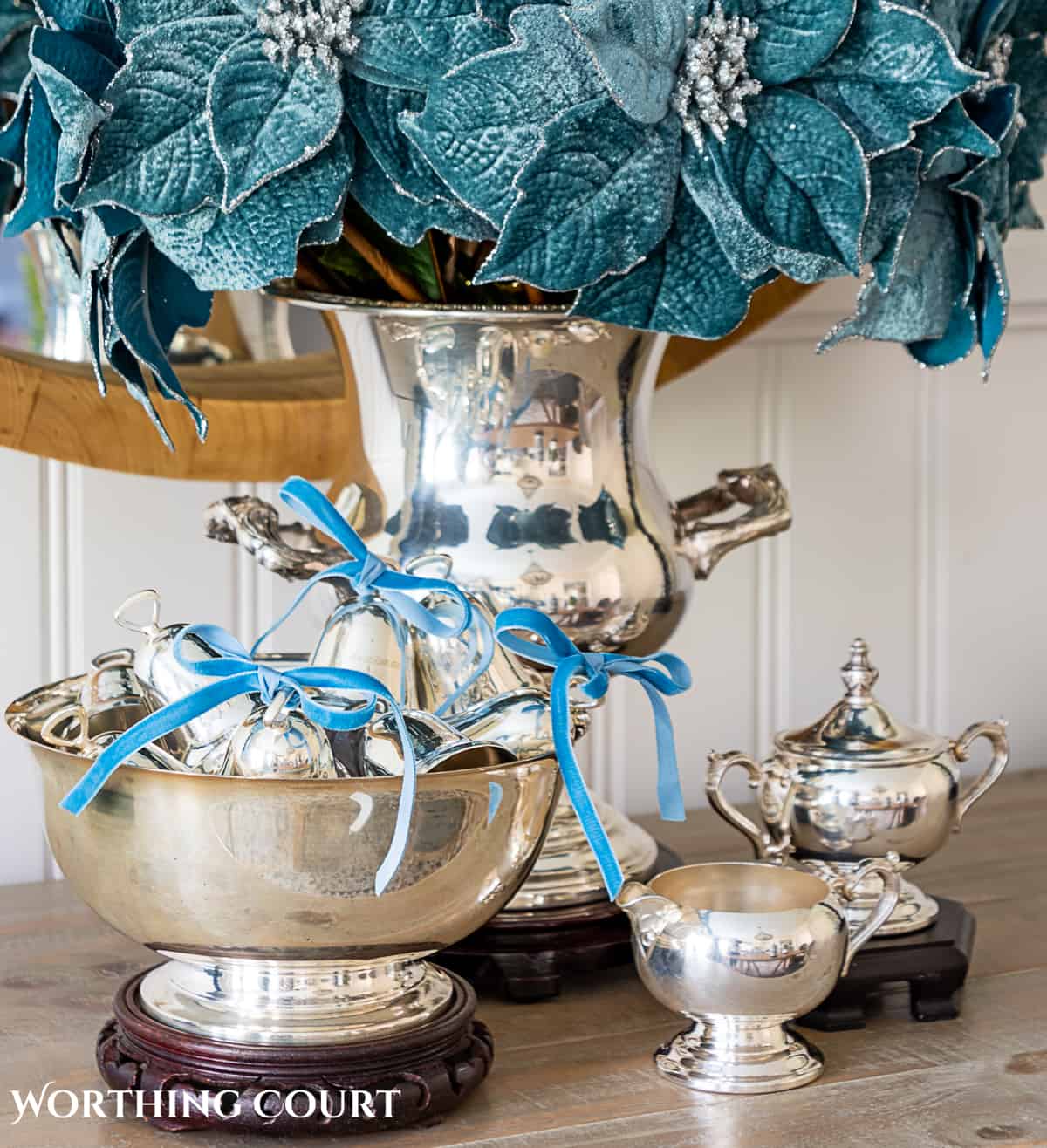 The flocked garland is attached to my mirror using cup hooks. I simply wrapped branches of the garland around the hooks to hold it in place. We drilled tiny holes into the frame, but don't worry – you'll won't be able to see them once the hooks are removed.
The wreath is hanging from a ribbon loop on one of the hooks too.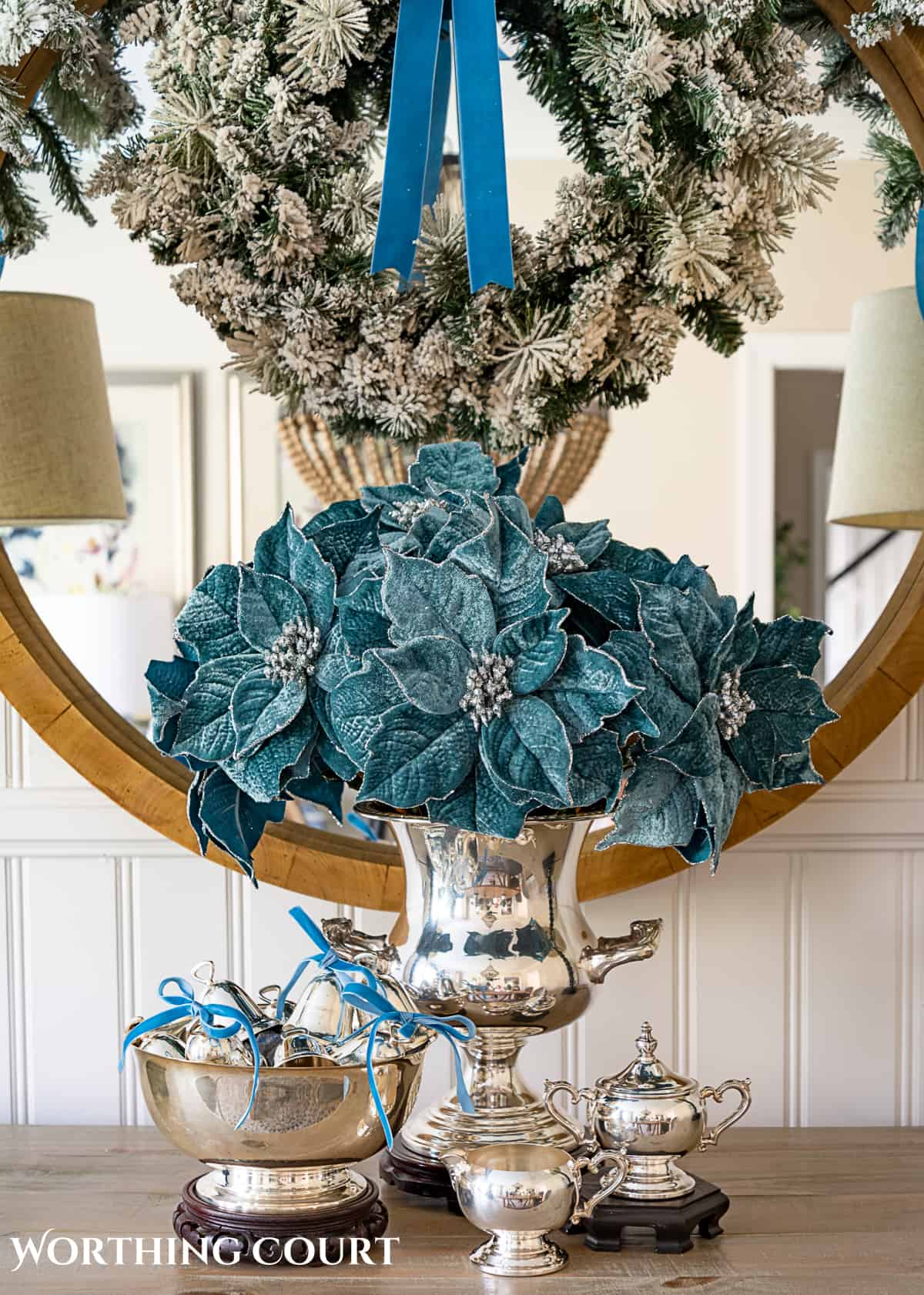 The entire vignette is tied together with the rest of the decor with gorgeous French blue velvet ribbon and velvet poinsettias.
THE DINING TABLE
Because the decorations on the sideboard are so elaborate, I decided to tone things down for the centerpiece on the dining table.
The colors in the pretty ginger jar are perfect with the rest of the Christmas decorations in this room.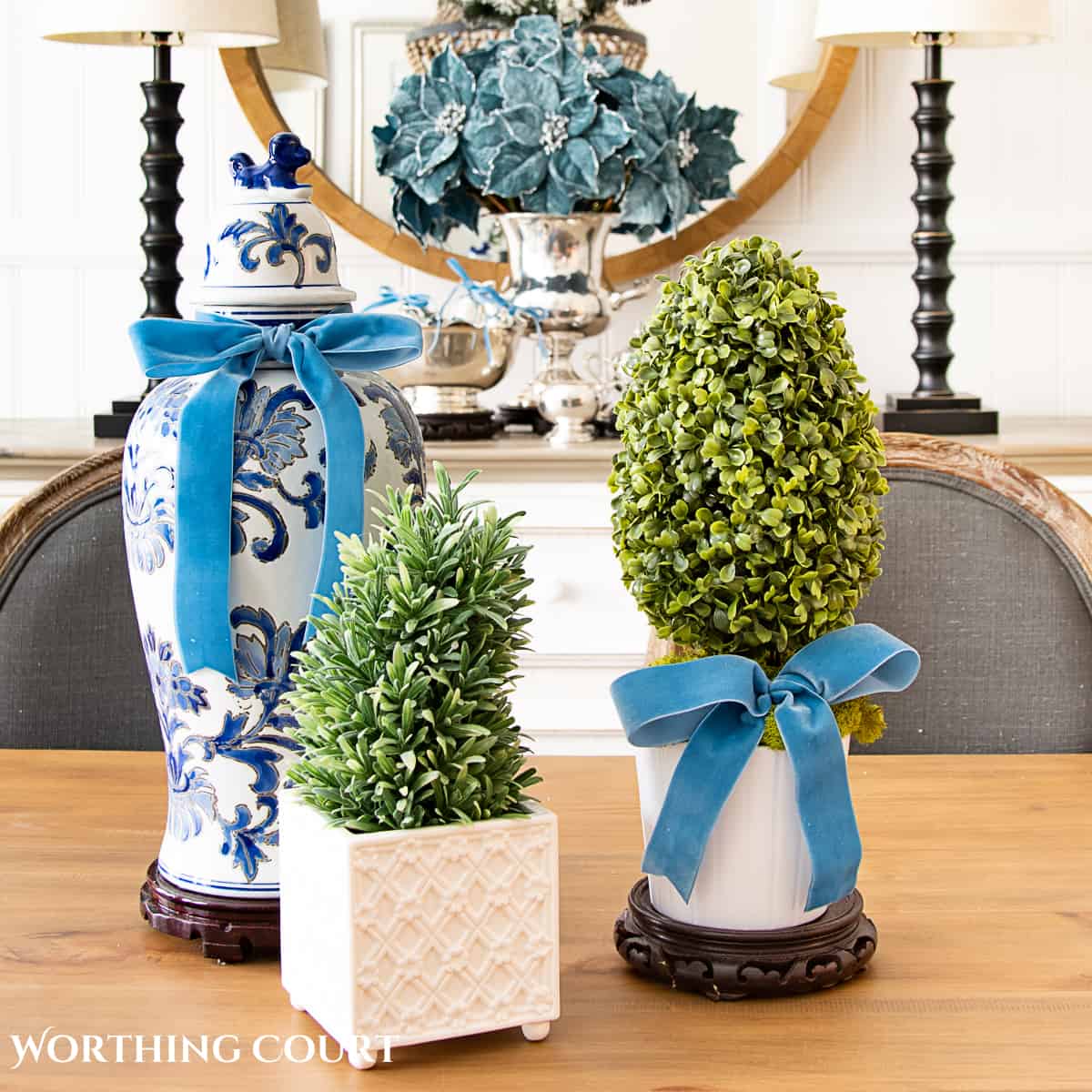 And a couple of more touches of that beautiful ribbon are all it needs to make the centerpiece complete.
THE CHRISTMAS TREES
This year, I placed two Christmas trees in the dining room.
The main one always goes in the bay window and looks so pretty at night from outside the house!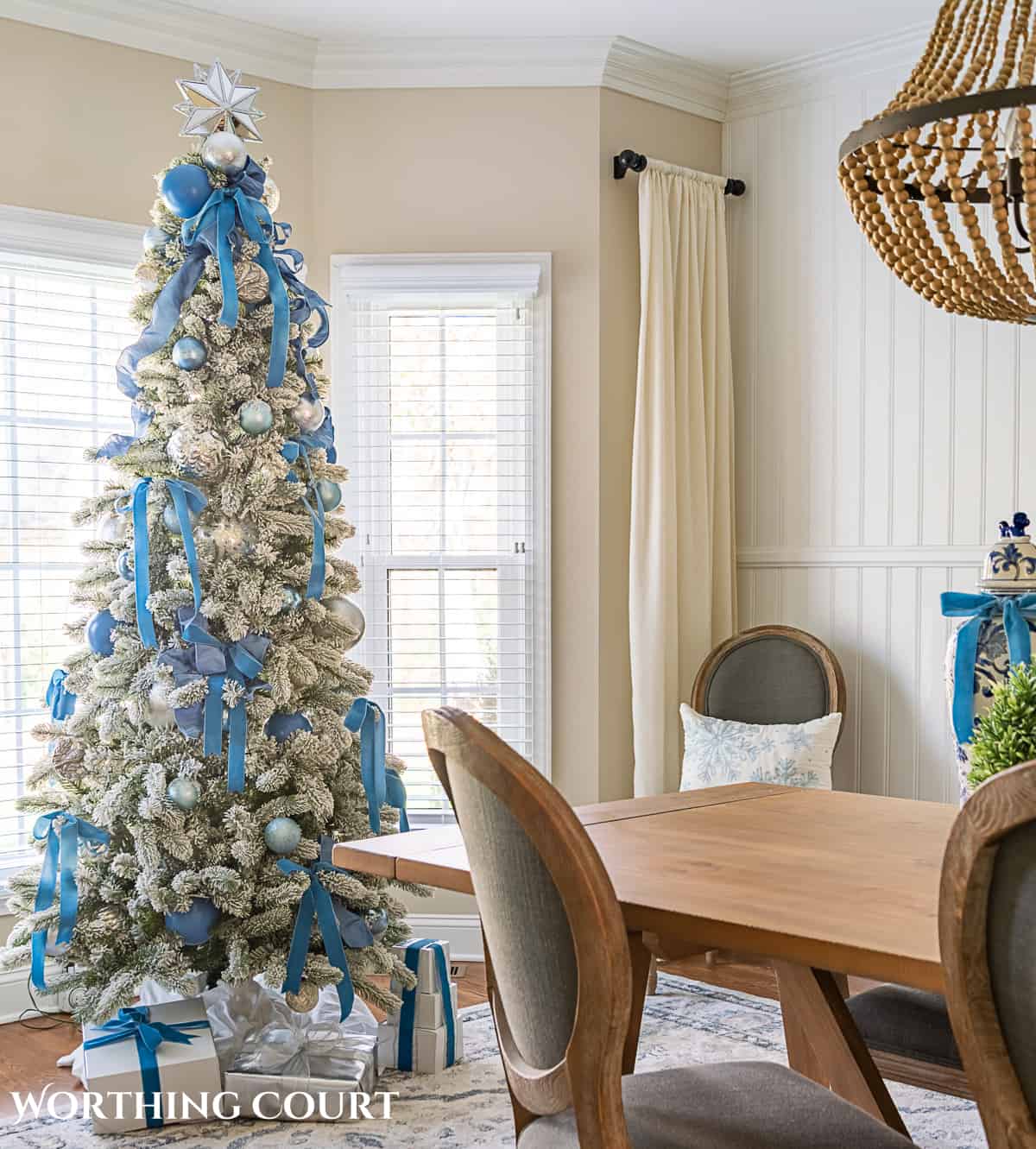 I've been using my gorgeous King Of Christmas tree for several years and cannot say enough good things about it.
The tree is electrified when all of the sections are put together and it's plugged into the outlet. No more getting frustrated while looking for a cord and plug in the middle of tree. It is super well made and barely sheds any of its flocking no matter how much it's handled.
It's very simply decorated with blue and silver mercury glass balls, that I've been collecting, and large dollar store ornaments that I spray painted to match the ribbon.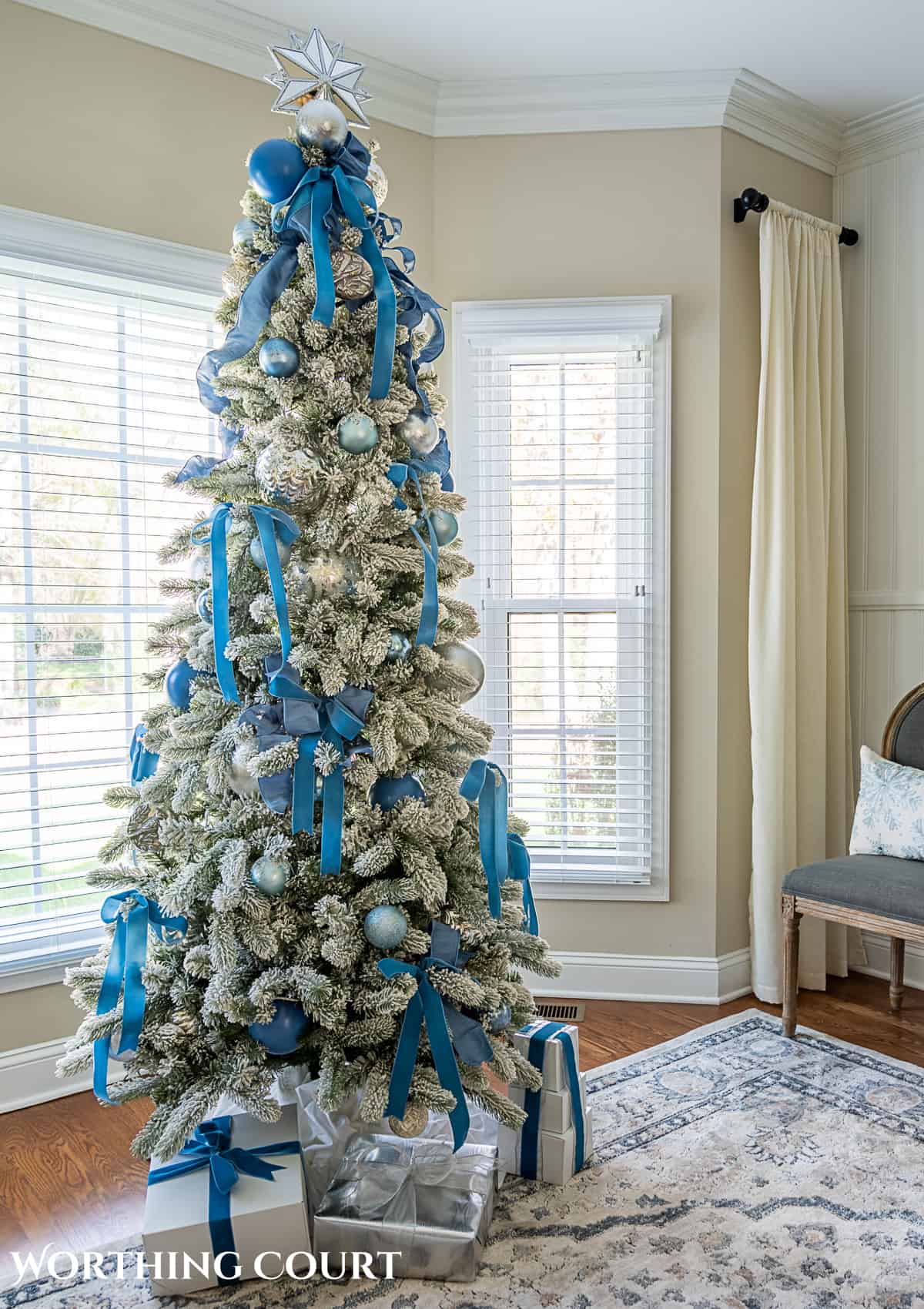 Click HERE if you'd like to see a video of my step-by-step process of decorating this trees, showing how I made the bows, attached the ribbon on the tree and tips for adding the ornaments. It's my Instagram page, so click on the little circle titled "BluSlvrTree".
Speaking of ribbon, this French blue silk dupioni silk ribbon is absolutely yummy and looks terrific paired with the velvet.
Since I have so many of silver bells and sleigh bells, I decided to feature them on a tree of their very own.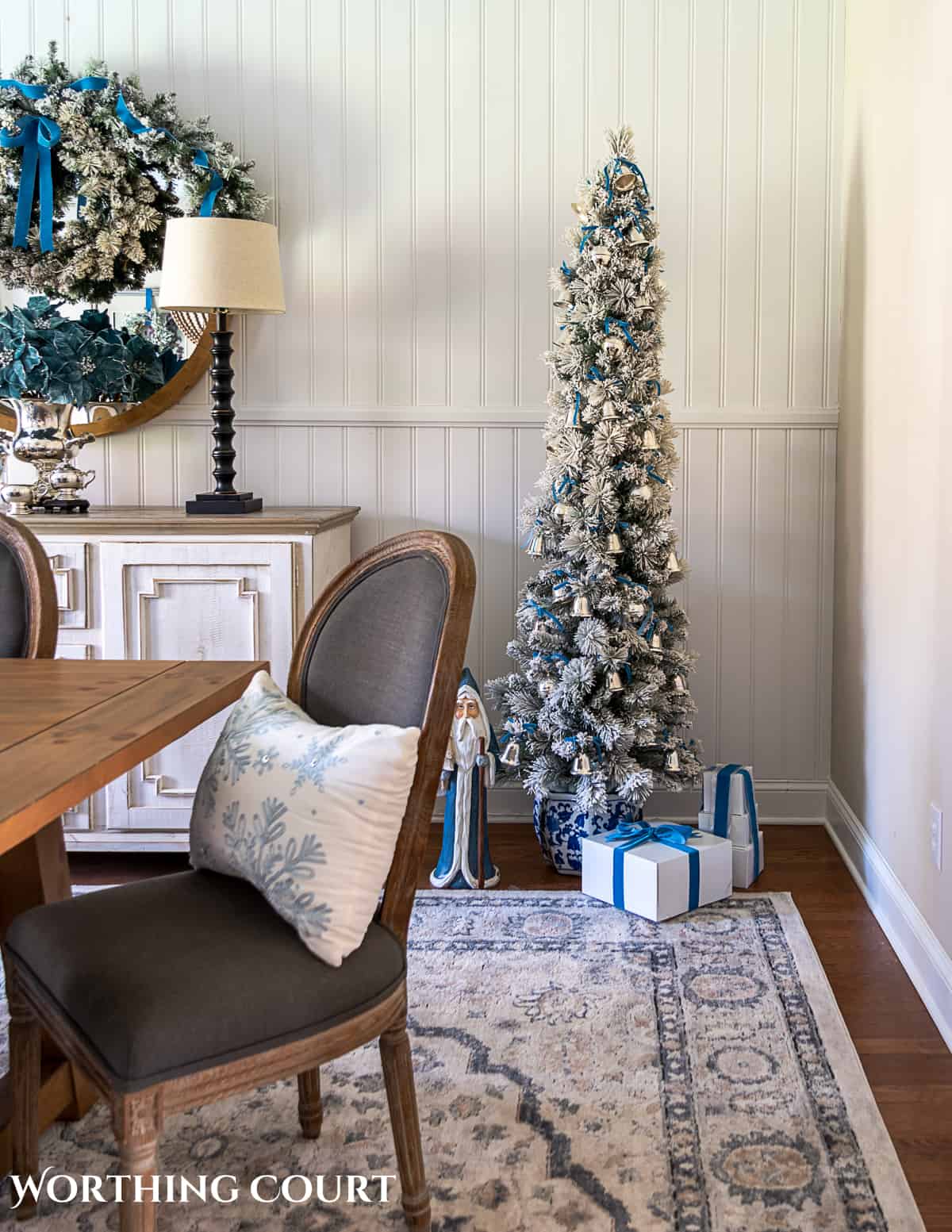 I bought this very slim flocked tree for my foyer for Christmas last year. I'm calling it a memory tree because it's a perfect way to show off the collection of bells that my mom gave me for so many years.
I removed it from its stand and placed it in a pretty blue and white porcelain pot.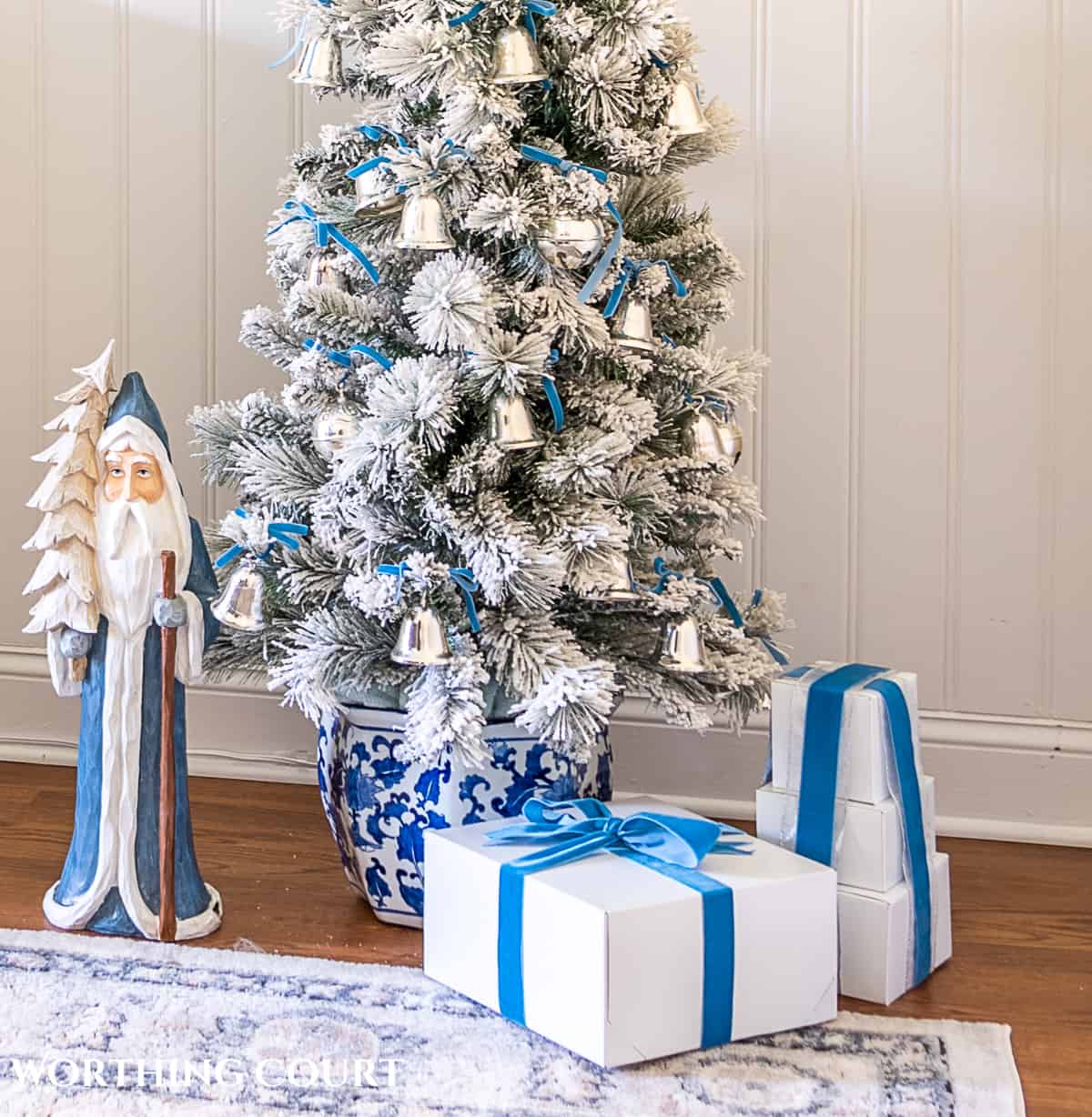 Thank you so much for stopping by today. I hope you found some elegant Christmas inspiration for your own home!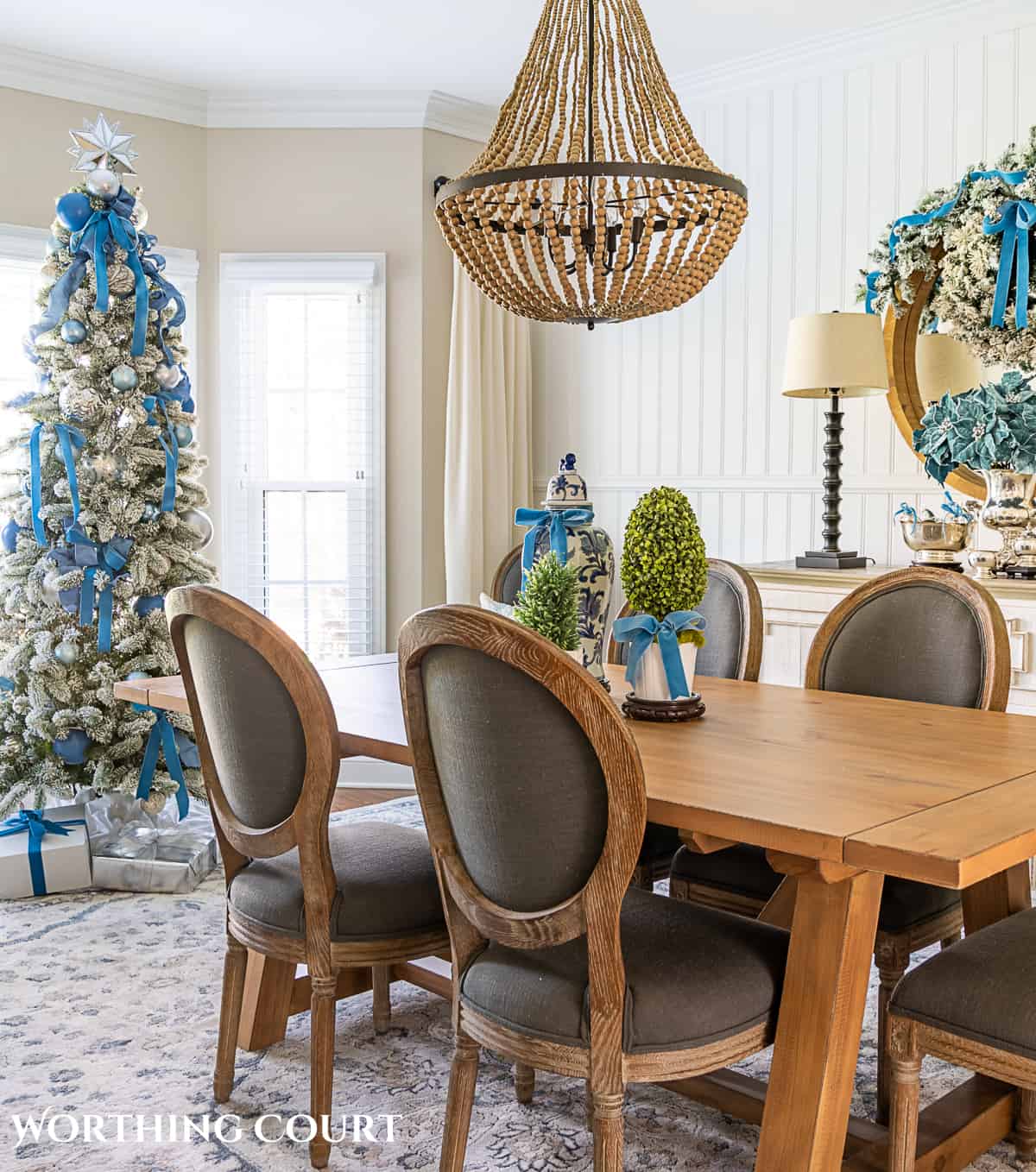 Next up is another friend of mine, Kelly from A Tattered Pew. I promise that you'll love her Christmas kitchen and dining room. She always has so many wonderful treasures!
SHOP THIS POST