Friday Favorites 11 | Inspiring Design Ideas, Fashion And More!
Favorite home decor inspiration, fashion, recipes, decor steals and other random musings from the week.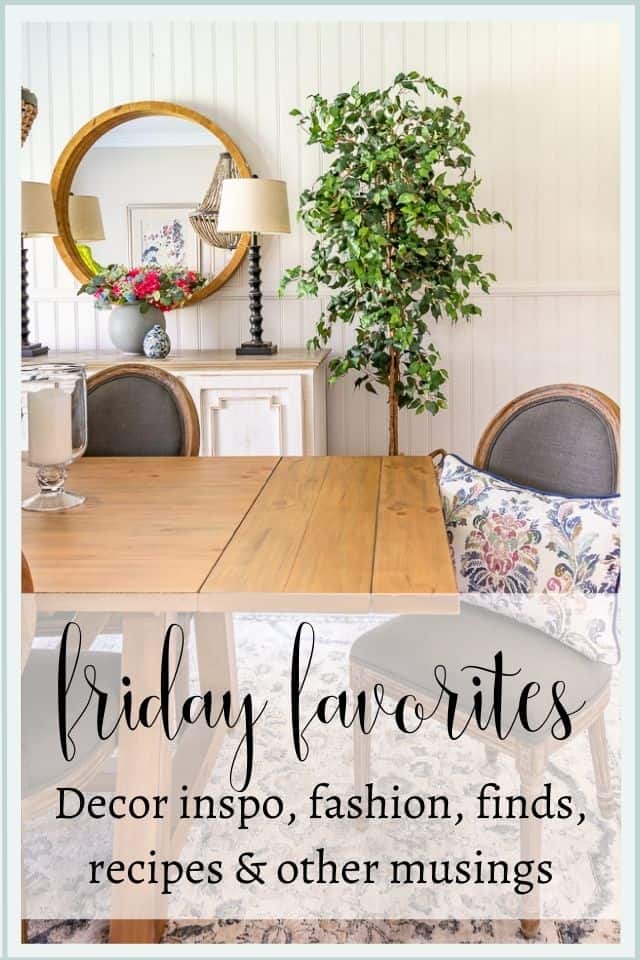 This post and photos may contain Amazon or other affiliate links. As an Amazon Associate I earn from qualifying purchases. If you purchase something through any link, I may receive a small commission, at no extra charge to you. Where possible, the exact product has been linked. If that product isn't available to link, I've linked something similar. All opinions are my own. See my full disclosure HERE.
STOPPED ME IN MY SCROLL
How do you feel about the return of color in interior design? Oh, I know it never really left, but all white, all gray or all neutral rooms have been at the forefront of interior design the past few years (my own home included).
I for one am glad to see it's return. The High Point Furniture Market was filled with color everywhere I looked and beautifully decorated rooms with color are showing up in my Instagram feed more and more.
This image of this beautiful dining space from Mallory Mathison Inc. interior design popped up in my Instagram feed this week and I am loving the cheery addition of color!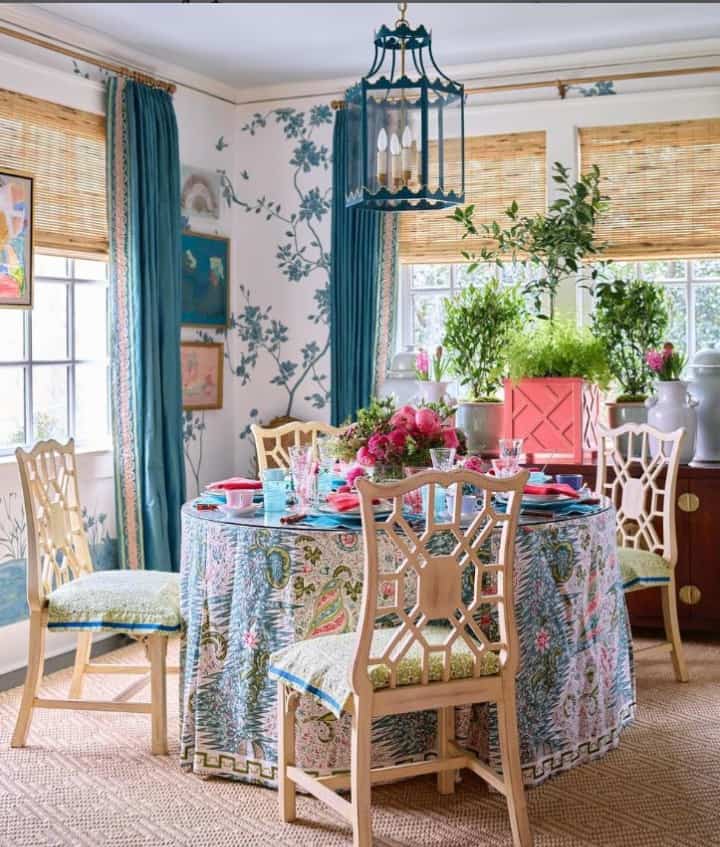 IMAGE FROM MALLORY MATHISON ON INSTAGRAM
OUTFIT INSPIRATION
I think this outfit is perfect for spring! And yes, I will be wearing white pants even though it isn't Memorial Day yet. Do you follow that old fashion rule?
The top is a lightweight knit with 3/4 length sleeves, so it's a good transitional piece for going into summer. And I love the fit of this denim jacket! I went through several before I found one that didn't have a baggy, boxy fit, but I love the just-right fit and not-too-long length of this one, plus it's only $20!.
I can wear the necklace or not, depending upon whether I was to dress the outfit up or not.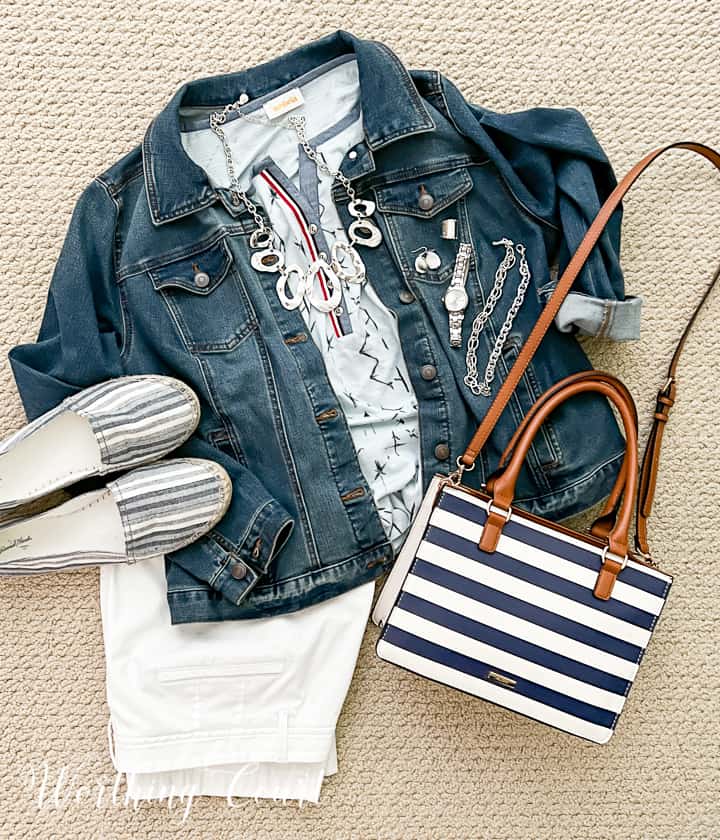 DENIM JACKET | TOP | RELAXED CHINO PANTS | PURSE | BRACELET | SIMILAR SHOES
WHAT I'M WATCHING OR READING
We recently watched this charming moving starring Kelsy Grammer and thoroughly enjoyed it. Don't let its children's movie classification scare you away. If you're like me and have grown weary of movies with a plethora of bad language and other unmentionable subjects, this movie is a great selection! It's available for purchase or streaming on Amazon.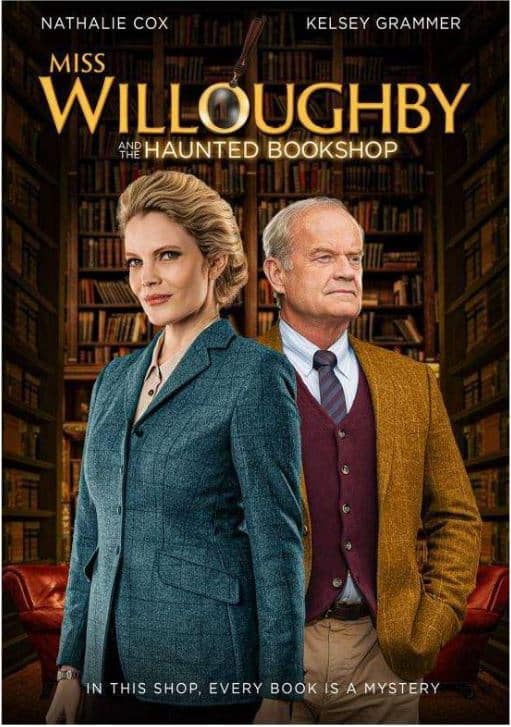 RECENT PURCHASE I LOVE
I've been searching high and low for a tinted moisturizer that I could apply in the mornings when I don't want to do full makeup, but I do want a little something to even out the skin tone on my face.
I recently stopped by my local Ulta and this is what they recommended. I have to say that I LOVE it! It already has moisturizer it in, it has great coverage and it's SPF 50, which means I don't have to apply sunscreen to my face. I've never tried the IT brand cosmetics, but I'm definitely a fan now.
I'm wearing the Light color (this image is my actual tube), but it comes in many others. Order it from Amazon and save yourself about $12!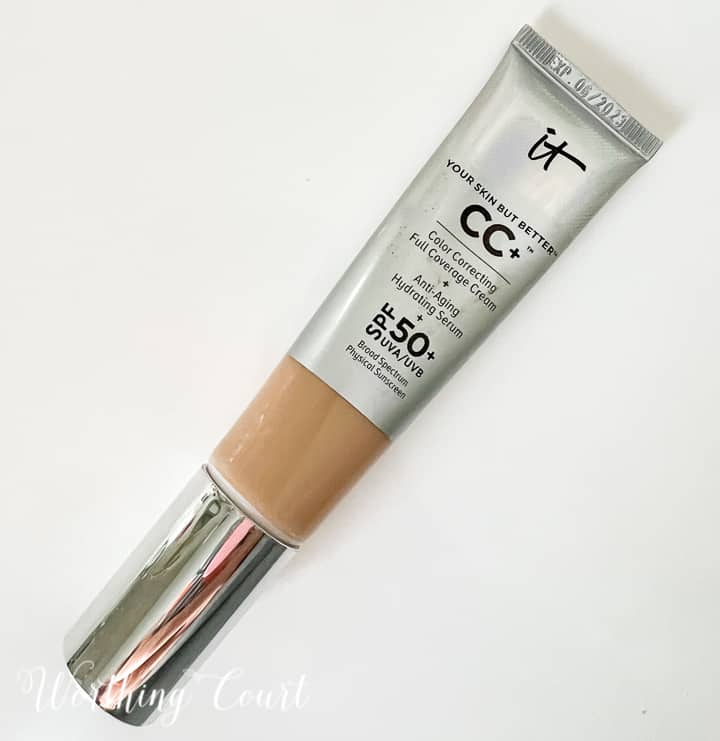 ON THE HOME FRONT
The most exciting (if you can call it that) thing that is happening around here lately is that I'm trying to recover from a pinched nerve in my hip. It's my first experience with one and I can tell you that isn't an experience that I want to repeat! Thankfully, my orthopedic doctor thinks it will resolve itself and won't require anything invasive. In the meantime, you can find me on my bed doing stretches several times a week.
The hubs does most of our grocery shopping and is a big fan of stocking up on items that we regularly use when they're on sale. So, even though we have a good size pantry, we need more food storage space. We have a certain spot where we'd like to put a cabinet, but it's an odd height. We've looked high and low without success so Pookie decided to just build one. While I'm stretching you'll find him out in the garage working on the cabinet.  😀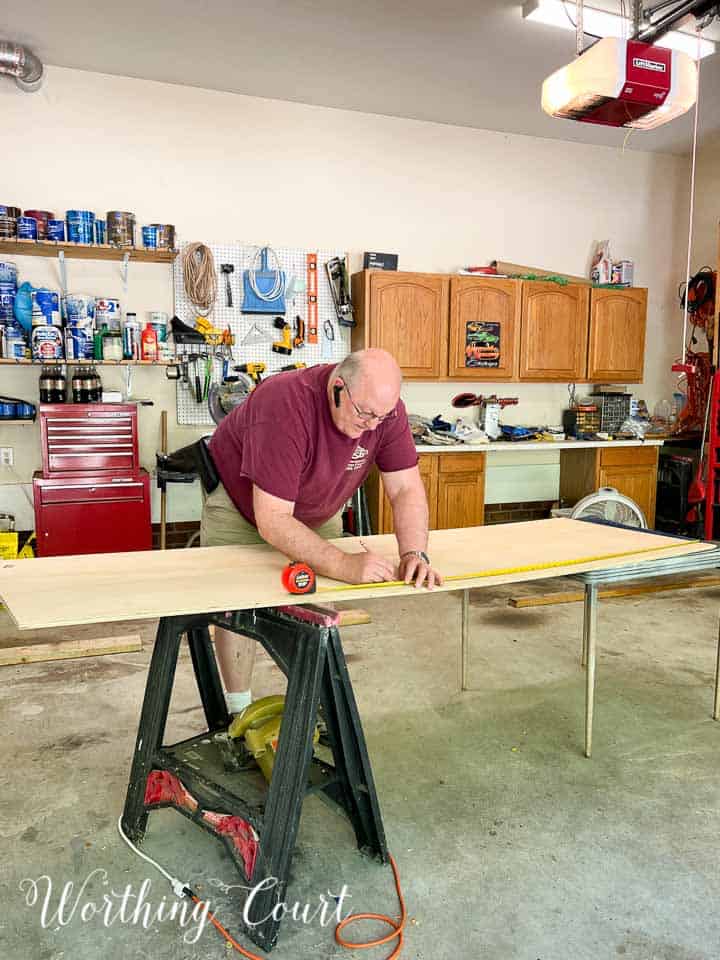 Enjoy your weekend, my friends!