What It's Like To Visit The High Point Furniture Market
Living in Greensboro, NC definitely has its perks when it comes to the bi-annual High Point Furniture Market.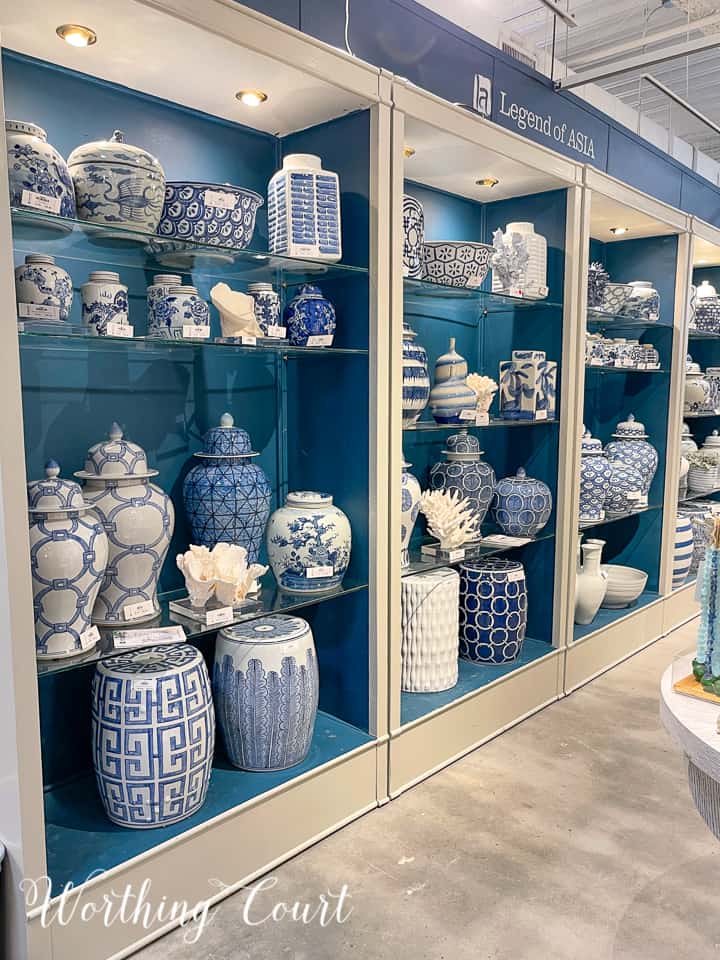 If you aren't familiar with what that is, it's the largest home furnishings tradeshow in the world.  There is over 10 million square feet of exhibition space filled with roughly 2000 exhibitors spread over around 180 buildings. And I live only about 30 minutes away from it!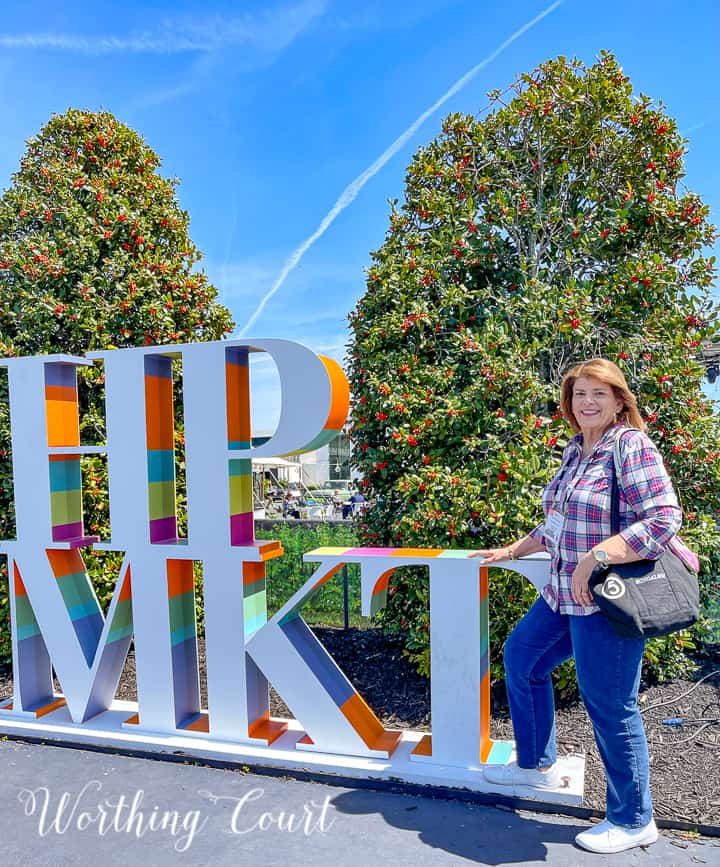 The market is only open to retailers, designers and the media. Items seen at Market will start showing up at retailer locations in the coming months. It's a really great place to see beautiful styling and emerging trends and get decorating ideas to use in your own home.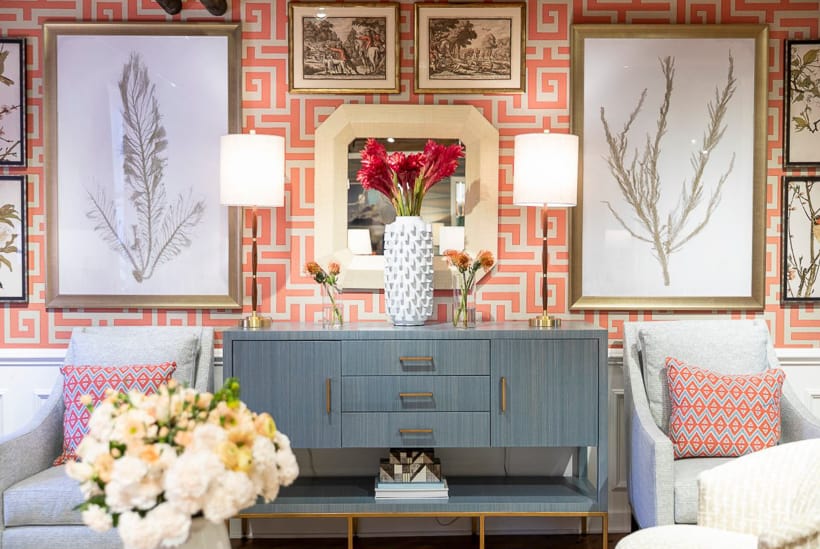 As a blogger, I'm considered to be media and can gain access. I don't go very often – in fact it's been a few years since the last time I attended, but this year I had some sweet blog friends from out of town come to stay with me so that we could attend.
We took a pic on my front porch for posterity – left to right it's Rhoda from Southern Hospitality, Kate from Southern Home & Hospitality and me. Both of these ladies have beautiful homes that you'll want to check out on their blogs.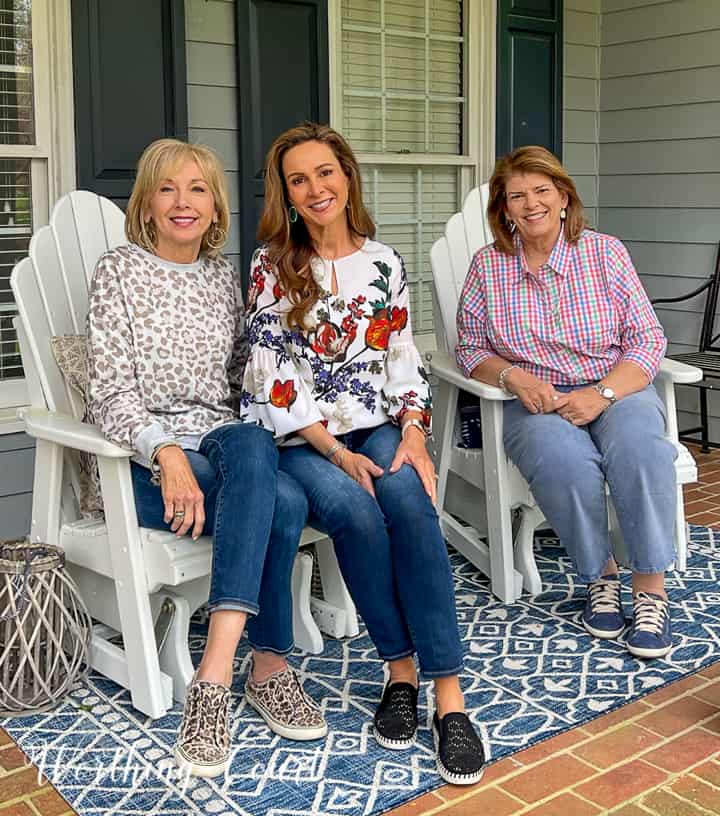 The Market is open for 5 days, but we only spent one day there so we visited two of the largest buildings and one smaller one. It was so fun, but boy it wore me out!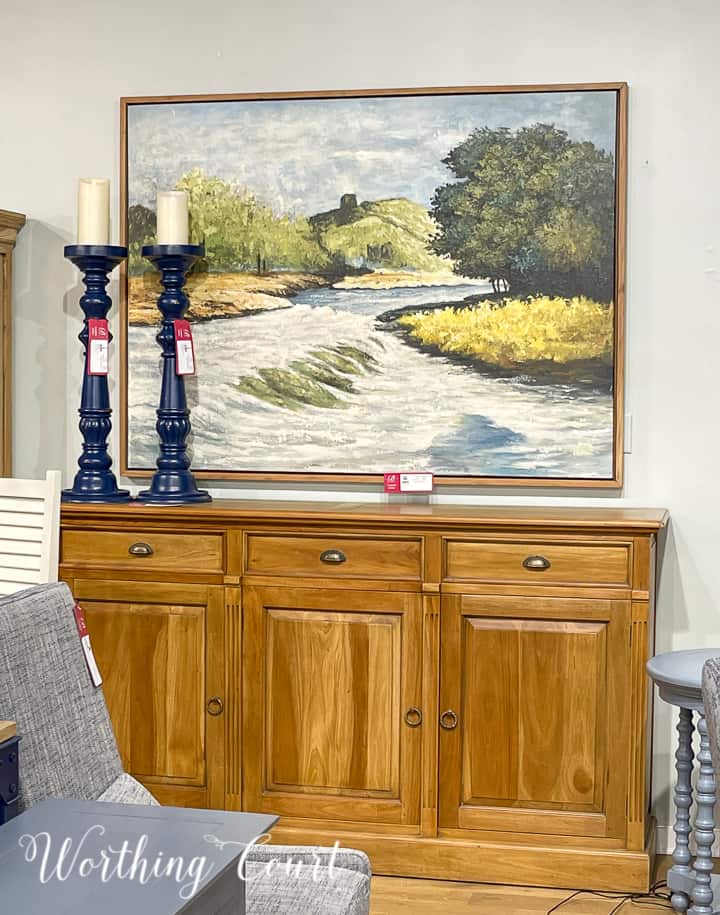 You can probably imagine that with so many exhibitors that there is a HUGE variety of design styles to see. Some of them are pretty far out there and don't interest me. But I thought that I'd share a few things that caught my eye and give you some kind of an idea of what a furniture market is like.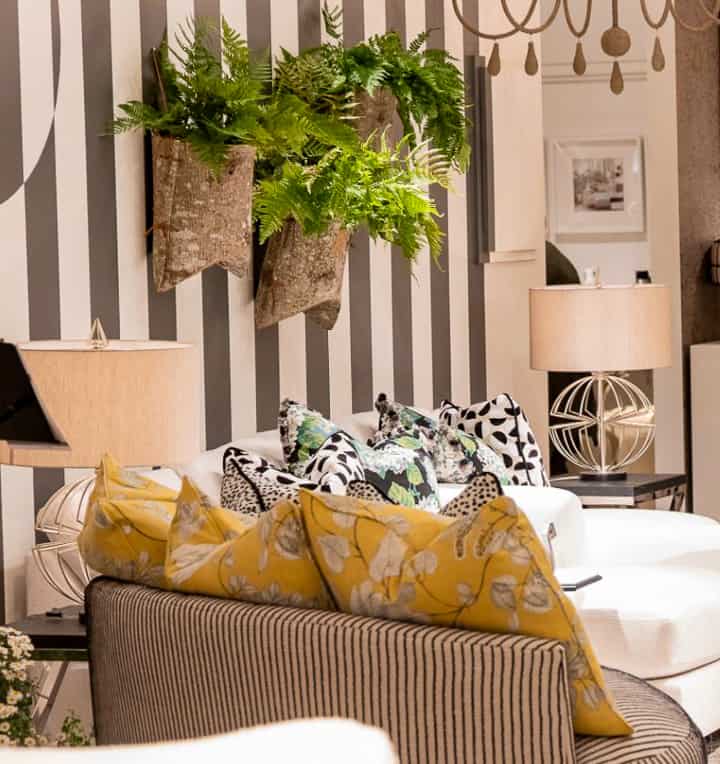 Some of the dealers would allow us to place an "accommodation order" at the wholesale price, but most of them would not. This is one of the vendors that would not allow us to order anything, but they did tell us that Pottery Barn is one of the retailers they sell too. Maybe you'll spot some of these items in an upcoming PB catalog.
I thought this vendor's wholesale prices and slightly less expensive prices for volume buyers was a bit steep. After the retailers add their markup, that explains why prices are so high.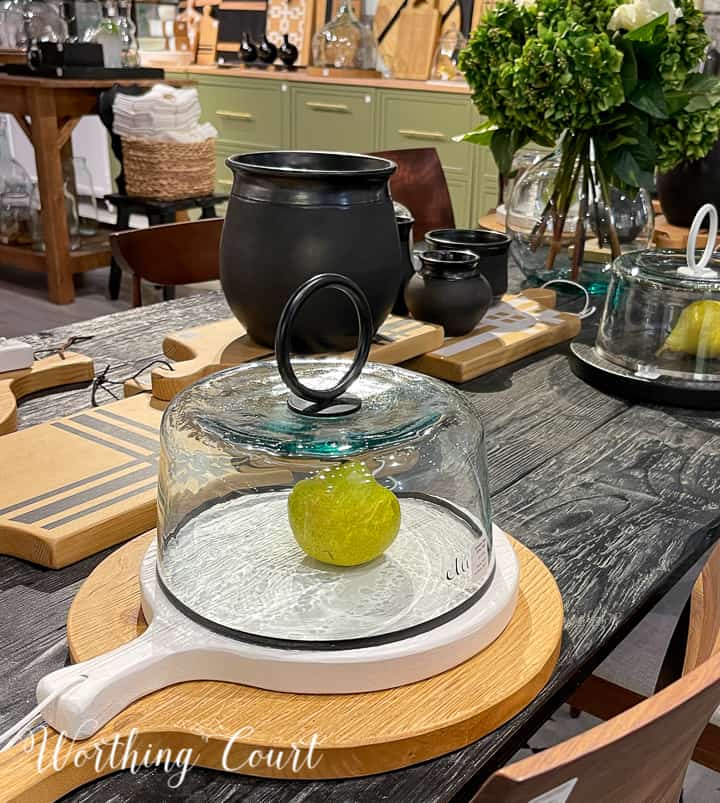 We've been seeing cutting boards and charcuterie boards made of wood and marble for a while, but this same vendor was introducing these pretty colorful and fun shaped ones.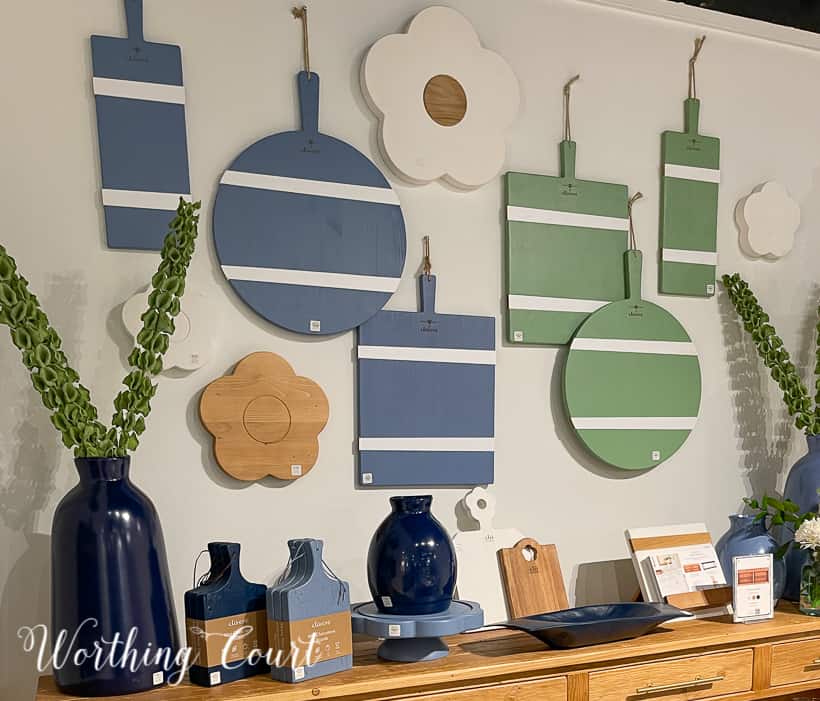 And I loved this idea of planting bulbs in a dough bowl. I guess you'd line the bowl with plastic or something??? Hmmm….this has my wheels turning.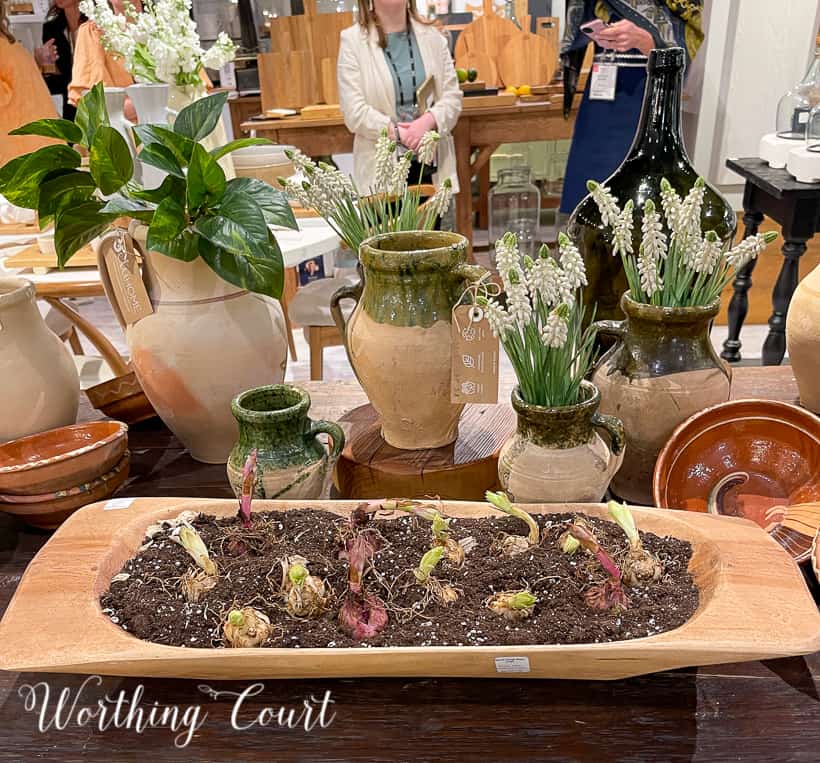 It was very interesting to me to see the return of updated versions of traditional furnishings and accessories by so many vendors.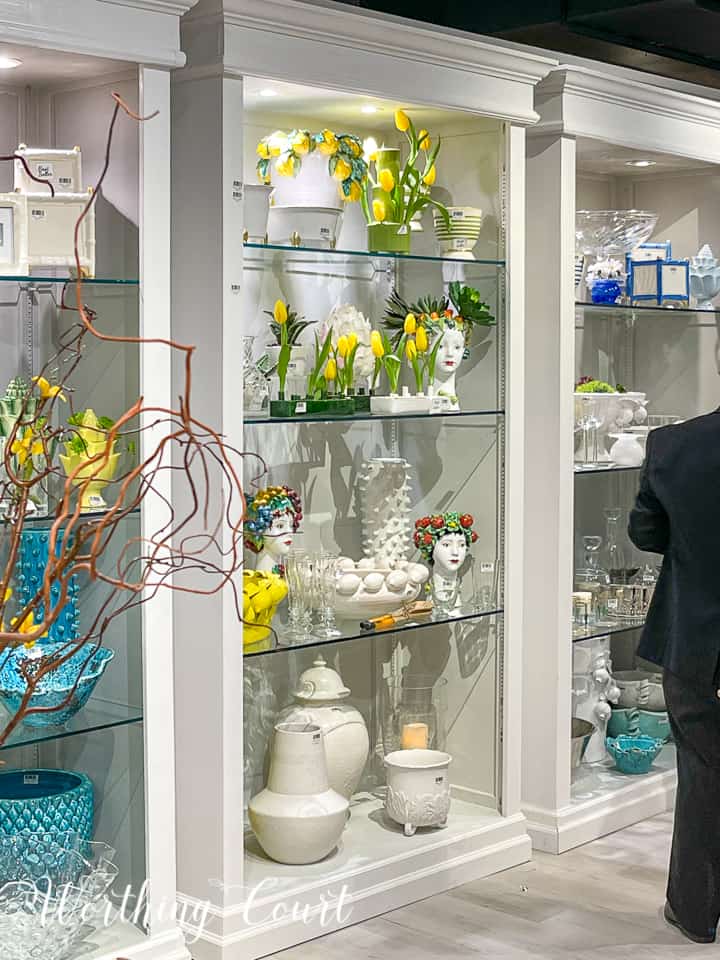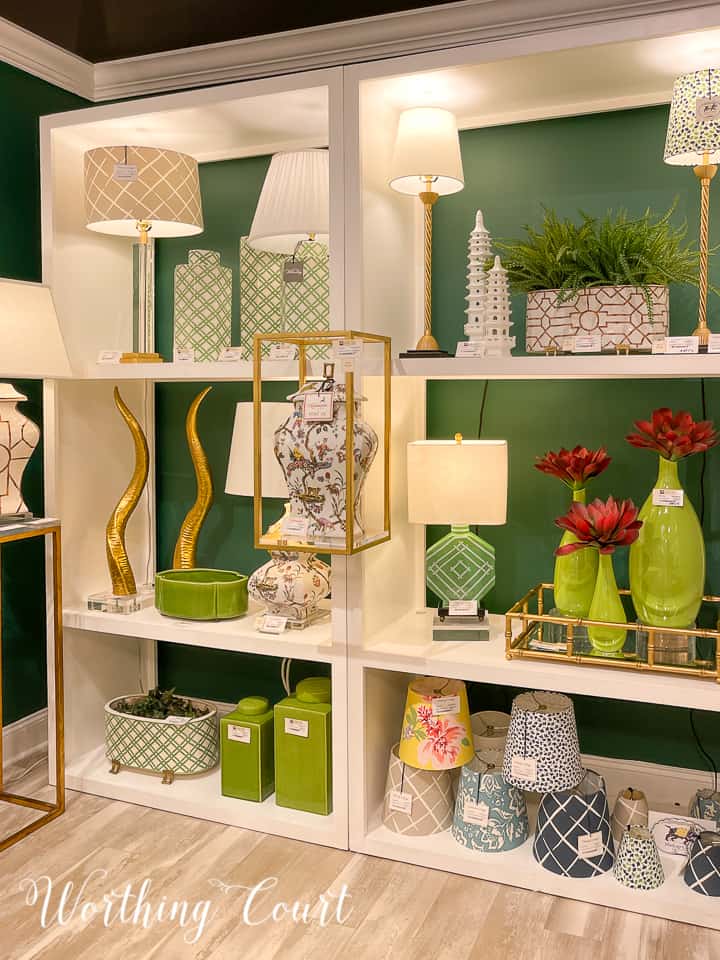 This is a tulipiere and is something relatively new to me. Several vendors were selling their version of these. Very pretty for fresh or faux flowers!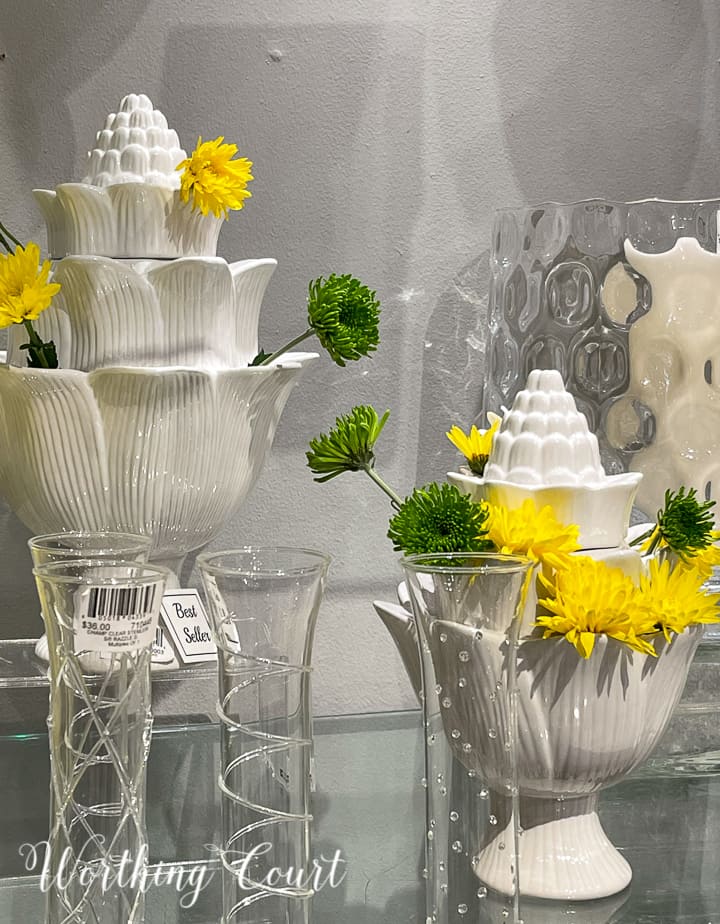 I lost count of how many different pillow vendors we saw. SO many different fabrics to choose from!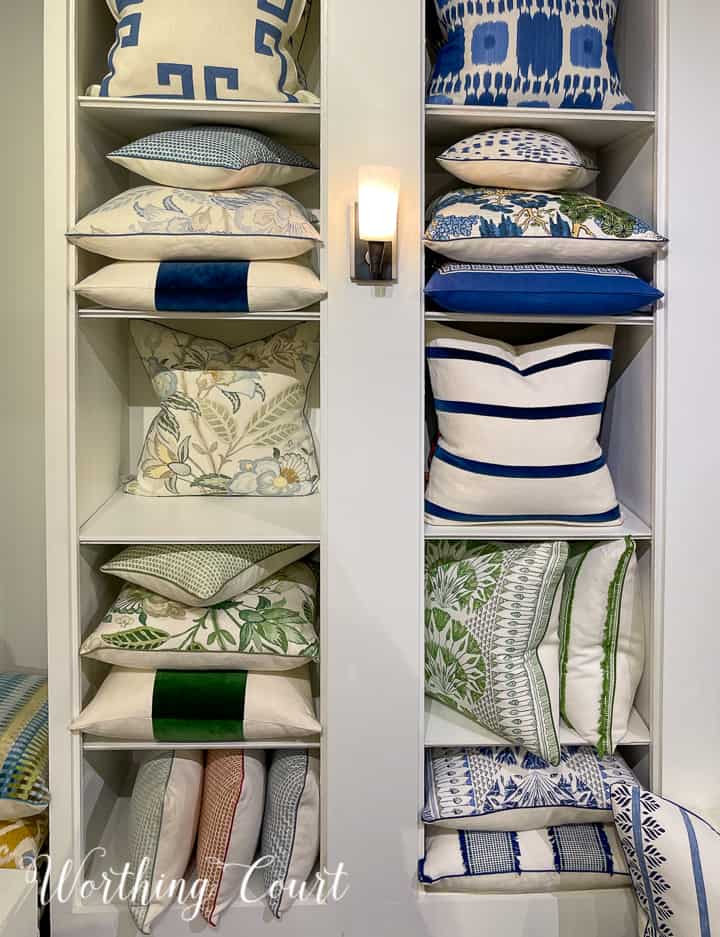 This velvet fabric was super supple and would make such luxurious pillows!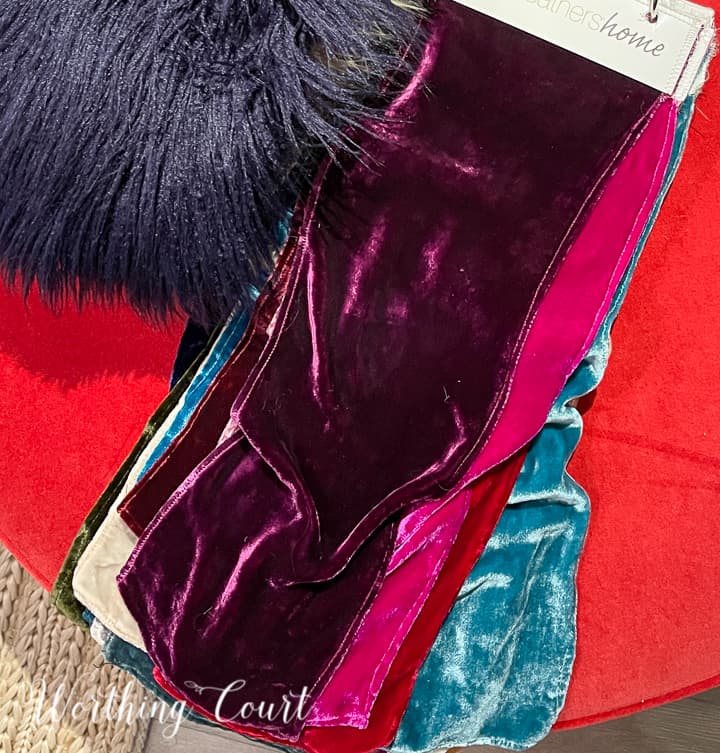 Speaking of traditional, wall murals are back in a big, big way.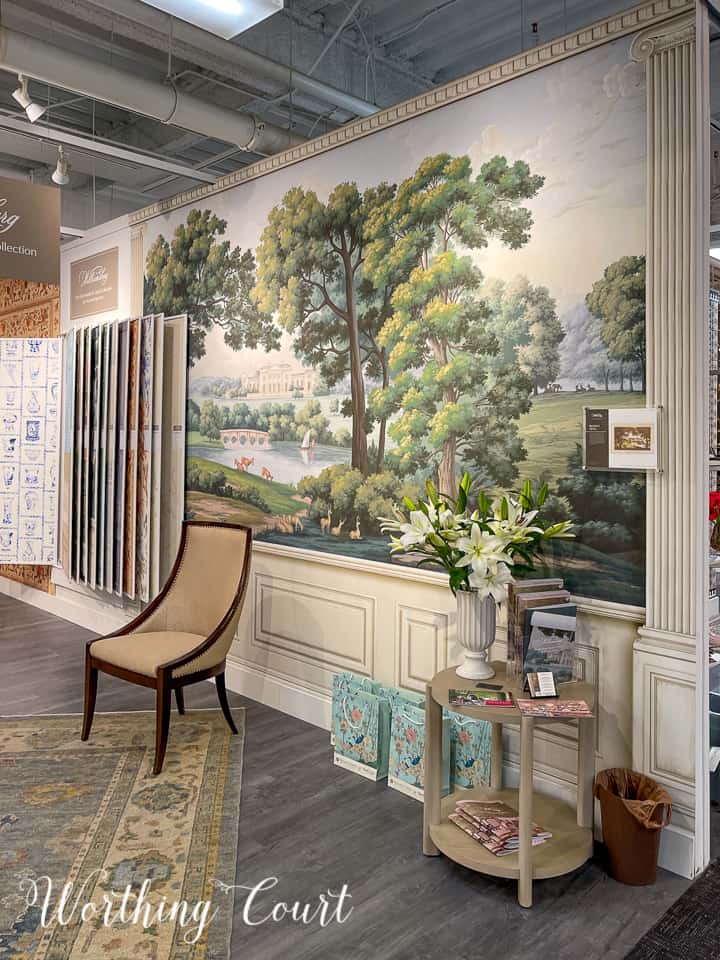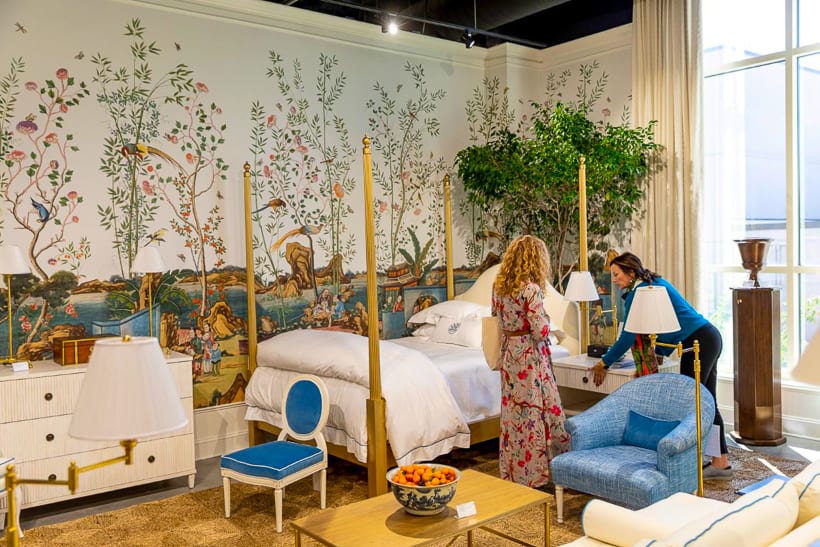 Bernhardt has exquisite furniture and their attention to detail and quality is like none other, but I was disappointed in their showroom. Everything was very neutral – hardly any color at all. Still lovely though.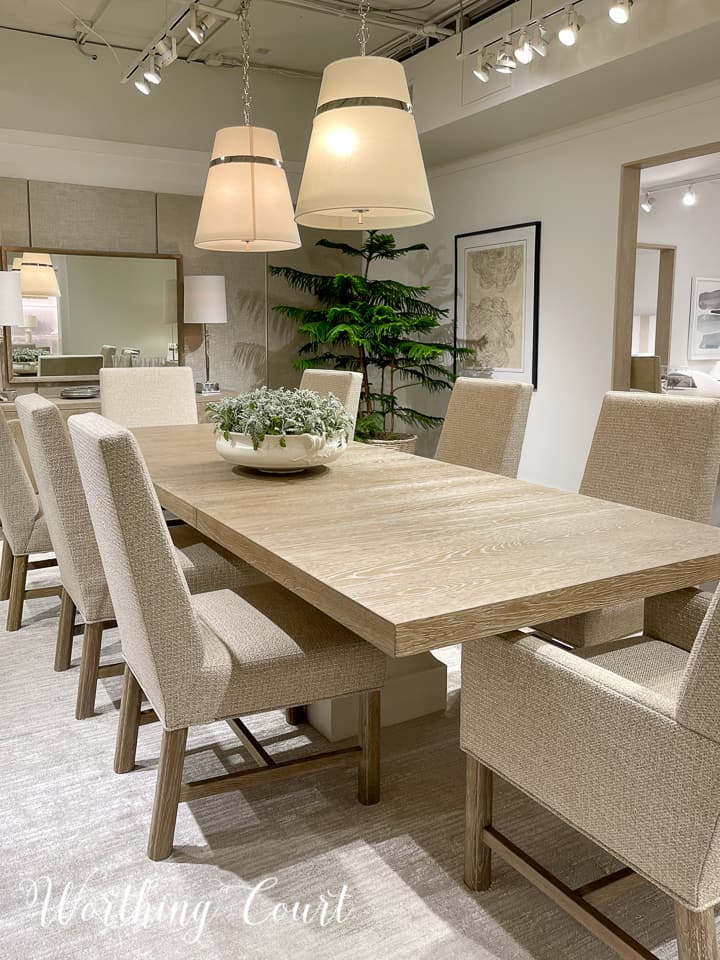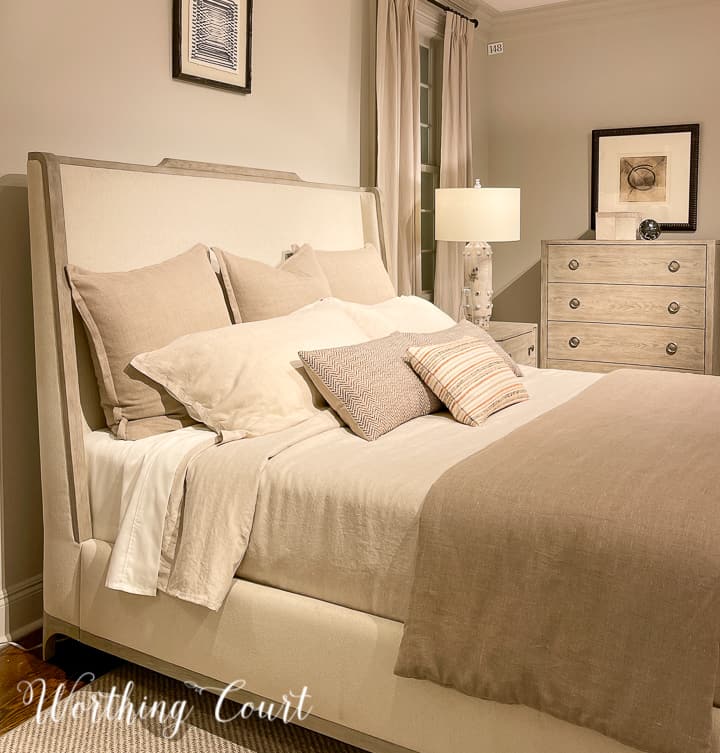 They had a great idea for a basket wall. Save this for your own inspiration!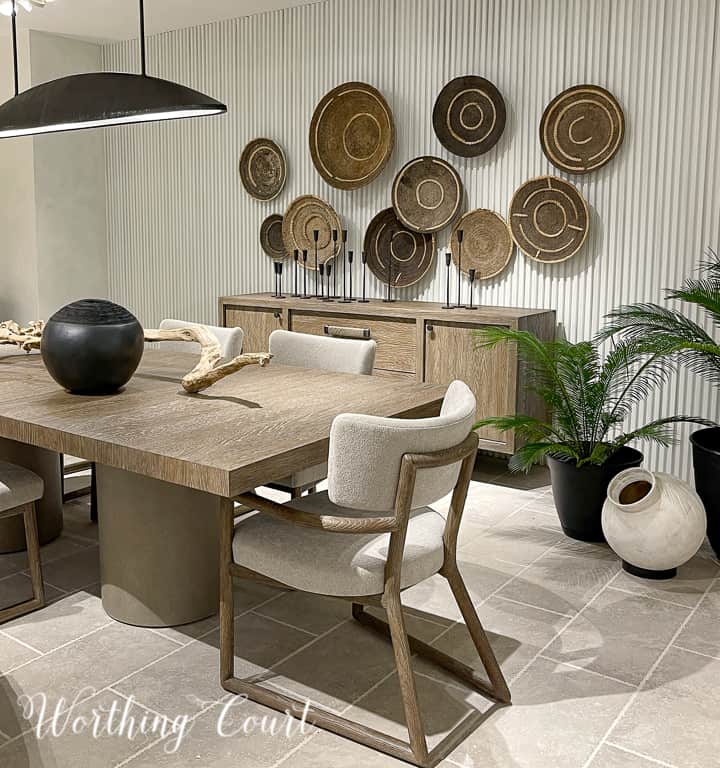 I believe the name of this vendor is Bountiful, but I'm not sure. I fell in love with this blue chest and think that I may try to replicate the look on one of my own chests using paint done in a crosshatch pattern.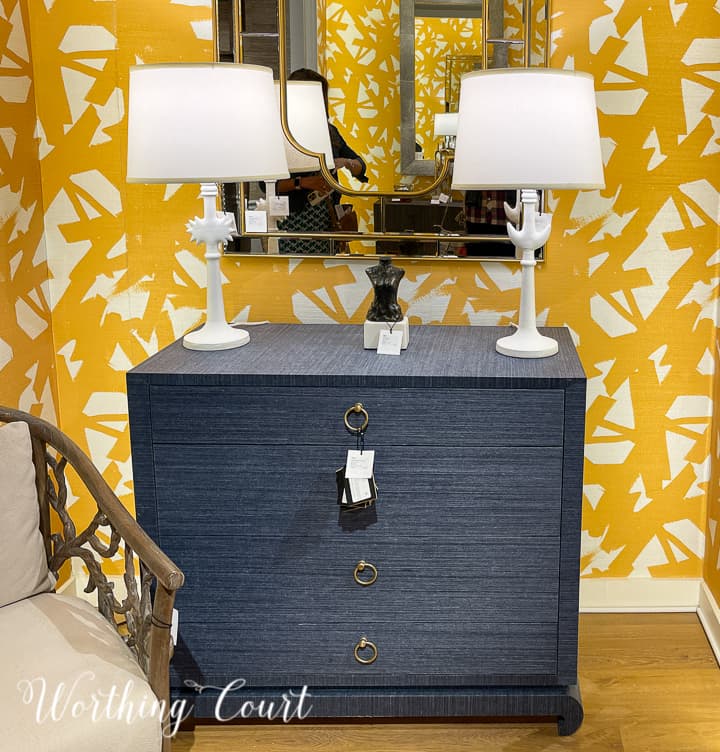 Whenever I do go to Market, I always make sure to stop by the Bramble showroom. It's one of my favorites! I couldn't order anything in here though.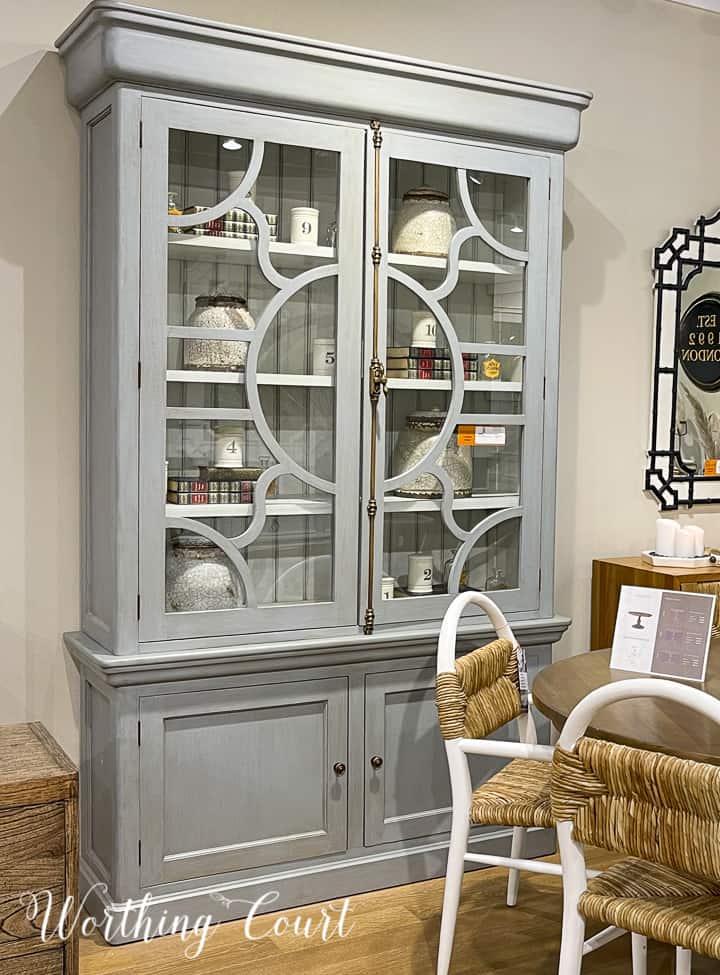 I really loved these chairs! Notice the very traditional table, but in an updated finish.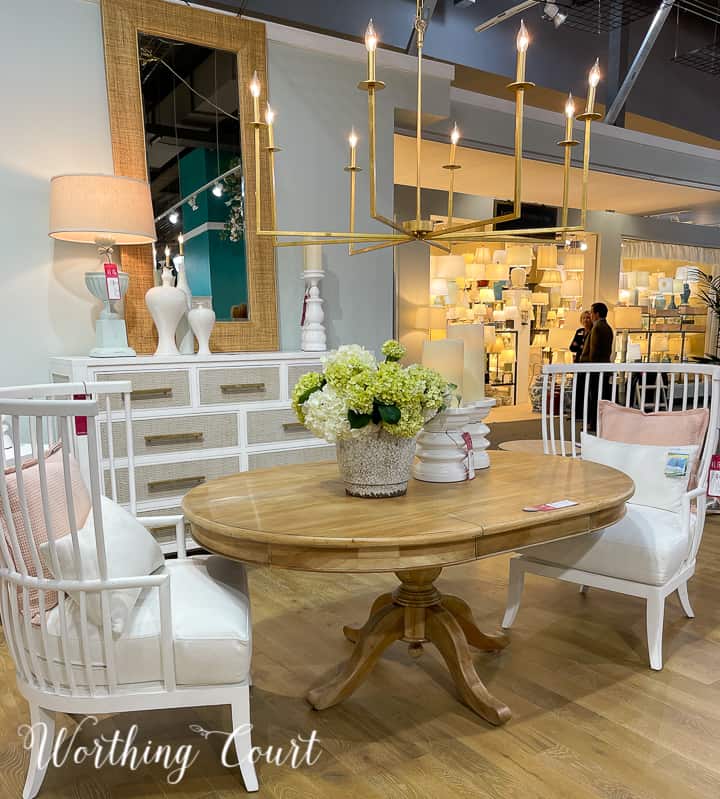 How pretty are the lines of this chest and the fretwork on the front??? You can actually purchase fretwork like this from a company called Overlays that you can add to your own furniture, walls, etc.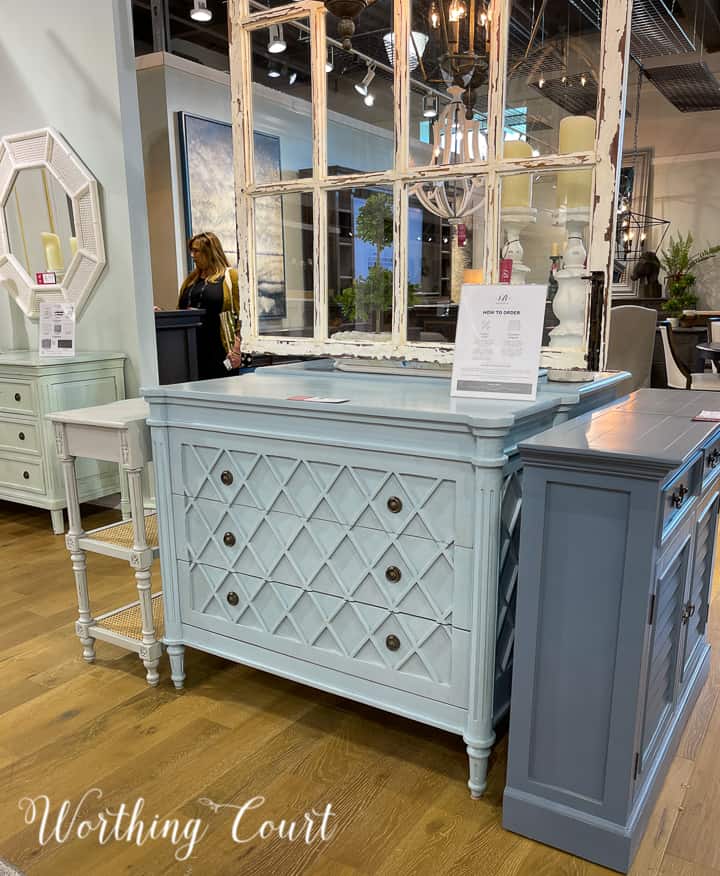 One vendor that I can order from is Furniture Classics. I'm quasi in the market for a new bedroom dresser and nightstands, so I'll be looking in their catalog. I was so tired by the time that we got here, I only took one picture.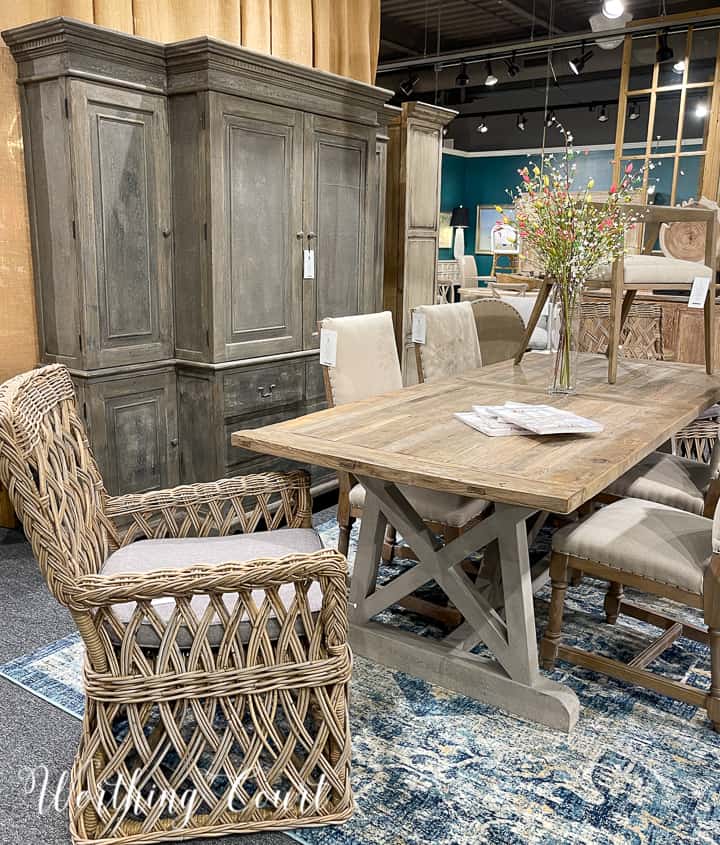 The Furniture Market isn't only about furniture though. You've already seen some of the accessories and pillows, but you can also find bedding, artwork, lighting, rugs and more.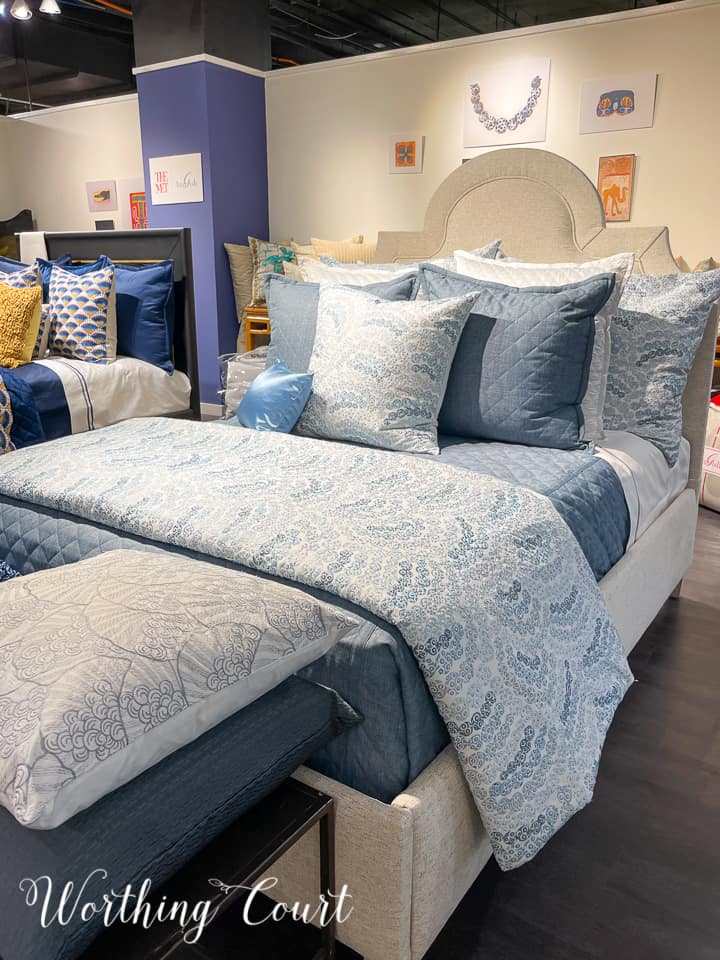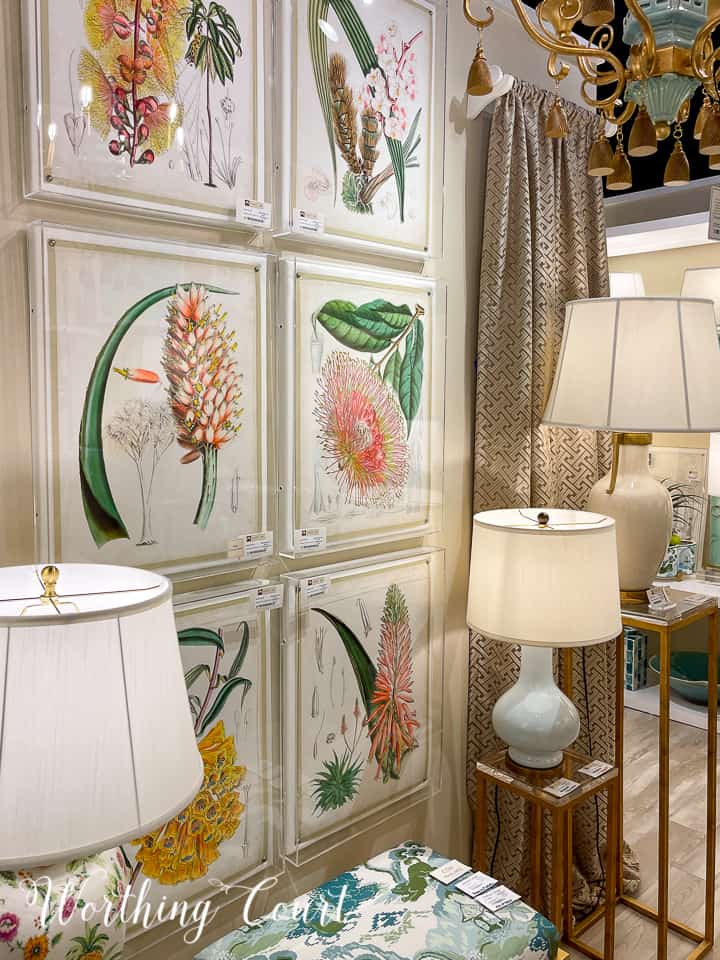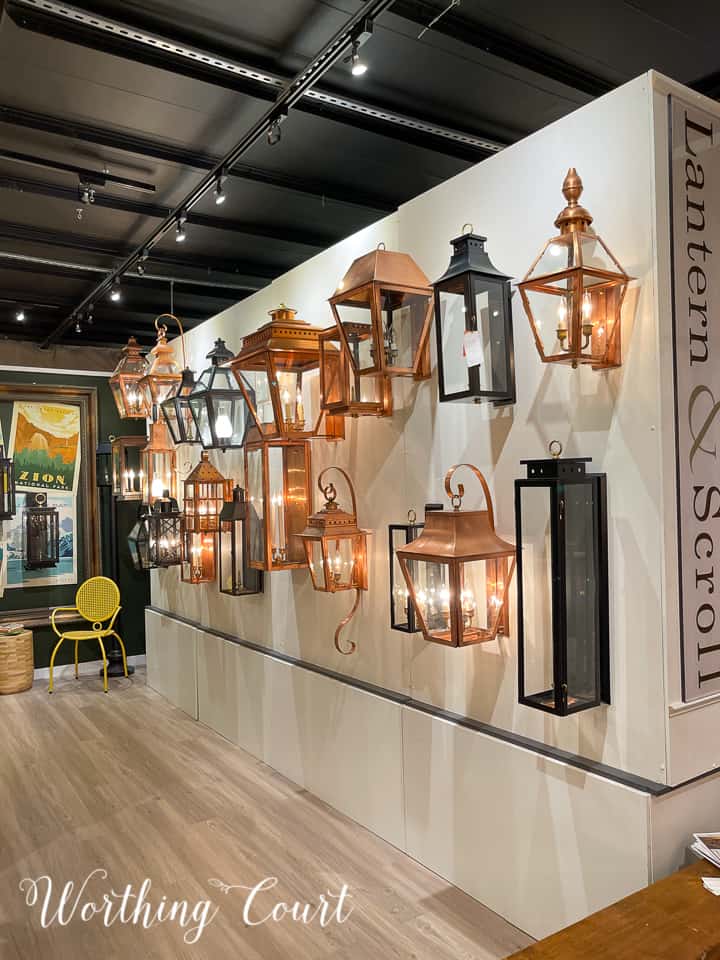 I hope you enjoyed this little foray into the world of wholesale furnishings. Let me know if you ever decide to make a trip here to attend. It's held twice each year – once in April and once in October.