Friday Favorites 14 | Inspiring Design Ideas, Fashion And More!
Favorite home decor inspiration, fashion, recipes, decor steals and other random musings from the week.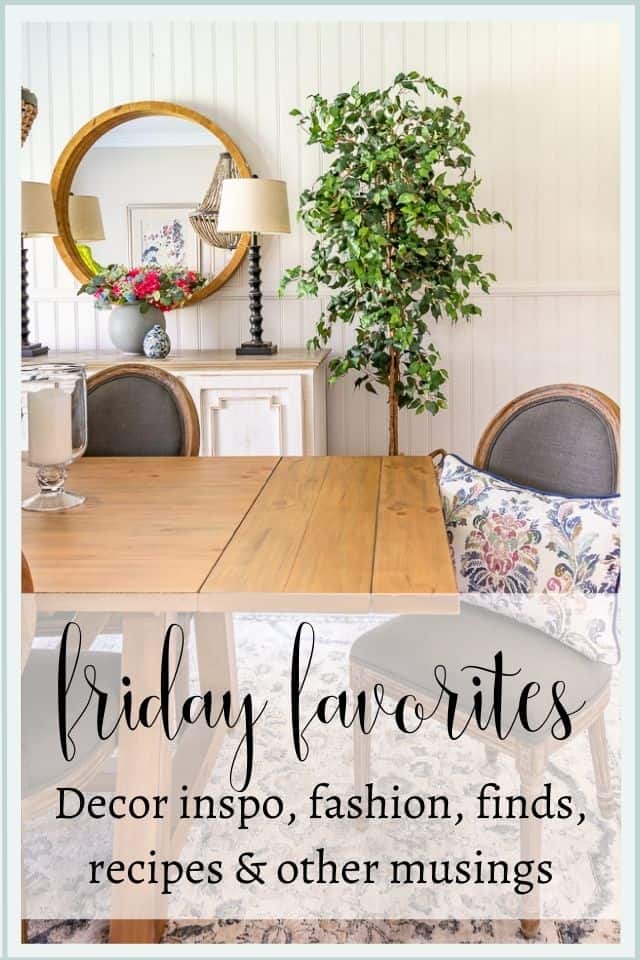 Pin
This post and photos may contain Amazon or other affiliate links. As an Amazon Associate I earn from qualifying purchases. If you purchase something through any link, I may receive a small commission, at no extra charge to you. Where possible, the exact product has been linked. If that product isn't available to link, I've linked something similar. All opinions are my own. See my full disclosure HERE.
STOPPED ME IN MY SCROLL
If you're looking for me this weekend, you'll find me wiling away the hours is this gorgeous setting shared on the Instagram account of House Seven Design!
Oh my, isn't this sheer bathing heaven? Anissa says she'll be here 365 days/year and I couldn't agree more. Follow her on Instagram for loads and loads of interior design inspo.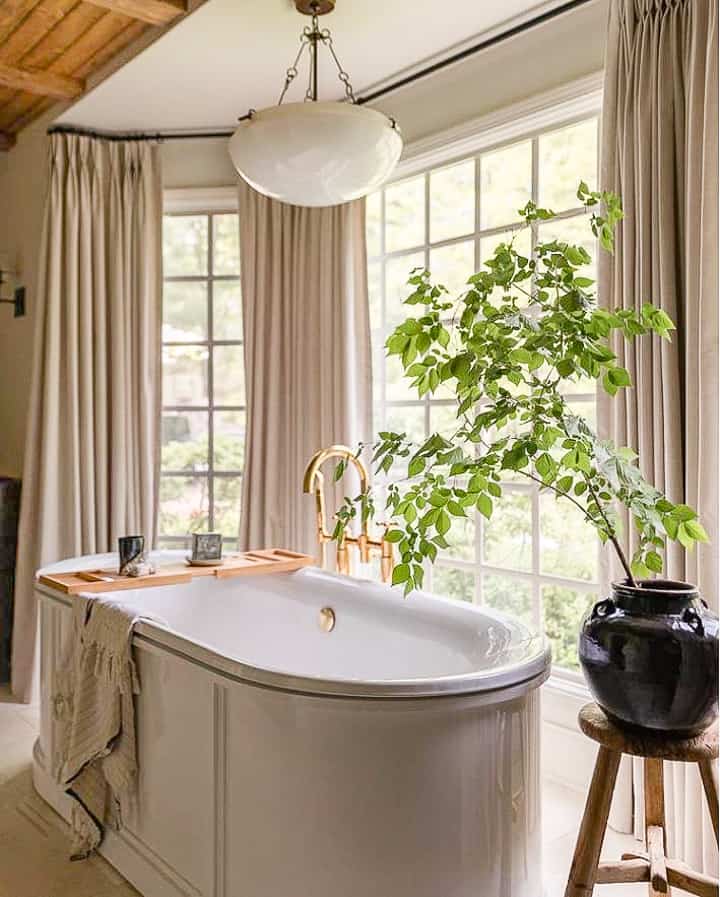 Pin
OUTFIT INSPIRATION
This week's outfit is brought to you by my friend, Plaid. Plaid is one of my best friends that I never get tired of spending time with!
Amazingly, there are still a few sizes available for this cute 3/4 length, ruffled neck top. It's on clearance for under $20. As of this writing, the navy cropped pants are currently 30% off!
The links to the top and the rest of the outfit are below the image.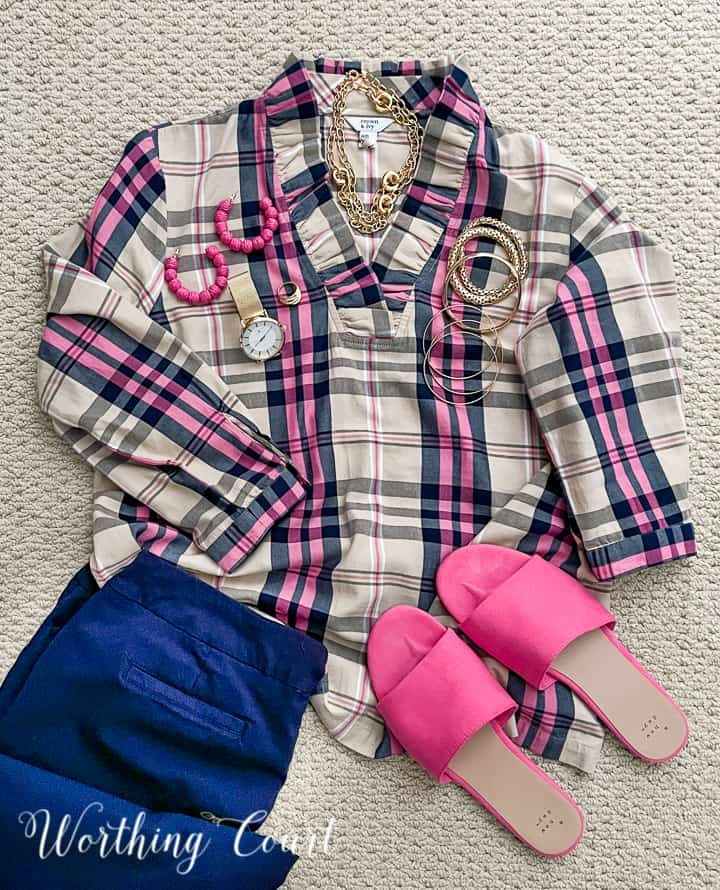 Pin
RUFFLE NECK 3/4 SLEEVE TOP || NAVY CROPPED PANTS || FUSHIA SANDALS (SIMILAR) || EARRINGS || GOLD BANGLES BRACELET SET (similar) || STRETCH GOLD BRACELET SET || MULTI BAND LOOK RING || GOLD LINK NECKLACE (similar) || WATCH (similar)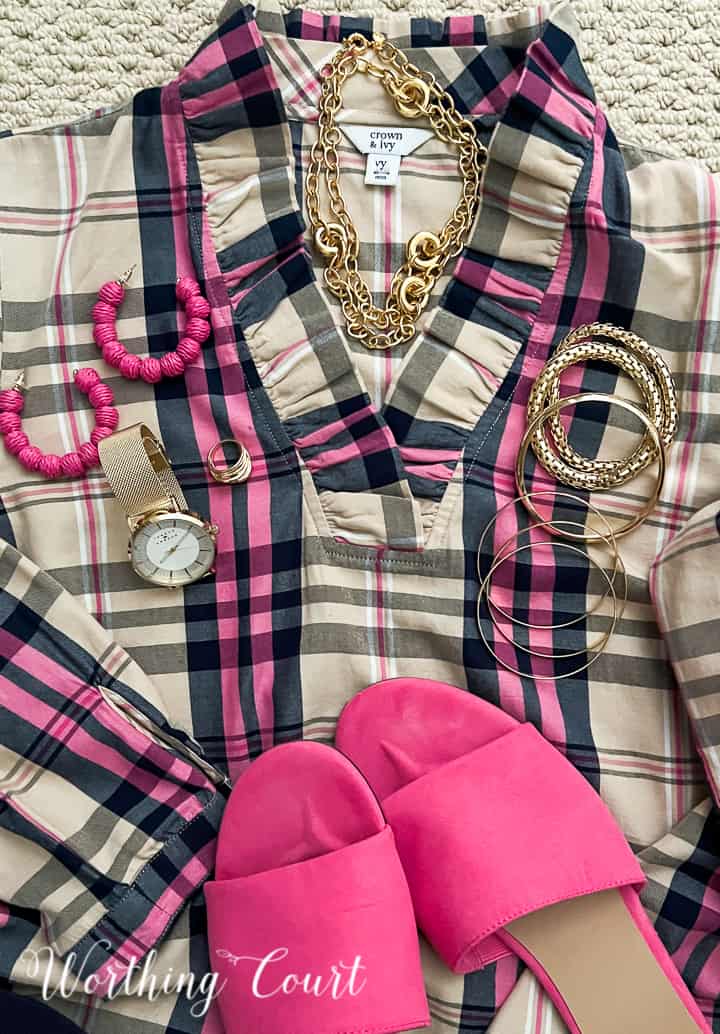 Pin
WHAT I'M WATCHING OR READING
In my opinion, new good movies are hard to find anymore. It's seems that everything new at the theaters is either comic book or video game based and neither of those appeal to me.
I love Sandra Bulloch and was really anticipating the release of her new movie, The Lost City. So much so, that we went ahead and bought the movie for $19.99 instead of waiting a few weeks for the rental price to drop.
I don't want to spoil anything, but I was pretty disappointed in it and only give it a 2.5 star rating. Have you watched it? I'd love to know what you thought about it!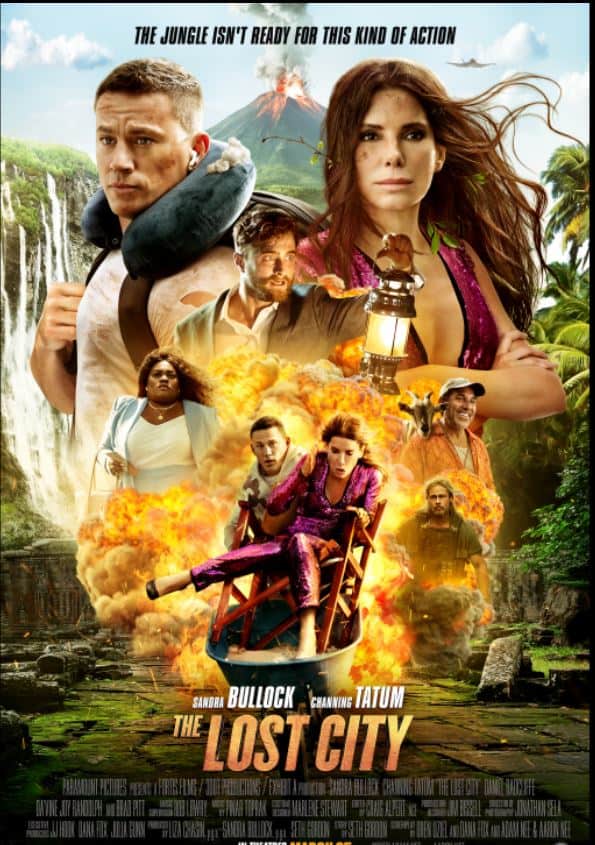 Pin
RECENT PURCHASE I LOVE
If you're like this lady of a certain age (that would be me!), I'm developing what I call turkey neck syndrome.  That's what I'm calling what the saggy skin is making my neck look like. ugh
Sadly, there is no fixing it, short of plastic surgery, but I've heard that this type of surgery is often not successful.
In an effort to at least attempt to lessen the problem, I've tried multiple (and I do mean multiple!) neck firming creams. They all promise fantastic, amazing results, but the StriVectin Tightening Neck Cream is the only one that has actually made a difference for me.
I've added the links to purchase it at both Amazon and Costco below the image. It's quite a bit less expensive to purchase it through Costco, if you have a membership, plus it's on sale for $25 off through 6/5/22.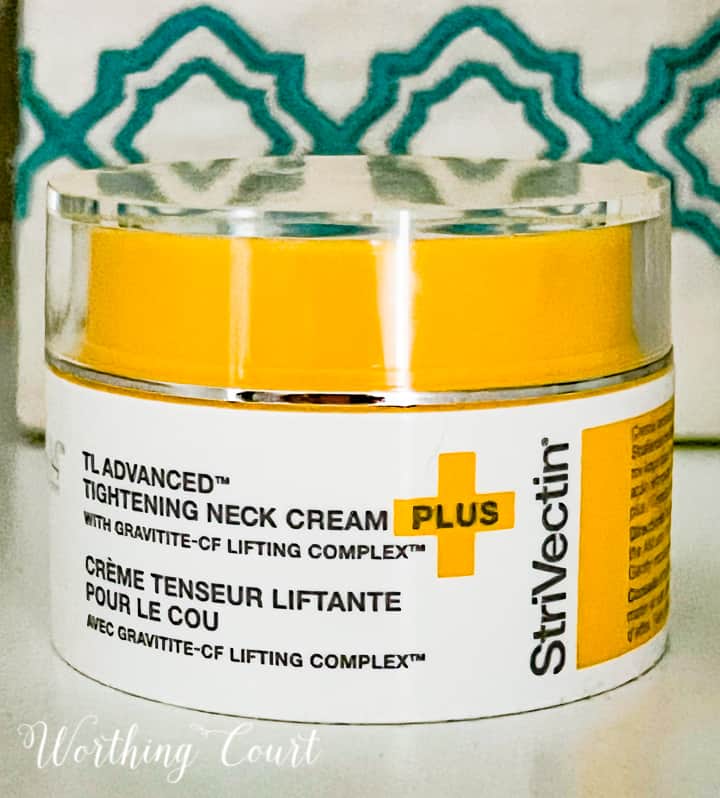 Pin
ON THE HOME FRONT
I finally got all of the awful yellow pollen cleaned off of my screened in porch and gave the entire thing a good scrub down last week. That's one chore that I dread doing every year, but at least with it clean we can enjoy it before the summer humidity sets in. Look for an updated screen porch tour coming on 6/9th!
One of the most exciting things that has been going on for me is a little something that I'm working on behind the scenes. I won't say what it is quite yet, but it has to do with my breakfast nook/room refresh. Here's a little hint for you. I'll share all the details soon!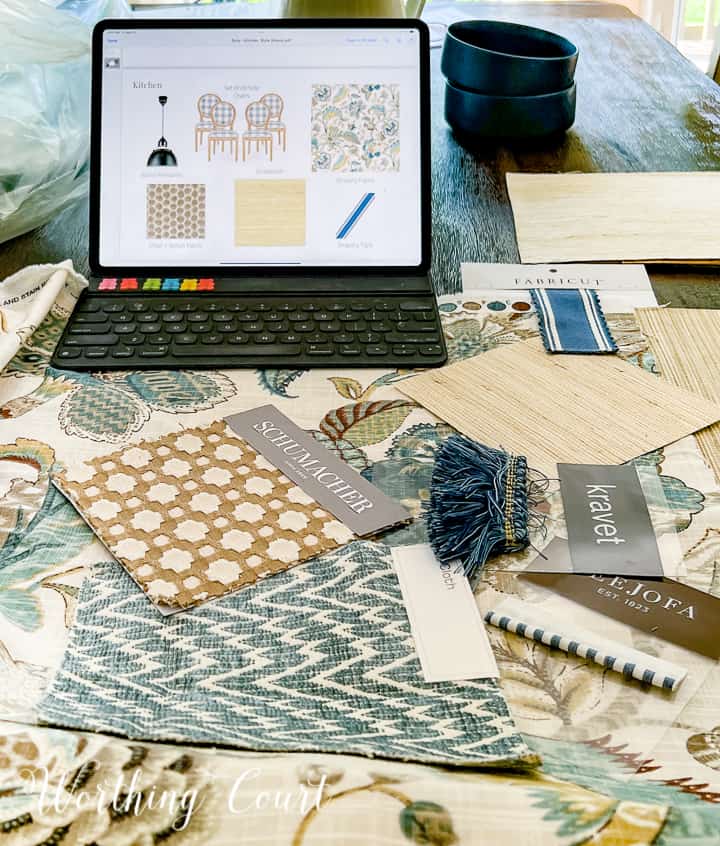 Pin
Have a wonderful weekend, my friends!