DIY Breakfast Nook Refresh Plan
A DIY breakfast nook refresh going from farmhouse style to transitional cottage style. Including a design board, source list and tips for your own room makeovers.
Our breakfast nook is at one end of our kitchen. I'm a little hesitant to call it a nook though, because it's a generously sized space. But – technically it isn't a breakfast room because it's a part of the kitchen. So, for simplicity's sake, we're going to call it a breakfast nook.
The pig head has been retired, but other than adding seasonal decorations, this space hasn't changed in over six years. It's definitely time for a décor refresh! Additionally, the inexpensive side chairs were only meant to be short term and the seats have become saggy and need to be replaced anyway.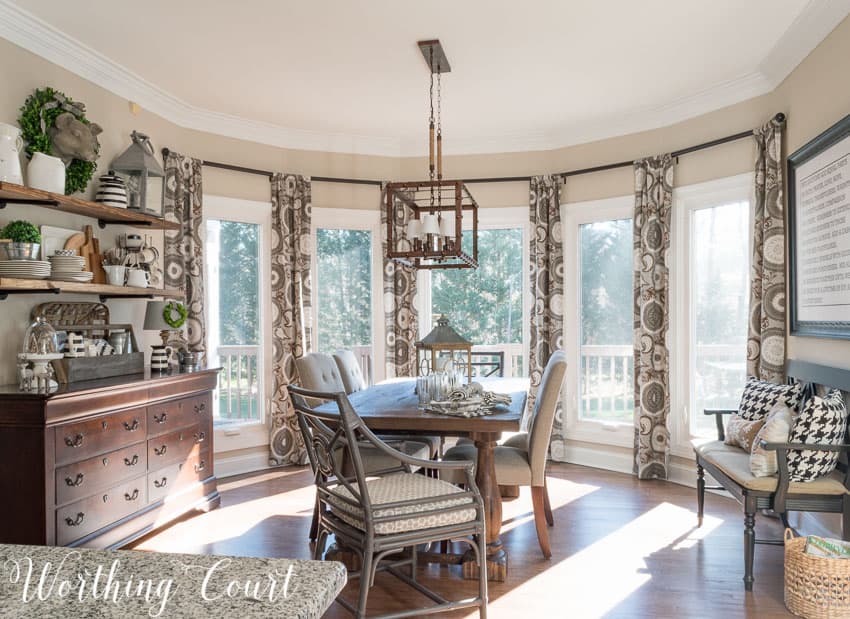 Pin
This post and photos may contain Amazon or other affiliate links. As an Amazon Associate I earn from qualifying purchases. If you purchase something through any link, I may receive a small commission, at no extra charge to you. All opinions are my own. See my full disclosure HERE.
When we moved into this house, I jumped on the farmhouse décor bandwagon with both feet. I loved it and it was easy for me to work with. But for me, that trend has gone by the wayside and now I find myself gravitating toward something more timeless and classic.
I'm drawn to what I like to call "transitional cottage style". BTW – we'll dive into how to change decorating styles in a future post!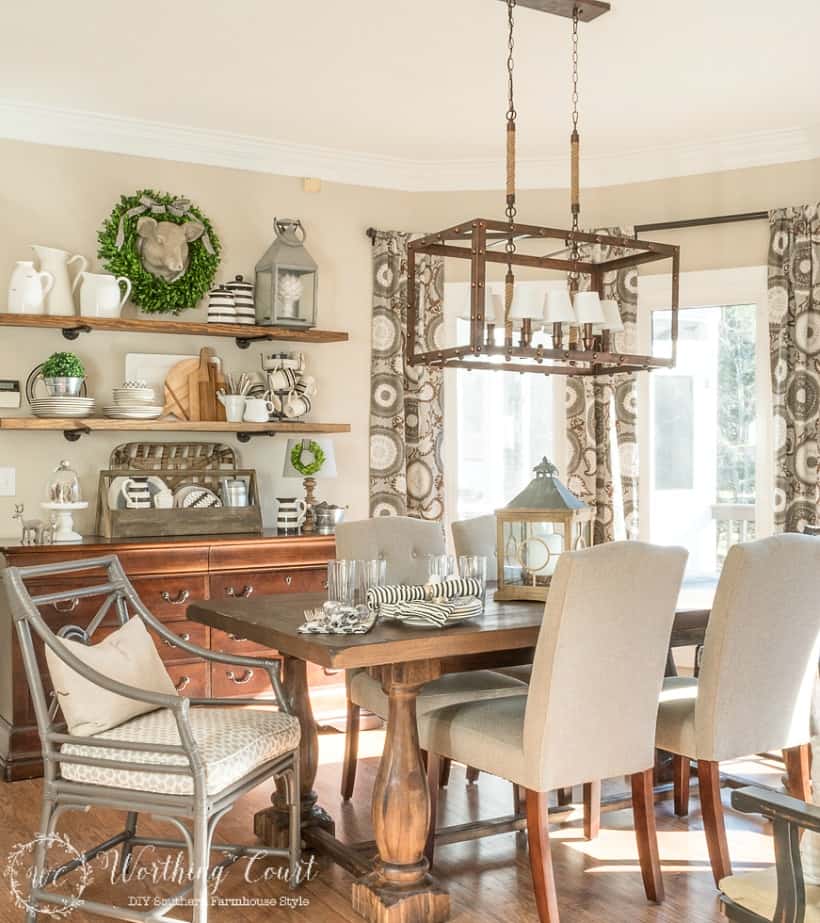 Pin
WHAT IS TRANSTIONAL COTTAGE STYLE?
In short, it's a timeless and elegant look that marries the new and old and masculine and feminine elements of transitional style to the charm of comfortable furnishings, fresh colors and natural elements of cottage style.
I've really taken my time to figure out exactly what style I like so that I don't jump on another trend that will be gone in a few years. After pouring over Pinterest, Instagram and lots of magazines I realized that I love the charm of cottage style, but I want an updated look.
I already added a few touches of transitional cottage style here and there around the house, as you can see in my dining room, but I don't consider any of my rooms completely transformed yet. I've been taking my time and doing a little experimenting while I figure out what it is I really want in my home.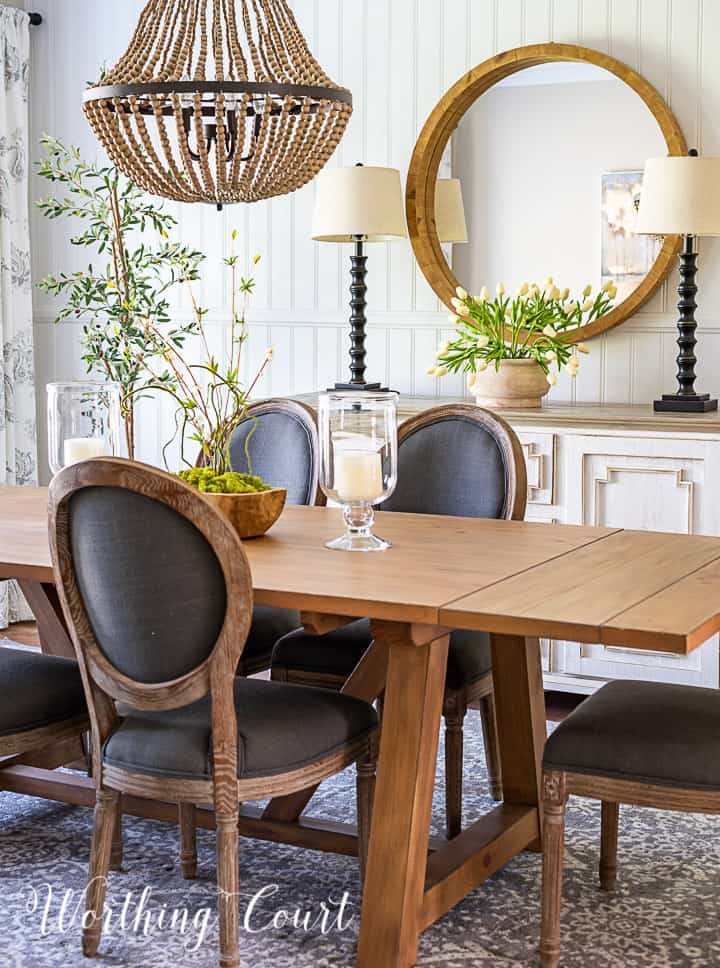 Pin
Right now I'm totally focusing on my breakfast room and I DO want to see the transformation of this room through to its completion!
I'll be keeping my existing dining table, sideboard (that's really a bedroom dresser), the shelves above the sideboard and the bench that's against the wall opposite from the sideboard.
The things that I'll be changing are the dining chairs, the draperies, the artwork above the bench, the light fixture above the table and I'll also be painting the shelves and shelf brackets.
STEP 1: FIND THE INSPIRATION
When I'm decorating or redecorating a room, the very first thing that I always do is to look for something to inspire me – and it's often fabric. I always get excited when I find a fabric pattern and color combination that really speaks to me.
This is the fabric that has inspired my breakfast nook refresh. I think it's the perfect transitional cottage pattern! The style of the pattern will act as guide as I choose accessories to use in the rest of the nook.
LINK TO THIS P. KAUFMAN FABRIC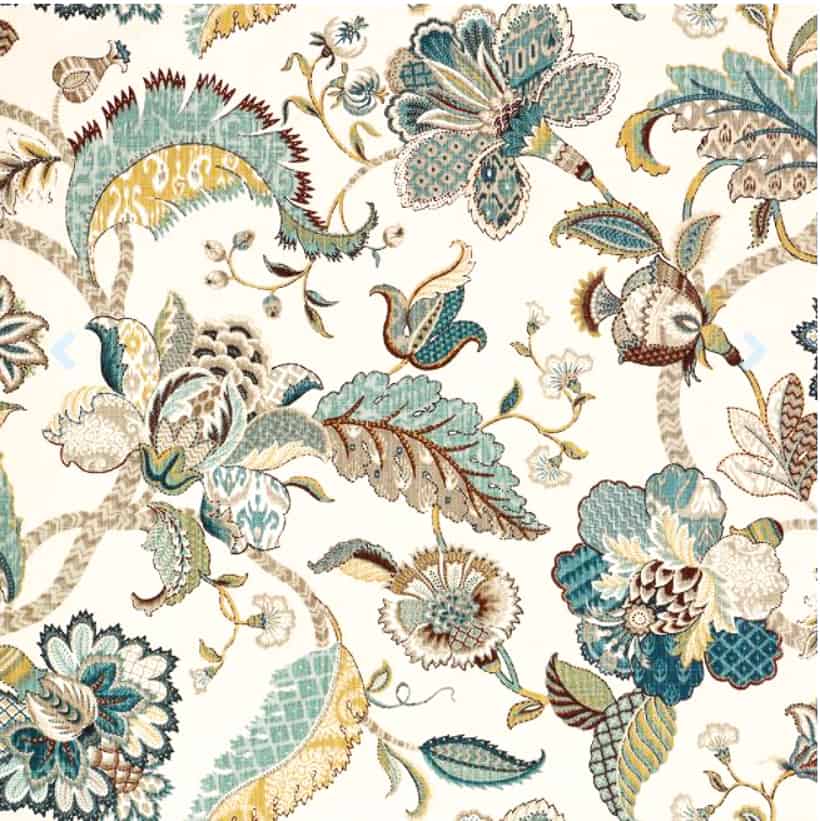 Pin
I'll be using it on a long lumbar pillow on the bench and on the backsides of the new chairs that I've purchased for the table.
I've had a lot of fun pulling different colors from the pattern to use in the rest of the nook, as you can see in the design board down below. If you happen to click on the link to the fabric, don't be swayed by the dull colors and yellow'ish background of the fabric that's displayed online. My image almost exactly how it actually looks.
STEP 2: SET A BUDGET & MAKE THE PLAN
It's hard to say if the design board should come before setting the budget or vice versa. Sometimes my budget depends upon the plan and sometimes the plan depends upon the budget.
In this case, I had a total budget in mind, so I started looking for items and then came up with my design board.
BTW – I find creating a design board to be invaluable when designing and decorating a room! Having a design board goes a long way toward keeping my ultimate vision in the front of my mind and helps to prevent making impulse purchases that don't fit the look I'm after.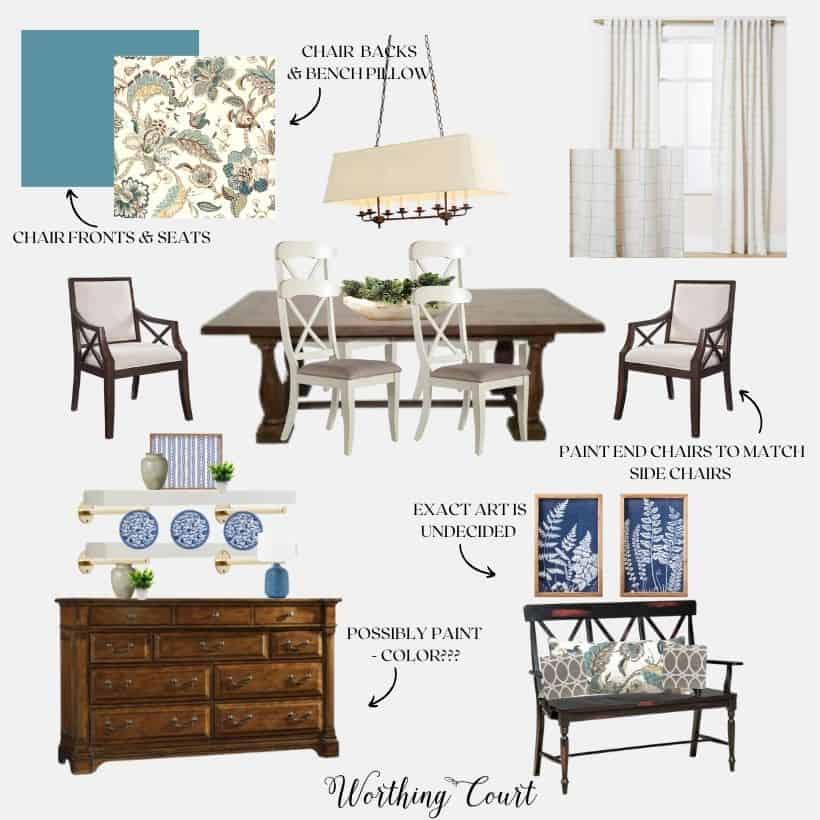 Pin
FABRIC || LIGHT FIXTURE || DRAPERIES || ARM CHAIRS || SIDE CHAIRS 
All other items are no longer available. 
In addition to a design board, I've also found that it very helpful to create a very basic Excel spreadsheet that I can update as changes occur.
My spreadsheet includes budget, amount spent to date, to-do items, items to purchase, links to items and their cost. Normally, I'd include a completion date goal, but it would be a waste of time in this case because of the delays in shipping and labor that are happening these days.

Pin
STEP 3: PURCHASE SUPPLIES
In my dream makeover world, I would have all of the supplies on hand so that I could work on the room makeover in a logical sequence. I've received everything that I ordered with the exception of the end chairs.
The shipping delay on the end chairs is playing havoc with what I'd like to be able to do. At this point, I don't know when they'll be here. **sigh**
Ideally, I would already have painted the chair frames and taken them to the upholsterer for them to work on while I work on other areas of the room. That's kind of hard to do when I don't have all of the chairs yet.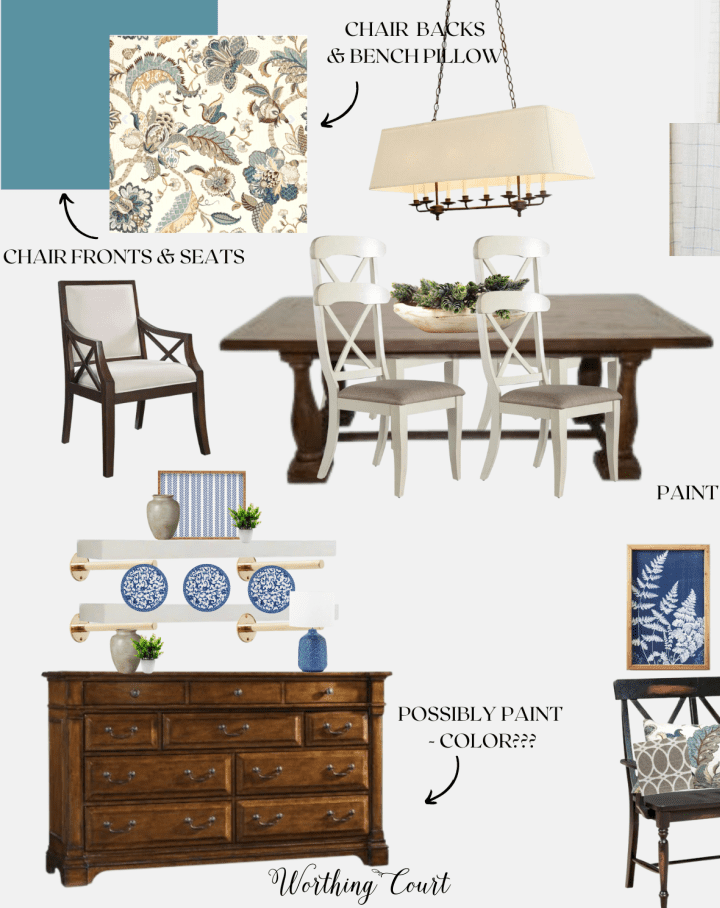 Pin
STEP 4: GET TO WORK!
The delay on the end chairs won't stop me from forging ahead though! Until I receive the chairs, I hope that my project list will go in order something like this:
Replace the light fixture over the table. The timing for that will depend upon the availability of my son-in-law so that he can help my husband.
Take down the old draperies and hang the new ones.
Paint the shelves and shelf brackets above the sideboard. I need a few warmer days for that!
Make two accent pillows for the bench.
Shop for artwork to hang above the bench.
Shop for accessories for the shelves.
Remove the seat cushions and paint the frames of all six chairs to match….when the end chairs finally arrive, that is.
Take the chairs to the upholster.
I'm excited to get started and see the end result!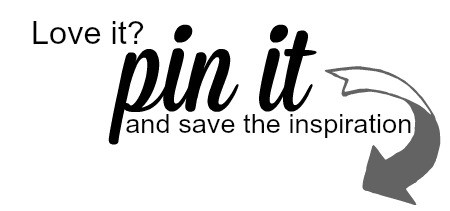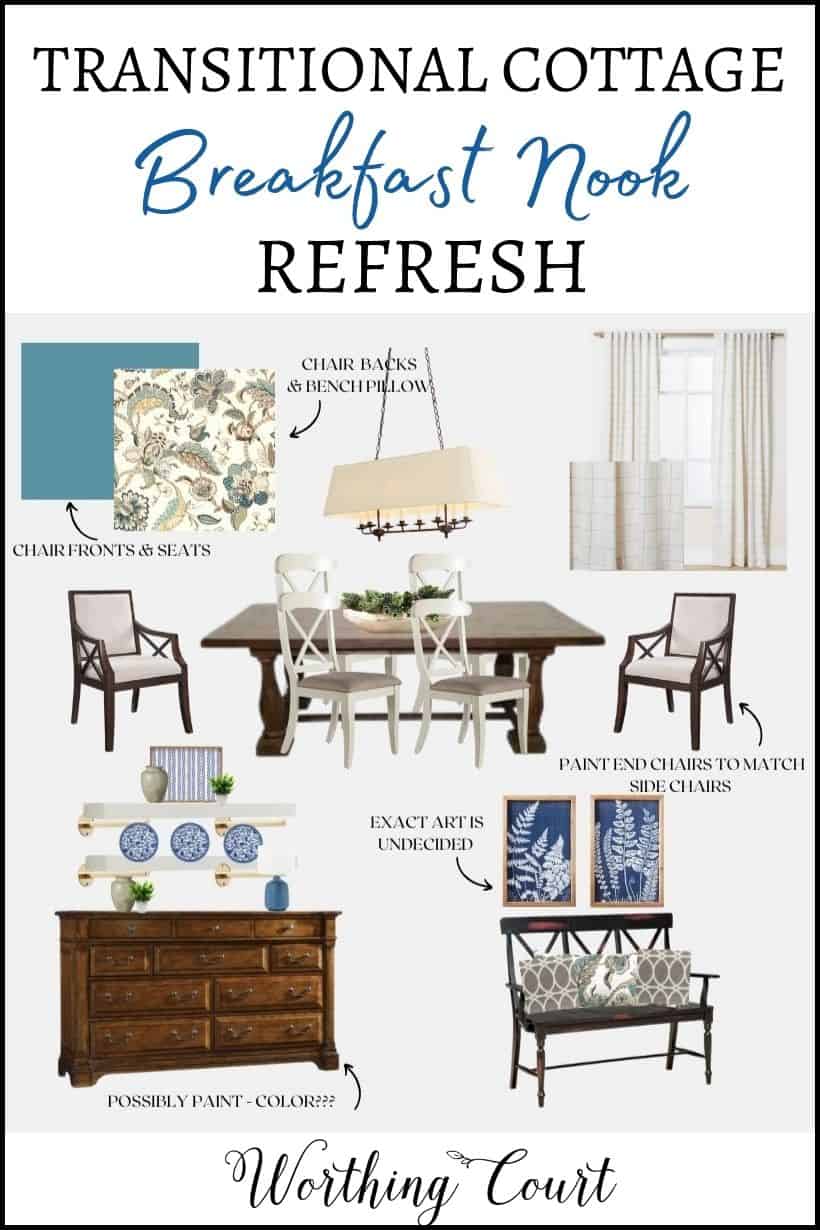 Pin