Iconic Farmhouse Cottage Living – Sarah Richardson Style
I am a huge fan of Sarah Richardson and her beautiful farmhouse cottage style! Here are some of her best looks.
Are you a fan of Sarah Richardson?  If you're not familiar with who she is, Sarah is the multi talented driving force behind Sarah Richardson Design.  This is how Sarah describes herself (quote taken directly from Sarah Richardson Design's website):
"On any given day, I wear a number of hats for the different jobs I do. I'm an entrepreneur, designer, writer, producer, and TV personality (but I consider myself to be a designer first, and everything else flows from the creative industry that inspires me). Lucky me, that I've been able to carve out a niche where I can share my work, as well as the ideas, products, and materials that inspire me."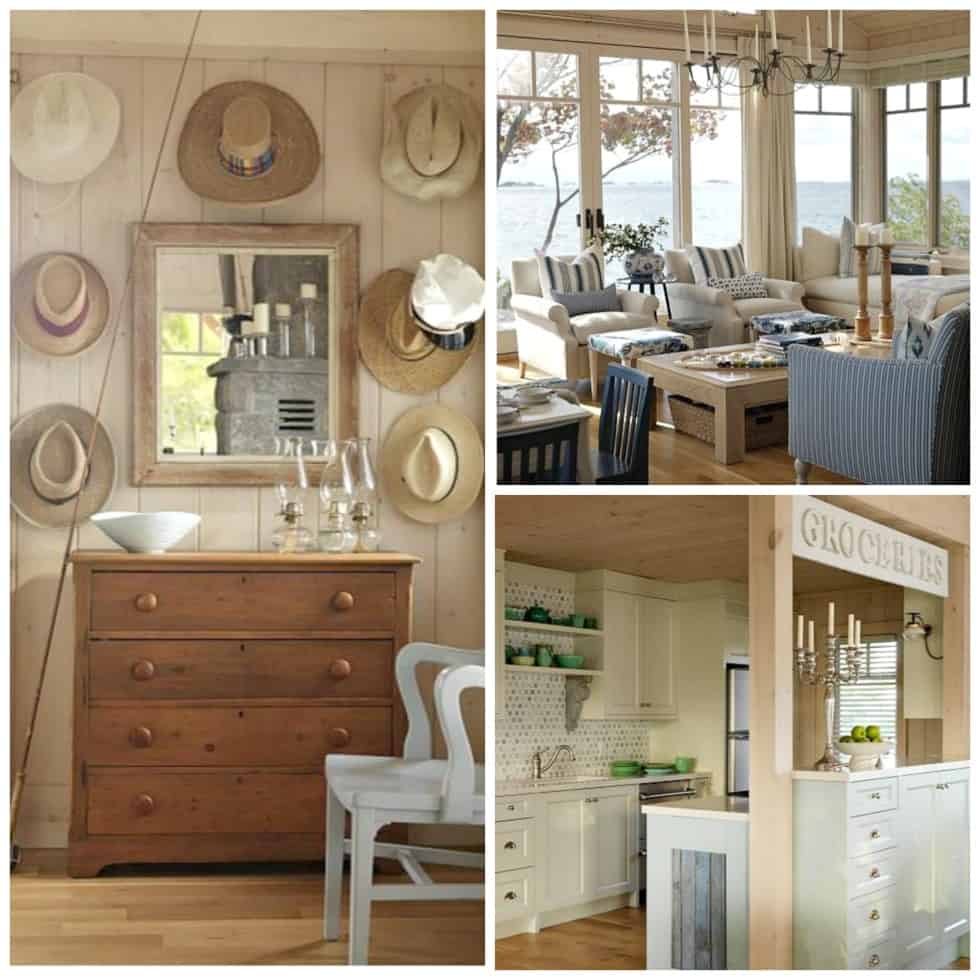 Pin
Pookie and I are avid fans and make sure that we catch every new show of her's that makes its way down to the US.  My Canadian friends are fortunate to have Sarah in their own backyard and to see so much of her design work on HGTV/Canada.  We don't get to see all of her shows down here in the US and the ones that we do see are way behind their original air date in Canada.  Boo.  Thankfully though, we can still enjoy and be inspired by her work in the online world!
One of my favorite shows of hers was Sarah's Cottage, where a very pregnant Sarah and her husband renovate an off-the-grid getaway.  If I remember correctly, the bachelor shack of a cottage belonged to Alexander (her hubs) before he and Sarah married.  It was very dated and the bachelor style decorating wasn't doing it any favors.
Sarah turned the ugly, uninviting place into a gem of farmhouse cottage style.  Take a look at this beautiful renovation.
The cottage is situated on an island that is seventeen miles offshore in the Georgian Bay in Ontario.  The location affords some spectacular water views, which Sarah took full advantage of with the living room design.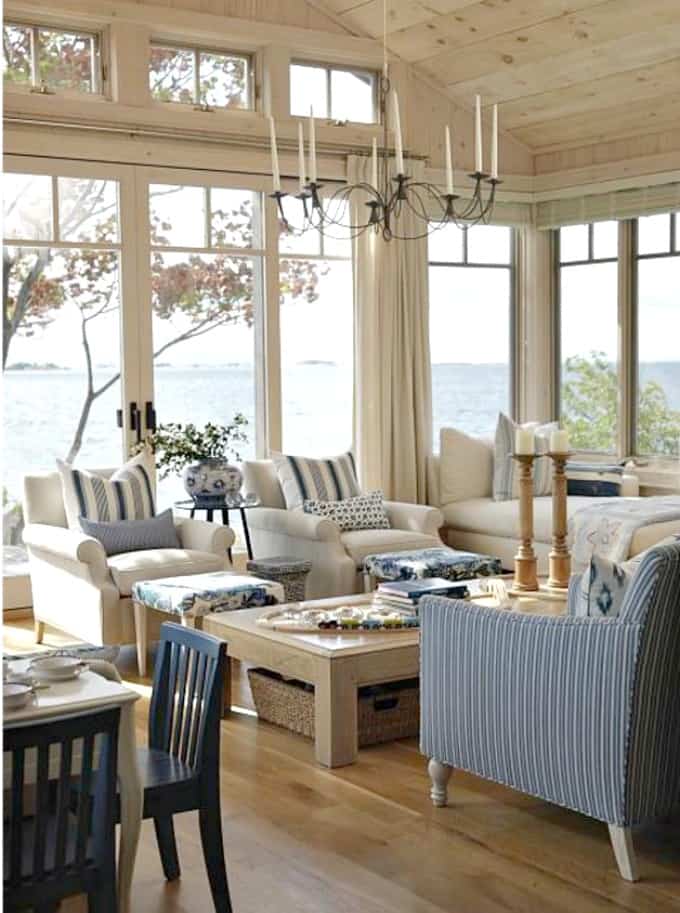 Pin
Sarah is a master at mixing fabrics and patterns together and the tranquil blues and creams that she chose for the living room only serve to highlight the fact that the cottage is located on the water.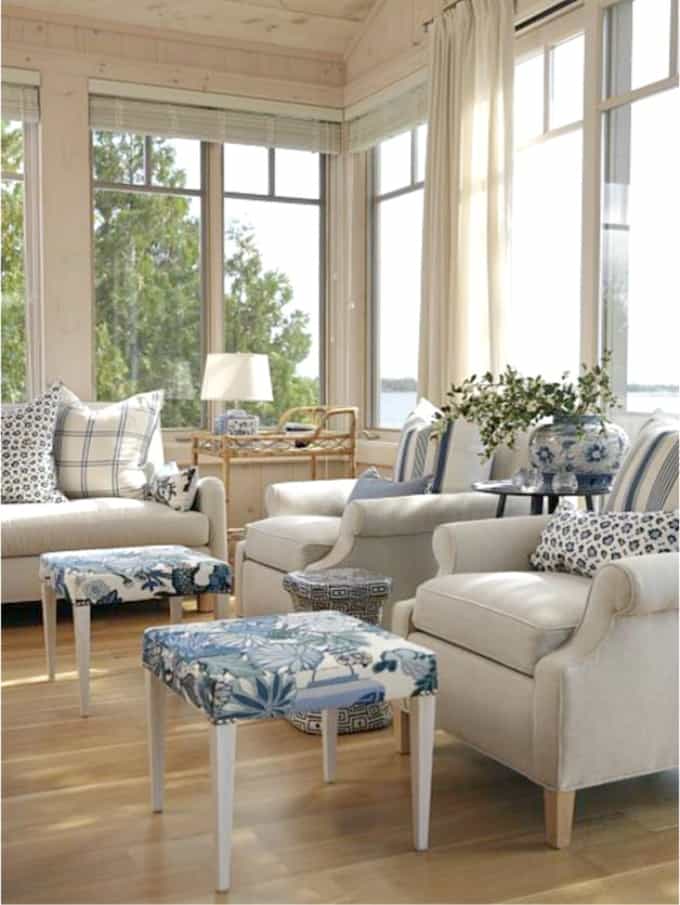 Pin
The adorable kitchen is a wonderful mix of old and new.  During the show, there was much discussion about which appliances to use and how much electrical lighting to add since they are living off the grid in this isolated location.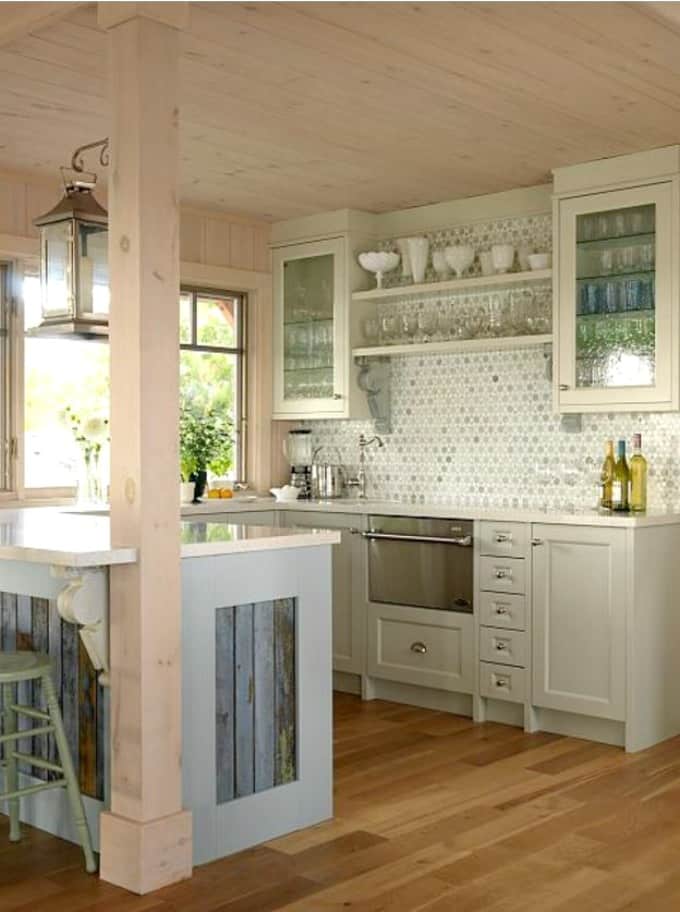 Pin
Part of putting the cottage style kitchen together was finding just the right salvaged wood to wrap the peninsulas with.  I think that Sarah and her faithful sidekick, Tommy (a designer in his own right), stumbled upon the perfect choice.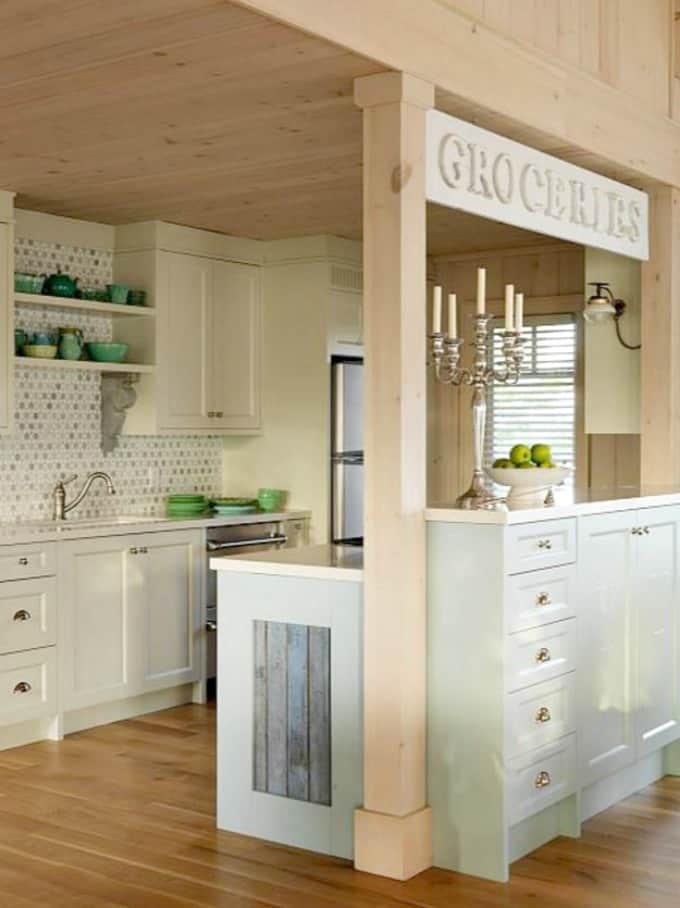 Pin
A dining and lounge area are located just off of the kitchen.  I can just imagine spending an evening with good friends, good food and good conversation in this gorgeous setting.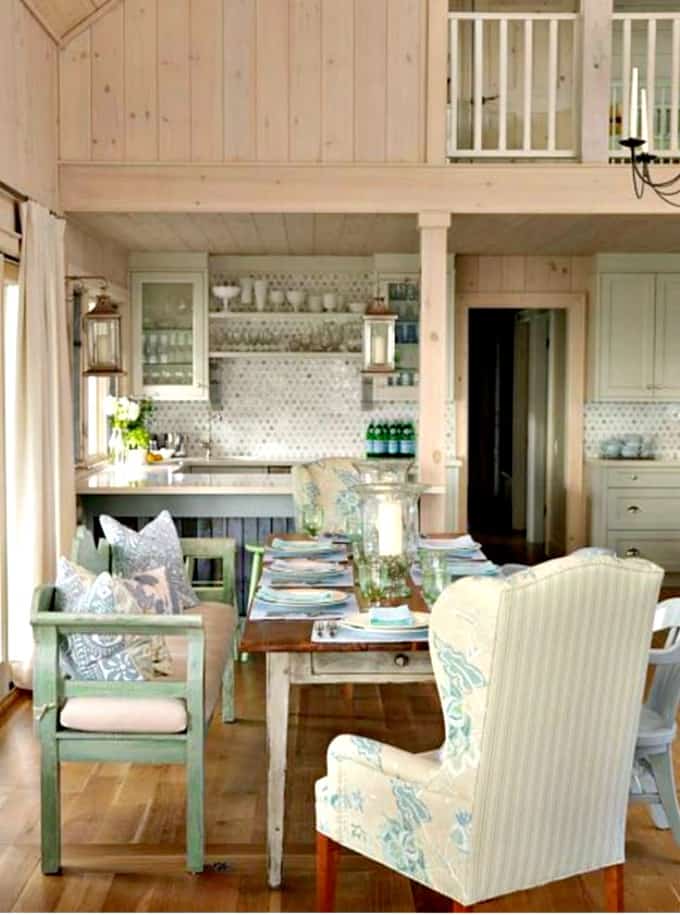 Pin
And after you finish your meal, enjoy drinks by the roaring fire in the lounge area that's in the same large room.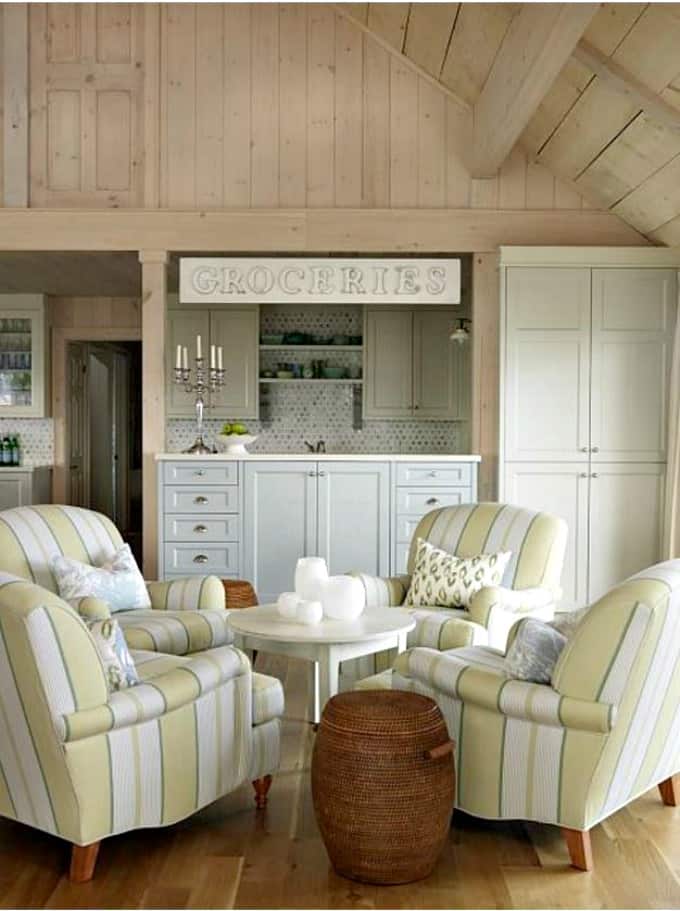 Pin
A cute chest and gallery of hats sits along one wall.  Fishing anyone?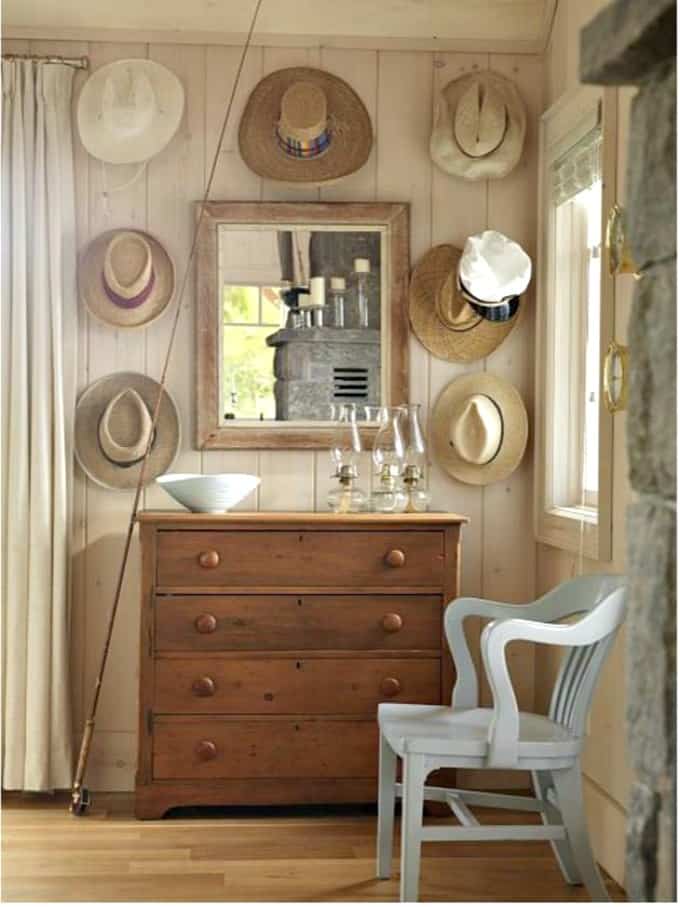 Pin
A quaint quilt takes center stage on the bed in the master bedroom.  Notice the beautiful painted floor.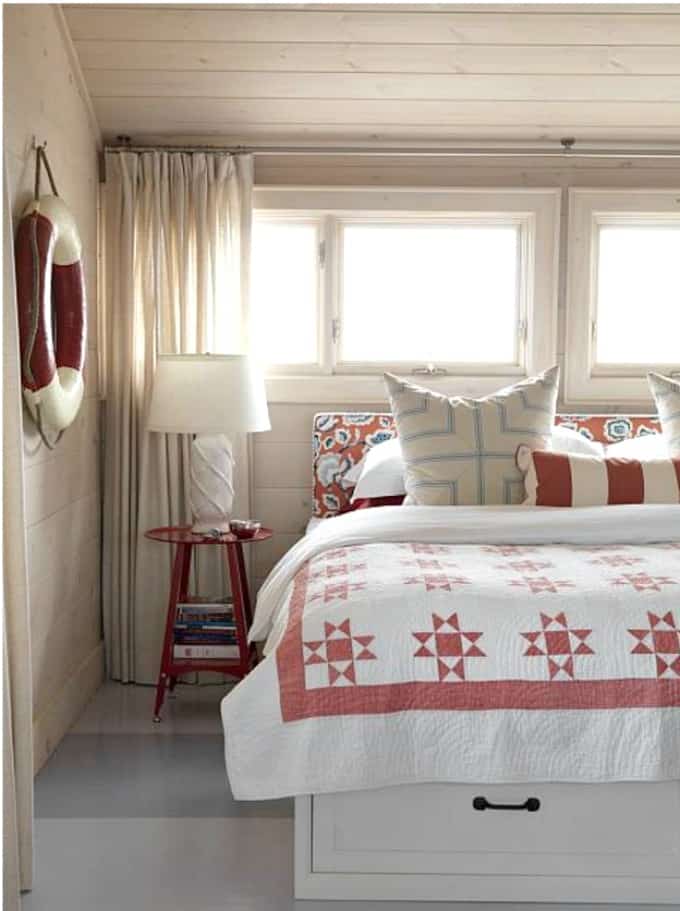 Pin
A look at the other side of the bedroom.  The walls and ceilings in most (maybe all) of the house were already clad with pine paneling.  Now they're so much more charming with a whitewash finish.  This was done before the days of the shiplap craze, y'all.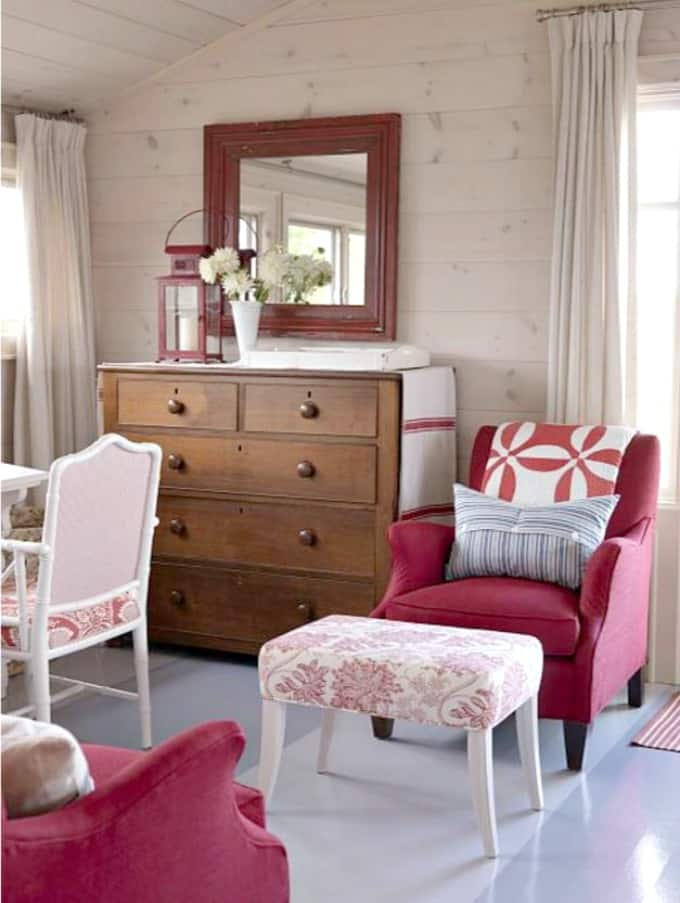 Pin
Enjoy a cup of coffee and the fabulous views on the deck located off of the master bedroom.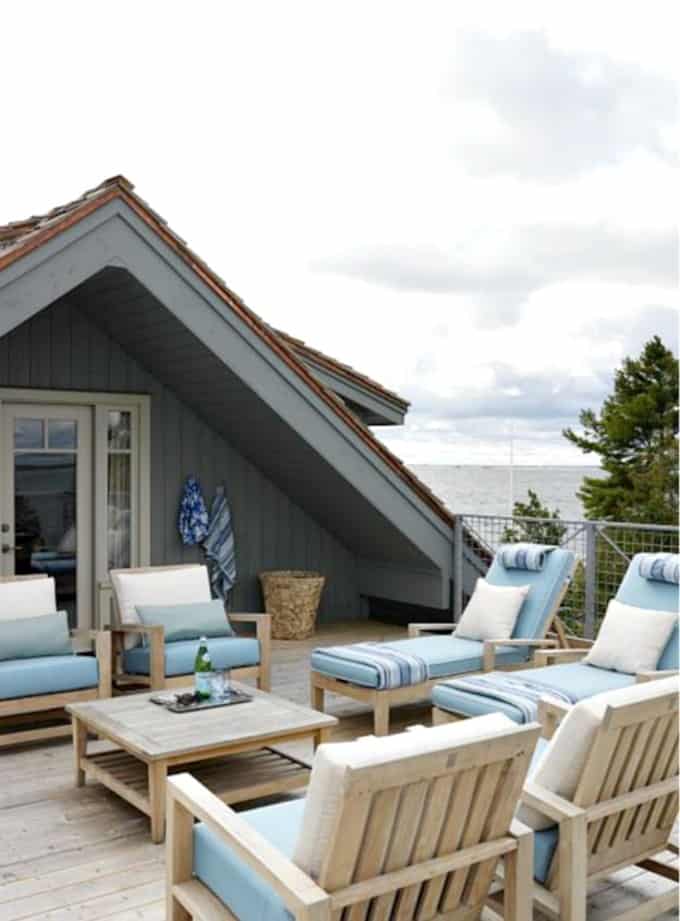 Pin
Sarah managed to pull both cottage and spa-like style together in the serene bathroom.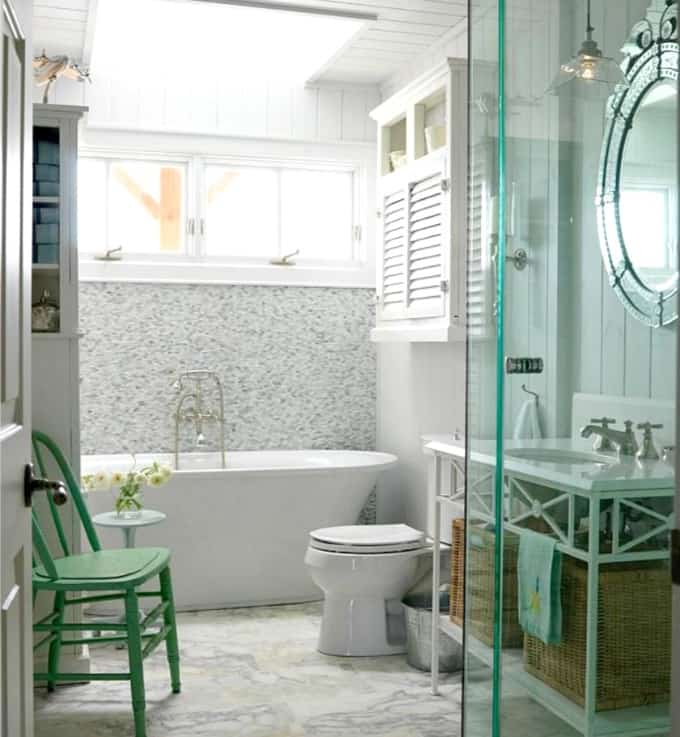 Pin
There are other bedrooms in the house that are used by Sarah's two girls, but I'd be perfectly content to be a guest and stay in the adorable bunkie that is a little cottage separate from the main house.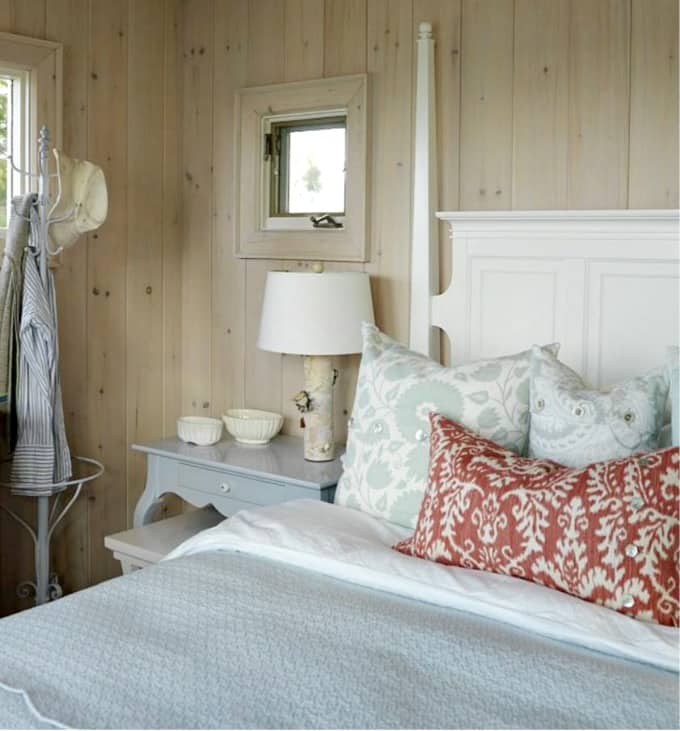 Pin
All photos via Sarah Richardson Design, photography by Stacey Brandford
Sarah probably wouldn't describe her cottage as farmhouse'y, but I think that the two styles have a lot in common – don't you?
There is so much more to see in this charming home that Sarah shares with her family.  Click HERE.