My Refreshed Coffee Bar And The Best Coffee Maker Ever!
Let me introduce you to the best coffee maker ever!  A Keurig K150 equipped with an auto refill water tank is one of the best investments I've made for my home.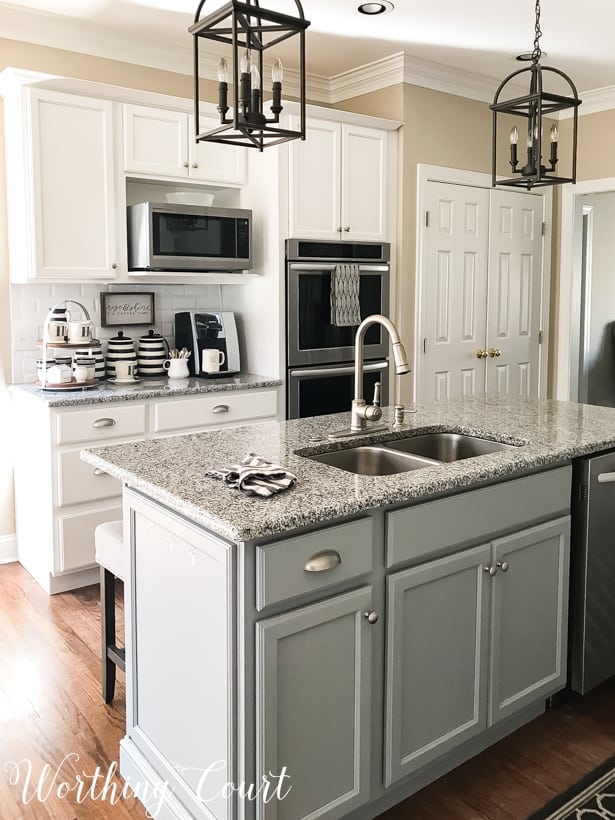 What if I told you that you really can have your cake and eat it too? 😀 Well…if you get annoyed at having to constantly refill your k-cup coffee maker, I'm about to make your day!  Let me say up front that this is not a sponsored post.  I just want to share a new addition to my kitchen that I think you are going to L-O-V-E!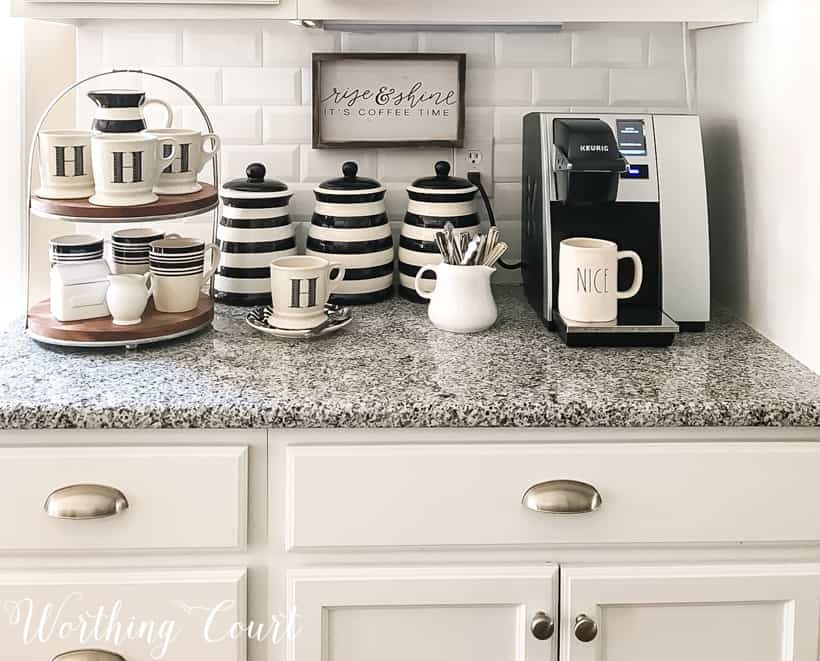 This post contains affiliate links.  See my full disclosure HERE.
I must have had my head under a rock because I thought that the only auto water fill coffee makers on the market were either built in ones, that are very expensive, or ones that are built into a refrigerator door, also very expensive.  Imagine my delight when I discovered that is absolutely not the case anymore!  Yes – there is an affordable version of an auto water fill coffee maker that you can have in your own home!
You see – when I drink a cup of coffee, it's a big one, usually 16 oz.  I run two cycles through my k-cups – one 12 oz and one 4 oz.  The large size of my coffees was causing me to have to refill the water tank on my Keurig every two cups of coffee.  ugh  It may seem silly to you, but it was majorly annoying to me.  #petpeeve  And then when we have several people here who also want coffee…..well, you get the picture.
Enter this beauty – the Keurig K150 coffee maker!  (I'll provide links to everything below.)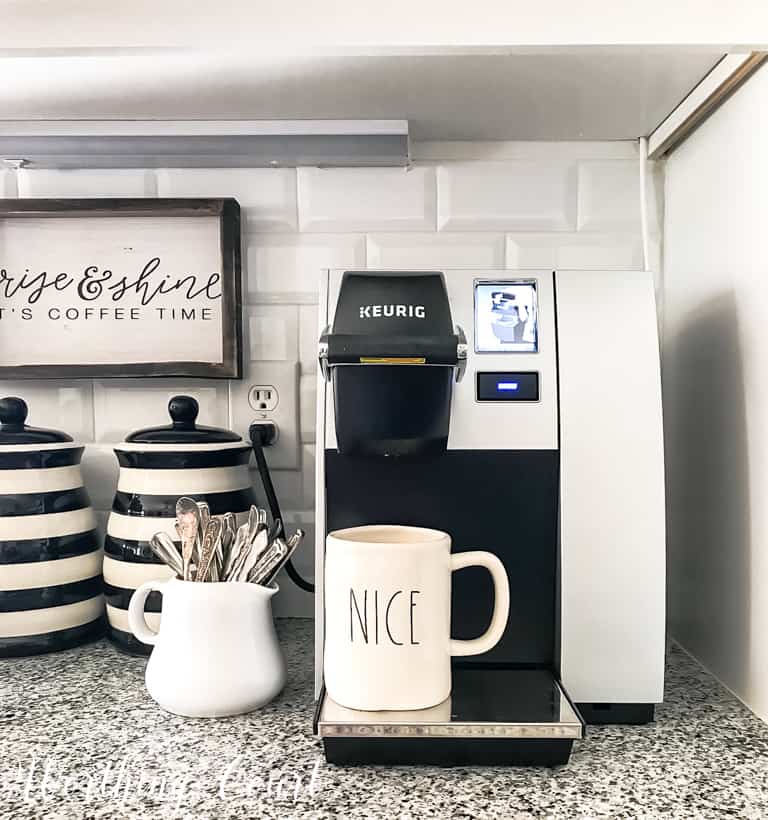 Let me tell you a few things about it.  First of all, the coffee maker itself is not auto water filling unless you replace the water reservoir that it comes with, with the auto-fill reservoir that is made especially for this Keurig model.  The auto-fill reservoir doesn't have a built-in charcoal filter like the non auto-fill ones do, so you'll also need to order a water filter.
Now, don't panic and think this is too complicated because it isn't!  It's even easier if you will be placing your coffee maker near your refrigerator so that you can attach the water line directly from your ice maker line with a little T fitting.
In my case, placing the Keurig near our refrigerator wasn't a good option because of space limitations in that corner.  Instead, I had my plumber run a water line under the floor from the kitchen sink over to where I wanted to place my new Keurig.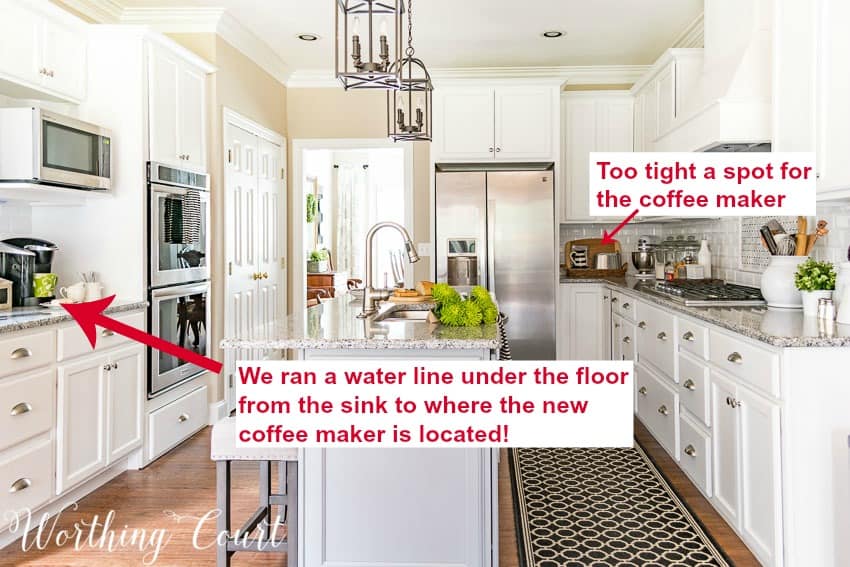 The new water line comes up through the floor behind my wall ovens and to hide the water filter from view, we attached it to the wall behind the microwave.
A small hole was drilled into the side of the cabinet, to the right of the microwave, for the tubing to come through and attach directly to the water filter.  The water line coming out of the water filter runs through a small hole in the back corner of the shelf that holds the microwave and drops down to attach to the back of the coffee maker.
If you're able to run the water line for the coffee maker off of your ice maker line, you would place the filter between where the water line comes off of the ice maker and where it attaches to the coffee pot.  You'd most likely attach the filter to the wall behind the refrigerator.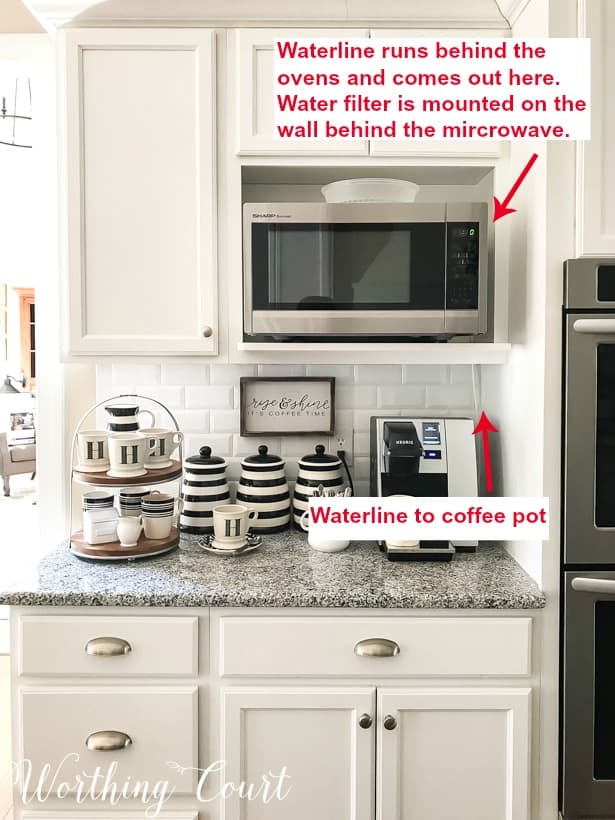 I know you can see the white water line tube in the photo, but I promise you that if you aren't looking for it, you don't even notice that it's there. 😀
Now that the new coffee maker is in place, I naturally wanted to freshen up the coffee bar a bit!  I kept things neutral for my every day look, so that I could easily add seasonal pops of color whenever the mood strikes.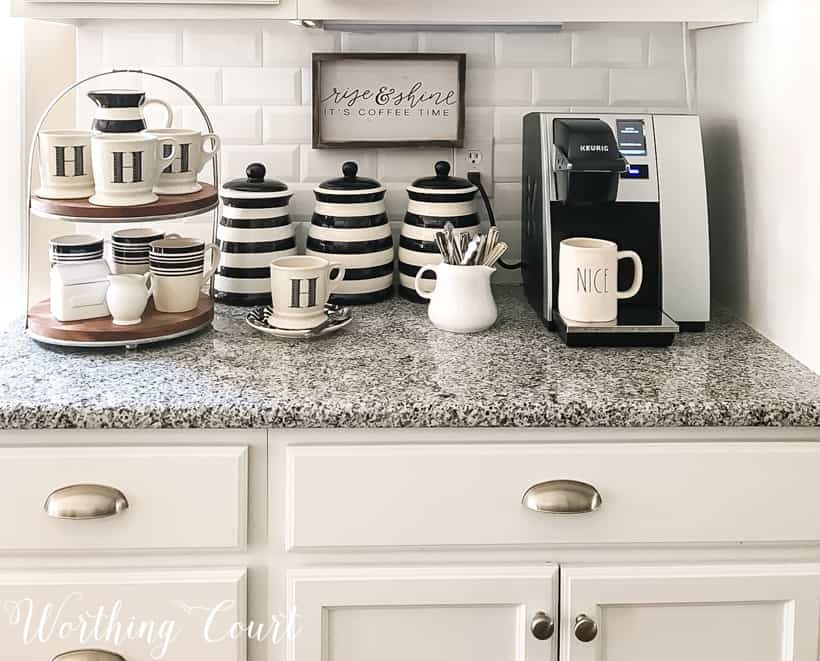 A tiered tray contains an assortment of black and white mugs and cute little sugar bowl and creamer.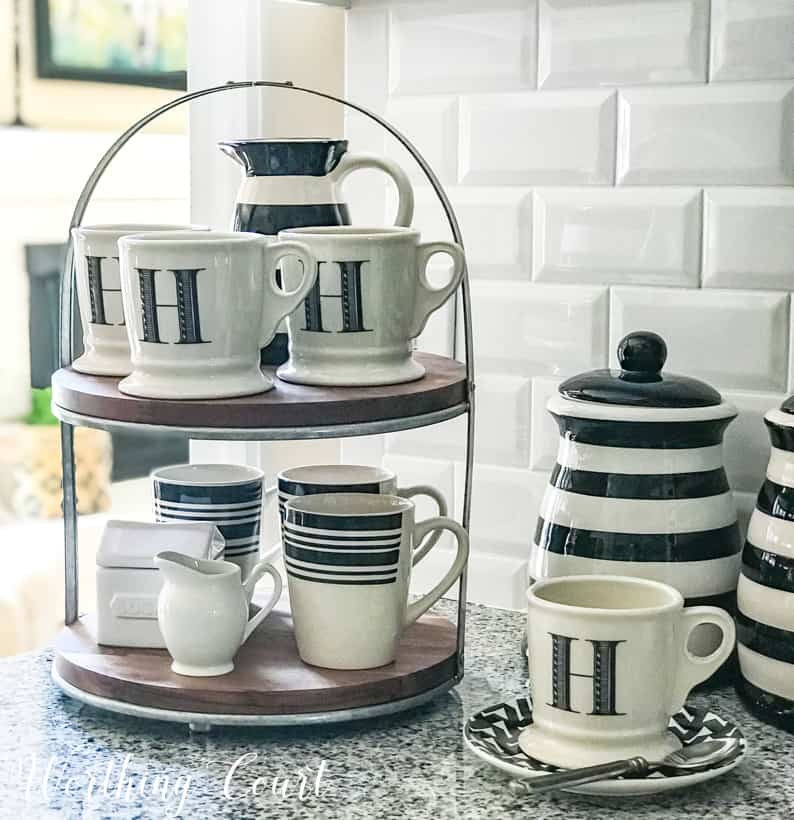 And a cute, squatty little pitcher holds an assortment of new and vintage spoons.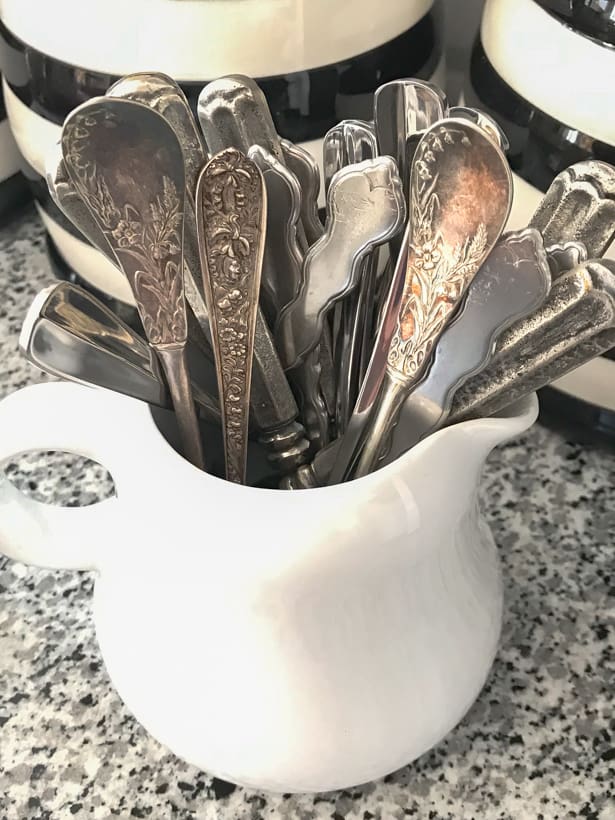 Anytime my husband asks me if I'm still happy with the new coffee maker, I always answer with a resounding, "Yes!'.
RESOURCES:
Keurig K150 Water Reservoir and Direct Water Line Plumb Kit
Water Filter Kit – includes fittings and water line tubing
Black and White Canisters – came from Hobby Lobby – still in my store, but no longer available online