Late Summer | Early Fall Farmhouse Open Kitchen Shelves
Late summer is when my thoughts start turning toward fall!  I'm not quite ready to completely let go of summer – not yet.  Instead, I'll just pull out my faux green apples and a few wood elements to combine together to give me the feel of fall, but still say that summer isn't quite over.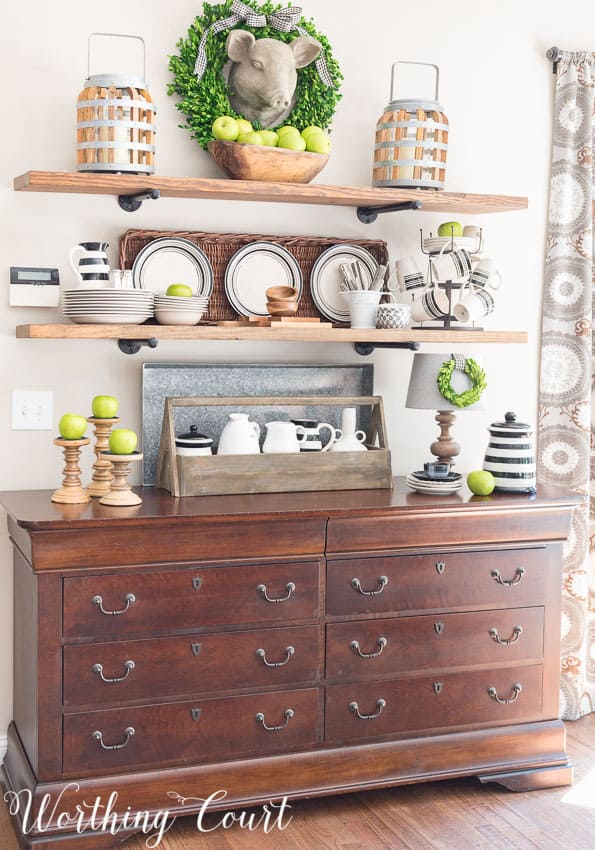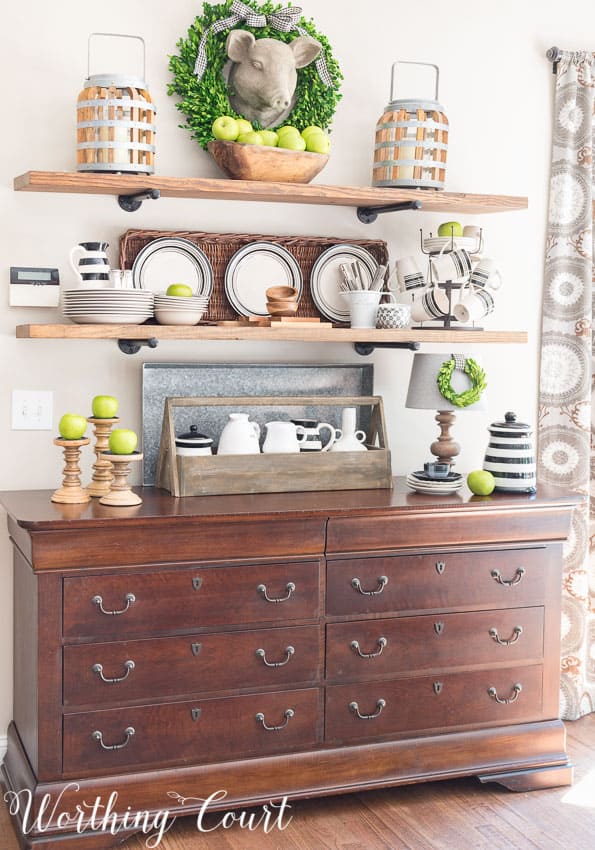 Pin
Even though it's late summer, I tried to hint at the approach of fall by using wood, lanterns, lots of texture and by scattering green apples here and there. I love, love, love the combination of apple green, wood and black and white!
(I hope you'll enjoy re-visiting my early fall shelves from last August and will find some inspiration for your own home!)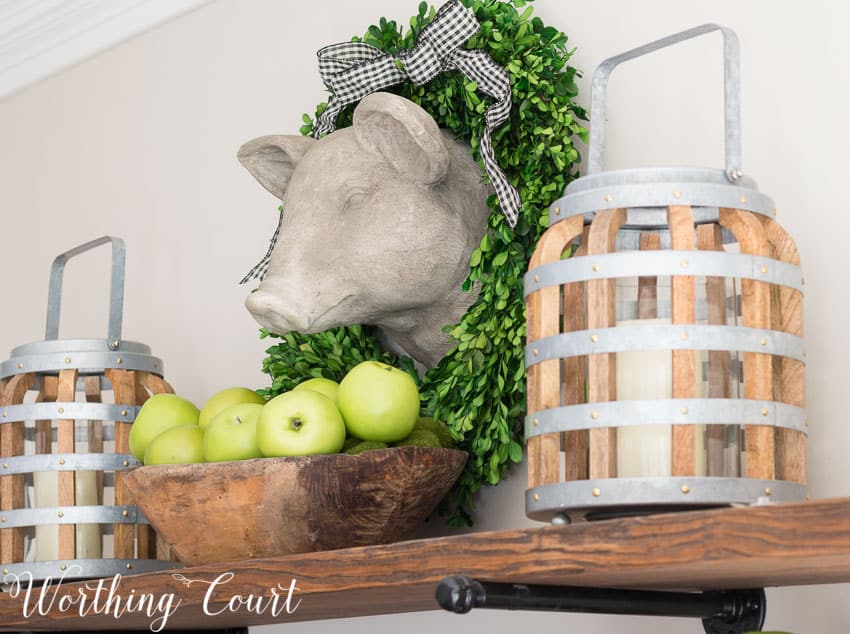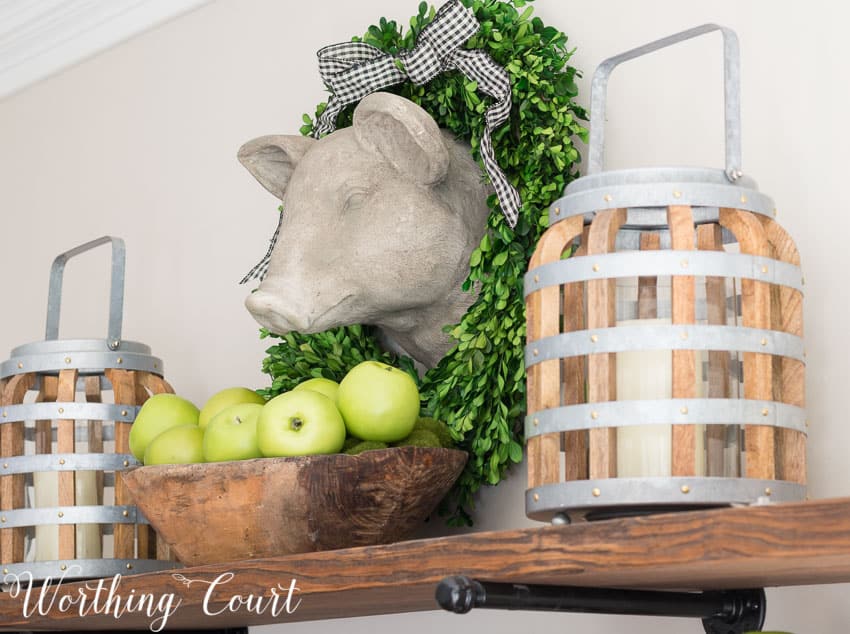 Pin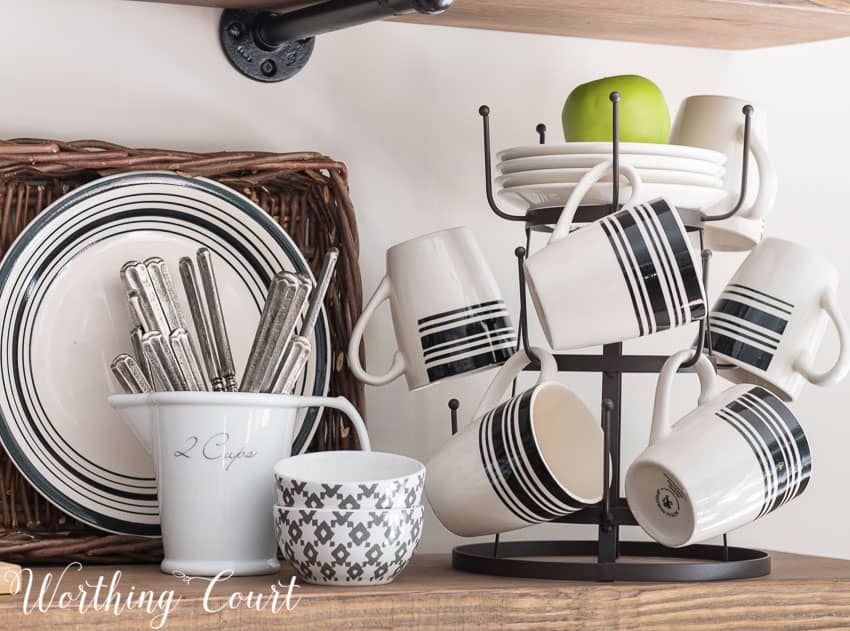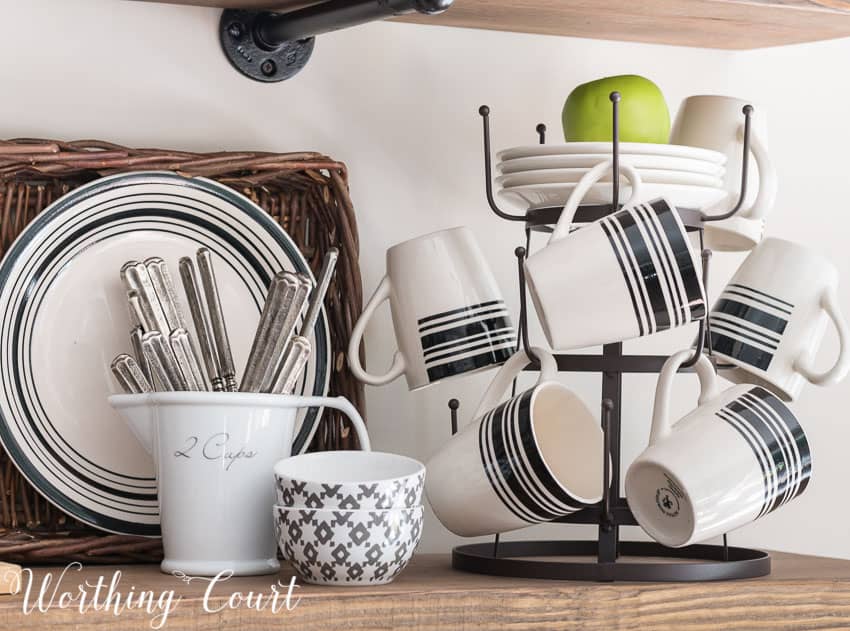 Pin
I like to make it easy on myself, so when I decorate, I try to use classic backdrops and accessories so that all I have to do is rearrange and add to what's already there.  It saves me an enormous about of time, plus it helps to keep a continuous flow through my home.  So, for my late summer decor, I kept the black and white accessories, dishes, bowls and mugs that were already on the shelves and simply changed what is displayed with them.  This little lamp lives on my sideboard and stays lit 24/7.  It just adds a bit of coziness to the corner and acts as a nightlight of sorts.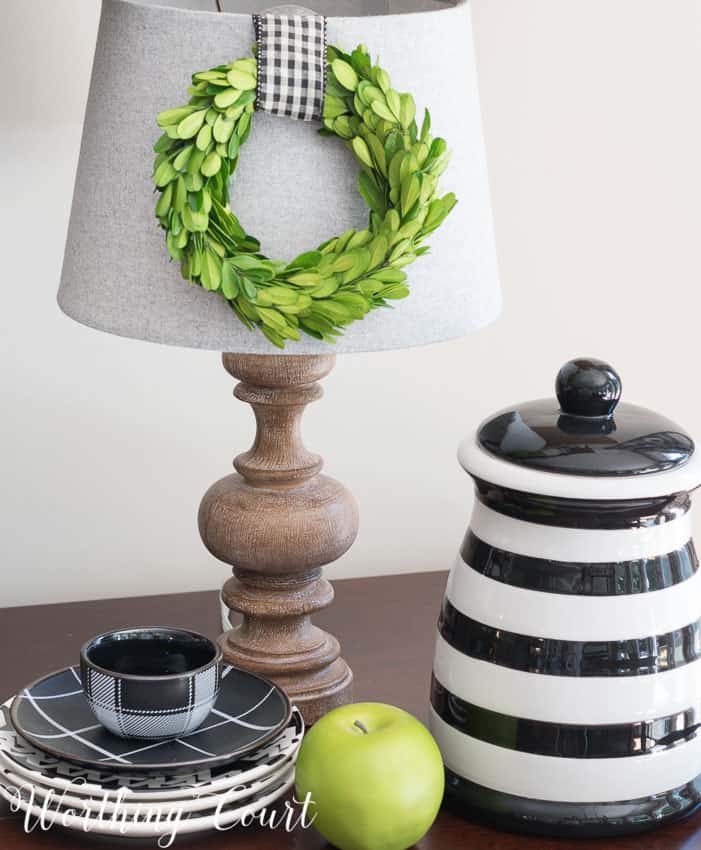 Pin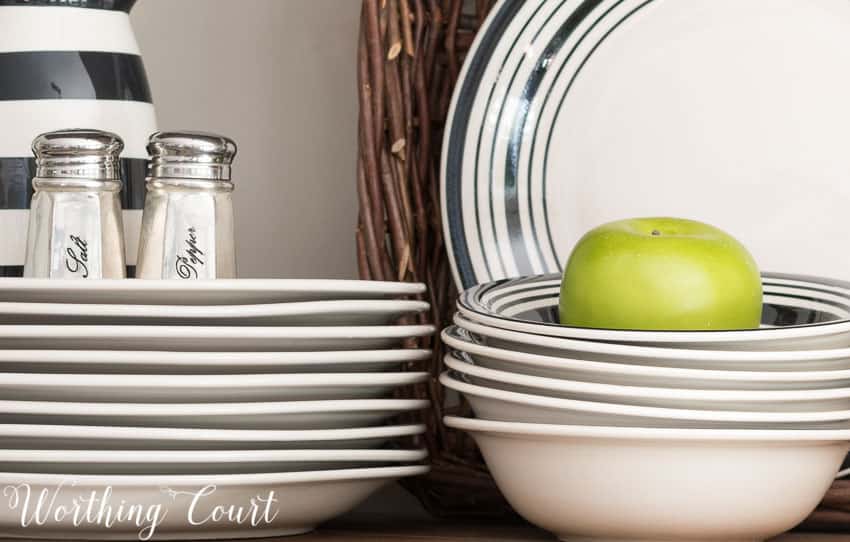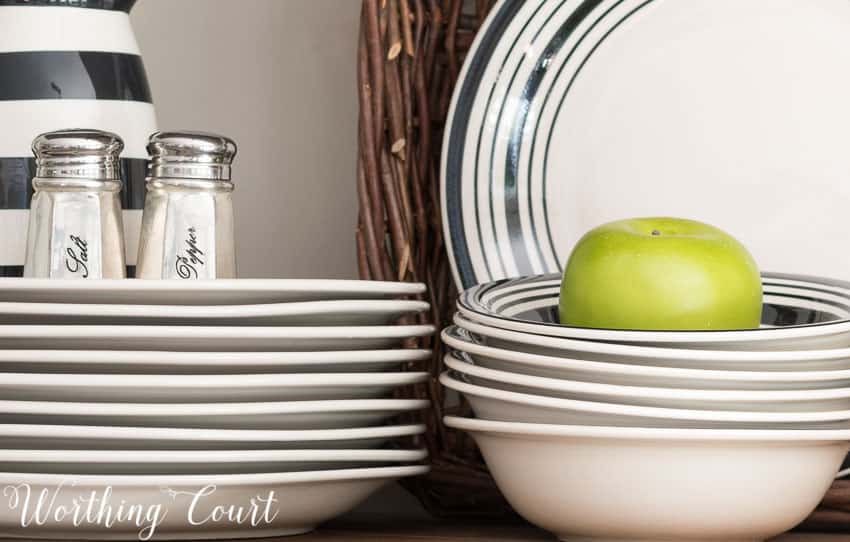 Pin
For example, I kept the stacked plates, bowls and mug tree, but changed the look a bit by displaying a few of the plates in a long narrow basket.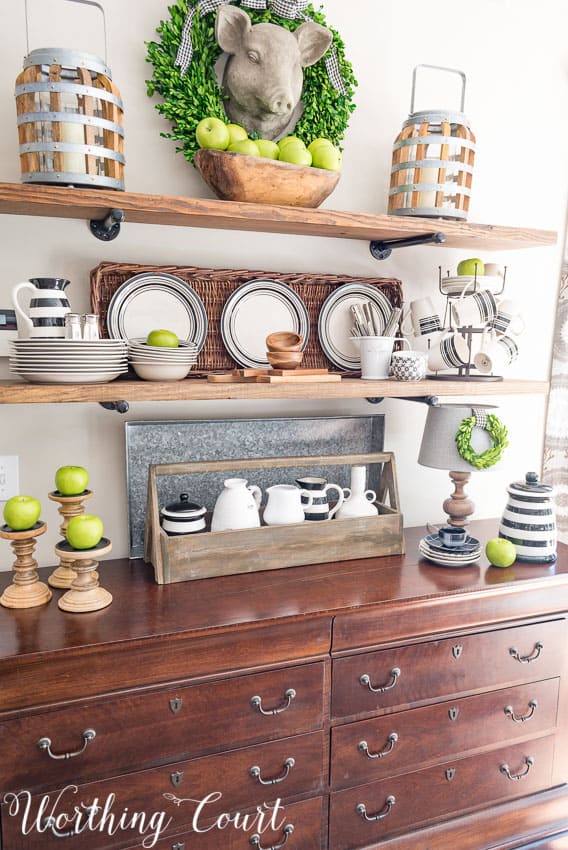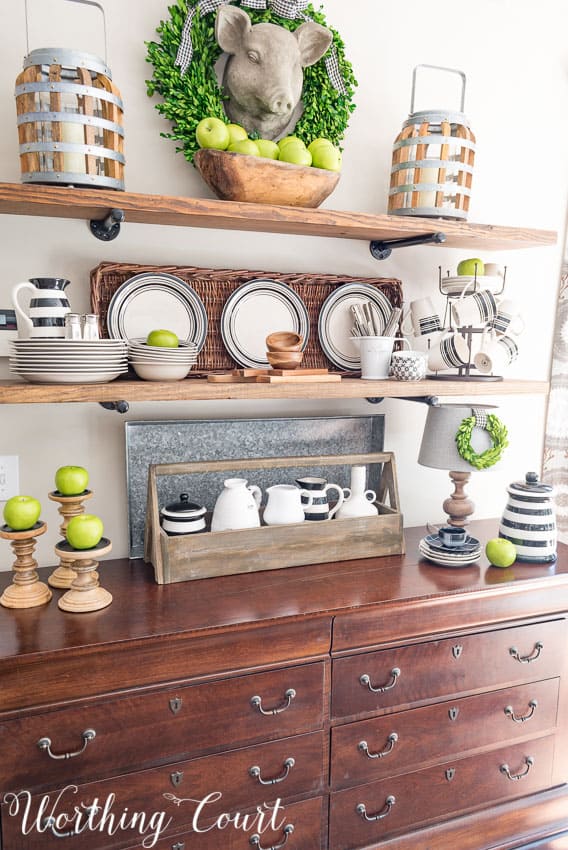 Pin
Mr. Herbert, my faithful pig companion, still keeps watch over the goings on in the breakfast area, but he's ready for early fall with a dough bowl filled with green apples.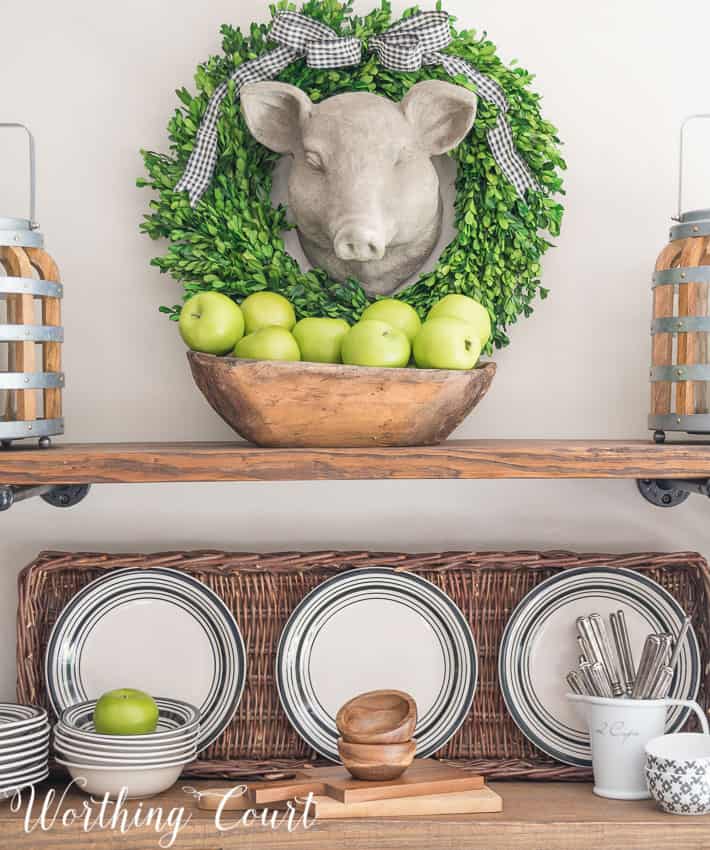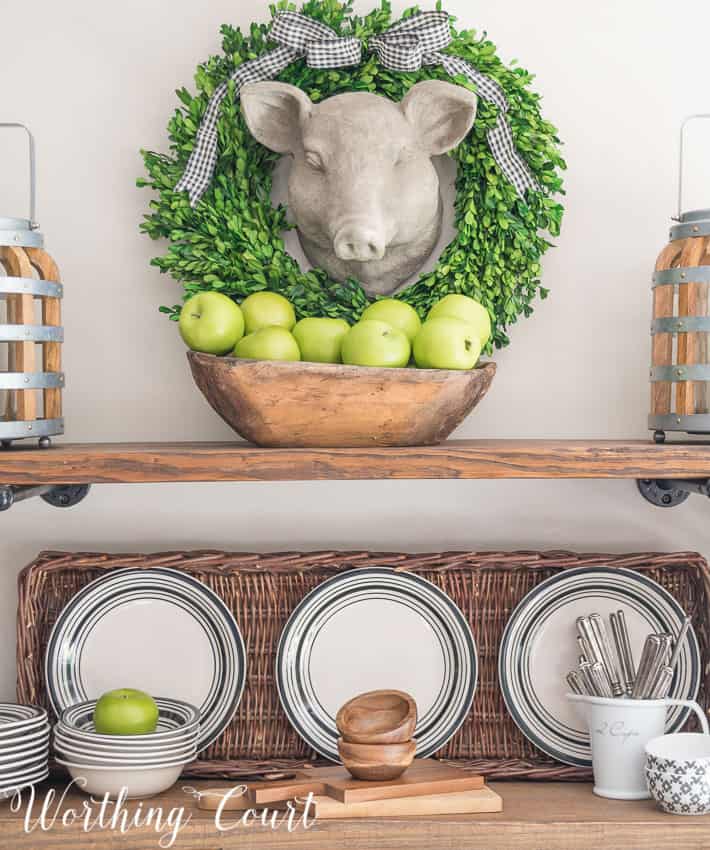 Pin
I kept the vintage toolbox, but put a galvanized metal tray behind it, in place of the tobacco basket that was here before.  Then I simply removed the spring decor from the toolbox and filled it with some of the white pitchers and black and white pieces that were already on the shelves.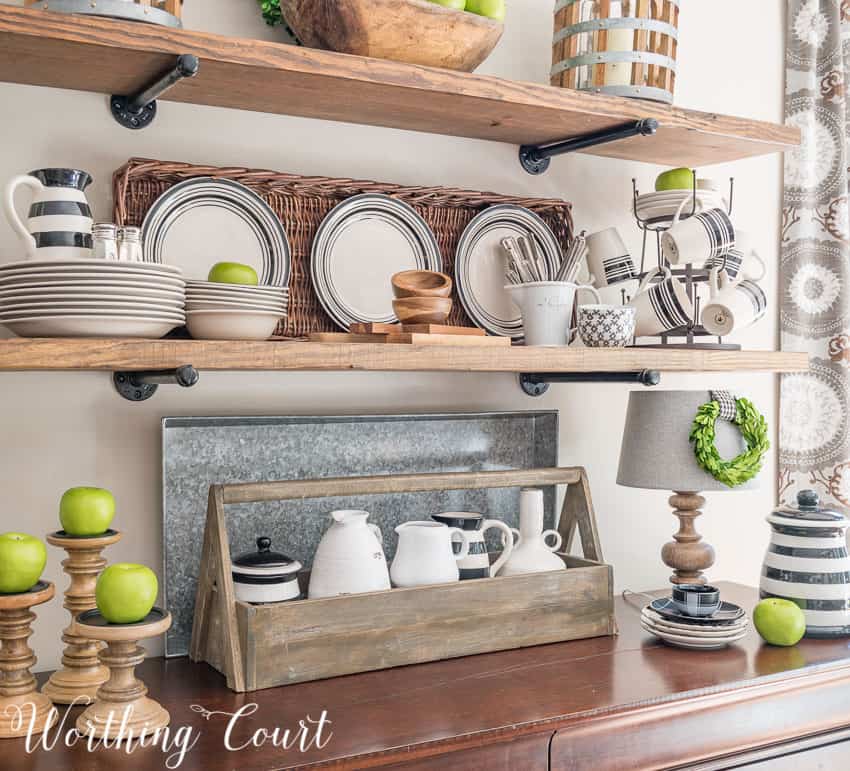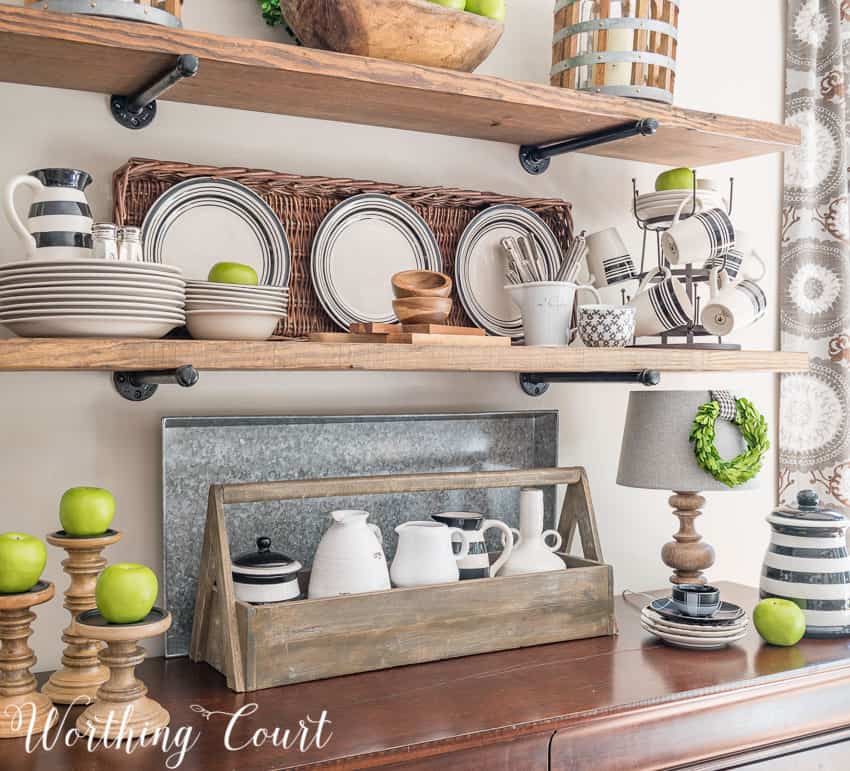 Pin
This late summer combination of green apples, wooden elements and black and white accessories should easily carry me over into fall!
See?  So much easier that starting all over from scratch!  And in case you're wondering, using a dresser as a sideboard in my kitchen is one of the best things ever!  I have it filled with all kinds of kitchen and dining linens.  You can read all about exactly what I have stored in each drawer HERE.  Plus, you'll get a peek at what the wall above the dresser looked like before I added the open shelves.
Other elements that you can decorate with that will carry you from summer into fall are:
twig wreaths
dried flowers, such as hydrangeas
candles
throws
old wood
green leaves
copper accents
tarnished/aged brass accents
sunflowers
galvanized metal
twine
baskets
Tell me.  Are you ready to let go of summer yet?  Or are you like me and are holding on for a long as you can?  Cause you know what comes after fall – WINTER!  Boo.
IF YOU NEED SOME LATE SUMMER INTO EARLY FALL INSPIRATION, PIN IT FOR LATER!


Pin