9 Amazing Outdoor Rocking Chairs Under $200
Outdoor rocking chairs look sooo good on a front porch and here are 9 of the best for under $200.00!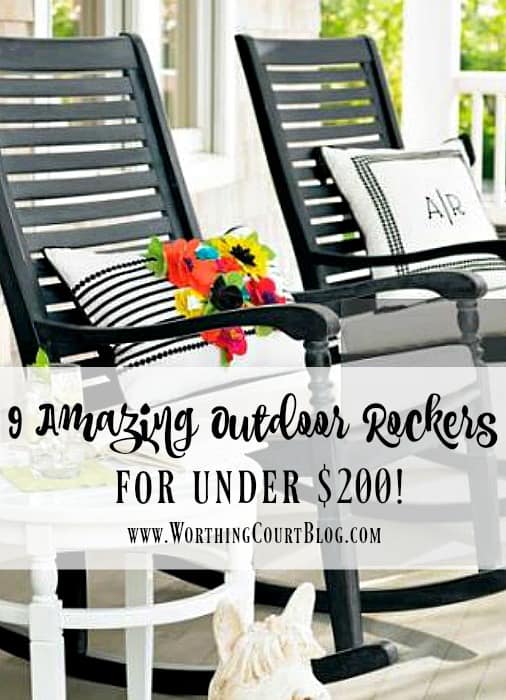 We have big, big changes in store for the exterior of our home this summer.  Changes that I'm super excited about and can't wait to share with you!  Part of those changes include giving our large front porch a bit of a spruce-up, so I've been on the lookout for some affordable outdoor rocking chairs.
I've rounded up a list of nine awesome outdoor rockers, so grab yourself glass of sweet ice tea and rock a while with me.  I would be thrilled to have any one of these gracing my front porch!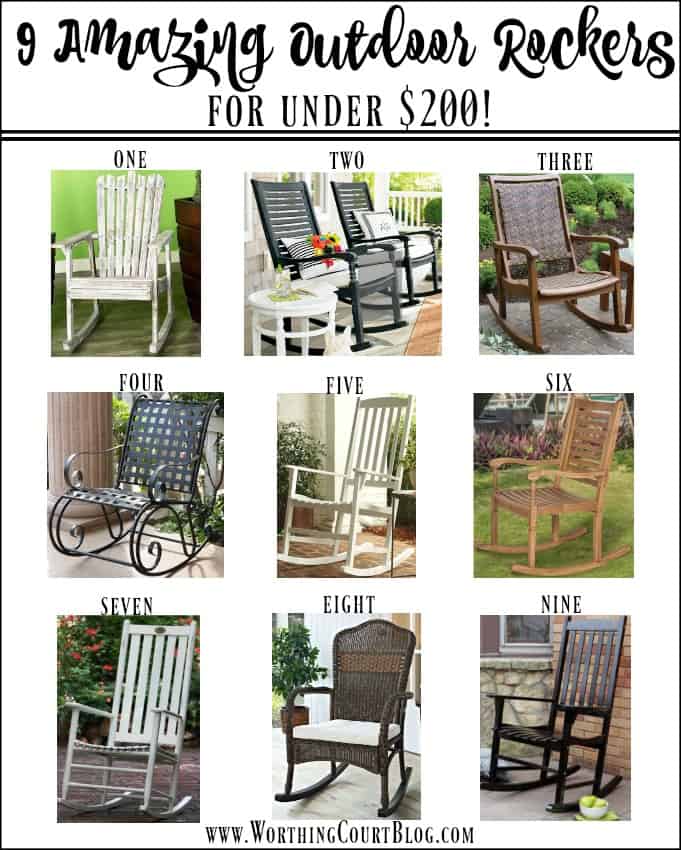 (This post contains affiliate links.  I will make a small commission if you purchase, but at no extra cost to you!  See my full disclosure HERE.)
1, WOODLAND OLD LOOK ROCKING CHAIR 
2. NANTUCKET ROCKING CHAIR (available in 13 colors) – ON SALE!
7. BOB TIMBERLAKE "THE COTTAGE" ROCKING CHAIR (available in 5 colors)
8. MOCHA RESIN WICKER ROCKING CHAIR WITH CUSHION – ON SALE WITH CODE!
9. MISSION SLAT ROCKING CHAIR – ON SALE WITH CODE!
YOU MIGHT ALSO LIKE:
12 INDOOR OR OUTDOOR FARMHOUSE STYLE PLANTERS FOR UNDER $50
HOW TO MAKE AN ADORABLE SEED PACKET WREATH FOR SPRING
A MOST REFRESHING LOW CALORIE DRINK FOR A WARM SUMMER'S DAY
Sharing at THESE great parties.