Step by step decorations for how to decorate a Christmas tree from professional Christmas tree designers.  Use these directions no matter what Christmas style or theme you love.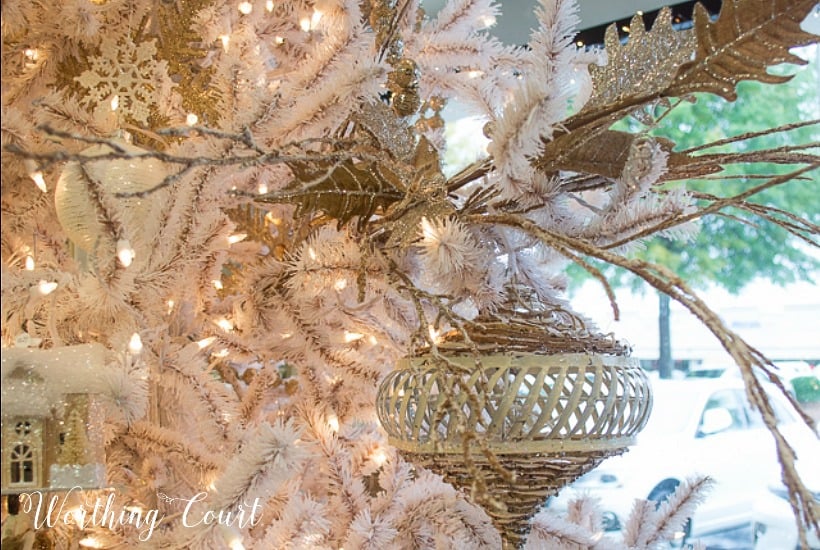 My friends, this is one blog post that you're going to want to pin to your Christmas Decorating Boards so that you can refer to it year after year.   This is THAT GOOD and there's a great pinnable image below!
A few weeks ago, I had the good fortune to get exclusive access to one of my favorite home decor shops, Total Bliss, while they got the store all decked out for Christmas.  The store was actually closed for a couple of days while a total of six Christmas trees were decorated, each one with its own unique look.
The super talented team of tree designers, who did the decorating, were gracious enough to share all of their Christmas tree decorating secrets and tips with me and now I'm here to share them with you!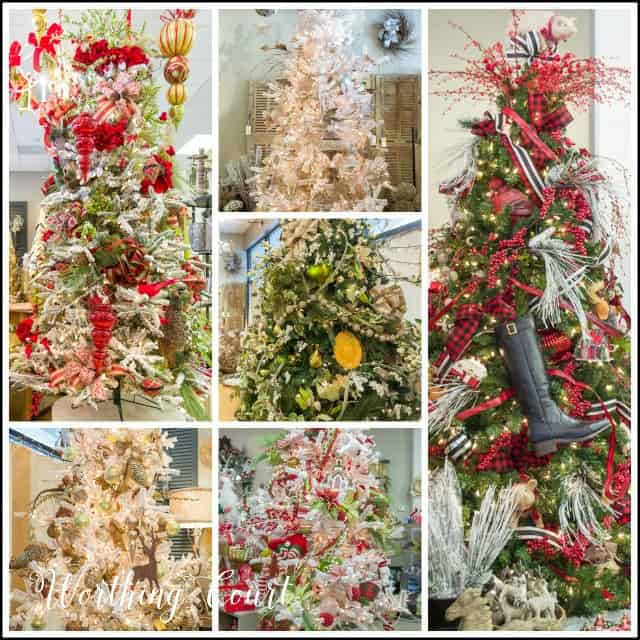 It's important that you know that these steps can be applied to any style or theme of Christmas tree that you like.  Since that's the case, we'll go through the steps looking at examples from all of the trees instead of just concentrating on one.
Step 1: Ready The Tree & Gather Supplies
This slightly flocked tree has been fluffed and is in the very beginning stages of decorating.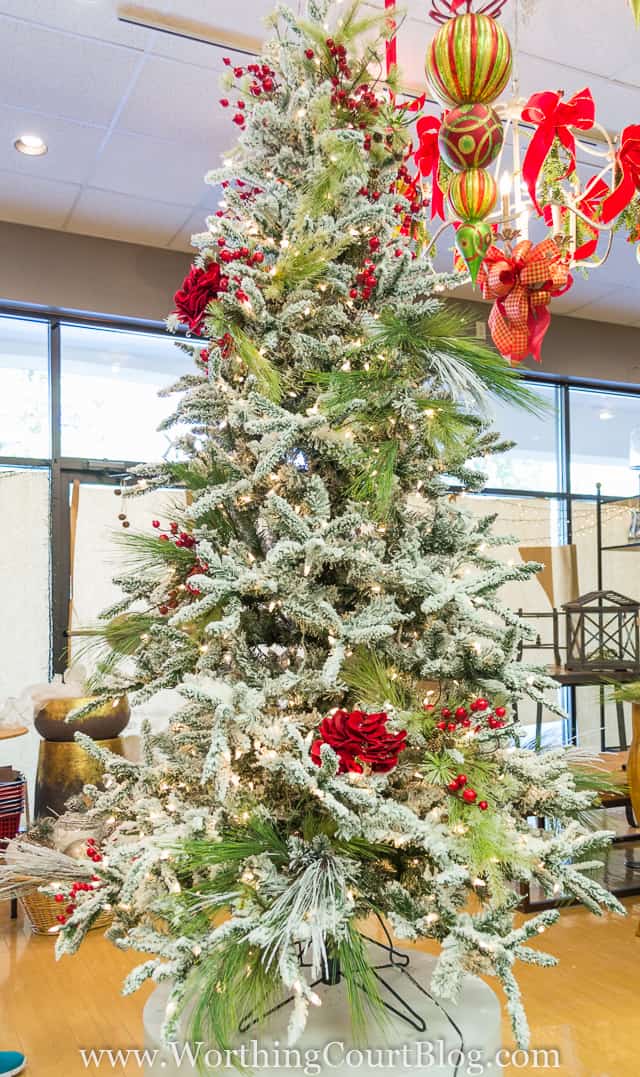 Maybe this goes without saying, but fluff all of the branches on the tree and make sure that the tree is standing straight from top to bottom.  I've completely decorated a tree more than once, only to realize that the top half of the tree is leaning.
Make sure that all of the lights are working.  It's much easier to fix any problems before the decorations are on the tree.
Supplies that you'll likely use while decorating your tree are: ornament hooks, floral wire, pipe cleaners, zip ties (for heavy or bulky items), wire snips and scissors.
Step 2: Start At The Top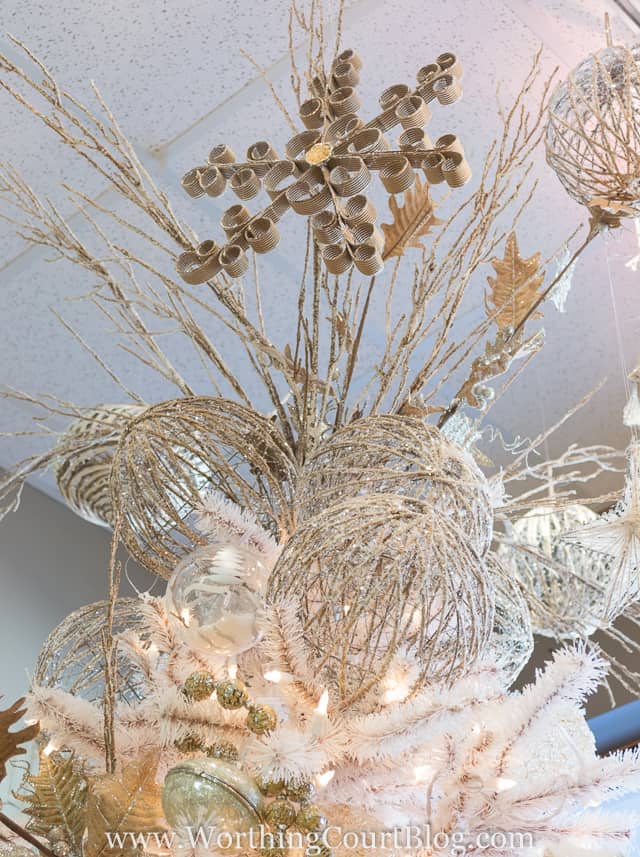 The topper is considered the crowning glory, is usually a bit elaborate and helps to set the look for the entire tree.
Don't necessarily put whatever you're going to top the tree with (a star, angel, etc) right on the tip-top of the tree.  Depending upon what you're using, it can be very appealing to place it about a hand's width down from the tip-top.  It can be attached with floral wire or zip ties.  If you attach it slightly down from the top, it should be buried into the branches a little instead of looking like it's floating on the ends of the branches.
Most items that you use for a topper look best (and draw more attention) when they are combined with something else, such as picks and/or ribbon.  And good grief – these days picks are available in all varieties and colors!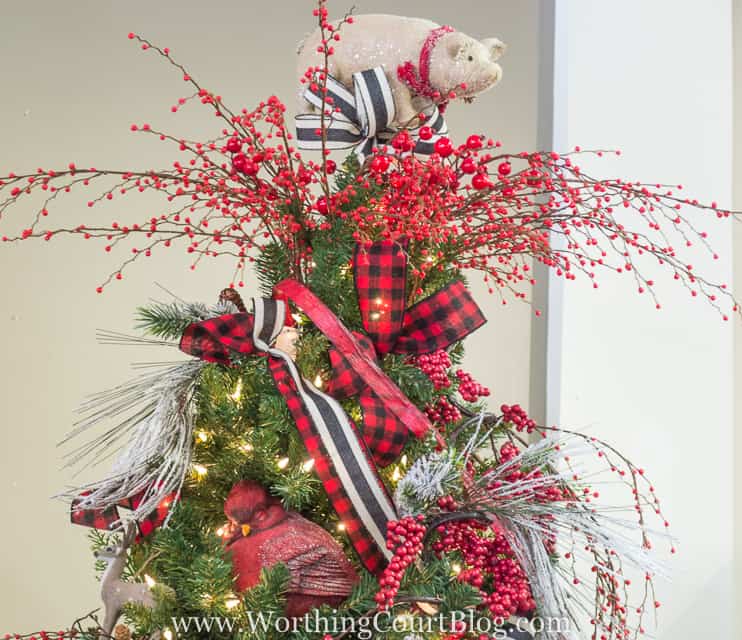 Use 3 – 4 bunches of picks, instead of singular ones to make more of a statement.  I'll go into how to combine picks together in Step 3.
Start the picks below the topper and don't think you have to point them going straight up.  Picks pointing straight up (or at a slight angle) combined with picks pointing downward add a lot of interest.  Depending upon what type of pick you're using, you may actually want to turn the pick upside down, so that the top of the pick is facing whomever is looking up at the tree topper, if your tree is taller than normal head height.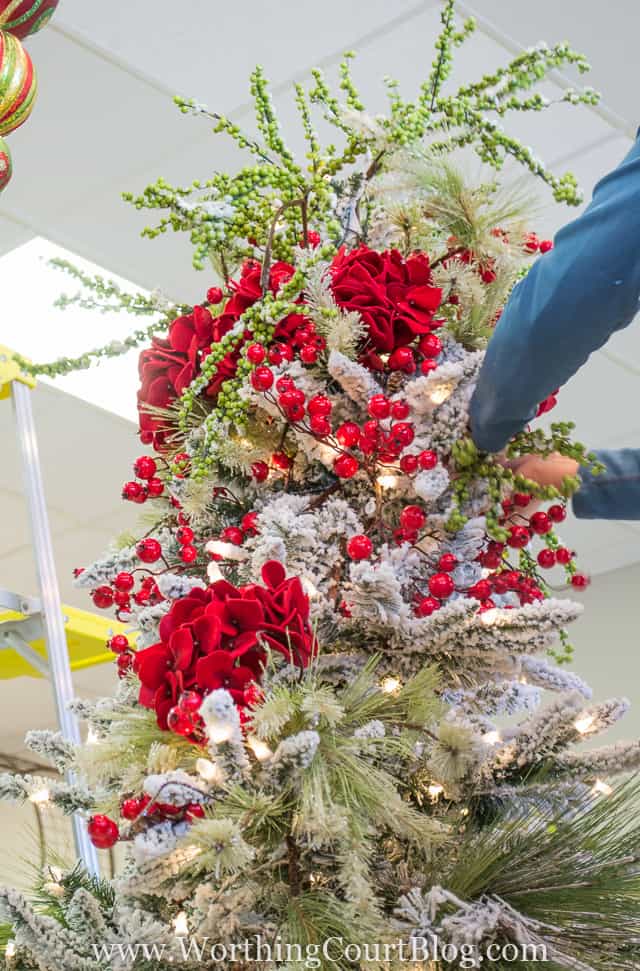 Step 3: Add Dimension
Give your tree more dimension and make it look larger by adding picks throughout the body of it.  The picks should extend beyond the ends of the branches and should be angled in various directions – some downward, some upward and some sideways, if appropriate for the pick.
Stagger various types of picks all over the tree.  Don't put the same type of picks too close to one another.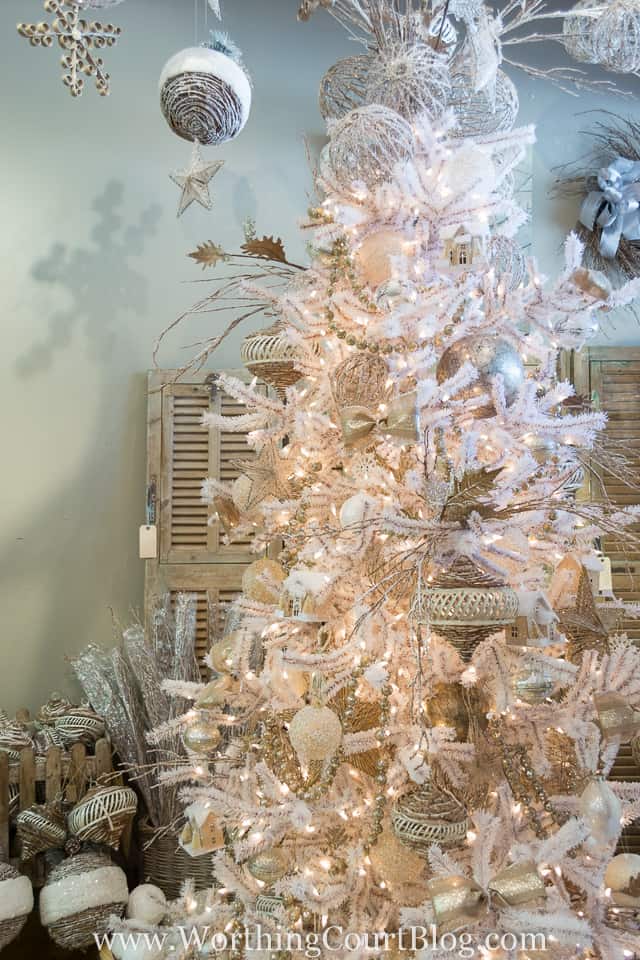 Multiple picks combined together typically look better than just one lonely pick.  Try combining three different types of picks together.  For example – combine something with greenery with something long and stick looking (with or without leaves) and with something full (like a flower).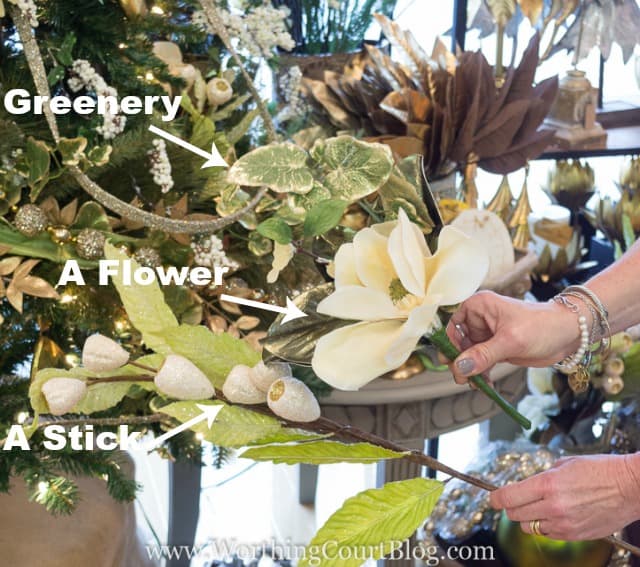 Lay the longest pick on the bottom, the second shortest one on top of that and the shortest pick on top of those two.  Then spend a minute fluffing all of the parts of the picks, twisting and mixing the parts of each pick together.  You'll get a much more natural and professional look that way.  No flat picks allowed!
Stick the pick into the tree and attach it to the branch with a cable tie or with floral wire, if necessary. Fluff the tree branches into and around the pick to help it look like it's a part of the tree.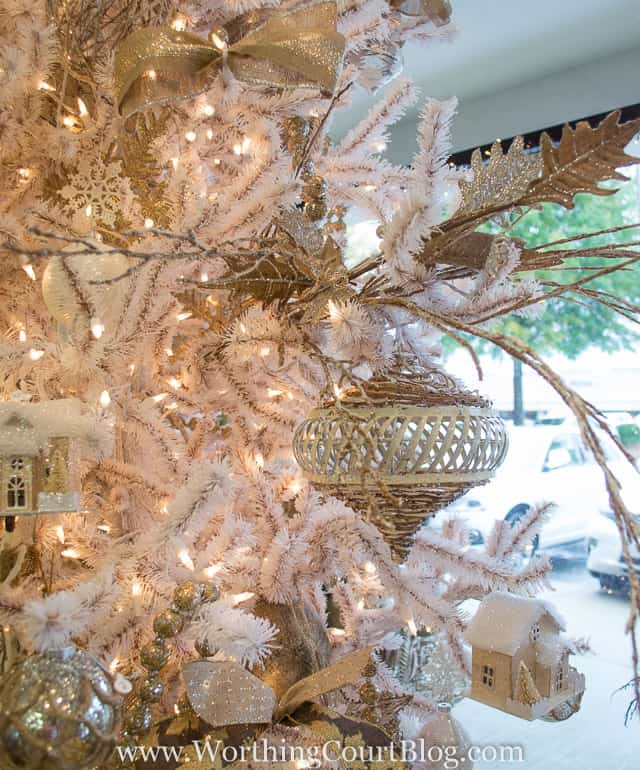 A long pick makes a great place to hang a special ornament too.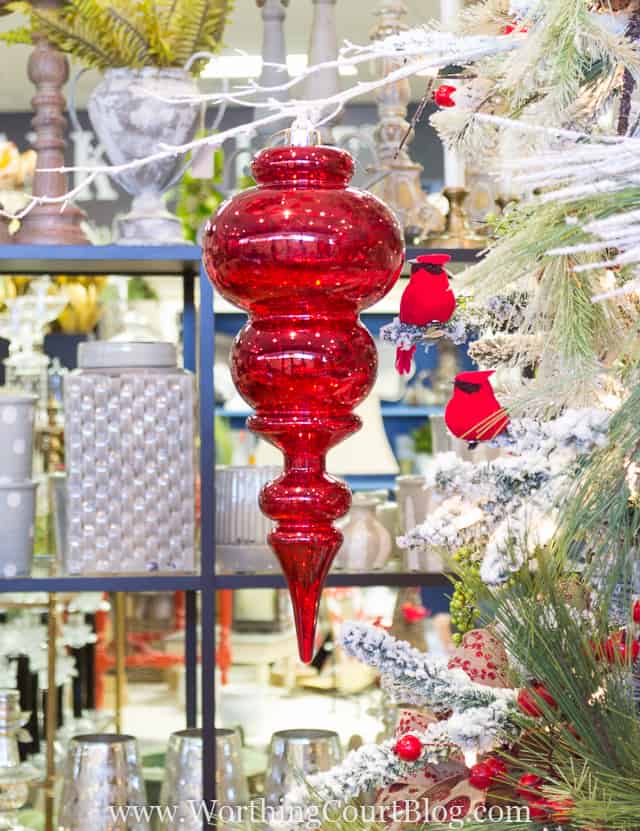 Step 4: Add Filler
Add less expensive ornaments, such as plain round ones, deep inside of the tree.  You'll only get a glimpse of them, but it they will help to reflect the lights and will make the tree look more full and will fill up any empty spots inside the tree.
It's easier to hang these filler ornaments now as opposed to when the "outside" of the tree is filled with other, larger ornaments.
Step 5: Add Ornaments
Now that you've filled the inside of the tree with inexpensive ornaments, add the more special ones to the outer part of the tree.  Use a mix of both large and small ornaments, but hang the largest ornaments first and then follow up with the medium sized ones and then the smaller ornaments.  I'll address statement pieces in step 6.
Nestle the ornaments slightly into the tree – don't just hang them on the tips of the branches.
Pipe cleaners, that match the color of the tree, work better to hang ornaments with than traditional ornament hangers.  Bonus – you can save them and reuse them next year!
Snug the ornament up against the tree branch when attaching it to the tree instead of letting it dangle.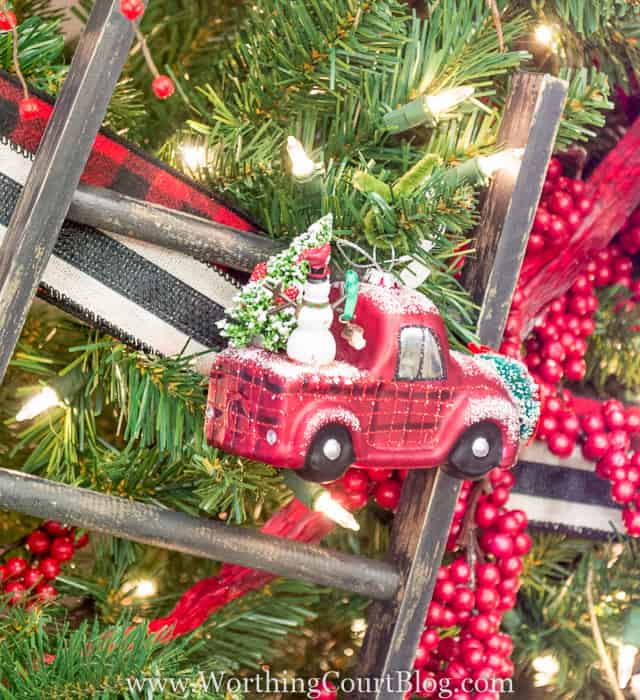 Step 6: Tell A Story
Now is the time to add large statement pieces to the tree.  Just one large piece can totally transform a tree.
Depending upon the size of your tree, it looks best to have an odd number of statement pieces.  For example, I use three statement pieces on my 9′ tree.
Be sure to stagger them around the tree – not placed directly above or beside each other.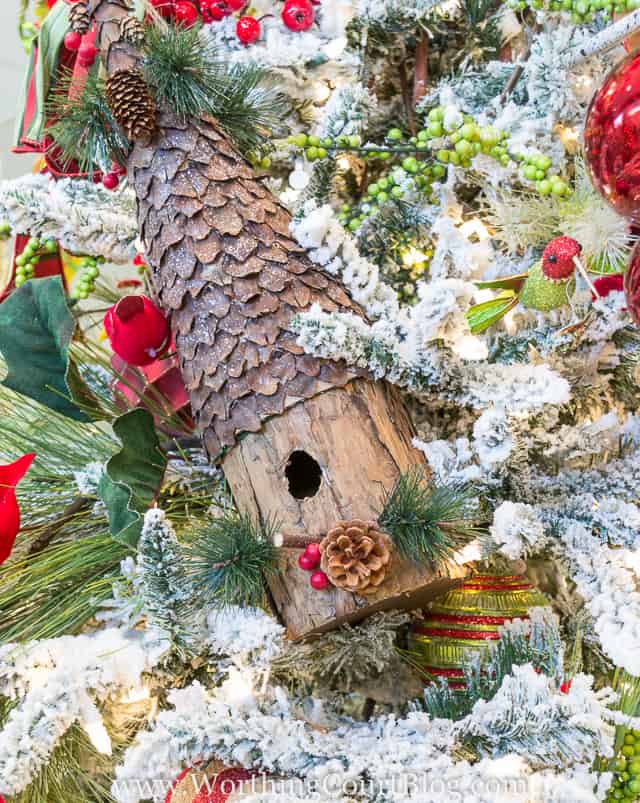 A tip from the tree designers is to drill a hole into whatever you're hanging if you need a spot to run a hanger through.
Use cable ties, floral wire or pipe cleaners to attach large items to the tree.  This boot was purchased at a thrift store with the express purpose of using it on the tree, so it was fine to drill a hole into the backside.  Think outside of the box!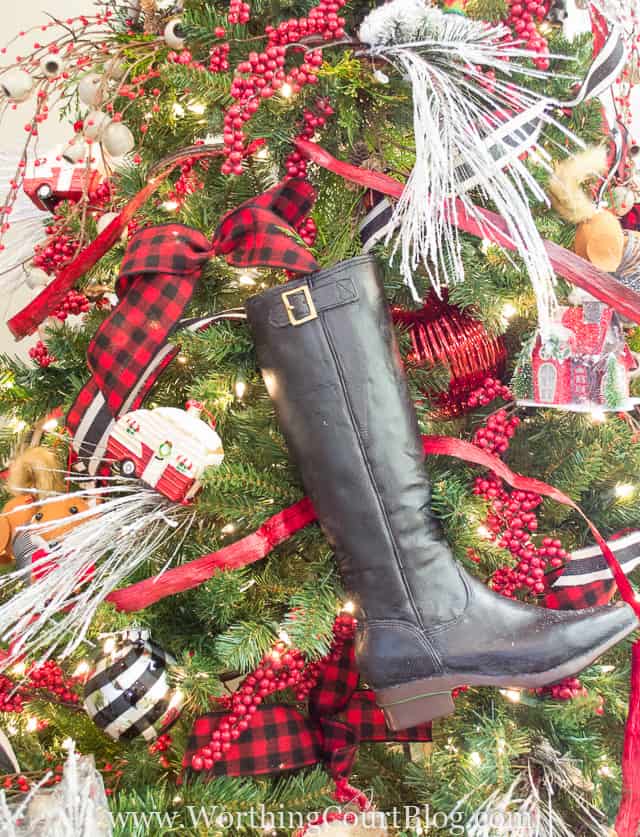 Step 7: Embellish
Add embellishments such as ribbon, garland and glitter tape once all of the picks, ornaments and story-telling pieces have been added to the tree.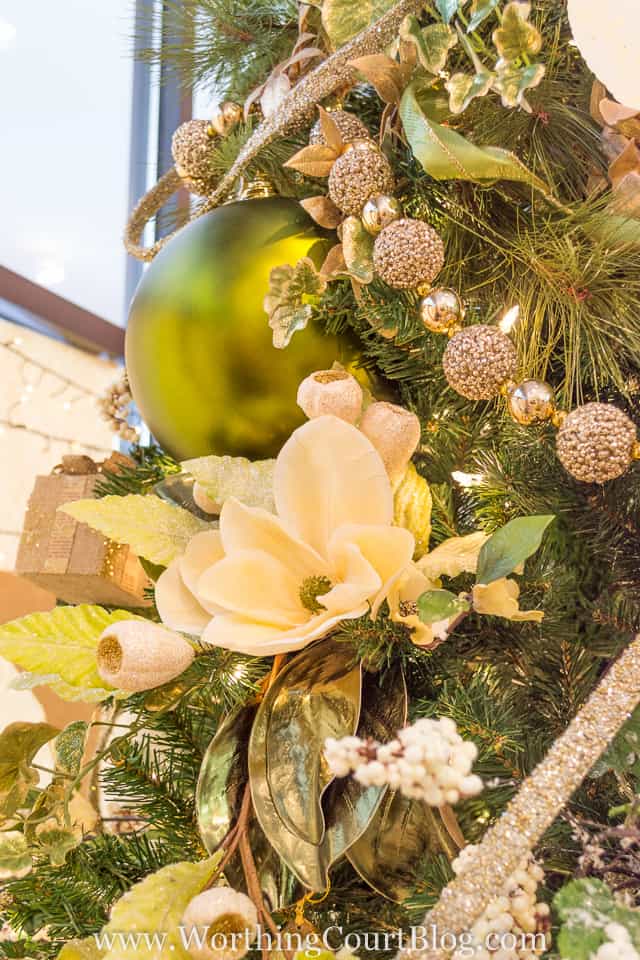 You'll use less ribbon if you cut short pieces and stuff the ends of them into the tree as opposed to using one long continuous piece of ribbon.  Using this method also makes the ribbon look more natural.
Twist a tree branch around the ribbon if it won't stay in place.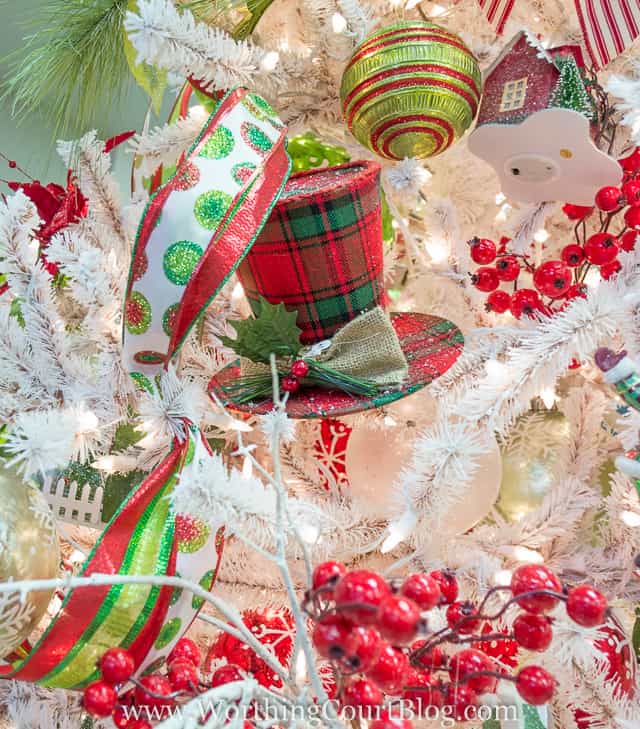 When adding ribbon to the tree, start at eye level and work up and out from there.  I can't tell you why this works better, but it does!
Place the ribbon going in different directions so that it doesn't appear as if it's just wrapped around the tree.
I hope you find these tips and directions helpful when decorating your Christmas tree each year.  A huge thank you goes to the ladies at Total Bliss!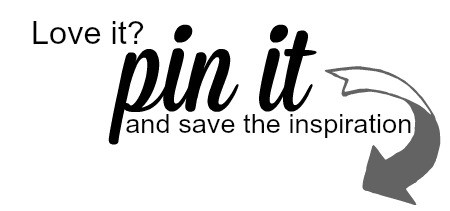 Need help decorating a Christmas wreath too?  Click HERE for a full tutorial from the owner of Total Bliss.